First script read for Pinocchio's newbie news reporters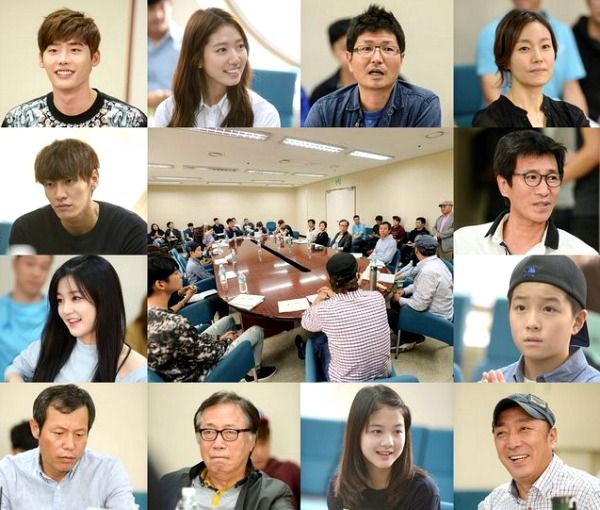 We're finally off and running on Pinocchio, the newest drama from the PD-writer team behind I Hear Your Voice that's getting ready for a November broadcast on SBS. The cast of city desk reporters gathered for the show's first script read, led by stars Lee Jong-seok (Doctor Stranger) and Park Shin-hye (Heirs).
The coming-of-age drama about rookie reporters reunites Lee Jong-seok with I Hear Your Voice producers, in a role as a scruffy reporter whose sharp mind and talent is hidden underneath his ragged appearance. His character has the nickname All-Bbang, as in "all zero," because he was known for getting all zeroes throughout high school. Really, then how did he graduate? Why do I get the feeling that this is a continuation of his School 2013 character?
Park Shin-hye plays the titular Pinocchio — the heroine has Pinocchio syndrome, which makes her show physical signs when she's lying. In her case, it's the hiccups, so her character is abrasively honest because she has to be. She basically says whatever she's thinking at all times, and is known for her bluntness. Well that's already a huge improvement from most of the characters Park Shin-hye has played.
The core rookie foursome includes Lee Yubi (Gu Family Book) as an ex-sasaeng fan whose stalking skills come in handy in the newsroom, and Kim Young-kwang (Plus Nine Boys) as a cheery chaebol heir who leaves a fashion magazine to try his hand at broadcast news. Lee Pil-mo (Emgergency Couple) plays a former reporter who becomes a PD, and Jin Kyung (It's Okay, It's Love) is their boss at the city news desk. Byun Hee-bong, Shin Jung-geun, and Jung In-ki costar.
The drama will be about young adults' first step into society, and the harried process by which they become journalists. When confronted with the truth they'll cry, get wounded, and be discouraged, but as they grow up they'll come to realize that protecting the truth is their job. It sounds as earnest and feel-good as the writer's other works, so I'm looking forward to watching the newbies stumble their way through the newsroom.
Pinocchio follows She's So Lovable on Wednesdays and Thursdays starting in mid-November.
Via TV Report
RELATED POSTS
Tags: Kim Young-kwang, Lee Jong-seok, Lee Yubi, Park Shin-hye