Liar Game: Episode 4
To trust or not to trust, that is the question. For a show that's as much about the fallibility of man as it is about the vampiric bloodsuckers who capitalize on our suffering, there's a surprising amount of human connection to be found. Even in a setting where you wouldn't think trust and cooperation could be possible, our jaded hero and our maybe-too-naive heroine manage to find a way, resulting in—you guessed it—yet another engrossing hour of Liar Game.
SONG OF THE DAY
Younha – "Hero" [ Download ]
Audio clip: Adobe Flash Player (version 9 or above) is required to play this audio clip. Download the latest version here. You also need to have JavaScript enabled in your browser.

EPISODE 4: "Minority Game II"
After Do-young tells the contestants that they have one hour to choose their answer to Sung-joon's "I am the notorious Betrayer X" question, he leaves the broadcast to find Director Jang looking pretty darn pleased with himself.
Do-young knows Betrayer X is Director Jang's plant, and insinuates that Jang might've leaked the rules of the game to him beforehand. Of course Jang demurs, and Do-young does the same when he's asked how those pictures of Betrayer X were leaked. Let the games begin.
PD Lee wonders if Woo-jin will be able to tell which of the contestants is Betrayer X, and is surprised when Do-young replies that he'd be disappointed in Woo-jin if he proves unable to handle this latest twist.
She's confused that he'd take it so personally, considering that Da-jung was the one who brought Woo-jin into the game in the first place. There's something strange about the way Do-young answers: "That may be so, but when Ha Woo-jin joined the game, didn't we all realize it? That he was born for this show."
Woo-jin takes Da-jung aside, without the rest of the team, to explain what's happening now that Betrayer X has thrown his hat into the ring. While they just created a team of eight, he's figured out that X formed three teams of eight among the remaining contestants, with him as a member in each one.
And through a complicated series of mathematics which I won't really go into here (I'm a writer, not a wizard), Woo-jin shows her how Betrayer X's three-team formula is foolproof—no matter what, X will be the sole winner of all two billion won/two million dollars.
Da-jung gets it without really getting it, since she doesn't see how X would get out of splitting with the remaining twenty-one contestants if he signed contracts with each team. But Woo-jin knows that if Betrayer X really did what he's notorious for, then manipulating a contract would be child's play to him.
But that still leaves one remaining question: If Betrayer X made himself a part of three teams, then that means he'd have to be in theirs. And since he's survived to the next round, Betrayer X has to be one of their four remaining teammates. Eek.
Da-jung would rather believe it isn't true, since Woo-jin can't be absolutely certain the contestants have been split into three separate teams (including theirs). It could just be one other team, right?
"I understand that you want to trust in people," Woo-jin tells her. "But in order to trust, you have to doubt first."
So Woo-jin devises a method to try and smoke Betrayer X out of their group by assigning the four teammates who didn't advance to keep an eye on the four who did. He doesn't allow Da-jung to follow Jung-ah though, and instead assigns her to keep watch in the security room—since they can't use their phones, whoever Betrayer X is will have to approach another teammate in person.
While they go after their targets, Woo-jin plans to meet Sung-joon to decide for himself whether he's Betrayer X or not. The meeting doesn't go so well, considering that Sung-joon won't remove his sunglasses on purpose—he knows Woo-jin's talent lies in his ability to read people's eyes. Innnteresting.
Even though Woo-jin claims that he doesn't think Sung-joon is X, Sung-joon neither confirms or denies it. "Think what you want," Sung-joon says flippantly. "But remember, whatever you're guessing isn't everything."
The spying teammates report nothing of note, and Da-jung says the same about watching from the security room—no one acted suspiciously. When addressing all the teammates gathered, Woo-jin tells them they can decide how they want to vote.
They bicker amongst themselves about which answer would be best, but when Woo-jin says he'll be voting "yes," everyone starts to rethink their earlier decisions. They naturally assume Woo-jin's choice will be the best one.
Jung-ah is the most agreeable of the bunch, and says she'll go along with whichever plan is best—so in the end, Woo-jin and Jung-ah will be the ones to vote "yes," which means the other two members will do the opposite.
Voting time. The remaining contestants cast their votes, and the tally reveals that both Woo-jin and Jung-ah have passed. So has Sung-joon. Bulldog is none too happy about the results, and punches Sung-joon after accusing him of being Betrayer X, knocking his sunglasses to the ground in the process.
Do-young administers a warning to Bulldog for using violence, causing him to be forcefully removed. Sung-joon has to face all the other contestants without his glasses. Including Woo-jin.
With only four contestants remaining in the game, Jung-ah is chosen as the next questioner. She nervously faces the other contestants as she asks, "I will be the last person standing." Oohhh.
They're given only thirty minutes to cast their vote this time, but Woo-jin looks like he's just figured something out. He keeps Jung-ah behind so they can decide which way they'll vote now—and he says he'll vote no. Waitaminute… does Woo-jin think Jung-ah is Betrayer X?
Da-jung thinks that they'll be able to win no matter what Sung-joon does, but Woo-jin thinks differently as he says that Sung-joon is still the one holding the key to victory.
While Do-young hitches a ride on a helicopter like the rockstar he is, the minutes tick down to voting time. Da-jung finds Jung-ah hovering by the same coffee machine she's been at before every tally count—but since she's Da-jung, she doesn't think anything of it.
In a surprise move, Do-young appears in the courtroom in person (hence the helicopter) to oversee the third voting round. I love that sly smile he sends Woo-jin's way. Tell him what time it is, Do-young!
Before Woo-jin casts his vote, he briefly locks eyes with Do-young as if to challenge him. Do-young counts the votes himself, and the first is Sung-joon's. Since he voted no, if the three remaining votes are different, he'll be the sole winner of two million dollars.
To stir the pot, Do-young asks Sung-joon to reveal now whether he is or isn't the infamous Betrayer X. Sung-joon gives a half-smile: "I'm sure you already know the answer." I wonder.
When one of the female contestant's vote is also revealed to be a no, Do-young notes that she doesn't look too fazed even though such a vote guarantees she and Sung-joon won't win. Unless there's a tie, and a resulting revote.
Jung-ah's vote turns out to be yes, which means she'll be the winner if Woo-jin voted no. Do-young knows what makes for good TV, and asks Jung-ah how she feels about her possible win. She gets teary-eyed as she addresses her mother through the camera, as she promises to earn money for her so she can be a more filial daughter.
Then Do-young asks Woo-jin how he feels, since he already knows what the result will be even if his vote hasn't been tallied. "Will Jung-ah's wish come true?" the devilish host asks.
After a pause Woo-jin just says, "We won, Jung-ah."
Jung-ah's sniffles slowly turn to laughter. "We?" she asks hysterically. "We?!" She can't even control herself, and Do-young's smile shows how pleased he is with this development.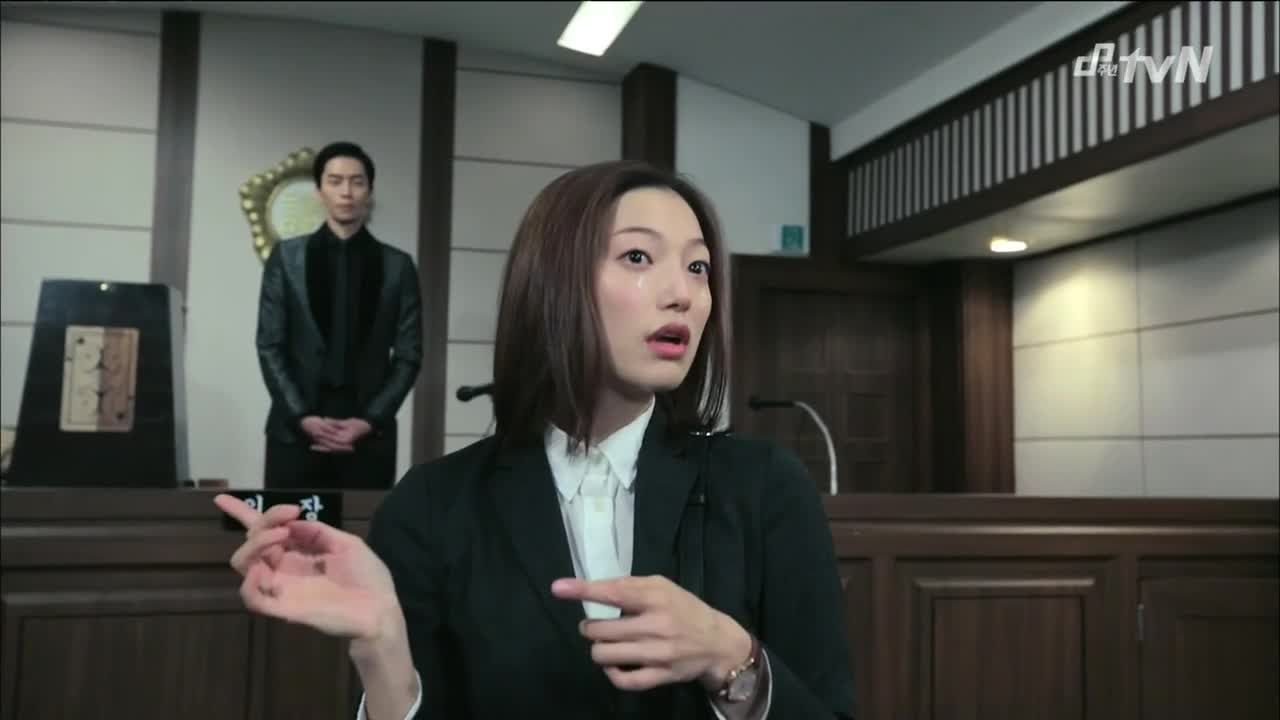 "I told you I'd be the last person standing," she says to rest of the contestants with a confident air. All her nervousness and timidity was just an act, as she takes off her wig to reveal her real head of hair. Even Sung-joon looks shocked.
Jung-ah can't help but laugh maniacally at how she fooled everyone, and when one of the four remaining contestants calls her out for agreeing to split the winnings, we have our answer as to who Betrayer X really is. Like there was any doubt with Jung-ah's display of crazy.
As for why she won't have to fulfill her end of the bargain she made with everyone, Jung-ah displays her REAL identity card—and her name isn't Jung-ah, but Jaime.
PD Lee orders that the other contestants' reactions be filmed, while they edit in previously unaired footage of Jaime betraying her teammate in the first round. So they knew the entire time who Betrayer X was, which explains why Do-young couldn't stop smirking. (Sorry for jumping to conclusions by thinking it was Sung-joon yesterday, guys! I guess I'm just as gullible as Da-jung.)
Jung-ah proudly explains her whole plan from start to finish, and how she'd requested that her round one footage not be broadcasted as part of her strategy. Woo-jin looks nonplussed—he figured this out earlier, didn't he?
I feel like Jaime's cocky "How did you get this far by being so naive?" is going to come back and bite her in the butt, but for now, she's happy to proclaim that she'll take the lead roles Woo-jin and Da-jung have been hogging since the first round. Now she's the star.
"How do you feel, 'Angel' Nam Da-jung? You hate me now, don't you? Don't you want to curse me out and beat me?" Jaime teases ruthlessly. She dares Da-jung to say something, anything, but everything changes when Da-jung looks her dead in the eye and says, "Because I already knew."
Do-young takes that as his cue to pull out Woo-jin's vote, and makes a production of turning the card toward the contestants… and it's a yes. It's a tie!
Jaime turns on Woo-jin with a vengeance, screaming that he'd told her he was going to vote no. He even told her they'd won! "I did," Woo-jin admits. "And you revealed yourself as a result."
Apparently Jaime thought her plan was flawless, so Woo-jin decides to give her what-for. He'd sensed that she was hiding something from the beginning and kept his eye on her, but only started to truly suspect her when she so readily pointed to Sung-joon being Betrayer X, since it was her attempt to deflect suspicion away from herself.
He knows that her defending Da-jung against Bulldog was sincere, but became certain of her true identity after the first round because she was the only one acting nonchalant about which side to pick.
Using his human lie detector skills, he knew she was telling the truth when she volunteered to take any side—but that was because she was certain she'd win regardless. He even figured out that she was using her coffee-drinking as a secret signal to alert her other team members on how to vote.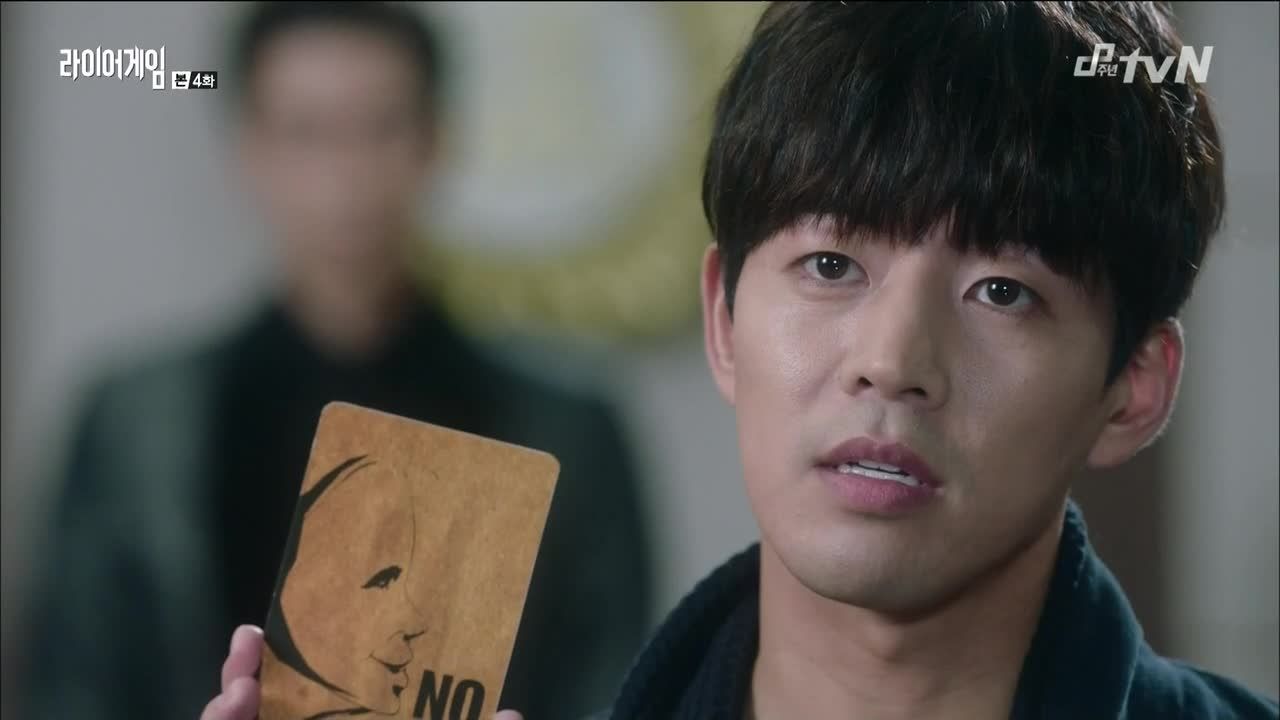 That's all fine and well, Jaime says, but it puts them in the exact same predicament—with the revote, their chances of winning will be 25% each. "You really think so?" Woo-jin challenges.
Woo-jin is chosen as the final questioner, and his statement to his fellow contestants is: "Money is the most valuable thing in life."
But he upsets the game when he shows everyone that he's going to vote no in advance. Ah ha. Jaime is pissed now, and of course, Do-young is pleased that emotions are running high.
The clock is ticking, leaving Jaime all but fuming in frustration. Team Woo-jin figures out that the only way for Woo-jin to lose is if the remaining three contestants team up and agree to split the money, in which case only one of them would win as long as two of them voted no.
With only five minutes left, Jaime gathers the two remaining contestants and poses the idea of forming a team—she's totally not lying this time, really! Sung-joon is against trusting her unless she agrees to take only forty million won (forty thousand dollars) since the contract they signed with their real identities would still be valid.
Which means that everyone else would get about one hundred forty thousand dollars, unless they do decide to split between the three of them. Even in that case, Sung-joon is firm about Jaime getting a much smaller share than the two of them.
They squabble about trusting each other, until Sung-joon says he'll take their votes up with his. Both of them give them their "yes" cards while he takes his "no" card. But… no one signed this new contract. How do they expect him to keep to the agreement?
Sung-joon gets the votes in literally seconds before the round ends. Do-young pulls out the votes one by one: Jaime is a yes, the other girl in their team is a yes, Woo-jin is a no, and Sung-joon… is a yes. Whaaat?
This means Woo-jin wins it all, though I've never seen a more unimpressed face pelted by congratulatory confetti. (Wait.) Anyhow, Woo-jin has to explain what happened to the viewers, and it begins with Sung-joon.
Even though Sung-joon had protective sunglasses on, Woo-jin was still able to tell that he was lying about being Betrayor X. When he told Da-jung that Sung-joon held the key to their victory, he also instructed her to use her powers of likability to get through to Sung-joon where he couldn't, since Sung-joon would always be on guard with him.
So Da-jung won over Sung-joon's trust when she tended to his wounds from Bulldog's right hook, and he became shy, puppy-like putty in her hands. She was able to get him to admit that he wasn't Betrayer X (he just let people think what they wanted).
When he asked her how she knew, Woo-jin had intervened by revealing that Jung-ah/Jaime was the true Betrayer X. They'd formed a team between the three of them, and agreed to split the winnings between them. That's why, in the end, Sung-joon said his answer would be no in order to fool his non-teammates into trusting him.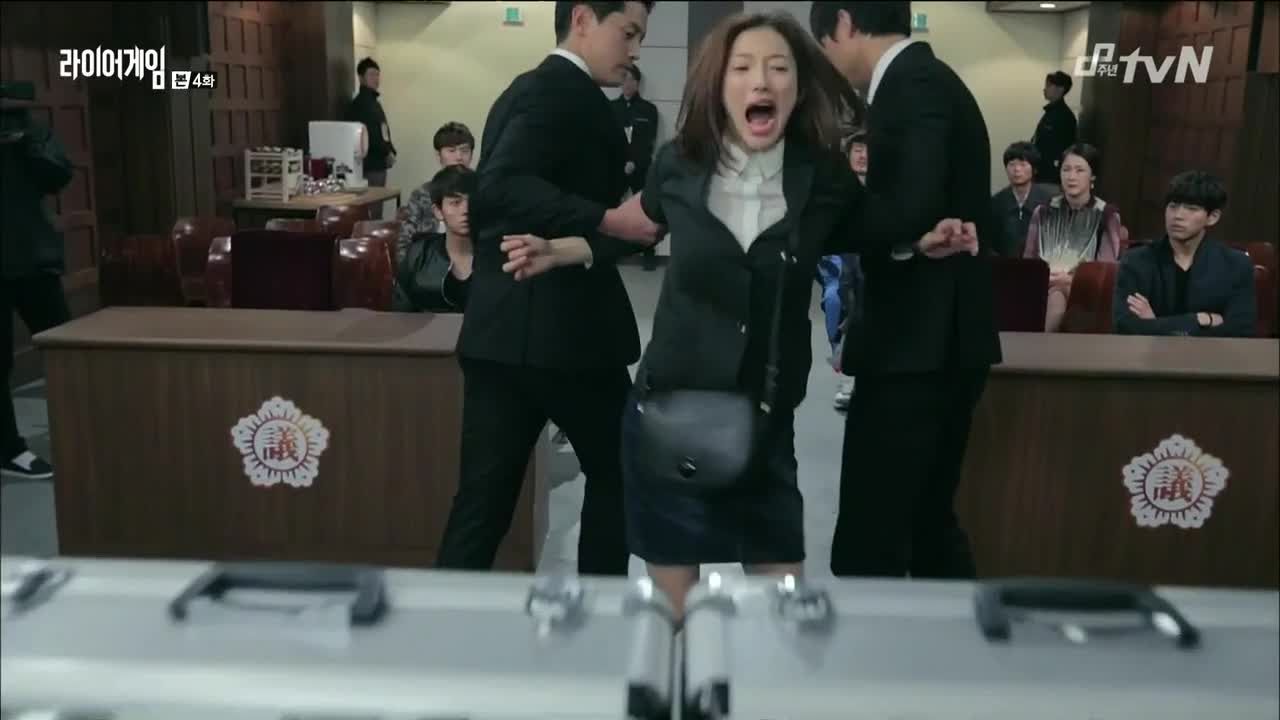 Eight suitcases of money are brought in according to the contract Woo-jin drafted with his teammates, while Jaime is dragged out of the room for going insane and given a violence warning just like Bulldog.
But Do-young gets an emergency page that causes them to halt filming. It's Director Jang, demanding that Jaime's contract still be honored even though she used a nickname—after all, they permitted her to enter the show as Oh Jung-ah, so why can't she have signed the contract with that name?
PD Lee is fiercely protesting the move on her end, because neither her or Do-young want Director Jang to have a plant in the first place, much less one he bends the rules for when he wouldn't otherwise.
Director Jang tries to calm things down when Do-young mentions bringing his lawyer in, claiming, "This is entertainment!" And though he griped about literally anything that could've caused a negative public reaction before, he fully intends to cover up any backlash regarding Jaime. Of course.
Jaime is barely saved from Bulldog's wrath when Do-young reappears on the monitor to announce that the "producers" have agreed to hold Jaime's contract valid. He hides it well, but his disdain for this decision is evident.
Da-jung asks what that means for Sung-joon, since they'd planned to give Jaime's winnings to him. The other teammates balk at the idea of splitting their share again…
…But before Da-jung can offer to share her personal earnings with him, Woo-jin hands his suitcase to Sung-joon. He'd already promised to give him his share when they made their initial agreement.
Bulldog seems ready to rip Jaime's head from her shoulders when she's called back to the courtroom for the reinstatement round, but she's able to calm him down when she tells him she's going to save him. How/why?
Jaime all but skips into the room to collect her earnings, and gives just a portion to Bulldog. Do-young then announces that the nine people with prize money will get to play in the reinstatement game.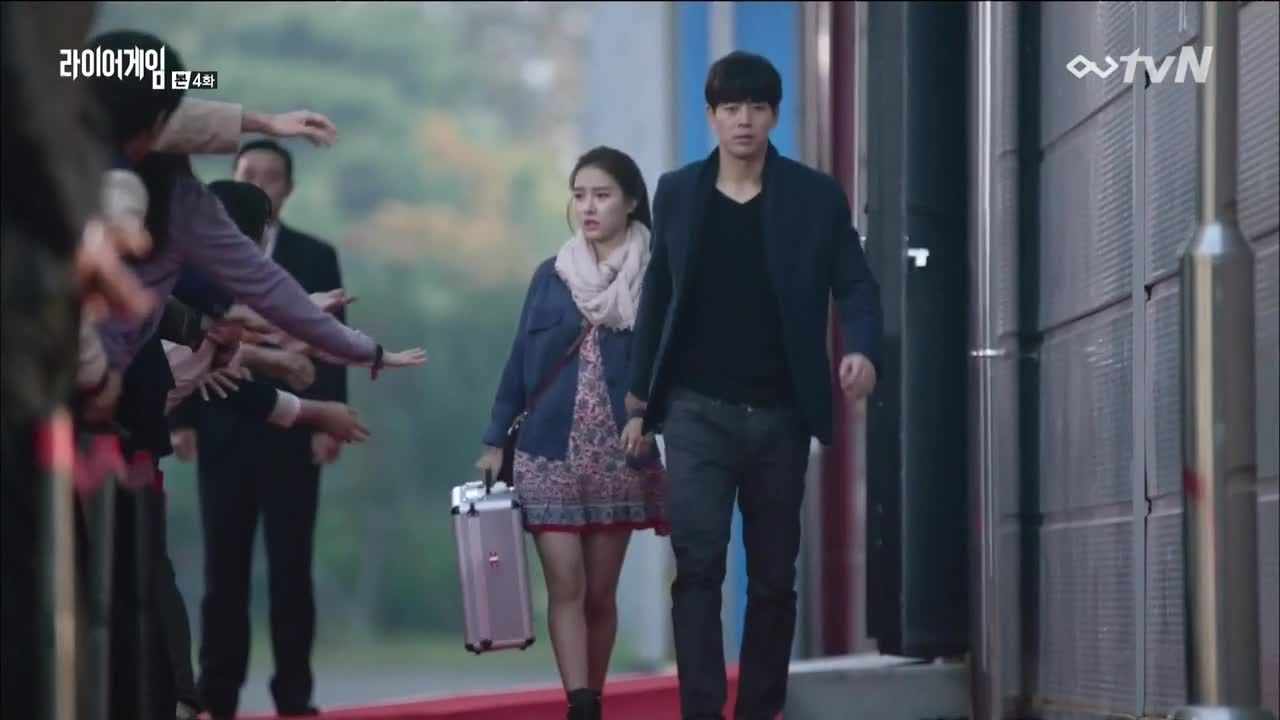 To get there, they have to pass all the eliminated contestants who desperately beg to be picked for reinstatement. Since Da-jung can't easily ignore their cries, Woo-jin takes her by the wrist to lead her away.
After Jaime uses her wiles on a staff "oppa" to learn that one contestant will be eliminated in the vague reinstatement game, Da-jung asks Woo-jin to spare some time for a talk.
They end up outside a gas station, where Woo-jin actually smiles at the sight of Da-jung stuffing her face with instant ramen. He wouldn't let her treat him to a meal even though she offered, so it's cute that all he's having is a tiny yogurt drink.
When he asks her what she wanted to talk about, Da-jung says it's actually a question. "I thought of it when I saw those people begging to be saved," she says. "Why are we doing this? If we all agreed to share the prize money no matter who wins, there'd be no reason to fight or be in debt. Wouldn't everyone be happy?"
Just when it seems like Woo-jin is about to compliment her for thinking of the greater good, he doesn't. He's ready to leave the conversation, but Da-jung can't help asking why he doesn't think her plan would work.
He tells her that if there were ten people just like her, maybe it would work—otherwise, if even one person were to betray the group, or if anyone even suspected a betrayal, it'd all be over. And the person who'd bear the brunt of it would be the person who wanted to trust the others the most, which they both know would be her.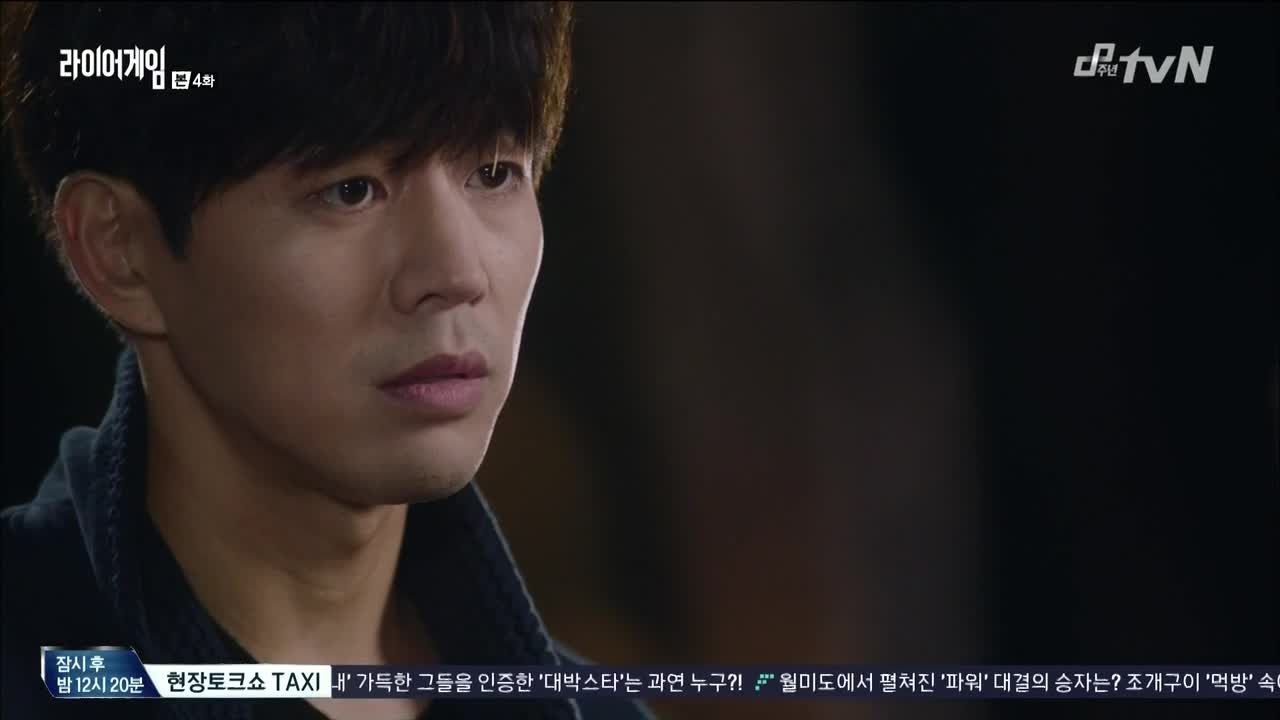 "Isn't that a way to win? By trusting one another instead of fighting and suspecting each other? Why are you always so pessimistic?" she asks.
"If it were that easy, would the world be the way it is?" Woo-jin fires back. "Would people even gather to watch such a senseless show?" Da-jung argues that's why they should try, because they could be the ones showing other people what it means to trust one another.
He still says no, and claims that her kind of thinking will put her into debt before she even reaches the reinstatement game. "Why don't you trust people?" Da-jung finally asks. "You said you have to doubt others in order to trust them. Do you even want to trust people?"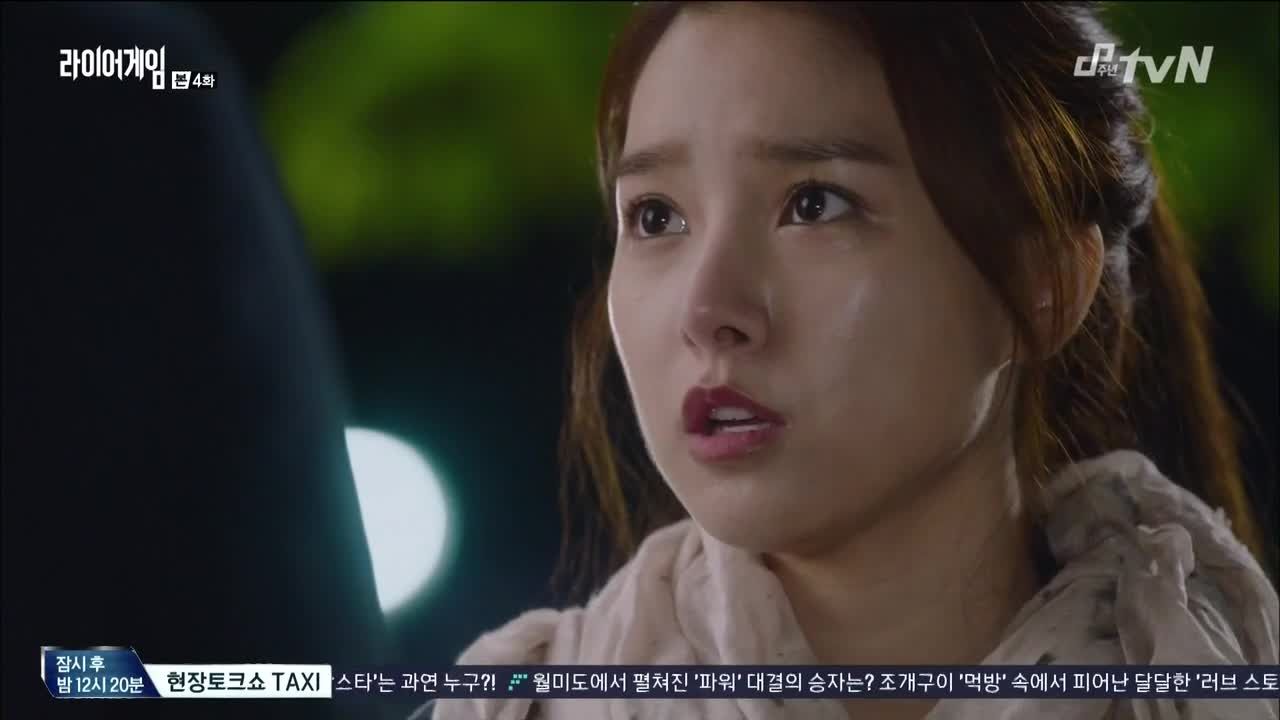 When she asks why he's in the game when he's not in it for the money, Woo-jin roughly pulls his arm from her grasp and tells her it's got nothing to do with her. Furthermore, it's none of her business.
Dal-goo calls Da-jung to celebrate her win, and seems to be shipping her and Woo-jin as he tells her to stick to him from now on. But he's in for it with his boss, who knows all about how much money Da-jung won, and beats the living crap out of Dal-goo for acting like her knight in shining armor instead of her debt collector.
Even though he was just threatened with losing his job and is now black and blue, Dal-goo still acts the same when he shows up to Da-jung's house that night. He doesn't let her know that anything's gone wrong, or that he's in trouble because of her. Awww.
He does pay special attention to the way she secures her suitcase of money to the dresser with nothing more than a bike chain before hesitantly bringing up the debt she still has with his boss. Shouldn't she, y'know, maybe try to pay off some of the interest with her winnings?
Everyone knows that the money in her hands isn't actually hers to use, since she'll have to pay back the broadcast company if she's eliminated from the show. But in Dal-goo's mind, she can afford to pay them back slowly, since they're unlikely to charge her almost fifty percent interest like his boss is.
She nods off before he can finish his thought, leaving Dal-goo nervously staring at the briefcase. Don't do it, Dal-goo! Don't do it!
While Do-young drinks alone and Woo-jin walks alone, Dal-goo steals away with Da-jung's money. But Woo-jin suddenly turns around, as if his spidey-senses are tingling…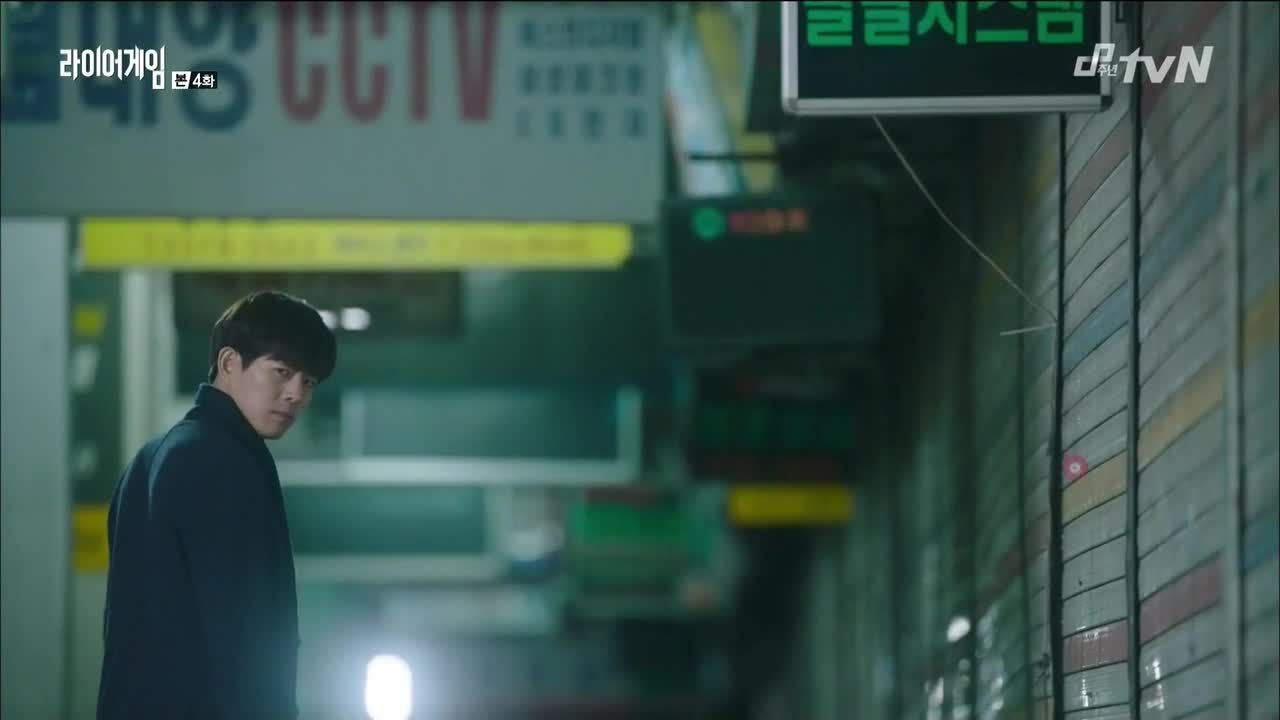 COMMENTS
So I was completely and shamefully wrong about Sung-joon being Betrayer X, since I should've figured that this show loves its twisty reveals and that the correct answer is never the easiest. I actually like Sung-joon more because he isn't that guy, and because he seems sweet enough to be Da-jung's male equivalent. How did he even get this far with those tell-all puppy eyes?
I've said before how much I'm loving the side characters in this drama, if only because actual attention is paid to fleshing them out when they could so easily be simple stock characters. It has a wonderful effect on the entire show when side characters are given purpose beyond selling products to the audience, and so when we get someone like Dal-goo, my heart just automatically breaks for him.
Poor heroines and debt collectors always come as a packaged deal, but after so many years of nameless, faceless, loudly-clothed gangsters chasing hapless girls into the arms of the chaebols reluctantly waiting to save them, I can't even tell you guys how happy it makes me to see a debt collector humanized in such an endearing way. The fact that he's stuck between a rock and a hard place when it comes to his own livelihood versus a girl who's become a sister to him makes me pity him as opposed to hating him for what trouble this'll cause for Da-jung down the line, and puts such a different spin on a trope that causes my eyes to glaze over most times. None of it would be possible without the solid writing and directing we're blessed with here, but character actor Jo Jae-yun's performance is nothing to scoff at, either.
Da-jung's idea to kill 'em with kindness was definitely an interesting one, and I wonder if Woo-jin would ever rethink taking her up on it when he seems all but incapable of believing in people. The problem is, of course, that he's right—if kindness and trust actually made the world go round, then there'd be no Liar Game, and there'd be no them. Likewise, he shouldn't have to be reminding Da-jung that she'd end up the loser in situations like that every single time, since she has to realize that she would've been eliminated long ago without his help.
I say that she has to know that, but sometimes I wonder if she actually does. The idea of where her character should go from here is an interesting dilemma to tackle, because on the one hand, if we want her to protect herself by becoming jaded and suspicious of everyone, then Da-jung will lose what makes her such a rarity in today's times. On the other hand, if she doesn't wise up to the way the world works, then she'll always be tricked, abused, and taken advantage of. I guess there's always a happy medium to be found, but who'd want to watch that drama, anyway?

RELATED POSTS
Tags: featured, Kim So-eun, Lee Sang-yoon, Liar Game, Shin Sung-rok