Misaeng: Episode 1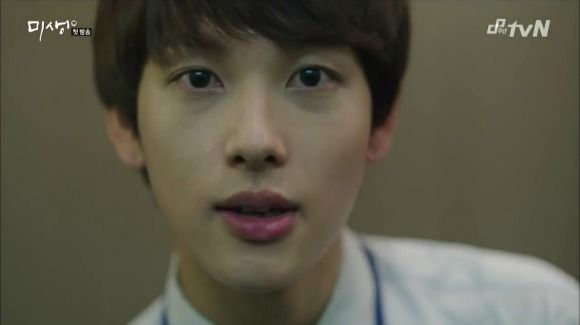 Ooh, this is different and interesting. I wasn't sure what to expect from our webtoon-turned-drama, but I did have my hopes up because of the hype around Misaeng (Incomplete Life) and its mania following. It's probably not everyone's cup of tea, but it's definitely intriguing. As per usual, our first episode is jam-packed with introductions and some backstory on our protagonist, but we get a good sense of the tone — somewhat dark and mundane, but that's what makes it realistic and relatable.

EPISODE 1 RECAP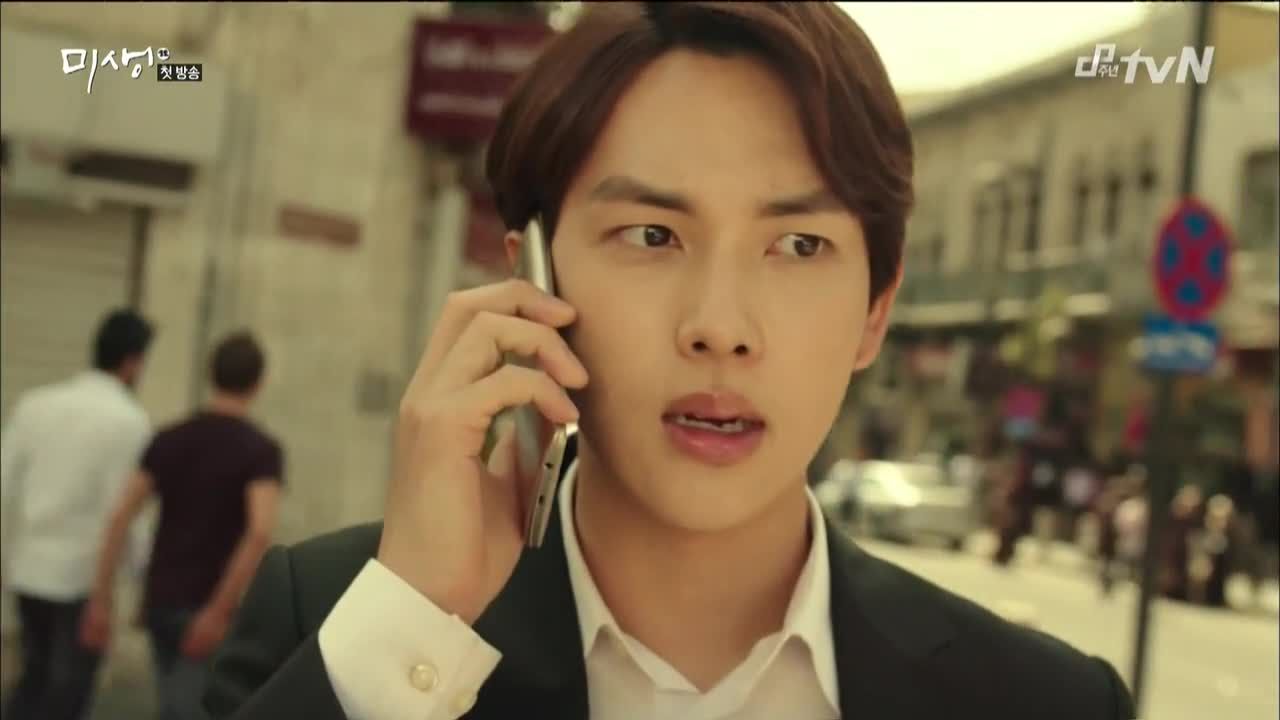 We begin in a canyon with mysterious music playing in the background. As we follow a man through the sweeping meanders of the canyon, a voice narrates, "A path is not simply for walking; its purpose lies in moving forward and improving oneself. A path that fails to do this is not a path."
The man now walks through the busy streets of Jordan as the narration continues: "The path is open to everyone, but not anyone can walk it." The briskly walking man is JANG GEU-RAE (Im Shi-wan), and he picks up his phone, asking the caller if he's found it. The caller tells him that their mark is at the Cairo Hotel, so he runs toward that direction on a mission.
In front of the Cairo Hotel, the caller tells him that he was right: They've searched all the top-notch hotels in Jordan, but what they've been looking for is in this obscure location. Geu-rae confirms that the item has yet to be sold, and they head inside. But when they reach the room, it's empty except for a housekeeper cleaning up. Turns out they're looking for a guy who happens to be standing right behind them. Realizing that he's been found, the man makes a run for it, and a wild chase ensues.
They both run like their lives depend on it, through the mass of people and oncoming traffic. At one point, Geu-rae even gets hit by a car, but he shakes off his injury and dizziness to continue the chase. On the rooftops, the man takes a giant leap and barely hangs onto a window on the next building. He climbs through and sticks his tongue out at his chaser, but Geu-rae backs up to take the leap. He runs with determination and reminds us once again: "The path is open to everyone, but not anyone can walk it."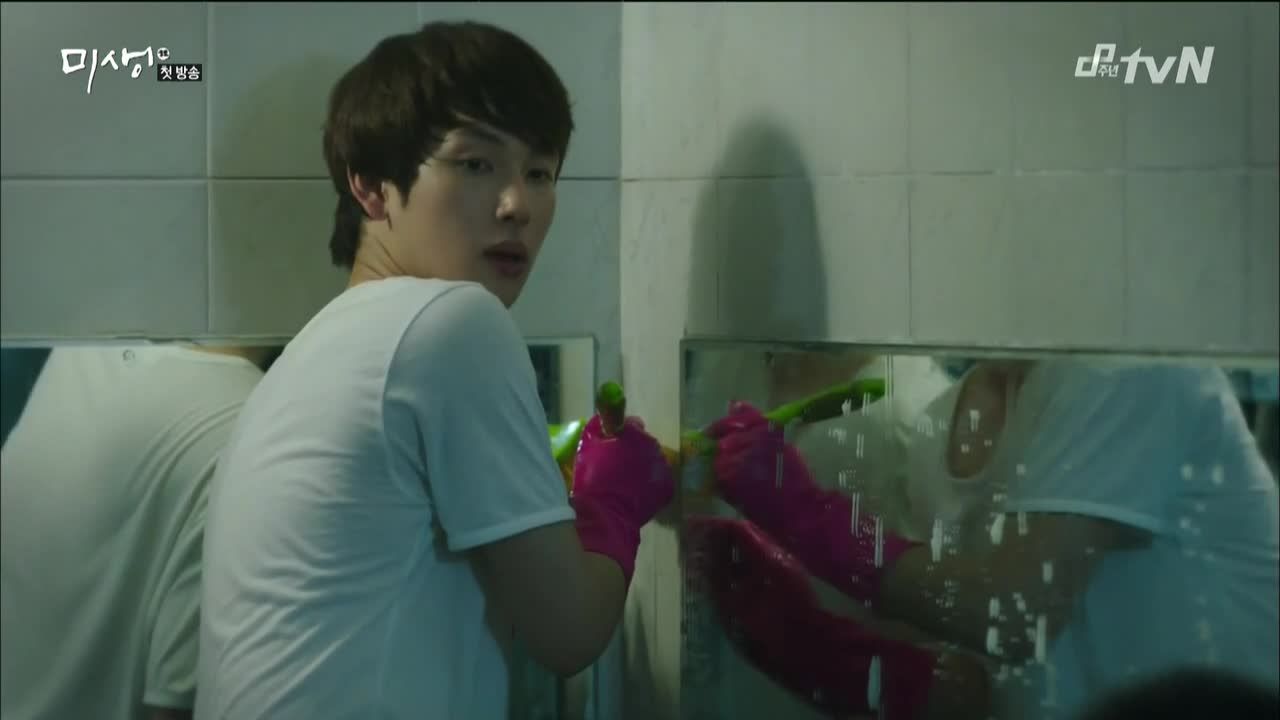 Back to the spring of 2012. Geu-rae works at the sauna cleaning the wash rooms. The owner gives bad news that he doesn't need his help anymore but offers to help him find employment. Deflated, Geu-rae forces a smile and politely declines. He runs to his next part-time job as a designated driver. He drives a drunk office worker who is clearly disrespectful towards him, but Geu-rae just takes the insults.
He gets a call from his mother about an employer callback, so he gets ready for his new job the next morning in his father's oversized suit. Mom tells him to be confident in his smarts and abilities; there's a reason why they offered him the job.
At the One International office, Geu-rae waits and observes the daily grind. He gets distracted by an attractive lady passing by, but he's brought back by an employee, who takes him outside for an informal rooftop interview. Geu-rae is 26, has only a high school equivalency exam on his education record, no work experience, and no additional language skills. The only thing he's got is his commonplace ability to work a computer. Basically, the most underqualified you could be.
The guy looks at him pitifully and introduces himself as KIM DONG-SHIK (Kim Dae-myung), the team's assistant manager. He notes that Geu-rae's got nothing going for him; what has he been doing with his life? After he leaves, Geu-rae acknowledges this: "What have I been doing with my 26 years up to this point?"
The office fellas peek around the corner to watch the attractive female coworker make copies. When she bends down, the guys jump back and look away in jitters. She walks out and tells her coworkers that she's finished the preparations.
This is AHN YOUNG-YI (Kang So-ra), and her conversation with her coworkers implies that she's dressed in skimpy office clothing for a reason. She seems to think this is the only way to approach their potential business partner, but her manager warns her that it may not be such a good idea.
She decides to go for it anyway. As the team walks in, we see that the presentation is for a business plan regarding new material in padded lingerie. To start off, Young-yi bends down (overly) seductively and strikes different poses, causing her observing coworkers to cringe. The business partner calls her over and asks her to turn around. She does as told, and the partner feels around her ass. Her coworkers react and gape in shock, just as I do.
The identity of the business partner is finally revealed. Thankfully, it's a woman, and she asks to see the product. Young-yi smiles and slides it out of her own ass, embarrassing her coworkers. She's been wearing it for a couple days to test the durability of the product. When asked to see the breast pads, she takes out the one she's been wearing, embarrassing her coworkers once again.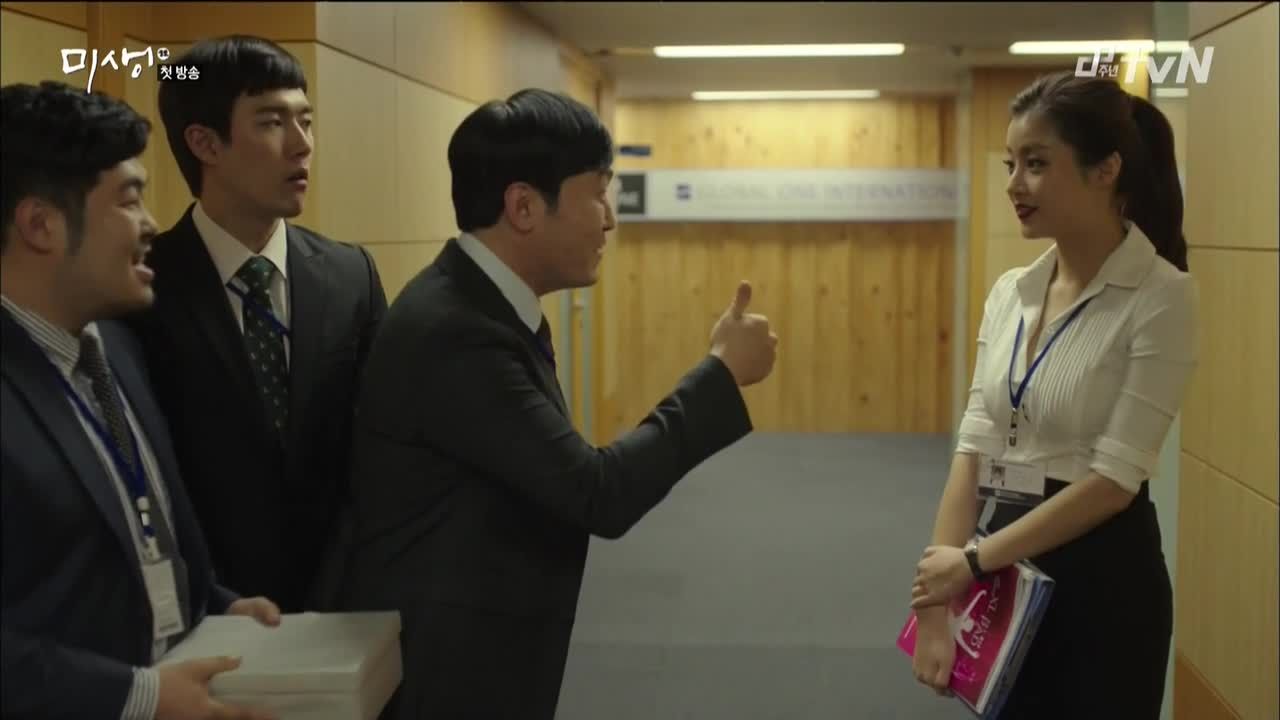 Thoroughly impressed by the idea to use tempur material in lingerie, the business partner compliments them on their understanding of her shopping mall's target audience. She asks how they came up with this, so Young-yi opens up to say that she's looked through every one of her early designs and read that she likes designs that put emphasis on the female body. The partner seems to like her audacity, and when she asks for a sample in her own size, Young-yi sensibly replies that she doesn't seem to need them.
The team emerges from the meeting victorious, and they give Young-yi a thumbs up. She excuses herself to take off her excessive makeup, and her coworkers praise this new intern, who's only been here for ten days, for scoring this massive deal. She's the best intern they have.
Young-yi walks out of the bathroom back as her normal self and passes by Geu-rae. As she puts her hair up, her hair-tie accidentally slingshots away and hits Geu-rae's head. He's dumbstruck by her beauty and quickly helps her look around for the hair-tie. Unable to find it, she just walks away, but Geu-rae finds it right by his feet soon after she leaves.
Geu-rae returns to work but awkwardly stands around, not knowing what to do. Dong-shik is busy with calls and searching through catalogs while Geu-rae stands and sits repeatedly to get out of his way. He admits that he doesn't know what to do, so Dong-shik gives him a stack of papers to copy. But he doesn't know where the machine is and stumbles some more before being given more detailed directions to the copy room and how many copies to make. Aw, poor lost puppy.
Dong-shik lets out a frustrated sigh as he watches Geu-rae walk away, and he gets a call from the department chief asking if the new worker showed up. He replies with sarcasm, saying that they've got a new intern who dropped in out of nowhere wearing a parachute, a metaphor implying that he scored this job through connections to someone higher up. He's close to tears as he complains that this is too much.
In the copy room, Geu-rae runs into more problems. There's no more paper, so he asks one of the interns where to get more. He's directed to the paper cabinet, but since it's empty, he ends up needing directions to the storage room. Geu-rae heads out, and another intern walks in and comments on how he's that new intern that got in via nepotism. The other guy smirks and nods, realizing why the kid was so clueless.
Dong-shik storms into the copy room looking for his copies, but he's met by Geu-rae lugging in a big box of paper. He tries to get the paper out as fast as possible and insists that he can do the simple task, but the tug-of-war between the two results in a mess of paper on the floor.
Geu-rae tries to complete the task, but Dong-shik needs to step in to teach him how to work the machine. Dong-shik can't believe that Geu-rae hasn't done simple copying work ever in his 26 years. He quickly introduces Geu-rae to Young-yi who enters the room, and runs off to a meeting.
As Geu-rae walks through the office, he observes everyone hard at work, all fluent in different languages. Even in Korean, he can't seem to understand the jargon. He looks longingly at a group of close coworkers and returns to his cubicle. He stares at the surrounding piles of papers around him, trying to interpret the language and graphs.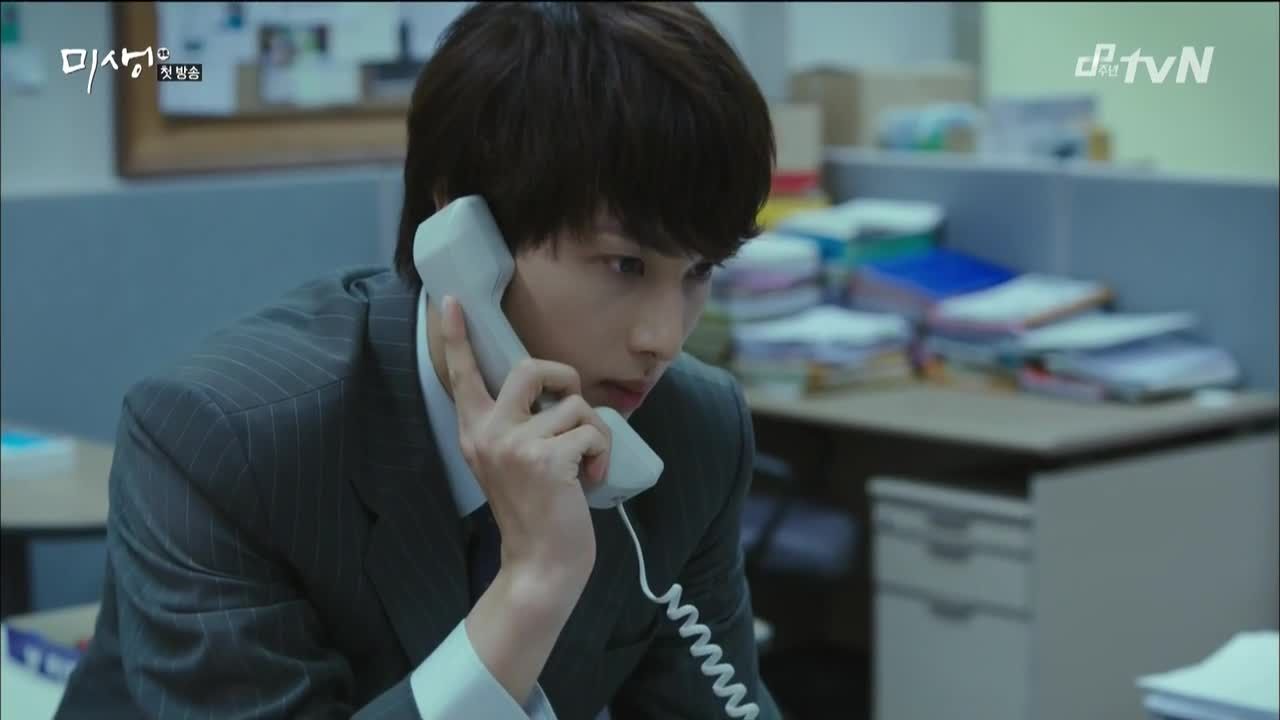 Suddenly, a call comes in to Dong-shik's work phone. He looks around for anyone else to pick up, but he's the only one left. On the line, the man asks for Dong-shik or Department Chief Oh, but Geu-rae has no idea who that is. He has to ask the guy in the neighboring cubicle for details, but that wait is enough for the impatient man to hang up.
Another call comes in, now to Department Chief Oh's phone. Geu-rae picks up but can't understand the Russian being spoken to him. He looks around and timidly grabs onto Young-yi's shirt, asking her to help him. She reluctantly agrees and speaks in fluent Russian, promising to get back to him shortly. She hands Geu-rae the memo and walks away before he gets to thank her.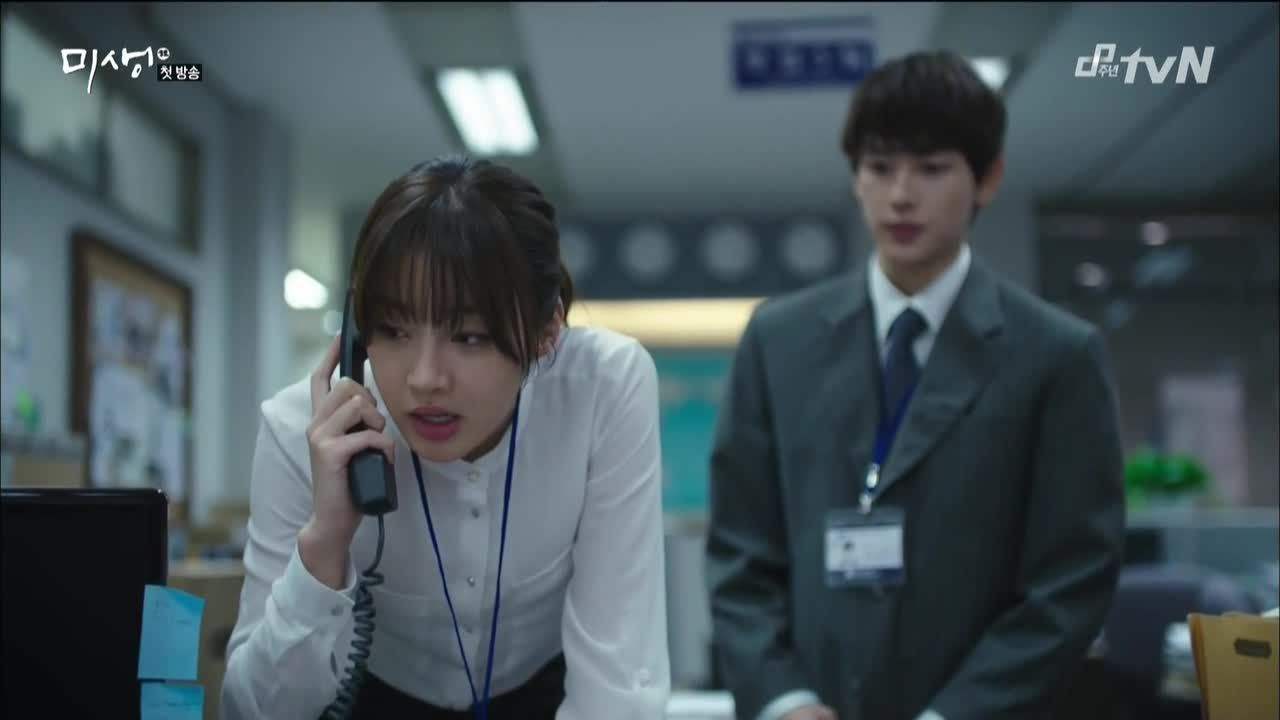 He thought that was the end, but it was only the beginning. The next call is in English, and he needs to drag Young-yi to take the call for him again. Geu-rae narrates his feelings as we get a montage of him chasing her around for help: "Honor, suspicion, pride… it's not the time to think about any of that. I threw them to the chickens."
Continuing his voiceover, he tells us, "I am a duck." In a quick flashback, young Geu-rae reads that ducklings think that the first thing they see is their mother. "I am a duckling."
Young-yi's finally had enough and tells Geu-rae that she's busy with her own work. She instructs him to tell the callers that everyone's busy and just memo the name and contact information. He asks what to do with international callers, and she advises that he just hang up. He's a little taken aback, but this is the only solution, as Young-yi isn't picking up his slack anymore.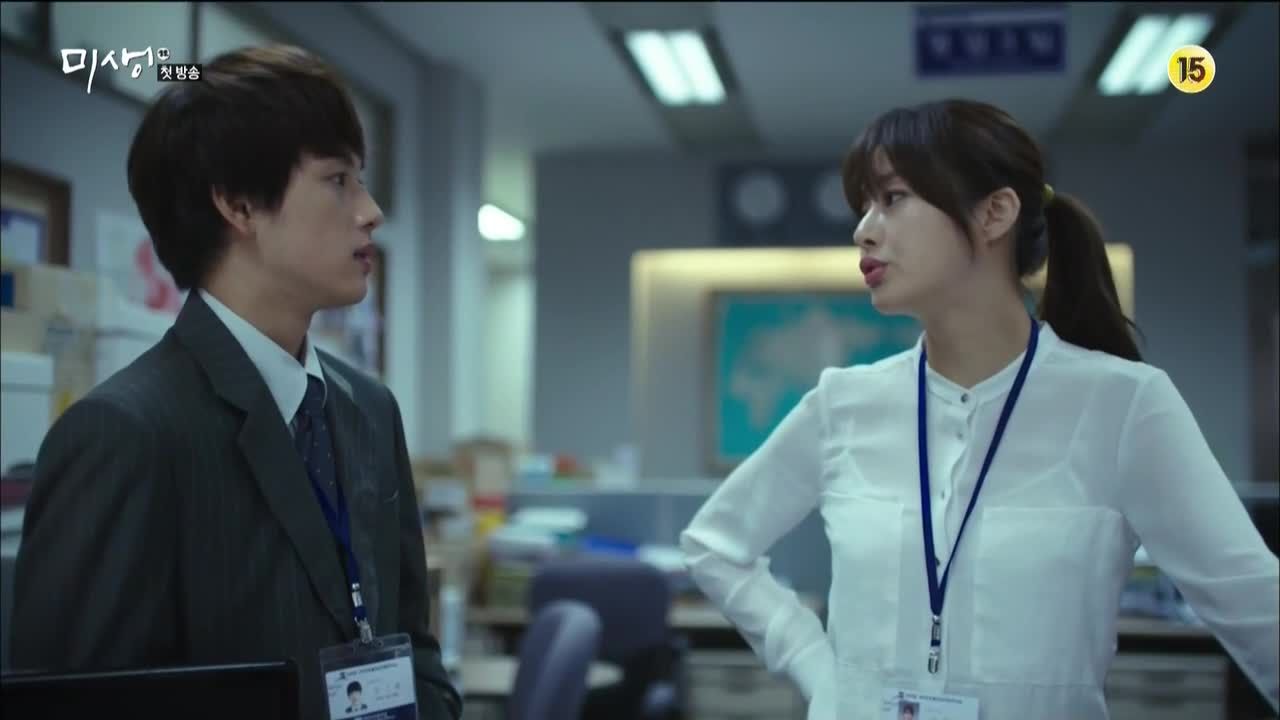 We move onto the resource team, where we're introduced to JANG BAEK-KI (Kang Haneul). He's apparently the presentation master, and he just finished up a presentation for the team in two versions for different computer compatibility. The team leader and manager are thoroughly impressed.
They move into a meeting room, where they discuss lunch plans. Baek-ki is on top of it, saying that he overheard their conversation earlier and reserved both their lunch options. Once again, they're impressed and tell him to come to their team after passing his intern presentation.
The manager looks outside the room at Geu-rae, pointing out that he's the intern that got in through some internal connection. The team leader makes a comparison with an anecdote about some kid who wrote a heartfelt letter to the chancellor of a school with a compelling reason for acceptance, but he dropped out soon after his admittance because he couldn't keep up with the workload.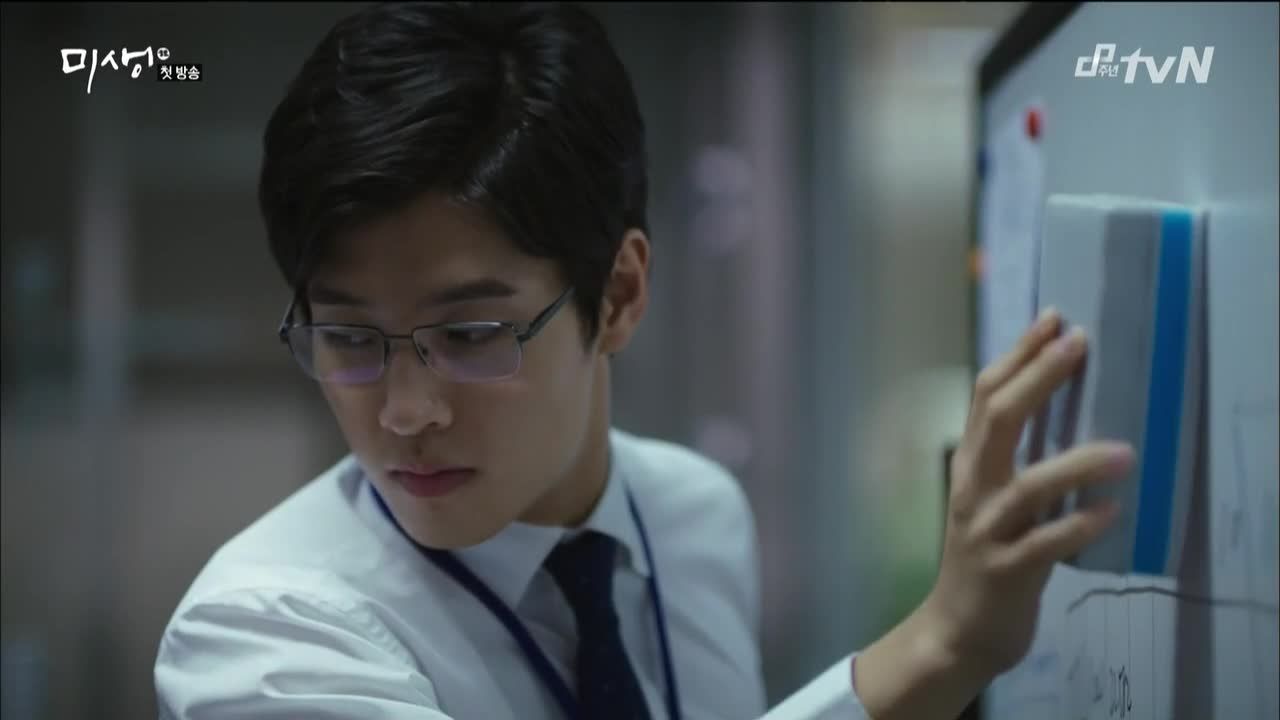 He adds that Geu-rae only has a high school equivalency degree, which grabs Baek-ki's attention. He looks back at Geu-rae, and the team leader tells him to be nice to him, since he won't be here for long.
Geu-rae walks back to Young-yi, this time wanting to thank her, but he's intercepted by Baek-ki, who congratulates her on her successful deal and introduces himself to Geu-rae. He notes that Geu-rae is a late addition and offers to help him around, mentioning the copy machine fiasco. He adds that Geu-rae should take off his suit jacket once he arrives in the office, so clueless Geu-rae does as told.
We transition to Mom looking for a new suit for Geu-rae at the mall. But as soon as she's told the price, she resorts to the cheaper alternative at the mart. She hesitates for a moment, but ultimately takes the affordable option.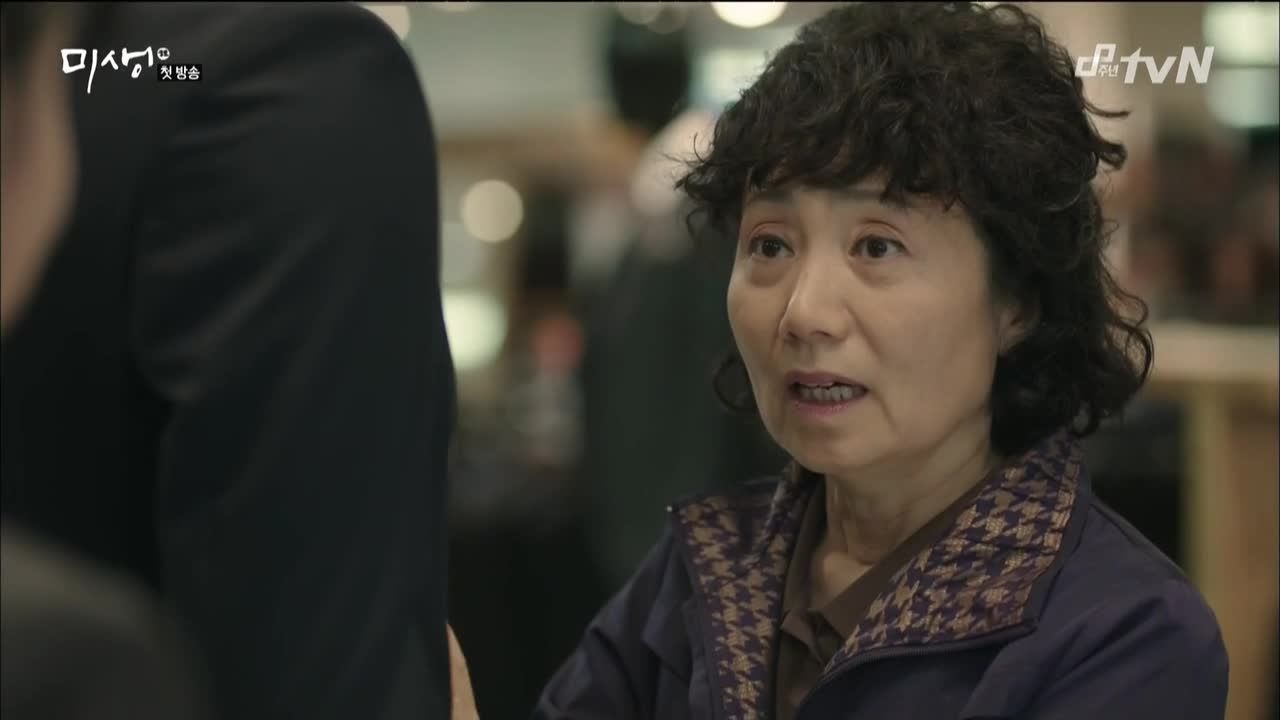 It's lunch time, and Geu-rae watches all his coworkers leave together. Young-yi sees him alone and approaches him, telling him it's lunchtime and then asking whether he's some mama's boy who can't do anything by himself. A bit offended, he says that he's not that dumb; he just really isn't hungry. A silence ensues, cuing his stomach to growl. Ha.
Geu-rae tries to join the other office interns in the elevator, but he's told that the elevator is too full for him. He's left behind while the rest of the guys gossip about how he's the one that got his intern position without any sort of test. Baek-ki listens to this in silence.
Geu-rae takes the stairs down and gets a kind offer to sit with the group of bitter interns by Baek-ki, who extends his courtesy even further by suggesting that he join their intern study group. One bitter intern scoffs at this suggestion and asks Geu-rae where he graduated from college, expecting some big name school. But Geu-rae honestly replies that he only took a high school equivalency exam, which earns him looks of disbelief.
As the rest of the interns leave the cafeteria, the ace intern Young-yi comes down to eat and joins Geu-rae. Expecting him to deflect, she apologizes for earlier, but he accepts it nonchalantly. His character is still a bit of a mystery to her and me.
Geu-rae walks back home and reflects on his first day. He had overheard a conversation with the rest of the interns who degraded him, wondering what great connections landed him there. But one of their seniors suggested that they be nice to him; he won't be around long, as there's no room for him here. It may be sympathy, but it sounds more like pity.
On his walk home, Geu-rae passes by restaurants full of office workers, de-stressing from a long day of work. He walks past them, pretty deflated and emotionless. When he returns to his room, he sees his computer on one side and his baduk set on the other. Upset, he grabs his baduk set and throws it into his closet.
We get a flashback to younger Geu-rae and his aspirations to become a professional baduk player. In a voiceover, we get a reminder: "A path is not simply for walking; its purpose lies in moving forward and improving oneself. A path that fails to do this is not a path."
While he's heading off for work, he gets stopped by his teacher, who tells him to quit his part-time job. He understands that his family is having a difficult time, but he urges Geu-rae to quit his job and put his all into his final qualifying chance. But before he got a chance to do so, his father abruptly passed away, and he tells us, "That was the end of my path."
As the young Geu-rae cleans out his books, he narrates: "It was not because of my lack of skill or bad luck. It was not because I was working alongside practicing. It was not because I came from a poor family. It was not because my father passed away. That would be too painful to accept. That's why it had to be because I didn't work hard enough. Even though I did work hard, I'm just going to believe that I didn't."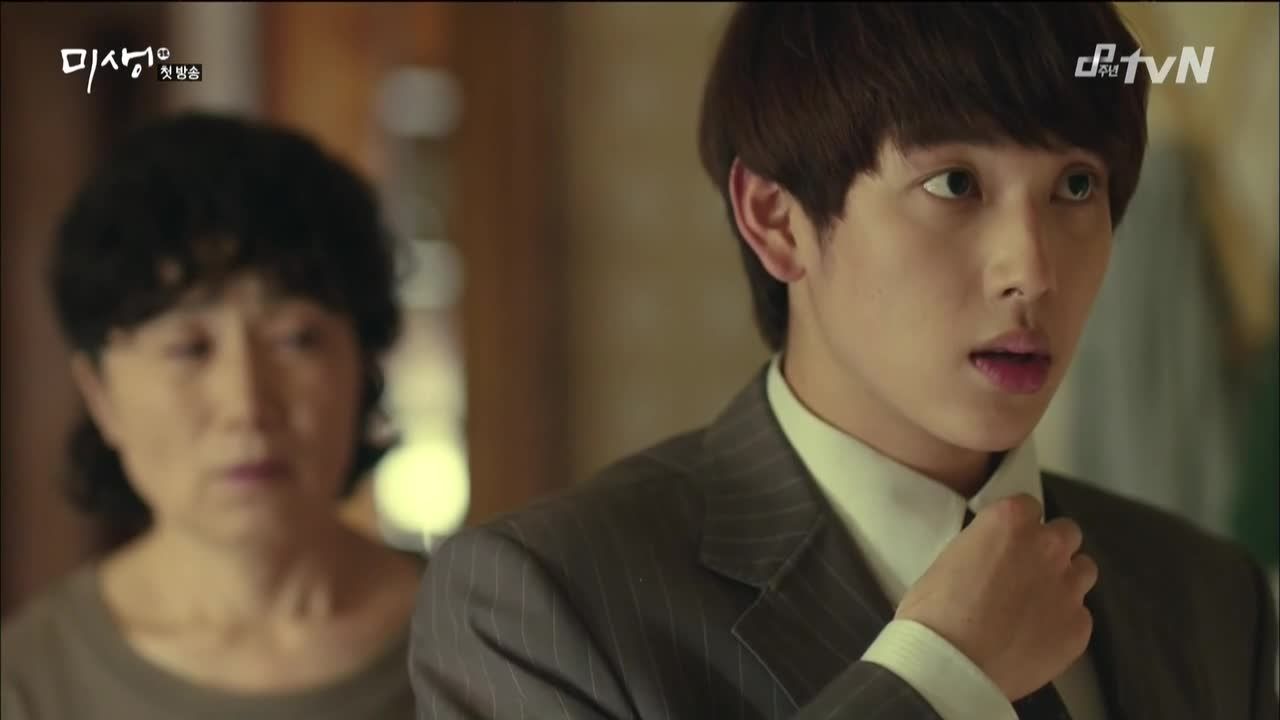 Back in the present, Geu-rae has a hard time falling asleep, as does Mom. She looks at the cheap suit she bought, having second thoughts. The next morning, Mom lies to Geu-rae that she didn't have time to get him the suit, so he heads off to work in the same suit as yesterday.
Geu-rae gets to work early and starts by taking off his suit jacket like a normal office worker. He wanders around his office area and takes note of the caller extension list. Young-yi and Baek-ki arrive at work, and he comments on how he's already used to the salaryman life. Their interaction is interrupted by a call to Young-yi, which she purposely doesn't pick up.
Dong-shik walks into the office distressed and asks Geu-rae to get Department Chief Oh on the line. He doesn't expect him to know what to do, but Geu-rae finally does something right in the office and connects him to the right person. Apparently there was a miscommunication, and jet-lagged Department Chief Oh needs to get to his next appointment as soon as he arrives at the airport from his business trip.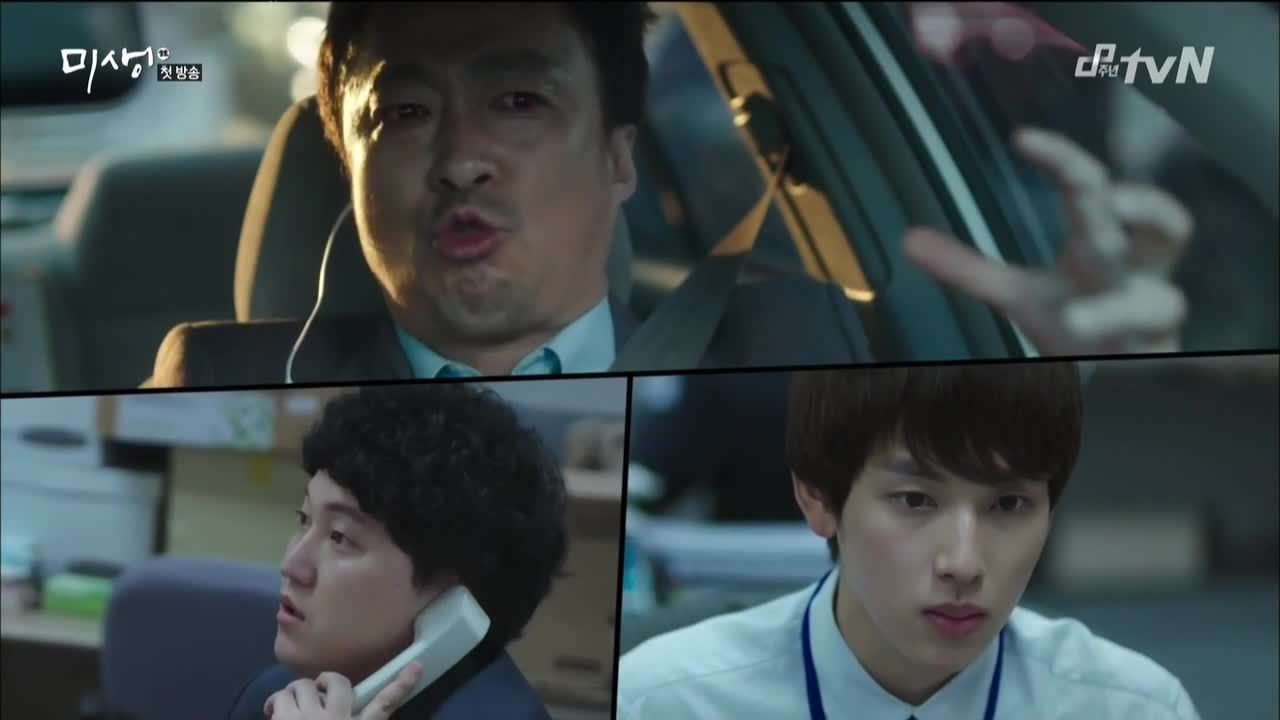 Department Chief OH SANG-SHIK (Lee Sung-min) rushes out of the airport, only to be met by heavy traffic on the road. He calls up Dong-shik and starts rattling on like a mad man about getting outside of your comfort zone to experience new things in life. Then he gets straight to the point: There's no way he's getting to his next meeting on time.
Dong-shik freaks out, needing to call the Department Manager, and Geu-rae is on his game. He connects him to the Department Manager, but Dong-shik's face falls when he gets his orders. If Department Chief Oh is going to be late, he's to send Geu-rae to the meeting. Uh-oh. Geu-rae is given a box of ginseng to present as a gift and sent off to prove that his 26 years weren't for naught.
Geu-rae arrives at the location and stares at the foreigner from afar with a blank look, wondering what he is to do. Department Chief Oh arrives sometime afterwards, putting in eye drops and yelling at Dong-shik for sending this new intern kid out. He doesn't even know English. But the deed is done, and all he can do is hope for the best.
When Department Chief Oh arrives, he's surprised to see the client happily amused by a baduk template that Geu-rae drew. He doesn't seem to mind that Department Chief Oh arrived late because he was occupied with the game. After sending the client off, he asks Geu-rae if he plays baduk well. Geu-rae denies his skill and lies that the simple baduk template is the extent of his abilities.
On the drive back to the office, Chief Oh asks Geu-rae what he did before coming to work for them. Geu-rae admits that he did nothing and intends to start from here. Chief Oh tells him that he's lucky; Geu-rae wouldn't have been accepted if he were in the office. But he gives Geu-rae a chance to speak up and advertise himself: "Sell yourself to me, or I might return you."
Thinking on his feet, Geu-rae thinks back to what he's best at and blurts out, "Effort!" His justification: "I haven't used effort in my life so it's a fresh new item ready for use." Chief Oh looks at him like he's crazy and tells him that he's not buying. Haha.
Back at the office, Chief Oh gets back into the grind, and Geu-rae waits by his desk for further instructions. He explains to Geu-rae that he's not buying his effort because it's nothing special. But Geu-rae begs to differ, arguing that his quality of effort is different. So he's given computer files to organize to prove it.
Mom decides to get the expensive suit and makes sure it's the latest style. She takes out her large wad of cash, mostly likely her emergency stash. Aww, Mom.
Geu-rae looks through the mess of files that he needs to organize into folders. He thinks back to his younger days when he organized his baduk files into folders according to the flow of his thought processes. He's a bit amused that even that skill comes to use here. He's interrupted by a call from Mom, who's in the lobby to give him the new suit. She wants him to have confidence wearing the new suit and leaves as quickly as she came.
Department Chief Oh is pleased with the translation work done by Young-yi and tracks her down. He thanks her and throws in a pitch for his team, hoping that the ace intern will choose to work under him.
While Geu-rae works hard on organizing the files, Chief Oh gets a call from Dong-shik notifying him that the seafood company they're working with may have mixed squid with small octopus, which could lead to problems with their sales. He's enraged by this news and says that he'll terminate the contract if the squid is mixed with anything else. Under his breath, he says that he needs to call the Department Manager, so Geu-rae stays on top of his memorized extensions and connects him.
Geu-rae thinks about what Mom said and goes to change into his new suit. He looks spiffy in his new fitted suit, and he holds back tears as he looks at himself in the mirror.
Department Chief Oh converses with a coworker down the hallway and asks him to send him some good interns. In the room of interns, he lectures them about how this sauced squid will be shipped to the U.S., but the mixed-in small octopus makes the product impure. He orders them all to go to the factory and pick out the octopus by hand.
As soon as he leaves the room, the interns complain about the quality of work they have to do. One asks if Young-yi is excused because she's a girl, but it's because her team leader didn't let her go. The ace doesn't get told to do the dirty work. They all complain and Bitter Intern comments on how this work should be done by someone else, looking at Geu-rae. They all look at him accusingly.
Department Chief Oh takes a look at Geu-rae's progress and seems impressed by his organization, which is by category and year. But he pitifully notes that it seems like Geu-rae has no friends; looking through the files felt like looking through a diary.
The interns are off on their squid sorting job, and everyone pairs up, of course leaving Geu-rae as the odd one out. Looking determined, Geu-rae prepares to dive into the large cylinders of squid to find the unwanted octopus.
After a while, the other interns are sick of working in the cold containers and doing the dirty labor, but Geu-rae is still on it, despite the obvious toll it's going to take on his new suit. After a couple containers, he finally comes upon his first small octopus. When he gets a call, he tries to pick up and drops his phone into the watery squid pile. Ick.
It's Department Chief Oh calling, and he eventually reaches Baek-ki to inform the interns that the search is over. The providers of the squid have agreed to negotiate a new deal. Baek-ki tells Bitter Intern to notify Geu-rae before they head out, but he's not one to lose this opportunity. He doesn't properly let Geu-rae know that the search is over and leaves him to work hard on his own.
When the intern team returns, Baek-ki realizes that Geu-rae has been left behind. Bitter Intern says it's just hazing, but Baek-ki doesn't seem amused. He calls the factory manager to tell Geu-rae that they've left.
The factory manager finds Geu-rae still searching through the squid containers and notifies him that the rest of his intern team left. His face falls when he realizes that he's been left behind. Geu-rae tries to get a taxi home, but there are none in sight. The factory manager's words echo in his mind: "How did you get left behind?" Dejected, Geu-rae sits alone at the bus stop and looks at his soiled new suit.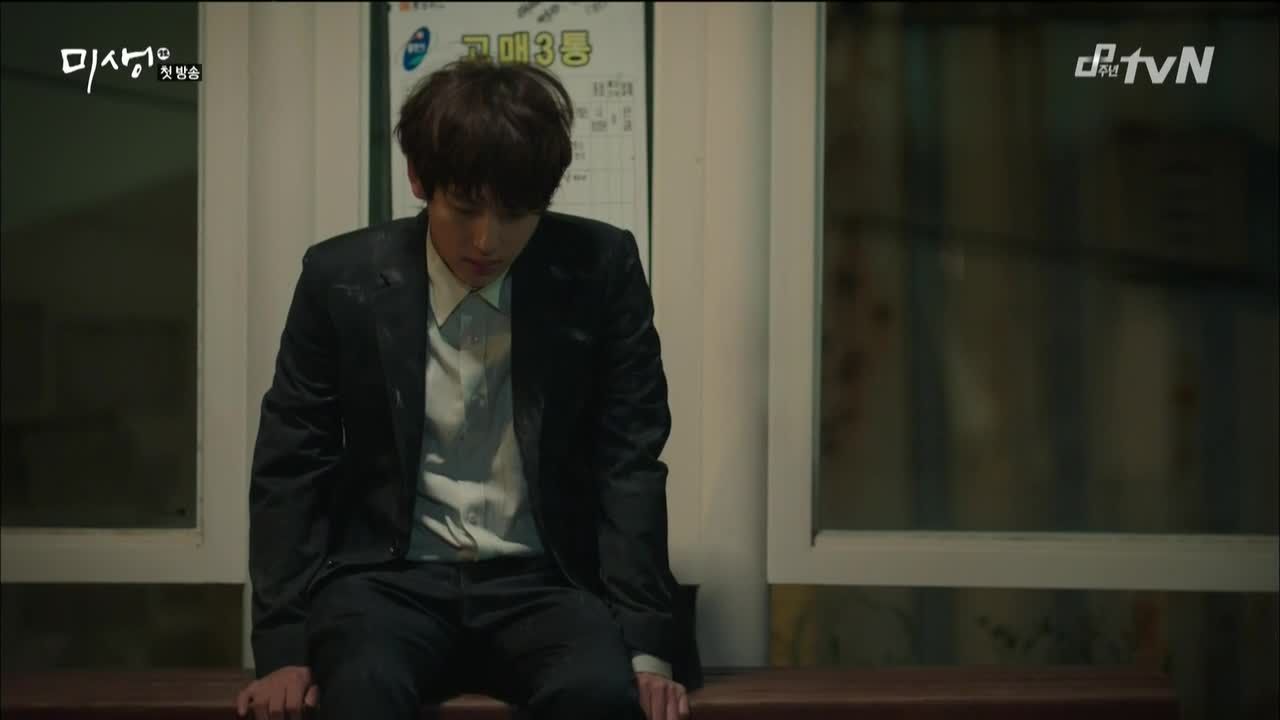 Geu-rae eventually finds his way back to the office and runs into Young-yi, who's on her way out to the office dinner. She gets a call from Baek-ki, and she hands the phone over to Geu-rae. Baek-ki apologizes on behalf of Bitter Intern but hears the other interns laughing at him in the background. He's been stepped on pretty badly, but he still decides to go to the dinner with Young-yi.
Once they arrive, he gets ridiculed some more but seems immune to the bullying by now. They're invited inside, but Young-yi takes her leave, excusing herself because of the late hour. She greets Department Chief Oh before she leaves, and the rest of the interns flood out to greet him. He asks about Geu-rae's horrid state, but Geu-rae replies by saying that he has work left to do in the office — the file organization.
Chief Oh tells him to go home and clean himself up, but Geu-rae refuses. He says he'll finish it and have it ready by tomorrow morning. He turns around and walks away, narrating once again: "I worked hard. No, I didn't work hard. That's why I needed to break into society. That's why I got left behind."

COMMENTS
I was a little surprised at the darker and suppressed tone of the drama at first, but I appreciate the change of mood from our typical workplace dramas. It has a more realistic vibe to it, as opposed to the cute and fluffiness that usually accompany a workplace drama — which is more often than not a rom-com. I'm liking the muted tone of Misaeng, and I think the dull background of the workplace helps focus the attention on our characters, who are far more complex than their setting suggests. It's a neat juxtaposition and somewhat reflective of reality — complexities that exist even in the most banal everyday settings. It's a different kind of charm, and I like it.
Even though Geu-rae was an emotionless zombie throughout most of this episode — to be fair, Im Shi-wan is really good at that glazed-over look — there were enough hints and flashbacks to suggest that he has his reasons. It was poignant how he refused to blame his skill, luck, or circumstance for his failures because it would be too painful for him to accept. So he blamed his failure on his lack of effort, concluding that self-hatred is better than hating something he can't control. He's a tragic character, a victim of circumstance, and something about him makes me want to root for him. He's the underdog of underdogs, and I just want him to succeed.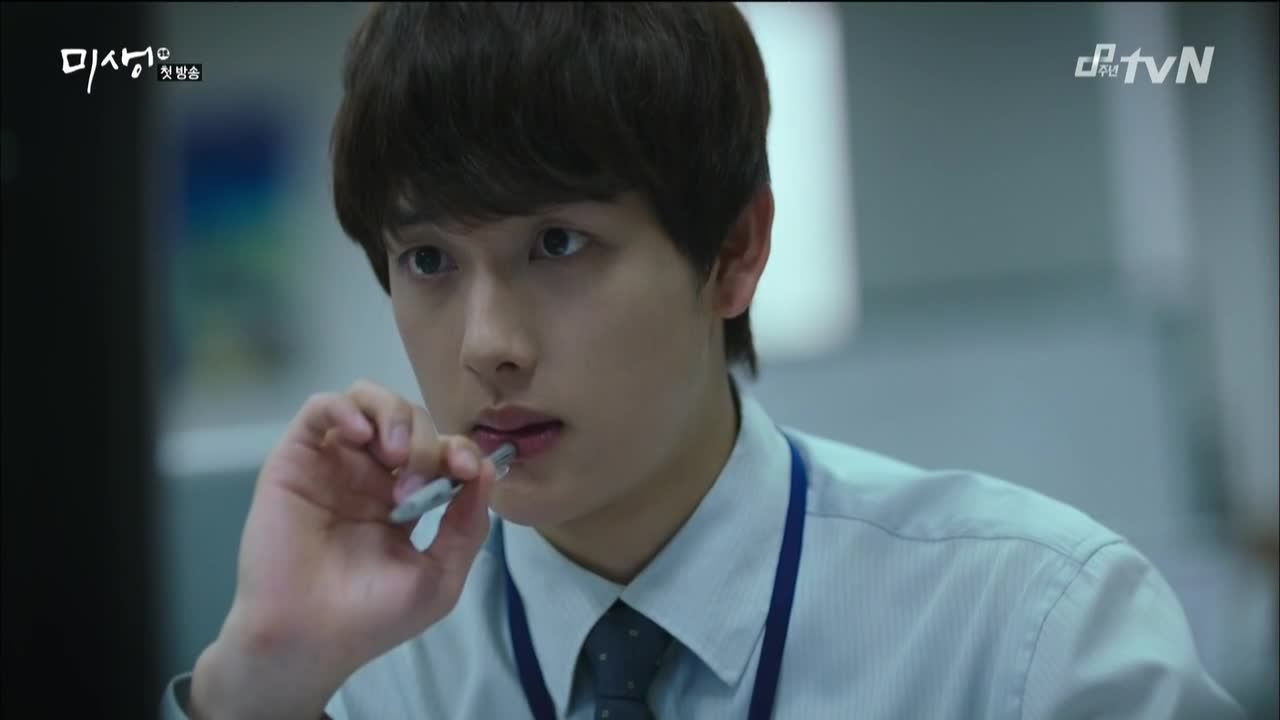 Young-yi is great so far, and I hope we see more of her intelligence at work in the office. I loved her introduction because it was tricky enough to have me fooled but effective as well, in showing what kind of person she is. She's got the smarts and the audacity to be quite successful, so I hope we see more of that going forward. But just like the other characters, she's more complex than her perfect ace intern exterior, and I'd be interested to see what makes her tick. Regarding Baek-ki, I don't know how much of him I can trust. While he does seem fairly harmless, he does have a stealthy look in his eye sometimes. I want his intentions towards Geu-rae to be genuine, but I'm not sure of it just yet. He's been the nicest of all the interns, but I'm not sure if that's saying much since they're all big assholes. But you know what would make me overlook his slight sketchiness? Bromance.
Overall, a pretty solid premiere episode. Personally, I don't think it needed to be 90 minutes, but hey, not my call. I just think I saw the same scenes and faces multiple times throughout the episode. Not that any of the acting or faces are a pain to look at; they're all great and I'm looking forward to more. I'm interested to see how Geu-rae goes from a clueless blank state to the pretty competent badass we saw at the beginning of the episode. He's got two years to undergo the transformation, and I hope it's as epic as that intro was.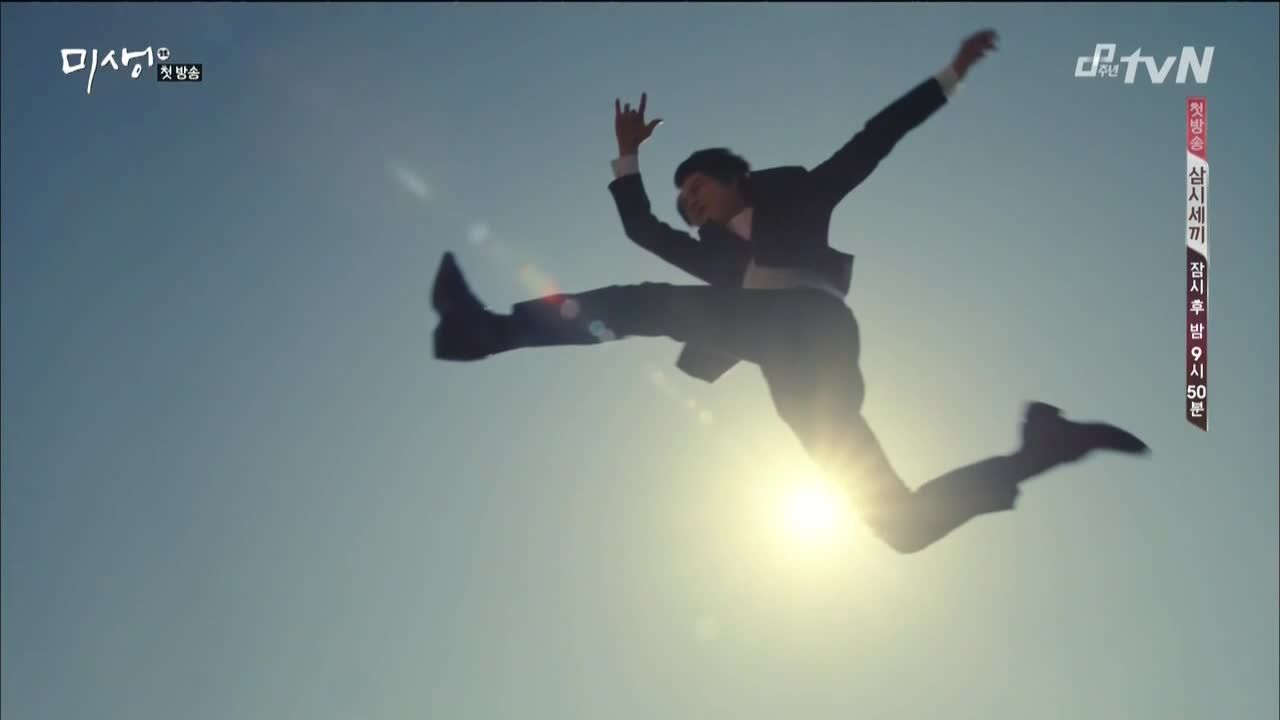 RELATED POSTS
Tags: featured, first episodes, Im Shi-wan, Kang Haneul, Kang So-ra, Lee Sung-min, Misaeng