Misaeng: Episode 2
The interns aren't the only ones who have to worry about their status in the company — the department heads have their own headaches to deal with. For Department Chief Oh, that headache is named "Geu-rae," and it's a long day at the office as Geu-rae attempts to prove that his efforts are sincere. But how does someone who spent his life so alone learn to work with others, especially when they don't necessarily want to work with him?

EPISODE 2 RECAP
Geu-rae returns to the office to finish organizing the computer files, reminding himself that he's here because he's not a hard worker. He stays late into the night working on a new and improved file system — so late, in fact, that he doesn't return home. In the morning, he washes up at a nearby jjimjilbang and puts on his father's old suit, ready for another day of work.
As he's entering the elevator to go back to the office, Young-yi hurries around the corner and Geu-rae holds the door for her. She's surprised to see him there so early, but once she takes in his old suit and the way he asks about nearby dry cleaners, she realizes that he never went home last night. Spotting the necktie in his pocket, she reminds him that there's a dress code that interns must follow, but Geu-rae confesses that he doesn't know how to tie it.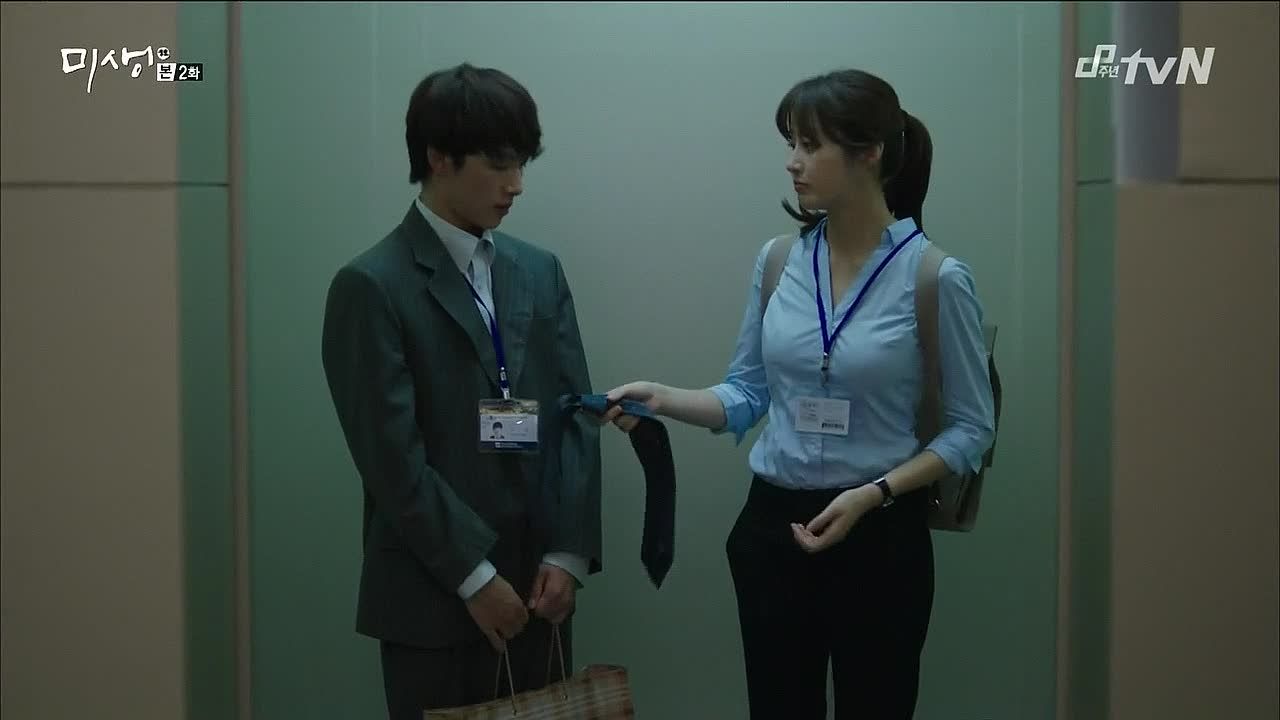 She offers to do it for him and he gets embarrassed, worried about how it might look if someone saw her tying it around his neck — but she's way ahead of him as she ties it around her own neck, then loosens the knot and hands it over.
Dong-shik marvels at the way Geu-rae has organized the computer files, and Department Chief Oh admits that their intern has some backbone after all. But that's all he has, because it's not like Geu-rae's going to be working here for long. Geu-rae arrives at his cubicle as Chief Oh is leaving for a meeting, and he tells Geu-rae that he's at least proven his "effort."
But Dong-shik waves him over and asks him why he organized the files the way he did, and tells him that he was actually working on a company-wide manual. Just because he organized it in a way that makes sense to him doesn't mean it will make sense for everyone: "You don't work alone. Keep that in mind while you're here."
Those words hit home for Geu-rae, because his whole life he has worked alone. A flashback shows a young Geu-rae at home, sitting at his computer and going through files of various baduk strategies. Present-day Geu-rae looks dazedly around the office, taking in the buzz as the rest of the office workers arrive, and he repeats to himself: "Here, I don't work alone."
Chief Oh returns from his meeting to see the manager of the department next door berating his intern for messing up a simple task. The intern is contrite and apologizes profusely while the department chief rages on, reminding him that they can fire interns. Furious, he storms off, and Chief Oh follows.
As they wait for the elevator, Chief Oh nonchalantly tells the other department chief not to let the interns get to him like they always do. But Chief Oh should be worried about his own intern, as the other department chief clues him in on who Geu-rae's "parachute" connection is: the executive director.
Geu-rae's in the copy/break room shredding documents, and ooof, it looks like he overheard Chief Oh's dismissive "he won't be here for long" comment. But his reverie is broken when the rest of the interns enter and jokingly remark how it smells like octopus. As they make coffee, they discuss how they haven't decided on a presentation team partner yet, and then leave making snide remarks that imply Geu-rae won't be able to find one.
But Baek-ki stays behind and silently watches Geu-rae at the shredder, before suddenly saying that he feels he should do well in order avoid the same fate. He means being shredded and discarded, which is what he believes will happen if he doesn't pass the final presentation interview.
Geu-rae isn't satisfied with that cryptic message, and asks Baek-ki what he needs to do to avoid being "shredded," but Baek-ki just laughs and tells him he was kidding. After all, being an intern at One International isn't everything — there are tons of other jobs out there. Geu-rae will still need to find a partner, though, because he won't be able to do the presentation alone. Which does seem to be the theme of the day: You can't work alone.
As Dong-shik counsels Geu-rae on his work, Chief Oh watches and thinks back to his conversation with the other department chief. The animosity between Chief Oh and the executive director is apparently well known, but the other department chief reassured him that the executive director wouldn't have been so petty as to assign Geu-rae to Chief Oh's department just out of spite, either to give his team trouble or to have Geu-rae keep an eye on him. If anything, the executive director just didn't know where else to put him.
It's sweet how Dong-shik cheerfully informs Chief Oh that Geu-rae knows how to use spreadsheets and that he told him to organize a report a certain way, but Chief Oh yells at Dong-shik, asking if he thinks he can just hand off important work to a kid who knows nothing. Chief Oh leaves, and Dong-shik calls for a lunch break as he goes to follow his boss, sensing something is wrong.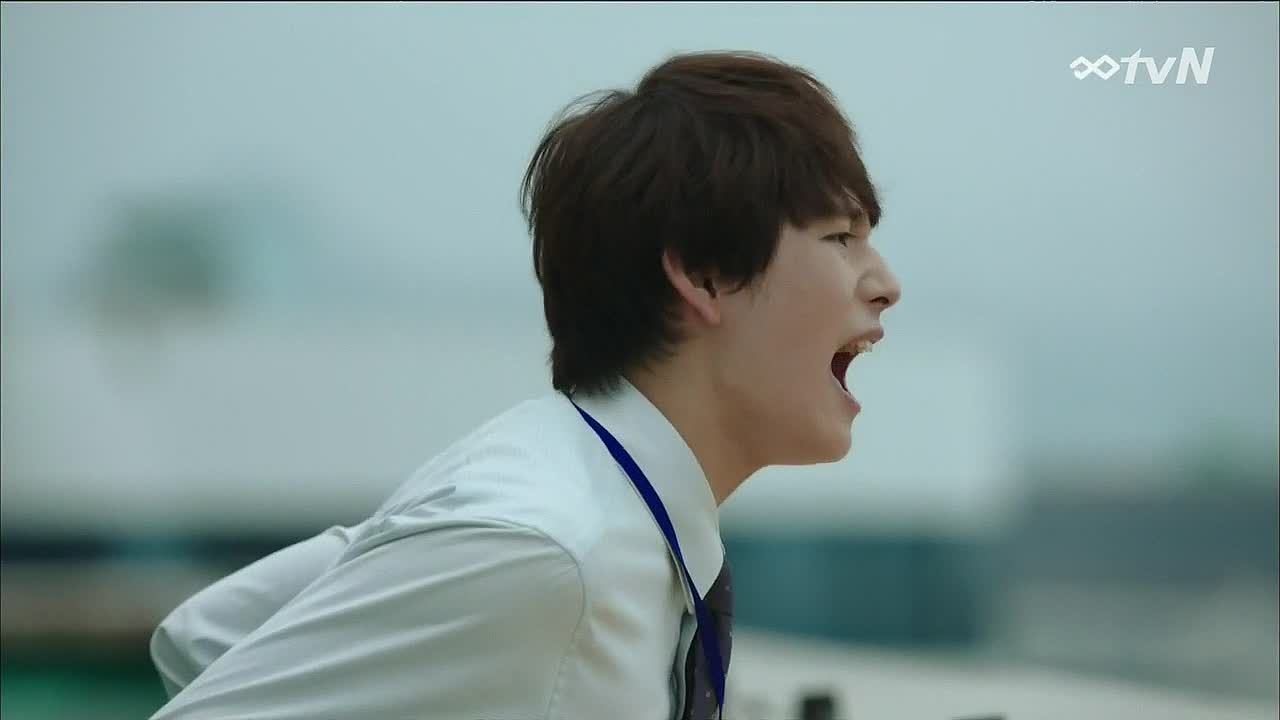 Geu-rae heads to the roof, where he stands alone with his lunch and stares out across the cityscape. Even though everyone keeps telling him he can't work alone, he feels like they're forcing him to be alone anyway. Venting his frustration, he yells out to the world: "What do you mean, 'You don't work alone,' huh?"
Except Chief Oh and Dong-shik are walking below and turn around, wondering where the voice is coming from, and Geu-rae quickly ducks behind the wall to not be seen.
Young-yi has her arms full with fabric samples, and Baek-ki hurries over to offer to carry them for her. He jokingly rattles off a list of reasons that are all "because it's heavy," but at her stone-faced silence, he decides to let her carry them herself.
He also reminds her that the decision to choose a presentation partner will be made by tomorrow, conveniently adding that he hasn't selected a partner yet and that the competition will be fierce as everyone tries to make sure they aren't left partnerless.
Geu-rae overhears Chief Oh ask if Young-yi's found a presentation partner yet, and she says that she was rejected by Baek-ki just now; even though she didn't ask, she knows he won't want to be her partner. But she's confident enough that she doesn't care who her partner is.
As she helps him clean up the break room, Geu-rae takes his chance and confidently says, "Be my partner." He reminds her that she said she didn't care who she was with, and promises he'll work hard and try not to aggravate her.
She's a little thrown by his intense gaze and asks if there's something on her face, and he shakes himself out of his daze — he was just imagining having the guts to ask her. He remembers her hair-tie and hands it over, apologizing that he didn't return it sooner. He leaves kicking himself for not being able to ask her.
He's still a little worried about not finding a presentation partner, but perhaps he needn't be. Suddenly all the other interns start coming up to him, acting friendly and offering to help him with his work, as well as giving him treats like coffee and snacks and energy drinks. They all confirm he hasn't selected a partner yet. As Geu-rae's desk becomes covered with their gifts, he grows more and more bewildered by everyone's sudden attentiveness. Baek-ki walks by and takes note of Geu-rae's bounty, pointing out with his trademark smile that Geu-rae's becoming popular.
Young-yi is busy trying to juggle all the tasks assigned to the "ace intern," but she's still concerned that no one has asked to be her partner. Bitter Intern comes bouncing up, offering to "rescue" her by being her partner. He cheerfully informs her that no one wants to work with her because she's too good — she'll stand out too much in an assignment that's all about teamwork.
Anyone is a better partner than arrogant Bitter Intern, and after a moment's deliberation, Young-yi asks Geu-rae to be her partner, much to Geu-rae's astonishment. Neither seems too convinced that this partnership will work out, but Young-yi reassures him that she has her own shortcomings, too, and they'll work hard as a team.
Geu-rae's just still dazed that she asked him, and as he continues with his tasks, he smiles as he realizes he'll finally be working in a team. Dong-shik's been keeping an eye on his intern throughout the day, noting how the other interns have been acting around him, and decides to pull him aside to give him a little debriefing.
Dong-shik points out that the reason the other interns have been trying to bribe him is because Geu-rae has something they want in a partner: a lack of confidence, comprehension, skills, and talent. Which means that Geu-rae will make them stand out by comparison because they'll look better and more competent than he is. He warns Geu-rae to be careful about who approaches him to ask to be his partner.
As Geu-rae struggles to come to grips with this truth-bomb, he remembers what it was like when he was younger and returning home from his night job, baduk study notes in hand, fighting against the crowd going to school and work in the morning. He'd gone against the flow, literally and metaphorically, all his life.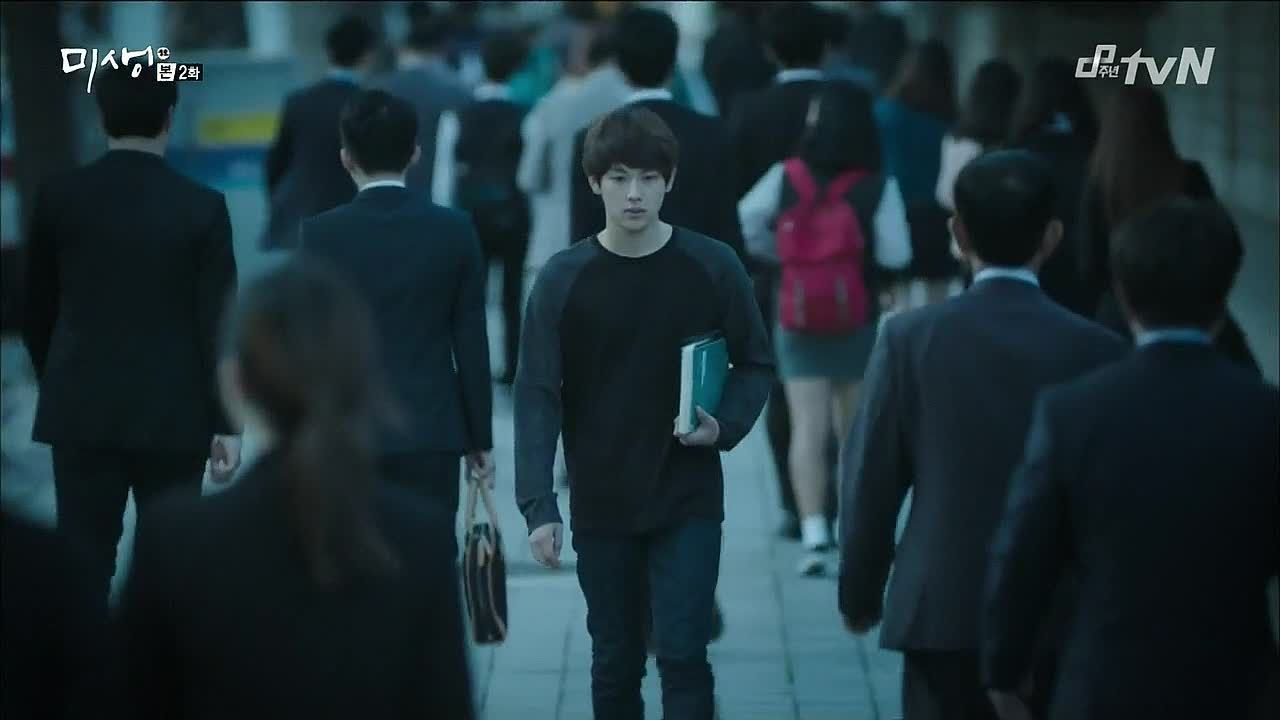 But even though he now could blend in with the rest of the crowd, he realizes the ugly truth is that he's still going in the opposite direction. All the other interns may now smile and acknowledge him, but he's alone here, too. He gazes around at all the hubbub in the office, realizing that he's the only one who doesn't know the strategy of office politics.
Overwhelmed, and a little shell-shocked to think that Young-yi is just using him for her own gain, he steps out of the office and stands in front of the elevator. Chief Oh follows him, and once they're on the elevator together, he asks why he was leaving during the work day. Geu-rae: "Because I'm alone."
That's not the answer Chief Oh was expecting, and Geu-rae clarifies that Chief Oh said he couldn't do company work by himself. He further explains that all his life he's been alone. Geu-rae: "So I don't know how not to work by myself. But you could teach me! You could give me a chance!"
But Chief Oh coolly points out that he still needs skills in order to take advantage of opportunities, and Geu-rae asks if it's about his lack of education. No, it's not about his education — it's about how he got here in the first place.
Does he know how hard everyone worked just to make it into this company, all the sweat and tears they shed to keep from being kicked out? Yet this is a world where some kid with no skills or qualifications can ride the elevator just because of some connections he has. Chief Oh looks Geu-rae straight in the eye and warns him that he doesn't support that kind of world, not yet.
After Chief Oh exits the elevator, Geu-rae wonders how much more tears and sweat he'll still need to shed.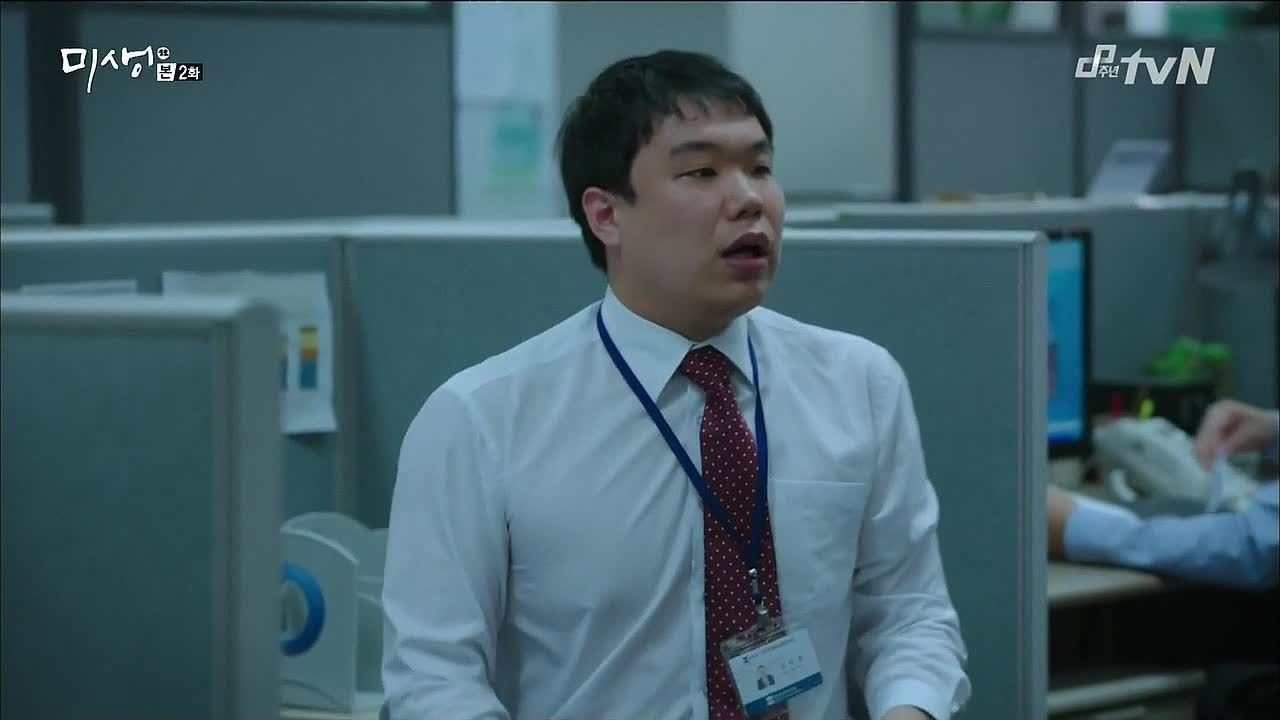 KIM SEOK-HO (Jo Hyun-shik) is the earnest-but-ineffectual intern that's been giving the other department chief such issues, and after being both chided and then encouraged to try and do better, he's given a new task, but is unable to find a glue-stick in his team's office supplies.
He goes to Geu-rae's department to ask to borrow one, and Geu-rae is happy to oblige, since he just finished using it to paste together the expense reports for Chief Oh. But uh-oh! Seok-ho messily glues his contract documents together, and one of the confidential contracts on Geu-rae's desk (that Chief Oh just warned him about being extra careful to shred) gets attached without him knowing.
As Seok-ho rushes to deliver his own contract, the contract from Geu-rae's department falls off in the lobby — to be found by none other than the executive director himself. Oh no!
The executive director marches straight up to Chief Oh's department. Everyone scrambles to stand and bow respectfully, and the executive director hands over the contract he found in the lobby. Geu-rae tries to speak up, but Chief Oh quickly silences him as he braces for the executive director's reprimand. Everyone else in the office watches expectantly.
But the executive director just pats Chief Oh on the shoulder and tells him to do well. After he leaves, Dong-shik yells at Geu-rae for not being better aware of document security, but Chief Oh just yells at Geu-rae to get out: "Don't you finally get it? Why you don't get a chance? Why you're not qualified?"
Dong-shik takes Geu-rae outside to the roof, where he runs laps as punishment. Even after Dong-shik leaves (telling him to come back inside after two more laps), Geu-rae continues on in his solitary race of shame, forcing himself to squat for extra punishment.
The other department rejoices because, thanks to their intern, they were able to successfully deliver their contract and make the big sale. Chief Oh gloomily looks on, and then returns to brooding over the mistake made by Geu-rae. Except he now sees that the paper that was found in the lobby sports Seok-ho's signature, accidentally transferred when he was gluing his papers together.
Realizing what really happened, he goes out for a smoke with the other department chief, who can't stop boasting about how his intern managed to successfully help close their deal. But when Chief Oh realizes that Seok-ho is a newlywed with a newborn, not to mention the eldest son and therefore head of his family, he simply encourages the other department chief to keep a good eye on his intern, and to make sure he doesn't need to borrow any more office supplies.
Covered in sweat, Geu-rae limps back into the office, his punishment laps completed. Chief Oh and Dong-shik aren't around, though, and he collapses into his chair. Everyone starts to leave the office — except for one snazzy dresser who beelines for Geu-rae. He immediately asks if Geu-rae's picked a presentation partner yet, and then introduces himself as HAN SEOK-YUL (Byun Yo-han), an intern for one of the textile teams.
Seok-yul takes him back to the rooftop for a private conversation, making smarmy small-talk the whole time. But Geu-rae's patience is long gone and he wearily gets straight to the point, asking Seok-yul why he wants to be his partner. Seok-yul rattles off all his qualifications, but Geu-rae just stares at him, unamused, before turning and walking away.
Chief Oh decides to shred the evidence that proved Seok-ho was the one at fault for the document security breach. When he realizes that Geu-rae isn't at his desk, he panics that he's left for good. He kicks the empty chair in frustration: "Even though I told him go, did he really leave?" Then he sheepishly notices that Geu-rae's things are still there, ha.
Geu-rae returns to his desk, head hanging low, and Chief Oh pretends to be focused on his computer — but in reality is keeping a careful eye on Geu-rae. The dejected intern slowly gathers up his things, and just as Dong-shik is about to chide him for leaving before his superiors do, Chief Oh suddenly intervenes and insists on a team dinner.
As Geu-rae grills their meat, Chief Oh downs glass after glass of soju (even breaking etiquette and pouring for himself!). Dong-shik is concerned that Chief Oh is too drunk, but he (drunkenly) insists he's not, and then continues to explain to Dong-shik how smart and useful Geu-rae is to their team.
Dong-shik and Geu-rae are both astonished, and when Chief Oh brings up the mistake with the glue stick, he tells Dong-shik that it actually wasn't their intern's fault, so he should stop blaming Geu-rae. When Dong-shik asks whose fault it really is, Chief Oh cheerfully sings out "It's a seeeeeecret!" And then falls out of his chair.
As they try to carry their drunken boss down the street, they run into the other team with a similarly drunk department chief, having just concluded their celebratory dinner for winning the contract. The two drunk department chiefs get into a little war of pride, until Chief Oh finally shouts out the truth about Seok-ho being the one responsible, yet "our kid" was the only one who got in trouble.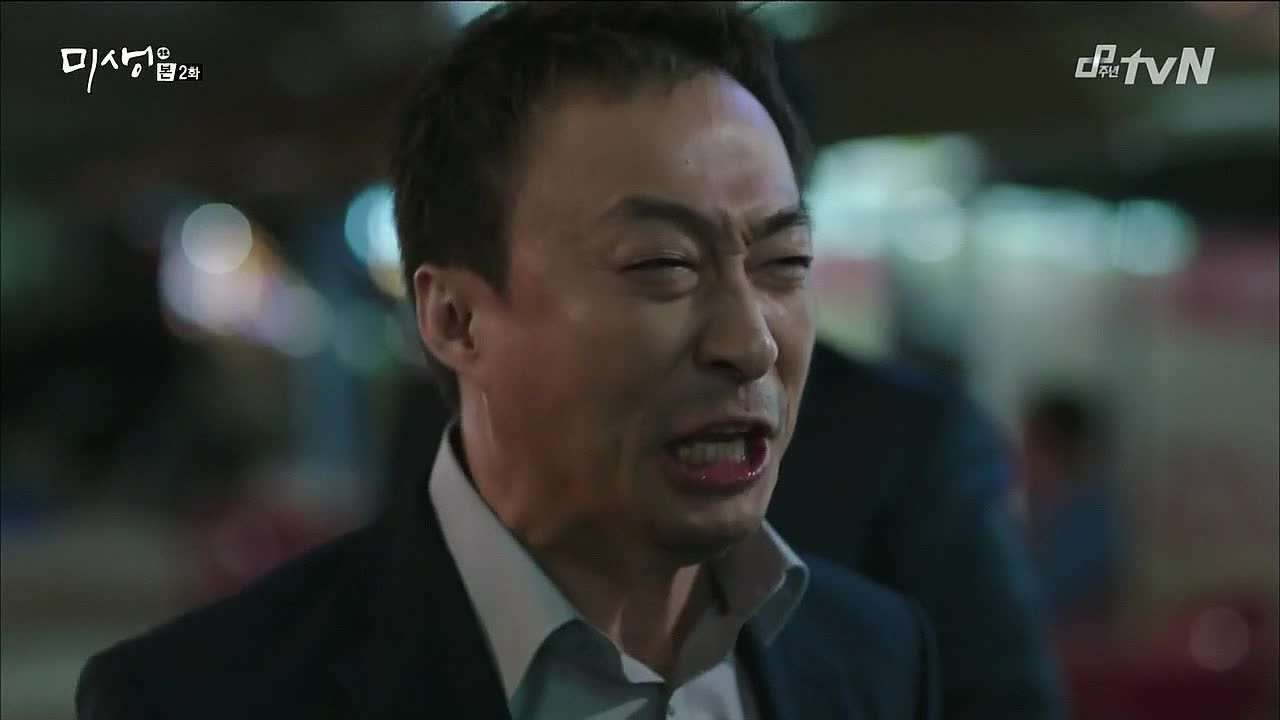 In a montage, we see all the office workers make their way home, either by falling asleep on the subway, or being escorted into a taxi, or stumbling down the street. Young-yi returns to her officetel, where she still hasn't fully unpacked all her things; Chief Oh surprises his children as he wakes them up, which causes his wife to yell at him because he's always coming home drunk; Seok-ho tries to enter his home quietly in order to try not to wake up his wife and baby, but then delights in playing with his daughter once she wakes; and Geu-rae sits alone in the darkness of his bedroom.
He can't stop thinking about what Chief Oh said ("Our kid got in trouble because of what yours did!") and tears brim in his eyes as he thinks about being called "our kid," then he laughs as he writes on a piece paper: "We don't work alone."
The next morning, he's in his new suit that his mother bought him, and confidently makes his way to the lobby elevators, not even stopping when Young-yi calls out after him. He marches straight up to the smarmy intern Seok-yul: "Let's be partners."

COMMENTS
I'm not so sure how I feel about Geu-rae teaming up with an obvious slickster like Seok-yul, but I'm just glad he's starting to find his feet and trust himself. Not gonna lie — I totally teared up myself when Chief Oh called him "our kid," and then I nearly lost it when Geu-rae clung to those words so tightly. After the agony of watching this clueless puppy get continually kicked down despite all his best efforts, I'm so relieved that Chief Oh is finally in his corner. I think it will take a personality like Chief Oh — one that seems to play almost by his own rules in a culture where there are so many rules to follow — to help Geu-rae learn how to manage the messy and fraught reality that is office politics.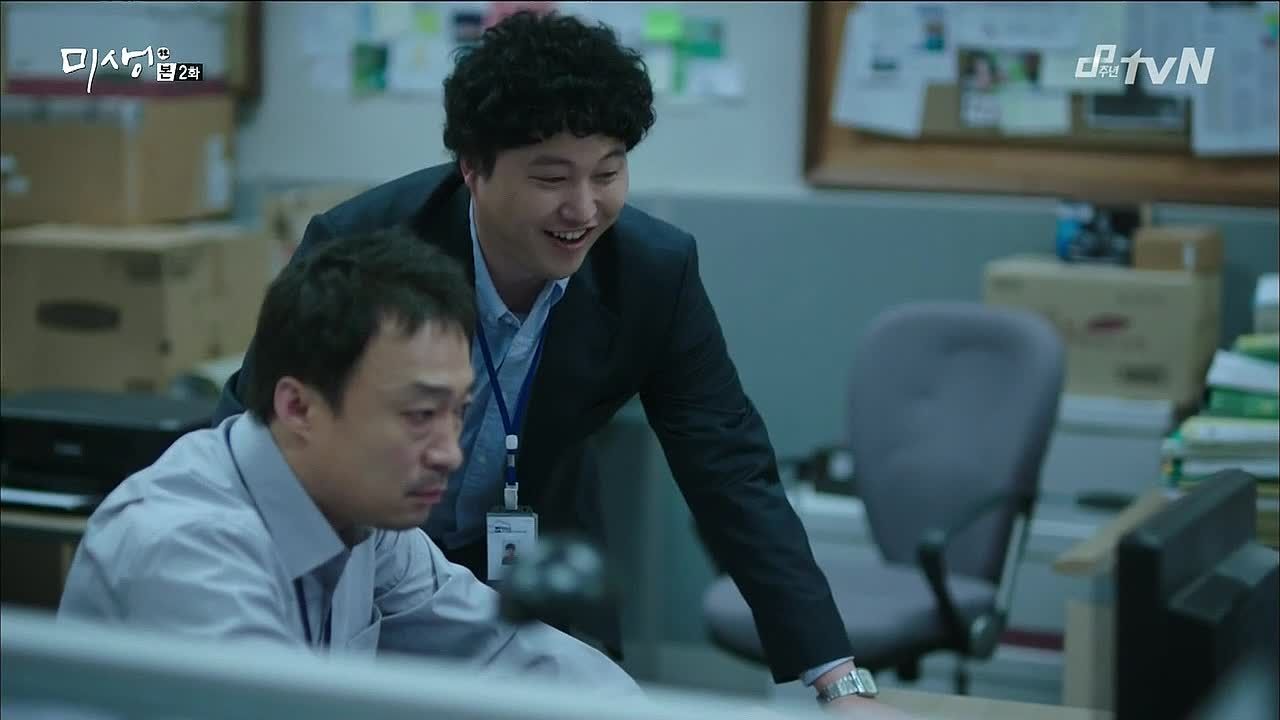 While it's still a mystery why Geu-rae is at One International in the first place, or what connection he has with the executive director, or why he's in Chief Oh's department in the first place, I'm just glad he is, because despite the initial hesitation, Chief Oh is probably the best thing for Geu-rae — and Dong-shik, too, since I appreciate that, despite the frustration of working with an intern who doesn't seem to know anything, he seems to have cheerfully taken on the task of mentoring Geu-rae on how things are done in the office.
And not just how to properly use a glue stick, but how to adjust to the undercurrent of office politics. I loved seeing him quietly keep an eye on everything that was happening during the day, fully aware of the sentiment behind everyone's sudden friendliness, before deciding he should step in and warn Geu-rae about what everyone's true motivations might be. It's not that he was taking the decisions out of Geu-rae's hands, but rather giving him information about the strategy being used on him.
I am worried about the other interns, though. Geu-rae may have a brilliant mind and can figure out who to trust and not to trust, but there's still so much he doesn't know about office culture. Not just office culture, but even how to interact with people in a communal sense.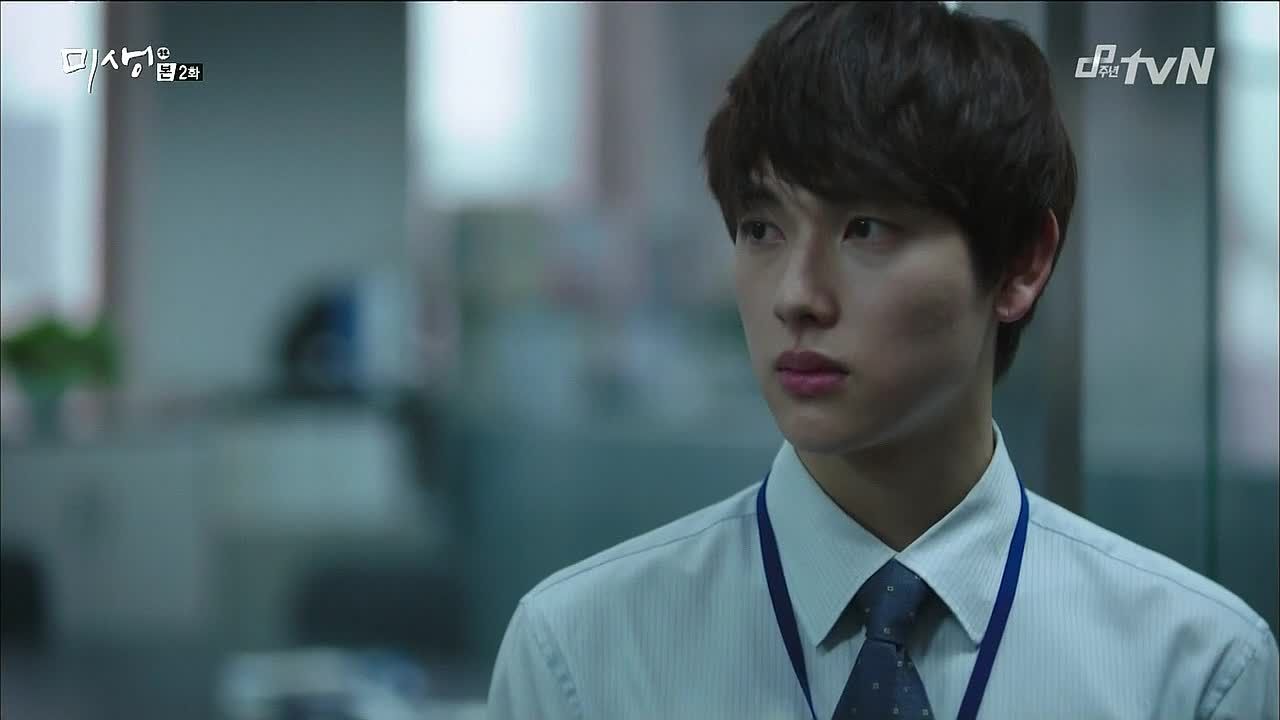 Which is interesting, because most people spend their lives going to school with different people and learning to navigate the ups and downs of dealing with a variety of personalities, as well as ways to "work the system" in order to succeed. It's just so telling that even simple tasks that one learns in middle school are the tasks that he can't do.
Despite what his fellow interns may think, being an intern at One International isn't exactly a gift. For him, it's a punishment for not working hard enough when he was younger. Which is why, perhaps, he puts all his effort into his tasks when he gets them — to tell himself that all those years of studying baduk and not succeeding to become a professional player weren't a total waste. Because if the one thing he has is effort (and the ability to problem-solve), then that's what he'll offer. He's clueless, but he's not stupid, and he takes all the lessons to heart. Perhaps too much to heart, really.
Honestly, I could probably gush and gush about how amazing these characters are, with their flaws and foibles, yet filled with such humanity that I somehow care so much for everyone. Whoever cast this drama has done an amazing job, because everyone fits their roles so perfectly — especially Im Shi-wan.
The delicacy of his stature and features makes you believe that Geu-rae will shatter into pieces at any moment, and when he shows up in his ill-fitting suit, I just want to scoop him up and feed him cookies and reassure him that everything will be okay. But then there's that flash of iron will and tenacity we see beneath the neutral expression he carefully wears to cover his emotions, and I'm ready to send him out fighting.
The editing helps, too. There's a certain understated beauty in the way the show is shot and edited for emotional impact — even though Geu-rae seems to have a poker face, we always know (sometimes painfully so) what he's thinking and feeling, even if there isn't a voiceover. Even though he looks like a complete pushover, we know he's not: He does have a backbone, and he has integrity, and he's passionate enough to talk back to his boss and vent his frustrations to the world.
I haven't read the source material, but if this show is sticking as close to the original webtoon as I've heard it is, then I can understand why it became such a cult hit. And I, for one, am happy to join that cult.

RELATED POSTS
Tags: featured, Im Shi-wan, Kang Haneul, Kang So-ra, Lee Sung-min, Misaeng