Modern Farmer: Episode 4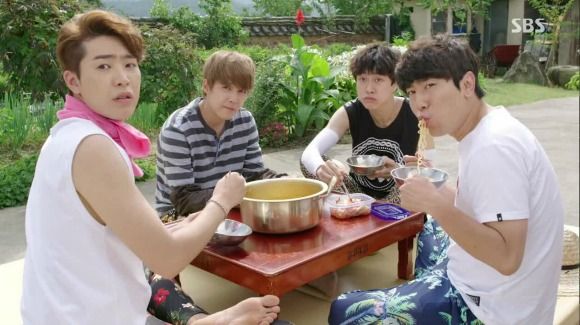 Our displaced band finally agrees to participate in the village Olympiad, as they're forced by circumstances to play nice or leave. It's a struggle, but it's crucial that they all learn to get along in order to face their common foe. A few mysteries are solved and a few more rise up to taunt us, as we learn more about both the villagers and the band members, and we begin to wonder if the brightest smile could very well hide the most broken heart of all.
EPISODE 4 RECAP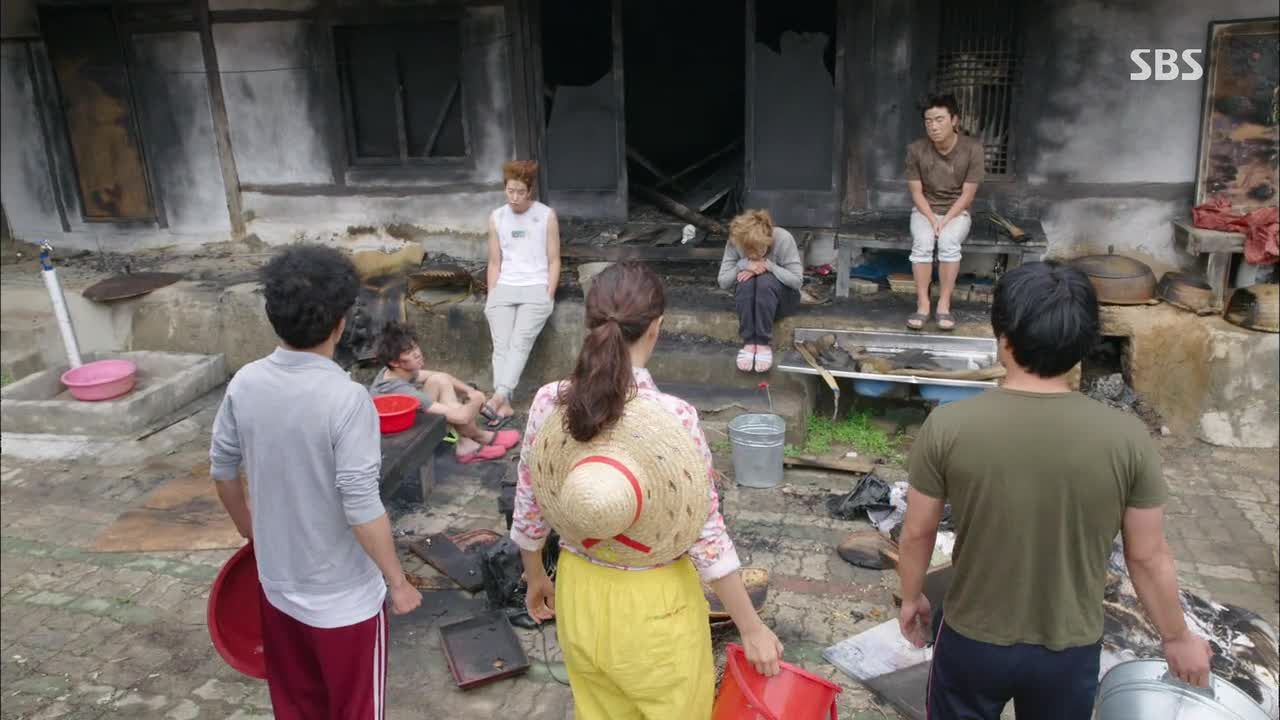 As the boys sleep, Ki-joon accidentally kicks over a lit candle, and the old ramshackle farmhouse goes up in flames. Luckily Min-ki wakes up and starts screaming, and all the guys run outside. Ki-joon goes for the hose but the water's been shut off, and the guys can only rescue their instruments before they burn up.
The next morning they sit amongst the rubble as Man-gu, Sang-deuk, and Yoon-hee stare in horror. Man-gu figures they'll leave town now, and the three villagers leave the guys to their mess. Han-chul, Ki-joon, and Hyuk also assume they'll be going back to the city, but Min-ki swears that he'll never give up. He asks the guys to trust him, because he's got a plan.
He finds Yoon-hee and promises to join the Olympiad and bring victory to the village, in return for a place to stay until harvest. He assures her that all four of them are strong and athletic, and that they can't lose. Yoon-hee warns him not to underestimate the team from Sangdurok-ri, and we see the team in question, striking dramatic poses as the Rocky theme song plays. HA.
They strike a bargain and Yoon-hee brings the guys to her home, introducing them to her aunt and uncle (I previously mis-introduced them as her mother and father… hey, it's a big family!) and showing them their new room in the attic. They hear the family arguing downstairs about them being there, until Ki-joon finally yells in frustration that they can hear everything. Well, that's uncomfortable.
Min-ki tries to reassure his friends with his "It's okay, it's okay!" but Ki-joon snaps at him that it's not okay, since if they lose the Olympiad, they lose their place to stay. Han-chul only sighs over his field-pooping tragedy from the night before, when Soo-yeon, the girl of his dreams, caught him (literally) with his pants down.
Soo-yeon is right now yawning over breakfast with Sang-deuk's family, and tells them she's going to start painting murals today. She thoroughly charms Sang-deuk's mother, but Sang-deuk tells her that if she wants her as a daughter-in-law so badly then she should go have another son. Mom gets upset and prays, and I love her ongoing schtick with her father where she prays to "Father," her actual father says "What?" and she's all "Not you father, God father!"
Soo-yeon heads to her room, dropping the goody-two-shoes act as soon as she's out of sight of the family. She calls her former boss (a bar owner) in the city and asks her to deposit her final pay, threatening to turn her in for things like selling fake whiskey, tax evasion, and serving minors if she doesn't. Yikes, this girl is nobody to mess with.
Yoon-hee brings the boys some clothes since theirs were destroyed, then nearly takes them back when Min-ki complains that they're not cool enough. Ki-joon grabs them back and thanks her, though Min-ki swears he'll never wear embarrassing clothes like this.
So once they're all changed (including Min-ki) they head outside, and Yoon-hee and her son Min-ho can't help but snicker when they see them. Yeah, I don't blame them one bit — these guys are rockin' the ajumma pants. They ask for breakfast only to find out they missed it, since farmers have to eat early and work when it's still cool out.
Yoon-hee offers them the use of her farming tools, and tells them that Olympiad practice is after lunch. Min-ki whines at how mean she's gotten, though Hyuk seems a bit interested, saying that she's strange but attractive.
Soo-yeon attracts a small audience as she works halfheartedly on a mural, and Man-gu warns her not to cause trouble in the village. The bandmates walk past with their tools, and Soo-yeon and Han-chul lock eyes as they both remember the embarrassing events of the night before.
The guys get to work preparing their field, but Han-chul can only sit and stare into space. His friends figure out that the mural girl is the one he's fallen for, and he tells them what happened in that dark field. The cringe in sympathy, and Han-chul says he'll just go back to Seoul since he can't look her in the eye again.
Min-ki tells him not to give up, but Han-chul reminds them that they said the first impression is most important, and he pretty much made the worst first impression you can make. Min-ki assures him that it's just biology (everybody poops!), but Han-chul only sighs that his first and last love is over. Hyuk picks up on that "last love" part, telling him the world is full of women, but Han-chul hollers that he doesn't have time to date anyone else and runs off alone.
Illegal foreign worker Bul-ja approaches and hands Ki-joon a small bag, and leaves again right away. It's a bag of the expensive wild mushrooms the area is famous for, and Min-ki teases Ki-joon that Bul-ja must really like him a lot.
Later the guys head to Olympiad practice with Yoon-hee, but the villagers aren't exactly thrilled to see them. Yoon-hee argues that the village team needs them, and when the whole village team gets twitchy, Min-ki asks what happened between them and the Sangdurok-ri team.
Yoon-hee tells him that the two villages used to get along, until Sangdurok-ri elected a new village head. He's cunning and smart, and he convinced the governor to change the location of a new health center from Hadurok-ri to his village by setting him up with his sister.
And that's not all — he's appropriated a lot more town improvements to his village, even though Hadurok-ri is larger. Because of this, all the young strong farmers live in Sangdurok-ri, which is why their Olympiad team has won for the last nine years running. If they have a ten-year winning streak, they win the trophy permanently, which is why this year is so important.
Yoon-hee tells the village that the boys promised to leave town if they participate and lose, which finally convinces them to let them practice. She outlines the events, which are basically the same silly stuff you see on variety shows, and orders the guys to split up and start coaching the villagers. They're not exactly successful, and the people actually seem worse than before. All except Grandfather, who naps instead of practicing, insisting he doesn't need it.
Things fall apart when they all practice the many-legged race, and Min-ki loses his temper and shoots his mouth off again. He and Man-gu argue, and the rest of the villagers leave in a fit of anger. Min-ki boasts that he and his friends can do the Olympiad alone, but Yoon-hee tells him that there are rules abut how many contestants there must be, along with age limits. They need the whole town.
That night Yoon-hee's family gathers for a snack, and Min-ki gets his hand slapped for trying to sneak a slice of watermelon. She tells him he can have watermelon when he apologizes to the village, but he just grabs a slice and runs. Well, he tries to, but he ends up smacking into a young man who turns out to be Yoon-hee's younger brother.
The youth, Hong-gu, takes an immediate violent dislike to Min-ki and the fact that he's staying here, and when Min-ki tries to pull age rank on him he just nails him with a roundhouse kick to the face. After Hong-gu leaves, the boys get a short run-down on Yoon-hee's family, and find out that her father remarried Hong-gu's mother, making him her stepbrother. Min-ki asks about Yoon-hee's parents, and her uncle tells him they died in a car accident.
Min-ki asks why the Olympiad is so important to everyone and why Yoon-hee cares so much about staying village head. Her aunt tells him that with her parents dying when she was young and being an unwed mother, she was practically a village outcast. Being village head is extra meaningful to her because it symbolizes her acceptance by the villagers.
The guys head to their attic, and Hyuk says that he'd thought Yoon-hee was weird but it seems she's just had an eventful life. Ki-joon worries that nobody will show up for practice tomorrow, but Min-ki says he doesn't care (even though he totally cares) and heads outside for the bathroom.
He comes on little Min-ho dancing and singing, and he tells Min-ki that he's practicing for the Olympiad talent show. He tells Min-ki he's doing it to help his mom stay village head, and OMG he's so cute I just wanna squish him.
Min-ho admits that if his mom loses her head position he'll get bullied at school, being the son of a single mom who doesn't even know his dad. Min-ki tells him to just punch the bullies, but Min-ho informs him that fighting isn't a solution and tells him to grow up. Ouch, Min-ki got told.
Offended, Min-ki nearly leaves Min-ho to his own devices but he can't resist since music is something he knows about, and he goes back to tell Min-ho that being cute isn't enough — he needs a shocking performance. He whispers something into the boy's ear, causing Min-ho's eyes to widen in surprise at whatever it is. I can already tell I'm going to love this pairing.
Soo-yeon heads out to do some more digging after dark, but she's still unsuccessful and starts to doubt her information. She thinks back to a customer she had entertained at her bar job, who'd revealed that he was an aide to an assemblyman, and that he'd stolen 5 billion won ($5 million) of his slush funds and buried them in a field in Hadurok-ri.
Soo-yeon had dismissed his claim as drunken ramblings, but on her way home that night she'd watched as the man was grabbed by a couple of mysterious men and dragged into an alley. She'd listened in as the men threatened to kill him if he didn't return the stolen money, and had seen him try to escape only to be struck by a car and killed. (Leaving her the only living person who knows where the money was hidden.)
As the boys sleep that night, Hyuk is awoken by a beautiful voice singing a lullaby. He goes outside to see Yoon-hee singing her son to sleep, and for the first time a sad look crosses his face. But it doesn't last long, and he approaches Yoon-hee who shushes him since Min-ho just nodded off.
With his Cheshire Cat grin back in place, Hyuk asks Yoon-hee where she heard that old song, and she says her dad loved the song and Min-ho can always fall asleep easily to it. Hyuk admits he has insomnia, but Yoon-hee assures him that if he keeps farming he'll soon be able to sleep the moment his head hits the pillow.
Hyuk jokingly asks her to help him sleep for now and lays down with his head in Yoon-hee's lap, but she calls him crazy and tells him to get off. He does, but threatens to wake up Min-ho, so she agrees to sing to him and he lays back down. It's cute but also a little sad, as Hyuk listens to her sing and smiles a tiny, genuine smile.
The boys stagger awake in the morning to find Hyuk still sleeping on the porch where Yoon-hee left him. They tease him for sleeping outside with the mosquitoes, but Hyuk only grins at what a great night's sleep he got.
Yoon-hee's aunt offers to make ramyun for breakfast but Min-ki cringes, since they ate ramyun for every meal the day before. She offers to make rice instead, but her husband and Hong-gu insist on ramyun again (which is the only thing she can cook without horrifying results). When Min-ki protests, they growl at him to just shut up and eat ramyun, ha.
Before leaving for school Hong-gu tells Min-ki and his friends that he's letting it go since his noona asked, but that if they cause trouble in the village again, they'll answer to him. For a high schooler he's pretty damn intimidating, and it's hilarious to see Min-ki struggling to stifle his instinct to bow and speak formally to a kid ten years his junior.
Sick of ramyun, Min-ki goes ahead to his farm, and happens upon Yoon-hee begging Man-gu's mother to please show up to Olympiad practice today. The ajumma says that she promised her son she wouldn't, and anyway those punks said they could win the Olympiad alone. Min-ki is bothered to see Yoon-hee begging, but tells himself he doesn't care.
Sang-deuk catches Soo-yeon yawning widely, and wonders why she's so sleepy since she went to bed so early. She bats her eyelashes at him and asks him to show her around the village, and he puts up a pretty good resistance but eventually caves.
The boys are hard at work in the field, but Hyuk picks up on the fact that something is bothering Min-ki. He denies it, and groans again when he gets a text from Min-ho asking him to help him rehearse later. But he gets an idea, and heads off alone to visit Man-gu in his greenhouse.
Man-gu's mother mentions that Yoon-hee asked her to come to Olympiad practice, but this sets off Man-gu (though let's be honest, everything sets off Man-gu) and he yells at her to stop caring about it. His sister Yi-ji knows he's just doing all this to get the village head position back, but they're interrupted by Min-ki's arrival.
Yi-ji bounces over to flirt but Min-ki is on a mission, and he heads straight for Man-gu to apologize and ask him to come to practice today. He offers to help Man-gu in his greenhouse in return, but of course he cuts a baby plant and steps on a tray of seedlings, and gets himself kicked out. He tries the orchard next, but the owner In-ki growls at him for pulling an entire branch off a tree instead of just the apple.
Back at the cabbage field the boys finish prepping the soil, and Hyuk wonders where Min-ki went while they did all the work. He and Ki-joon head for the showers, leaving Han-chul to talk with his puppy (which he's named Ho-ddeok after the hot cakes that Ki-joon loves) about what he'll do now that his first and last love is over.
Han-chul jerks when Ho-ddeok licks his nipple, and guesses the puppy must miss his mother. For some reason Han-chul decides to let the puppy nurse him, so of course that's when Sang-deuk and Soo-yeon come by on their village tour. Soo-yeon just watches disgustedly as Sang-deuk asks if Han-chul is really that lonely, HA. Ho-ddeok then bites Han-chul hard enough to draw blood, and he bursts into tears and flees in shame.
Most of the villagers don't show up for Olympiad practice, though Sang-deuk is there and he tells everyone that Han-chul got his nipple bitten by the puppy. Hyuk laughs that Han-chul got caught doing something embarrassing again by the girl he's crushing on, but at least Han-chul knows her name now.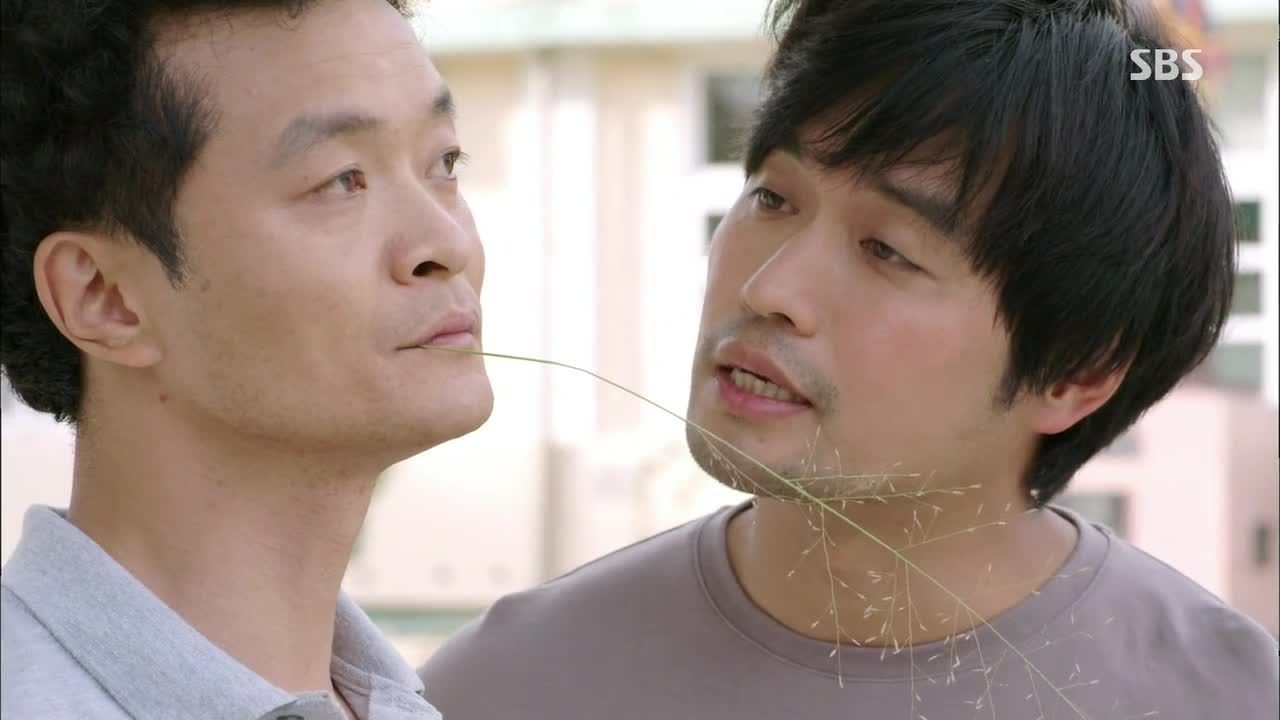 Suddenly Min-ki shows up with the missing villagers, having gotten into their good graces again by helping them out. Yoon-hee thanks him for bringing them, and for once Min-ki is justified in looking so pleased with himself.
And he even brought Man-gu! Sang-deuk asks Man-gu why he came, since a loss would mean possibly being named village head again, but Man-gu just grumps that he was forced to come or have Min-ki destroy his entire strawberry crop, hee. Sang-deuk suspects that he's here to throw the games, but Man-gu finally admits that he hates the idea of losing more than he wants to become village head again. Aww, he's a softie.
Everyone works together today, and the villagers practice their events and actually make some improvement this time. What's even better, they really seem to be having fun and getting along. Well, all except Man-gu and Sang-deuk, who wrestle each other, and Man-gu takes great pleasure in grinding Sang-deuk's head into the sand. They still fail at the many-legged race, but at least this time they all manage to keep their cool.
Everyone gets a little drunk at dinner, and Min-ki stands up to affirm that with their help, the village can win this competition. Man-gu even praises him for saying the right thing for once and pours him a drink. So cute.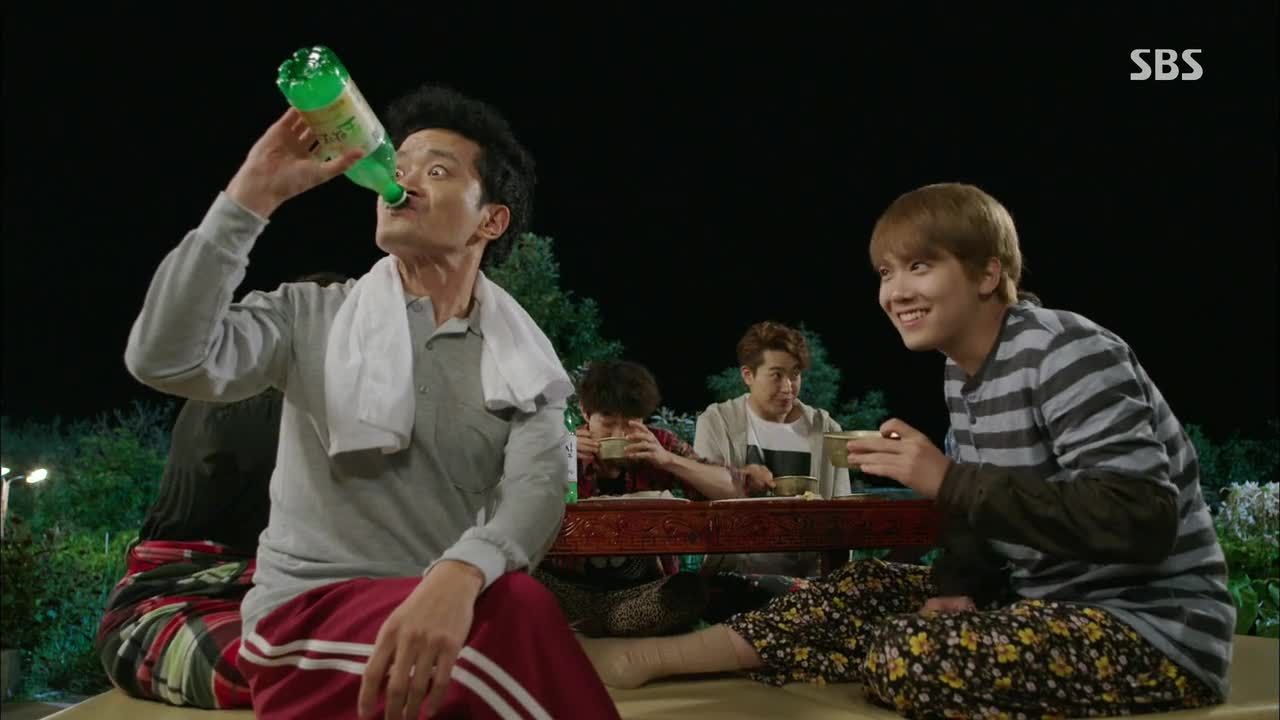 Poor Han-chul sits dazed, repeated Soo-yeon's name over and over, then crying at his newest humiliation. Sang-eun comes to take a closer look at him, wondering how he got into a flower boy band and guessing he must have a lot of talent. She calls herself a potential idol, and the other three guys burst out laughing. At least she's realistic, admitting that she's aware she'll need plastic surgery (ugh) if she wants to be an idol.
Finally on the way to becoming true teammates, the villagers and the bandmates all raise a toast to their town.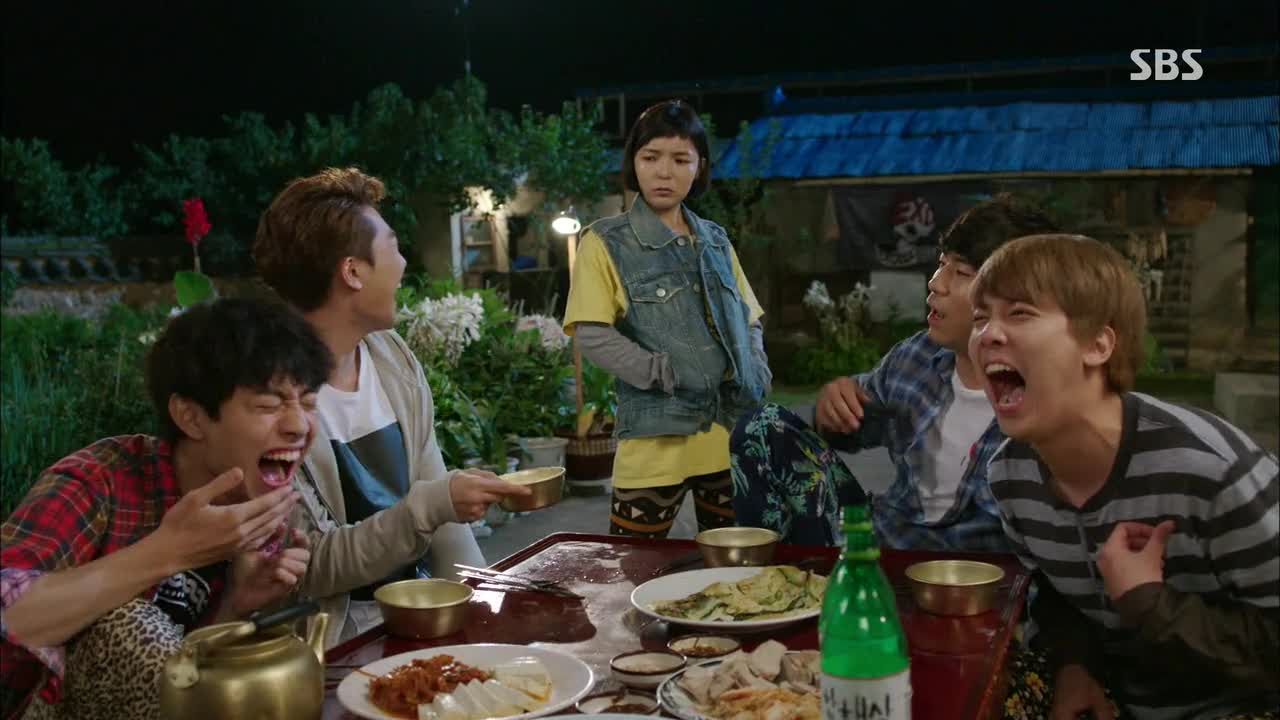 COMMENTS
The more I watch, the more there is to love. I know I keep saying that, but it's so true! With every episode the plot gets richer, the characters become more heartwarming and interesting, and the relationships dig their way further into my heart. I just want everyone in the town to love everyone else, and for Min-ki and the boys to give up wanting to be famous and stay in the country with their new, odd family forever. It's rare for me to be so emotionally invested in a drama and it's characters so early in a show's run, and I'm pleasantly surprised since I didn't expect Modern Farmer to be so… well, sweet.
I'm always the most interested by the characters in a drama, and I can forgive a lot of sins in a show as long as the characters are relatable and draw me in. I always assumed that the characters in this show would be fun, because with such a wild premise, how could they not be? So I went into this thinking the characters would drive the show even if the plot was weak or the humor too out-there, but I'm actually finding myself pleasantly surprised. The plot is fun, the jokes aren't just silly but they're smart too, the editing is tight and the music is perfect. But better yet, not only are the characters as fun as I'd hoped, they're even better, and there's not one single person in the town that I don't find engaging. Even the peripheral characters like Man-gu's sister and Yoon-hee's aunt — they're not crucial to the plot at this point, but I just love them and want to know more about them.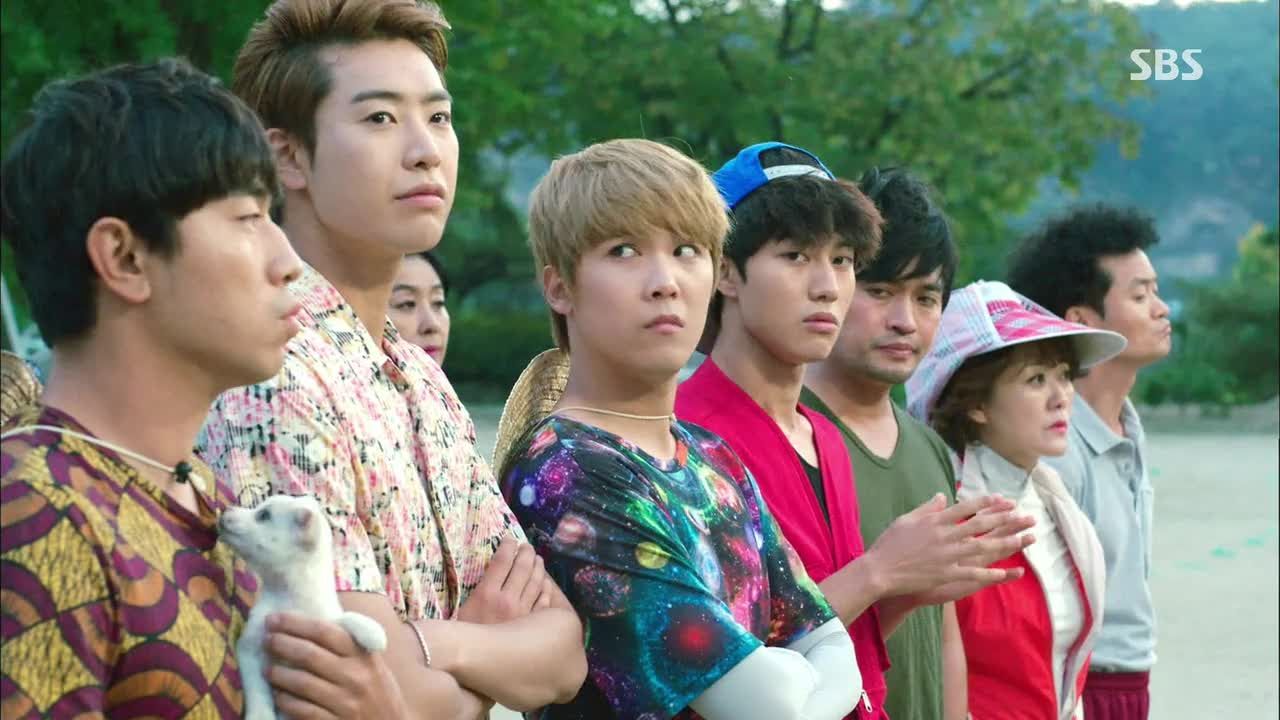 Of course the story revolves around Min-ki and his friends, and the more we learn about them the more I love them. Min-ki is the most flawed of them all, as a true drama lead needs to be in order to have room to grow, but he never acts out of malice or selfishness. In fact I think he's very caring, and I feel like his bravado covers up a sensitive guy who's missed his friends and isn't just using them to get his debt paid, but is actually enjoying being a team again. He's just careless, and he acts and talks without thinking, but he's already learning that he needs to work on that if he's going to get his cabbage harvested and his debts erased. Not to mention, win friends and influence people.
I'm still most intrigued by Hyuk, and I think we got a really good glimpse into him in this episode if we look hard enough. He's got this carefully-constructed persona of always being happy and cheerful, and always having that smile on his face. I'll admit that on a superficial level I find Park Min-woo's smile pretty dreamy, but when it comes to Hyuk I'm already liking him more in the moments when he's not smiling. The tiny beats where he lets his real feelings show are so telling, like when he watched Yoon-hee sing to her son, and when she sang to him while he looked up at the stars, and say so much more than that big dimpled grin ever could. This is a man who's been hurt, almost certainly when he was young and most definitely as an adult, and he's tired of always smiling, but he doesn't know how to stop. I really, really love the idea of him and Yoon-hee together, and I can see why he's drawn to her, especially to her motherly side since he's obviously starved for parental love.
Hyuk is also quite tuned in to others' emotions, and I notice that he's always the first to notice when someone is upset or angry, and he's always talking about how people feel. He's a lot more emotionally intuitive than he seems, which I'm betting is about to start wearing on him and causing his carefully-constructed cheer to unravel, and I'm very much looking forward to that. I still think it's an important bit of information about his character, that he was the one to discover whatever their agency president was up to and react to it so violently, since he also seems to be the least invested in getting the band back together. From the beginning he's gone along with the plan, but he's always said that he's just happy to be back with the guys again, even when they still have so much history they haven't worked out. I think that he's not only the reason they split up, but he's also the emotional center that will get them back together. Whether that's as a band, as friends, or as farming partners, I don't even care, so long as the four-way bromance works out in the end.
RELATED POSTS
Tags: featured, Honey Lee, Lee Hong-ki, Lee Shi-un, Modern Farmer, Park Min-woo