My Secret Hotel: Episode 15
Secrets aren't safe when everyone seems to be hiding around the corner, but the good news is that we (and Sung-gyum) finally learn who killed Sung-gyum's father. We also learn who killed Young-mi and Hwang, although the jury is still out as to whether that's not just another cover-up for the truth. As for as the love triangle, get your hankies ready; it's a messy and tear-filled journey.
EPISODE 15 RECAP
Jung-eun intercepts a message meant for Shi-chan, where a drunken and depressed Hae-young asks him to come to the nearby bar. Hae-young's pretty much passed-out drunk by the time she arrives, and she reassures the bartender that she'll take care of him.
She ends up putting the passed-out Hae-young into her car like he's a prize she won at a carnival, but Shi-chan has figured out what's happened and tries to chase after her. Too late, though, as Jung-eun hurries off with the unaware Hae-young. I guess she's upped her stalking game to now include kidnapping.
After a night of sorting out her emotions while sitting in front of the cold and abandoned dinner in Hae-young's apartment, Sang-hyo decides to pack some fresh clothes for him, and waits eagerly for him at the office. But her eagerness disappears when she sees Jung-eun's car pull up — and Hae-young get out from the passenger side.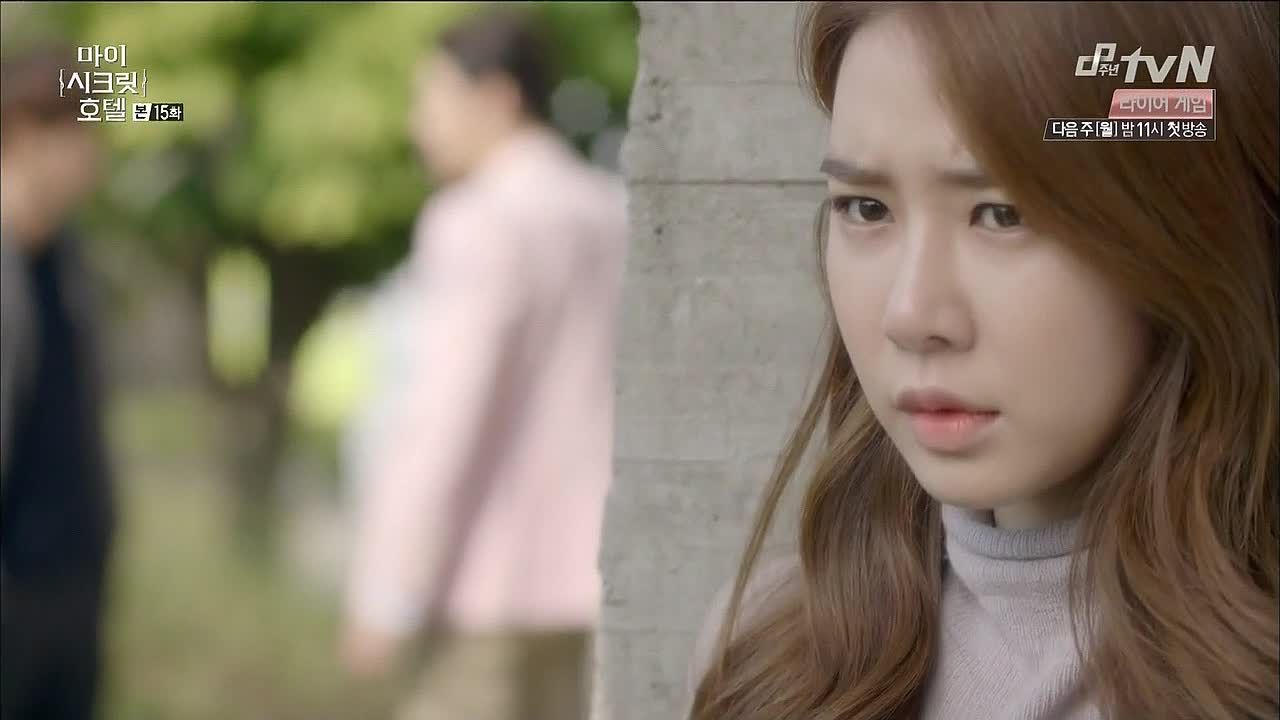 Sang-hyo scurries to hide, and overhears Shi-chan fuss over him like a worried hen, asking where (and with whom) Hae-young slept last night. He, too, saw Hae-young in Jung-eun's car, and yells after him, asks how Hae-young could cheat on Sang-hyo after all he went through to get back together with her.
A stunned Sang-hyo sits down on a bench and fights back tears as she remembers how she had decided seven years ago to use the plane ticket to New York that Hae-young had left her. She'd realized that her career seemed meaningless without him there, and so she'd packed her bags, eager to surprise him by showing up on his doorstep.
But instead she was surprised by Jung-eun, answering the door in nothing but Hae-young's dress shirt. Jung-eun invited her in, but said nothing to explain away the very suggestive circumstances. Shocked, Sang-hyo told her not to tell Hae-young she was there, and she returned to Las Vegas, brokenhearted.
Even though those aren't pleasant memories, current-day Sang-hyo tells herself that it's all over now, and so it doesn't matter who Hae-young is with. So, then, why can't she stop crying?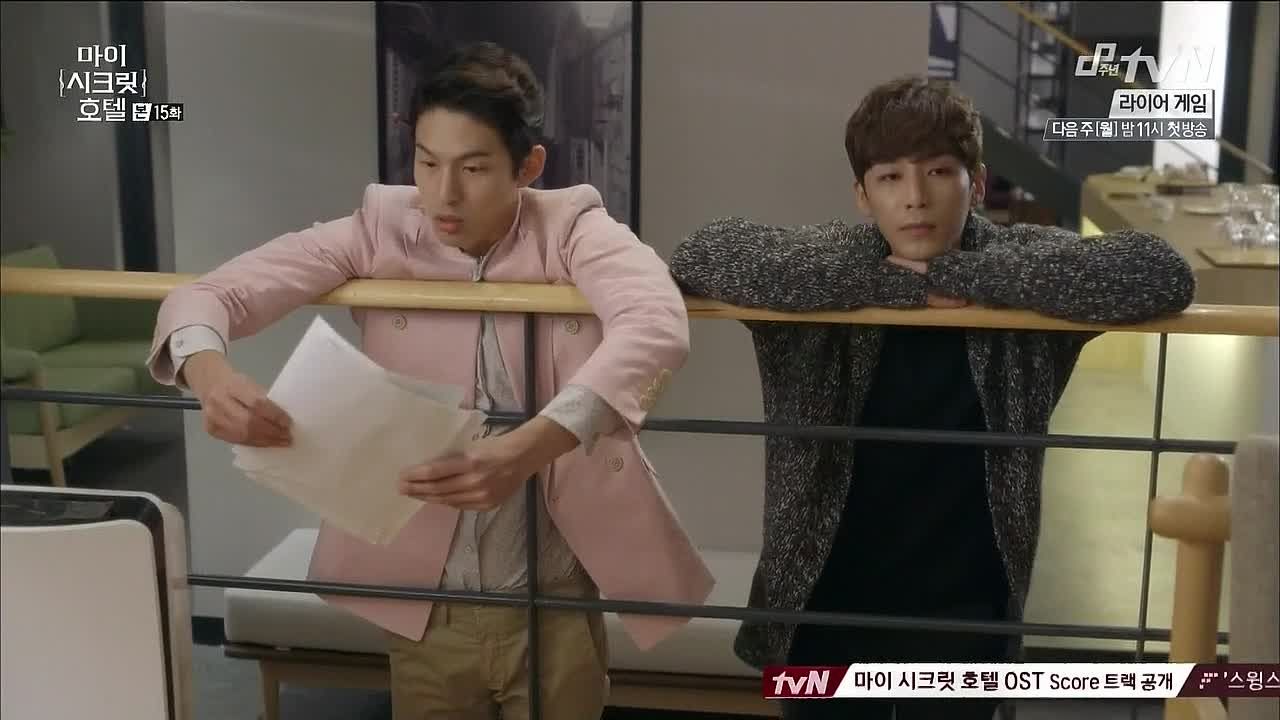 Shi-chan pouts as he does his work, and a hungover Hae-young cuts to the heart of the matter: Shi-chan likes Jung-eun, doesn't he? Hae-young reassures him that nothing happened last night — he sobered up as soon as he got to Jung-eun's home, and besides, he's not attracted to Jung-eun. The real reason he didn't return to his apartment, however, was the fear that Sang-hyo wouldn't be there.
The detectives have dug up some interesting information about Team Leader Cha: he apparently killed one of his classmates when he was younger, and that classmate was none other than the nephew of GM Lee. But even more interesting is the fact that GM Lee forgave him and visited him frequently while a young Cha served his jail time.
Speak of the devil: Team Leader Cha meets privately with Sung-gyum, letting him know that he never intended to harm Sang-hyo — it was supposed to be a warning for Sung-gyum to leave the hotel.
Sung-gyum snarks that if he decides to stay, will he then die like the rest? He's not budging, and tells Team Leader Cha to pass along a message to GM Lee: Attempting to hurt Sang-hyo was a mistake because Sung-gyum's opened up an official police investigation.
Instead of warning GM Lee, Team Leader Cha calls Kyung-hee, asking her to promise that no matter what she hears about him, to ignore it. They both fight back tears as she promises. Just in time, too, because Detective Kim is there to arrest him for the attempted murder of Sang-hyo.
The hotel staff is abuzz with this surprising new development, but Sang-hyo is still unaware as she calls to let her staff know she won't be in today. GM Lee is furious with Sung-gyum, demanding to know if he's out to ruin the hotel, since this next round of publicity will ruin its image even more.
But Sung-gyum is not backing down, warning him that ugly secrets are going to be revealed, including the secret behind his father's death. GM Lee points out that Sung-gyum won't be able to do anything about it even if he does reveal who killed his father. But Sung-gyum is determined to eventually reveal what kind of person GM Lee truly is, even if it means taking down the hotel with him.
GM Lee grabs Sung-gyum by the collar, warning him to stop now: His father was trash, and if he doesn't stop investigating now, Sung-gyum will be the one to regret it. Mom walks in just then, and he lets go of Sung-gyum, telling her that she and her son should leave the country immediately, before its too late.
Hae-young stares at his phone and wrestles with calling Sang-hyo. Shi-chan cheerfully tries to give him tips on how to make up with Sang-hyo, even offering to be his alibi. But Hae-young is still worried that she won't be there when he gets home.
She isn't — and he sadly wanders the empty apartment, remembering their few happy moments together. But the sound of the door makes him perk up, and he rushes out to find that Sang-hyo has come home. He asks if she's mad he stayed out last night, and he admits that he didn't want to come home because he was afraid she wouldn't be there.
When she asks where he was, however, he says he was with Shi-chan. Which Sang-hyo knows isn't true, but she accepts his lie. She keeps her composure long enough to go to the spare bedroom, where she fights back her tears, telling herself that she won't cry over him again.
At the hotel the next morning, a worried Eun-joo rushes to the wedding department, asking after Sang-hyo. This is the first time Sang-hyo's heard about Team Leader Cha being arrested for trying to kill her, She struggles to believe it, though, even if the rest of the hotel staff seem to (except for Kyung-hee).
Hae-young finds about the "hotel serial killer" and immediately tries calling her on the phone, but she's with Sung-gyum and ignores his call. They're headed to the police station so Sang-hyo can give her side of the story, despite the fact she still finds it difficult to believe Cha tried to kill her. Sung-gyum tries to reassure her, but he's more focused on the fact that he's so close to taking down GM Lee.
They meet with Detective Kim, who is happy to inform them that everything has been resolved since Cha confessed to killing Hwang, Young-mi, and attempting to kill Sang-hyo. Sung-gyum isn't as happy to receive this news, refusing to believe the Cha's confession as anything but a cover-up. But with the confession, there's no reason to investigate further.
Shi-chan gets more details about the situation, and reassures Hae-young that they caught the perpetrator, and Sang-hyo is fine. But he wonders at what made Hae-young keep from running out like a madman to check on Sang-hyo, like he normally would have done, and Hae-young quietly admits that he just felt like he wouldn't be needed, since he assumed she would be with Sung-gyum.
She is, and as Sung-gyum drives her to Hae-young's apartment, both are quietly lost in their thoughts. But he notices her shaking hand as she tries to unbuckle her seatbelt, and she tells him that she keeps remembering how scary it was. He apologizes profusely for being more focused on his agenda, not thinking about how it would affect her.
This time it's Hae-young who hides around the corner as Sung-gyum puts his arms on Sang-hyo's shoulders, reassuring her that he won't put her in danger again.
Sang-hyo nervously enters the apartment, and she turns around to find Hae-young waiting for her with outstretched arms, promising he won't let her be scared any more. Except it's just a phantom-Hae-young, and she huddles under the covers, scared and wondering where he is.
He's back at the bar, is where. This time Shi-chul is the one to find him, thank goodness, and he asks if Hae-young hasn't made up with Sang-hyo yet. He hasn't, and in fact is planning on letting her go. He used to believe he was the one for her, but now he's not so sure. After making her go through the wedding, honeymoon, and moving in with him, he's finally ready to stop acting like an idiot trying to keep her around.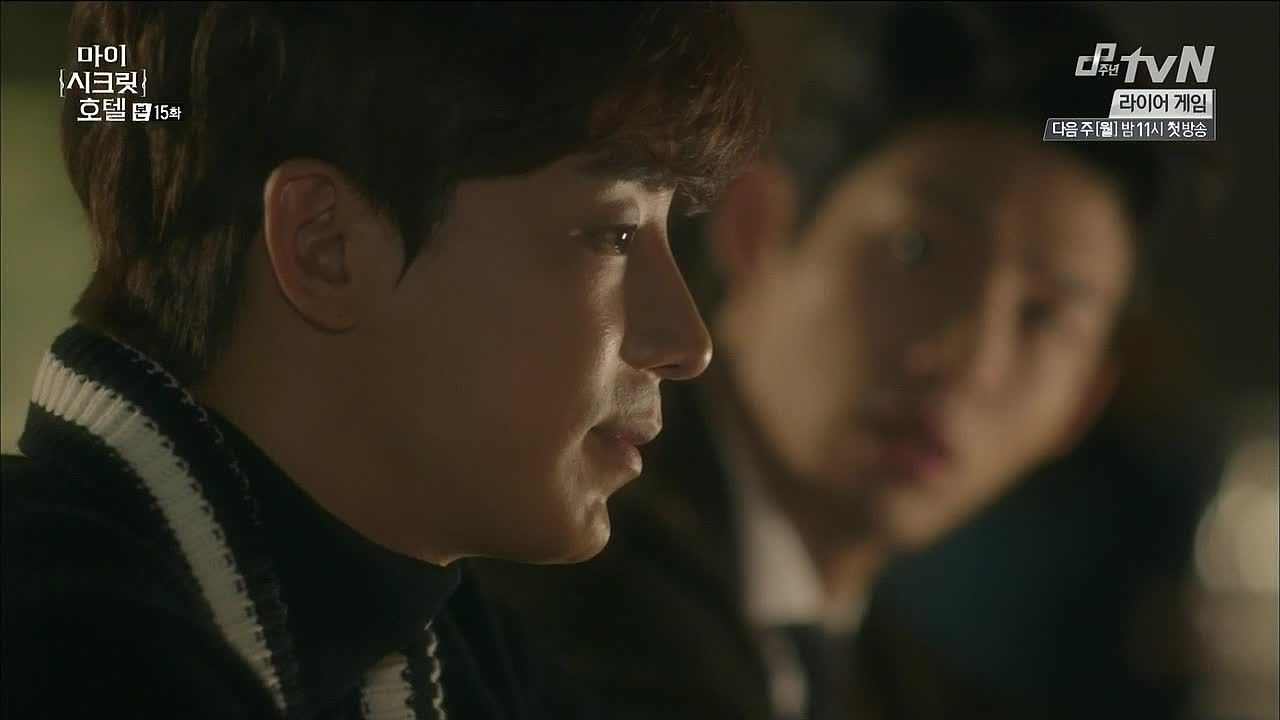 Not because of any shame of looking like an idiot, however — but because he's aware of how much he's made Sang-hyo suffer. Aw, his tearful confession even chokes up Shi-chul. He's totally blitzed by the end of the night, though, so Shi-chul drags him inside his apartment, reassuring Sang-hyo that, just like tonight, Hae-young was with him the last time he stayed out late, too.
As she watches Hae-young sleep, Sang-hyo realizes that as difficult as everything was for her during the day, this moment is the hardest for her. But after she leaves, a single tear slips down Hae-young's cheek, revealing that he heard her say how hard he's made life for her.
Sung-gyum's headed to his room in the hotel when he happens to meet GM Lee in the hallway, and Sung-gyum brashly accuses him of putting all the blame on Cha. He tells GM Lee that he's not going to give up the investigation, but GM Lee warns him that there's a board of directors meeting soon that will decide if Sung-gyum should be fired or not.
But Sung-gyum realizes why GM Lee is still at the hotel this late, and knocks on the door of his mother's suite. He notes the pair of empty teacups, confirming that GM Lee was with her, but she denies it. Even though she begs him to stop investigation, he's determined to find his father's killer and make him pay.
She desperately calls out to him, letting him know that if the truth is revealed, both he and Sang-hyo will be hurt. Nothing good will come from digging into the past.
Sang-hyo makes Hae-young breakfast and asks if it's uncomfortable for her to stay here. He knows she's just doing it for the reporters, but it must be hard on her — and Sung-gyum.
Casually, he tells her there's no need for her to stay here against her will. But his nonchalance is all an act, because as soon as Sang-hyo leaves, he cries into his rice bowl.
Simon delivers Sang-hyo's adoption records that Sung-gyum requested, and he's shocked to realize that GM Lee is listed as her guardian.
Speak of the devil, Hae-young arrives at work to discover GM Lee waiting for him. He confirms what we all know — Sang-hyo is like a daughter to him, and when Sang-hyo asked him for advice about getting fake-married to Hae-young, he was originally against it.
But he still walked her down the aisle, and saw how she looked at Hae-young — she didn't agree to go through with the marriage to just save the hotel. GM Lee assures Hae-young that Sang-hyo still has feelings for him, so he shouldn't give up yet. Especially since he believes Sang-hyo and Sung-gyum shouldn't be together.
Back at the hotel, Sang-hyo reflects on Hae-young's declaration that she doesn't need to stay with him anymore.
But Hae-young's buoyed by GM Lee's encouragement, and rushes back to the apartment, looking for Sang-hyo. He finds a simple "thank you" note with the key to the car his parents gave her, and realizes she's gone for good. This makes him remember when he went back to the apartment in Las Vegas to find out she'd left. Her landlord had told him that she'd left with a new guy who loved her more than he had.
Sang-hyo meets with Sung-gyum, who apologizes for calling her — but he missed her. But he's not sure if he can continue to keep on waiting for her, and he's decided to stop trying to hold on to her. But as he says goodbye, he reassures her that his feelings for her were genuine. Then he walks away without looking back.
Mom confronts GM Lee, asking him what he plans to do about Sung-gyum. But GM Lee's worried everyone will find out about their relationship, so they step aside to talk privately. Too late, because Sung-gyum watches them from around the corner.
She wants to why he's trying to get her son fired, and he explains that it's the only way to get Sung-gyum away from the hotel. Mom's having none of it and yells at him that the price she's paying to trust him is ruining her son's career. She threatens to confess everything, and he grabs her shoulders, reminding her that everything will be ruined if she does.
Sung-gyum barges in, grabbing GM Lee by the lapels and leaning him over the balcony of the lobby. Furious, he accuses GM Lee of killing not just his father, but trying to kill his mother just now, too. He threatens to kill GM Lee with his own hands, but Mom desperately cries out: "I killed your father!"
As she breaks down sobbing, a flashback shows Sung-gyum's father in a drunken rage, threatening to harm Sung-gyum's mother. He picks up a bottle to smash on her head, but GM Lee rushes up to stop him. Dad taunts Lee about his relationship with his wife, and threatens to smash the bottle on Lee's head instead. Mom rushes forward to protect Lee, accidentally shoving Sung-gyum's father off the railing, where he falls to death in the lobby below.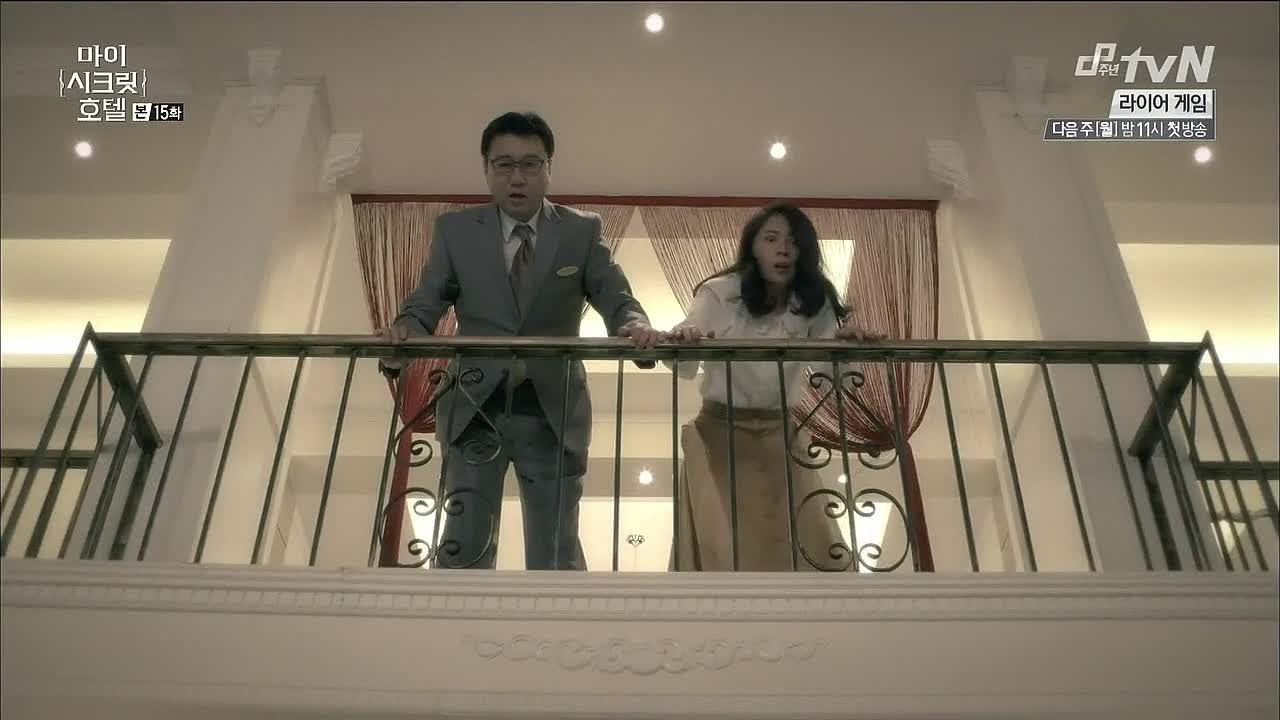 Back in the present, she explains to Sung-gyum that GM Lee had covered up for her, and they had spent the past thirty years being blackmailed by Hwang since he knew that she had killed her husband, and held onto her necklace as evidence.
A shell-shocked Sung-gyum slowly releases his grip on GM Lee, dazedly asking if it's true. Mom desperately reassures him that as much as she hated his father, she never meant to kill him — it was an accident. She apologizes over and over as he staggers away to deal with this new information.
Sung-gyum sits alone in his suite: "Sang-hyo, what do I do now?" Hae-young sprawls out by his ginormous wedding photo: "Sang-hyo, now that you're gone again, how will I live?" Sang-hyo curls up on her sofa, eyes red with tears: "Sang-hyo, who are you crying about?"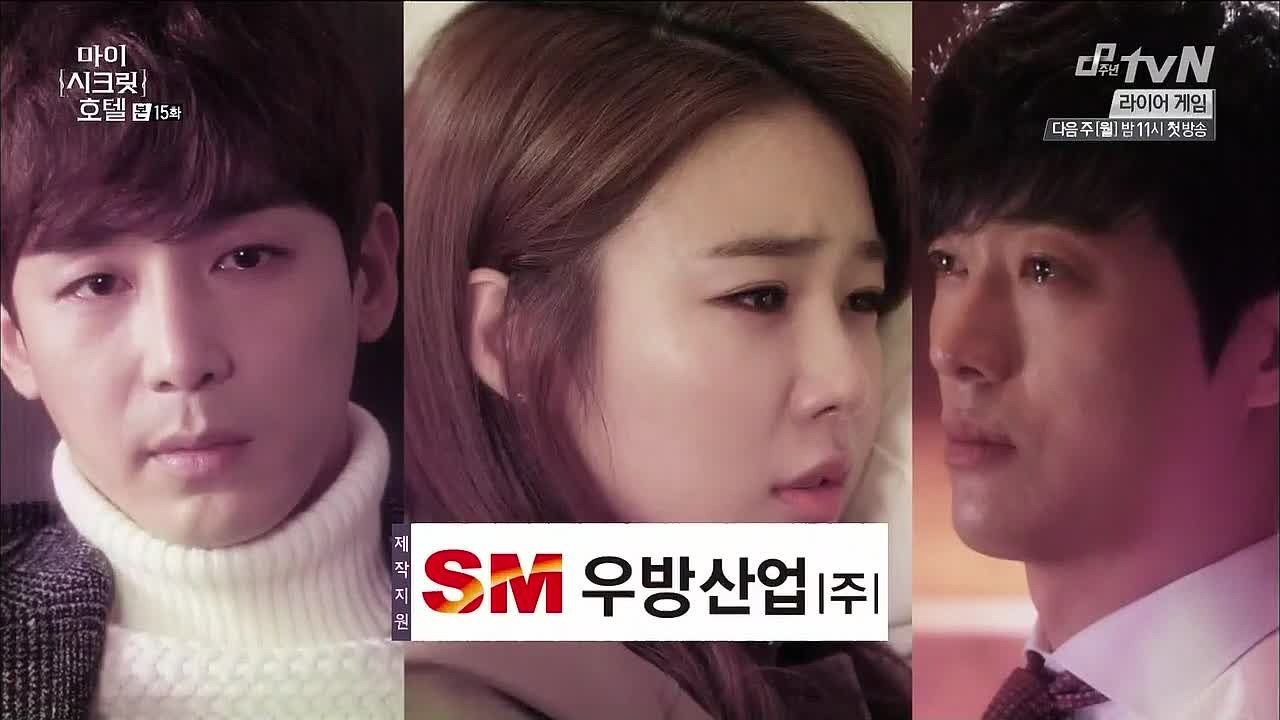 COMMENTS
Oh, Show; what are you doing? Where do I even begin?
I feel like I've given this show a lot of leeway because, as ridiculous as it has been at times, the actors have been fun to watch and I've been willing to just roll with the craziness they've thrown at me. Generally I'm pretty easy to please and am willing to overlook leaps in logic provided a show is entertaining enough, but this last episode has me perplexed — and feeling a little whiplashed.
After the past few weeks where the plot seemed to go around in circles, suddenly it feels like everything was squashed into this penultimate episode. Take Jung-eun: she's a character that has both been intriguing and mystifying since the beginning, but all we've known about her is that she's Hae-young's stalker, seems to know everything about his past, and is conveniently a reporter. Now, all of sudden, we get the backstory that she's the major monkey wrench in why Hae-young and Sang-hyo didn't have their "happily ever after."
It would have actually been a lot better, not just for plot, but also character development, if we'd known that earlier, because then we'd understand why Sang-hyo was so angry and bitter about Hae-young (and why she believed he'd get married again in the first place). It also would have helped us understand why Jung-eun kept showing up all the time — and why she kept avoiding Sang-hyo. We might not have liked Jung-eun any better, but at least she would have had some clearer and more defining purpose.
Also, I feel like I should be relieved that we finally know who killed Sung-gyum's father, but since we met Mom (and all of her over-acting melodramatic tendencies) just in the last episode, I'm almost a little bummed at the reveal.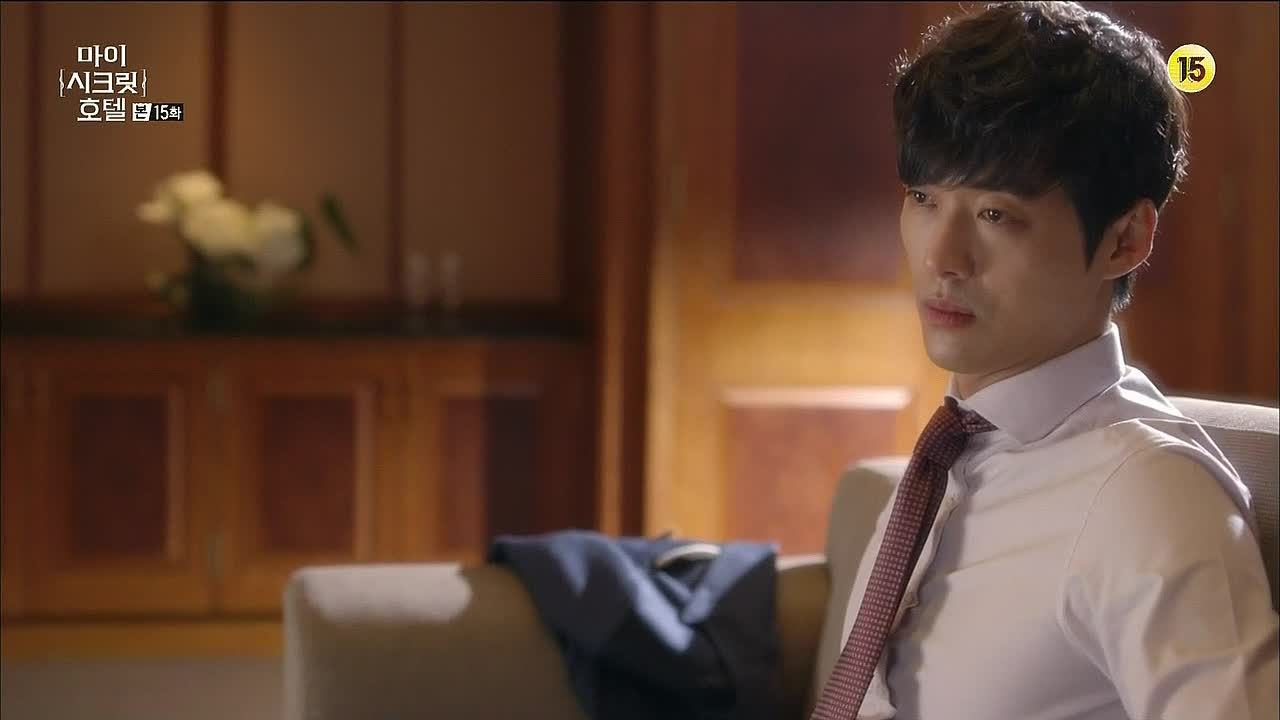 Now we only have one episode left for Sung-gyum to deal with the fall-out of realizing that all the time he's spent pursuing revenge and trying to prove GM Lee killed his father was a waste of time. It's a good thing he broke up with Sang-hyo because I have a feeling he's going to need some serious therapy to work through the fact that his mother is a murderer, his father was a horrible person, and the person he's hated for so long is actually the good guy after all.
Considering how much they've thrown at us, I'm amazed I'm still a little unclear as to who killed Hwang and Young-mi. Was it really Team Leader Cha? Was he doing it under GM Lee's orders? Or Mom's? Because I still feel like it couldn't have been him, despite the show trying to convince me that Cha's been a murderer since he was young. There's got to be more to this story, so why did they decide to introduce it so late in the game?
Oh, and let's not forget Sang-hyo's adoption papers. It said she was found wrapped in a Secret Hotel tablecloth, and if you add in the fact GM Lee was her guardian, it makes me think that there's definitely a birth secret. Which is something I've been saying there had to be since the beginning, but now Mom and GM Lee's desperation to keep Sang-hyo and Sung-gyum away from each other is definitely pinging my incest radar. After all, it seems clear that Mom and GM Lee had a thing going on — she could be Sung-gyum's half sister!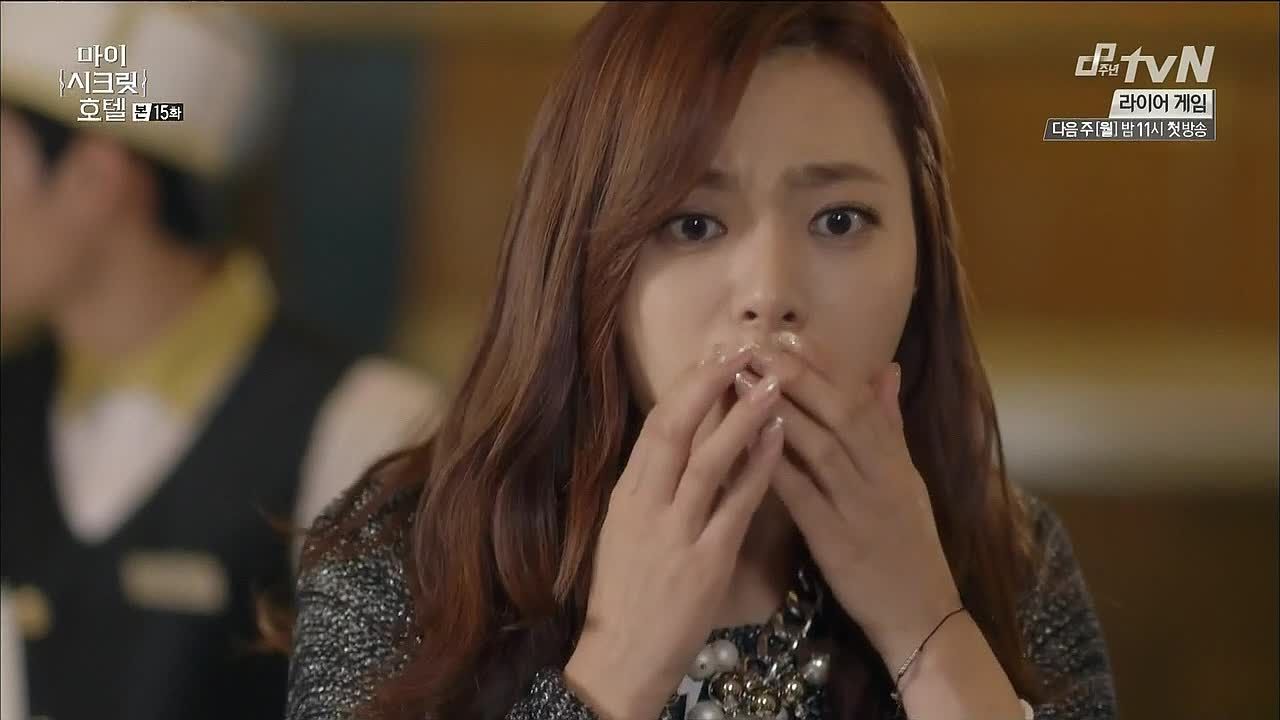 Which would be depressing if I dared to look too closely at this show, because instead of a cute and fun romp through a stylized rom-com murder mystery, it would prove to me that this show has only turned into a flailing hot mess that relies on melodramatic clichés to see it through.
If the show wants to redeem itself at all, it'd better return to some of that original magic that made it so fun and intriguing at first. Or at least let everyone be silly and happy for awhile. I don't know if it's the fact that the writer changed after the first four episodes, but this was not the show I thought it would be from the outset. Maybe the original writer didn't leave behind an outline and that would explain why it feels like the last half has just been someone throwing spitballs at a list of plot devices.
But at least there's only one episode left, and everything will be resolved and answered soon. Even if those answers don't necessarily make sense, I at least want to know what happens to all those side characters I've come to love, like Detective Kim, Eun-joo, the little wedding department crew. Heck, I'd even welcome back Soo-ah for a few minutes of screen time if it means her ditzy charms will distract me from the tears and melodrama.
C'mon, Show: bring back the cute, and help me remember why I enjoyed you so much in the first place. If you can make Hae-young and Sang-hyo rekindle their love after seven years, then surely you can do the same for me after fifteen episodes.
RELATED POSTS
Tags: featured, Jin Yi-han, My Secret Hotel, Namgoong Min, Yoo Inna