Na PD whips up cooking variety program with Lee Seo-jin, Taecyeon
This is hilarious. When it was first announced that Na PD (Na Young-seok of Grandpas, Noonas, and Youths Over Flowers) was planning a new variety program with everyone's favorite reluctant luggage boy, Lee Seo-jin, we joked that he should just make it a cooking show. After all, he poked so much fun of Seo-jin's cooking during Grandpas Over Flowers and even stuck a whole joke "King of Cooking" segment into an episode, just to mock him.
Well, that's exactly what he's done: The new Na PD–Seo-jin collaboration will be a cooking program called Three Meals a Day. I'll give us all a moment to howl in laughter. (The photos below come from Grandpas, where Seo-jin struggled to cook Korean meals for the halbaes in hotel rooms, using ingredients scrounged from European markets and cooked via hot pots and tiny stoves.)
Three Meals a Day has also cast idol-turned-actor Taecyeon, who at first glance seems like a really strange pick, but then I recall that Taec played Seo-jin's younger brother in the weekend series Wonderful Season. I don't actually feel like they had much chemistry as actors, but maybe that's because they were playing two characters with a lot of resentment and emotional baggage between them (okay, most of it was one-sided, with Taec burning with old grudges toward his hyung). I'll remain hopeful that Taec and Seo-jin have cuter chemistry on variety as themselves, since I can see it being a fun dynamic to give Seo-jin a maknae upon whom to dump all the annoying tasks he doesn't want to do.
As an outdoor variety show, this new program purportedly takes Na PD away from the travel concept, though not entirely: The cast will get taken to rural locales, "away from the city where it's easy to figure out a meal, to the remote countryside where it's the most difficult to do." And we know it wouldn't be a Na PD show without suffering! Furthermore, it'll highlight sustainable and organic living along the way.
Seo-jin reportedly signed on to the show without even hearing the concept, as he did with Grandpas. Ha. Then I guess he can't really complain when Na PD makes his life difficult in the name of entertainment. And yet, something tells me he'll find ways to grumble anyway.
Three Meals a Day will follow Youths Over Flowers as tvN's next Friday-night variety program. It premieres on October 17.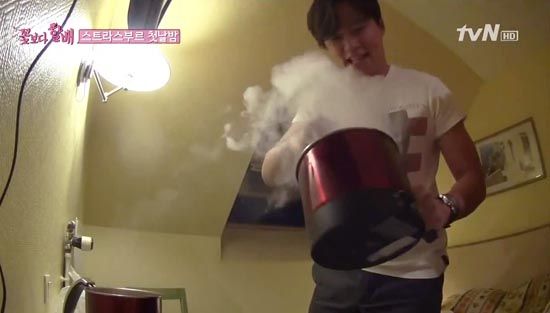 Caption: "Na PD, lightly scraping at Seo-jin's cooking pride"

Via Joy News
RELATED POSTS
Tags: Lee Seo-jin, Na Young-seok, Taecyeon, Three Meals a Day