Odds and Ends: Awards are great/terrible, we love/hate them
javabeans: Omg why did all the red carpet events come at once? You have a whole, quiet spring and summer and then BAM! Fall happens and suddenly everybody wants prizes.
girlfriday: I know, it's like a fire sale for golden statues or something. I'm convinced we must've done something to anger the heavens this week, because that was a lot of red carpet, even for red carpet season.
javabeans: I'm always really excited to see who won stuff… until I see who won stuff. And then it's all, "Awards are such bullshit!"
girlfriday: Because they are. Don't you always go through the mental hoops EVERY. SINGLE. TIME… What could they possibly have been thinking to give him/her/that the award?! Because you think there has to be a reason.
javabeans: The thing is, we all say that we don't care about awards (What matters is quality! What matters is how much we like the film/drama/actor!) but we still want our favorite things to win awards and get upset when they don't. Because even if you don't need validation… you still want the validation.
girlfriday: Yes, and even though we all know that the station awards (the separate KBS/MBC/SBS ones) are bullshit, STILL, you expect there to be some sort of internal logic there.
javabeans: Right. I think we're all savvy enough to understand that station awards have multiple functions, and one of them is to reward high-quality projects, and another is to thank its stars and keep its talent happy (rather than jumping to, say, rival cable stations). So we don't demand that the stations ignore the politics entirely, because that's naive. But…
girlfriday: It's just… you don't want those two functions to cancel each other out.
javabeans: Yes. Can't we thank the stars and producers, while also giving the really deserving winners extra recognition?
girlfriday: The way I honestly feel about the awards is, if everybody gets one, then they all lose meaning.
javabeans: KBS is so terrible about creating extra categories to squeeze in all their dramas. They can't have their 16-episode dramas competing with their 30-episode dramas or their 50-episode dramas! So to ensure that everyone gets a prize, they have categories that are literally for "long series" and "middle-length series" and "miniseries."
girlfriday: KBS's statue is akin to the Good Attendance Award at school.
javabeans: And yet, it's still not worse than MBC splitting the winners, right? KBS creates extra categories, but MBC has had a history of just naming multiple winners per category.
girlfriday: Yes, splitting daesangs is worse. The whole point of getting the daesang is to be the best!
javabeans: Come on! "Daesang" literally means BIG PRIZE. If everyone is a special snowflake, NOBODY is a special snowflake!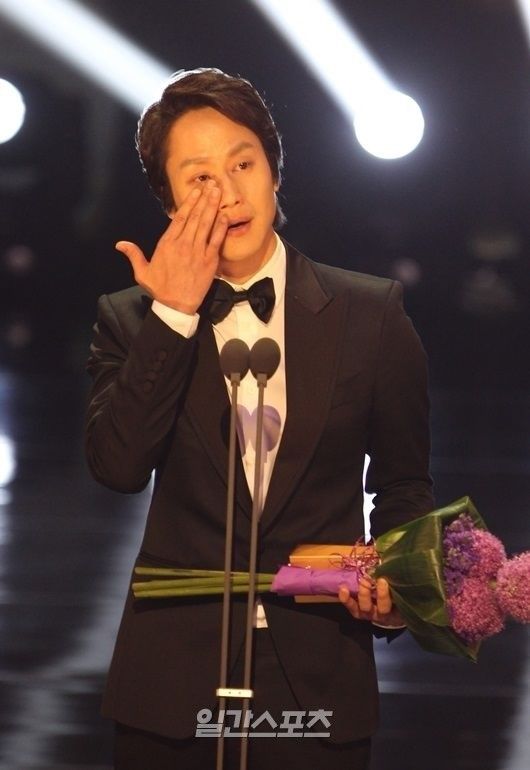 girlfriday: And I know there's no fixing this, but I dislike that only the stars who win stuff show up.
javabeans: For one, I hate spoilers. When I see that the front row has seated Kim Soo-hyun next to Oh Yeon-seo and Jaejoong and Kang So-ra, gee, I wonder who's winning.
girlfriday: Would it kill the actors to just dress up and go to the drama awards with their costars, like everybody wants? It's strange to me that the red carpet isn't flooded with actors who want future awards — instead it's like you have to be bribed with a trophy to show.
javabeans: I understand that a television network is a business, so I can accept that dramas with high ratings will get more awards than dramas with lower ratings. It still hurts a little, especially when the low-rated gem goes ignored, but I will concede that people who help your business succeed have earned their keep. But! Like we were just saying, I'd just like the awards to still operate on some logic — so fine, award that crazy makjang ratings hit something, but maybe not Best Drama.
girlfriday: It's part of the problem with splitting the awards and not having a centralized system, though truthfully, it's not like the Baeksangs do much better.
javabeans: Oh, the Baeksangs make me sad! It's because they have the potential to be the award show I want them to be — especially since they're one of the only awards ceremonies that considers shows from multiple networks — but they're getting to be just as bad as the station awards.
girlfriday: Right, because in theory, they could fix all of the things we see wrong with the other separate awards. But… they just create their own set of problems instead.
javabeans: They're just as political and incomprehensible, honestly. I want them to be the Golden Globes, but they really aren't. Sigh.
girlfriday: We feel this pain acutely every year, which is why we try to do things differently with the Beanie Awards.
javabeans: I know our awards aren't perfect either, but we try really hard to give everything consideration. It's a struggle because the best way to be as fair as possible is to watch absolutely everything. But… well, that's its own problem.
girlfriday: The fourth dimension is really not complying this year. There are only so many dramas to fit into a week.
javabeans: But we have a problem with saying, "Actor A wins Best Actor… but we didn't see Actor B or C's dramas. Still, Actor A was just so good that he was probably the best of the year." We don't want that, so we try to watch everything, even if we didn't review it on the site.
girlfriday: And sometimes we have really really really long debates about this, because we each have strong preferences and well, when we feel strongly about dramas, we all know how that can go.
javabeans: There might be some crying involved. And blubbering over drinks.
girlfriday: Mostly blubbering. But Oppa was transcendent!
javabeans: But Other, Better Oppa was so blindingly incandescent that he made unicorns cry!
girlfriday: If you can't see Oppa's effulgence, then I can't be friends with you!
javabeans: And then we sober up and agree on a damn winner. We've done the voting a few different ways in the past, trying to hit upon the best process. I think we're heading in the right direction, but there have been years where even I, as the person running the thing, was unhappy with the selection that we named Best Whatever. In early years we did it democratically, figuring that was fairest with straight math. But you know I feel about math.
girlfriday: Now instead of math, which we all hate, we just use words — lots and lots of words — to talk it out until we agree on things. It's much more painstaking, but ultimately it's a better system.
javabeans: It does take forever. I'd venture a guess that even doing things this way, nobody is 100% satisfied with the results. But maybe we're all less dissatisfied?
girlfriday: I guess the answer is that no awards will ever be completely satisfying, ever.
javabeans: The other problem we might run into is when dramas sweep multiple categories, which I know makes things less fun. We have this discussion internally almost every year — say we genuinely believe that Drama #1 had the best directing of the year. But since #1 won in the writing and acting categories, is it better to give Drama #2 the best directing nod, when we really think #1 was a touch better? Or do we have a boring winners list where Drama #1 cleaned up?
girlfriday: Yeah sometimes I want to spread the love around, but then I'm like, am I just being KBS then? I DON'T WANT TO BE KBS!
javabeans: And we can't be MBC and just give split every category! (Furthermore, this dilemma is ignoring the whole other can of worms where judgment of "best" is completely subjective anyway.)
girlfriday: Maybe this year I'll just give everyone a Good Attendance Award and crawl into a hole.
javabeans: I'll join you with my fifty Special Snowflake trophies.

RELATED POSTS
Tags: conversation post, Odds and Ends