Running Man: Episode 217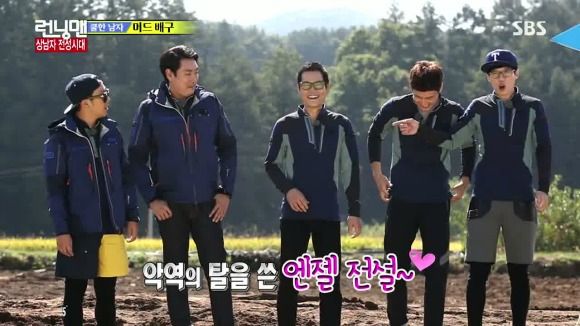 This week, a new boss is here to raise hell in this tiny town, where two crews will face off in a Death Bingo Race. Our cast discovers an angelic side to the men who have played some of the scariest roles in film, which instantly disappears the moment mud, heat, lies, and deception kick in. These guests aren't afraid of going above and beyond the call of duty for the sake of variety, and that's what makes it great television.
EPISODE 217. Broadcast on October 19, 2014.
Our cast is divided into two groups this morning, where the Lower Village crew's dishing dirt on the new guys in town segues into introducing the spiffy-looking trio up in the Upper Village, aka our guests: announcer-turned-actor Oh Sang-jin (You From Another Star), the ever-awesome Kim Sung-kyun (Answer Me 1994), and Jo Jin-woong (Roaring Currents, Full Sun).
Chances are you've seen Kim Sung-kyun and Jo Jin-woong in at least one production with them, since these guys were in countless dramas and movies over the years. Furthermore, this pair is set to appear together in the recent movie We Are Brothers. As a variety newbie, Jin-woong carries a dignified air about himself, and takes a whiff of the grated yam tea, then politely declines. Ha, he's barely said five words, and already he's a hoot.
He does try a taste, though… and then asks for water. With that, Jin-woong (as the boss) and his men (whom he respectfully calls "teachers") head out to meet the Lower Village crew. After exchanging formal greetings, boss Jin-woong quips, "This is probably where our [polite] greetings end."
Let's start off with team breakdown: Lower Village Gang (Suk-jin, Jong-kook, Gary, Ji-hyo, and Kwang-soo) vs. Upper Village Gang (Jo Jin-woong, Kim Sung-kyun, Oh Sang-jin, Jae-suk, and Haha). These two crews will duke it out in a Death Bingo Race where the winners after each game will acquire chance coupons, which will, like every week, prove advantageous for the final mission.
In the car, Jae-suk comments on how both Jin-woong and Sung-kyun's kind temperaments vastly differ from the tough character types they portray in their movies. Jin-woong admits that he thought about having a drink before filming (to calm his nerves), and when Haha remarks on how soft his arms are, Jin-woong admits that he hates to exercise.
Our first game takes place in a field, where the staff surprises them with a mud arena. The game: Mud Volleyball. Nothing is out of bounds, which means they can dive into the mud to save the ball if necessary, and there's no limit on touches per team just so long as the ball goes over the net. What a nice way to basically say, This is going to get really, REALLY messy.
Jong-kook happens to be good friends with Jin-woong and vouches for his buddy's gentle personality, to which Jin-woong replies, "That's 'cause I haven't started talking yet." LOL.
Nature calls for Sung-kyun, who runs off-camera… only to have a VJ running after him. Let the man do his business! And before the heli-cam can lock into his location, Sung-kyun's back and down for anything.
There's a slow-mo shot of our three guests before the first serve, which can only mean one of two things: either they're going to dominate or they'll be hilariously awful. The Upper Gang get the first point, but it's Suk-jin who's thrown first into the mud. At least the mud is good for your skin?
Another one of Suk-jin's mistakes gives another point to the Upper Gang, so the Lower Gang angle for a do-over. Everyone but Jong-kook bows earnestly, and Kwang-soo punches him in order to get the reflex response.
So it's back to 0:0, but it turns out the reset hardly helps because two subsequent mistakes bring the score back up to 2:0. Most of the blame falls upon Suk-jin, and Jin-woong says that the other team looks like they're having fun, diving for the ball. He's like, We can be funny too… if only the ball would come to us!
You can actually see the determination in Jin-woong's eyes, and the next thing you know, he's voluntarily diving into the mud. A little later, the score's 6:1 in favor of the Upper Gang, who win the set thanks to a failed spike from Gary.
Switching courts for the second set turns out to be an advantageous move for the Lower Gang, who pick up two points right away. After an almost-penalty from Kwang-soo momentarily catching the ball, he saves the ball with his arms in the next serve.
The staff grants the points, though, so in the following serve Sung-kyun deliberately catches the ball with both hands and tosses it back. Heh. The game quickly devolves into how far they can brush that line, and in the end, Kwang-soo gets pushed into the mud face-first after handling the ball with both hands.
Targeting Suk-jin happens to be a pretty good strategy, because the score goes from 4:1 to tied at 4:4 in a blink of an eye. Ashamed, Suk-jin can barely look at his teammates in the eye. Another two serves later, the score's tied at 5:5, and Jong-kook decides to soak the ball with mud.
Jae-suk receives the serve, then falls to his knees in pain, reeling from the impactful blow to his hands. So the Upper Gang returns the sentiment in kind, and then some, covering the ball with dirt. It works like a charm against Spartakooks.
Suk-jin attempts to serve another mud-filled ball, only to hurt himself instead. And in the following serve, Sang-jin gets a muddy ball full in the face. Oh man, that's gotta hurt.
The score now 7:7, Jong-kook is eager to finish off this set. Surely, surely Sang-jin won't get hit again, right? Wrong—it hits him full in the chest this time. Ahahaha. In the end, the Upper Gang wins both sets.
Before the crews climb into their cars, they're told that whichever team arrives last via car will buy lunch for everyone. But they soon find out that their car keys are nowhere to be found, which is when the PD says his instructions were literal: they have to physically move their car to get their keys.
Only one person will push the car from each crew, so it's Sung-kyun vs. Spartakooks. Both men are neck and neck at the start, then Jong-kook kicks it up a notch. The Upper Gang switch it up with Sang-jin, who loses a shoe. Oh no!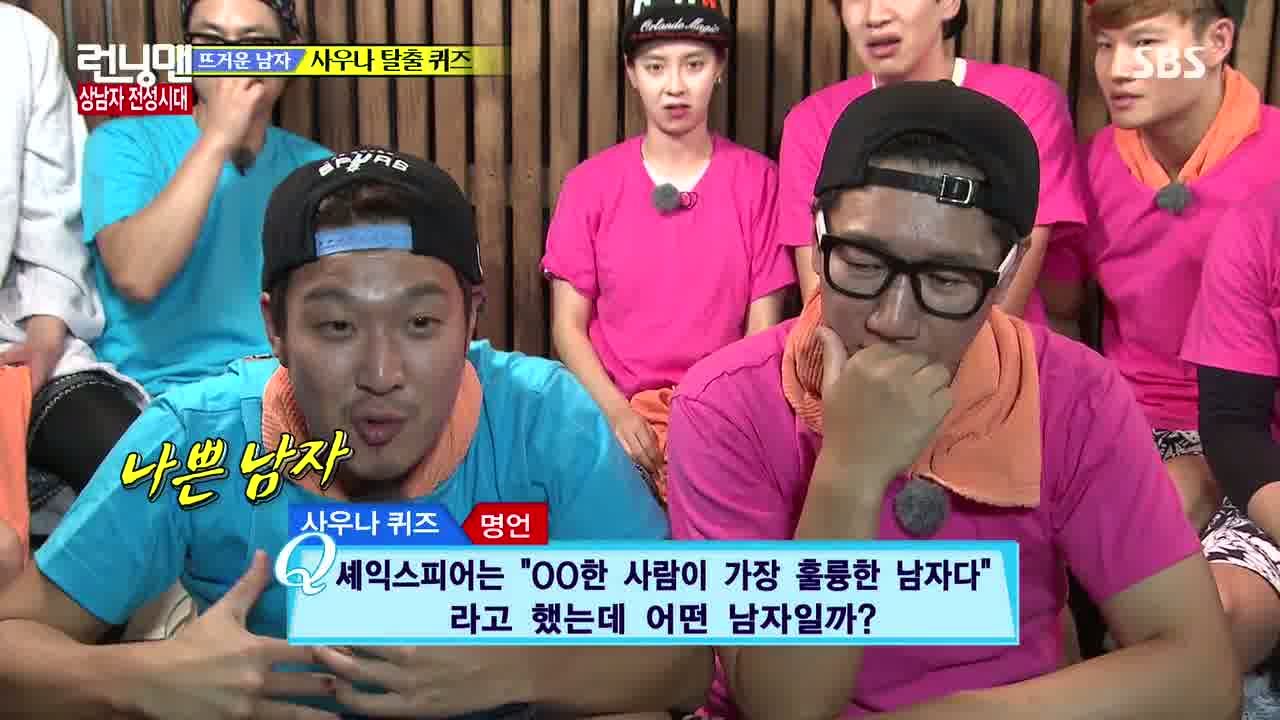 Despite their best efforts to use more momentum, Jong-kook aka the Human Ox still crosses the finish line first.
Next stop is a legit dry sauna, where they'll play a 1:1 quiz game. Correct answers earn them their freedom, and the first team who all escape will win. However, those who escape could end up back in the sweatin' room.
Haha and Suk-jin face the first question about a Shakespearean quote ("A [blank] person is a great man,"). Thinking of the episode's concept about men, Haha confidently replies, "A bad man." It's wrong, but then Suk-jin gets it right with "a taciturn person."
After Suk-jin goes free, SpartAce isn't far behind. Then it's the battle between two sweaty men: Sung-kyun vs. Kwang-soo. Heh, I like how the show gives a nod to the movie Nameless Gangster (alternatively, War on Crime) to the caption: "War with Heat."
The question is the Top 4 lies wives will say to their husbands, and just the first statement has the married men on edge ("Honey, I'm heading out to meet a friend"). Haha gets annoyed at No. 2 ("Honey, I'll make you breakfast every day,"), so what's No. 1?
Without hesitation, Sung-kyun offers his guess: "I'll lose weight." It's wrong. Somebody gonna get a hurt real bad when they get home. Suk-jin offers his own guess ("I love you!"), to which Jin-woong snaps back, "That's what husbands say to their wives." HA.
Sung-kyun guesses again ("This is really cheap!"), which is close, but not correct. And then Kwang-soo tries to use the phrase for "buy one, get one free" ("one plus one" in Korean), but ends up saying, "one point one" instead.
Kwang-soo's getting more desperate by the second, and he picks up what Jin-woong whispers into Sung-kyun's ear: "I bought this because I really needed it!" It's right, and Kwang-soo tastes sweet freedom outside.
However, that same freedom is threatened three seconds later when Jae-suk says he'll use his chance to bring Kwang-soo back inside if he gets this question correctly. The question is now the opposite—the lies husbands tell their wives—and Jong-kook chirps, "Ask Suk-jin! He knows best!"
Jae-suk and Gary must guess the fourth most frequent lie, and Jong-kook pops in to relay Suk-jin's answer: "I fell asleep in the car." After a few more wrong guesses, Jae-suk tosses, "Oh, I'm almost home."
It's funny because it comes out so naturally for him, but alas that's wrong, too. Jae-suk eventually gets it right (lying about your wife's cooking), which means Kwang-soo's hauled back inside into the heat.
Wow, smarty Sang-jin gets a history question right on the first try, and Gary tries to salvage his pride. Q: "Why is it a history question?" A: "Because they said it was in the Joseon era." Jae-suk laughs that Gary's in tip-top variety condition today, to which Gary explains is because he's tired.
Jin-woong gets the movie quote "keep your friends close, and your enemies closer" right, and then Kwang-soo belatedly outs Gary's answer of "keep your wife close, and your girlfriend closer."
Another trivia question on Shakespeare forces Haha and Gary's noggins' running to answer "Hamlet was the prince of what country?" The correct answer is Denmark, but knowing that only makes hearing the wrong ones even funnier. Haha: "Iceland!" Gary: "U.S.A.!"
Some time later, the next question is in regards to the Top 6 things women say that men love to hear. The No. 1 statement happens to be "you must work out a lot," to which Jong-kook makes a face. Aw, did you hear that often?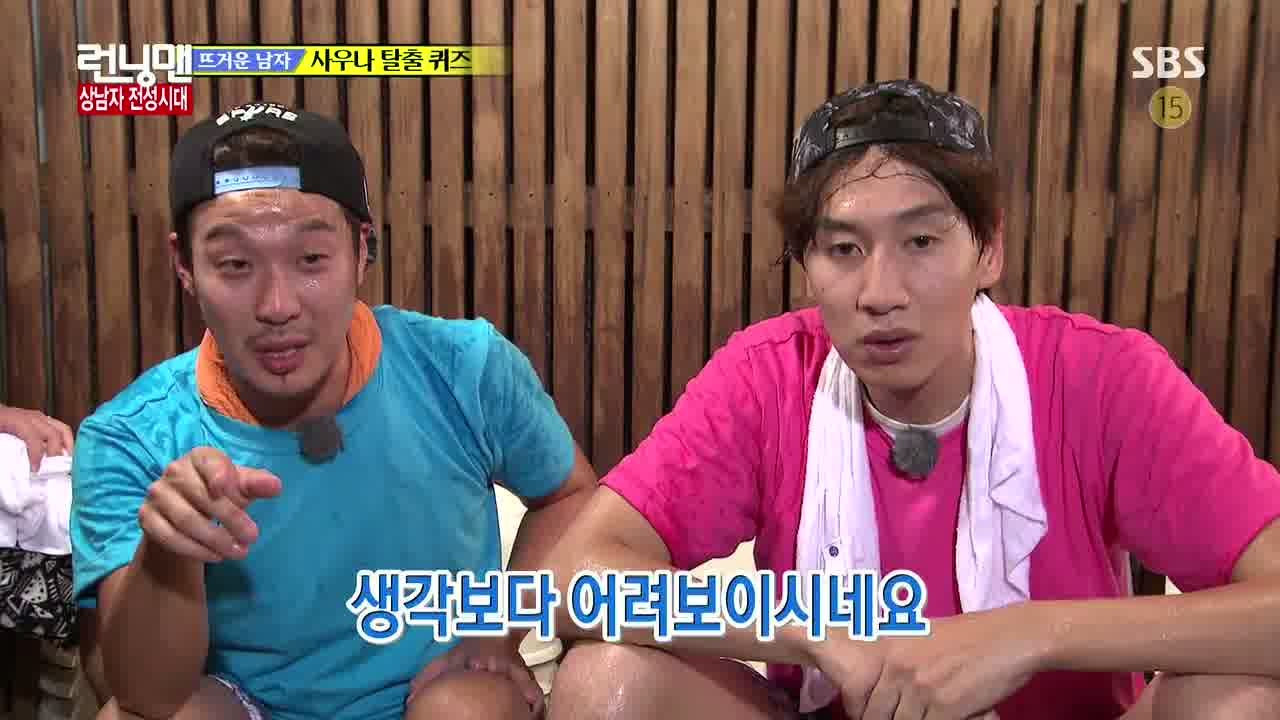 Kwang-soo overhears Ji-hyo's guess ("You dress well,") but gets it wrong. The staff offers a hint: something female guests often say of Kwang-soo. Haha: "You look better in person." Nope.
But then Haha gets it right the next time around: "You look younger than I thought." Or more precisely, "You don't look like that age." Man, hearing that's gotta land like a ton of bricks.
Now it's up to Kwang-soo to get the next question right to win it for his team: What hobby do men want a woman to take up the most? He gets it right ("cooking"), and not only does that leave the staff flustered, Jae-suk's suspicion radar is also on high alert.
We're then transported to a riding club where our final mission will take place: Death/Four Bingo. It's now every man or woman for themselves in this nametag rippin' race, where they'll be able to fill in the bingo spaces on their individual cards upon each elimination, regardless of whether they ripped off that person's nametag themselves or not.
The way to win is to be the last man or woman standing, have four bingo lines, and be the first to stand in the middle of the giant bingo board outside. Their earlier victories today give the teams specific spaces on their bingo cards.
The most important space is the center, and unsurprisingly, almost everyone writes in Suk-jin's name. Jin-woong is proud of his card, and brainy Sang-jin works out a strategy for his own card.
A few of them gather together soon after the whistle blows with the same idea: eliminate Jong-kook. Just around the corner, Jong-kook silently laughs at the absurdity of this conversation.
Sung-kyun scans his card, and then those closest to him before slinking around. He slaps on a smile when he gets caught in his sneaky ways.
Suk-jin gets spotted as soon as he ventures outside. Although Sung-kyun and Gary give chase, Suk-jin is saved in the ensuing chaos of everyone trying to grab everyone else's nametag. Jae-suk tries to find refuge inside, only to find Sung-kyun waiting for his next target with that same killer smile.
While everyone is busy targeting Sung-kyun, Sang-jin swoops in to eliminate Suk-jin. Too bad for him, he gets caught between his fellow guests a few minutes later. Ha, it turns out that Jin-woong and Sung-kyun had staged their face-off to lure Sang-jin in.
An attempt to nab Jae-suk backfires onto Kwang-soo, who now has to run from multiple targets. Jin-woong quickly pulls rank over Kwang-soo, then goes ahead to scold everyone in turn, like how he tells the Monday Couple to go on a date today.
So they all take a rest to strategize, and agree not to turn on each other until they've eliminated Jong-kook together. Jae-suk says they need to be prepared to lose someone within their alliance, but that's when Haha finally shows up, having stayed hidden up to now.
And just when the alliance walks inside to look for Jong-kook, the man appears out of nowhere to take down Haha, then disappears into the darkness. Everyone is still shaking after the sneak attack, but there's no time to dwell on it now with their bingo cards.
The allies decide to divide and conquer despite knowing that Spartakooks is still at large. On edge, Jin-woong keeps looking upwards, as if expecting Jong-kook to launch an aerial attack.
Jae-suk and Kwang-soo talk through their mutual attempt to tear each other's nametag earlier, and then proceed to check every dark nook and cranny for any sign of Jong-kook. When Jae-suk bends down to check beneath a car, a hand suddenly appears.
Off goes the nametag… and it's Kwang-soo. Oh you are soooo going to pay for that later. I love how the staff breaks into laughter off-camera at the situation, but the best part might be Jae-suk's elimination: whereas our two remaining guests think Jong-kook ousted him, the cast members know better—it was Kwang-soo.
But one's man's elimination is still another man's treasure, as Jae-suk's name is crossed off everyone's board. At present, Ji-hyo and Jin-woong both have one bingo.
The show does a good job of making Sung-kyun's smile come off as borderline creepy—he's definitely got something up his sleeve. So while the Monday Couple are busy chatting with Jong-kook outside, Sung-kyun's got his eye on both nametags. He pulls…
… and only one (Ji-hyo's) rips off. Instead of going after Sung-kyun, Gary cutely apologizes to Ji-hyo: "I should've been eliminated with you!"
At least Sung-kyun gets a nickname out of it: Bingo Killer. And while the players are busy crossing off their bingo spaces, the eliminated are doing the same. Now Sung-kyun and Kwang-soo are tied with with two bingos.
Talk of eliminating Jong-kook is back on the table, and even Sung-kyun, who's been lost in his own bingo card, puts his own possible victory aside for now to catch the Tiger. He, Jin-woong, Gary, and Kwang-soo head out together.
But the Bingo Killer still keeps one eye on the prize, which Gary says as much: "He keeps one eye on me! It's so weird!" Sung-kyun: "My Chinese Zodiac sign is a chameleon."
After locating Jong-kook through the security cameras, the four head back outside. Jin-woong leads the charge, but in a blink of an eye, Jong-kook wraps his around him, rips off his nametag, and runs off. Dazed, Jin-woong remarks, "I remember seeing Jong-kook's face. But how did he get all the way over there?"
Among our remaining contenders, Sung-kyun needs to either eliminate Gary or Kwang-soo. Kwang-soo and Gary need either Sung-kyun or Jong-kook, and Jong-kook just needs to oust Sung-kyun.
The other members see right through Jin-woong's grand tale of how he was eliminated; he looks too clean, therefore it was Jong-kook. Outside, Sung-kyun, Gary, and Kwang-soo all run into each other, all aware that they need to eliminate the other.
And in a distracted moment, Kwang-soo eliminates Sung-kyun, and then he and Gary make a run for it. But just as Kwang-soo runs towards the bingo board, he sees Jong-kook a few steps ahead of him and declaring "Bingo!" for himself, grabbing the win.
Aha, so Jong-kook had counted on someone eliminating Sung-kyun anyway, which meant that all he had to do was wait by the bingo board. Now that's smart thinking. "You need to use more of your brain than your strength!" Says the Tiger.
Everyone is filled with betrayal when they gather together again, the cast members telling each other not to keep in touch this week. It turns out Jin-woong only had one bingo by the game's end, but he's okay with that since "there wasn't anyone I eliminated myself."
At least you brought on the laughs, good man, and that's always enough for us.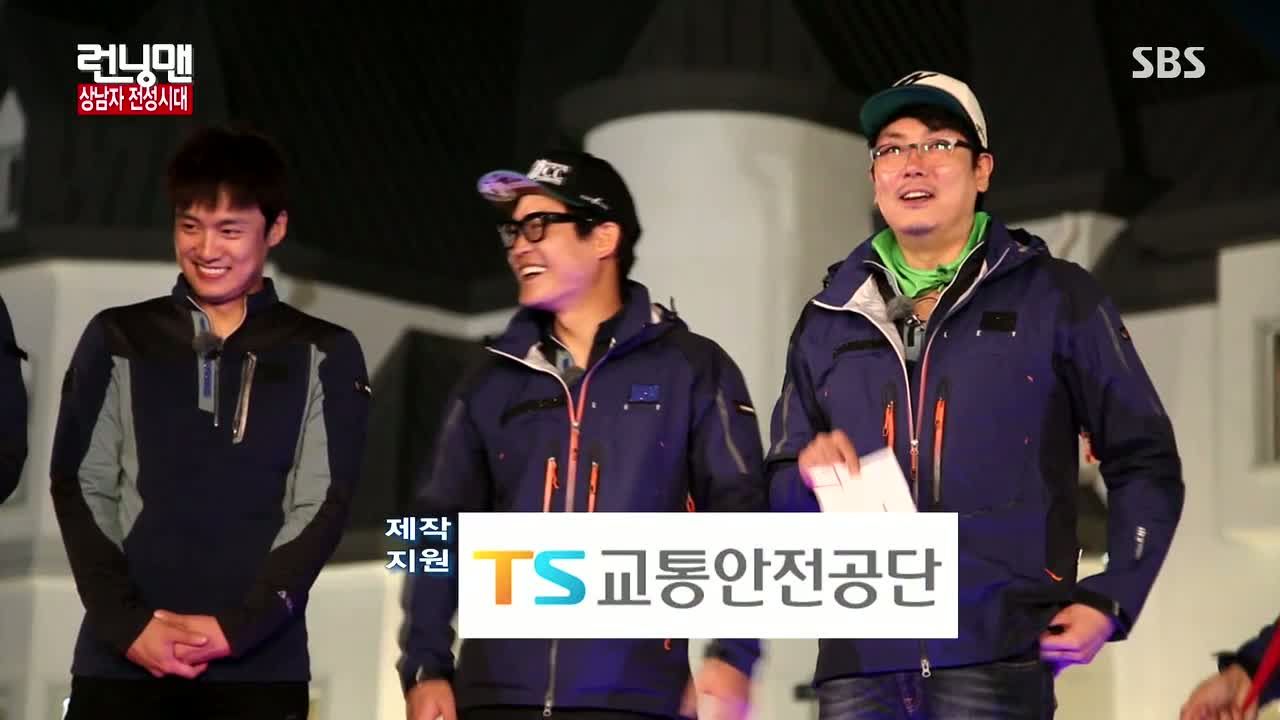 RELATED POSTS
Tags: featured, Haha, Ji Suk-jin, Kang Gary, Kim Jong-kook, Lee Kwang-soo, Running Man, Song Ji-hyo, Yoo Jae-suk