Running Man: Episode 218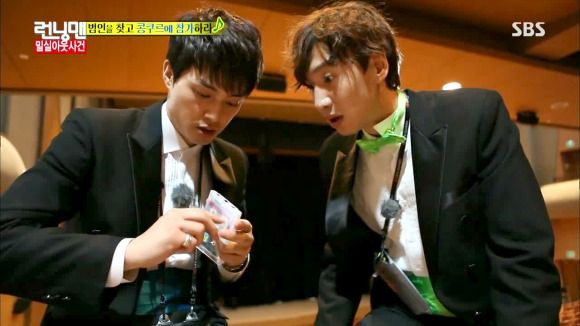 You are cordially invited to the Running Man Concours, where the music is beautiful, the competition is fierce, and pure talent can only get you so far. Surviving the musical world in a house full of prodigies is no easy task, especially when that competition our players have been preparing for suddenly goes from happy-go-lucky to downright thrill-tastic.
The mystery of this score will have you on the edge of your seat and keep you guessing until its final, lasting note.
EPISODE 218. Broadcast on October 26, 2014.
On a bright fall day in Suwon, helicopters and police vans descend upon the performing arts building. Guns raised, office swarm inside in droves, and orders their target to come out with their hands up.
In order to learn how we got here, we rewind to meet our cast and today's guests, who are all musical prodigies: Kwang-soo is a brilliant violinist whose passionate performance sways the emotions of passersby (and himself, ha), Ji-hyo engages in a fiery piano battle against our first guest Kim Ji-hoon (Jang Bori Is Here!), who says he took up piano instead of hitting the gym lately. Hahaha.
Cellist Kookie groans in frustration that his musical tone isn't as perfect as his muscles, opera singer Jae-suk belts out in song for harpist Oh Yeon-seo (Jang Bori Is Here!) — though his rendition of "O Sole Mio" blends into Jekyll & Hyde's "This is the Moment." I'll accept his "Eyes, Nose, Lips" parody anytime instead, thank you.
Last but not least is our last opera singer, Jung Eun-ji (Trot Lovers), whose actual angelic voice we're robbed of. She doesn't have to sing classical for us—just let her sing!
Our musical prodigies are invited to the 1st Running Man Music Concours, which brings us back to the performing arts center. Ji-hoon really has a 4D personality (read: oddball) and Ji-hyo points that he's constantly distracted.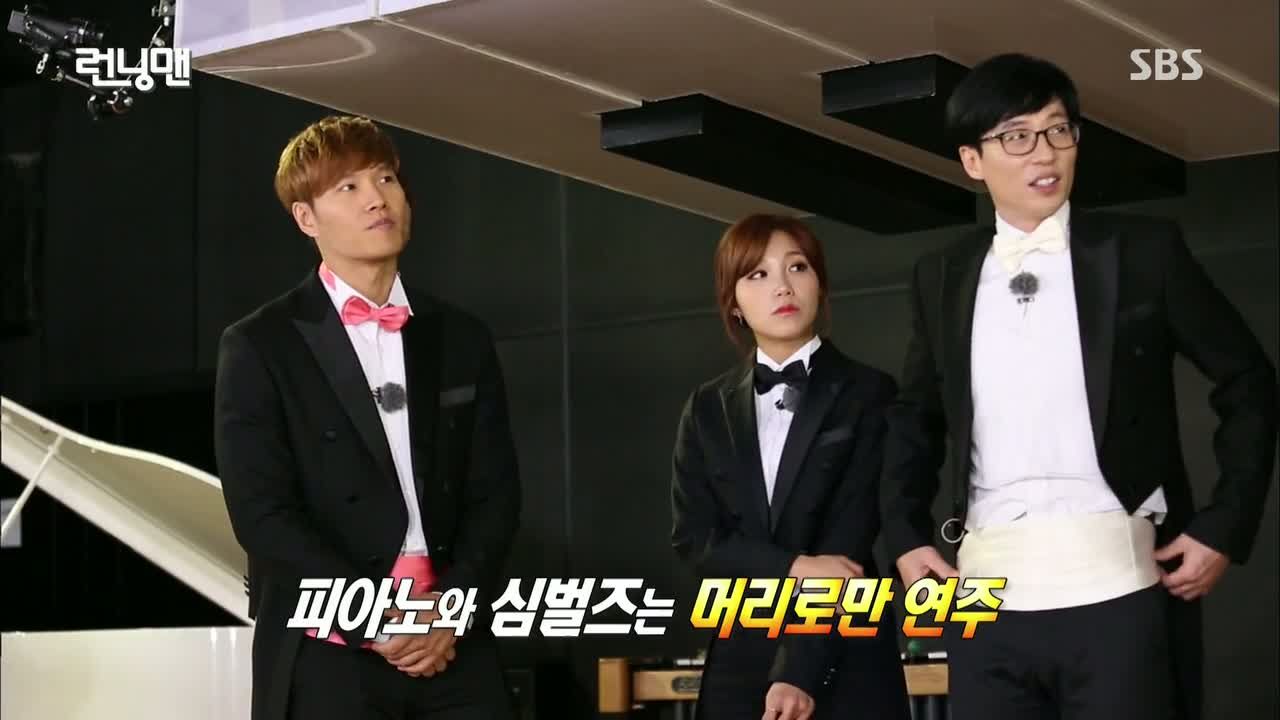 Time to break the bad news: their application forms haven't been accepted yet. "Why would you call over a busy man like myself?" Kwang-soo asks, astounded. Their first game will put them on the right track, though; here, they'll need to repeat the music they hear within ten attempts by playing the instruments above them with their heads. Suk-jin: "Everyone's got perfect pitch, right?"
What a great mission… if only Jae-suk could jump high enough to reach the giant piano. Suk-jin hilariously blackens the key by accident, and Kwang-soo can of course, reach the keys with his tall height.
The others conclude it works when hitting it makes a sound, but then Ji-hoon tries it out and catches the staff members playing the notes on the keyboard off-camera. Hahaha, I love it when they break the magic like that.
They hear the song, and whoa, Eun-ji identifies the notes readily. Does she have perfect pitch? Kwang-soo is in awe when he's told to man both 'do' notes, but it's the most frequently occuring note and he's the tallest.
After failing the first attempt thanks to Haha's off-beat drumming, the musical prodigies agree to strip down whoever screws up next. It happens again, so they strip Haha of his socks and shoes, and Gary calls out: "How come you're so short now?" Aw.
Percussionist Suk-jin doesn't fare much better, but Ji-hoon gets pretty far before missing his beat. He gets stripped down too, and what should they find but shoe lifts. They're pretty high, and Haha laughs, "Even I don't wear lifts that high!"
When Suk-jin messes up on their fifth attempt, he's stripped of his trousers, too. At least he gets the cumberbund back? On their eighth attempt, they nearly get through to the end, but then Kwang-soo rushes and hits his head on the wrong note.
So he gets stripped too, and Suk-jin does the courtesy of taking off a sock, crying out: "Look at me!"
Now they're down to their tenth and final attempt, and the group takes their time running through the song. This time, they succed, only to learn that seven of them have been accepted. The other three (Ji-hyo, Yeon-seo, and Eun-ji) must find the blank application forms and fill it out within ten minutes.
So while the ladies search the building, the guys remain behind to practice. Suk-jin can't help but wonder if the women have a separate mission, but not long afterwards, the speakers announce Eun-ji's elimination. Huh?
Ji-hyo retuns with her application form, but she doesn't know why Eun-ji was eliminated. Could it have been Yeon-seo? But Yeon-seo returns with a bright smile on her face—she doesn't know what happened to Eun-ji, either.
Something's definitely fishy, and Suk-jin claims Eun-ji was the one behind it all. Just then, the speakers announce their mission: attach the photos taken with the polaroid cameras to the application forms in order to participate in the concours. Eun-ji's attacker is also still at large, so it's up to them to gather enough hints and report the culprit.
However, if they wrongly accuse someone, they themselves will be eliminated. No one can trust one another, though Gary believes the true culprit is among them. Suk-jin's convinced that Eun-ji isn't eliminated but probably off pursuing her own secret mission.
Ji-hoon keeps trailing behind Ji-hyo like a lost puppy, and she asks him outright whether he was given a secret mission himself earlier this morning. He evades the question, which has Ji-hyo slowly back away.
Kwang-soo belatedly remembers that they have to find Eun-ji's attacker as well, and he's convinced it must be either Yeon-seo or Ji-hyo. Yeon-seo insists she isn't at fault—in fact she loves mysteries and believes the one who seems least likely to be the culprit is guilty.
Haha stumbles upon a camera, then plays it cool in front of Kwang-soo and Gary. Too bad that Gary snatches it first, and the others try to wrestle it away from him. Or rather tickle it out of his hands.
Soon it's a circus as everyone tries to get their hands on the camera, but it's Kwang-soo's picture that gets taken. Or so they think because Jae-suk's face appears. Unfortunately, Jae-suk needs a sans glasses pic to qualify.
Yeon-seo pulls her former co-star aside to ask what the guys were doing while the ladies were away. Ji-hoon hadn't thought to check whether anyone left momentarily, and entertains the notions that someone could have acted suspiciously… like Kwang-soo hiding around the corner. Heheh.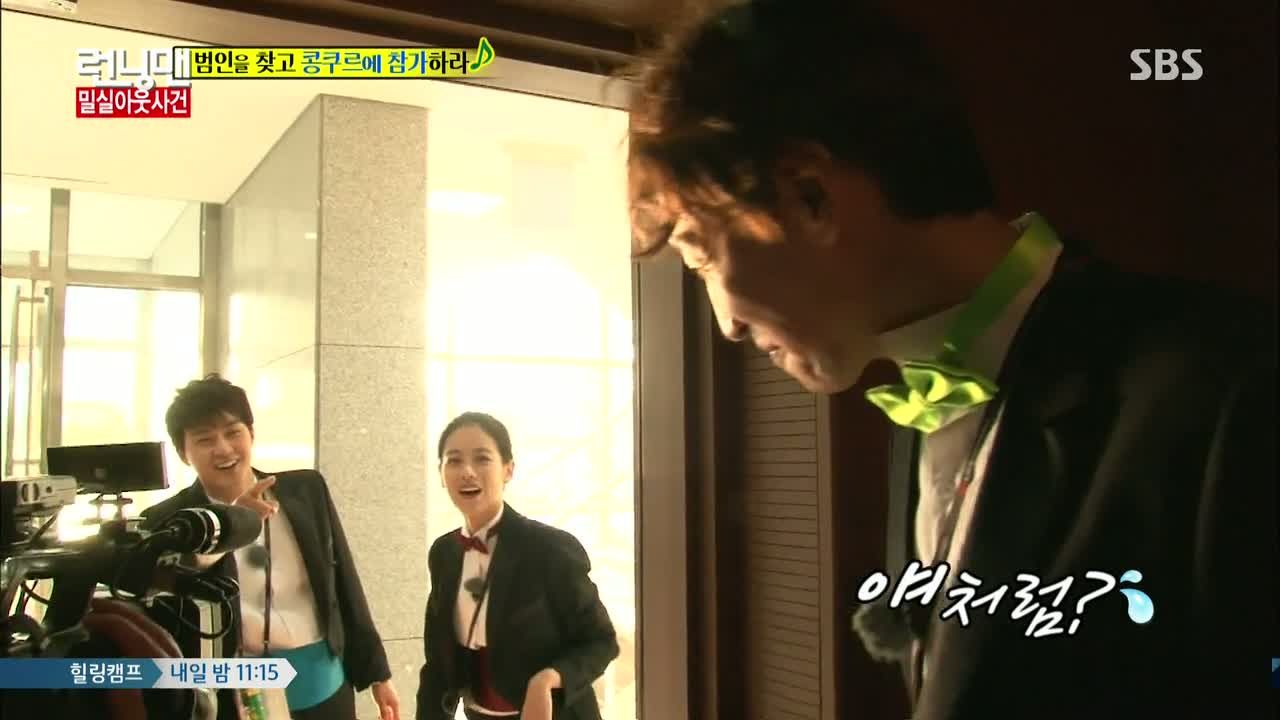 Ji-hoon comes up with this elaborate explanation that Eun-ji eliminated herself and that there's another A Pink member here. Sounding hopeful, Ji-hoon wonders, "Sohn Na-eun?" Kwang-soo: "You sure you just don't like Na-eun?"
Suk-jin has this unnerving feeling that someone's going to sneak up on him and eliminate him. And who should come up behind him but Jae-suk, who quickly covers his mouth and curiously asks, "You're curious as to how Eun-ji disappeared, aren't you?" Ack, was it you?
…then he uncovers Suk-jin's mouth: "I'm curious, too." Oh man, it was a joke? Orrr was it?
Jae-suk then walks past a clue entirely, so when Jong-kook picks it up after him, we're left wondering whether Jae-suk didn't notice or pretended not to. It's suspect, but soon Jong-kook and Haha are left alone to figure out the music sheet to "Love's Fireworks."
Haha spots the candles nearby, so he lights them, and they carefully hold the paper to the light. And as it burns, text appears. Whoa, that's cool. The lyrics: My heart's a firestarter / Your life is quite strange
But then Jong-kook realizes that the first character in each word spells out: "The culprit is among you." Whhhattt.
Outside, Ji-hoon tries his best to protect his camera from the Easy Brothers, though the camera takes the shot anyway. At least he discovers another clue: a casette player, which has no batteries or cord. The tape itself reads "Park Sang-min's fifth album: 'Road That's Not a Road.'" Ji-hoon: "Is it telling me that this isn't a road? Did I come the wrong way?"
Ji-hyo discovers a scribble on the board and curiously, some of it is erasable. What's left is the word "single."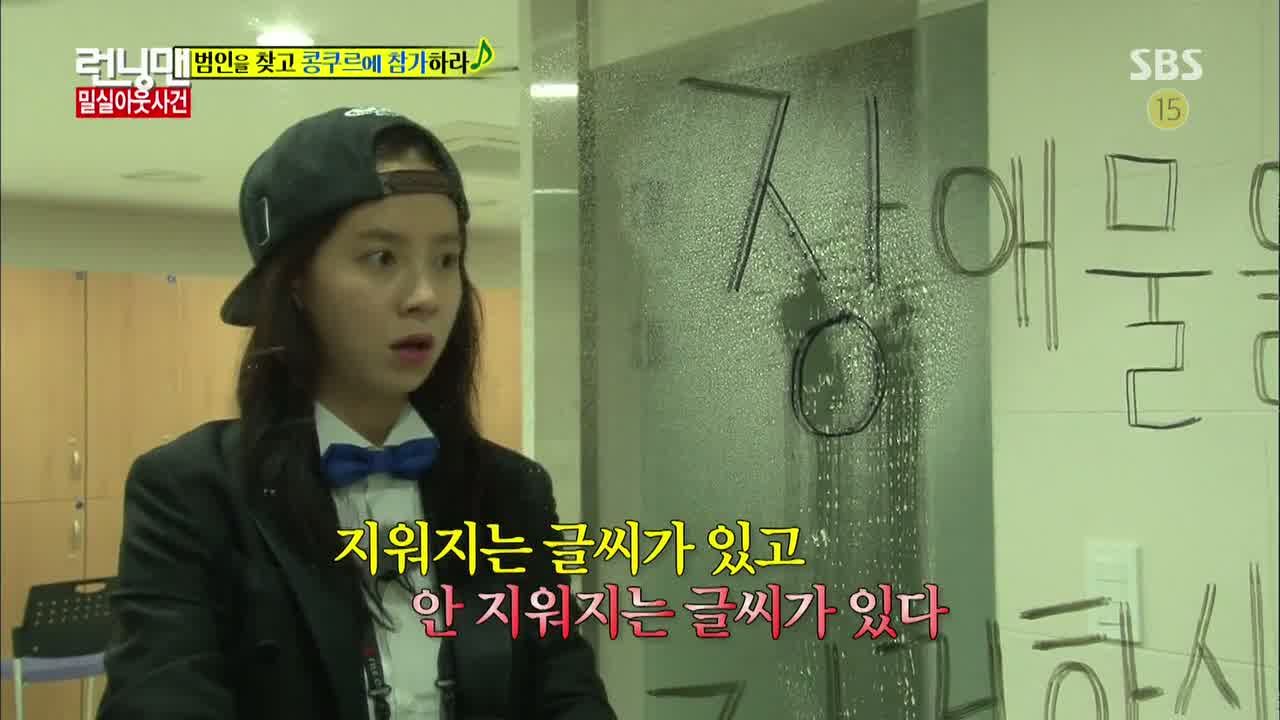 Next, Ji-hyo discovers a list and realizes that they correlate to seat numbers. So it's back to the auditorium where she has yet another ephipany. She pores over a seating chart, and I must say I'm pretty impressed by how the staff has laid out the clues this time.
Whatever Ji-hyo has realized, we don't get to know because the speakers soon announce her elimination. The announcement leaves everyone confused, anxious, or suspicious—Ji-hoon wonders if the three ladies planned it all out.
Jae-suk dives into the dramatics and declares war against the culprit—it's a battle between them now. Suk-jin doesn't buy into the act, and asks Jae-suk if he's playing Sherlock. Jae-suk: "You could be Watson." Suk-jin: "…Sounds good." Hahaha.
Yoo Sherlock and Ji Watson deduce that the culprit must be either Yeon-seo, Kwang-soo, or Eun-ji. I love how you can hear the staff burst into laughter.
While Jong-kook and Yeon-seo snap their sel-cas for their applications, Ji-hoon shares his secret with Kwang-soo. Dude, bad idea—Kwang-soo's going to use that info against you the first chance he gets. Have you learned nothing about this show?
Ji-woon wonders, "If it's a 'road that's not a road [gil],' then is it Gary?" Hahaha, like Gil and Gary of LeeSsang?
Speaking of whom, Gary finds a camera for himself, then it's back to Ji-hoon and Kwang-soo who rewind the cassette manually. Noting the measurements on the tape, Ji-hoon realizes that the tape itself is intended to be used as a ruler. Now that's smart.
Gary is busy filling out his application when the door opens… and the screen goes black. Next thing we know, Gary's out of the game.
Now everyone is on edge, and some wonder whether the ones who have taken their sel-cas are targets. It wouldn't be like Gary to file a false report either, and Yeon-seo mentions that Gary tried to rip her nametag off as a joke…
… and just as she says that Haha creeps up behind her. Yeon-seo whips around, and her instinctively raised hand almost hits him. Still frightened, Haha wonders if she's being too protective about her nametag, but she argues that tearing it off would mean their own elimination.
Jae-suk is back in the auditorium; he notices a new music sheet, and starts to play the piano. He soon discovers that there are numbers next to the keys: 0021. He reads the other clue on the piano ("greenroom") and runs.
Yeon-seo thinks the culprit is tearing off nametags, so Ji-hoon starts to jokingly tear hers off. What's important is that they need to work together to figure out the clues left behind, and Yeon-seo shares a picture of kids playing in a playground.
Ji-hoon wonders if the number of people in the picture is of importance, and cites that Yeon-seo loves mysteries. Well, murder mystery-thrillers. Ha. Just then, Kwang-soo spots a violin in the image. But… Kwang-soo is the violinist…
Kwang-soo immediately takes off, screaming his innocence behind him: "I'm not the culprit!" He gets cornered anyway, and Yeon-seo wonders why he ran if he's innocent.
Then she entertains another possibility: a cello? Why that would mean Jong-kook. Kwang-soo insists that he saw his own instrument, but then Yeon-seo walks off on her own. Kwang-soo asks if Ji-hoon doesn't believe him. Ji-hoon: "I don't know what you are." Kwang-soo: "I'm simply a violin prodigy!"
"You're an idiot 99% of the time, but then you're a genius 1% of the time. That's what scares me." Ji-hoon continues. Kwang-soo: "I'm the 99% today."
Jae-suk runs to the greenroom, only to find it locked. He tries a couple of combinations before gaining access, and finds Eun-ji's nametag along with what looks like a violin string.
Elsewhere, Suk-jin can't shake off the ominous feeling haunting him. He opens a door and…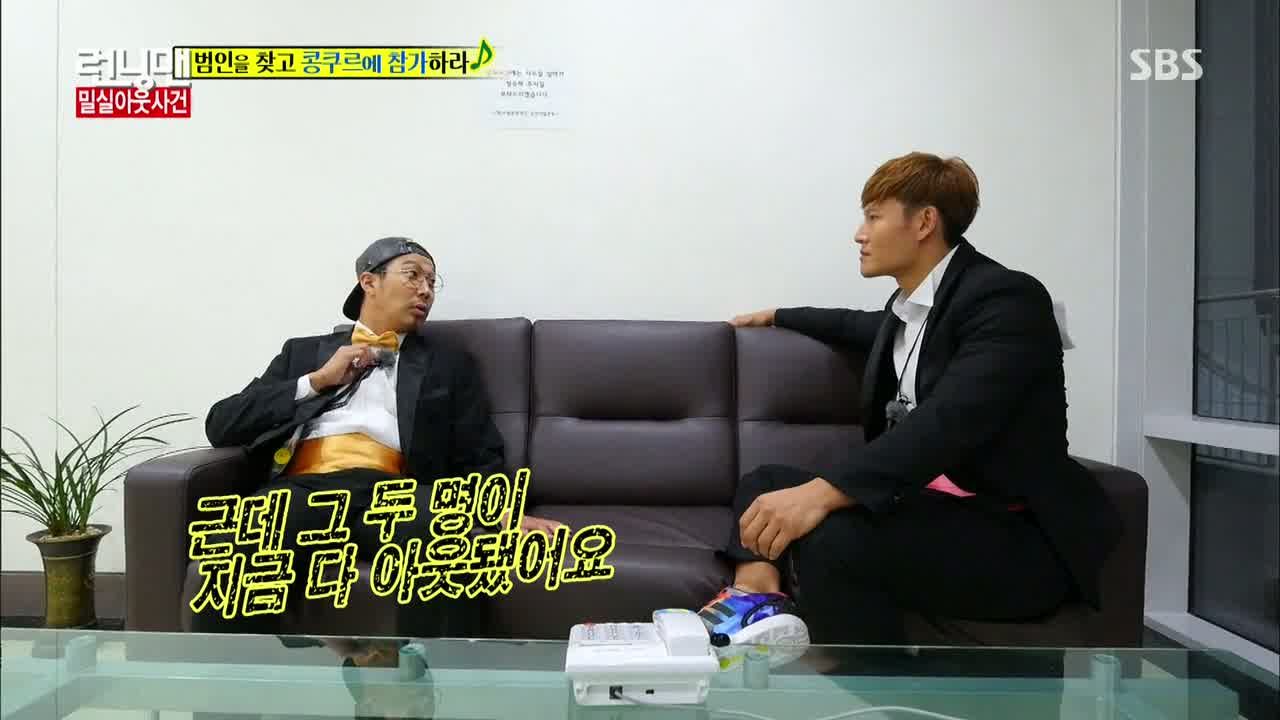 … the speakers announce his elimination. Suspicions run high, and Jae-suk hears footsteps approaching. There's a furious knocking at the door, and soon Jae-suk is eliminated, too.
Now only five remain, and Haha declares in front of the cameras that he'll be mad at Jong-kook for two weeks if the culprit turns out to be him. So Haha and Jong-kook pass the phone back-and-forth to each other, encouraging the other person to report them.
Ji-hoon discovers a box that contains a recorder and ribbon; he tries playing the recorder, thinking it's like some sort of snakecharmer that will make the culprit appear. Hahaha, why are you so weirdly adorable?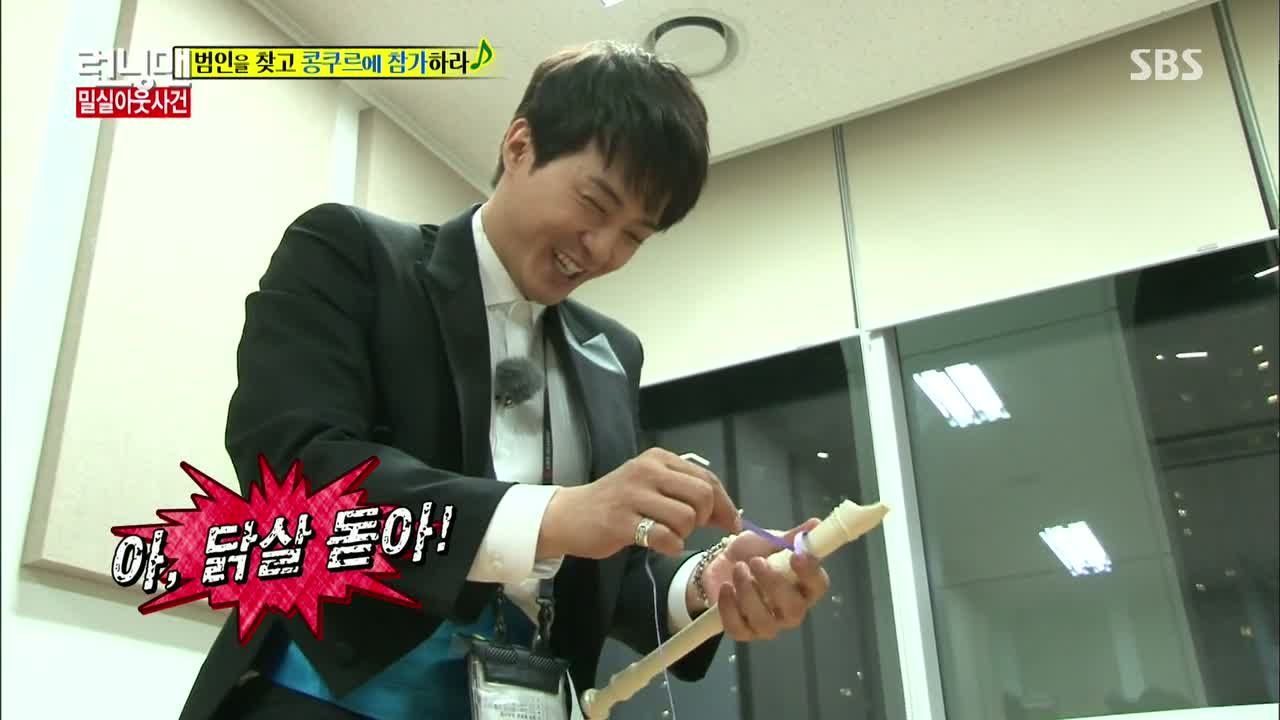 He sees the marking on the ribbon, and then wraps the ribbon around the instrument. "Why are the staff memembers so clever?" What he reads is astounding.
Ji-hoon takes a minute to assess his clues: the cassette-tape/ruler matched Kwang-soo's height perfectly; it was weird that Kwang-soo saw that violin image that no one else could; and now this.
Ji-hoon meets up with Haha and Jong-kook, to whom he shares his beliefs about Kwang-soo. He decides to pick up the phone and call it in, saying that they can end the show here "and the 8 o'clock news will just start early, I suppose." Ha.
So Ji-hoon makes the call and screams Kwang-soo's name. The SWAT team files in (with their water guns) and apprehends… Ji-hoon? HAHAHAHA.
In any case, this means that Kwang-soo isn't the culprit after all, and as the SWAT officers take Ji-hoon away, Jong-kook has a thought. Ohhh, is the culprit hiding among the SWAT team?
We retrace our steps among the clues, and there was something Ji-hoon didn't see on his cassette ruler: "178" written in black. His wrapped ribbon had revealed "male," so if we put all the clues together…?
It's Jong-kook, and Haha realizes only too late. We have to travel back over twenty years ago to know what happened: Jong-kook won the children's concours, to the other prodigies' resentment. Afterward, Jong-kook's skills had dropped so low that his teacher recommended that he stop training vigorously.
So when Jong-kook received his invitation while working at his office job, he'd read about the other "musical geniuses" out there who had made it. Jong-kook had agreed to go in order to get his revenge, and even prepared a chair with velcro for an unfortunate person.
Remember that ten-minute period the ladies ran off to find an application form? Eun-ji had seen the one Jong-kook planted and sat down without any suspicion, only to rise and see her nametag cleanly ripped off.
Aw, now I'm sad that we didn't get to see her at all for the majority of the episode. It turns out Ji-hyo had figured out the seating chart pattern ("Isn't it 'gold'?"), and since the Chinese character is also the same for "Kim," she'd realized it was Jong-kook. Too bad she figured it out too late.
Poor Gary had fallen for the same trusting ruse, and Jong-kook had Kwang-soo to thank for insisting that what he saw was a violin, not a cello. Taking out Suk-jin and Jae-suk (who'd found a cello string) was easy peasy, and that look of shock on Jong-kook's face when Ji-hoon was dragged away? Yeah, that was happiness.
So it looks like Haha's going to mad at Jong-kook for at least two weeks after all. Kwang-soo wonders if the hyungs are calling in reports, and Jong-kook smiles devilishly. It's time for him to shine on that stage… alone.
Jong-kook is on a search for Kwang-soo and finds Yeon-seo poring over a new clue instead. At the same time, Kwang-soo finds another painting. The cello solo playing in the background is such an appropriate choice.
Yeon-seo wonders if it might be Jong-kook after all, because Kwang-soo's too obvious of a choice. Use that mystery novel-lovin' noggin'! She starts backing away, and when she's asked whether she ran away from Kwang-soo, she says it's the other way around. Heh.
Her voice trembles as Jong-kook approaches — this is her woman's instinct kicking in, she declares. But, Jong-kook's also weak to women! Use that to your advantage!
Meanwhile, Kwang-soo finds music lines behind the frame, which matches up to the stars in the sky in the picture. Back in the auditorium, Jong-kook points out his name written in Chinese characters on the scroll. Yeon-seo: "Is this a thriller?"
Her shrill cries are no use in the end, and now it's down to Jong-kook vs. Kwang-soo. Speaking of whom, Kwang-soo's busy playing the melody on the piano. It's familiar, as he sing-songs, "Hero of heroes on the mountain…" Ahhhh, Jong-kook's coming for you!
"…Tiger-nim," he finishes. GO! RUN! Kwang-soo rushes out while Jong-kook roams the halls looking for him. Will Kwang-soo get to a phone in time?
Kwang-soo picks up the phone, calls, and says Jong-kook's name just as Jong-kook turns the corner and pounces on him…
Then it's time to see who will perform on stage, and the eliminated turn around to see guilty Jong-kook being escorted into the audition.
That means the violin prodigy called it in on time after all. We see that Kwang-soo had been barely a split-second faster than Jong-kook, who was quickly apprehended.
So it's Kwang-soo who gets his solo performance and the win. A fantastic, dramatic finish to an epic score, indeed.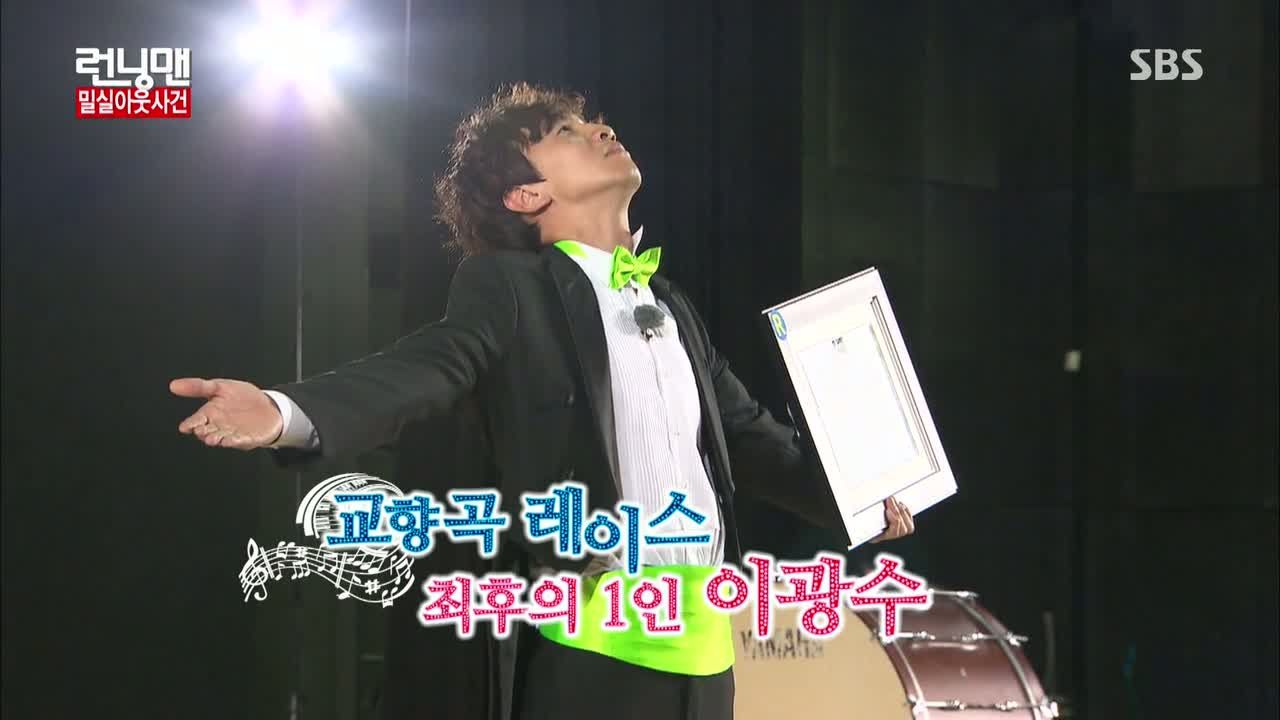 RELATED POSTS
Tags: featured, Haha, Ji Suk-jin, Kang Gary, Kim Jong-kook, Lee Kwang-soo, Running Man, Song Ji-hyo, Yoo Jae-suk