Secret Door: Episode 5
A rich episode for character development, and it's surprisingly full of moments of sincerity in a world that's populated by so many glib, false-speaking snakes. We have this in multiple relationships, but most significantly in our central, most heart-tugging one between the king and the prince. The problem with them, though, isn't necessarily whether these moments of emotional bonding are real—it's whether they'll stand up in the face of greater challenges. And that's a question that always seems on precarious ground.
SONG OF THE DAY
Kim Ji-soo – "말하고 있어" (I'm Telling You) [ Download ]
Audio clip: Adobe Flash Player (version 9 or above) is required to play this audio clip. Download the latest version here. You also need to have JavaScript enabled in your browser.

EPISODE 5 RECAP
Yeongjo tells Sun to give the corrupt Police Captain Hong a huge promotion in making him minister of war, a prospect that has Sun burning in fury. All three men know that Captain Hong's investigation was a sham, but Sun has his hands tied by the official results and the case is, officially, closed. But suddenly, Sun flings the jar of liquor, overturns the table in a rage, and bellows at Hong to die for making an innocent man a criminal, choking the air out of him…
…in his mind. Gack, it's a fake-out! The king calls him back to the present, and Sun covers up for his lapse, acting as though he's thrilled to pour Hong a drink. Yeongjo smiles approvingly as Sun promises to write the order making Hong a minister, but I'm not convinced he buys his cheerful act, based on how he carefully watches Sun leaving.
And it is an act, which drops as soon as Sun is out of sight. The first thing he does when he returns to his own palace is ask his advisor, Chae Je-gong, "Did you look into it?" Advisor Chae answers in the affirmative.
At the gibang, Prime Minister Kim hosts a gathering of his Noron-faction cronies. Captain Hong—soon-to-be Minister Hong—is welcomed into their midst as the newest member and given a task right away: to amend—or better yet, abolish—the Equalized Tax Law. It's a law that was implemented to ease people's tax burdens, and Minister Hong actually protests because it was an important reform that Yeongjo worked hard for.
However, Prime Minister Kim frames it as a mistake that hurts the country and ought to be reversed. (Really, it's more that the yangban want to preserve their privilege of military service exemptions, since the law equalizes the burden across the classes. The princess's father sniffs that military service is for the lowborns.) Kim makes a status quo argument, saying that the 400-year order of Joseon must be preserved, and that it's up to (almost-)Minister Hong to make it happen. No pressure or anything.
The officials on the Soron side, naturally, are outraged to hear what their rivals intend. Since this is a direct challenge to the king's work, they wonder why Yeongjo would choose this precarious time to change the minister of war. The prince's teacher, Park Mun-su, heads straight for Yeongjo in alarm, only to find the king rather nonchalant about it all.
Yeongjo says pointedly that if Park Mun-su is so worried, he should've done a better job destroying the secret document binding Yeongjo to the Norons. If he had, they wouldn't be in this situation now.
We flash back to the night Yeongjo was forced to sign that document under threat of death. We haven't been told its exact contents, but since it's essentially a deal that the Norons would make Yeongjo the next king, and that required the offing of Yeongjo's brother (the king at the time), it paints Yeongjo and the Norons as criminals.
Then we flash to the night ten years after that, when Yeongjo tearfully confides this to Park Mun-su. Weary at being the Norons' puppet and unable to effect his policies, he begs Park Mun-su to find that document for him and destroy it. That's the only way to have the harmonious government he envisions for Joseon.
In the present, Park says that he did everything he could, but makes an important distinction: "I have never agreed with destruction of the document." He also points out that the very night that he informed Yeongjo the document was in a particular library, that building burned down. Gee, what a coincidence. Who could have done it?
Yeongjo doesn't admit anything and hisses an excuse at him. Park Mun-su asks disapprovingly, "How long will you attempt to block the sky with the palm of your hand?" He bemoans the loss of two more lives over that document, and Yeongjo's temper spikes. He moves to strike Park, but calms himself the last moment (and really, the volatility of his mood swings is more frightening than the anger itself).
Yeongjo takes Park's hands in his and entreats, "It is not too late. Please find the document, and make sure to get rid of it this time." Park stands firm, saying that even if the nation's progress is stymied by the existence of the document, this is not the right way of dealing with it.
The king asks what Park Mun-su wants, then—for him to hand over the throne to the crown prince? He laughs at the idea of a young, immature Sun taking on those opponents, insisting that the power must remain with him in order to secure the country's future.
Park sees that there's no arguing with the king and returns to his Soron colleagues with heavy heart. If Yeongjo makes Hong the minister of war, the hard-won Equalized Tax Law will be revoked, and they gripe amongst themselves over the king's malfeasance.
Sun suspects that Heung-bok's slanderous letters were forged, and wonders how it happened. Advisor Chae's comment about the writing being the same as some official documents sparks an idea in Sun's head, and he hurries off to check on it.
From a distance, his bodyguard Pil-jae spies on him and reports back to the prime minister that Sun took the letter and suicide note with him. They wonder whether the prince is operating on new information and where that could be coming from. For now, Prime Minister Kim orders Pil-jae to search the prince's quarters: "If someone is trying to stop us, no matter who it is, he must be eliminated."
Sun and Advisor Chae drop by Ji-dam's house unannounced, and as they've ignored her instructions on how to arrive secretly, she's antsy: "If my father finds out…"
Which is when Dad joins them, of course. Sun explains that Ji-dam has outstanding skills and requests to use her as a secret investigator. Dad expresses his misgivings honestly and causes Sun's face to fall, but ultimately gives his agreement, understanding that Ji-dam is her own person. Sun promises to ensure Ji-dam's safety, though Dad just looks more worried.
Princess Hyegyeong comes by Sun's quarters in the wake of his absence at today's lecture with the king. His main eunuch lies for him, but she's not buying it and demands the truth. However, when she's unexpectedly joined by Lady Moon, Yeongjo's pregnant young concubine, Hyegyeong's stance is forced to do an abrupt turnaround. With a calculating concubine insinuating that the prince's trips outside the palace might be of the unsavory sort, Hyegyeong defends the prince and warns Lady Moon not to make false assumptions.
When Lady Moon bristles, Hyegyeong icily reminds her that the crown princess outranks a king's lowly concubine and corrects her terminology. "If you wish to live in the palace for a long time," she advises, "you are better served using the time lurking around the prince's palace to study the rules instead."
Lady Moon storms off in a huff, but when she relates her outrage to the king, he just chuckles, saying that she shouldn't engage in battles she can't win. Lady Moon wheedles the king to call for the prince to prove her right (about him being absent), and therefore she'd win against Hyegyeong. She pouts when he declines, but he adds, "It's not the right time yet." Well that sounds ominous.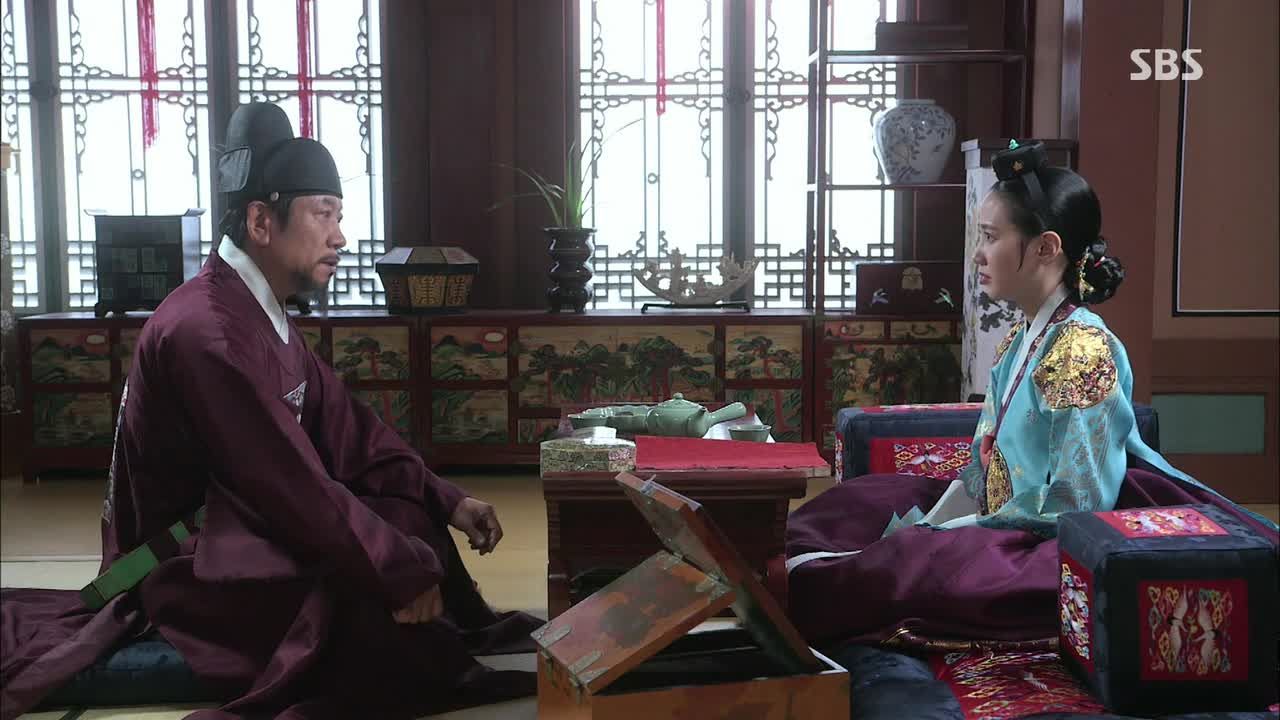 Hyegyeong confers with her father, Hong Bong-han, about the prince's frequent trips outside the palace. When she mentions the prince hiding a girl last night, her father tells her that it's not her place to argue that, as a prince can take a concubine. But her point of concern isn't (only?) that her husband's interest lies elsewhere, but that the girl isn't from the palace. She's positive Ji-dam isn't a court lady, and if the prince is consorting with women of lowly origins, that would be a problem. She tells her father to select trustworthy men; they must stop the prince's activities.
Sun and Advisor Chae watch intently as Ji-dam examines the letters, which she deems forgeries. When they ask how they could forge a letter now that was supposedly aged several years, she replies that it's possible, and provides them with a demonstration. She dyes fresh paper to make it look aged, and explains that the forgery was the work of a master—enough that even experts might be fooled.
Sun decides that the forger is their key, and asks for any leads. Ji-dam knows of only three people with enough skill to pull this off, and one of the names makes Sun start. Chun Seung-se is one of the (false) witnesses who testified to seeing Heung-bok the night he died, and they need to find him to get to the criminal.
That Chun Seung-se is currently staggering drunkenly along when Sun's shifty bodyguard Pil-jae finds him to remind him he wasn't supposed to drink, lest he blab important secrets. Pil-jae warns that he has a bad feeling and tells him to hide out until he calls him back.
Chul-joo, our friendly boss of the Eastside gang, gets a report about the Westside boss who's known as Shadow. He and Park Mun-su discuss their hunch that Shadow is the culprit in the murders, which means that finding Shadow will lead to whoever's giving him orders. (Ah! Is Pil-jae Shadow?)
The trick is, almost nobody knows what he looks like… but there is one man named Chun Seung-se who is in frequent contact with Shadow.
Looks like it's a race to find Chun (although really, these two parties are on the same side), because East Boss puts his men to the task just as Ji-dam leads Sun as she inquires into his whereabouts. Looks like they've got the jump, because they're the ones who corner Chun after he burns a stack of papers and tries to slip off into hiding.
Chun goes after Sun with a sickle, but Sun fights him off and disarms him successfully. His senses alert him to a different danger, however, and he yells at his companions to duck just as he grabs Ji-dam and whirls her out of harm's way, his arm skimmed by an arrow as they fall. In the ensuing confusion, Chun grabs his chance and flees—and gets shot in the back by an arrow.
Chun writhes in agony while our trio ducks out of the line of fire of the masked assassin—Shadow—in the distance. Sun risks the momentary exposure to grab Chun's body and drag him to safety too, because he needs to ask who's out to silence Chun. He pleads for a name, and Chun garbles out an incomplete syllable: "Ka… ka…"
But before he can say anything more intelligible, another arrow lands in his chest. Park Mun-su and Boss Chul-joo arrive just in time to see it, and a good thing too, because Shadow now has our trio in his sights and readies to fire. It's Chul-joo who deflects his shot, then heads off to face him one-on-one. Chul-joo versus Shadow, Eastside versus Westside.
Sun desperately pleads with Chun's dead body to respond, but as the truth sinks in, he calms down and takes stock. He starts to head off to chase the assassin, and when Advisor Chae protests, he tells him firmly to stay behind and protect Ji-dam. With that, he runs off.
Chul-joo engages Shadow in a brief swordfight, but subsequently loses him. He does find, however, a piece of cloth dropped by the assassin, stained with blood. Ah, his face mask?
Shadow returns home in a snit, and yep, it's bodyguard Pil-joo.
Sun runs into Chul-joo in the street, who describes his fight with the assassin and that the man will have a wound on his face. He doesn't, however, explain his reason for being here, saying he just happened by as the incident was unfolding. Sun thanks Chul-joo for his help and heads off, while Ji-dam knows that Chul-joo's not telling the full story, as they're on Westside's turf.
Back in Ji-dam's workshop, Advisor Chae insists that he return to the palace and receive proper medical attention. Sun points out that doing so would bring his activities to light, rendering his secret investigation impossible. The investigation is much less important to Advisor Chae, who's practically sprouting white hairs on the spot at the idea of coming so close to losing the crown prince. "Are you so angry at losing an important witness?" he asks.
"More than a witness, I am angry to have lost a person's life," Sun replies. "And I am afraid of losing yet more lives." What if their theory is right? What if the culprits are immensely powerful government officials? What if it's truth that people with no care for human life are the very people sitting in court engaging in politics?
"You must serve your people as the heavens," he recites. "I am not saying to use empty statements like that. But at the least, should the lives of the people not be considered as valuable as one's own? Is that not necessary to earn the right to engage in politics?"
Ji-dam remains quiet throughout his outburst. She appears moved, and apparently so is Advisor Chae, who relents and allows her to treat Sun's injury.
Shadow/Westside Boss/Pil-jae reports the night's events to Prime Minister Kim, confirming that Ji-dam is the one they need to silence. Pil-jae is worried that Sun's investigation has led him close to discovering the Westside Gang, which would then lead him to Prime Minister Kim, but Kim still feels safe. Ji-dam may have witnessed the murder, but didn't see Pil-jae's face.
Ji-dam finishes wrapping up Sun's arm, and he decides that her involvement has gone far enough; as of right now, she'd better stop with the investigation. She agrees with his conclusion but argues that she can't stop for the investigation's sake, offering herself up as bait. Sun thanks her for her courage and pluck, but denies her all the same. "No more," he says. "I don't want to lose anybody else."
As he leaves, Sun tells Dad that he'll arrange for a safe place for Ji-dam to flee to now that she's been exposed. Dad declines the offer, assuring him that he can handle it, and when Sun asks where she'll be taken, he says that she'd be safer if he didn't know. Sun tells Ji-dam to be safe, and leaves.
In the palace, Princess Hyegyong scolds a bodyguard for losing his tail on Sun tonight. She orders him to watch the prince's every movement.
Sun returns to the palace and wonders how the assassin was able to intervene—is there a traitor in his midst? He balks at Advisor Chae's warning to be suspicious of Park Mun-su, declaring that his teacher isn't the informant: "He isn't capable of it."
It breaks my heart a little to see his faith in Park Mun-su, since his teacher is at this very moment conferring in secret about tonight's events. True, Park and Chul-joo do appear to be working toward the same aim as the prince, but the fact remains that they're hiding things from Sun. There is probably a reason for it, and they put their heads together to puzzle out the case of the murdered forger.
Park Mun-su wonders whether the forger might have falsified some other documents, too: "What if, before the culprit handed over the secret document…"
To confirm those suspicions, we see Pil-jae pull out a document and smirking to read it—he had, in fact, had the forger make a copy of it. "Is this where the real fight begins?" he says ominously to himself. Hm, so will the dog bite its master's hand?
Sun is startled to find his father waiting for him when he returns, and Yeongjo starts to scold him for his extracurricular activities before he sees the bloodstained sleeve. Genuinely concerned, he checks Sun's arm and demands to know who did this to him. But Sun replies, "The answer is not for me to say, but for you." He asks who would be out to kill his father—and whether they're the same ones who killed Heung-bok. Why are they after Yeongjo? Why is Captain Hong the minister of war?
"Do you want to know?" Yeongjo asks.
He takes Sun to the Ministry of War, where Minister Hong is putting in long hours with his staff, poring over records and checking every discrepancy. He notes one and orders his exhausted staff to retrieve the log, which is when Yeongjo steps in to inquire into the proceedings.
Sun stands by and watches thoughtfully as his father susses out the general situation and then asks how long Minister Hong has been running his staff ragged without letting them go home. Hearing that it's been four days straight, Yeongjo instructs the staff to go home, then smilingly reminds Minister Hong that not everybody runs like a machine the way he does.
Afterward, Yeongjo and Sun return to the king's inner chamber and revisit Sun's questions. Yeongjo points out how Minister Hong has worked tirelessly from the instant he was appointed minister and has already accomplished an impressive amount of work, finding holes and flaws in the records. He states that he had judged Minister Hong to be exactly the type of tough official he needs in that ministry.
Sun asks whether that judgment still stands, in light of recent doubts. Yeongjo asks if it's true, what he's insisting about Heung-bok, and says that he does not know who killed him or why. Neither does he know whether Minister Hong played any role. "However," he adds, "I cannot be certain that I would have been rid of Minister Hong even if I had known."
Yeongjo asks what Sun would have done, but before waiting for an answer, he instructs him to join him on the throne. Sun complies, and there's something quite powerful (and ominous? eerie?) about seeing Sun being sat down on the throne with such deliberation, as though a metaphor being made real. He continues his lesson: "Rather than a perfect vassal, use the one you need—this is your father's method. It is also the reality of politics that you must learn, without a second to waste."
Sitting next to him on the throne, Yeongjo asks whether Sun intends to continue his investigation, and how far he means to take it. Sun replies that it will not be finished until he finds out who is masterminding everything and the culprit is made to pay for their deeds.
Yeongjo nods encouragingly that this is what he ought to do, and adds a valuable bit of advice: In a secret internal investigation such as this, he must take special care to preserve secrecy—the court is crawling with ambitious, disloyal, would-be backstabbers.
It's a poignant moment between father and son, which I feel is a genuine exchange while also being fraught with tension, because Yeongjo is ever-changing. To wit: He calls Sun back for one last comment, asking to be the very first to know when Sun discovers anything. He says that he'd like to be of help, but that look on his face behind his son's back is not reassuring.
Then father and son retire to their respective chambers. Sun clenches his fist and mulls over what he knows, looking deadly serious.
Yeongjo, as ever, is a mix of outwardly cavalier behavior that belies his inner thoughts. He replays Park Mun-su's entreaties wherein he lamented the loss of lives over the document.
Sun replays his reply to his father, about not ending his investigation until the complete truth is out.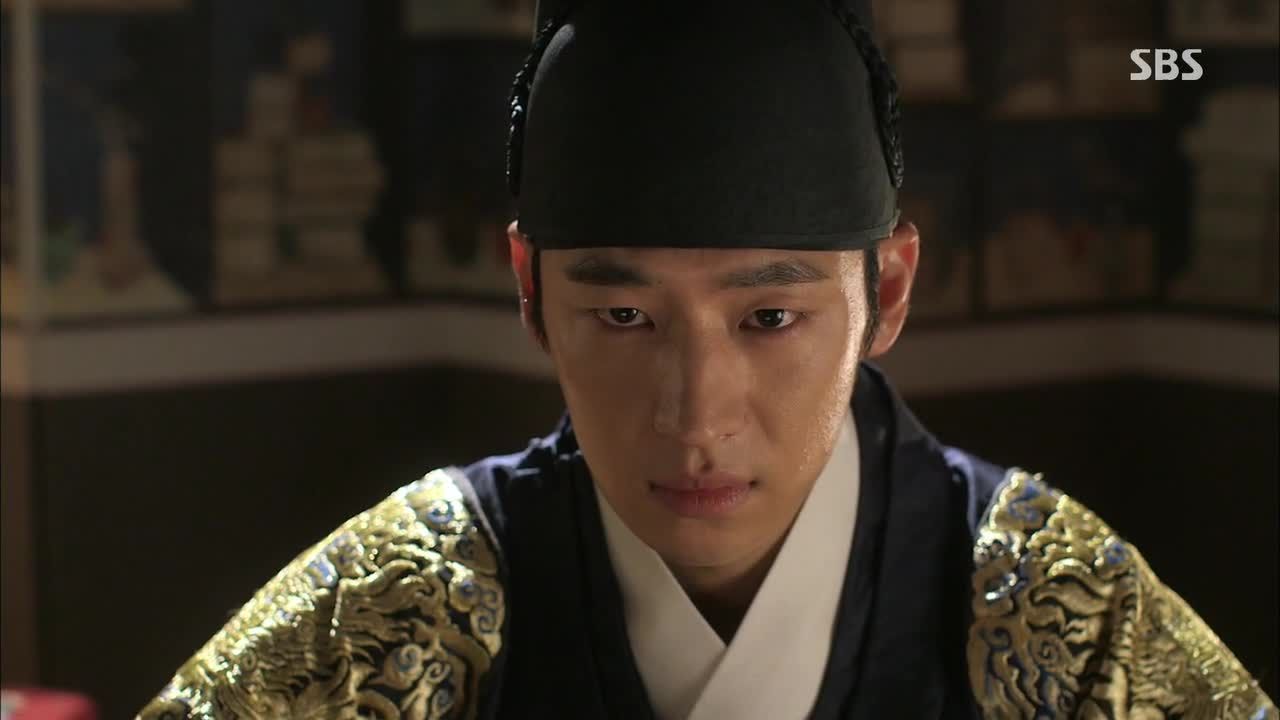 COMMENTS
The two aspects of this show that work best for me are the murder mystery thread and any and all of the father-son interactions, which means today was a particularly strong episode. If the show were to focus on one of those without the other, I would probably feel dissatisfied; too much murder mystery and I'd be disappointed at the waste of rich historical context, while purely fixating on the father-son relationship (however complex and fraught) might just be too intense and repetitive. So there's a bit of an art to maintaining the balance just so.
Yeongjo is one of those characters (and I consider the Yeongjo of any dramatization to be a character despite being a real-life person) who's been expressed in so many interpretations that he's like a Shakespearean character at this point, and I can see why Han Seok-kyu would be drawn to the challenge of playing the role, of expressing his take on the man while working with what is commonly known about him. And I find Han's characterization rich and fascinating, inasmuch as he isn't quite the Yeongjo of history books, yet the character still works with what we know. (Caveat, of course, that Secret Door is very heavily fictionalized to begin with.)
This Yeongjo is curiously—and infuriatingly, to be honest—opaque at times, where we can see that there's something going on behind those crafty eyes, and yet we haven't been given entree into his thoughts yet. Han Seok-kyu is so in command of his every nuance that I believe that every flicker is intentional, and that we're meant to puzzle over it—he's building the character in layers, and we're being allowed insights in bits and pieces. So while at first I was wondering what he meant by portraying Yeongjo as something of a careless absentee king, seemingly unconcerned with the fate of his government, it's becoming more evident that he's still fully present. He's just not giving away any of his cards.
The performance is dropping hints as to the explanation, as well, when you see the Yeongjo of the past overcome with frustration at this political game that completely cuts off any good he might actually be able to do. The real-life Yeongjo strived his entire live to stamp out factionalism (with a near-fanatical zeal) with his tangpyeong policy of harmony, but in this drama, his attempt at tangpyeong reform is empty, because it's futile.
Admittedly I find the out-of-order flashbacks unnecessarily choppy, but they get the point across; when you consider that this is a great man and brilliant mind who finds his every move thwarted by factionalized politics, a certain logic to his behavior starts to emerge. (It's volatile and often rage-driven logic, but still: logic.) I could see how part of that is a way of disengaging from a process that doesn't work, despite the fact that he's clearly well-versed in all areas of administration and sharp as a tack. It also sheds light on his hopes for Sun and the prince-regency, because Sun isn't held to the same Faustian bargain that holds his father in a vise. Perhaps Yeongjo wishes Sun could rule the way he would if he hadn't signed away his right to that power (ironically, by signing in order to gain power) with that document.
It's doubly ironic, then, that the very thing that might free Sun from that political morass is also the thing that Yeongjo despairs about him—that he's immature and naive and needs to wake up to the truth of the real political process. Sun's detachament from the fierce factionalism that has his government in a gridlock (gee, I wonder what that's like) is one reason he can pursue that most noble ideal of truth and justice without necessarily thinking about what comes next—whether he's serving his country in the practical sense. Because I'm fully on the Yeongjo train about working with people who will help you, not people who are perfect—because who can rule in a government, party of zero? Perfectionism should be the ideal, not the practical standard.
So Sun's naivety (see above: eyes of heartbreaking hope, mistakenly placed) is both his asset and his Achilles heel, which is something that hurts my heart for him as a person, but also gets me excited in terms of characterization. I want to see him grow up a little and learn to fight back, and not just in a game of higher morality—I want it on their turf, using their weapons, to make the victory count on both sides. Because what good is a moral victory when you're rejoicing from the afterlife?
Yet that's also the thing I fear for him, because will that "taint" him in an irreparable way? Will it ruin what makes him the character I love? For instance, I want him to get to the bottom of this murder mystery, because first of all that's the whole premise of this show, and second because whodunnits need to be answered, and third because omg Seo Joon-young. But not at the expense of actually doing good in the world by doing his job. Yes, Sun needs to mature and cool his head and think more pragmatically, but where's the line between being a good politician and selling your soul? …or is there no line? Is one of those things an oxymoron?
RELATED POSTS
Tags: featured, Han Seok-kyu, Kim Yoo-jung, Lee Je-hoon, Park Eun-bin, Secret Door