Secret Door: Episode 6
The murder plot thickens, and our very tiny team of good guys gets smart about the "secret" part of this secret investigation. If only we could also keep the net of baddies from closing in around them though, because at some point you have to ask how investigating the facts of past murders can compete with people plotting new murders at every turn. I suppose this is the eternal question that divides cops from criminals? In other news, the king has a royal meltdown, and Han Seok-kyu kind of terrifies me. But you already knew that.

SONG OF THE DAY
The One – "지우고 지우다" (I Erase and Erase) for the Secret Door OST [ Download ]
Audio clip: Adobe Flash Player (version 9 or above) is required to play this audio clip. Download the latest version here. You also need to have JavaScript enabled in your browser.

EPISODE 6 RECAP
The prince's advisor Chae Je-gong is surprised to see Sun up so early in the morning, and reports what he's found out about the arrow that killed their forger last night: It comes from within the palace.
They keep an open mind about the fact that it could have been stolen to make it look like the assassin (Shadow) is among them inside the palace, and Sun asks after Heung-bok's sketchbook, which would be the definitive link to his killer. But that particular piece of evidence is still missing.
Advisor Chae notices the pieces of parchment that Sun has been filling with the same characters all morning—hwabutado—the dying message that Heung-bok's friend Jung-woon left in his own blood. Their only guess for now is that it refers to a knife, either by name or type.
We see that Sun has already dispatched his head court lady on a secret mission to find that out. Court Lady Choi commissions a blacksmith to look into a knife called hwabutado, offering him even more money as a reward. Sun is especially careful about keeping this knife investigation under wraps, because they still have no idea where all their information leaks are coming from.
Yeongjo stews in his chamber until Prime Minister Kim arrives, and asks him to say why he's been summoned. Aiee, I hate it when you know you're in trouble but you don't know what for. Prime Minister Kim doesn't dare to posit a guess and just flashes a big toothy grin.
That makes Yeongjo explode, and he hurls the marble game stones in his hand right at Prime Minister Kim's head. He overturns the table in between them and towers over him, trembling with rage: "How far will you go?!"
Prime Minister Kim clutches his wounded face, while Yeongjo leans in close to prod acerbically, "Was it fun to make someone king? Why, is it too fun to just stop at one? Are you going to make another? Do you have someone in mind?" Prime Minister Kim denies it, of course, and Yeongjo finally gets to the heart of the matter—then why did he dare to lay a finger on his son?
Yeongjo demands the head of the person who attacked Sun, and makes sure to clasp Prime Minister Kim's head in his hands as he adds nonchalantly that if he doesn't deliver, it'll be his neck on the chopping block. Gulp.
Shadow, the Westside gang boss, gives our corrupt policeman Officer Byun the order to find and kill Ji-dam. We've seen Officer Byun lead a group of Westside thugs before, but it's clear that he takes orders from Shadow.
Ji-dam's father takes her to the gibang and asks the head madam Woon-shim to turn Ji-dam into one of her gisaengs. Woon-shim is surprised and asks Dad if he's really okay with that, and he snaps that he means a fake gisaeng, not a real one. You might've led with that, Dad. He thinks it's best to hide her in plain sight, which I think is smart.
They gussy her up to look like a real gisaeng, and even Dad is convinced that she's unrecognizable. Woon-shim sighs that Chun-hyang herself would cry to see such a pretty gisaeng, though once Dad leaves, her tone becomes stern as she asks Ji-dam what she's up to.
Ji-dam playfully keeps her mouth shut and goes looking for her friend Chun-wol, Jung-woon's girlfriend. But they find her room ransacked like there was a struggle, and we see that she's been dragged away and locked up somewhere.
They search her room to see if there are any clues, and Ji-dam hits the jackpot: Heung-bok's sketchbook, tucked away among her things. They wonder what she's doing with such important evidence, and Ji-dam guesses that Jung-woon hid it here for safekeeping.
Sun has already tasked his eunuch with searching for possible leads on Shadow, based on the only clue they have so far—a scar near the left eye, thanks to Eastside boss Chul-joo. He has the suspicious candidates called in under the guise of testing new guns in target practice, and there in the front row is Sun's lead guard Pil-jae, sporting a gash on his left temple. Yahtzee.
Sun approaches and asks Pil-jae with concern in his voice what happened to his face. Pil-jae lies that he got into a fight at a gibang last night, and Sun gets right in his face to ask where that gibang is. Pil-jae's smile fades, but then Sun suddenly gets all wink-wink, nudge-nudgey, deciding that for a knife fight to break out, the gisaengs there must be really pretty. Ha.
He puts on a good show, acting like an old pal who wants the name of the place so he can go too, and Pil-jae laughs good-naturedly. But as soon as his back is turned, both men drop their pleasant grins.
Sun leads the guards in target practice, and Pil-jae is notably the only one who keeps repeatedly missing his mark. Is he rattled, or is he pretending to be bad? Sun takes stock and pointedly asks Pil-jae if he's better with a bow and arrow then, and another guard tells the prince that Pil-jae is actually bad with both, and more of a fistfight kind of guy. Oh if that's his longstanding persona, then he IS pretending to be bad.
Sun takes the opportunity to look at Pil-jae's hands, and notices that he's worn his fingerprints right off. Well that's a sign of an assassin if I've ever seen one. Sun thinks that Pil-jae is suspicious, while Advisor Chae argues that Shadow is a top marksman, and Pil-jae is decidedly terrible with weapons.
A Soron official gets an anonymous letter that afternoon, which we see is from Shadow—it asks how Joseon has become a Noron world, and asks that he leave a mark on his door if he wants to make a deal for the secret document that contains the truth about what happened in the year of Yeongjo's ascension.
The prince's teacher Park Mun-su nearly chokes on his breath to hear the secret document mentioned, and the Soron official accuses him of keeping such a vital secret to himself if he's known about it all this time. He fumes for all their fallen comrades in the rebellion of 1728, and rattles angrily as he vows to get his hands on that document to get his revenge in blood.
Park Mun-su tries to reason with him that this is a bigger matter than he could understand, but when he can't get through, he goes straight to Prime Minister Kim instead. He plants the seed of doubt that the document in Prime Minister Kim's possession is a fake, and leaves knowing that nobody wants the original found more than Prime Minister Kim. On his way out, he notes a few Eastside boys planted nearby as lookouts by Chul-joo.
Prime Minister Kim goes to his library to dig out the document, and when he reads it carefully, he sees that it's a forgery after all. That night he goes to see Shadow on his turf and demands the real document. Shadow declares that he'll hold onto it, because the Westside gang and the Norons are now partners.
He makes himself clear that the document is his leverage—they won't be used like dogs, so the second that he and his men are treated as disposable, the document will land in Soron hands. Prime Minister Kim suddenly breaks into a laugh, a little bit impressed.
Ji-dam decides that what she knows can't wait and goes off to make contact with the prince. Officer Byun and his lackeys happen to be looking for her in the street when she passes by them, and while the other guys do a double take because she's pretty, Officer Byun thinks she looks familiar…
Ji-dam requests a meeting with Sun through Advisor Chae, and they arrive for a secret rendezvous. Sun looks shocked and alarmed to see Ji-dam dressed that way, and asks what on earth she's doing. She says that she won't give up on the secret investigation, no matter what he says. She re-quotes what he recited to her the other night: "You must serve your people as the heavens."
Ji-dam: "You said it was futile, but I like those words. And I wish for you to learn the path to become such a ruler… because I want to live as one of those people in that nation, for just one day."
Aw, how could he not be moved by a girl who speaks to his ideals in such a hopeful way? He can't argue with her this time, not that she's one to listen anyway.
She tells him about the missing gisaeng and gives him Heung-bok's sketchbook, and points out a curious page with names of Noron officials listed on it. Among them is Hong Bong-han, Sun's father-in-law.
Ji-dam wonders if he meant to paint them, but Sun says that royal painters like Heung-bok can only paint the king and the prince—he was bound by duty when it came to such matters. Advisor Chae wonders if the inclusion of the prince's father-in-law means that the palace leak is coming through Princess Hyegyeong and her staff. Sun doesn't seem to buy it, but he doesn't exactly defend his wife either.
He tells Ji-dam to stay safe, leaving his eunuch to see her back to the gibang, and hops the wall to sneak back out. In the process he manages to get the jump on the palace guard (that Hyegyeong sent) who's been on his tail. Sun corners the man and glowers menacingly, "Who sent you?"
Sun goes to see Hyegyeong that evening with gifts in hand, which surprises her. She says she isn't interested in pretty trinkets since they aren't befitting a queen's stature, and asks defensively what he means by this. Sun remains pleasant and casual as he says that he just wants her to find a hobby, because she looks so bored.
He sighs that he entreated her to find hobbies when they were young, and prods her to find one now. Suddenly his face darkens: "Until when are you planning to have me followed?" Oh snap.
Hyegyeong realizes she's been caught, and confronts him truthfully that she wouldn't have resorted to such measures if he hadn't been sneaking a girl in from outside the palace. She's visibly perturbed as she tells him that if he wants to take in a concubine, he can choose among the court ladies, not drag in a girl from who-knows-where, bringing shame to them both.
Sun tells her she has quite the imagination, and that he's doing nothing of the sort—he pleads with her to believe him, and then adds through gritted teeth, "So stop doing such things as having me followed. This is the last time I'll be asking."
She struggles to contain her tears at his reproach, and as he walks out, he turns back to ask if she'd prefer rings instead. He says rather tenderly that she should let him know if there's anything she sets her heart on, and he'll bring it to her. She looks equal parts chastised and scathing mad, though perhaps her wounded pride is what stings the most.
Sun tells Advisor Chae to dismiss the guard who was tasked to follow him, and not to make further issue of the princess's actions. Advisor Chae opens his mouth to argue, but sees that Sun is resolute on the matter.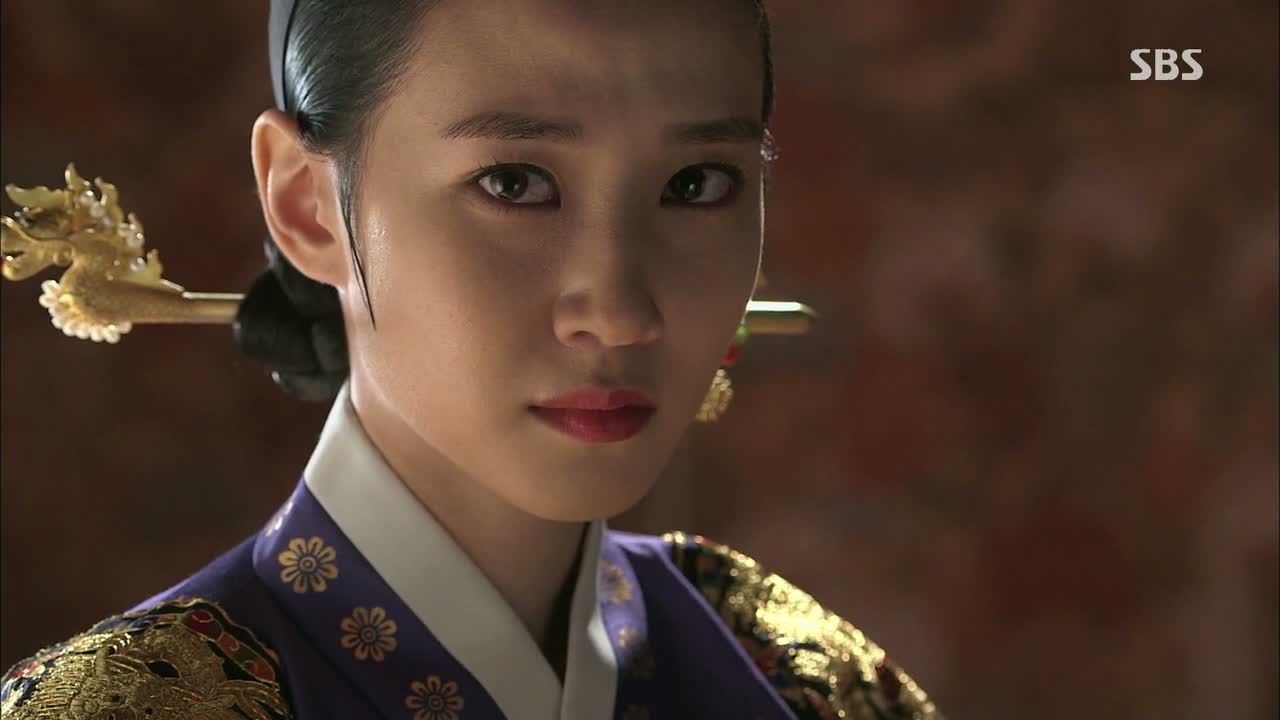 Princess Hyegyeong caresses the ornaments that Sun left behind, but then snaps back to her senses and tells herself that they're just meaningless baubles he threw her way without any thought. Her head court lady suggests that she let her feelings for Sun be known, but Hyegyeong shuts that idea down coldly.
She says with a tinge of sadness to her voice: "A queen does not beg for the king's heart. She is the person who assists the king."
Sun goes to see Teacher Park Mun-su late that night, with a request for the location of Heung-bok's family. He wants to send medicine to the sick mother, but can't use his own servants for the task since it'll raise a fuss.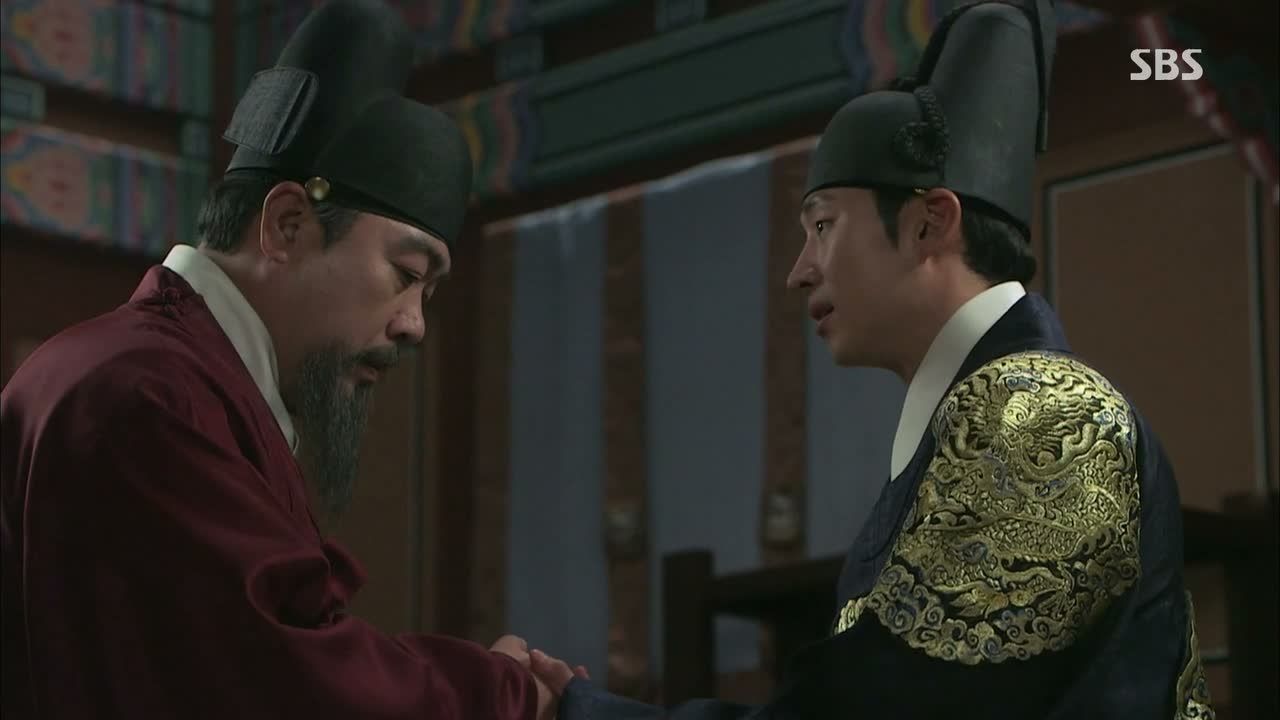 But Teacher Park is already on it, and has commissioned a local doctor to look after her quietly. Sun's eyes well up in gratitude, and he asks if his teacher was doing what his lacking pupil couldn't manage, thanking him sincerely.
Teacher Park asks if Sun plans on continuing the investigation, and worries for his safety. This time Sun does as he taught him and reveals nothing, even to his own teacher.
Yeongjo has Prime Minister Kim summoned once again, this time with a bowl of ginseng tonic at the ready. He says it's the same thing that they prepared as an offering at the late king's memorial, and urges Prime Minister Kim to drink up. He might as well have added a nice label reading "poison" with skull and crossbones on it.
Prime Minister Kim is no fool and refuses the tonic, so Yeongjo leans in to say that if he doesn't want it, he should've done his job—what's taking so damned long for him to bring the head of one measly assassin?
Prime Minister Kim chides him to be patient and says that he doesn't intend to kill the assassin just yet, because if they do, their secret document could land in the hands of the Soron. And THAT terrifies Yeongjo visibly.
A little while later, accompanied only by his head eunuch, Yeongjo breaks into a fit of uncontrollable laughter. Omg, he seems stark raving mad.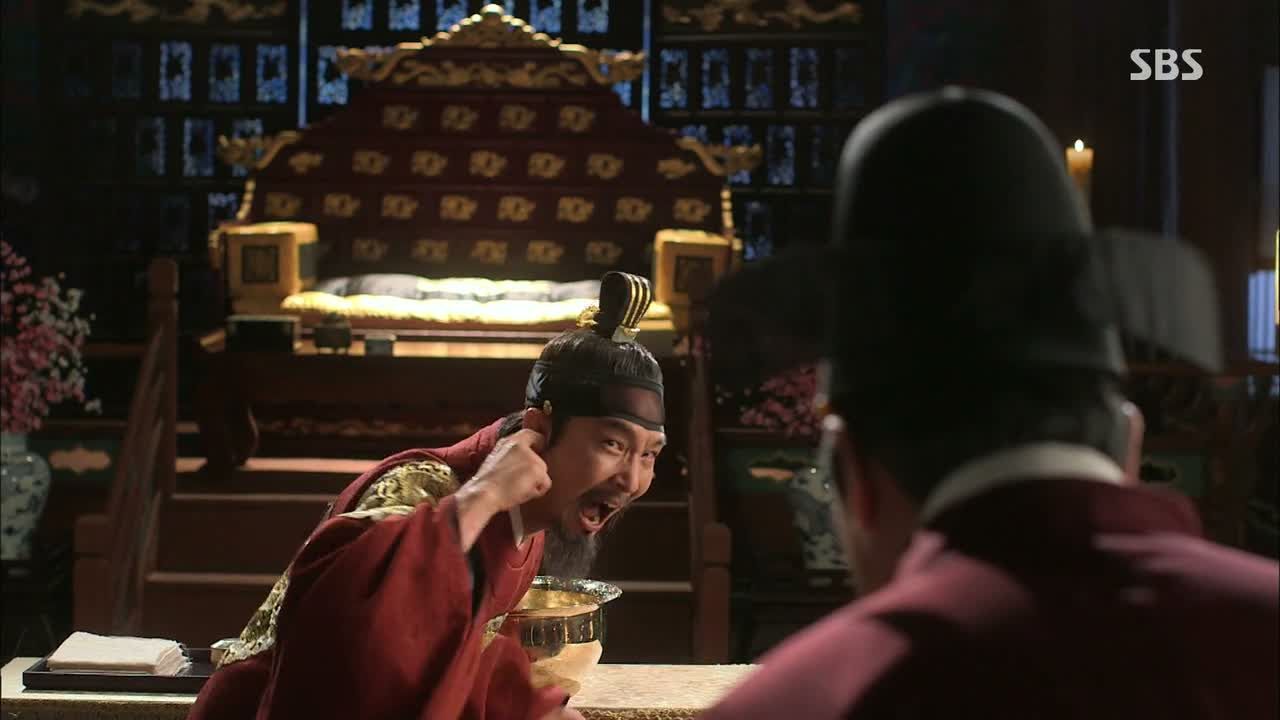 Park Mun-su gets called in to see the king, and finds him with his head bowed over a water basin, still laughing as he furiously washes his ears. When he turns around though, he seems terrified and at the end of his rope.
He whispers to Park, calling him by his first name like an old friend: "Help me. Save me, Mun-su." Park's heart sinks when he hears mention of that secret document again, and says there's nothing he can do to help him with that. But Yeongjo clasps his hands and pleads with his friend of thirty years to save him just once more.
Park calls him by his name as a prince, Yeoningun, and says that if this were the request of the Yeoningun of thirty years ago, he would honor it.
Flashback to thirty years ago, 1724, the year that Gyeongjong dies and Yeongjo ascends. Yeongjo is still prince-regent at the time, and the Sorons are in power. The royal tutors declare that from this day on, they won't be holding royal lectures with the prince. They look down on him for being the son of the lowest of slaves, declaring him unfit to rule.
When Yeongjo arrives for his royal lecture that day, all of his tutors get up and walk out, and he's stricken at the rejection, but unable to make a peep in protest. Park Mun-su is the only one whose conscience makes him turn back to look, and when he sees Yeongjo open a book by himself looking so lonely, he sits back down in his seat.
Yeongjo's voice shakes as he thanks him for staying behind, "Not being left alone is in itself a great comfort." Teacher Park says that everyone is calling Yeongjo a sinner, and he doesn't deny it—he admits freely that he became crown prince on the backs of the Noron, who are outwardly against his brother King Gyeongjong.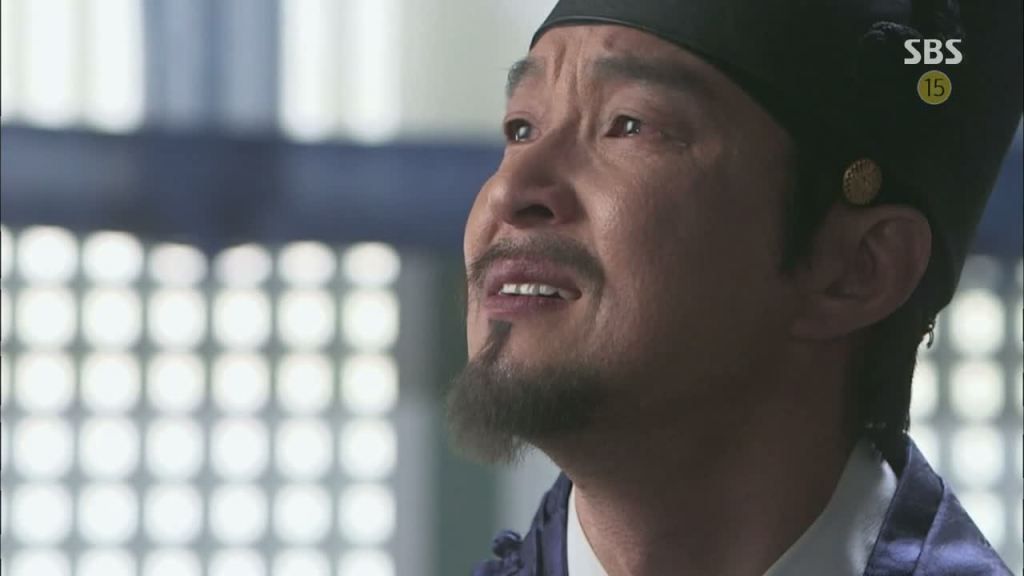 When Teacher Park says that he could've refused the Norons, Yeongjo says he couldn't have, then corrects himself that he didn't want to: "Because I wanted to live." He breaks down in tears, and confesses that his mother, Lady Choi, was responsible for Jang Heebin's death.
(Lady Choi was one of Queen Inhyun's lowest servants who became King Sukchong's concubine, and she was the one who alerted him to Jang Heebin's crimes, leading to her death sentence. Jang Heebin was King Gyeongjong's mother, which makes his own mother Lady Choi an enemy of the present king.)
He cries that he wanted a seat of power because it was the only way he could survive, but now he thinks even that was wrong because all those who stood beside him have been killed in the purges.
He asks Teacher Park to remain in his lectures just like today, declaring shakily, "Even if my royal robes are to be ripped from me, even if I am to die by their hands, I want to do my duty as the crown prince. I want to live like a crown prince and meet my end like a crown prince. That is the only dream I am allowed." He wipes away his tears.
Back in the present, Teacher Park says that Yeongjo should've told him the truth then and asked for his help, instead of becoming a Noron puppet. But Yeongjo just laughs in his face and screams that if he had done that, Park would've been executed as a traitor, and by his own Soron compatriots at that.
He adds that he would never have been able to sit on the throne either, though he swears that none of this was for the power itself. The discombobulating thing is that the stuff Yeongjo says is totally lucid and incisive—he just says it like a crazeballs madman on a power trip.
He asks Park to remember all of the dreams they had for the country that they still haven't achieved, and how that document will bring all of their efforts to an end in bloodshed. Amazingly, Yeongjo is still brilliant while ranting, and draws on Park's sympathy for the plight of the people: "I'm not asking you to be lenient on me. Just think of the people!"
Park is stunned as he witnesses the display, and admits freely that he knows he's been duped by those same tears for thirty years, but is still swayed by them and finds himself wanting to be fooled. Yeongjo doesn't break his stream of tears even at that, and cries on Park's shoulder for him to save him just this once.
As soon as Park leaves, Yeongjo solemnly returns to sit on his throne, looking suddenly very calm for someone who was just a blubbering mess of tears.
One of the court ladies surreptitiously steals something from the prince's chamber—a knife, it looks like—which goes unnoticed for now.
Sun's eunuch sees Ji-dam back to the gibang, but then notices the shady Officer Byun heading inside soon after. Uh-oh.
At the palace, Sun looks through Heung-bok's sketchbook and Advisor Chae notices that only the writing next to the drawing of Sun is in hanja. Sun looks carefully and notes that it isn't hanja, but notation on the meaning of characters, and suddenly it dawns on him—hwabutado isn't a knife. They hurry to the royal painting bureau, but agh, Shadow is watching them.
Officer Byun overturns the entire gibang looking for Ji-dam, and his men find her hiding in the back. Ji-dam pretends not to know what they're talking about even when they compare her to her mugshot, and Woon-shim declares that she would never harbor a fugitive.
Officer Byun can't really argue with that, so he lets the matter go… only he then calls Ji-dam back to say that if she's really a gisaeng, she'll have to serve him tonight. Ack! Gross! They're totally stuck in the lie now, so despite the fact that he makes her skin crawl when he touches her face, Ji-dam agrees to do so, to Woon-shim's horror.
They retire to a room, where Officer Byun has a drink and Ji-dam sits there shaking like a leaf. He reaches over to undress her, but then the doors fling open just in time, ohthankgod—it's Woon-shim, here to declare the gibang closed for the night. Ji-dam looks up at her gratefully.
Byun comes out grumbling, demanding to know what the hell is going on… to find the prince standing outside in the courtyard. Phew. Officer Byun is immediately on his knees, and Sun puts on the cheery bored-prince-on-an-adventure act, chuckling that he's going to have an attendance with every single one of the girls here tonight.
He dismisses Byun for the night, and then goes in search of Ji-dam. Her hand is still shaking, and he walks up to her carefully to ask if she's okay. She puts on a brave face and says of course she is, lying through her teeth that she's not shaken by something like this.
He looks at her with eyes full of regret and says tenderly, "I'm sorry." But Ji-dam's only answer is to ask about the investigation, her curiosity taking priority as always. He can't help but smile at that.
She's excited when he tells her that he's figured out what hwabutado is, and invites her to come with him to the royal painting bureau, adding that the gibang is no longer safe for her.
Meanwhile, Shadow reports to Prime Minister Kim that the prince is close to finding out the truth. The prime minister tosses him the knife that was stolen from Sun's bedchamber, and tells him to stick it in Ji-dam's neck, intending to get rid of them both with one strike.
It doesn't take long for Shadow's men to strike—Sun and Ji-dam are surrounded by a group of assassins on their way out of the gibang. Sun is thankfully armed with a sword, and fights them off, trying to keep Ji-dam safe.
She in turn throws whatever she can get her hands on and even saves Sun when he loses his sword. He saves her right back when she's about to be sliced, but the real relief comes when a different crew of swordsmen arrives to fight off the first crew, giving them a chance to flee.
They make a run for it and Sun wonders who the assassins were and more curiously, who the rescuers were, and we see that from a distance, the king's head eunuch is watching them.
They reach the royal painting bureau where they search through drawings, and Sun explains that hwabutado, when translated, refers to the type of drawing that records a big royal event. He rifles through them one by one, looking for the one that Heung-bok left behind.
At the same time, Yeongjo gets the report on Sun's activities from his eunuch, and learns that the answer is in a drawing.
Sun finds the drawing of the royal procession that Heung-bok completed just before his death. He says that the culprit is someone pictured in this drawing, and scans the page: "The culprit is…"

COMMENTS
Agh, of course you'd leave us hanging like that. I fully expect a twist anyway, since I know Sun can't find out the truth so soon. I wouldn't mind the war being a little more evenly matched at this point though, since right now it feels like four against a thousand, and the bad guys have knowledge AND evil on their side, while the good guys are always a step behind. The painting discovery is the type of thing that I hope we see more of—Sun using his brain, and specifically his knowledge of all things Heung-bok to crack the case. So far he's been relying on the expertise of others, so it felt really satisfying when he figured out Jung-woon's dying message on his own.
I'm enjoying the slow-and-steady development of Sun's relationship with Ji-dam, built more on their similar idealism and hopefulness and their belief in a just cause, which is frankly far more interesting than fluttery feelings. They seem like partners who trust each other, and he clearly cares for her a great deal. It's just nice that he isn't simply struck with love at first sight or something—I can see how over time, he could love her. I was actually more moved by his relationship with Hyegyeong in this episode, because she seems to actually love him in secret but feels bound by duty over her feelings. She could be happy about his gift, jealous that he might be with another woman, or even just worried for him—but her pride refuses to let her show any of this to him, let alone her hidden feelings.
He's surprisingly tender towards her at times and seems to feel bad for the restrictions of palace life that they experienced at such a young age, which makes me wonder if they could've been confidantes and friends and maybe even a functional married couple (okay, so probably not that). But she's the very opposite of him in every way—she follows all the decorum no matter how stifling, and thinks of them only as future king and queen, not two people who are granted the luxury of love. How sad to be married to someone you can't even openly love. I hope Hyegyeong continues to get more screen time, because her character might just rip my heart out, and I like that both relationships are deepening in different ways.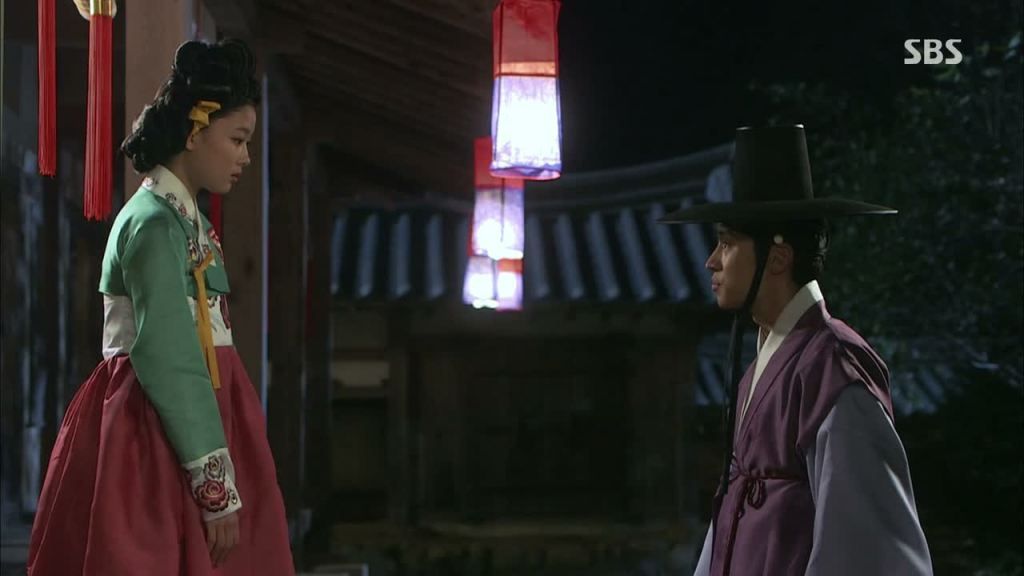 The episode's highlight was far and away Yeongjo's descent into possible madness… or was it all an act? The fact that I don't know is really unnerving, but that's Yeongjo's appeal—he rides that thin line so carefully that just when you think he's lost it, he seems totally in control of his faculties, and possibly even acting more unhinged just to emotionally manipulate people. What a trip. I loved Park Mun-su's reaction shots during his rant, because I could feel my face mirroring his, with the growing horror just slowly seeping in moment by moment. As beloved and trusted teacher to both father and son, I can see now why Teacher Park is in such a bind—he is actually an upright man and maybe the only politician of the bunch with a heart for the people, but in being loyal to both Yeongjo and Sun, he can't actually be of use to either.
It was especially enlightening to see Yeongjo when he was in Sun's position as the crown prince. Truthfully, it's not the same at all, since Sun is born into the crown as the sole heir and groomed for the throne, whereas Yeongjo went from illegitimacy to the regency as an adult. For him, power was always a precarious thing to be given and taken away by others, not a birthright like it is for Sun. And he was historically dogged by questions of legitimacy his whole life, and known for being obsessed with clearing his mother's name and elevating her (lowly slave concubine) status even posthumously.
He's so weak and vulnerable in that flashback, and seemingly earnest—what a stark contrast to the man thirty years later, who now knows to bring up tears in front of his old teacher to make him wonder if there's a chance he really means it for the greater good. But underneath the bravado, he's still terrified of one thing—losing his position—maybe because he never felt like it was his to begin with. It's just such a fascinating character study of a king who ironically sat on the throne for the longest reign in Joseon's history, but essentially spent all that time trying to justify why he belonged there.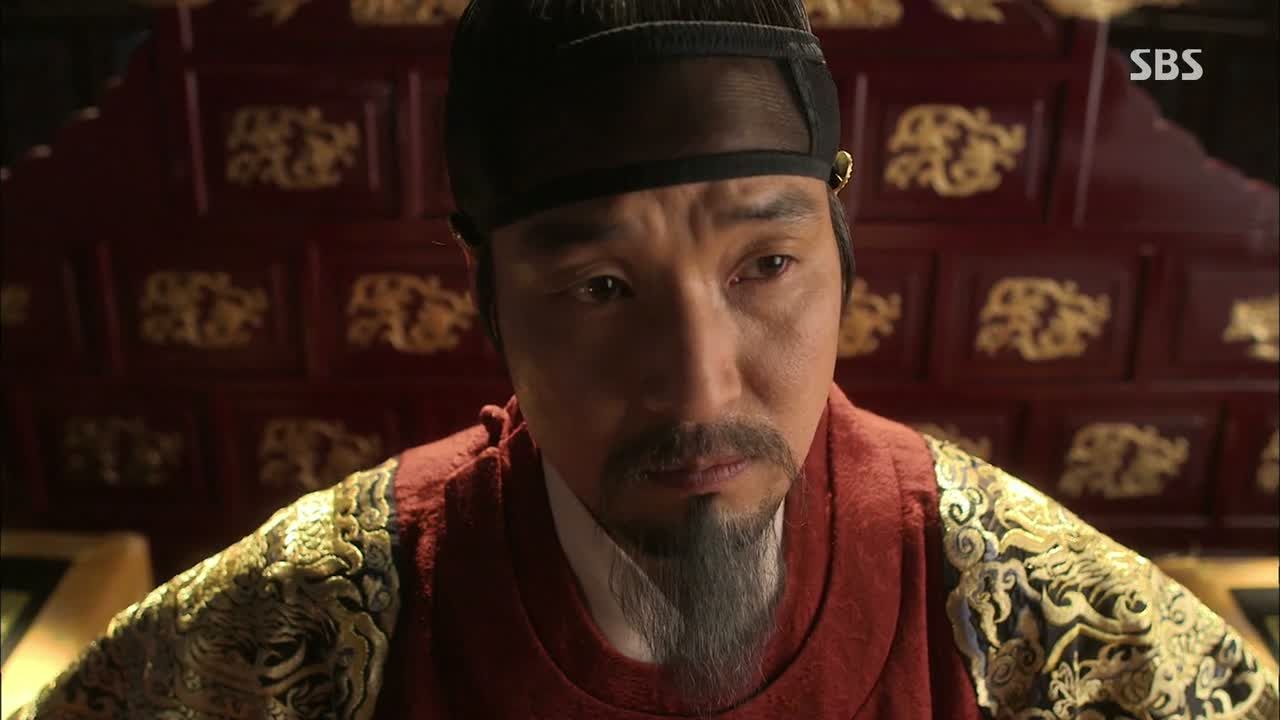 RELATED POSTS
Tags: featured, Han Seok-kyu, Kim Yoo-jung, Lee Je-hoon, Park Eun-bin, Secret Door