Three Meals a Day for a year
javabeans: Are you as confused as I am about Three Meals a Day?
girlfriday: Whadduya mean? What's not to get? They eat three meals a day. End of show.
javabeans: It's actually the meta aspects that confuse me, because we've seen two episodes now, and yeah, the premise is fairly straightforward. But there are all these new interviews with Na PD explaining the format, and it's totally stuff the show didn't tell us. Like how they're going to have FOUR seasons of this?!
girlfriday: Actually yeah, when he told Seo-jin that they were going to make this farmhouse their home for a year, I didn't understand it and thought he was joking.
javabeans: Yes, that line in the first episode tripped me up, because Three Meals is set for eight episodes, and it started filming recently, so how the heck would they fast-forward a year in the next month?
girlfriday: Apparently Na PD's plan is to do four seasons of the show, literally covering the four seasons of the year. The first is just the fall season segment, and there are plans to air through next summer.
javabeans: It won't be a continual run like Running Man or 1 Night 2 Days, but they'll film the fall season and break, then coordinate Seo-jin and Taecyeon's schedules to then film the winter segment, and so on.
girlfriday: I dunno, I get the idea of showing an entire year's cycle of making crops and whatnot…
javabeans: There's a word for that, called agriculture—
girlfriday: …but there's only so much variation on the one concept that I can reasonably watch before I find the whole thing redundant.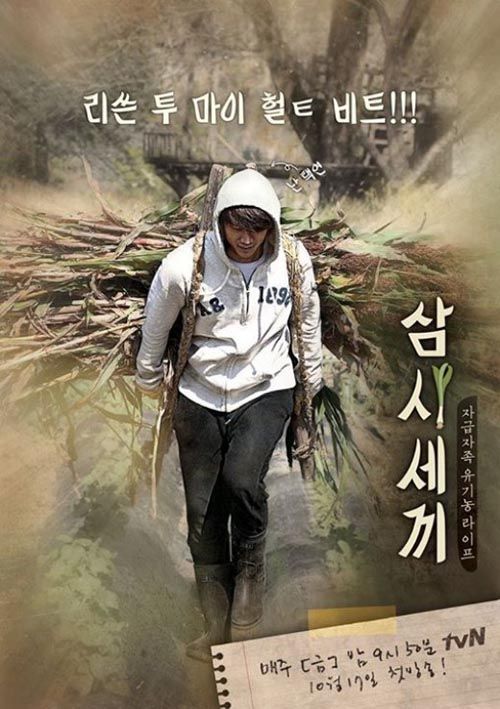 javabeans: Also, while I did find the show entertaining for the bickering interpersonal relationships and small wry moments, I found that the show actually did not do a very good job explaining its format or making things clear. For instance, each trip is a two-night, three-day deal, and they happen every other week.
girlfriday: It was actually confusing in the second episode when they seemed to leave and then come back, and we weren't told how much time had passed. I mean, obviously Seo-jin and Taec aren't living there, but we had no sense of real-world time. Is that on purpose? Is it to make Seo-jin's time trapped on a farm seem interminable?
javabeans: For once I don't actually think Na PD's genius extends that far. I just think the show was sloppily introduced. Granted, people still really like it and watch because it's funny — certainly nobody's watching for the scheduling meetings —
girlfriday: Or the agriculture.
javabeans: But I think we still need the nuts and bolts provided, otherwise we're just lost. We need anchors. The thing is, I did enjoy the first two episodes and it was an easy watch, but honestly I found it hard to imagine watching eight full episodes of this — no plot movement, just the same thing with new guests and new crops — so now that I hear it'll be eight episodes plus three more seasons…
girlfriday: The four seasons are what make the show seem daunting now, at least from a recapper's point of view.
javabeans: Granted, Over Flowers had four seasons too, but those at least had narratives and touching emotional beats and inspirational life-lesson moments.
girlfriday: Yes, Over Flowers is heartwarming and each season is a complete story onto itself; I think Three Meals is more like 1 Night 2 Days in concept.
javabeans: What would actually have made this show more engaging is if the guys weren't given all the ingredients and the menu up front. When the concept was introduced, I thought they were going to be dropped into the wilderness with nothing but their wits and a Swiss army knife, and we'd see them scrambling to feed themselves in that environment.
girlfriday: That would've been much more interesting, especially since only one of them has wits.
javabeans: Aw, sad. But yes. At least Taec means well…
girlfriday: When has meaning well fed anybody?
javabeans: Not on this show, that's for sure. I just want them to actually struggle. Because where's the challenge in making ricotta cheese if you give them the milk source and the recipe and all the ingredients? Then it just becomes Two Dudes Try to Cook on a Farm.
girlfriday: Yeah I actually think the cooking challenges are less harrowing than some of the more epic Seung-gi/Seo-jin moments in other Na PD shows.
javabeans: So we hope it isn't too disappointing that we're going to drop recaps for this show. It's not because the show is bad, but it feels like our time is better used elsewhere. And also, you guys pretty much get the gist of the show. It's what has already happened, happening over again.
girlfriday: What we've found is that our recaps for the show end up being mostly a transcript of what happens, which means that people could just watch the show. Not that Na PD and Seo-jinnie's bickerfest isn't fun for its own sake — it's probably why I'll keep watching.
javabeans: I don't know, I might stop. Three Meals is kind of like watching a funny gif on an endless loop. It's funny, but really just one thing over and over.
girlfriday: Yes, it's that same joke over and over.
javabeans: Yup, over and over.
girlfriday: And over.
javabeans: Is it winter yet?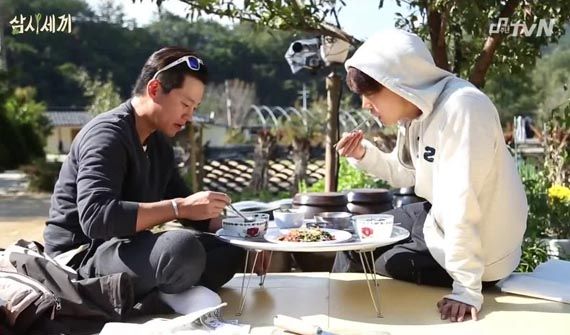 Via Osen
RELATED POSTS
Tags: cable programs, conversation post, Lee Seo-jin, Na Young-seok, Taecyeon, Three Meals a Day