Three Meals a Day, with a heaping side of bickering
What is it about eating in slow motion that just makes it hilarious? Or is it slow motion in general that makes everything hilarious? Or really, maybe it's just the obvious point: It's Na PD that makes things hilarious.
The first trailer has come out for Na PD's new food-related variety program, Three Meals a Day, which features Lee Seo-jin and Taecyeon (who just played brothers in the weekend drama Wonderful Season)… I was going to say it features them cooking, but I'm not sure jabbing a knife in the air while squeezing your eyes shut and hoping that your food magically runs into the blade counts as cooking. (I really hope Taecyeon is the worst cook ever, as it seems from the teaser, because that would just be adorable.)
So really it just features them being Na PD's latest variety guinea pigs as they travel around the country trying to figure out how to feed themselves in rural surroundings using local ingredients. (In the teaser, Seo-jin gets labeled a "cooking machine," while Taecyeon is "working like a beast.")
Apparently the bickerfest is back on between Seo-jin and Na PD, who've had a few exchanges about the program (not in the clip). When Na PD explained that he's doing a cooking show, Seo-jin apparently retorted, "You're crazy, what kind of cooking show is this?" (And "you're crazy" is supposedly Seo-jin's most-uttered phrase in relation to Na PD, which doesn't surprise me.) Seo-jin also recalled how Na PD approached him about this show initially, suggesting other premises like making it a "healing show." (Na PD said, "It's healing to me." HA.)
Three Meals a Day will take up the Friday variety slot on tvN, which is currently home to Na PD's other reality hit, Youths Over Flowers. The new show will premiere on October 17.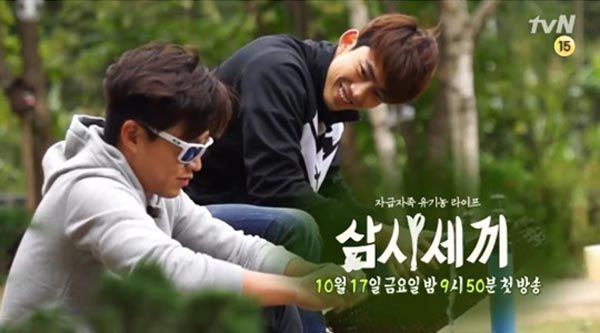 Via Osen
RELATED POSTS
Tags: Lee Seo-jin, Na Young-seok, Taecyeon, Three Meals a Day