Three Musketeers: Episode 10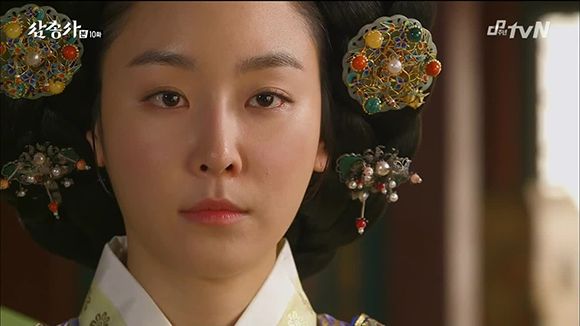 In what might be the best episode yet (again), our boys race against the clock to save their friend and their princess, who may or may not have totally owned this hour with her strength of will and ultimate display of courage in the face of almost certain doom. Same goes for our three musketeers and their plus one, too—everyone pulls their weight this episode, and the synergy created makes for an engrossingly enjoyable watch. Would you have expected anything less?
SONG OF THE DAY
Kim Yong-jin – "칼 (Knife)" from the OST [ Download ]
Audio clip: Adobe Flash Player (version 9 or above) is required to play this audio clip. Download the latest version here. You also need to have JavaScript enabled in your browser.

EPISODE 10: "One For All, All For One"
When we last left off, Dal-hyang was about to turn into No-soo's human pincushion after finding himself underneath the floorboards in Ingguldai's room—but this hour begins by rewinding back to the point where Ingguldai first attacked Dal-hyang in a drug-fueled haze.
While a disguised No-soo had been sneaking around outside, Dal-hyang did his best to try and dodge the big swing we saw Ingguldai take before, the one that splashed blood back onto the general's face. Now we see that he did in fact land a hit on Dal-hyang, but it could've been worse: He nicked Dal-hyang's thigh when he probably meant to decapitate him.
Ingguldai had tried to stab him again, but Dal-hyang jumped away in time and knocked him out with a vase to the head. That's when one of No-soo's men entered to finish what Ingguldai couldn't, but Dal-hyang was able to defend himself and stab his assailant first.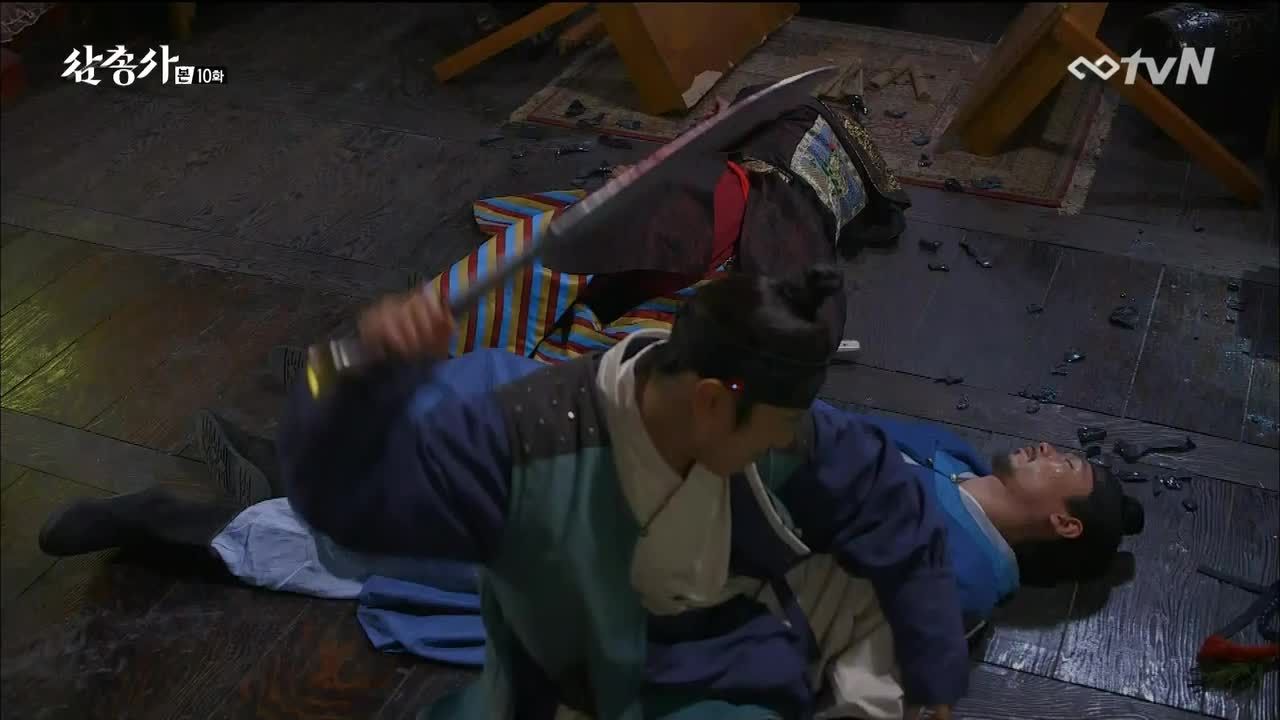 Before his attacker stopped breathing, Dal-hyang had demanded to know why he tried to kill him, only for the man to eke out that he'd been sent to find out if Ingguldai had killed him yet.
Left confused and wounded, Dal-hyang had no way to escape out the high window or the hallway, especially when he could hear No-soo and another would-be assassin approaching.
He bought himself a few spare minutes by rigging a door lock and, in an unexpected turn of events, used Ingguldai's sword to behead the man he just killed. (Smart, Dal-hyang!)
So by the time No-soo and his man broke into the room, they found Ingguldai unconscious and a man they presumed to be Dal-hyang beheaded. Dal-hyang had left the body with his identity tag and the prince's sword to add credibility to the ruse, and hid himself and the decapitated head beneath the floorboards.
Dal-hyang had already begun to fade in and out of consciousness by the time No-soo arranged Ingguldai's body at his desk and dumped the drugged wine on the floor—and after being doused in the wine, Dal-hyang passed out completely.
Cue the scene everyone else stumbled upon, with an unconscious Ingguldai holding a bloody sword next to a decapitated body. No-soo and his lackey were chased off in their effort to find the missing head, not quite believing that it could be Dal-hyang's.
Flash forward to the present, with No-soo back at the scene of the crime. Since he'd suspected foul play from the beginning, No-soo begins stabbing through the floor, and Dal-hyang doesn't have enough time to react as No-soo's sword comes down…
…And lands solidly in his arm. Dal-hyang covers his mouth to stifle any noise of pain he might make, even though No-soo knows he's got him once he spots the fresh blood on his blade and prepares to stab down again.
Having arrived in Anju because he's heard about the suspicious circumstances surrounding Dal-hyang's maybe-death, Sohyeon confronts an unusually jovial Kim Ja-jeom over what happened under his roof. He reiterates that his visit should remain a secret, but he certainly can't be foolish enough to expect Kim Ja-jeom to do him any favors, right?
Kim Ja-jeom tells Sohyeon that there's nothing more to what happened than a murder case, all but clucking his tongue at Seung-po and Min-seo for telling the prince otherwise. But he's practically giddy when he tells Sohyeon that Ingguldai isn't there to answer for his crime, as we cut to the town square where Ingguldai is set to be executed.
Now we're as present as present can be, since Ingguldai's fate had been left on an uncertain(-ly bleak) note. No sooner does Kim Ja-jeom mention him that we see the executioner swinging his sword for the killing blow.
Someone gets hurt, it's just not clear at first whether it was Ingguldai. But all hell breaks loose when the executioner, who's been shot by an arrow before he could kill Ingguldai, keels to the floor.
Snipers from the rooftop take out all the attending guards before a masked man cuts Ingguldai free. It turns out that this event has already happened, and what we saw was Kim Ja-jeom's version of the scene as he lays it out for Sohyeon, even though he claims not to know who saved Ingguldai and helped him flee. (Ten bucks says it's Kim Ja-jeom.)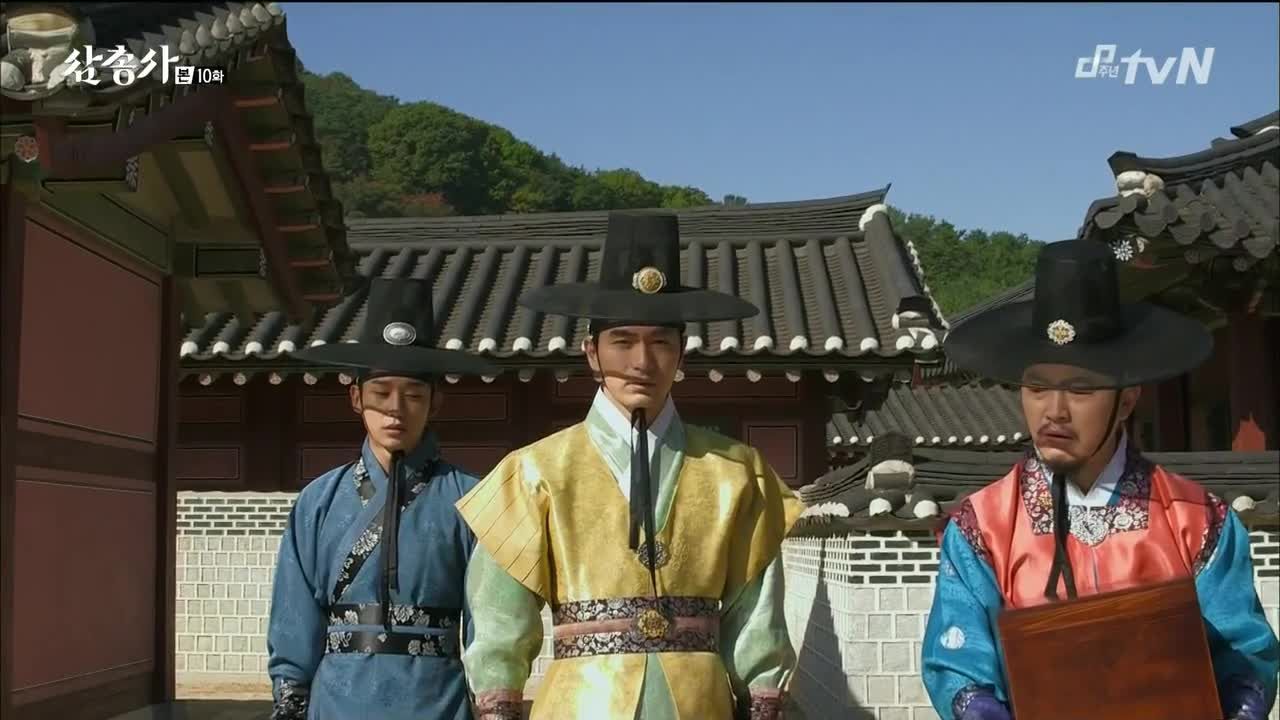 Sohyeon must suspect the same, but he doesn't have any hard evidence to use against Kim Ja-jeom—and no one knows that better than the guilty minister himself.
As if on cue, Kim Ja-jeom hands the three musketeers a box that he claims contains the head of Dal-hyang, and even though Seung-po reluctantly looks inside to see that it is a head, his devastation at the idea that it could be Dal-hyang's prevents him from looking too long—and that's exactly what Kim Ja-jeom wants.
Sure, Kim Ja-jeom claims that it's Dal-hyang's head even though decomposition has made it impossible to distinguish his features, and expects the three of them to just believe him at face value. I know our boys are smarter than that.
Poor Seung-po and Min-seo are beside themselves, but Sohyeon continues to look Kim Ja-jeom square in the eye as he just goes on, and on, and on… until Sohyeon finally snaps and punches him in the face—not once, not twice, but repeatedly until he's pulled away.
And after a brief attempt by the two other musketeers to stop Sohyeon, they decide to join in the brawl against Kim Ja-jeom's men, at least until they're stopped by the governor of Anju. He has the three musketeers arrested (does he not know what Sohyeon looks like?), while Kim Ja-jeom watches on, laughing maniacally.
Because Yoon-seo can't tell her mother the actual reason behind her visit, Mom naturally assumes the worst and thinks that Sohyeon dumping Yoon-seo off at her natal home means he's getting rid of her for good.
But Yoon-seo receives an unexpected visitor in Mi-ryung, who arrives dressed as a noble lady under a false identity. Yoon-seo's fist clenches the moment she recognizes her, but she says nothing until they're in private.
Only then does she confront Mi-ryung over her broken promise that she'd never reappear in front of her or Sohyeon again, but Mi-ryung just wears her signature condescending smirk as she tells the princess that she's just returned from Anju and hands her Dal-hyang's nametag: "Park Dal-hyang died in Anju."
Yoon-seo's eyes go wide as she remembers her husband being dodgy when she suspected he'd heard bad news, and now assumes that he'd heard about Dal-hyang's death and kept the truth from her. Oh no.
The three musketeers find themselves in yokes and shackles, facing the box that supposedly contains their friend's decomposing head. Seung-po can't help but think of the eunuch whose job it was to report back to the king that Yoon-seo's hairpin had been found in Ingguldai's room, and how he'd made the eunuch agree to hold off on the report if Seung-po could prove that the rumors about the princess were fabricated by finding Dal-hyang alive. So much for that.
It soon becomes clear that the governor of Anju doesn't know who Sohyeon is, and Kim Ja-jeom is intent on keeping it that way. (For now.) But the whole point of lording that power over Sohyeon is so he can use it at will—but he won't have to, he claims, if Sohyeon will only join hands with him.
Kim Ja-jeom then admits that he was behind saving Ingguldai from the executioner's sword, and that he'll let the general return to his home country like Sohyeon so badly wants if he agrees to their partnership. He even sweetens the deal by promising that he'll save the princess from being executed after she's dethroned. How magnanimous of him.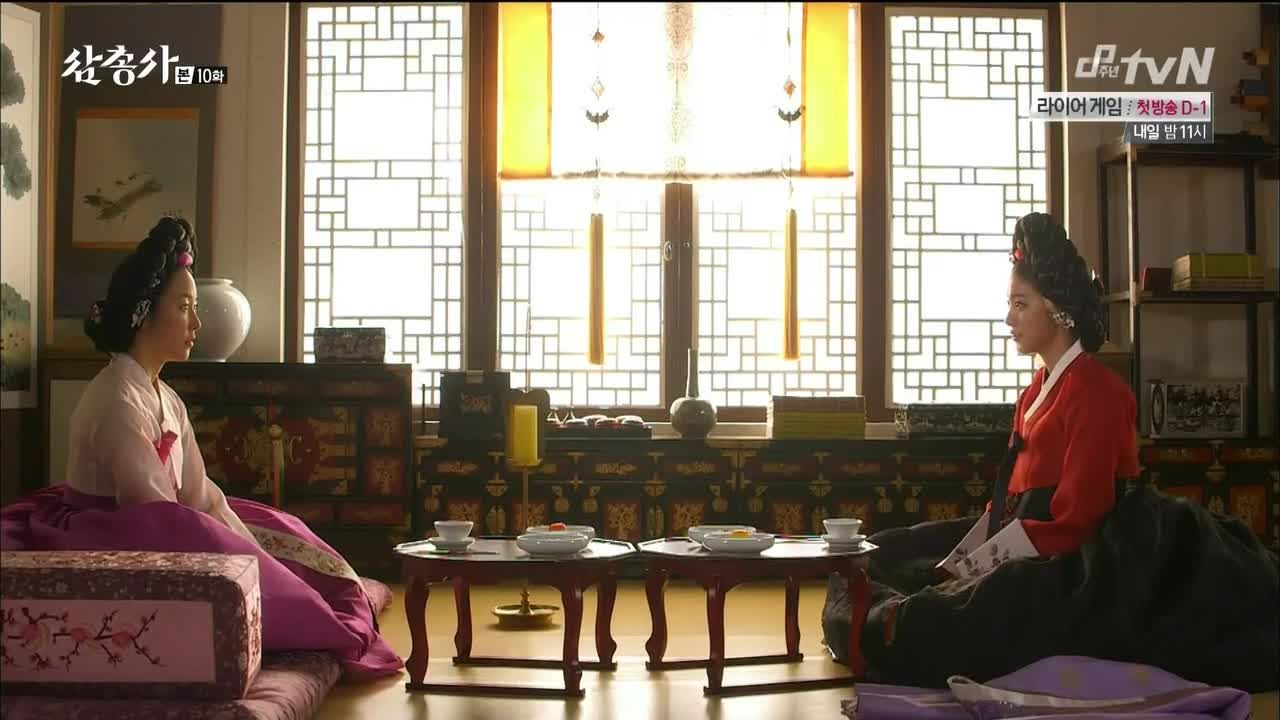 Meanwhile, Mi-ryung attempts to further convince the princess that Dal-hyang is dead, much in the way Kim Ja-jeom was doing to the three musketeers. They both know that Yoon-seo doesn't have the hairpin she'd need to prove her innocence to the king, so it's only a matter of time before she'll be dethroned.
"Why are you telling me all this?" The princess asks, clearly struggling to keep her composure in front of her rival.
Mi-ryung: "Once you are dethroned, it is said that I will be the next princess. I truly did intend to disappear, and I wished for happiness for the two of you. But at those words… yes, I wavered at those words.

I thought it was impossible, because I dared to hang onto an unattainable dream to become princess. But they say it is possible. That I can dream. So I am sorry to Your Highness, but I have decided to dream once again. If you were awaiting news of the hairpin, I believe it has gone to hell, so I came to offer a suggestion. The letter will not arrive. Therefore I came to offer a suggestion to find a different way."
Yoon-seo's face turns into a mask of horror once those words truly sink in: "'A different way?' Are you… telling me to take my own life?" Mi-ryung just smiles, "I simply suggested a different method."
Out of prison (for now), the three musketeers watch on in solemn silence as a sobbing Pan-swe buries the box they think contains Dal-hyang's head.
Yoon-seo paces worriedly in her room that night as she flashes back to asking Minister Choi if the news of someone dying was about Dal-hyang. He confirms it to be true, but can't dwell on the sad affair long when Yoon-seo still doesn't have the hairpin—and though he wants to try having a forgery made, Yoon-seo is too devastated by the news to have any hope that they'd fool the king.
Now that she's had time to process the thought that Dal-hyang is dead, Yoon-seo cries for him. Another flashback reveals that she'd asked Mi-ryung if she truly thought Sohyeon would accept her as his wife, and Mi-ryung had said he would—because doing so would be his only way to save Ingguldai.
Even though she recognized that her plan was to blackmail Sohyeon into marrying her, Mi-ryung seemed confident that he'd come around eventually.
Suddenly though, Yoon-seo stops her pacing and fixates on a rafter in her room. Oh no. Don't you dare, Yoon-seo!
After sharing a drink in silence with Seung-po and Min-seo, Sohyeon finally breaks it to announce that he'll do what Kim Ja-jeom wants. It seems like his defeatist attitude has a lot to do with Dal-hyang, whom he remembers fondly as being loyal and true.
Because he feels guilty for failing to protect Dal-hyang, Sohyeon now doubts his ability to be king and is ready to just give up. When Seung-po asks what this means for Yoon-seo, Sohyeon says that doing so will at least keep her alive, like Kim Ja-jeom said. Everything just like Kim Ja-jeom said.
Later that night, Yoon-seo's court lady enters her mistress' dark bedroom, only to drop her tray and jaw when she spots the noose Yoon-seo has hung from the rafters.
But by the grace of the dramagods, Yoon-seo isn't hanging from it.
Her court lady finds her outside, surprised when she doesn't meet a suicidal woman but a resolute princess who announces that she'll be returning to the palace.
Now that he knows Sohyeon is (reluctantly) willing to play ball with him, Kim Ja-jeom hands over a contract for him to sign stating that the next wife he'll take as crown princess will be from Kim's family. What better way to get closer to the throne than to insert a relative into the royal family?
But it's not just a relative of his, and Sohyeon suspects as much when he flat-out asks if it's Hyang-sun/Mi-ryung. Kim Ja-jeom doesn't deny it, but when he says that he took her in because he felt sorry for her near-dead state, Sohyeon begins to shake with rage.
Yoon-seo brings her palace-bound envoy to a halt when she spots Mi-ryung by the road, and ushers her to her palanquin. Already Mi-ryung can see that Yoon-seo is not the meek thing she just confronted, which Yoon-seo confirms by noting that she's still alive—despite Mi-ryung's wishes to the contrary.
Of course, Mi-ryung says she never wanted the princess dead, only that Yoon-seo has failed to preserve her honor by not killing herself first. But Yoon-seo disagrees: first, because she knows Dal-hyang wouldn't die so easily and being shown his nametag isn't enough to convince her otherwise.
And second, because she knows Sohyeon well enough to know that even if he doesn't love her, she knows he wouldn't shun her just to take in a murderess as his wife: "We'll see which of us is right. Even if I die, I will die in the palace as a crown princess." Add to that a How dare someone like you presume to tell me how to live, and Yoon-seo has just taken Mi-ryung to school.
Maybe it's because Kim Ja-jeom senses Sohyeon's reluctance to make his mark on the marriage contract that he makes sure to mention that it's the only way to save both Ingguldai and Yoon-seo. Sohyeon's hand shakes as he takes up the ink brush to sign…
…But they're interrupted when they hear someone say they're looking for the "Three Musketeers" by name, only for the little Manchu girl who had eyes for Dal-hyang, Tani, to come bursting through the door.
She's dragged straight out, but Sohyeon picks up on her use of "Three Musketeers" because he'd only ever called their group that in front of Dal-hyang way back when, which means no one else BUT Dal-hyang would know it.
Kim Ja-jeom has no idea why Seung-po and Min-seo go running from the room, and even Sohyeon has to work to suppress a happy smile. Dal-hyang is alive!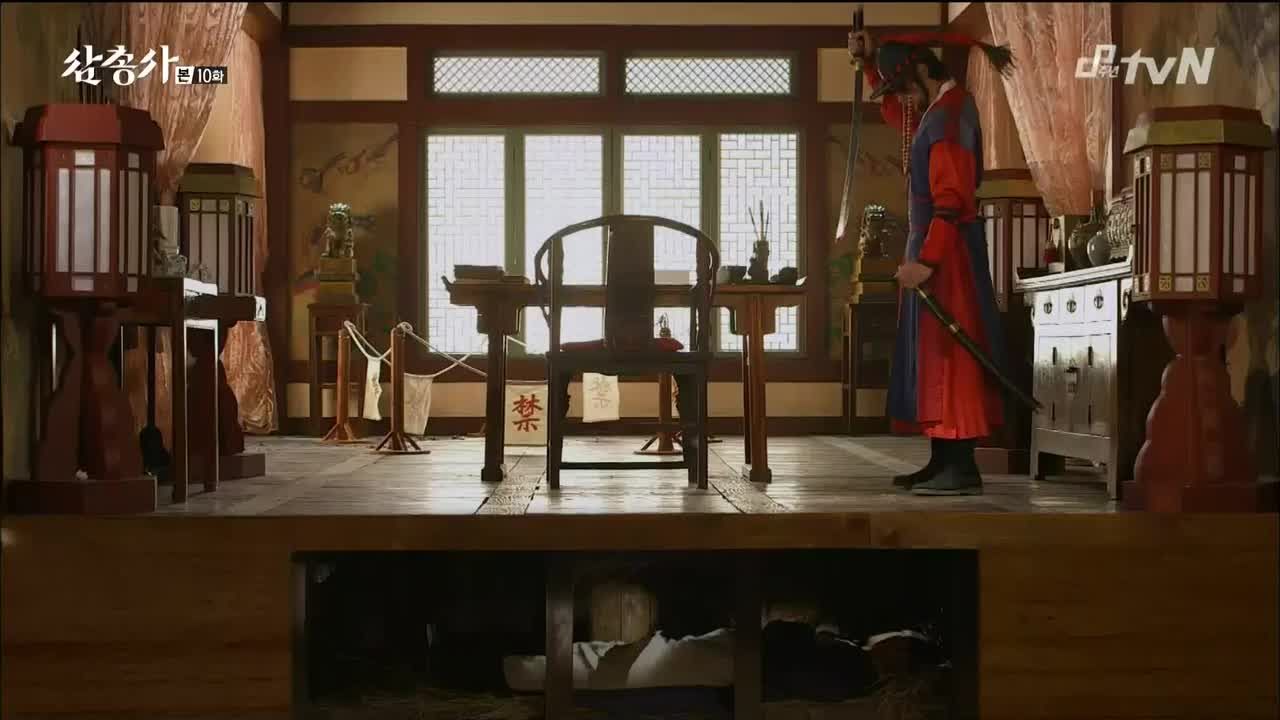 We revisit Dal-hyang in a flashback: While he'd still been underneath the floorboards, he overheard Kim Ja-jeom telling his lackey to find his head at all costs—because a living Dal-hyang would mean the end of Kim's plans for Ingguldai and Yoon-seo's dethronement.
But No-soo, having known Dal-hyang wasn't dead after identifying the corpse as one of his men, guessed Dal-hyang's hiding place beneath the floor and sought to finish the job.
And in another timeline reveal that's inching ever closer to Nine proportions, Tani leads a group to the crime scene where No-soo's just stabbed Dal-hyang, meaning that we're finally in the present. (Which is still technically in the past, since this entire story is being read in the future-past while being consumed by us in the present-future. Orrr is it?)
Since Dal-hyang had asked the men who found him to hide him and tell no one of his presence, he wakes up to find Tani keeping vigil at his bedside. The kindly man with Tani can speak both Manchu and Joseon languages, and is thus able to tell Dal-hyang that everyone thinks he's been killed by Ingguldai.
Dal-hyang worries about the danger everyone (read: Yoon-seo) in the capital will be facing unless he can get word to them that he's alive, but can't get word to them fast enough. But aw, the kindly caretaker went through the trouble to retrieve the sword Sohyeon gave Dal-hyang from his "grave" in order to return it to him.
As the caretaker tells him how the sword was put there by three men, a flashback reveals Sohyeon reverently sticking the sword in the mound of dirt with tears—yes, bonafide human tears—streaking down his cheeks. All three of them were crying for him.
In the present(?), Dal-hyang can't help but smile thinking of the Three Musketeers, overjoyed that they're in the same city. In order to keep his Not Dead status a secret, he'd instructed the kindly caretaker to just look for the "Three Musketeers" by a moniker only they would recognize.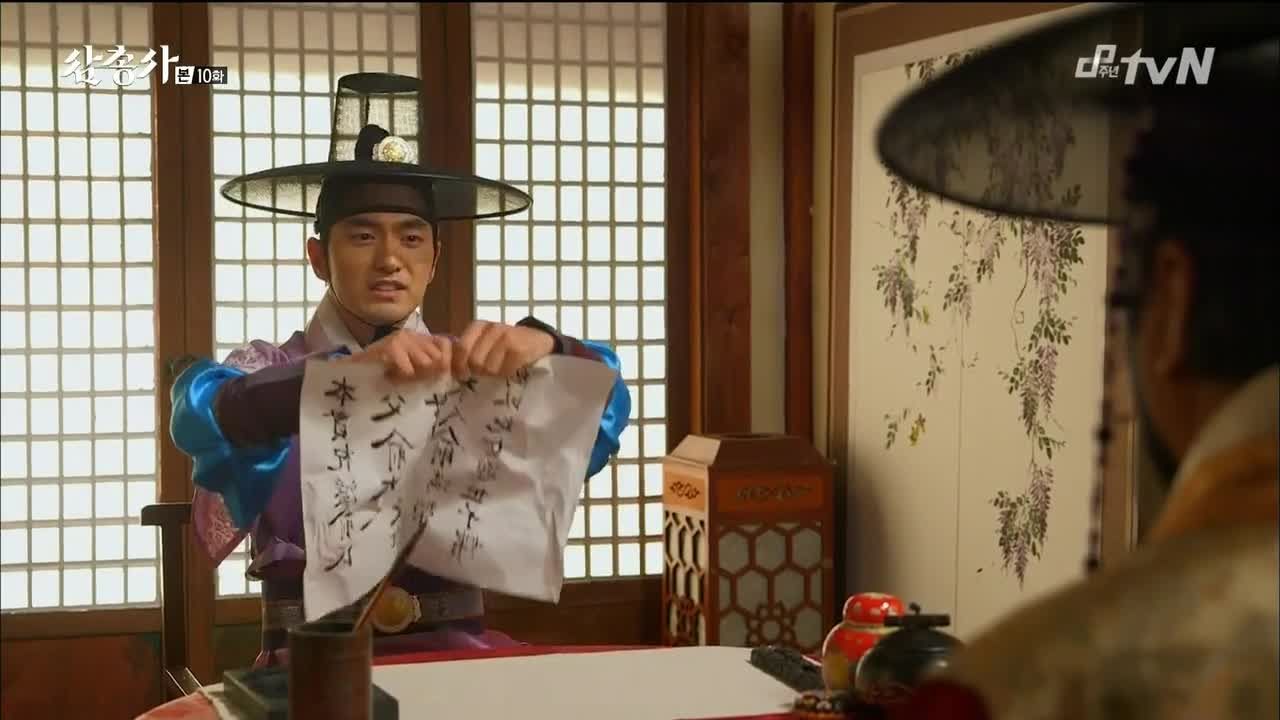 Cue Tani combing through the entire town asking, "Three Musketeers? Three Musketeers?" until the right party actually heard her. She happily leads the way for Seung-po and Min-seo while Sohyeon slams down the brush and tears down Kim Ja-jeom's contract.
Kim warns him that he won't get this offer again, but Sohyeon could not care less when he was threatened with a wife swap as well as Ingguldai's death. Now it's Kim Ja-jeom who should be afraid of him, Sohyeon warns.
With a little ingenuity, No-soo manages to track a still-recovering Dal-hyang down to his safe house for a fight to the death. Though the tracking shot only lasts a little under a minute, it's still a fun, edge-of-your-seat way to follow Dal-hyang as he fights off multiple lackeys in his attempt to escape.
He's finally overwhelmed by No-soo's men, but before one of them can strike him, three swords intercede to block the one headed straight for Dal-hyang. There's no time for chitchat as Sohyeon tells him to ride straight to the capital—he can only save the princess if he proves he's not dead.
But at least there's room for a little bit of bromantic humor as Sohyeon makes sure to mention that it's not an everyday occurrence for him, the crown prince, to be protecting instead of being protected—but that's just how important Dal-hyang's life is today. D'aw.
Seung-po doesn't let Dal-hyang leave without tipping his gat in a proper goodbye, since he didn't get to say one when Dal-hyang selfishly died earlier.
After joining in with the three of them in raising their swords together, Dal-hyang is sent on his way. The cherry on top of the friendship sundae comes when Pan-swe happily delivers Dal-hyang his horse and leaps to hug him, overjoyed to see him breathing.
Tani makes it in time to see him off, and Pan-swe, acting as her interpreter, calls after Dal-hyang that he has to keep his promise—you know, the one he made to marry Tani if she saved him. Haha. If only. (And in a few legal years, let's not make this weird.)
And after a failed attempt to dissuade No-soo's men from attacking a crown prince they don't even recognize, they go to battle in style.
It's Princess Jeongmyeong's birthday, aka the deadline for Yoon-seo to wear her hairpin in front of the king and prove her innocence. All the ladies, including the birthday girl herself, are all maliciously excited to see if Yoon-seo shows up with the pin or not—but Yoon-seo still resolves to go without it, knowing full well what she'll face.
As King Injo and Yoon-seo both head toward the party at the same time, the eunuch bearing the news of her supposed infidelity is stopped just moments before sealing her fate. Is it Dal-hyang?
Injo arrives at the party before the crown princess and is not pleased about it, which Yoon-seo finds out about on her approach. Still, she musters up the inner courage to enter, even though she can't help wringing her hands in nervousness…
…Until something is suddenly placed in them. Not only is it her hairpin, but it's Dal-hyang's who's taken a knee to hand it to her. "You were alive," Yoon-seo whispers unsteadily, only for Dal-hyang to beam up at her: "Of course I was. I can't die that easily. I'll live for a long, long time to protect you, Your Highness. Don't worry."
Yoon-seo's eyes fill with tears as she thanks him—not for the hairpin, but for being alive. Then, with the pin in place, she can face the king with her head held high. The second Injo sees it, he's instantly ashamed for even suspecting her.
After confirming to a disbelieving Eunuch Kim that he's very much not dead, Dal-hyang takes the damning letter he almost delivered to the king and rips it to pieces.
Things aren't quite as rosy for Sohyeon and his buddies, who've been arrested by the town police (who are also too countrified to recognize him, hah) and are at the moment being carted through town like criminals.
Even though Sohyeon tells a curious officer that he is the crown prince, nobody believes him. At least Seung-po gets in a dig about hating the countryside while also digging for gold.
So when the officer demands a real answer, Sohyeon just grins and says they're the Three Musketeers.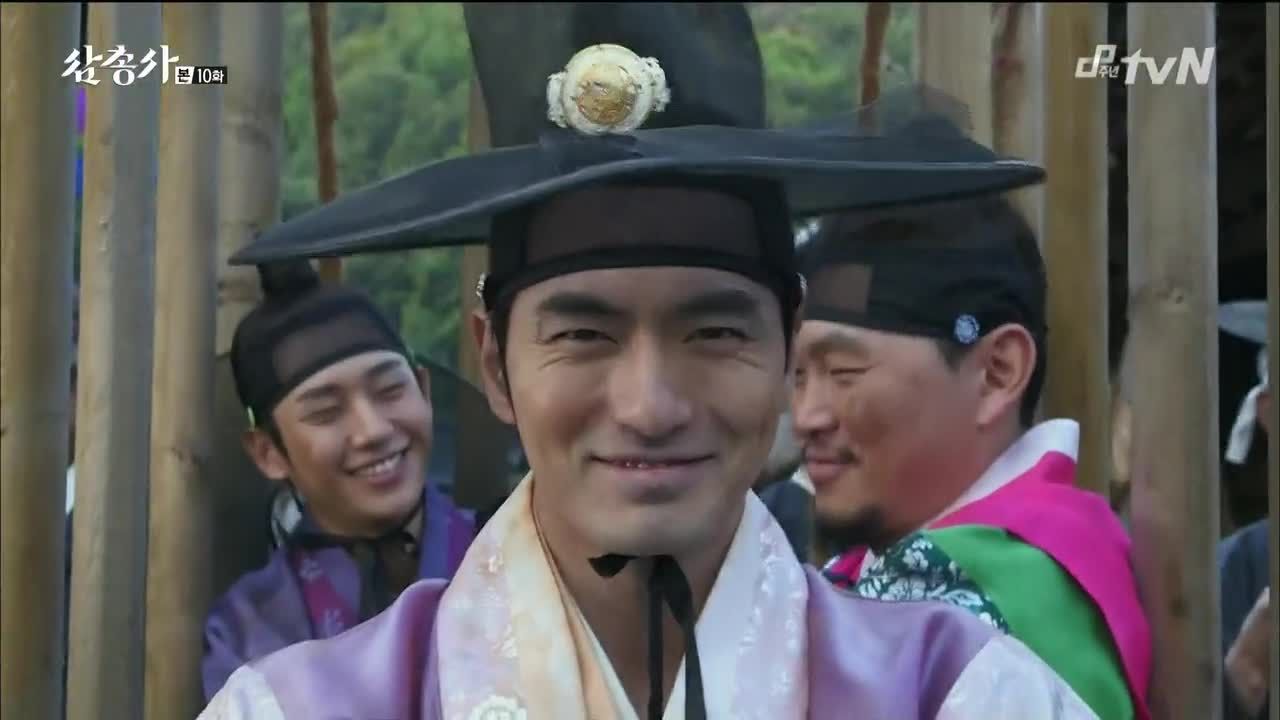 COMMENTS
So, so fun. I don't know why I keep being surprised by how the show manages to give me new reasons to like it each week—or at the very least, reminds me of the good times it gave the week prior when it ventures a little darker. But it's clear that Three Musketeers is out to give us a good time first and foremost, and I suppose the fact that it continues to deliver bigger and better times seems almost too good to be true. (That does NOT make it a dare, dramaland!)
I'm honestly not too sure if Kim Ja-jeom's increasing toothlessness is intentional or not, since No-soo still manages to be something of a thorn in everyone's side more than the man who's supposedly pulling all the strings. And while his plots and plans come with just enough of an explanation to wobble on their own legs with all the finesse of a newborn giraffe, I can see the purpose they serve. It's much easier to forgive a weaker plot point when everyone believes in it so fervently—because otherwise, if anyone were to consider the suspicious circumstances around Yoon-seo's supposed affair with Ingguldai too hard, they'd probably realize how silly it was.
But! With our good guys racing against the clock to get that hairpin just in time to save her from being disgraced, the validity behind it ceased to matter in the face of their conviction. That's not a catch-all excuse by any means, since what worked for the ticking time pin didn't necessarily carry over to Kim Ja-jeom's threat to salt the earth Sohyeon stood on if he didn't marry his newly adopted niece.
The focus veered sharply away from Mi-ryung's inner workings the moment she was revealed to be a murderer, and while it's too early to call the shift disappointing, her development lately pales in comparison to the multi-layered treatment she was once graced with. I guess it's fair that she very well may have lost her mind—or never really had it to begin with—but it'd be a shame to relegate her to the ranks of scorned second leads when she could be so much more. Now that the show can take as a dare.
If there was any slack in the line created by Mi-ryung's recent turn, Yoon-seo picked it up and then some. This episode was such a gratifying watch for her character, who we can feel a sense of extra endearment toward now that we've seen her growing and coming into her own even in such a repressive environment. And what I probably loved most about the way her journey was staged this hour was how capable she was on her own to the very end, since she had no way to know that her world wasn't going to end until her guardian angel literally swooped in at the last minute to save her. And with three more on the way, I get to say something to Yoon-seo I never thought I'd have reason to say before: You lucky, lucky girl.

RELATED POSTS
Tags: featured, Jung Yong-hwa, Lee Jin-wook, Three Musketeers, Yang Dong-geun