Three Musketeers: Episode 8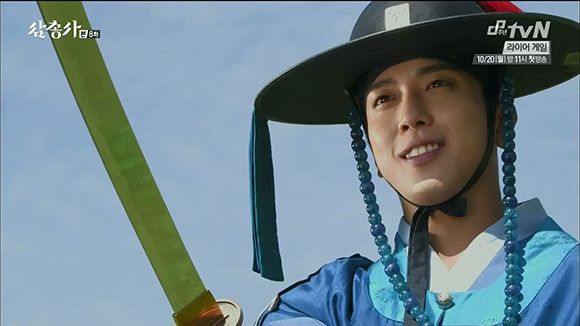 This episode isn't even about Dal-hyang, yet he nabs the best spot in the house for being the light at the end of the tangled mess that is Sohyeon's love life. (I know, right?) The two women involved in the crown prince's affairs find themselves on completely opposite ends of the spectrum against their own volition, which would be like looking into the mirror to see the person you wished you were. It's as awful as it can be, but awful in the way a good drama can be to its characters—sometimes what's bad for them makes for a compelling hour of television. This is one of those cases.
SONG OF THE DAY
Younha- "내 마음이 뭐가 돼 (What Becomes Of My Heart)" [ Download ]
Audio clip: Adobe Flash Player (version 9 or above) is required to play this audio clip. Download the latest version here. You also need to have JavaScript enabled in your browser.

EPISODE 8: The Crown Princess's Wish
Yoon-seo's eyes fill with tears at the news that Dal-hyang has been arrested, but she doesn't get to cry for long when her husband is brought in on a stretcher.
No matter the doctor's warnings, Yoon-seo refuses to look away as they treat Sohyeon's stab wounds but eventually ends up fainting despite herself (and because she got sprayed with blood). Once she wakes she goes right back to his side, and is handed a cloth by the attending court maid…
…Who turns out to be Mi-ryung in disguise. Yoon-seo doesn't look at her long enough to recognize her, which, eek.
Mi-ryung watches the princess worry over Sohyeon, forgetting to look away when Yoon-seo notices her staring. Yoon-seo calls her out on it, finding something about the girl strange, but only remembers meeting her at the ceremony after Mi-ryung's gone.
Yoon-seo hikes up her skirts to chase after her, and confronts her in the pouring rain: "By chance… are you Hyang-sun?" She has her answer once Mi-ryung turns on her, and actually berates the girl for having the nerve to come to the palace after all that's happened.
But she's stunned into silence when Mi-ryung deadpans that she snuck into the palace because she was worried about Sohyeon, and needed to know whether he was going to make it.
Despite being the one who stabbed him she still worried for his safety, and emphasizes to Yoon-seo that he let himself be stabbed and said he missed her after he'd been stabbed.
It's a strange thing to make someone jealous over, but Mi-ryung uses her closeness with the prince in that moment to stab Yoon-seo with a metaphorical knife—and it works.
She looks Yoon-seo straight in the eye as she claims she forgave Sohyeon everything after he asked for her forgiveness, even though the irony of their current situation isn't lost on her. She may be pathetic, but so is Yoon-seo, who was forced to marry someone she didn't love.
And that someone just happens to be the person Mi-ryung loves, which leads her to admit that she's jealous of Yoon-seo. Isn't life funny sometimes?
Yoon-seo tries to stop her from leaving, at least until Mi-ryung reminds her that she, born a slave, could easily hurt her. Once Yoon-seo's grip slackens, Mi-ryung bows formally and expresses her earnest hope that she'll be happy with Sohyeon.
Still drenched from the rain and her own tears, Yoon-seo ignores the attendants hovering around her husband to kneel by his side as she questions what it is she really knows about him.
Dal-hyang gets a hearty prison greeting from the two musketeers and Pan-swe, who happily proclaims that he goes where his master goes, even if it's a prison. His master, meanwhile, takes this whole incarceration thing as a way to gain some street cred with the ladies. Hah.
The month Dal-hyang spent in prison is elaborated upon in his memoirs, which Yeonam reads in the slightly-more-present-year-of-our-lord 1780. Since Dal-hyang's scope was limited only to what he was told while behind bars, he tells the story of those weeks as he heard them.
So it's back to the present-past: After she's asked by Minister Choi to help her husband's cause, Yoon-seo helps to sneak Ingguldai out of the palace. Meanwhile, Minister Choi convinces King Injo to retract Ingguldai's execution order—and Dal-hyang noted in his memoirs that no sooner did Injo do so that Ingguldai was captured alive, almost as if he'd been waiting.
Dal-hyang also recorded that he heard that Injo and Ingguldai reconciled after some posturing from both sides, and that Ingguldai worked closely with Sohyeon to try and prevent a war. He also heard that Kim Ja-jeom was demoted and sent away from the palace, but mentioned in his memoirs that he couldn't confirm any of this with his own two eyes.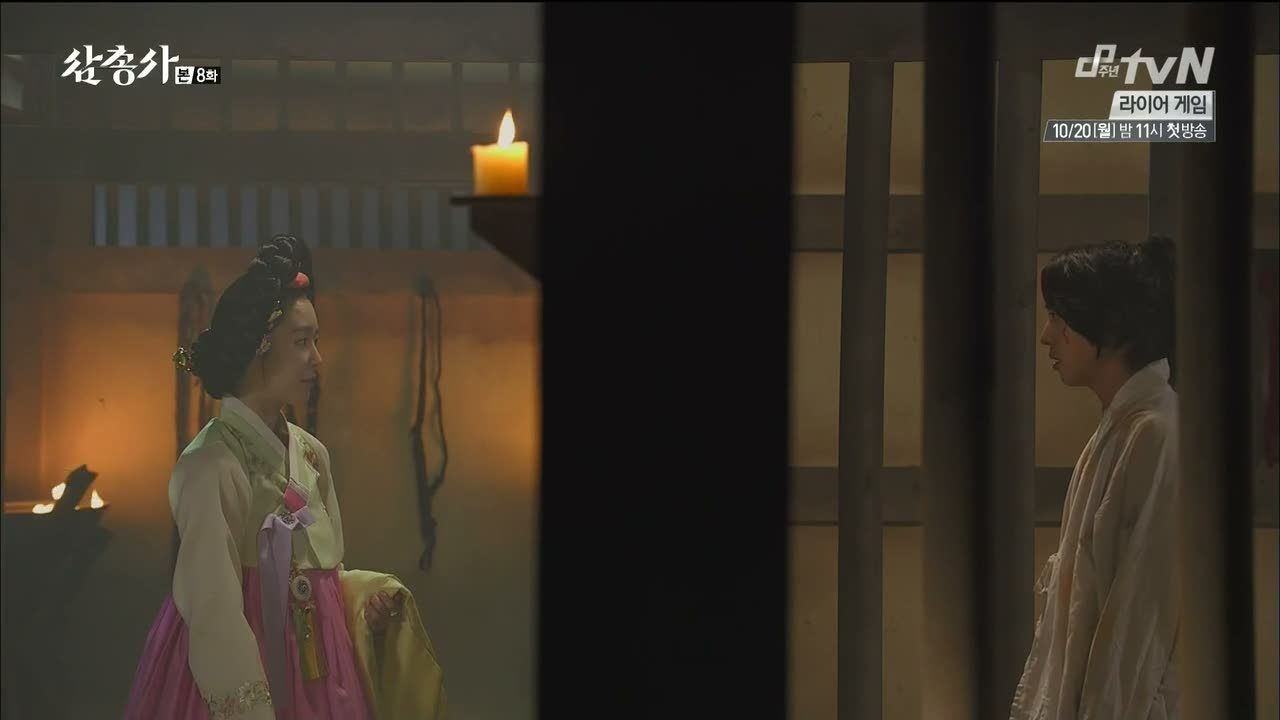 But as for what he could prove, Dal-hyang mentions how Yoon-seo came to visit him in prison. In the present-past, Dal-hyang's first question upon seeing her is about the prince, and is visibly relieved when she replies that Sohyeon's condition is improving.
He doesn't have much to say for himself when Yoon-seo asks how he's still hanging around when she'd asked Sohyeon to put some distance between them, opting to chalk it up to happenstance instead—plus, he's pretty sure that he's fated to throw in his lot with Seung-po, Min-seo, and Sohyeon now.
Dal-hyang has to dodge her question about who stole the letter when he admits to finding it and burning it, since he assumes she still doesn't know about Mi-ryung and blames it all on No-soo. Yoon-seo's accompanying smile is almost sad, since she knows Dal-hyang is lying to her.
Still, she ushers him closer so she can pat the blood from his cheek from between the bars, and he can't help from smiling. "I'm glad I'm in prison," he jokes, before he adds that he'll write about this moment in his memoirs later and mention how lucky he was to have the princess tend to his wound.
It's his gratitude that touches her, as she admits that no one in the palace ever thanks her for anything. Here she came to console him, but he's the one consoling her. "I want Your Highness to be happy," Dal-hyang says with a smile. "That's my sincere wish."
The rest of the boys wake up in time to see Yoon-seo on the other side of the bars with a message from Sohyeon telling them to stay strong and endure for just a little while longer.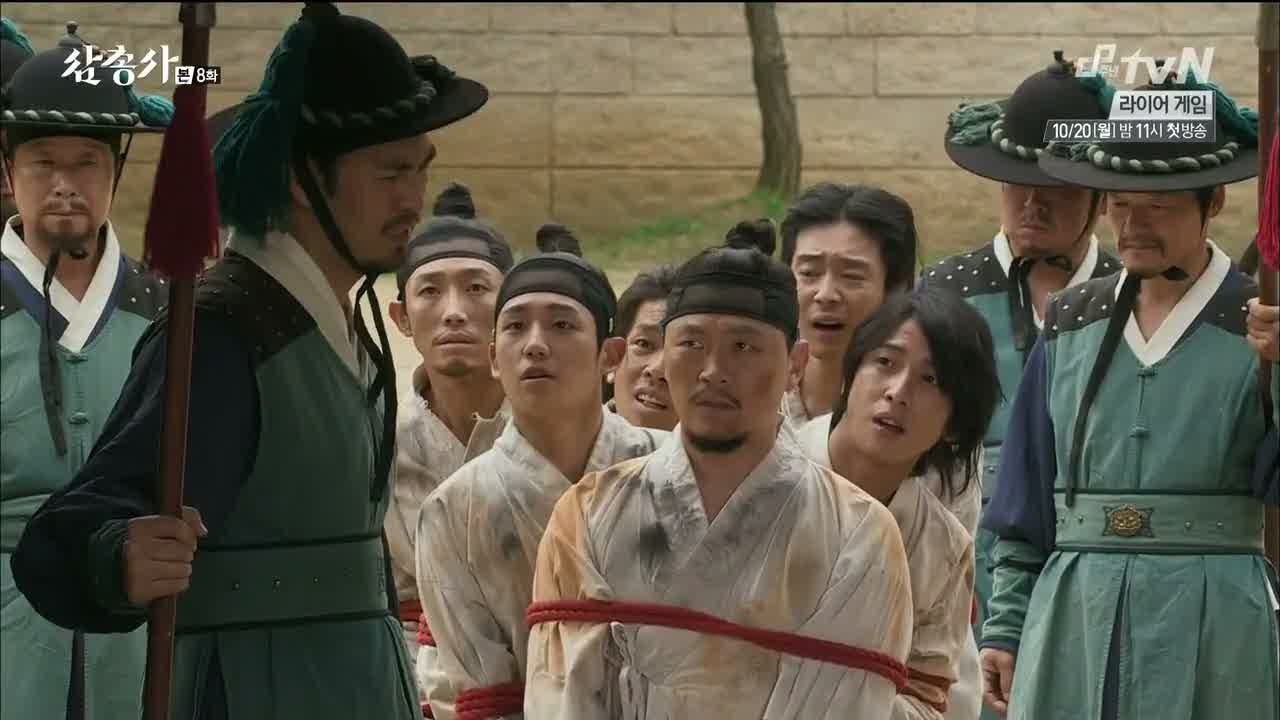 Cut to: One month later (hah), as the boys are led in ropes to the torture yard. Upon seeing what awaits them, Seung-po and the others stop in their tracks, all, Are you sure the prince didn't mention us?!
Seung-po and Min-seo are sentenced to receive harsh beatings for failing to protect the prince due to their gambling problem, while Dal-hyang gets… significantly less than that. Since he wasn't in an official position when he was arrested, his punishment is minimal next to theirs. Haha.
Pan-swe and the other slaves get off with a light prison sentence since they were just doing as ordered by their masters, leaving the two musketeers (plus Dal-hyang) to await their beatings while tied to a cross. This definitely takes the Funniest Torture Scene In A Sageuk cake, and if you didn't think that existed before, you haven't seen Dr. Jin. (And don't, by any and all means.)
The boys get to awkwardly talk to each other before the beatings commence, and Seung-po is about to cry after just one. Fifty-nine more to go…?
Luckily, the prince arrives to save his friends from enduring the full sentence. Seung-po isn't as pleased as the others when he was the only one to get hit, and makes sure to complain about it at length. Sohyeon can't help but smile and take a few jabs at his good friend, because he knows he can.
Sohyeon sends a sly look Dal-hyang's way before whispering to his eunuch, though we're left as clueless as Dal-hyang when it comes to what's said. Afterward, Sohyeon is taken to task by his father, who still believes his son was caught gambling and not helping the enemy.
Though Sohyeon agrees with the steps King Injo took to iron things out with Ingguldai, Injo is still way too sore on the subject to look on it in a positive light when all he feels is humiliated.
Injo turns the subject to Sohyeon's lack of an heir, now placing full blame on his son since Yoon-seo has proven herself to be honest and virtuous. Sohyeon wants to argue when his father says he won't see him again unless he has a child, and instead ekes out the politically-correct words Injo wants to hear rather than the ones he wants to say.
After gaining the king's pardon to be released from prison (but not his blessings for their friendship with Sohyeon—Injo orders them split up), the boys retreat to Seung-po's house, where he gets ribbed further for acting sore even though he was the only one among them who got hit.
But when his unique wife enters, Dal-hyang immediately springs to his feet for a proper greeting, which includes a formal bow. Seung-po: "Why are you bowing?!" Dal-hyang: "It's my first time meeting your mother." Dead.
Dal-hyang's expression turns to panic when Min-seo tells him that the woman is Seung-po's wife and not his mother, which earns a good laugh from Seung-po.
…Before his FOUR children enter, when Dal-hyang didn't even know he had one. Seung-po even mixes up his kids ("Wait, that's you? My, you've grown so much") because he's not home enough, which the boys just shake their heads over.
The boys think they're in for it when an official delivers the king' order, which not only pardons them for their crimes, but gives them months of vacation time.
Well, all except for Dal-hyang, that is. He's re-commissioned as an officer and told to start immediately—and he means immediately as in now. No doubt this was all Sohyeon's idea, and Pan-swe gets ordered to accompany his new favorite master to the border.
Cue the both of them stumbling in their haste to make it to the envoy procession where Ingguldai waits. He's able to make jokes at Dal-hyang's expense since Dal-hyang can't understand Manchu, though something tells me Ingguldai's cheeky wink and laugh means he's just having fun with him. (And may I just say, a huge improvement from murdering innocent women on horseback.)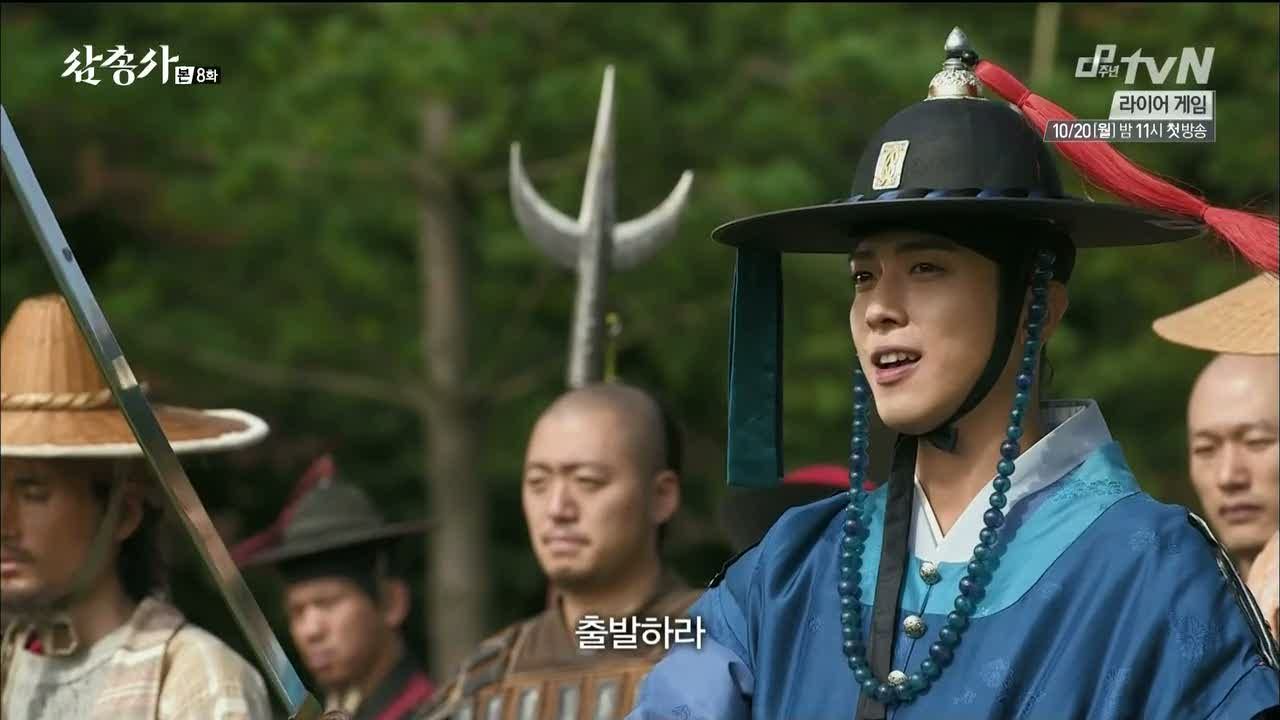 But he receives a gift from Sohyeon: his personal, one-of-a-kind sword, along with a letter from the prince: "You arrogant punk, you pledged your loyalty to me without my permission. So I have no choice but to give you this token of your allegiance."
After adding that Dal-hyang can only use the sword for good causes, he adds, "Are you moved? I also know how cool I am." Only Sohyeon.
As it so happens, Kim Ja-jeom is set to host Ingguldai and his envoy now that he's got nothing but time in his exile, but that doesn't mean he has to be happy about it. He still resents not killing Ingguldai when he had the chance.
He gets a visitor in the form of No-soo, there to unceremoniously throw Mi-ryung under the horse by blaming everything on her and swearing his allegiance to Kim Ja-jeom. He also promises to deliver Mi-ryung to Kim Ja-jeom for punishment personally, since she's about to die anyway.
The prince is surprised when he finds that he's not only forbidden from leaving his quarters, the king has also mandated him to spend the evening with his wife. Of all things!
Since there's nothing he can do, he pays a visit to Yoon-seo. She knows very well that the king wants them to conceive a baby tonight, the very mention of which has Sohyeon wincing like a kid afraid of cooties.
Sohyeon figures he'll stay with her for a platonic few hours, just enough to fool the attendants outside that they've gotten to it. Yoon-seo responds by chugging cups of wine until Sohyeon stops her, his face one giant question mark.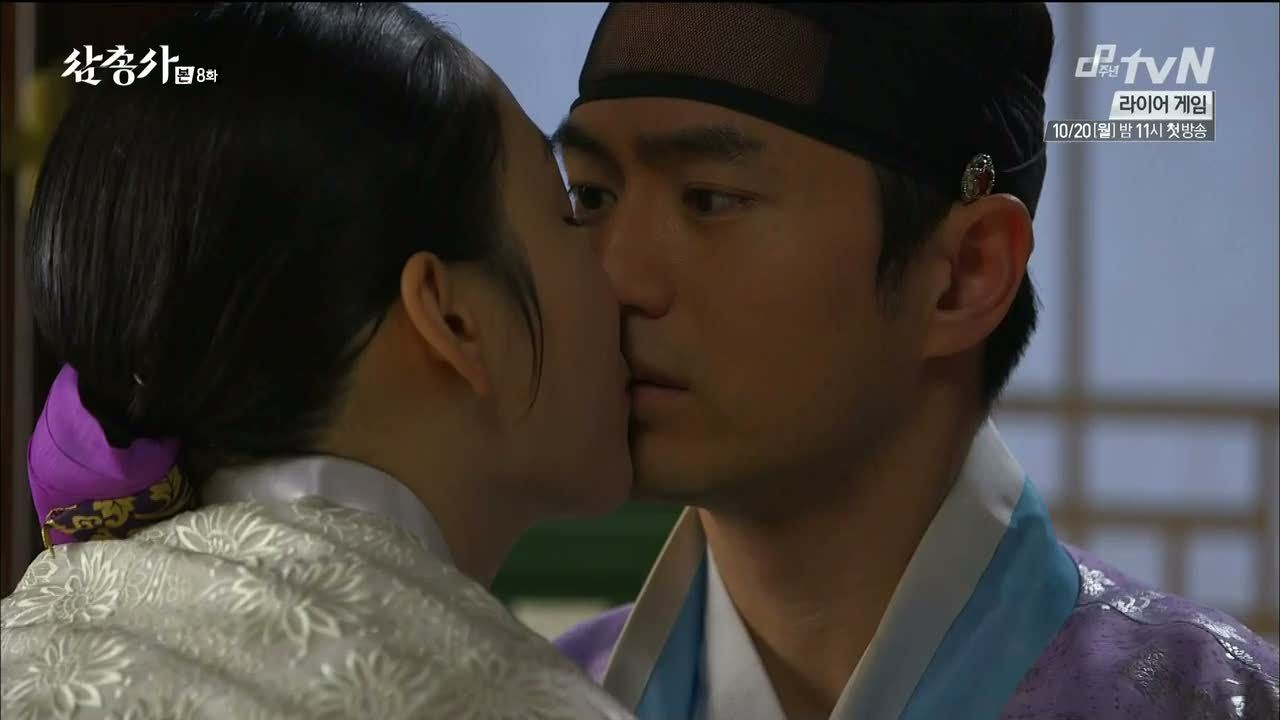 Yoon-seo apologizes, claiming that she doesn't normally "do this," before she positions herself in front of Sohyeon to take off his clothes in a very businesslike manner. When asked what she's doing, she shakily replies that she's carrying out the king's order.
Her knowledge of what that order is entails only what she's heard from other women, who told her to act like a gisaeng in bed. Before Sohyeon can even try to answer when she asks if this is what gisaengs do, she hastily leans in to kiss him.
It takes him a while to push her away, but she tries to save the moment by closing in for another. An awkward moment ensues when Sohyeon tries to keep her at bay with a lock on her wrist, only to fall with her on top.
Tears fall from her eyes and onto Sohyeon's cheeks as she brokenly asks if he really wants so little to do with his own wife before she pushes off him to cry by herself.
Sohyeon settles back into his old routine of being irresponsibly jokey, even though his attempts to lighten the mood don't work when Yoon-seo ends up betraying herself when she asks how he could've let "her" go when he clearly loves "her" so much.
He sits up at that, and Yoon-seo decides to be plain in telling him that she saw Mi-ryung/Hyang-sun in the palace while he was recovering. Uh oh.
Meanwhile, Kim Ja-jeom finds out everything there is to know about Mi-ryung's not-so-secret identity from No-soo, who's taken a misogynistic detour when it comes to his former mistress.
Yoon-seo reveals to Sohyeon that she found out the same by going to Minister Yoon's wife and Mi-ryung's mother. A flashback shows that the actual daughter of the household, Mi-ryung, was kept inside because her parents were ashamed of her being mentally deficient.
In order to save face in front of others, Mi-ryung's mother dressed the beautiful and capable Hyang-sun up to make-believe she was her daughter. But when the queen heard of her beauty and chose her as a candidate for the crown prince's wife, Mi-ryung's mother was thrown into a panic, sure that she'd be caught in her lie.
But Hyang-sun was smart and knew how to play Mommy Dearest, and even managed to convince her to send her to the candidate selection while resting assured that Hyang-sun would be rejected and sent back home where no one would know the difference.
That's when Hyang-sun and Sohyeon saw each other for the first time, while the narrator muses that it was love at first sight.
Now left wondering what to do with the real Mi-ryung, Hyang-sun still acted the part and met the prince in secret, with him none the wiser. Everything went well for her until Mi-ryung's father, Minister Yoon, heard of this belatedly and confronted his wife over what she'd done: "Do you know what's going to happen?! Our slave will be the crown princess!"
Minister Yoon had wanted to do the right thing by telling the truth even if it would ruin his family, but Hyang-sun barged in to beg that he let her just be his daughter. It wouldn't be hard when the queen and prince love her so much, right?
She'd crossed the line when she suggested sending the real Mi-ryung far away, even though she accused Minister Yoon of having already abandoned his daughter because he was so ashamed of her.
As much as he called her a slave, she had faith in herself because she impressed the queen on her own merits. "I am Mi-ryung, the future crown princess!" she screams, only to be slapped by her fake father for her impudence.
Later that night, Hyang-sun led the simple Mi-ryung to a well and shoved her down to her death. But then a voice called from just off-screen… it was Sohyeon. He saw Hyang-sun push a girl down the well, even if he didn't know who the girl was.
In the present, No-soo tells Kim Ja-jeom that Mi-ryung had been acting strange ever since leaving the palace, and that she fell ill when they neared the border. Though No-soo has her all tied up, it seems useless when she's given up on trying to live anyway—she won't eat, drink, or speak.
Yoon-seo's inner turmoil is worse now that she thinks she's caught a glimpse of what Sohyeon suffers from, and wishes that she could be of comfort to him while knowing that there's no place for her in his heart.
She asks if he can do her one favor, if only to repay her for saving Ingguldai on his behalf. He coolly replies that he'll decide once he hears the favor, which, ouch.
"Please cast me aside," she says. "That is my wish." He wouldn't even be blamed when she's gone five years without having a child, and she's okay with bearing the brunt of public opinion, which seems to take Sohyeon by surprise.
Kim Ja-jeom addresses the near-catatonic Mi-ryung, who's either crying or sweating (or both), as he wonders why she didn't just say that being the princess is what she wanted this whole time—because he could've helped her.
Even now, he offers to help her be the princess she's always wanted to be, which does get Mi-ryung's pupils moving, at least. She's listening.
Yoon-seo sincerely asks Sohyeon to abandon her and let her take the fall for whatever comes, even though he doesn't think she knows what happens to women who are cast out from the palace.
"I don't care anymore," Yoon-seo says. "I too, want to live with a man who loves me… even if it's for a day, and die like a human. Please, cast me aside. That is my wish."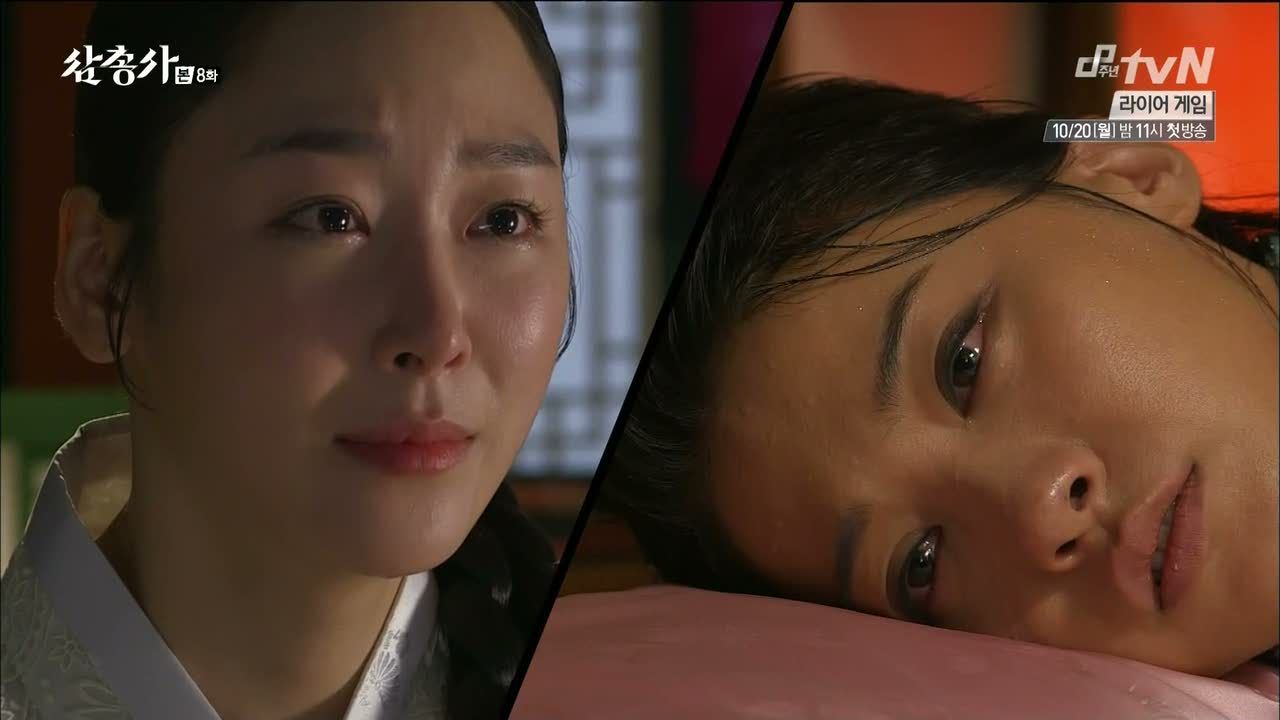 COMMENTS
Intense. What it must've taken for the meek Yoon-seo to build up enough courage to confront Sohyeon like this is beyond my realm of imagination right now, suffice to say that she's earned some respect—even if it took downing a couple glasses of liquid courage to get her to face the impenetrable fortress that is Crown Prince Sohyeon.
To her credit, she tried. For being in a loveless marriage, I'd say she's put in more hard work and effort than Sohyeon has, and has suffered all the more for it. I always find myself feeling sorry for Yoon-seo being all alone in a palace full of strangers she can't trust, when at least her husband gets to go out, see the world, and decide things for himself. Part of that is her unlucky lot as a woman living in the year 1636, and part of that is her restrictive position as princess, a role you'd think would give her more power rather than none.
It was a little jarring to see that the dark streak in Hyang-sun/Mi-ryung wasn't a direct result of Sohyeon's cruelty, but instead a flaw in her character that runs deep. She embodies the nature vs. nurture question, even though the narrator seems to side with the former when it comes to that and I'm still on the side of Not Sure. Maybe it wouldn't be so bad if she'd done it all for love, but she maneuvered herself to be in a prime position to enter the palace before she even met Sohyeon—and once the actual daughter of the house got in the way of her ambitions, she made her disappear. Literally.
So now that scene with Mi-ryung's inconsolable mother is put into context, and it makes perfect sense that she'd be so beside herself over her daughter's death when she raised her killer out of embarrassment. It makes sense that Sohyeon would've only found out about the ruse by catching Hyang-sun in an irreversible, irredeemable act of cold-blooded murder. And while it still makes what he asked of her no less unthinkable, after so many episodes spent on his repressed pain concerning the ordeal I'm of the mind that Sohyeon is not even 25% as happy as he tries to be. So he's paying his penance too, even if the weight on their shoulders is a bit disproportional.
Don't get me wrong, I'm not saying it wouldn't be nice if we were privy to the prince's feelings just a little bit more than everyone else isn't, just so we'd know what's going on in his skull meat if no one else—especially him—is going to show us. But he's as unreadable to me as he is to her most times, because if he does have aaaangst (and we know he does), he is a zen master at swallowing pain and converting it into empty smiles. It's almost a shame that he isn't the gambler his father thinks he is, because he'd have one hell of a poker face and a much better excuse.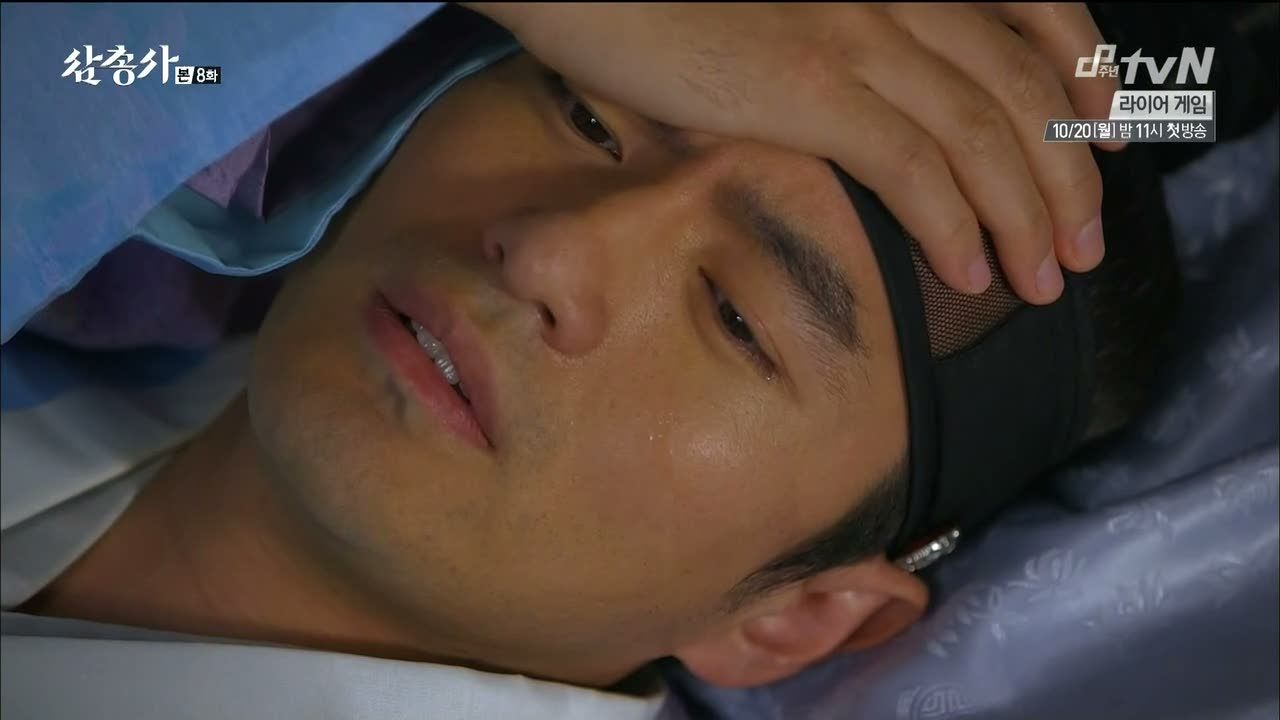 RELATED POSTS
Tags: featured, Jung Yong-hwa, Lee Jin-wook, Three Musketeers, Yang Dong-geun