Three Musketeers: Episode 9
There's nothing like a good murder mystery, and while we may know the who in the whodunit, we're left guessing as to the why and how—which is where all the fun comes in. It's a pretty eventful hour overall, one that keeps us on our toes with a new and nefarious plot without forgetting the emotional undercurrent running just below the surface. And maybe, just maybe, Yoon-seo's figured out how to at least make a dent in that surface where her emotionally unavailable husband is concerned. Maybe.
SONG OF THE DAY
TOXIC – "Deja Vu" [ Download ]
Audio clip: Adobe Flash Player (version 9 or above) is required to play this audio clip. Download the latest version here. You also need to have JavaScript enabled in your browser.

EPISODE 9: "Immediate Execution"
After Yoon-seo tells Sohyeon of her wish to be cast out of the palace, he replies that he can't grant it if only because he'd be giving her the freedom to elope with the man of her dreams, and he can't do that, can he?
He takes on his go-to lighthearted tone as he confesses that while he may not be the best husband to her, he's not going to let her go traipsing into the arms of another man, either. He knows as well as she knows that eloping wasn't the purpose of her wish, but since he can't ever give a straight answer, it's all Yoon-seo gets.
Unluckily for Sohyeon, he can't make his grand exit from Yoon-seo's quarters without arousing suspicion, so he has to stay with her but out of her line of eyesight long enough to fool the attendants that they've done the deed.
It leads to a very awkward span of time, which Yoon-seo decides to fill by chugging cups of wine. Soon enough, Sohyeon goes back inside to investigate a shattering sound, only to hear Yoon-seo's lady-in-waiting chase after her mistress who is completely and totally wasted.
Yoon-seo drunkenly wanders out to the courtyard in her undies, forcing the eunuchs she addresses to turn their heads away for her own modesty. She slurs that she wants an audience with the king so she can confess she's unqualified to be his daughter-in-law and that he'll never see a grandson from her.
The eunuchs turn in shock at this admission, only to swiftly turn back around when Yoon-seo shrugs off the outer garment her court lady keeps trying to cover her up with. Yoon-seo continues to bellow that she'll ask the king to cast her out of the palace since the crown prince won't give her the time of day.
She continues on her tirade about not being the princess anymore, reiterating to all the attendants present that she has a REAL NAME, damn it! And when Sohyeon comes outside to try and urge her inside, she answers all of his attempts with a petulant but firm "No!" until he finally scoops her up to forcibly carry her back.
Yoon-seo opens her eyes only briefly to see Sohyeon hovering near her bed after he lays her on it, and sees the same sight intermittently throughout the night. It's enough to make her smile now that he's by her side.
Of course, she's in for a rude awakening the next morning when she's hungover and can't remember much from the night before. She only remembers drinking a little bit of wine, only to be told by her court maid that she drank all the wine.
That jogs Yoon-seo into remembering her kiss with Sohyeon and her drunken tirade outside her quarters. She's positively mortified, and just a little sad that her husband left her for a short jaunt to the hot springs.
But in the letter he left for her, Sohyeon explains that he left in order to relieve some of the pressure on the two of them to have a child—at least with him gone, no one will be expecting anything of Yoon-seo.
In flashback, we see Sohyeon composing his letter while keeping the midnight watch with Yoon-seo, and how he'd taken a long look at her before he composed the part about Mi-ryung being a permanent scar in his life he can't even understand.
And as this show is wont to do, we get a flashback within a flashback to show the real Mi-ryung's father weeping over the well where his daughter was shoved to her death. Sohyeon presumably notified the family, and was given the idea to order Mi-ryung's suicide by his eunuch in order to save her not-family's honor, since her not-father was innocent of the deception.
After seeing how the decision caused a young Sohyeon many sleepless nights spent agonizing over what he'd done, we return to the present, where he ends his letter to Yoon-seo by writing that they both need some time—but he wrote the letter sincerely. Yoon-seo seems pleased with that addition, since it leaves their open-ended relationship on a hopeful note.
Fifteen days later, in Pyongahn Province (modern day North Korea). Dal-hyang escorts the caravan with General Ingguldai into Anju, but can't escape the staring eyes of a young Manchu girl perched on a cart.
She seems to adore him, but Dal-hyang is wowed more by the fact that Pan-swe is able to ask for her name (Tani) and age (fifteen) in Manchu, leading Dal-hyang to compliment Pan-swe on his smarts. Aw.
Since Ingguldai's envoy is passing through the province Kim Ja-jeom has been exiled to, the minister all but rubs his hands in glee to see that Dal-hyang is accompanying the envoy, since he'll be able to kill three birds with one stone: him, Ingguldai, and Mi-ryung by secretly causing infighting amongst the envoy. And whatever his plan is has something to do with a woman's hairpin he's holding onto ominously—is it Mi-ryung's?
Watching Dal-hyang try to cross the Manchu language barrier with Ingguldai's guards is hilarious, but the general finds a workaround in writing his question regarding Dal-hyang's new sword in hanja, which Dal-hyang can easily read and understand.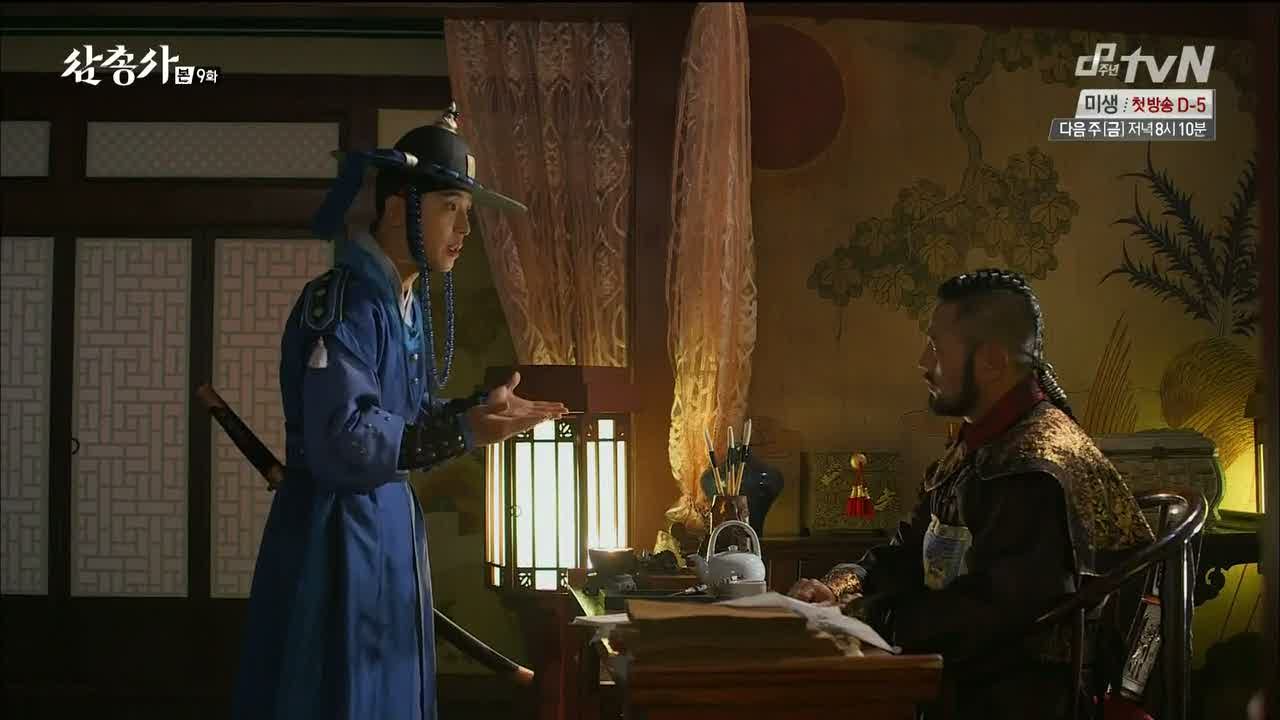 Ingguldai teases Dal-hyang in asking why he was gifted such a sword when he doesn't have the skill to handle it, but only so that he can ask Dal-hyang if he wants to learn from him. When Dal-hyang expresses reluctance, Ingguldai writes, "Don't you want to win another bet against the prince?"
He then writes that Sohyeon won their earlier bet because of the advice he gave him, then shrugs nonchalantly when Dal-hyang doesn't give him a prompt response before he reels 'im in once Dal-hyang asks where and when. It's kind of cute how Dal-hyang tries to hard to hide his happiness even though Ingguldai sees right through him.
Kim Ja-jeom makes it a point to pass Dal-hyang on his way into the party the provincial governor is holding for Ingguldai, and the meeting is distasteful enough for Dal-hyang to brush off the invisible grime left from Kim Ja-jeom's patronizing shoulder pat. Does he know the minister is up to no good?
Even if Dal-hyang is unaware, Ingguldai is more than onto Kim Ja-jeom, and definitely doesn't trust him and/or like him. But he's forced to leave the table when he receives an unexpected visitor in the form of Mi-ryung.
She's come on Kim Ja-jeom's orders, and explains as much to Ingguldai, even going so far as to tell him that she was ordered to drug him… after he's already taken a drink.
He realizes it too late as the world starts spinning around him, but Mi-ryung only edges closer as she claims she's there "to tell you a secret about Park Dal-hyang's identity." Huh?
After Mi-ryung leaves, a still-drugged Ingguldai orders that Dal-hyang be brought to him and for them to be left alone. Dal-hyang doesn't find the request all that strange since they'd agreed to meet after the party anyway, and unwittingly goes to meet him. This is bad news bears.
There are no guards at the door and no answer when Dal-hyang knocks, so he lets himself in to find Ingguldai's back turned to him and toward a rack of swords. Again, Dal-hyang doesn't think it too strange when Ingguldai pulls out a sword since they'd agreed to learn from each other…
…But luckily, Dal-hyang's quick reflexes save him from being beheaded when Ingguldai whips around with his sword. Dal-hyang uses his own blade to protect himself, but still thinks this might be some macabre training session until Ingguldai slashes him across the shoulder. I can only guess that Ingguldai's sudden roid rage is a result of whatever Mi-ryung gave him, and not that he's attacking Dal-hyang because she convinced him to.
Dal-hyang is thrown to the ground without his sword, and is defenseless as he stares up at Ingguldai, who shows no mercy as he brings his sword down on him. All we see is blood splash onto Ingguldai's face. Oh no! Oh no oh no oh no.
Pan-swe is surprised when Seung-po and Min-seo arrive, since Anju is pretty far off the beaten path for them to have just stumbled by. But they're here with a mission, and don't state their purpose as they try to gain entry to the party.
The festivities are interrupted by screams just as Seung-po and Min-seo arrive on scene to witness Kim Ja-jeom and a few other ministers escaping out the back gate.
They push past the guards outside Ingguldai's room claiming that there's been a murder, and go in to find Ingguldai unconscious and a bloody body on the floor that the guards claim is Dal-hyang. Wait, has that corpse been beheaded?!
Five days earlier.
Sohyeon is urgently called back to the palace from his mini-retreat to see his father, who outright asks his son if he really went on vacation to recover his health or because he had an argument with the princess.
While Sohyeon denies any such thing, King Injo wonders if he's heard the rumors about Yoon-seo floating around the palace. Injo heard them from Princess Jeongmyeong, the recently-deposed Prince Gwanghae's half-sister and daughter of King Seonjo.
According to what she'd heard, Yoon-seo and Ingguldai were having some sort of affair, and now that's the word spreading through the palace. Though Injo is having a hard time believing it, he asks Sohyeon if that's the reason for his and Yoon-seo's rumored disagreement.
Sohyeon calls the baseless rumor out for what it is, even though his father is still on the fence—he also heard that Yoon-seo even gave Ingguldai her ornamental hairpin as a sign of her love for him, the same pin passed down to her from Seohyeon's mother. (Ah ha! That's the hairpin Kim Ja-jeom had his hands on.)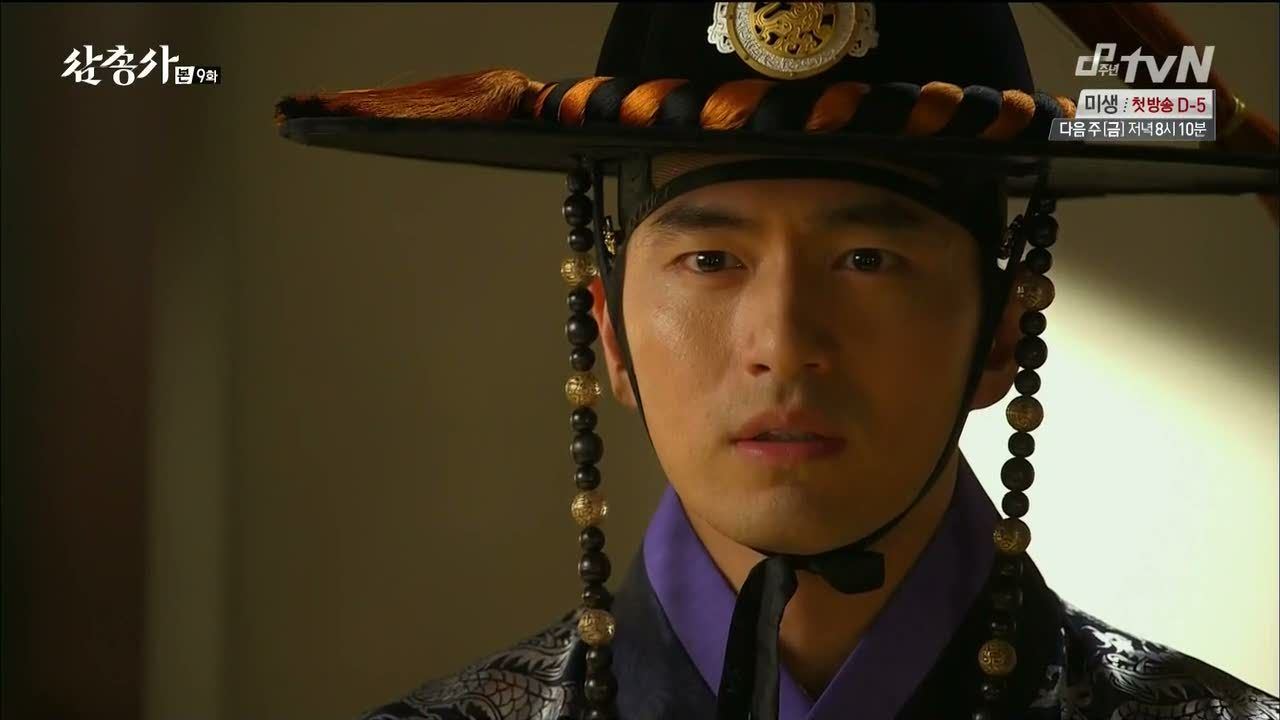 At least Sohyeon still has his wits about him and denies the rumors flat-out, even going so far as to chastise his father for giving into them in the first place. Injo would still rather be safe than sorry, and wants the princess to bring him the hairpin in question to prove that she didn't give it to Ingguldai.
Yoon-seo may not know about the rumors circulating or why Injo wants the hairpin, but she does find it missing from her jewelry box. When she rushes out to greet Sohyeon on his return to the palace, she's more than a little confused when he asks her if she's looking for a hairpin that's gone missing before he orders Seung-po and Min-seo to report to him immediately.
Once they're in the privacy of her quarters, Yoon-seo demands to know what this is all about—how does Sohyeon know about her missing hairpin? "Don't ever tell the king that you lost it," Sohyeon says gravely. "If you say that, you'll be dethroned."
Her eyes go wide with shock as Sohyeon locks gazes with her in order to impress upon her the importance of his next request: She has to lie to the king. And since he knows how bad she is at lying, she has to be good at it just this once, or else they'll be in danger.
Eunuch Kim manages to track down Min-seo, who tracks down Seung-po so they can complete the mission Sohyeon gave them. In his letter, Sohyeon tells them everything, along with his suspicion that Kim Ja-jeom is behind the rumor mill considering that he knew Yoon-seo hid Ingguldai at the temple before helping him escape.
If Sohyeon was hoping to make Yoon-seo less nervous about lying, he doesn't do a very good job of it, since he tells her that they'll all die if she doesn't manage to pull this lie off smoothly.
Yoon-seo holds herself together for her audience with King Injo, and explains the absence of the hairpin as being due to her sending it to be polished before she was to wear it on Princess Jeongmyeong's birthday. At least she bought herself some time: fifteen days to be exact.
However, Injo knows she's just buying time, but not why—he thinks she's going to use it to get her hairpin back from Ingguldai, which Sohyeon is well aware of.
That's why he sent Seung-po and Min-seo to retrieve the hairpin from Kim Ja-jeom before Eunuch Kim, since doing so would be the only way to dispel Injo's suspicions about Yoon-seo.
Flash forward the fifteen days, and back to the scene of the crime. Seung-po and Min-seo don't want to believe that the headless corpse is Dal-hyang's, even though the body carries his identity tag as well as the prince's sword. Poor, loyal Pan-swe is beside himself with grief.
It's only after Dal-hyang's friends are dragged out of the room that Ingguldai comes to, with absolutely no recollection of what happened. In fact, he looks completely shocked to see a headless corpse he's supposedly responsible for.
The report that's given to Kim Ja-jeom is that Ingguldai murdered one of their own in a drunken stupor. Of course, Kim Ja-jeom isn't surprised, since he staged the whole thing.
The two musketeers (and Pan-swe) are left with a headless body, but can't confirm it's Dal-hyang without his head. They do find a letter on the body that makes them raise their eyebrows, a letter that Kim Ja-jeom has torn out of their hands before they're dragged out of the room.
Kim Ja-jeom identifies the letter to everyone as a secret missive from the prince (therefore proving it's Dal-hyang), while Ingguldai's men try to figure out whether their general really killed Dal-hyang.
Ingguldai vaguely remembers the look on Dal-hyang's face right before he swung down with his sword and murmurs, "I can't be sure I didn't kill him."
Tensions flare between the Joseon and Manchu parties when Ingguldai's room is searched for evidence, which he himself allows since he knows resisting would only cause more strife. But he's unprepared when they find the princess's hairpin among his belongings, since he certainly didn't put it there.
Pan-swe is the one to run to the prince with the bleak news that Dal-hyang has been beheaded by the Manchu, which Yoon-seo almost drops in on before Sohyeon locks her out to spare her from hearing it.
He reads a letter from Seung-po describing what's been happening in Anju: First, the letter found on Dal-hyang's body is a forgery—Kim Ja-jeom only wants people to believe it was written by the prince, since it describes Yoon-seo's affair with Ingguldai and how she gave him her hairpin. (No one's questioning how convenient this is?)
According to Kim Ja-jeom's version of events, Sohyeon had ordered Dal-hyang to find the pin, and when Ingguldai saw him searching his belongings for it, he killed Dal-hyang. He brandishes the uber-convenient letter and uber-conveniently-found hairpin, along with the prince's sword found on Dal-hyang's body that proves he was acting on Sohyeon's orders.
Seung-po describes all this as well as Kim Ja-jeom's urging that they all lie that Ingguldai killed Dal-hyang just because he was drunk, and how it's all bad news for them: Dal-hyang is dead and they can still use the hairpin to try and prove the salacious rumors about Yoon-seo and Ingguldai.
Kim Ja-jeom stokes the fire on his end, with the goal to have Ingguldai killed quietly in order to protect the royal family from an unnecessary scandal, when really he just wants to get what he wants done off the books before anyone can stop him.
Through the power of persuasion (and by everyone else having gnat-sized attention spans), Kim Ja-jeom is able to convince the minister who received Ingguldai and his party to go along with his plans to execute the Manchu general.
Seung-po and Min-seo are the only ones still speaking sense, only no one cares to listen—especially Kim Ja-jeom, who pulls rank on them since they're so far from the protection of their BFFAE Crown Prince Sohyeon.
This is also detailed in Seung-po's letter to the prince, along with his suggestion that the only way they can change the current course is to prove that Dal-hyang wasn't beheaded and that the whole thing was a sham. Even though they had to bury the headless corpse, neither he or Min-seo are fully convinced Dal-hyang is dead.
However, since they weren't privy to the whole Mi-ryung/Hyang-sun mystery like Dal-hyang was, Seung-po only knows that a woman named "Hyang-sun" drugged Ingguldai. When Sohyeon reads this, his expression goes dark and his fists clench around the letter—he's pissed.
After Sohyeon spins a lie to his wife about the news he just heard, Yoon-seo still finds herself unsettled. She can't stop scanning every part of her room, even as she packs up to head out of the palace while things cool down. Sohyeon knows she wouldn't be able to lie her way through another interrogation if she stayed.
At least he's there to see her off, and asks if she's nervous. She looks wistful and sad as she explains how she can't shake the feeling that she'll never return, causing him to joke that leaving was exactly what she wanted, wasn't it?
She knows it's true, but now seems sorry she ever said it. Sohyeon's smile fades as he assures her that her wish won't ever come true—she'll come back to the palace even if she doesn't want to. Aw, why is that oddly endearing coming from him?
Yoon-seo must think the same, since she doesn't want to tear her eyes away from Sohyeon as she's carried away. Before she disappears around a bend, she breaks out into a knowing smile through her tears, like she just realized her husband said what he did because he actually cares for her.
For being a supposedly secret execution, Ingguldai is brought to the market square rather publicly, earning plenty of public scorn from the people of Anju. He's been brought to the square in order to be beheaded for his rather vague crimes. Ingguldai bears the shame and the stoning without argument.
Disguised as a Joseon military official (never mind that enormous eyepatch), No-soo starts poking his sword through the floorboards in Ingguldai's room… and almost stabs a very much alive Dal-hyang hidden underneath, tucked next to the missing head of the poor devil they killed in his place.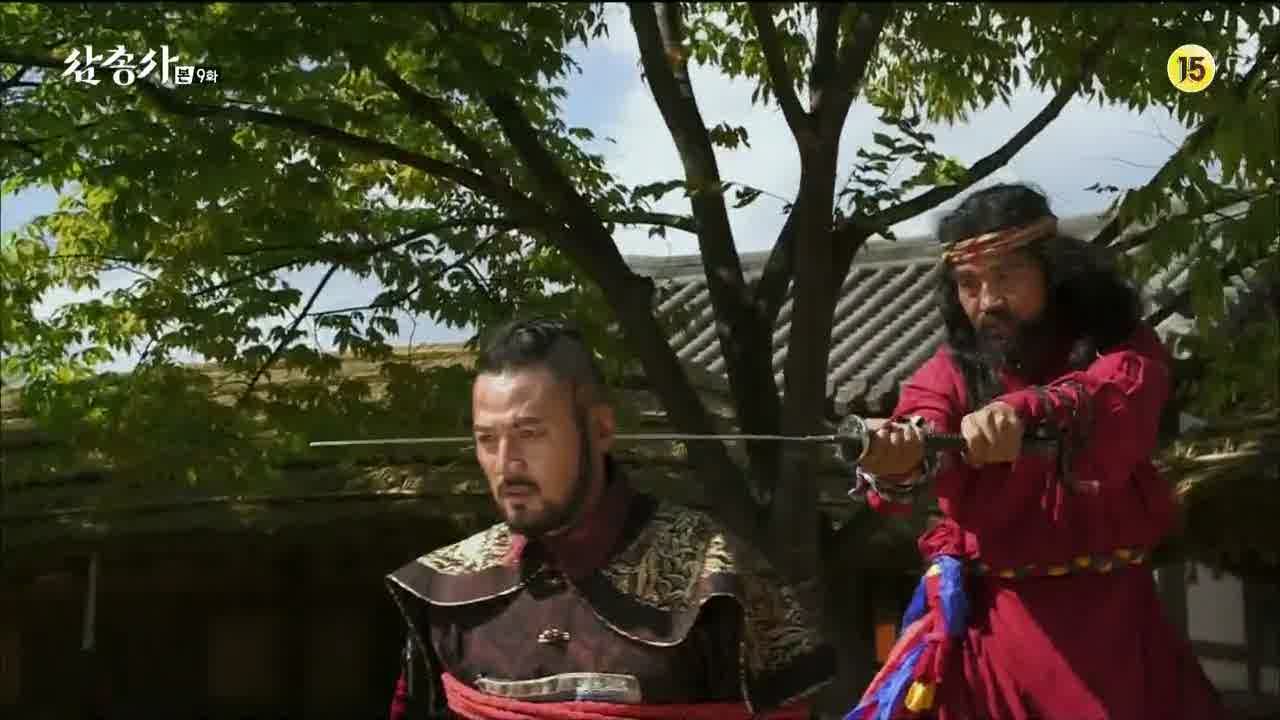 The executioner, who must always be loud and drunk, prepares to behead Ingguldai in front of all those gathered and prepares to make the killing blow…
…While Dal-hyang wakes up from whatever spell he was under only to realize No-soo is trying to actively kill him. No-soo stabs through the floor, Dal-hyang's eyes widen, and—

COMMENTS
…And? AND?! It's like this cliffhanger is making up for the past few non-life-threatening ones by going balls to the wall on high stakes and danger, which you won't hear me complain about outside of the usual "Why do I have to wait a week to find out what happens next?" kind. Which, admittedly, is a pretty good place to be in.
So we got an episode that was a little lower on the fun and shenanigans and higher on mystery and machinations, even though I wouldn't count those last two things as being any less fun comparatively—they're just a different kind of fun. And while Kim Ja-jeom's plan reeks of mustache-twirling simplicity, I have to commend the show for keeping us on our toes regarding Dal-hyang's whereabouts.
What I especially enjoyed is that we weren't taken for fools as to whether Dal-hyang was dead or alive, since we wouldn't have believed it even if the show had tried to convince us that body was actually his. Instead, it hinged on the mysterious circumstances surrounding Ingguldai's drug-fueled rampage, because while we knew that body couldn't be Dal-hyang's, we also didn't know why it wasn't.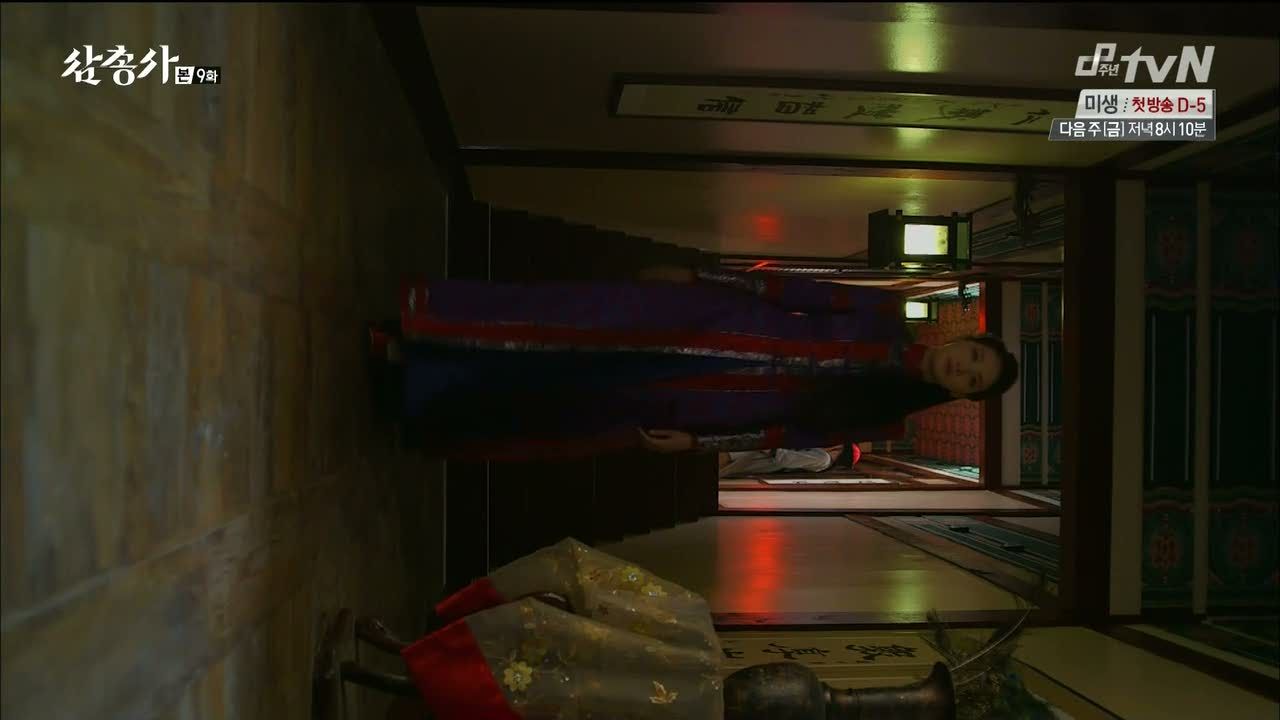 Whoever saved him went to great lengths to do so, and I'm inclined to think that it's Mi-ryung's doing, because whatever No-soo does now tends to be the opposite of what she wants. So if she is responsible for saving Dal-hyang's life, it'd make sense that No-soo wants to undermine her by actually killing Dal-hyang, since he's made his hatred of Mi-ryung and her womanly ways infinitely clear by now.
Mi-ryung's motives are murkier than ever, since last we saw her, she was all but comatose from heartbreak with one foot in the afterlife. There's a chance that she completely defected to Kim Ja-jeom's side, but also a likely chance that she's reverted back to being a double agent—she drugged Ingguldai like she was supposed to, but he was in no shape to pull a bait-and-switch with the bodies. Even so, whose blood splashed onto his face when he made the killing blow? Was Dal-hyang just injured and then replaced? So many questions, too many possible answers.
Speaking of character motivation, I suppose Kim Ja-jeom gets a pass because he's the bad guy and bad guys like chaos; so naturally, he probably still wants war like he's explained in previous episodes. This most recent charade felt more like a personal vendetta out of Joseon Villainy 101 than a calculated political maneuver, but it's not like Three Musketeers has ever been chock to the brim with enough brains to fill a zombie's wet dream, anyway. All that matters is that it has enough brains to give us a damn good time each week, and on that front, it certainly delivers.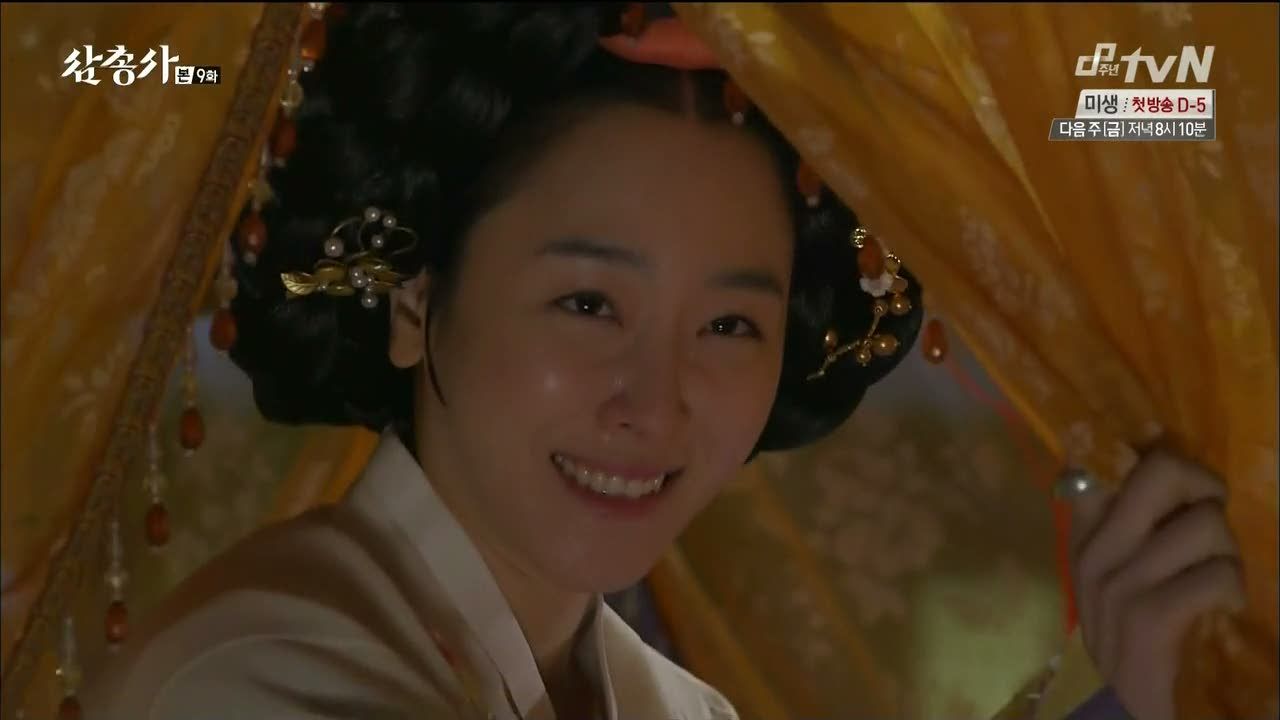 RELATED POSTS
Tags: featured, Jung Yong-hwa, Lee Jin-wook, Three Musketeers, Yang Dong-geun