51st Grand Bell Awards
It's time for the 51st Grand Bell Awards (Daejong Film Awards), the first of the major year-end award ceremonies, which celebrates achievement in film. There were actually a good number of big movies in 2014 to spread the love around, whether in box office numbers or critical acclaim, but the overwhelming theme seems to be: If you're at sea, there's a good chance you're taking a trophy home. The Admiral Lee Soon-shin blockbuster Roaring Currents was unsurprisingly the big winner of the night, though smaller critically-acclaimed films like The Attorney and A Hard Day scooped up the writing and directing awards. And the acting awards for Pirates: Bandits at Sea just goes to show that you can't underestimate comedy… as long as it's at sea.

WINNERS LIST
Best Picture: Roaring Currents
Director Award: Kim Sung-hoon (A Hard Day)
Screenplay: Yang Woo-seok, Yoon Hyun-ho (The Attorney)
Actor Award: Choi Min-shik (Roaring Currents)
Actress Award: Sohn Ye-jin (Pirates: Bandits at Sea)
Supporting Actor: Yoo Hae-jin (Pirates: Bandits at Sea)
Supporting Actress: Kim Young-ae (The Attorney)
New Actor: Park Yoochun (Sea Fog)
New Actress: Im Ji-yeon (Obsessed)
New Director: Yang Woo-seok (The Attorney)
Cinematography: Kim Tae-sung (A Hard Day)
Lighting: Kim Kyung-seok (A Hard Day)
Editing: Shin Min-kyung (God's Play)
Music: Mowg (Miss Granny)
Costuming: Jo Sang-kyung (Kundo: Age of the Rampant)
Art Direction: Jo Hwa-sung (Fatal Encounter)
Technical Award: Kang Tae-kyun, Yoon Dae-won (Roaring Currents)
Planning: Kim Han-min (Roaring Currents)
Lifetime Achievement Award: Jung Jin-woo
Popularity Award: Im Shi-wan (The Attorney), Kim Woo-bin (Friend 2), Honey Lee (Tazza 2)
Sohn Ye-jin took home the top honor for Leading Actress in the action-comedy-historical flick Pirates: Bandits at Sea, and she totally wins the red carpet too. She's in a bee-yoo-tee-fully cut dress that's white but hardly boring, and fits her amazingly. She's styled very simply but looks glowing in every shot, and effortlessly chic. I know it's impossible, but she makes it look like she rolled out of bed, pulled her hair into an easy chignon, pulled on her gown, and stepped onto the red carpet looking perfect. How is this done? What is your secret?
It goes without saying that Honey Lee is gorgeous; she is Miss Korea after all. But her high-low dress is confusing. She looks sleek and amazing from the front, but then there's a sneak cutout in the back. Long in the front, short in the back? What is it, a reverse mullet? I just wish the dress had stayed the same length all the way around. She pulls it off, but hell, what can't she pull off? (See: Strip-hwatu scene in Tazza 2.)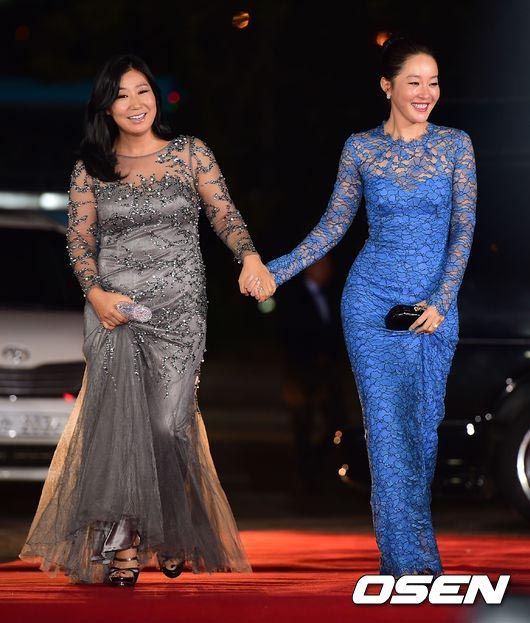 Aw, Hope costars Eom Ji-won and Ra Mi-ran arrived together, looking like a pair of besties out on the town. They were each nominated for Actress and Supporting Actress, and came wearing complementary blue and gray too. While neither look is spectacular alone, together they're eye-catching and adorable, and the pop of color makes me happy.
Jo Yeo-jung was nominated for her supporting role in Obsessed, and wears a frothy pink dress. I do love all the textures, and the way the bottom gathers around the floor makes it look like a puff of cotton candy that'll float away. But Jo Yeo-jung always wears frothy pink dresses, so this feels safe and standard for her. Sometimes I wish she'd venture out a little; she looks pretty, but there has to be a night when she isn't a pretty pink princess.
Her costar Im Ji-yeon picked up a New Actress trophy for her turn in Obsessed opposite Song Seung-heon, and at first I was confused by the mix of fabrics in her dress, but the more I look at it, the more I grow to like it. It's leather and lace, which sounds like it could be a dangerous combination (and in some shots the leather still weirds me out), but the overall effect is surprisingly sexy and elegant, because it fits her like a glove.
This dress is like every bride-meets-prom-queen number in existence, but Nam Bora (I Only Want To Love) looks so pretty in it. But I'd better not see you wearing the exact same thing in different colors all season long, ranging from white to pink to peach, ya hear me?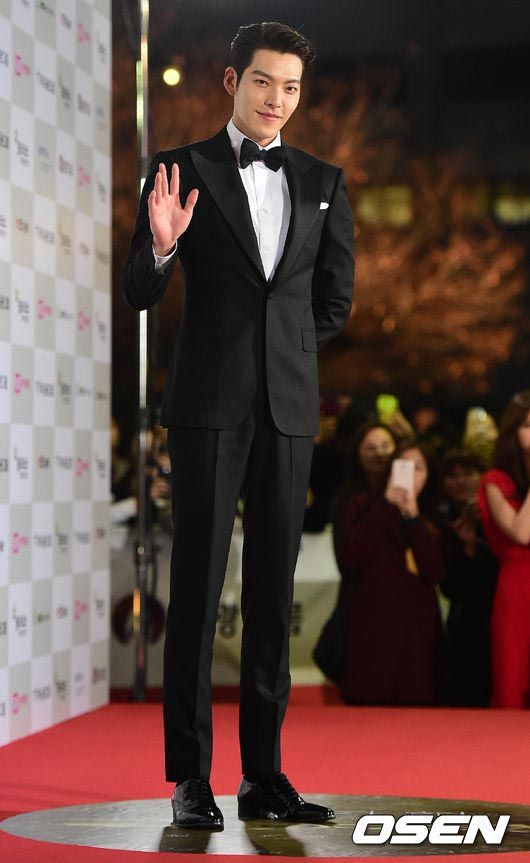 Kim Woo-bin, you were made for the red carpet. There's nothing better than a slim-fitted classic tux on a man with legs to there. He picked up a Popularity Award and has a zillion new movies on the horizon, which can only mean good things: more red carpets, more tuxes. Thank you, universe.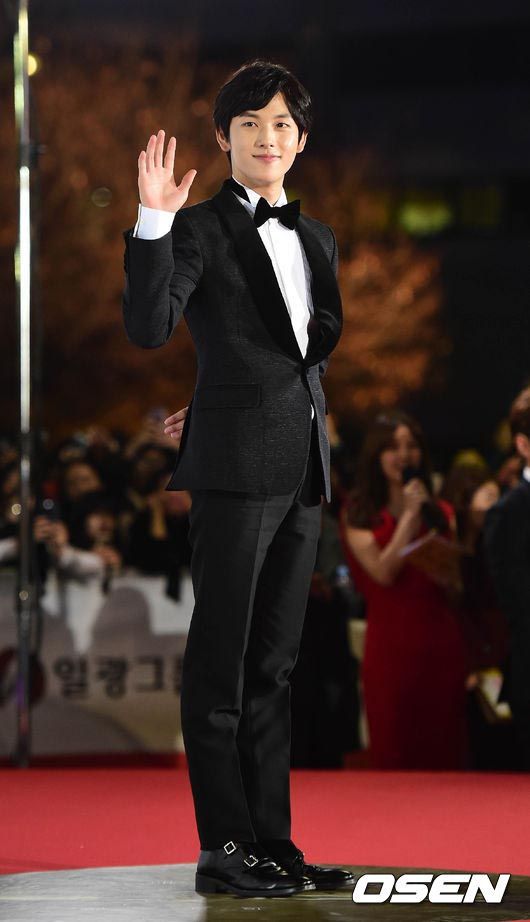 JANG GEU-RAE! Im Shi-wan might be the It Boy right now because of his small-screen hit Misaeng, but he also garnered a lot of praise for his movie The Attorney before that. He was nominated in the New Actor category and took home a Popularity Award, and looks cute as a button. I'm a little unsure of all the textures going on in the tuxedo jacket, but seeing him in anything outside of his purposefully ill-fitting suits in Misaeng automatically makes me grin.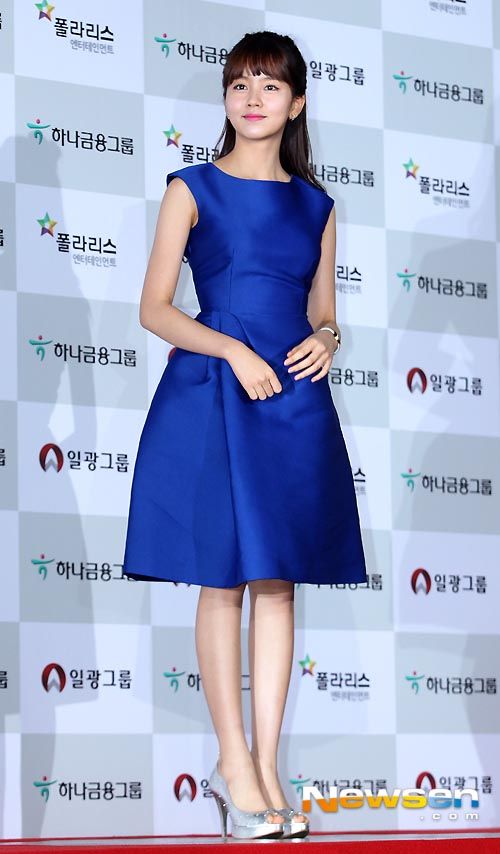 I love Kim So-hyun, and I love her blue dress. She's really one of the most talented actresses of her generation, and she grows in leaps and bounds with every new role. Her last drama Reset wasn't anything to write home about, but she was consistently great in it, and has a way of outshining her adult costars. Her look is a nice balance of grown-up and youthful, which is perfect because she's exactly in-between.
Look, it's her oppa-crush Yoochun (Sea Fog)! I adore this guy, but he almost always makes me go, What are you wearing?! Considering how un-styled he could be on a normal day, this is definitely a step up. (I actually like that he seems like a star who doesn't give a crap what he looks like, though sometimes you just want him to care a teensy little bit.) He looks happy and dapper, though I honestly dislike the bib-like three-piece suit vest and the lines it creates. But the real victory is the trophy he took home for New Actor, in his big-screen debut no less.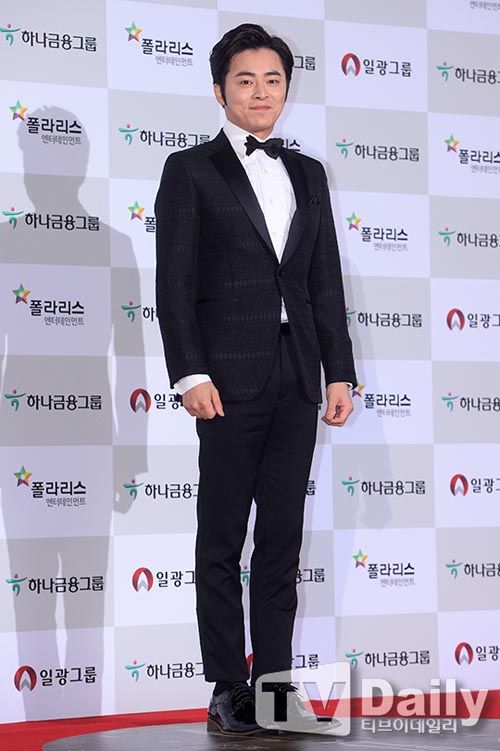 Jo Jung-seok's movie Fatal Encounter only won an Art Direction Award, but it's nice to see that he came out in support of it. He had two successful projects this year (including the rom-com My Love My Bride with Shin Mina), and it just makes me so happy that he's a big movie star now. He kind of looks like he's willing himself to look taller in photos, which only does the reverse, but it does make me go, Awwwww.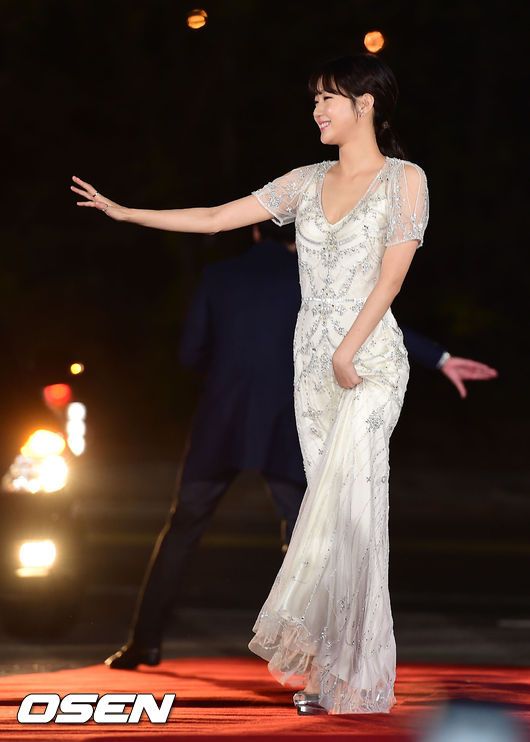 Kim Go-eun (Monster) wears a beaded gown that I really like. It's not the most flattering cut ever, but it's the kind of dress I'd immediately want to try on. The beading makes the dress look sophisticated, and she actually manages to make sleeves look not-weird, which is a feat in and of itself. It's the effect I envy the most — effortlessly pretty.
Chun Woo-hee was nominated for Lead Actress in Han Gong-ju, and is enjoying a surge of critical praise for her dramatic turn. Her dress is a lovely shade, but I don't like the cut of it at all. The lines are unflattering, and I wish she'd put her hair up. In some angles where it looks like the dress might be asymmetrical on top, it looks so much better. I just want to run up to her with a pair of scissors and some bobby pins. Five minutes is all I need!
Hwang Geum-hee (My Sister) used to have a different stage name, back when she was on the awards circuit with Bedevilled (2010). She never looks like she's not in Dynasty cosplay. I know that the dress would be snoresville without the lace shrug thingy that's attached to the top, but still… WHY.
Is it the attack of the sleeves? What is going on tonight? Jang Young-nam (International Market, Pinocchio), you're great and I love you, but what the hell is happening above your waist there? This combination of sleeve, neckline, and dress fabric just makes me appreciate Im Ji-yeon's gown even more now.
I like that Jo Min-soo (Law of Attraction) went for a more youthful look, because frankly she can carry it, and I don't want to see any more matronly sleeve action happening tonight. The fit is flattering, but the polka-dot pattern is strange, and I wish she'd picked a flashy color instead.
Jung Jae-yeon (Polaroid) wears a safe black halter. It's just a dress I've seen a million times before, so it leaves no impression, good or bad.
Could Kal So-won be any cuter? She blew me away with her acting in last year's hit movie Miracle in Cell No. 7, and I love that she's carrying a matching purse even though she clearly has nothing to carry inside it.
Kim Hyang-gi was nominated in the New Actress category for her role in Elegant Lie, and she's another child actress who's really coming into her own. She looks festive and sweet, and adorably Christmasy.
Choi Jin-hyuk, on the other hand, looks like a lounge singer in red velvet. He was nominated for New Actor in God's Play, and looks so eager to be here. I just want to tear his jacket off (No, not like that! …Okay, a little like that) and pour a bottle of mousse into his hair to get it out of his face. Help me help you!
Choi Min-shik took home the top prize for Lead Actor, for his epic turn as Admiral Lee Soon-shin in Roaring Currents. He was a shoo-in, naturally, not that Park Hae-il, Song Kang-ho, Kang Dong-won, or Jung Woo-sung are anything to scoff at. But who's gonna beat Lee Soon-shin? This is a three-piece suit that I like, though I'd like to fix the pants and change the shoes.
Kim In-kwon was nominated as Supporting Actor in God's Play, and shows up looking polished and dapper, a surprising change of pace from the comical image he carries onscreen. I find the black buttons on his shirt adorable, who knows why.
Lee Hee-joon has had a solid year in both film and TV with Sea Fog and Yoona's Street, and arrives looking handsome in a classic tux.
I'm not sure if it's the Lee Jung-jae Effect, but he looks good, even wearing a velvety jacket with blobular patterns all over it. I don't even understand how, but he does. It's out there, for sure, but the cut of the jacket is actually really flattering, and the pattern is weird but also kind of hypnotizing. I don't get it. I swear, it's ugly… and yet, he looks hot.
Oh Gwang-rok (My Sister, High School King of Savvy) has the best mad scientist hair. I want to sculpt it into shapes.
Oh Yoon-ah (You're All Surrounded) is gorgeous, but the dress is trying to do too many things. It's a flattering cut, but I feel like it's warring shapes, and overall forgettable.
Park Hae-il! You lovely man, you. He was nominated for Lead Actor in Whistle Blower (The Informant), and wears his usual clean-cut look.
Spring costars Park Yong-woo and Kim Seo-hyung arrived together, and though it's not the most inventive dress, it's a nice splash of color on her.
Seo Eun-ah (Act) — meh. Boring dress in a boring color.
Sohn Dam-bi (What's With This Family), tell me the truth — is the bottom of your dress made from a fishing net? Why does it look like she covered up an idol's stage outfit with some extra netting and cinched it at the waist for the final touch? It's not even like she gets a sexy wow-factor like Honey Lee's surprise leg from behind. Here, it's just covered up but not. Like a whole dress, but not.
MCs for the night Uhm Jung-hwa, Oh Man-seok, and Shin Hyun-joon arrived together. Uhm Jung-hwa never strays from her fitted black dress code. This one is okay, but I don't love the bustier-empire-waist combo, which then opens up to a giant slit in the front when she walks down the red carpet. I've seen her in better silhouettes, though you can't argue with her brand of va-va-voom.
Yang Dong-geun (Three Musketeers), I want to rip that goatee off of your face and take you out to buy a suit that's fitted. Come on, it'll be so fun!
Ah, Yeo Jin-gu (Hwayi). Future heartbreaker and current scene-stealer. He looks so dashing already; what will we do when he's all grown up?
Yoo Hae-jin was in THREE nominated films this year (Tazza 2, Pirates, Obsessed), and takes home a trophy for Supporting Actor in Pirates. I love it when the funnyman wins.
Yoon Ji-hye was hilarious AND badass in Kundo: Age of the Rampant, for which she was nominated as Supporting Actress. The dress is meh — the asymmetrical shoulder ends up looking like a sash — but it's her symmetrical hair that bothers me more.
Ahn Jae-hong was nominated in the New Actor category for his comedy Jokgu King, which might explain the bizarre poses. At least… I HOPE that explains it, because otherwise someone should stop giving him drinks before red carpet events.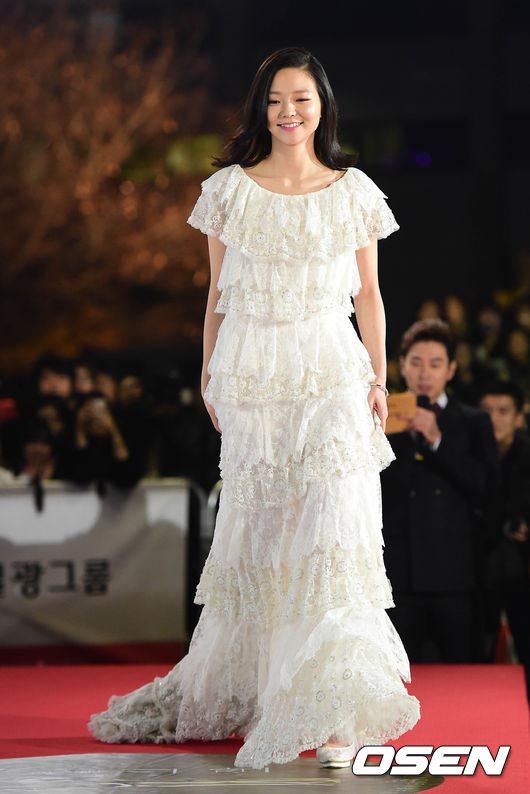 Oh. No. Esom was nominated as New Actress for her movie Madam Bbeng-deok, opposite Jung Woo-sung. She's a beautiful young actress, so I have no idea why she's wearing a frilly layer cake tower of doilies as a dress. It's not only shapeless, but it reminds me of my grandmother, and my very first sewing project that went terribly awry.
And yet, there's a dress that's worse, if you can even call it a dress. Han Se-ah (Affair) thought the red carpet would be a great place to show the world her underpants, apparently. Even if that was just a faux pas, the dress itself is amazingly, astoundingly bad. I'm going with: mistress of bondage who escaped from a kidnapping during which most of her dress got torn off. But mostly, all I see are your UNDERPANTS. NO. Just, NO.
RELATED POSTS
Tags: awards, Choi Jin-hyuk, Choi Min-shik, Chun Woo-hee, Eom Ji-won, Honey Lee, Im Ji-yeon, Im Shi-wan, Jang Young-nam, Jo Jung-seok, Jo Min-soo, Jo Yeo-jung, Kim Go-eun, Kim Hyang-gi, Kim Seo-hyung, Kim So-hyun, Kim Woo-bin, Lee Hee-joon, Lee Jung-jae, Micky Yoochun, Nam Bora, Oh Man-seok, Park Hae-il, Park Yong-woo, Shin Hyun-joon, Sohn Dam-bi, Sohn Ye-jin, Uhm Jung-hwa, Yang Dong-geun, Yeo Jin-gu, Yoo Hae-jin, Yoon Ji-hye