Bad Guys: Episode 6
A kidnapping grabs everyone's attention in this hour, calling each and every member of Team Crazy Dogs to work together to prevent an impending war in the underground if word gets out. Yet at the same time, our crew will need to pay attention to internal issues as well because a hidden truth rears its ugly head, leading to a few tense relations among our criminals.
And they were just starting to get along with each other. Okay, okay—starting to not bite each others' heads off at any given moment. It always seems like two steps forward and one step back with these three.
SONG OF THE DAY
TOP & Taeyang – "Friend" [ Download ]
Audio clip: Adobe Flash Player (version 9 or above) is required to play this audio clip. Download the latest version here. You also need to have JavaScript enabled in your browser.
EPISODE 6: "Desperate Chase"
Boss Lee gives Woong-chul one last chance to change his mind about killing Jung-moon. But Woong-chul says nothing, and then it's time to go.
Tae-soo tries calling his buddy Hyun-woo as soon as he's released, only for his call to go unanswered. Hyun-woo turns to the elderly pawn shop owner, who says they'll need to strike Tae-soo first before he does.
On the van ride over to his burial, Woong-chul puts a disrespectful hoobae in line by regaling everyone in an embarrassing story about the thug's earlier days. It successfully riles up the gangster's temper, but that's exactly what Woong-chul wanted, as he kicks and punches him and the other guys in the van.
As Woong-chul strangles the driver, the van swerves out of control and crashes into a pole. Boss Lee remains calm, however; he reaches for a golf club in his trunk, marches up to the van, and then hits Woong-chul over the head with it.
Meanwhile, Team Crazy Dogs has been keeping an eye on Woong-chul's GPS location (which had finally appeared again) after picking Tae-soo up from the police station. Once they finally have a lock—a mountain—they gun it.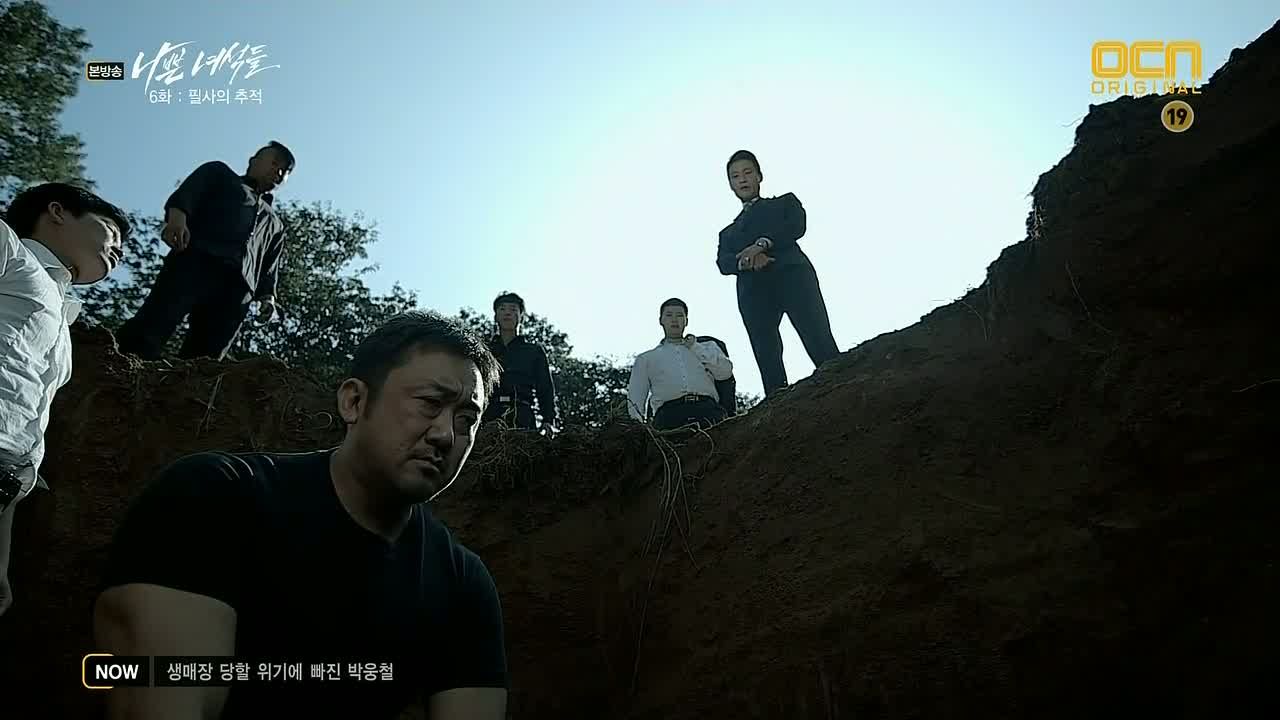 We get a brief flashback to when Boss Lee received the order from an unknown man with the specific stipulation that Woong-chul carry out the hit on Jung-moon.
Despite his conflicting feelings about burying one of his own, Boss Lee tosses the ring Woong-chul had once given him into the pit along with Woong-chul, who holds onto it tightly, before telling his boys to put him six feet under.
Team Crazy Dogs arrives at the base of the mountain moments after Boss Lee leaves in his car, where he breathes deeply hoping that his decision won't have any serious repercussions.
So when the gangsters file back into their van, they find Goo-tak already waiting for them. Tae-soo engages the thugs in a fight, taking them down with a shovel. Then Goo-tak grabs one of the gangsters and demands to know where Woong-chul is. He's told that Woong-chul should consider himself lucky today, but that vague answer earns him a punch.
Speaking of whom, Woong-chul manages to pull himself out of his own grave. As he struggles for air, a phone beside him rings—it's Boss Lee, who tells him to leave with Team Crazy Dogs who are on their way to pick him up.
Even if the details of how Woong-chul's life was spared is unclear (maybe the dirt wasn't very packed?) the important thing is that he is alive, and Woong-chul asks why he was buried in the first place if he was going to spared anyway.
But Boss Lee corrects him—the Woong-chul he once knew is now dead, so Woong-chul should remain out of his sight if he wants to live. Woong-chul is overcome with emotion as Boss Lee sighs at how his gangster dongsaeng has turned back to the light again.
Before Boss Lee can hang up, however, another car swerves and abruptly cuts his car off. Oh crap, these guys work for that mystery man, don't they? So Woong-chul is still on the phone, listening helplessly on the other line while Boss Lee watches his driver get stabbed and takes matters into his own hands.
Unfortunately for Boss Lee, there are no car key or weapons at his disposal, and when the men break the window in, Boss Lee retaliates with the broken knife handle. For a minute there, the gangster boss seems to hold his ground, but the men beat him down to his knees using bats.
Boss Lee recognizes the leader of the pack, but he's hardly surprised, asking if his mob boss put him up to this betrayal. That's as far as he gets, however, because then the mobster delivers a blow to his head, rendering him unconscious.
The call disconnects just then, much to Woong-chul's shock and confusion. Believing Boss Lee to be kidnapped, Woong-chul can barely keep it together, then swallows his pride to make an earnest request for Goo-tak's help on finding Boss Lee. When asked why ("Because he let you live?"), Woong-chul replies, "Shouldn't people be given at least one shot at living a decent life?"
Mi-young is against the idea of saving gangsters, but Goo-tak counters that they must, or else the Seoul mafia underground will be thrown in disarray. So they must rescue the mob boss to prevent an even worse consequence, which has a ring of bittersweet irony in their field. Woong-chul is sure that Boss Lee's abductor is likely someone who knows the mobster quite well.
As for Boss Lee, he wakes up in the trunk and his muffled yells go ignored.
Back at the church, Goo-tak pieces the last words from Boss Lee's mouth to theorize that a mutiny has taken place in the mafia underground. There's a good chance one of the neighborhood gangster bosses are behind the act, and the only way to know for sure is to ask them in person.
It's important that Boss Lee's kidnapping remains under wraps, lest a full-out war breaks among the groups to become the new head honcho. So they organize a mandatory meeting with Woong-chul appearing on Boss Lee's behalf. And boy, does Woong-chul clean up nicely.
Goo-tak believes that the neighborhood bosses will bring their right-hand men with them, apart from one, who likely has to stay behind to keep watch on Boss Lee. And once Woong-chul figures out who's the odd one out, that'll be their man.
Woong-chul's memory of the mafia family hierarchy is still sharp as ever, and narrows the pool down to six bosses who are either new to the family or the kidnapper. The men are impatient to hear what Boss Lee's message is for them, and are up in arms to hear news of a tax hike.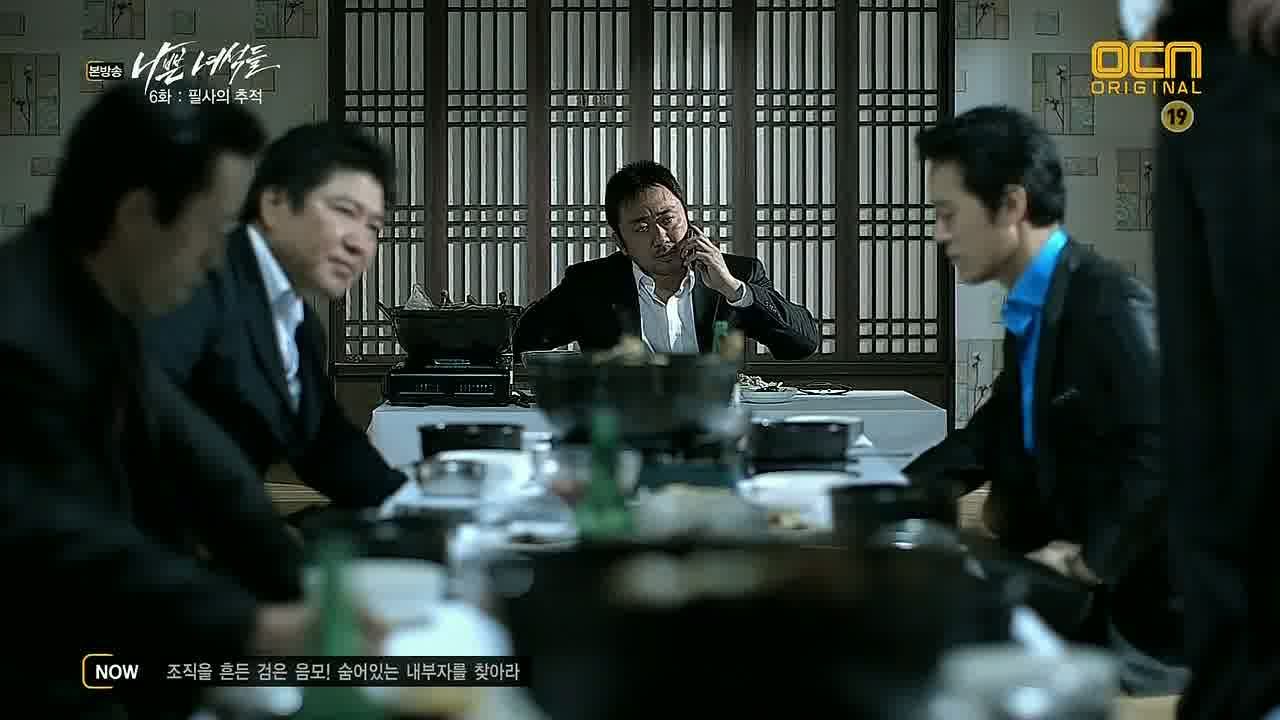 This, of course, is all part of the plan to read the room's reactions, because whereas the others will believe that this is a real order, Boss Lee's kidnapper will know that it's false and remain calm.
And that's exactly what Woong-chul does, narrowing down the list again according to the gangsters' heated reactions to four bosses. He makes a call to his boss—ha, it's Goo-tak, who tells him that you can read human emotions through their facial expressions: expectation that the other person might listen to them, rage fueled by who will win in this battle, passivity to accept the situation, and lastly, cynicism and distrust from someone who sees past the bluff.
One Boss Sohn Moon-ki falls into that last category, and Woong-chul confirms that his right-hand man didn't show up to the meeting, either. A minion would never be left to his own devices to finish such an important job, so Woong-chul guesses that Boss Sohn will be in touch soon.
And when he does, Mi-young is there to tap into the phone conversation and learns where Boss Lee is being taken. Thus begins Operation: Rescue Boss Lee, where Goo-tak and Mi-young will keep Boss Sohn occupied and our criminal trio will retrieve the gangster boss.
Tae-soo wonders if being outnumbered in the field will be too much for the middle-aged detective, but Goo-tak is always prepared and quickly checks in with Prosecutor Oh before heading inside the nightclub.
One gunshot in the air and another to a thug's leg is enough for the other hoodlums to back off warily. Goo-tak then sits down with Boss Sohn, and when the latter claims that he's stopped drinking, our alcoholic detectives looks surprised, all, Why would you stop drinking this deliciousness? Hehe.
Goo-tak keeps the mobster boss talking long enough for Mi-young to receive a call (from our criminals?), then he comes right out with it about Boss Lee's disappearance. He knows that Boss Sohn plans to oust Lee and take over the mafia world for himself, but his hunting dogs are already out looking for the missing gangster.
Our criminals arrive at the storehouse, where Woong-chul asks Tae-soo if he doesn't have some kind of implement on hand to fight the baddies this time. Ha, I love that nod to the idea that Tae-soo nearly always uses something in his fights. It's sweet how Woong-chul worries about Jung-moon too, but no worries—he's come prepared.
But it turns out the designated storage space is empty, and as soon as Woong-chul relays the outcome to a surprised Goo-tak, he and the other two are approached by more gangsters… looking for Boss Sohn.
All it takes is a second for Woong-chul to register that Boss Sohn's right-hand man Dong-shik is leading his own mutiny. Or that he's been the brains behind the entire operation all along.
Tae-soo sighs that their really is no such thing as loyalty among gangsters, to which Woong-chul replies, "Loyalty? There was never any," before charging at the men—looks like they're gonna have to fight their way out.
The three of them kick and punch their opponents down, and at one point, Tae-soo's ringing phone gets knocked out of his hands. It's Hyun-woo on the other end, whose call goes unanswered because Tae-soo's phone is now broken. Hyun-woo is armed with a gun, and the elderly pawn shop owner says it's time to initiate their plan.
Jung-moon takes out one last gangster trying to reach Dong-shik with his stun baton, then Woong-chul picks up the phone to tell Dong-shik that his entire plan is pointless—there's no way he'll be able to take over Seoul by eliminating Boss Lee. Plus, he's already taken out his boys. Hahaha.
But Dong-shik won't give up that easily and tells his thugs that they'll do away with Boss Lee first, then he's leaving the country.
Inside the truck, Boss Lee gives up his struggles. His eyes fall upon his driver's cell phone which he took before being attacked, and his thumb hovers over the emergency dispatch number.
Boss Lee makes the call, and while Woong-chul guns it to meet up with the car, Goo-tak stays with Boss Lee on the phone to identify the car he's trapped in. All Boss Lee remembers is that he's in a black car with a roomy trunk, but he adds that there are three men who kidnapped him.
Woong-chul catches up in no time, but a black sedan is too vague of a clue. Goo-tak asks if there's an internal trunk release, but there is none, which means it's an older model. He tells Boss Lee that there is another way to open the trunk, but warns him against jumping out of it and advises him to expose his hand instead.
Boss Lee is growing impatient, and so Goo-tak gives Woong-chul on the other line the heads-up to watch for an open trunk soon. Too bad the manual release doesn't work, and then Jung-moon says the gangster can kick the taillight out.
Goo-tak has to scream to get Boss Lee's attention and relays the instruction to him. It works, and now our trio surveys the roads to look for the black sedan with a missing light. But the gangsters are notified of the missing light too, and make a sharp turn to lose their pursuers.
When the van is unable to move past the other stopped cars, Jung-moon hops onto a nearby motorcycle to resume the chase. When he gets close enough, he smashes the car window with a bat, forcing the car to swerve to the side of the road. And damn, would you look at that glory shot of Jung-moon, who oh-so-casually opens the trunk for Boss Lee.
Let's not forget that there's a hit order on Jung-moon's head, so Boss Lee grabs a knife and follows a few steps behind of Jung-moon. There's another flashback to Boss Lee asking the mystery man whether he must kill Jung-moon and Woong-chul himself if Woong-chul fails, so Boss Lee comes at Jung-moon with barely a second's notice.
The first strike cuts Jung-moon in the arm, and Boss Lee growls, "Only you have to die," as if killing Jung-moon will be enough to spare Woong-chul's life.
Jung-moon whips out his stun baton in defense, but that's when Woong-chul arrives to stop this fight from taking place. Woong-chul pulls Boss Lee away and then grasps the knife in order to prevent Boss Lee from using it. His hand bleeding, Woong-chul asks what Boss Lee is doing to the man who just saved his life.
"It wouldn't have come to this if you'd killed him in the first place," Boss Lee grits out. Woong-chul tries to appeal to Boss Lee to stand down. And then Boss Lee lets go of the knife.
But Jung-moon has overheard that statement of Woong-chul's order to kill him, Woong-chul's strange entrance and behavior at the church after his disappearance now coming together in Jung-moon's head. You can almost see the inner rage burning within him. But… but… Woong-chul also kept you safe, too!
After expressing his gratitude towards Goo-tak, Boss Lee warns Woong-chul that betrayal always stabs from behind.
Maybe Tae-soo's phone isn't broken after all, seeing as he tries to call Hyun-woo, only for it to go unanswered. Jung-moon cuts right to the chase and asks Woong-chul who called the hit on his head.
But Woong-chul doesn't know who it was, so Jung-moon decides to ask Boss Lee himself. I should also note that this exchange takes place while Mi-young and Goo-tak are still in the room, so I guess the whole "Kill Jung-moon" order is now public.
Mi-young has a question of her own, however: Goo-tak had claimed that the dispatcher transferred Boss Lee's call to him, but it turns out that the gangster boss directly called Goo-tak himself. How do they know each other exactly? Oooh, the relationships thicken.
When Goo-tak doesn't answer, Miyoung takes her suspicions to Commissioner Nam, who in turn asks if she's still curious as to why Goo-tak selected those three criminals for Team Crazy Dogs. Well, yes, we'd like to know that answer too, if you please.
Then Commissioner Nam puts Mi-young in her place by explaining to her why there are ranks in the police force—so that one knows, sees, and behaves according to their rank. "Isn't that right, Inspector Yoo Mi-young?"
There's a threatening air to those words, and Commissioner Nam knows that Mi-young is biting her tongue in front of her superior despite her desire to protest. And in the police commissioner's usual habit of speaking in metaphors, he tells her that a master doesn't die when a dog bites him. So she's better off waiting until the master's dying moment to bite, and earn a little praise for herself until then.
What follows is a long montage of our team: Goo-tak recalls how Boss Lee had called him himself from the car's trunk; Jung-moon attends to his stab wound in his jail cell, thinking of the kill order; Woong-chul thinks of Boss Lee's final advice about betrayal and Jung-moon's icy words to find out who wants him dead; and Tae-soo crumples up the photo of Jung-moon and tosses it away, thinking of the latest hit order he received.
"Who is it? Who's the one that's been wanting to kill you for the past two years, Jung-moon?" Tae-soo thinks to himself.
The next time Team Crazy Dogs is in the van together, Goo-tak brings up the elephant in the room between Jung-moon and Woong-chul, asking what happened the day they rescued Boss Lee. He doesn't accept Jung-moon's denial as an answer, saying that you could cut the tension between them with a knife.
To be more exact, Goo-tak says there's a knife in the air between them, an observation Jung-moon agrees with. When Tae-soo steps out of prison to join his team, he's told that they've found the elderly pawn shop owner he's been looking for.
Tae-soo has a smile on his face as he walks down the hallway, mentally preparing himself for this meeting. He opens the door… to a morgue. Omg, is the man dead?
He takes a moment to collect himself before walking up to the covered body on the slab, and slowly pulls down the cover to reveal the pawn shop owner's face.

COMMENTS
Ohhh, was it Hyun-woo? We know that he was armed with a gun and knew that the elderly man wanted to harm Tae-soo—what could have transpired between when we saw them both last to the present? Could fierce loyalty for his friend been enough for Hyun-woo to endanger his future happiness or was it someone else entirely? The mutual frenemy Jong-seok, perhaps?
We could keep guessing about this topic from now until next Saturday, but in the end, the pawn shop owner's death consequently robs Tae-soo of the chance to question him on answers about Sun-jung. In a world where nearly every name-dropping moment is important, even the minor characters play a pivotal role in learning about our main characters' pasts. What's more intriguing is the interrelationships between these characters as more layers are peeled back and we're seeing more of the past coming to the forefront.
In that sense, I like that we have Mi-young calling Goo-tak out on these eerie coincidences, like how Boss Lee thought to call Goo-tak personally. On one hand, it isn't that surprising since mob bosses and police could know each other through a few law-breaking run-ins, and yet Goo-tak barely blinked a surprised eyelash when Woong-chul asked for his help to rescue Boss Lee, either. Even more mysterious is the one whom Boss Lee took the kill order on Jung-moon from, who has now put an order with Woong-chul and Tae-soo. Something tells me that it's more complicated than a straightforward revenge plan of "eliminate the serial killer who killed someone I hold dear." What a complicated web of relationships.
At least the hit on Jung-moon is now public knowledge even if they don't know whose order it is. It's a bit heartbreaking that this now drives a wedge between Jung-moon and Woong-chul's working relationship, though it does count for something that Jung-moon is mostly interested on the mystery identity who ordered Boss Lee to have Woong-chul kill him. What is he going to do when he learns that Tae-soo's been placed on that killer-for-hire waiting list, too?
I really did enjoy how Boss Lee's kidnapping placed the spotlight on how deep Woong-chul and Boss Lee's relationship goes—that Boss Lee would spare Woong-chul's life and give him the chance at living a normal life, all the while risking his own to finish the job. The mutiny reveal was well-done as well, since we were led to believe that one man was behind the kidnapping, only to find out that someone else launched the abduction. Seeing Woong-chul's observational skills at work was also pretty nifty, since I'd find it hard to believe that Woong-chul moved up the gangster ranks with his fists alone—he'd need to know how to read people, too.
Now that we've hit the halfway point, we're due for some rifts within our team members, if not now then in the near future. I wish that we'd seen more teamwork at play before we hit this point, but they've also made some strides together as well, seeing as our criminal trio can fight alongside each other without bickering and even worry about each other's injuries. Just remember, guys—emotional wounds cut deeper and last longer than physical ones, so don't let those turn into permanent scars.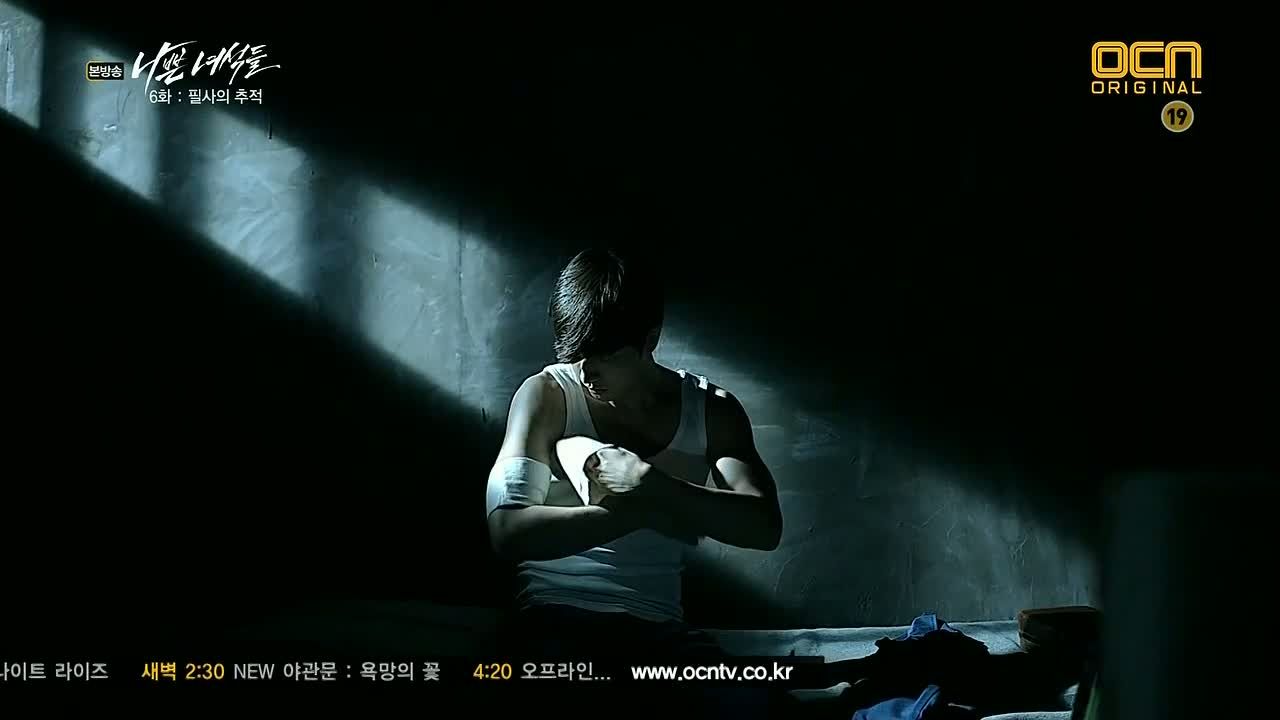 RELATED POSTS
Tags: Bad Guys, featured, Jo Dong-hyuk, Kang Ye-won, Kim Sang-joong, Ma Dong-seok, Park Hae-jin