Cantabile Tomorrow: Episode 11
Ah, get your hearts ready for warming. It's a great episode for friendship and growing up, and well-paced in the way it guides several of our main characters on their individual paths of growth so that they dovetail nicely. It's a nice way to depict the interconnectedness of these lives, and how they all grow stronger to buoy each other up, and how that personal strengthening then enables them to pay it back, and maybe also forward.
SONG OF THE DAY
Fauré – "Sicilienne" Op. 78 [ Download ]
Audio clip: Adobe Flash Player (version 9 or above) is required to play this audio clip. Download the latest version here. You also need to have JavaScript enabled in your browser.

LESSON 11 RECAP
Yoo-jin's mother hears that her ex-husband is on his way to see Yoo-jin's performance. Knowing that Dad's presence is bound to mess with Yoo-jin, she decides to prevent his attendance, no matter what.
With several hours till showtime, both Yoo-jin and Nae-il have dress rehearsals to attend. But when the gang drops by the dressing room to check on Nae-il, they find that she's locked herself in the room and is refusing to perform.
Yoo-jin connects the dots, thinking of Nae-il's outburst about being pushed to play, and asks for some privacy. Once alone in the hallway, he speaks through the door to Nae-il, who's huddled and shaking inside.
Yoo-jin explains that he understands now why she was in such an unusually good mood today—that today would be the first time they're standing on the same stage, even if it wasn't in the same performance. He adds gently, "If it's still too early for you to stand onstage, if that's why it's difficult for you to perform, then today, it's okay if you stay where you are. Until you want to open the door, I'll wait."
Nae-il opens the door, and Yoo-jin joins her inside. She asks, "What if they're disappointed?" He asks who she means, and she says, "The people who have expectations of me, who like me, If I can't play the piano and win first place, they might hate me."
Yoo-jin assures her, "There's nobody like that here. Nobody will hate you or turn away from you because of the piano. If you don't want to, you don't have to do it."
Yoo-jin adds that it's okay if she isn't ready yet, and promises to wait for her until she is. She looks up at those words, feeling them.
He heads out of the room to inform the school that the duet is off, and runs into Yoon-hoo, who is more determined than ever to suffer out his pain to put in one last performance. His desperation makes him bullish, so that even when Yoo-jin says that Nae-il is in no state to perform, Yoon-hoo insists on doing it anyway.
That angers Yoo-jin, since Yoon-hoo is essentially threatening to force Nae-il onstage: "No matter what happens, I have to perform this today with Nae-il." I understand that he's not in the right frame of mind to think of someone else's pain right now, but he certainly does come off as an ass.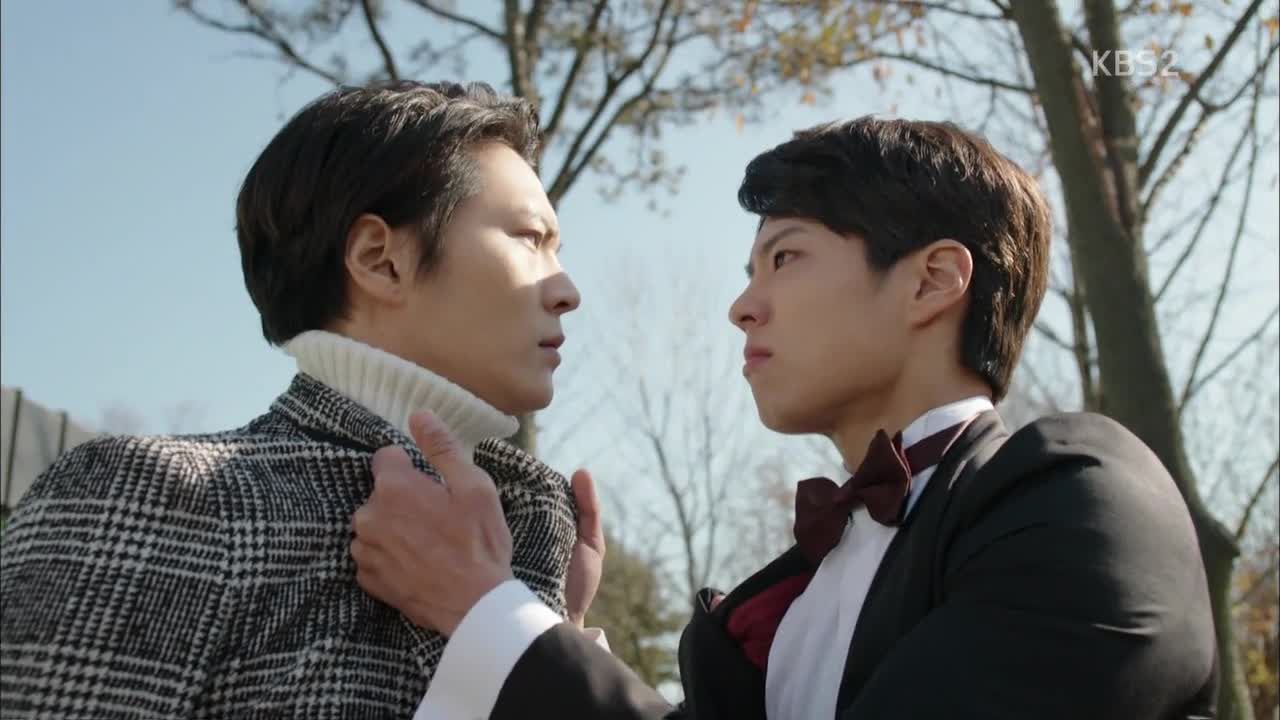 Yoo-jin tries to tell Yoon-hoo to at least ask rather than coerce, but Yoon-hoo is inflexible and hostile. But then Yoo-jin notices that he's favoring his shaking left hand and understands that he's in no shape to play.
Yoon-hoo grits out, "I can, through today." It isn't convincing and Yoo-jin insists that the duet must be canceled, arguing that if Yoon-hoo's on meds and still feels that much pain, things are quite serious. Yoon-hoo tells him not to butt in, and the boys end up grabbing each other's shirtfronts, glaring at each other. No, don't fight! Gaksital saved your life! He's your hero!
Yoon-hoo says with pained eyes that he's held on this long, and says that he began on cello at the age of three, and it's been his friend for twenty years. If he gets nerve surgery, he has almost no chance of playing again, and even if he were somehow able, it would take ages to work his way back. And so, today is the day he says goodbye to his friend of twenty years; the duet is his funeral song.
Yoo-jin takes in the words, but he's never been one to coddle; he gives Yoon-hoo a dose of tough love, saying that if he were the one facing that fate, he'd spend his time having his injury treated rather than working it to death for some funereal finale. And he'd work his way back to performing, no matter how hard.
Yoon-hoo sees starting over from a three-year-old's level as an impossible task, but Yoo-jin says that if he loved something, he wouldn't give it up. He guesses astutely that Yoon-hoo's reaction is born of a fear that he won't be able to come back—and thus he's running away.
Nae-il wrestles with her own fears, at which point a child's voice pipes up: "Running away would be easier." It's Little Nae-il, who cautions, "If you leave me now, it'll be harder for you. You'd have nowhere to run away to."
Nae-il understands this, but explains that Yoo-jin is going to wait for her—so she can't make him wait while living as her child-self, in development limbo. Little Nae-il holds out a hand in goodbye, and Grown-up Nae-il shakes it and then pats Little Nae-il on the head, bidding goodbye to her inner child.
Yoo-jin hears that Nae-il has decided to proceed with rehearsals and hurries to the auditorium just as she's sitting down at the piano. He asks if she's okay, and she asks to hold his hand again, visibly calming at the touch and calling it his healing hand. She tells herself that it's not such a big deal after all and asks him to sit in the audience.
As Yoon-hoo heads to rehearsal, his doctor's warnings ring in his ears, that the longer he puts off surgery, the more he endangers his recovery. He'd been asked whether this one performance was worth losing his hand over.
Onstage, Nae-il thanks Yoon-hoo for letting her play this song with him (Fauré's "Sicilienne"); she's poured her feelings into the performance, and to her it symbolizes a new beginning. "Of what?" he asks. She replies, "Of anything. I feel like I can do anything."
They begin playing while Yoo-jin listens in the audience. Yoon-hoo thinks of Yoo-jin's words about not giving up, and finally everything sinks in. He stops in the middle of the song and apologizes to Nae-il; they'll have to call the duet off.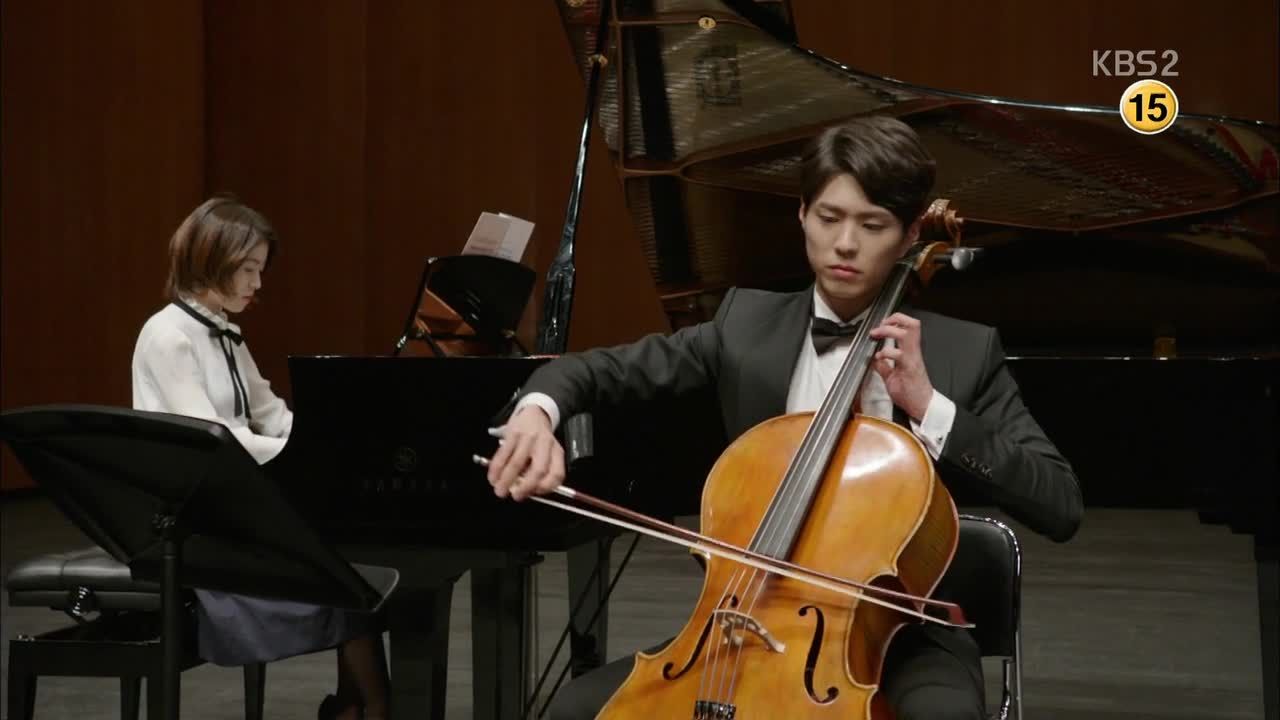 She doesn't know why, not knowing of his injury, and he explains, "I really am selfish. I only thought of myself. I made you, who's starting anew, play a funeral song."
Nae-il pats his shoulder comfortingly and tells him that it's okay. She continues playing her part as he leaves the building, and her last words to him ring in his ears: that this isn't a funeral song she's playing, but Nae-il's Sicilienne, for new beginnings.
From a taxi headed to the hospital, Yoon-hoo calls his mother to inform her of his decision, apologizing for having been stubborn about it. He fights back his tears, but at least he's facing his fears head-on for the first time. You'll be okay!
There's a bit of jitters at the last-minute cancellation, but Yoo-jin remains calm and in charge, joining his orchestra in rehearsal, which he kicks off with a chant of their motto to give it their all. Shi-won remarks that his smiles and upbeat attitude have everyone else feeling the energy too.
So one potential crisis has been averted, and Yoo-jin sighs to himself, "Nothing more will happen, right?" Great, well now you've just tempted Fate.
Streseman makes it to the concert (glued to his phone for a call from Mina, as always), and recognizes Yoo-jin's father walking in. Urrrg.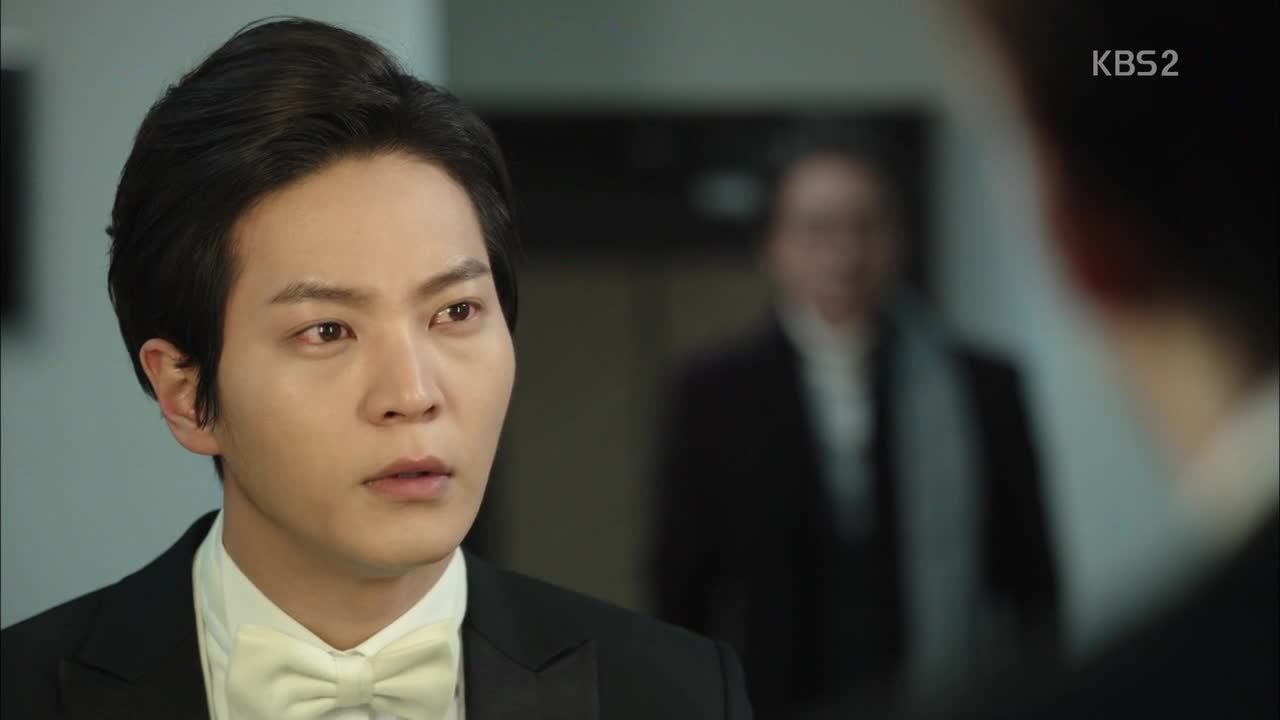 Yoo-jin is in the dressing room preparing when a knock sounds at the door. He looks up and freezes to recognize his father, whose first reaction is to scorn the tininess of the room. It's heart-pinching to see how Yoo-jin is a much more subdued version of himself in his father's presence; he may not like his father, but you can tell he'd still like his respect.
Dad asks why Yoo-jin bothered to invite him to such a trifling event, and Yoo-jin, who hadn't known he was invited, promises not to let that happen again. Dad corrects him harshly—what he should have said is that he won't perform in places like this again. He supposes that Yoo-jin hasn't been able to overcome his trauma and disdains him wasting his time with stupid orchestras instead of going abroad as he should.
Yoo-jin says that he's learning and enjoying himself, but Dad snaps, "That's wasting time." When Yoo-jin clenches his fist at his side, Dad sees and calls him as weak as ever, saying that he should have overridden Mom back then and forced Yoo-jin into the hospital.
Yoo-jin notes that Dad is just the same as ever, and Dad retorts, "I have to be, because you've had no improvement." Geezus. This is such a stressful conversation to watch, much less live.
After Hurricane Dad blows through, Yoo-jin tries to calm himself, telling himself to pull it together: "If you fall down, your friends fall down with you."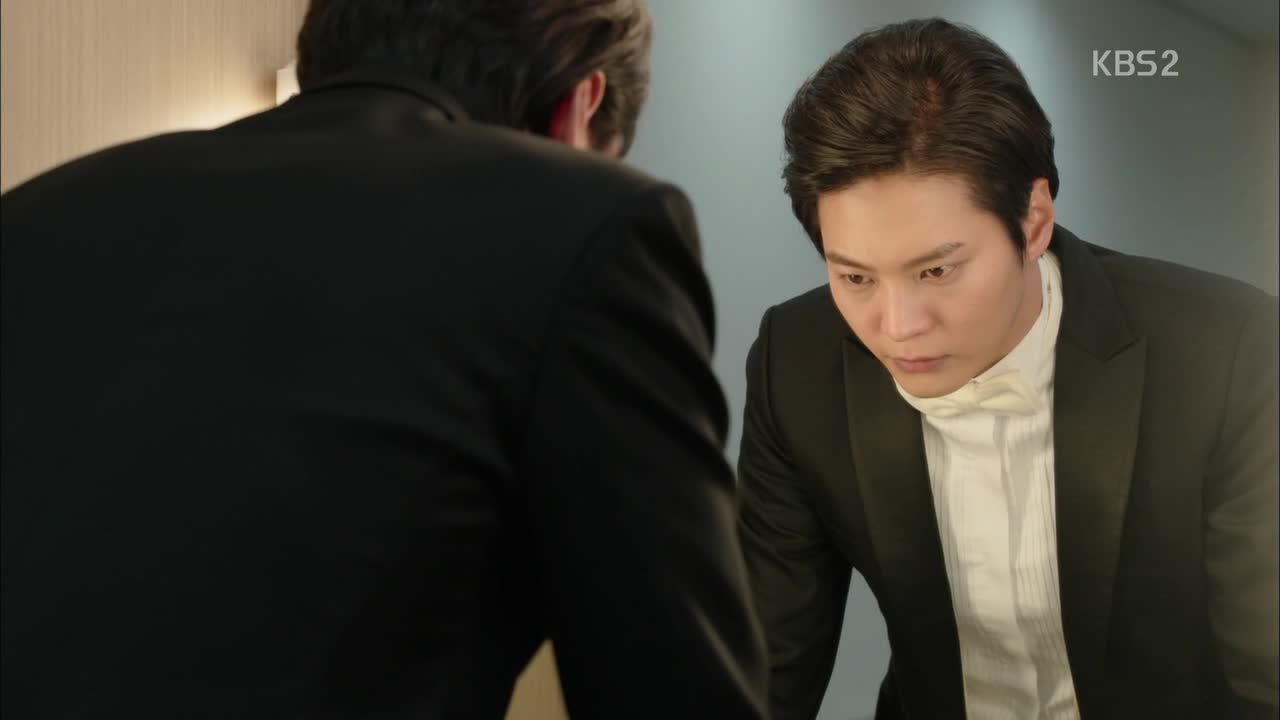 But it's hard to shake his father's words about how he doesn't have time for friends until he's the best—everyone's a rival until he's at the top, at which point he can make friends with everyone who's lesser than him.
Furthermore, Dad had warned, "Don't show your heart. If you do, it becomes your weakness." Lordy, now I'm thinking it's a wonder Yoo-jin isn't even more emotionally paralyzed than he already was, given his formative experiences.
His emotions well up and he throws his score in frustration. That's when Nae-il enters the room, sizes up the situation, and quietly returns his music to him. This time she takes his hand in hers and says she'll provide the healing hand. Slowly, he calms.
The musicians take the stage, and the performance is ready to begin. As Nae-il watches from the audience, she narrates how this piano concerto marked Rachmaninoff's return after overcoming severe depression, and notes that through it, she hears the message, "It's okay. All will be fine."
The pianist begins playing, and as Yoo-jin waits to bring the orchestra in, his mind is still on his father's horrible words. And then… the baton falls out of his limp hand, onto the ground. Gasp!
It doesn't disrupt the playing but it makes everyone sit up in alarm. His orchestra members think words of encouragement at him, assuring him that it'll be fine, and Il-lac even shoots him a wink.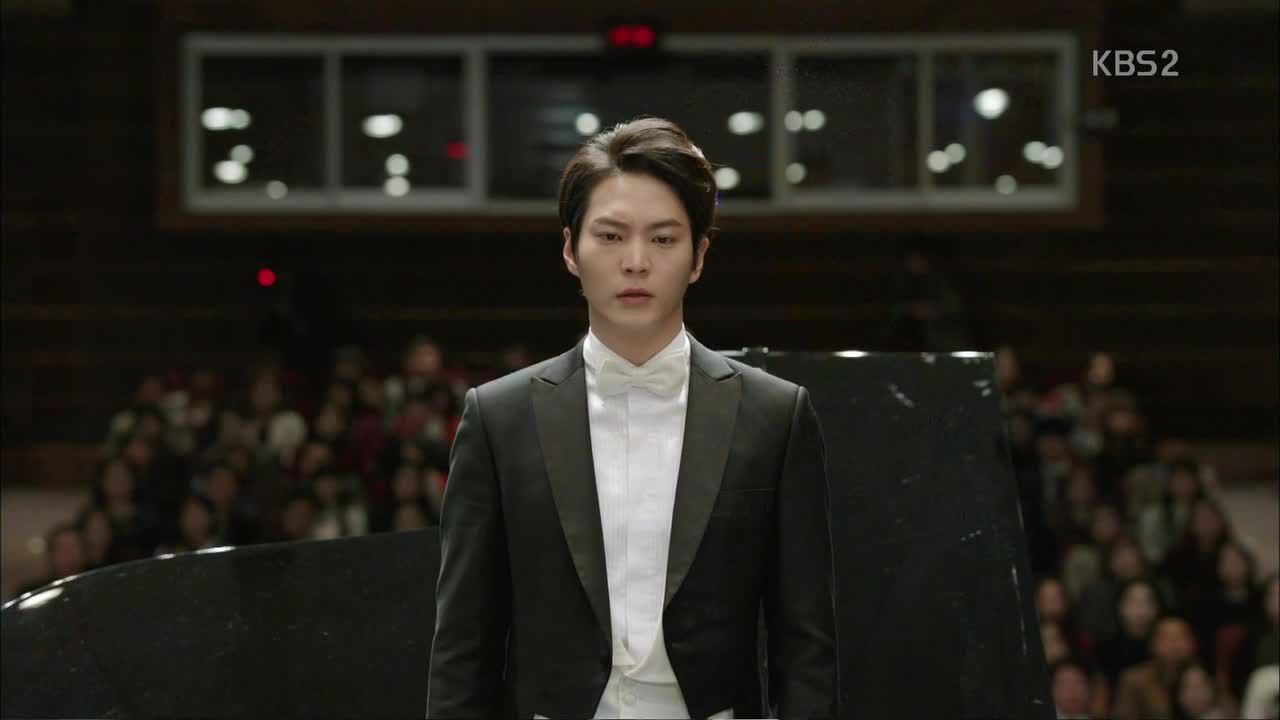 Yoo-jin collects himself just in time, hitting his cue as he conducts with his hands. His orchestra relaxes and continues playing, relieved that he's back with them. Soon enough he's fully absorbed in the performance, conducting with confidence and energy, drawing out a passionate performance. (I really wish they just let the music play out here, rather than chopping it up in a bunch of pieces! Argh.)
As he conducts, Yoo-jin directs his thoughts toward his father: "You were wrong. Friends are those who make me, who isn't the best, feel I am the best. You were wrong again. A revealed heart isn't a weakness—it has come back in kind."
The performance concludes to wild applause, and even Dad finds himself clapping a bit, however grudgingly.
Yoo-jin returns to the rehearsal room to collect himself, feeling shaken from the experience. Il-lac, Su-min, and Min-hee find him there and assume that his mood is due to the baton-dropping, and rush to assure him that it was no big deal and that he looked really cool conducting with his hands.
To their shock, he turns to Min-hee and apologizes for being inconsiderate to her, back when he didn't understand her situation in working so many jobs. Then he thanks Su-min for liking him, and Su-min is so touched he cries, "I'm thankful you didn't say you hated me."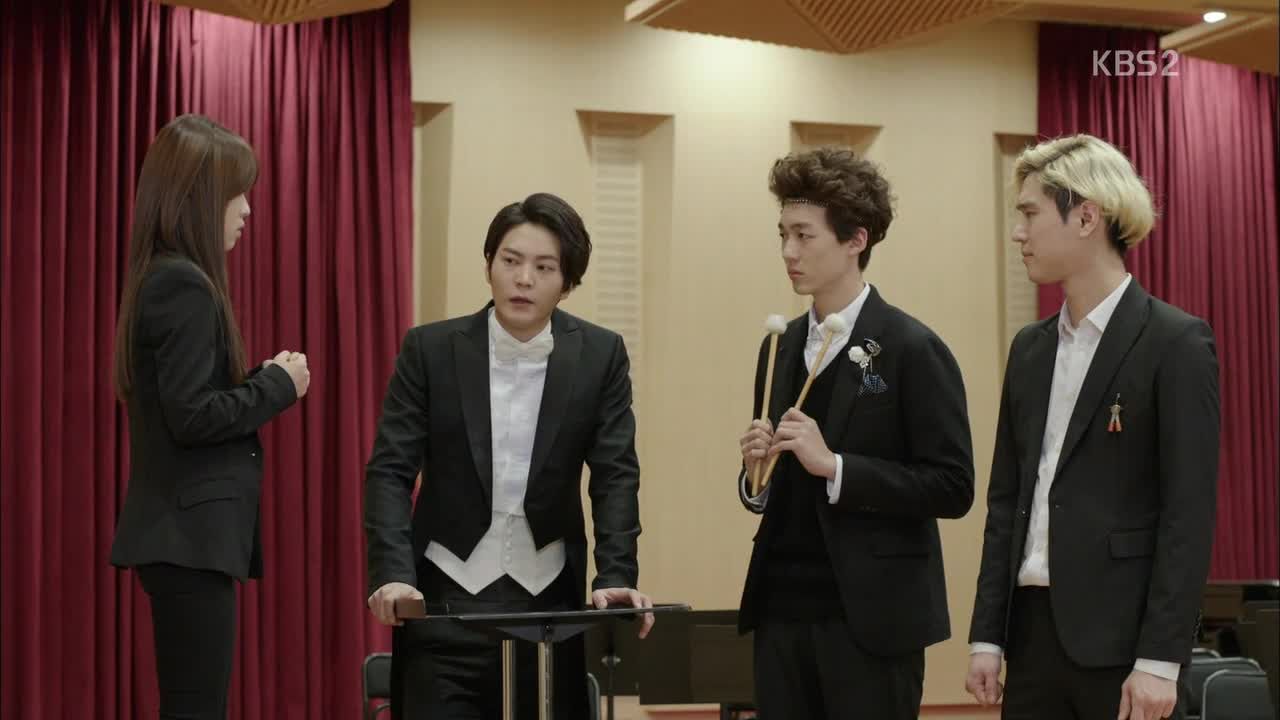 Then Yoo-jin tells Il-lac that he's his best friend too, and by now the gang is completely confused. Thinking of the adage about sudden change in personality causing death, they jump to the conclusion that he's sick, and pepper him with concern: What disease does he have? Is that why he dropped the baton? Does Nae-il know?
They attack him with hugs, and Yoo-jin finally throws them off and grumps that his honesty is wasted on them. And hilariously, they find his crankiness comforting, relieved that he's back to normal.
Nae-il, on the other hand, has remained sitting in the now-empty auditorium. She thinks, "Now I have to go to the stage. If I stay in the audience, I can't do anything other than look."
Mom catches up to Dad as he's leaving, furious as Dad sneers at Yoo-jin for being as weak as ever. But shockingly enough (for him), he has some grudging praise, acknowledging that Yoo-jin recovered from his baton-dropping and that he's grown. He tells Mom to pass along the message that he'll see him on an international stage next, which I guess is as good as it gets from Dad.
Streseman and Mina have a scene. Can I leave it at that? Oh fine, so they work things out when Mina says she's not going to get hung up on somebody who might leave at any moment, and he promises that won't happen this time. There's a bit of a wording peculiarity when he talks about not wasting more time, almost like he's someone who doesn't have much time left, but I'm not reading too much into it yet.
The Rising Star gang head to the only restaurant in the universe for their celebratory party, and Dad prepares a feast. It's super-cute how he's still harboring a lingering grudge toward the former A Orchestra folks, and fawns over the S members in a blatant display of favoritism.
Nae-il has remained back at school and ducks to evade Teacher Do, who spots her this time. Nae-il looks like she's ready to bolt at any moment, but shocks Teacher Do by blurting out that she wants to begin lessons, as though saying it before she chickens out.
Teacher Do calls Teacher Ahn to ask whether Nae-il has particular fears or dislikes, which is a promising move on his part. He's surprised to hears of her fear of fans, which happens to be his trademark teaching tool.
Yoo-jin calls Yoon-hoo to check on his condition, but gets his mother instead since he's resting after his surgery. Nae-il finds him outside their apartments and assumes he was waiting for her (which he denies) and thrills in excitement when she calls his phone and sees that it still has those hearts. He reminds her that she's the one who saved her name as that, but she points out that he didn't erase them. Touché.
Nae-il gets a little wistful thinking that Yoo-jin will go abroad soon and she'll be left here, and he starts to say something. But before he can, the gang comes charging in and attacks Yoo-jin with more hugs, prompting Nae-il to squeeze herself back in lest they usurp her spot. Then they let themselves into his apartment to continue the party, ignoring his sputtering. Yup, all's back to normal.
Yoon-hoo wakes up and hears that his surgery was successful. Mom gets teary because being able to save the hand doesn't necessarily ensure being able to save his musical career, but Yoon-hoo tells her that it's okay: "I've found the strength to start again."
In the morning, Yoo-jin's place is a mess from the night before, with Il-lac and Su-min cuddling together in Yoo-jin's bed. Yoo-jin's passed out on the couch with Nae-il sleeping on the ground next to it, and she stirs to answer a phone call.
It's Yoo-jin's phone, though, and she groggily turns to hand it to Yoo-jin. The caller listens in surprise to hear their domestic bickering, with Nae-il asking for breakfast and nagging to use Yoo-jin's toothbrush. Turns out this is his uncle (his mother's brother), and he requests that Yoo-jin drop by home and to bring the girlfriend with him.
Yoo-jin meets with Mom and they both wonder what Uncle means by the summons, and it's only now that Yoo-jin sees that Min-hee and Nae-il both work at Mom's cafe. Ha, I love that his reaction is to ask whether it was Mom who called Nae-il here, or Nae-il who brought herself, because both are busybodies who are equally capable of it.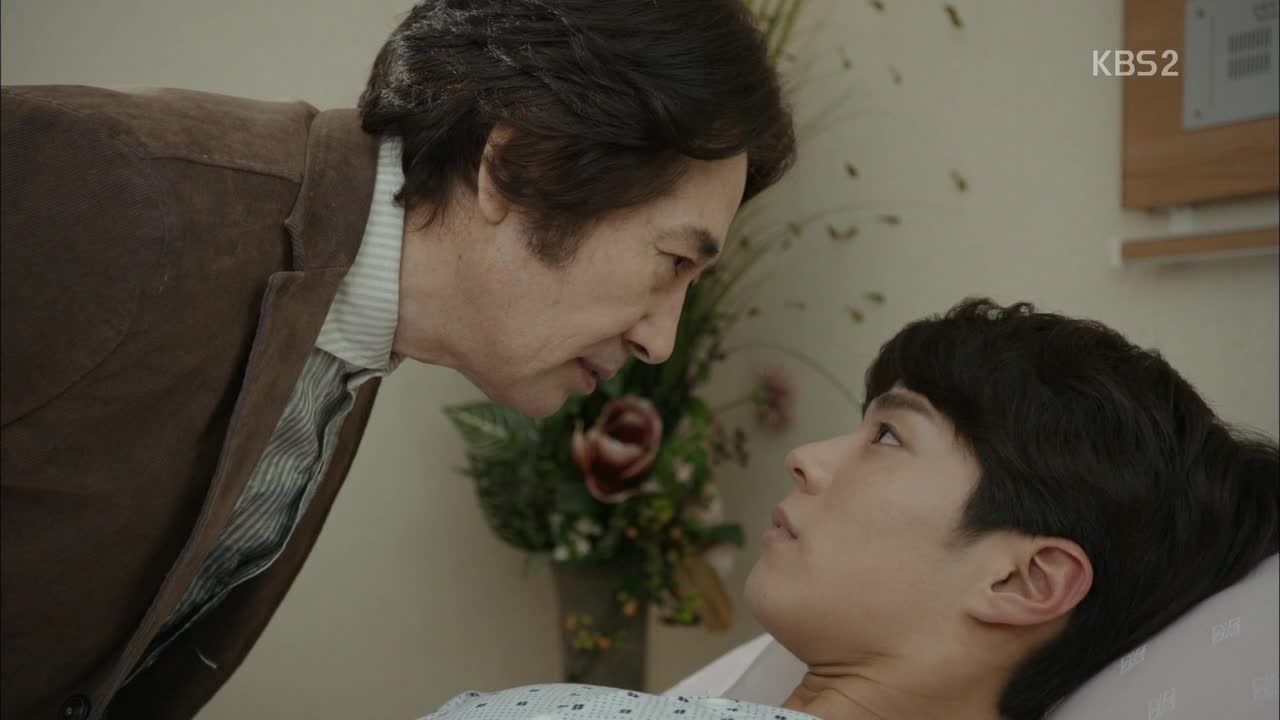 Streseman drops by the hospital to visit Yoon-hoo, who at first assures him that his condition is no big deal. Streseman knows it's got to be the opposite, and Yoon-hoo asks him not to tell the others about it. Streseman muses, "You're different, but similar—you and Cha Yoo-jin. Stupidly, you take on problems on your own in a similar way."
Yoon-hoo has adopted a more positive attitude now, and says he wants to try living differently. He's starting over, and he'll do the things he wants to do, and see the people he wants to see.
Streseman wonders if conducting is among the things he might want to do. OOH. Yes! The idea seems to have never entered Yoon-hoo's mind before, but the maestro urges him to give it some consideration.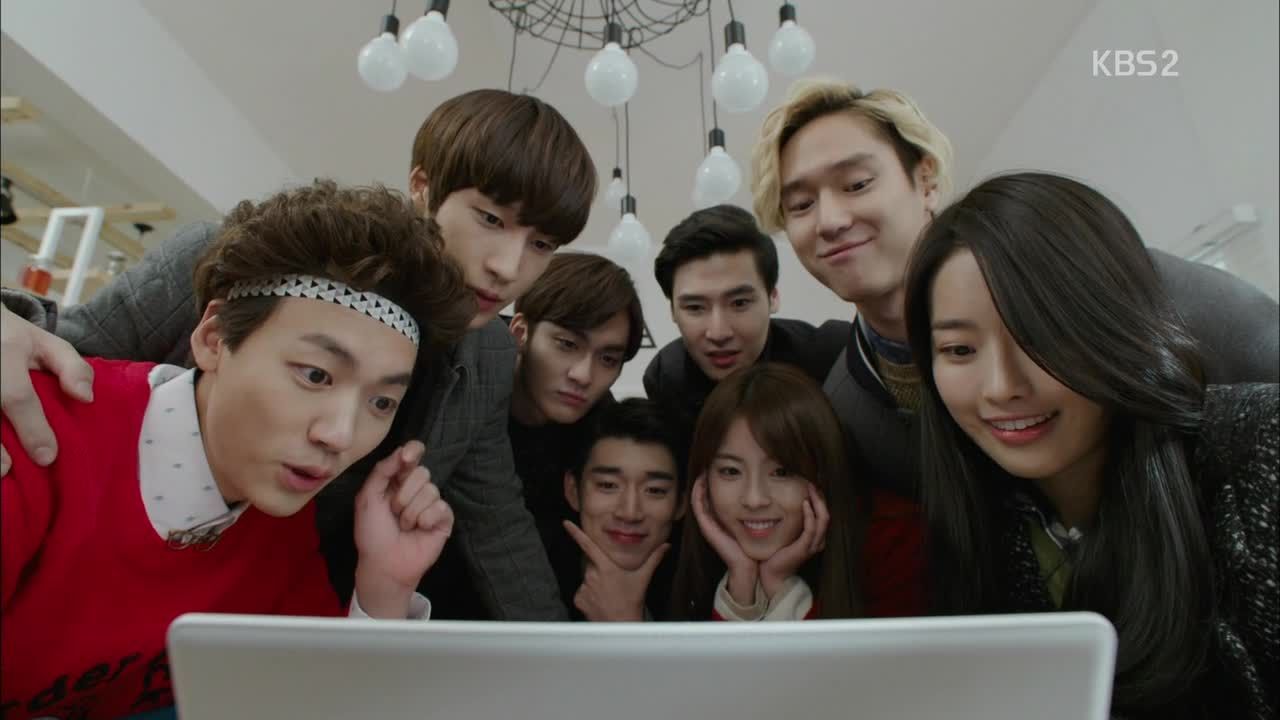 Things are on the up-and-up for the Rising Stars, who are featured in a glowing news article. Moreover, the haughty board chairwoman gives her approval making them the school's official orchestra, to Mina's excitement. (I love Dad's background reactions to the gang, because he just cares. So. Much. He glowers when Il-lac hugs Shi-won, and then when his celebratory cake gets knocked to the ground, that glower just ratches up to eleven.)
On the other hand, Streseman muses that the chairwoman gave in too easily, wondering what she's up to. Sigh. More school board machinations? Please tell me we're done with the machinations.
Yoo-jin arrives at Uncle's house with Nae-il in tow, who marvels at the grandeur—seriously, it's like a campus—while Yoo-jin explains that he grew up here.
The reason for the summons becomes clear when Uncle sits him down with Dr. Kim, whom Yoo-jin hasn't seen in a while. Having heard about Dad's unexpected arrival at the concert, he urges Yoo-jin to give treatment another try, saying that hypnotherapy is most helpful when done in comfortable places. Hence the home visit.
So Yoo-jin sits back while Dr. Kim lulls him into his hypnotic trance, telling him that he's back to being ten years old and on that plane. But instead of retreating into the age-old trauma, Yoo-jin just opens his eyes and sits up—hypnosis is as ineffectual as ever.
The doctor tells him that the best way to achieve hypnosis is when you feel the sense of trust that someone's behind you ready to catch you when you fall, and you give yourself up to the fall.
While Yoo-jin's in his session, Nae-il wanders around the mansion in awe, coming to a room with a record player and a huge collection of vinyl records. Uncle finds her here and puts a record on, explaining that Yoo-jin's grandfather loved music.
Nae-il notices a photo of young Yoo-jin on a jet ski, and comments that he wasn't afraid of water back then. Uncle is surprised that she knows about it, though he can see that she's special since Yoo-jin's never brought home a girlfriend before (and he hadn't expected Yoo-jin to actually bring her when he instructed him to).
So Uncle assumes she actually knows more than she does and mentions the plane accident, which is news to her. Just then, Yoo-jin walks by and realizes what they're talking about, and angrily cuts in.

COMMENTS
Cantabile Tomorrow is a growth drama in every sense, but it doesn't feel quite like what I envision when you mention the term growth drama, which I mean in a positive sense. It isn't that these characters are living through anything new that hasn't been felt by other characters a thousand times before, but these personal storylines are coming together in this understated, heartfelt way that I absolutely love.
Today struck an extra chord with me because I appreciate the way the three main characters all hit a major turning point, in a way that felt completely independent of each other while still feeling like they were integral to each other. I'm perfectly happy with an episodic format (which is what I'd expect of a manga adaptation, given the way manga plotlines are structured) where each episode focuses on a particular character and then moves on to the next, but this episode brought things together really well, and in a way that felt natural to their trajectories.
I also appreciate that while one approach to three crises looming on the horizon simultaneously would have been to explode the situation into a huge mess of angst, each character got their moment to resolve things—not perfectly, not necessarily happily, but in a way they could come to terms with.
For instance, I loved everything about Yoo-jin's treatment of Nae-il's breakdown in the dressing room—not just because he was so gentle and understanding and unconditional with his support, but because we'd seen him completely botch this up before. I admit to being pretty swoony when an awesome character swoops in and says all the right things and does the perfect hero (or maybe even more frequently the second lead) maneuver. But Yoo-jin isn't our perfect hero, and it's more rewarding to watch people learn where they've gone wrong and work toward that thoughtful response that maybe didn't come naturally.
Yoo-jin pointed out to Yoon-hoo that he was only well-mannered in his words, not in his actions, and it strikes me that Yoo-jin may be rough in dealing with anything requiring EQ, but he is always honest. So when you see him being harsh and unyielding, and then finding a way to yield, it feels like such a moment of triumph. I love that he cares enough to work at it, because despite seeming really proud, he isn't too proud to admit when he's wrong and look for alternate ways to deal with things. It's that characteristic that I can see taking him far as a conductor, because he isn't a top-down authoritarian leader.
I also love Nae-il's exchange with her inner child, and how despite being the literal manifestation of the immaturity holding Nae-il back, her child is actually quite ready to say goodbye. It's poignant and sweet, and makes this feel right. There's a really universal feeling to the idea of fearing leaving the safe space, but finally arriving at the point where that fear becomes less compelling than the fear of not moving on. She wants nothing more than to be with Yoo-jin, and in fact could be with him today on that stage, but the only thing holding her back is herself. And once she comes to that point, there's no reason to hold on to her security blanket. It's a really lovely way to depict the conflict of growing up, in a way that feels true to life without being too on-the-nose with its message.
Of course, just because she's ready to start fresh doesn't make it an automatic victory, and she'll still have to do the work to get to where she wants to be. Music is a nice way to illustrate that broader concept, since Nae-il isn't suddenly going to be performance-ready because she decided to start this path. So we've still got a lot of ground left to cover.
As for Yoon-hoo, it was a little jarring to see just how harsh he got, but the actor is doing a great job of conveying the character's inner life in little glimpses, and I'm glad that he (1) had somebody to give him a dose of tough love, and (2) was finally ready to hear it. It makes a lot of sense that it would be Yoo-jin who would push him toward acceptance, because everyone else would have given him sympathy or pity, and Yoo-jin just tells him to stop pitying himself. And conducting seems like just the thing for him, which opens up another door to more Yoo-jin conflicts in the future. By now I have faith that such conflicts will be more of the growth-and-discovery kind, and less of the standard love-triangle kind that I think we've seen enough of, and would be happy moving on from. C'mon, when you have two musical stars and battling batons, who needs to fight over a girl?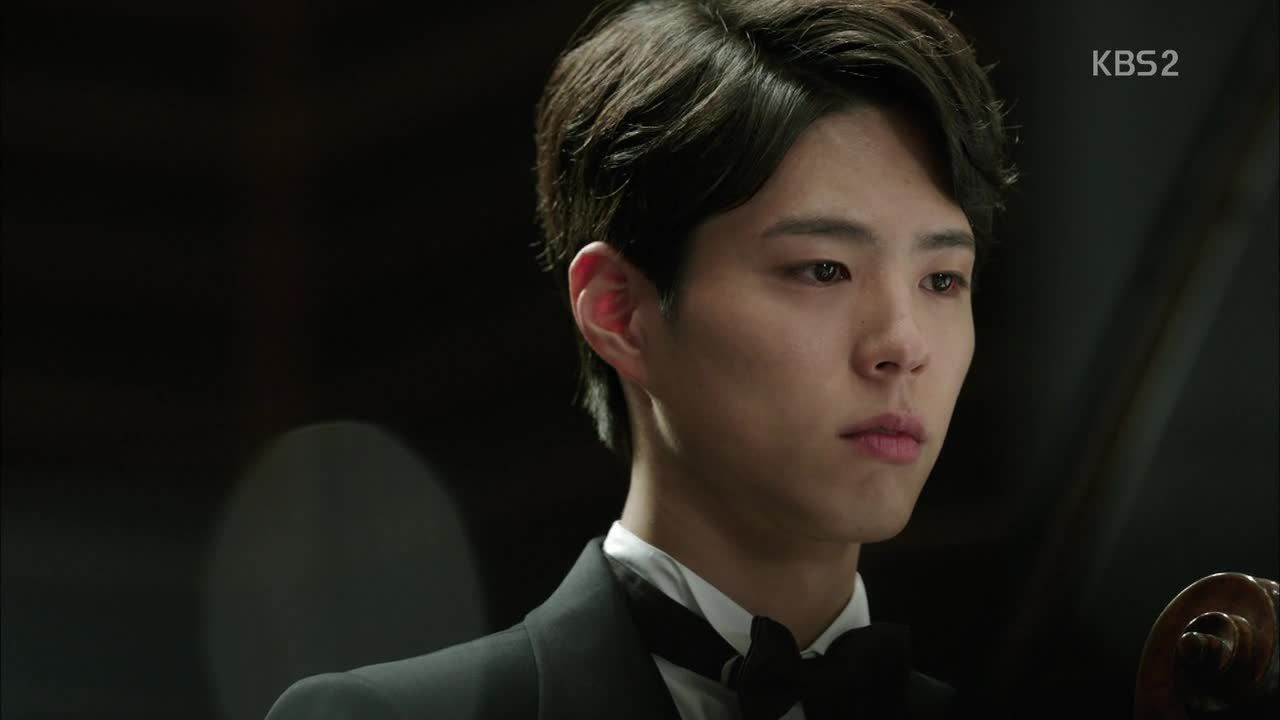 RELATED POSTS
Tags: Cantabile Tomorrow, featured, Go Kyung-pyo, Joo-won, Shim Eun-kyung