Hong sisters plan new drama with Best Love PD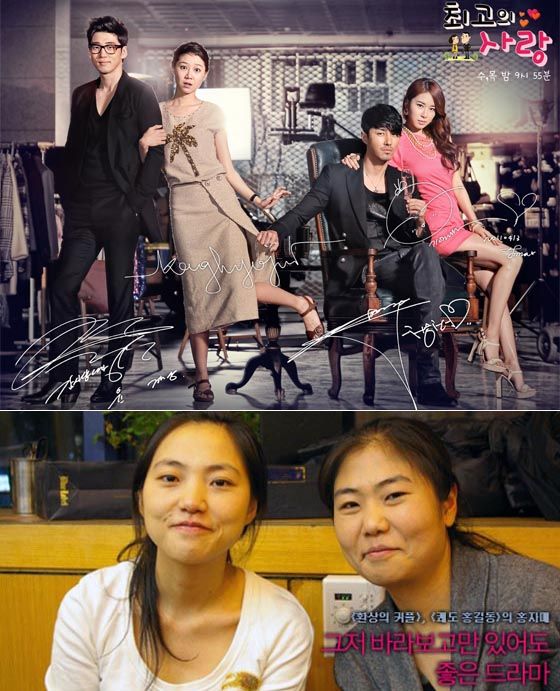 It's back to the work for the busy Hong sisters writing partners—Hong Jung-eun, Hong Mi-ran—who are eyeing a return to MBC for their next series, which would be their tenth drama in ten years. (Who else feels lazy?) Their last drama for MBC was 2011's Best Love, and this project would reteam them with their PD from that show, Park Hong-kyun.
The series is still in early planning stages and the synopsis has not yet been delivered, but with a star PD onboard (Queen Seon-deok, New Heart) and writers who regularly churn out well-loved ratings hits (Master's Sun, My Girlfriend Is a Gumiho, You're Beautiful, Fantasy Couple), MBC's not likely to pass on the project. They are reportedly looking at a Wednesday-Thursday slot to air in May or June of next year.
Big certainly proved to me that even with a many-years-long streak of churning out one hilarious, zippy rom-com after another, nobody is infallible; a proven hitmaker can always put out a dud at any point. And it's true that the Hongs' more recent shows haven't had my heart quite the way their old ones did. But I appreciate that the Hong sisters keep stretching their boundaries and trying to evolve rather than doing the same show ten times over, and they've provided me with so many hours of uproarious entertainment that I will always look upon news of a new project with eagerness.
As for the subject matter—well, there's no guessing what they'll choose. They have done a number of shows with supernatural genre twists in recent years (gumihos, ghosts, body swapping), and they've got a taste for showbiz meta comedy (idols, K-pop, movie stars), but they've also done conventional rom-coms and fusion sageuks, so there's no telling where their imaginations will take them next. Let's hope it's someplace good.
Via TV Report
RELATED POSTS
Tags: Hong sisters