Lee Jae-yoon completes Heart to Heart's main cast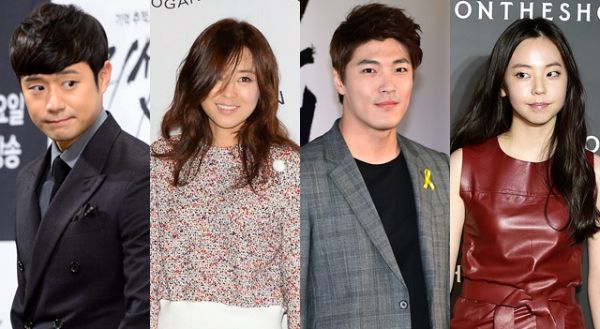 The main cast has been secured for tvN's new Friday-Saturday romantic comedy drama Heart to Heart, the latest project from Coffee Prince PD Lee Yoon-jung. Choi Kang-hee (Level 7 Civil Servant) and Chun Jung-myung (Reset) have signed on to play the leads, along with second leads Ahn So-hee (of the Wonder Girls) and latest cast addition Lee Jae-yoon, of Gold Rainbow and Heartless City.
The 16-episode drama is one of (way too) many January rom-coms about people with psychiatric issues. This one is about a heroine who blushes uncontrollably, and disguises herself as a grandma to hide that fact. The hero is a psychiatrist who's a shut-in because of a trauma related to his older brother's death, and the drama is about them healing each other.
Ahn So-hee plays the hero's little sister, not a love interest, while Lee Jae-yoon has been cast as a rival for the heroine's affections. He's a stalwart manly man who's a detective in the violent crimes unit, which so fits Lee Jae-yoon's type — gangster or cop, basically. He's had a seven-year-long one-sided crush on the heroine, and he's the type to show his affection by just silently being by her side.
He's a Daddy Long Legs character, and what with the heroine having the "mental stability of glass," he'll probably be helping her a lot. I just hope the hero isn't her doctor, though that seems like the obvious connection, this being a mental ward rom-com and all. This is definitely a drama where I'm hoping the result is totally different than its description on paper, and surprises me with its warmth. Right now I'm just picturing a mishmash of Level 7 Civil Servant and It's Okay, It's Love, and that seems dangerous for everyone. Maybe cops and mental illness don't mix after all?
Heart to Heart follows Friday-Saturday drama Misaeng, and premieres January 2.
Via Osen
RELATED POSTS
Tags: Ahn So-hee, Choi Kang-hee, Chun Jung-myung, Lee Jae-yoon