Liar Game: Episode 11
It's nothing but the best for this penultimate episode, which delivers thrills and some legitimately frightening chills as our villain drops poisonous breadcrumbs to help our hero navigate through the repressed memories of his childhood, all while the competition rages on. Despite the huge palette of cash there to remind everyone what's at stake, this show—which was once all about money and the corroding effect of greed—has managed to make that pile of dollar bills look like little more than a highly flammable afterthought. There's much more than money at stake now. Or was it always that way?
SONG OF THE DAY
Buzz – "그림자 (Shadow)" [ Download ]
Audio clip: Adobe Flash Player (version 9 or above) is required to play this audio clip. Download the latest version here. You also need to have JavaScript enabled in your browser.

EPISODE 11: "Final Round I"
Woo-jin doesn't get any more answers from Do-young, who hangs up moments after dropping the bomb about his mother. That's when Da-jung comes out of the cafe to ask, "It's not true, right? It's a lie, isn't it? You didn't do that to my father… right?"
Her tone is heartbroken, pleading, but Woo-jin turns back to her and answers that it's all true. He wants to stop her as she walks past him, but his hand only grazes her sleeve. Aw.
At least he keeps an eye on her after, if only from a distance.
Meanwhile, Dad watches the same broadcast as his daughter in horror, and runs to make a phone call once it ends. But a mysterious hand plucks the phone away and hangs it up for him. Uh oh.
Director Jang pulls some strings to meet with the chairman of Lloyd Capital (cameo by Ahn Suk-hwan), a conglomerate with a vested interest in jvN's future.
He claims that he'll be able to sway waning public opinion in their favor if Da-jung wins, or if Woo-jin wins and gives his money to Da-jung as he promised. Both of these outcomes have the chairman in fits—does he know why Woo-jin went to jail in the first place?
It wasn't in his quest for revenge like he'd like everyone to believe, the chairman says. He shows Director Jang video testimony from others who claim that Woo-jin convinced them to invest in L Company before he took it down, which means he likely convinced Da-jung's father too.
That's all the chairman needs to prove that Woo-jin was in this with Do-young from the beginning and not by some strange happenstance. Either way, he wants Do-young to win, since he owes Lloyd Capital a lot of money.
All Director Jang wants is for Lloyd Capital to acquire the station, which they plan to do as long as ratings stay high. As to that, the chairman has a suggestion: What about a last episode surprise that'll send ratings soaring? Something like, say, Da-jung betraying Woo-jin at a pivotal moment?
He claims he could care less about whatever past Do-young and Woo-jin have, and sends Director Jang on his way. Only then does he turn to a mysterious figure in a high-backed chair who's been present the entire meeting as he asks what should be done about jvN's stocks.
A deep voice rumbles from the chair, "Once the fireworks are over, all that's left is smoke and garbage." Then the chair turns…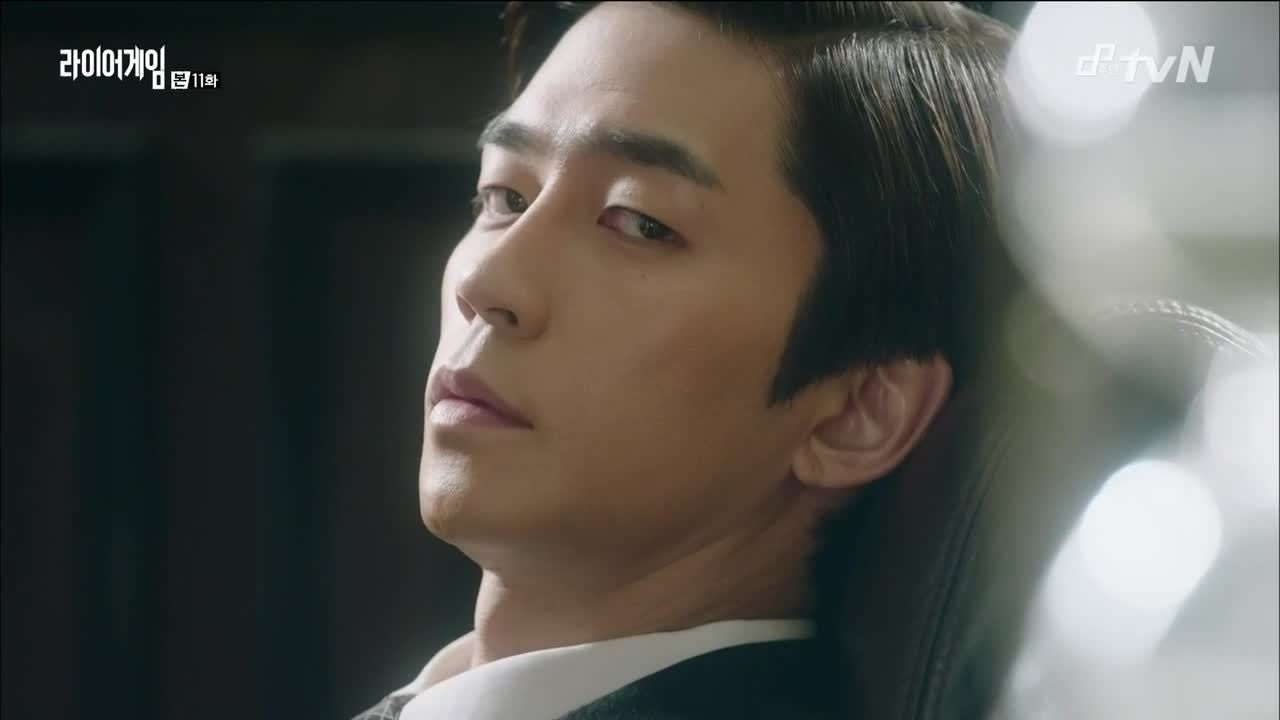 …And it's Do-young. Ah, so he's even higher than the chairman of Lloyd Capital? As for the stocks, Do-young instructs the chairman (is he even the chairman?) to sell their jvN stocks when they skyrocket in the final episode.
In her next meeting with Woo-jin, Reporter Gu notes how similar the logos for Lloyd Company and L Company are, before asking Woo-jin what Do-young meant about him seeing the "true face" of his angelic mother.
She wants to see the USB dossier Sung-joon gave Woo-jin too, but he seems reticent to hand it over. "Why, do you suspect me now?" she asks. (Does he?)
Da-jung has a brief confrontation with PD Lee to ask about her father's whereabouts, even though Lee claims to have tried to find him after the broadcast only to turn up empty-handed.
That doesn't matter to Da-jung, since she's sure she can find him anyway. PD Lee seems to genuinely feel bad about all this and apologizes to Da-jung, who answers back tersely, "Don't say what you don't mean."
Even Jaime seems to be trying to cheer Da-jung up about Woo-jin, but Da-jung's not being blind about why Woo-jin might not have wanted to tell her sooner. She specifically remembers when she told him that she would never forgive the person who caused her father to go into debt, and that he probably felt too ashamed to say anything.
Dal-goo pounces on the opportunity to try and mend the bridge between Da-jung and Woo-jin by claiming that he probably had no idea who he would hurt when he took L Company down.
"It's not his fault," Da-jung agrees, though her deadened expression may suggest otherwise. Her teammates are relieved—does this mean they'll share the prize money as planned if Woo-jin wins?
Things are still icy when Woo-jin joins them, even though they've got to get their heads back into the game. The finals will be recorded live, and whatever reinstatement game they'll be playing has been described as a Russian roulette sort of deal.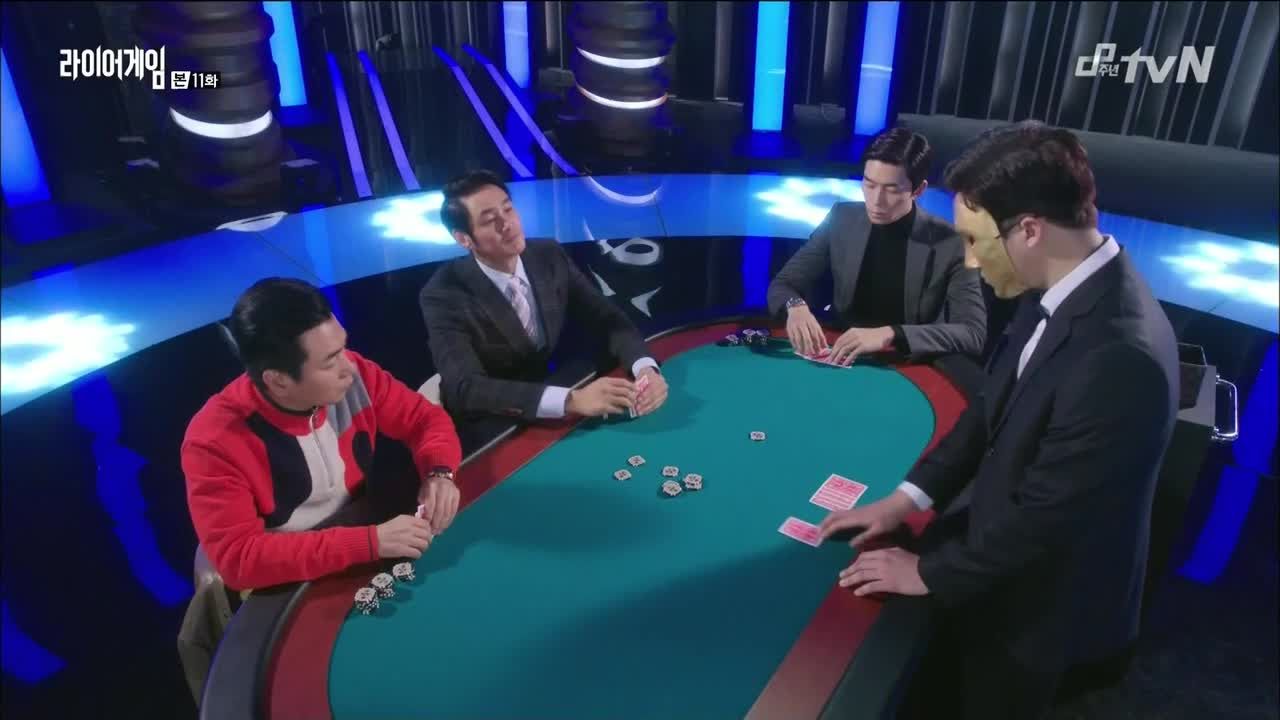 Since there's been no word from Sung-joon, the reinstatement game begins without him, setting Do-young, Actor Gu, and Bulldog up in a game of poker with only seventeen cards. Sixteen of those cards will be made up of face cards, while the last will be a joker card.
They'll each have thirty chips to play with worth ten thousand dollars a piece, bringing up their individual totals to three thousand dollars. They'll follow the general rules of poker in being dealt five cards a piece, and pairs are ideal. Four of a kind is the best hand to get, of course, but I'd assume you'd lose if you had, say, four jacks and your opponent managed to get four aces. (I know nothing about poker, so forgive me if I'm off on any of this.)
As a special Liar Game twist, you can now exchange bad cards using chips—so for the low low price of ten thousand dollars, a player can get a new card. Also, the joker card is a wild card in this game, meaning that a player can make it into whatever card they'd like it to be. Whoever has the most money after five rounds will be reinstated as a contestant for the final game of the show.
From the sidelines, Woo-jin comments that the game isn't at all like poker because of the seventeen face cards. The probability of getting a pair is much higher than in regular poker, which means that the joker card will be the deciding factor in who wins.
"But that might not be all," he adds. Of course not. It wouldn't be Liar Game if it was.
The players take a break after the first round, which has Bulldog in the lead. Do-young is the only one who stays at the table as cool as a cucumber, smiling as he shoots Woo-jin a text. Woo-jin's eyes go wide when he reads it.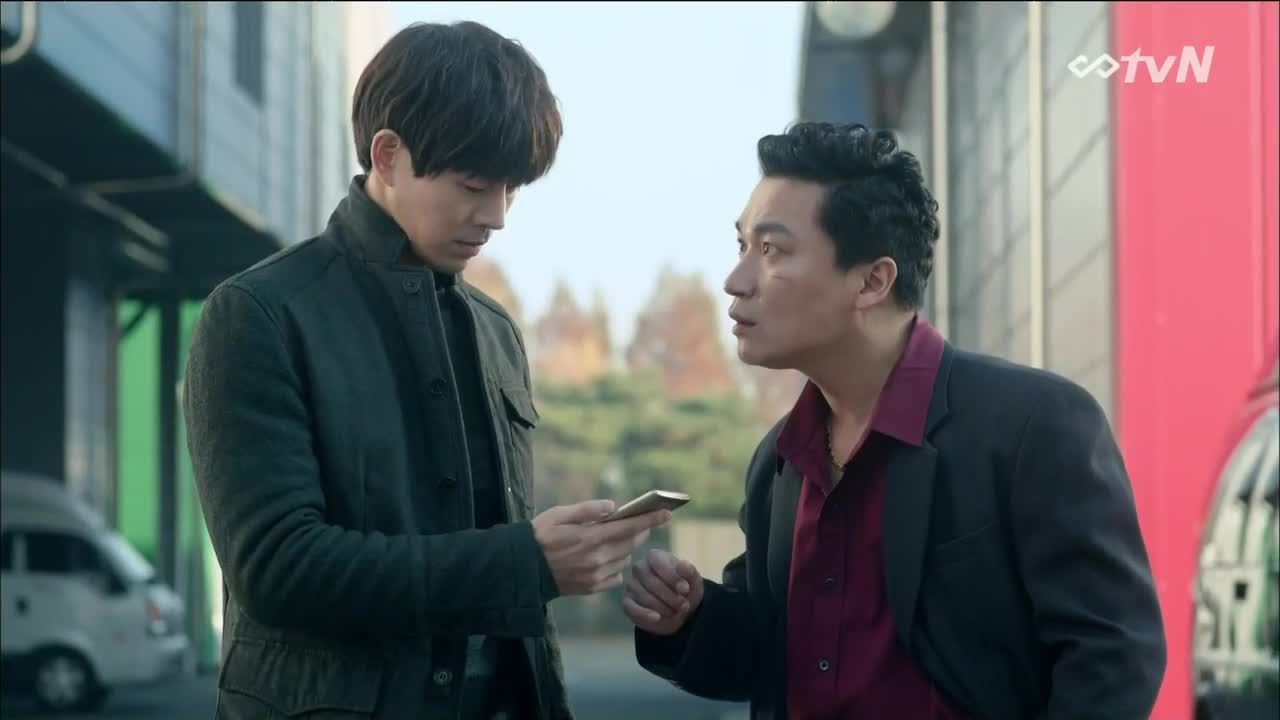 He shows the text to Dal-goo outside of Da-jung's father tied to a chair. The text reads that he's at "the place where you let go of your mother's hand" and goes off to save Dad. "Alone?!" Dal-goo balks. "I'll go with you!"
"No," Woo-jin orders. "If I don't come back, help Da-jung win." I echo Dal-goo's sentiment when he tells Woo-jin that he'll kill him if he doesn't come back. He better come back!
Bulldog has a fun time imitating Woo-jin's famous "I have a way to win" line when he pulls Actor Gu aside before the next round, claiming that he can actually see the joker when the cards are shuffled.
When it comes time to play the next round, Bulldog does as he said he would by trading chips for cards until he gets the joker. Actor Gu just follows his lead, while Do-young watches the two of them keenly. The moment he smiles, we know he's figured out their ploy.
Thank goodness Woo-jin's employing the help of old friend Detective Cha when it comes to saving Da-jung's father. Strangely enough, Detective Cha doesn't need an explanation when he's told to take them to the place "where mother died," meaning that he already knows where it is. Was he an orphan too?
Do-young can't stop grinning to himself as he watches his opponents play, but it's only after Actor Gu is eliminated that he calls for a change in the shuffling method so that Bulldog can't cheat—after all, he knows about Bulldog's past as a boxer and about his exceptional eyesight.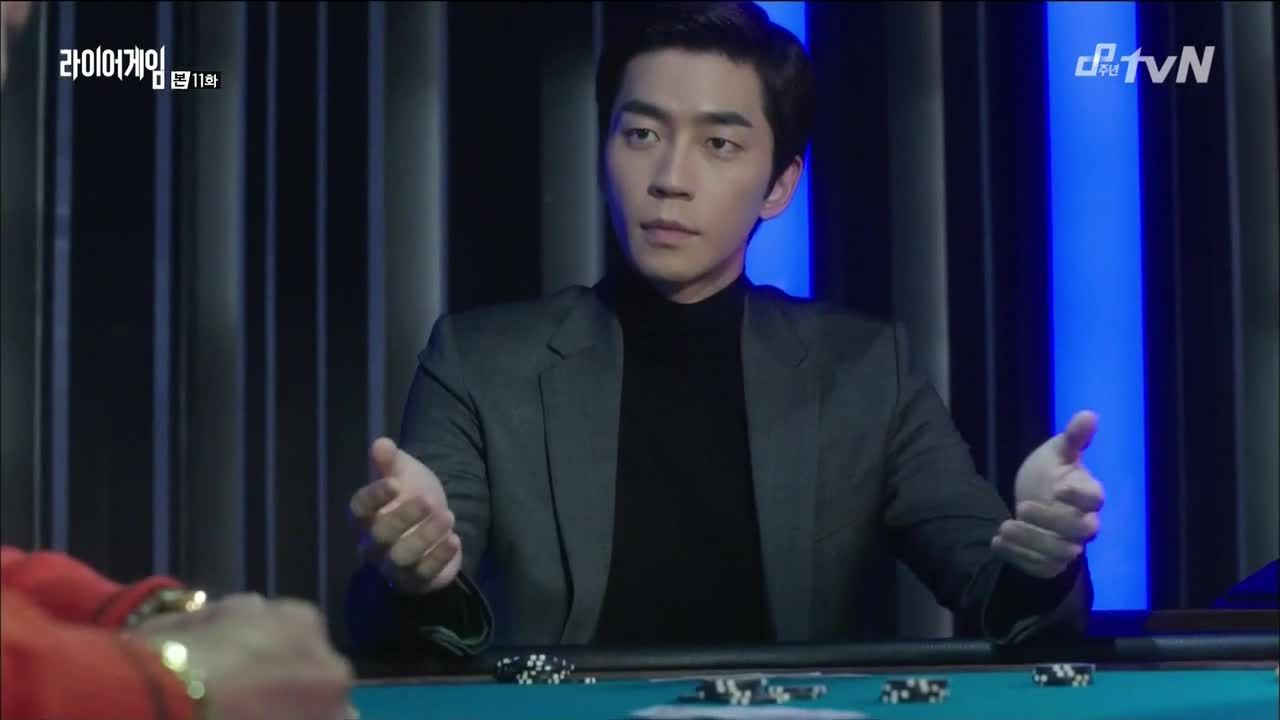 He gets Bulldog all riled up when he mentions that he lost his title because he fixed a game, and succeeds in getting the cards shuffled differently for the next round. He even asks that the cards be shuffled twice.
Bulldog can still predict where the joker is in the deck and thinks he's got this one in the bag, even going so far as to laugh at Do-young for exchanging four of his cards for forty thousand dollars in chips (leaving him with only forty thousand left). He happily turns over his three of a kind…
…Only for Do-young to turn over the highest hand possible: four aces. Similarly, he turns over four of a kind in the next round, too. Ruh roh. Do-young's found a way to count the cards, hasn't he?
Woo-jin and Detective Cha arrive at the building where Da-jung's father is being held to find it under construction. They enter anyway, but Detective Cha gets decommissioned by a shady guy with a two-by-four. Woo-jin takes his gun and continues on.
Do-young keeps getting four of a kind, and instead of calling him out for possibly cheating, Bulldog takes Do-young's challenge to go all in. What could possibly go wrong?
Instead of finding Dad tied up in one of the rooms, Woo-jin finds a dummy with a mask and a painting of three pairs of feet and a hole in the ground that looks oddly familiar… Wait! It's the same painting he noticed above Do-young's mantle the time he visited his house.
The image stirs other memories in Woo-jin, which play in a The Ring-like sequence of broken video feeds, flashing from the well at the orphanage to Da-jung saying "It feels familiar here" when they had their talk outside the dilapidated building.
Whatever breakthrough Woo-jin is on the cusp of sends him stumbling backward. Everything is starting to come together: Lloyd Capital and L Company having similar logos, the apartment with shredded papers from L Company Woo-jin "found," the hole in the ground…
Woo-jin is suddenly faced with the three pairs of feet from the painting, like he's been inserted into a freakish rendition of his own memory. In the room are three children, two boys and one girl, all facing away from the hole in the ground.
Flash back to a memory of the three children holding hands facing away from each other as they perched on the edge of the well. "It hurts," the little girl had cried.
It seems like the game was some sort of dare, because when one of the kids had to go early, he'd told the two others, "It's not over. Let's do it again."
Back in the room, the three children that had been facing away from Woo-jin are now facing toward him. (SO. FRIGHTENING.) The sound of eerie whispers turn to screams in Woo-jin's head as he reels away from their glassy, piercing eyes, and drops the picture in the process.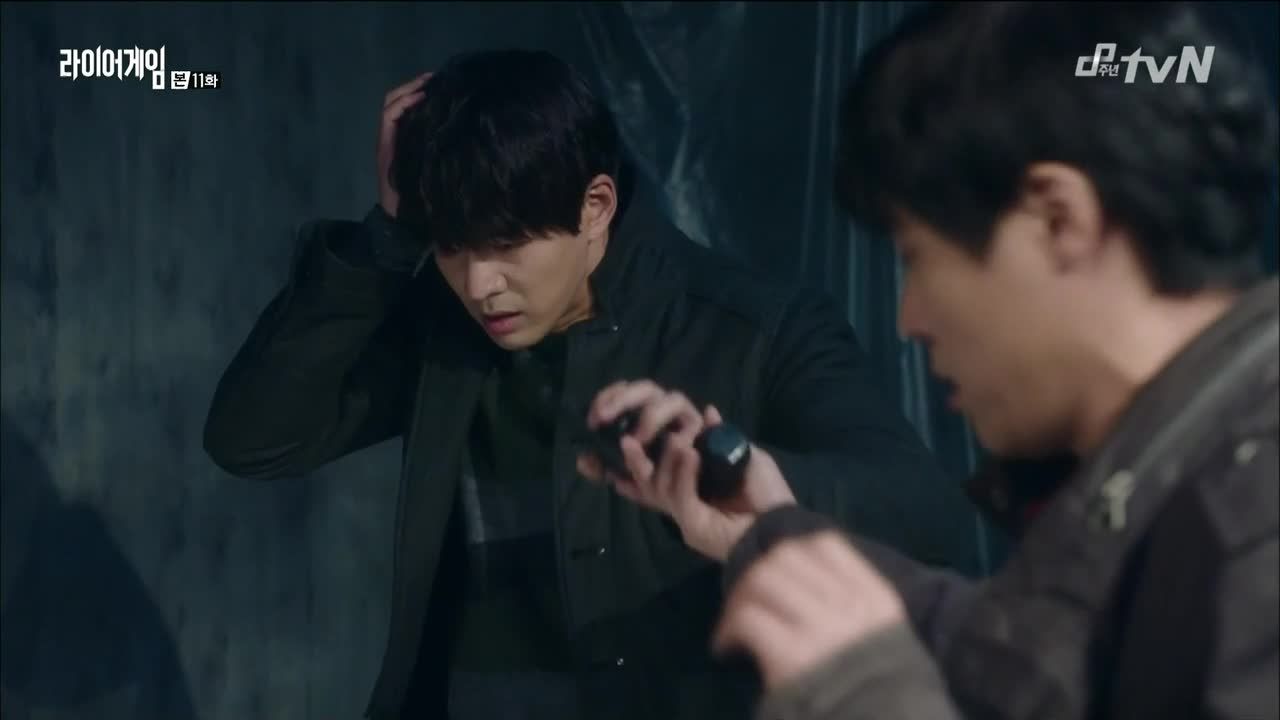 The glass shatters, as does the terrifying illusion. Detective Cha comes in to find Woo-jin clasping his head between his hands as he whispers, "The well… The three of us… were there…"
After returning Detective Cha's gun, Woo-jin seems to regain his wits as he heads for the door: "I have to end it."
Do-young keeps getting four of a kind until he wins the reinstatement game. Only afterward does he explain his method to the two losers at the table, because while Bulldog was so focused on getting the joker card, Do-young was watching all the cards.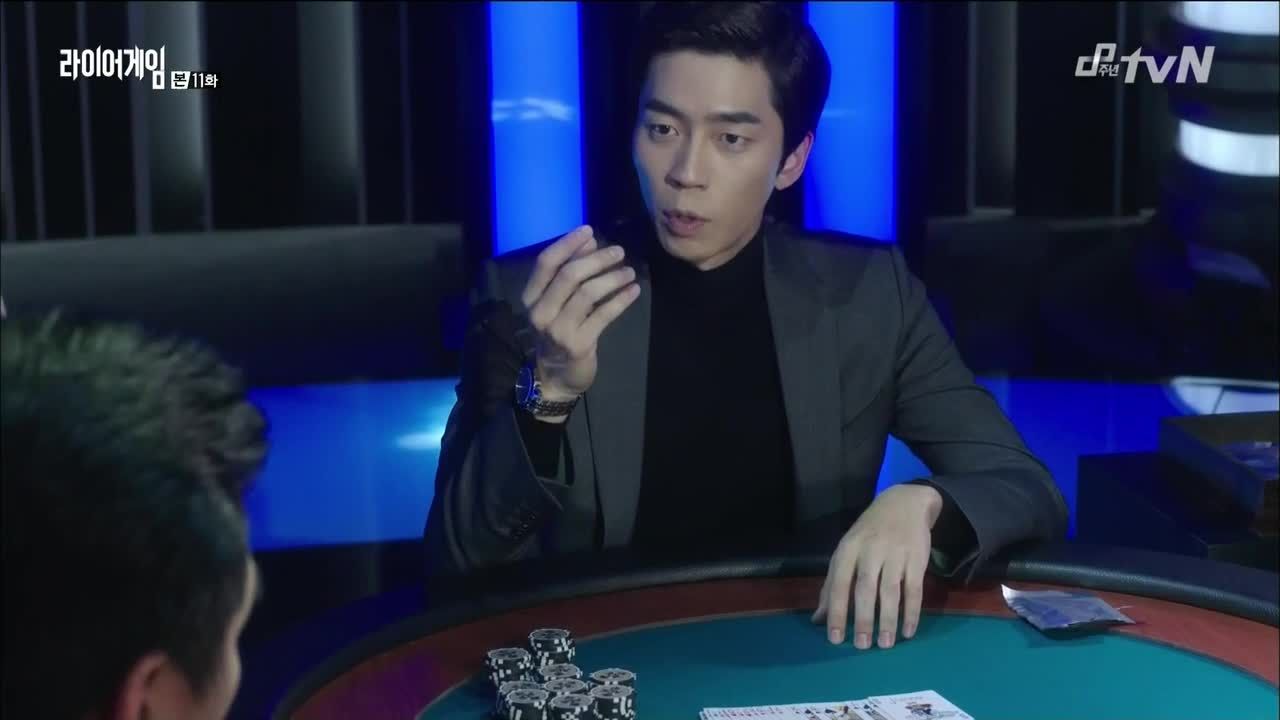 Because a new deck was used each game to prevent cheating, Do-young knew the cards would be in the exact same order each time they were shuffled. He proves this by naming each card he pulls—without looking—after a new deck is shuffled. I seriously keep expecting Bulldog to cough up a card. (Mind freak!)
Of course, Do-young's explanations don't change the fact that he won, while Actor Gu and Bulldog lost. Dal-goo starts to sweat a little that they'll be facing Do-young in the final round, even though they'll be facing him as a team.
Woo-jin returns to the station without Dad and asks Do-young where he is. When Do-young won't tell him, Woo-jin asks, "Is a person's life a joke to you?" Do-young: "I'm not joking." He knows it won't be easy going up against the four of them, but claims he might be inclined to give a hint if he finds himself cornered. Is he blackmailing Woo-jin right now?
Da-jung doesn't know why Woo-jin was gone for most of the game, but pokes her head into the hallway moments before Do-young says, "I just want the three of us to play. Like we used to do."
Time for the final round, aptly titled Last Man Standing. The game they'll play is a very non-figurative version of Russian roulette, only the guns made to LOOK incredibly real are certified fakes filled with blanks. Again, what could possibly go wrong?
Each contestant is given a revolver capable of holding five blank bullets. When it's their turn, each contestant must press a button as to whether they'll choose to shoot at someone, add a bullet to their gun, or dodge the next shot fired at them.
It's really unsettling to watch Director Jang demonstrating the rules as he aims for Do-young first, doesn't fire, and then aims for Woo-jin. The gun goes off, and according to the rules, a contestant gets to keep firing after a successful shot until their gun misfires, which can happen unless they have five bullets in the cylinder.
If the contestant being shot at chose to dodge, they can not only avoid being shot, but can choose to send that shot to the next contestant. Similarly, if that contestant chose to dodge, they can send it to the next contestant, and so forth.
Each player has five hearts and only three chances to dodge a bullet. Each shot depletes one heart, and whoever loses all their hearts is eliminated—but, their gun will go to the last person who shot them, giving them an advantage in the game.
Do-young's number comes up first, and he presses the "load" button so he can add a bullet to his gun's cylinder, bringing his count to two. He chooses not to shoot Woo-jin until his odds are better, but Dal-goo takes his chances and fires at Do-young.
Nothing happens. Da-jung takes the same chance and gets the same result, even if she looks like a part of her soul just died at having to point a gun at someone. Jaime takes her turn to load, as does Woo-jin. He announces his tactic for his team to save their bullets and shoot all at once, on his signal.
Do-young just laughs, since he can just choose to dodge when they all shoot at him. Woo-jin attempts to trip him up by saying that they'll shoot the next round, because he knows they have to do everything in their power to prevent Do-young from loading five bullets.
The problem is that they're not allowed to talk amongst themselves, which means Woo-jin has to say what he wants to the whole room and not just his allies. PD Lee notes that Do-young would've been at a disadvantage had the No Talking Rule not been in place.
So it all comes down to strategy in the end, and the traditional Liar Game system of making bluffs and calling them. Woo-jin's declaration that they'll shoot doesn't scare Do-young into dodging, since he chooses to load a fourth bullet into his gun during his next turn anyway.
The others have no way of knowing if he chose to avoid or not, but it doesn't matter much when Dal-goo's gun misfires. Da-jung declares her faith in Woo-jin before she fires, and… it's a hit!
Jaime lands a hit too, bringing Do-young down to three hearts. To their surprise, Woo-jin doesn't use his next turn to shoot, but to load. He declares again that they'll all shoot in the next round as well, hoping to cause Do-young to dodge rather than load.
Do-young does just that, but it doesn't work in Woo-jin's favor when he's able to avoid being shot from Dal-goo. He turns the gun back on Dal-goo, resulting in our reformed loan shark losing a heart while Da-jung, Jaime, and Woo-jin choose to load.
Now Woo-jin has a fully-loaded gun with no chance of misfiring unless Do-young chooses to dodge. But Do-young masks his decision while asking Da-jung whether she's heard from her father, even though she's not allowed to answer.
"It must be hard," Do-young croons with fake sincerity. "When you can't see your parents even when you want to, it's painful." A lightbulb goes off over Woo-jin's head: when Do-young texted him Dad's picture and said he was at the place where he let go of his mother's hand, Do-young wasn't talking about Woo-jin, but himself.
A flashback reveals that Woo-jin and Dal-goo agreed for Dal-goo to be eliminated first, so that he could use the time to look for Dad. Dal-goo does his best to get himself eliminated, but the other contestants have no idea he's not using a strategy and follow his lead.
Jaime thinks over her options, because if no one shoots they'll have no way to know if Do-young chose to dodge—but on the other hand, if she shoots and he did dodge, then Dal-goo will be shot.
She takes her chances and successfully fires two shots… but Do-young dodges them. Minus two hearts for Dal-goo, even if that only helps him in his secret quest to get eliminated.
He gets his wish when Do-young successfully fires at him. Even though Do-young getting an extra gun seems like a step back for Team Woo-jin, Woo-jin mouths "the orphanage" to Dal-goo so he'll know where to look for Dad.
The contestant order gets changed in the next round (the hearts are also reset), so that it starts with Woo-jin rather than ending with him. Of course, Do-young has now doubled his chances since he can load and fire two guns at once, so Woo-jin's tactic will be to load his gun while the girls force Do-young to use up his opportunities to dodge.
He instructs Da-jung to shoot while Jaime loads, and she fires two shots successfully. (Woot!) Jaime is the next one instructed to shoot, and though both shots are successfully fired, Do-young dodges and she loses two hearts instead.
Woo-jin calculates every possible scenario and decides not to shoot while he doesn't have the upper hand, and makes the decision to tell the girls to load even though he knows that if Do-young were to shoot Jaime, she'd likely be eliminated.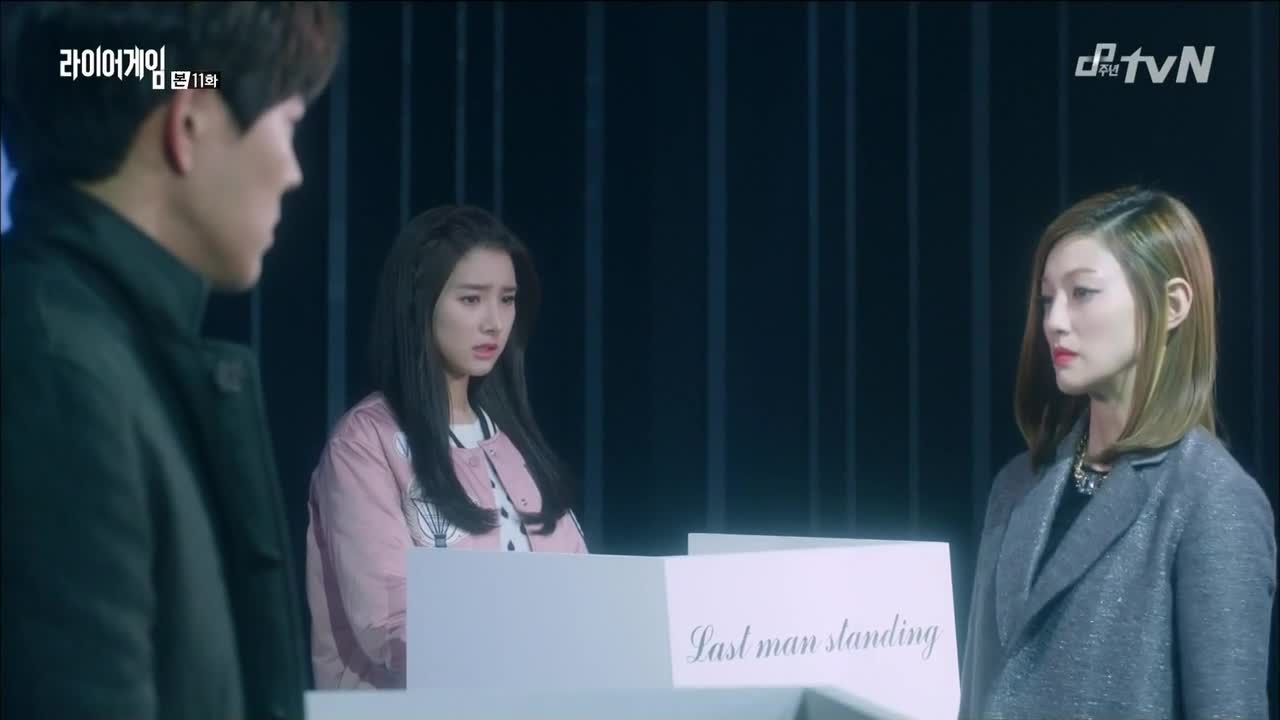 Do-young grins from ear to ear, knowing exactly what just went through Woo-jin's head. "You must have thought I wouldn't make a risky decision. You're right," he says, as he aims for Jaime and fires twice. "…If I was my usual self, that is."
He aims his second gun for Jaime: "Now my chances have gone up to sixty percent. Actually, probability doesn't mean much to me right now. I can already picture it in my mind. We three… facing each other." He fires. Jaime is eliminated.
As she passes by her two teammates, she grits through her teeth that she and Dal-goo never had a chance and she doesn't care that she died. "So you two better destroy that crazy bastard!"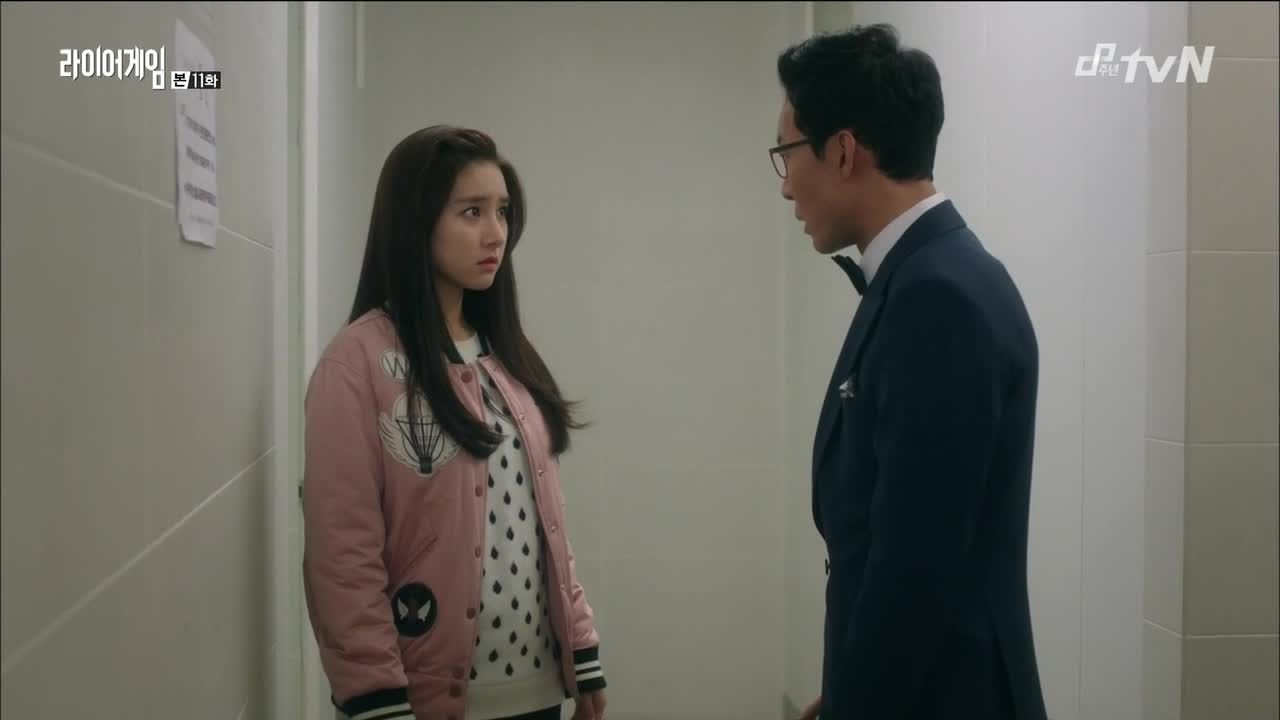 Director Jang declares a small break before they move locations for the next round, before managing to sneak up on Da-jung in the bathroom.
"I'm trying to help you," he claims, as he shows her the video testimony of the other people Woo-jin supposedly coerced into their financial downfall. "Don't trust Ha Woo-jin."
Detective Cha returns to the station to find his fellow officers glued to the live broadcast of Liar Game. He grows suspicious when someone comments that those fake guns sure look like real guns and inspects the one he took back from Woo-jin to find a bullet missing…
…Which means Woo-jin has a real bullet in his gun as Do-young aims for Da-jung, Da-jung aims for him, and he aims for Do-young.

COMMENTS
I can honestly say I've never been so creeped out by a drama before, even during that phase of ghost-seeing shows that actually tried to be creepy. But that entire sequence surrounding Woo-jin's patchwork revelation chilled me down to the bone—and not just because children acting strange is a tried and true horror formula at this point (see: the '80s on)—but because what happened to those kids was left almost solely to our imaginations.
Of course the show wouldn't give away one of its best reveals before the finale, but damn it if I didn't want it to break form and just spill all its secrets already. We'd already been primed for a dark secret tying Woo-jin and Do-young's fates together since childhood, but what I wasn't expecting in any way, shape, or form was the reveal that Da-jung had a part in it. At first I was unsure on how to feel about it since she was already tied to Woo-jin through her father and L Company's downfall, because it's daunting to think of how heavy a hand Do-young's had in shaping her current circumstances otherwise.
Depending on what exactly happened to the three of them as children, it's possible that Do-young was responsible for what happened to Woo-jin's mother, as well as for setting up what was essentially a front (L Company) in order to distract Woo-jin and orchestrate his downfall. But where it gets murky, and possibly even more diabolical, is whether Do-young accounted for Da-jung's father to go down with L Company in order to bring her and Woo-jin together so that this exact scenario would happen. That would be insane… but that's Do-young's modus operandi, isn't it?
I can't wrap my head around what could've happened between those three to scar Do-young so deeply though, especially since Woo-jin and Da-jung don't remember the event. The fact that Da-jung said the orphanage looked familiar was probably meant to be a throwaway line when it was said, which makes the team behind this drama just as devious as the villain they created, even if it's in the best of ways. Because the introduction of a game changing mystery this late in the game could go one of two ways—we'll either buy it and clamor for more or call shenanigans—and if nothing else, Liar Game has proven to be a shenanigan-free zone.
Now I'm questioning everything I thought I knew about Da-jung, because while the thought had crossed my mind when the orphanage was brought into play, I'd assumed she was safe from the boys' childhood drama by virtue of having a father. But did we ever hear about her mother? It seems entirely possible that she was adopted, though I have to give props to the show for not giving us a reason to question that before. That's how you do a reveal. This is how you do TV.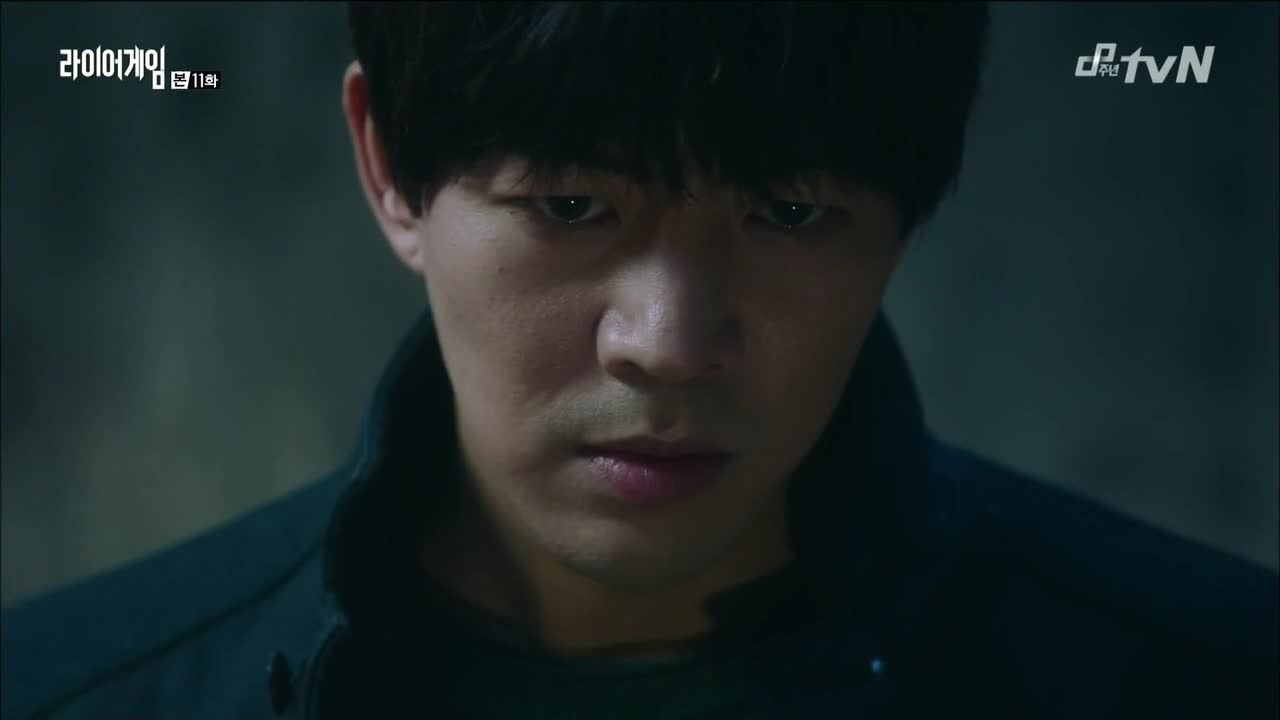 [I feel like this goes without saying, but just in case: NO SPOILERS PLEASE. Don't let Do-young be right about us!]

RELATED POSTS
Tags: featured, Kim So-eun, Lee Sang-yoon, Liar Game, Shin Sung-rok