Liar Game: Episode 6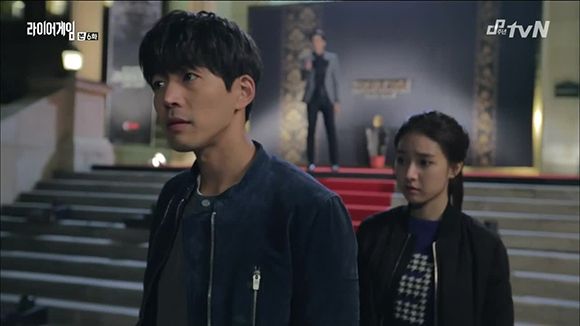 So good. SO GOOD. This is a deceptively touching episode of Liar Game as well as for humanity, since Da-jung's kindness finally yields some positive results. Of course she had to lie a little to achieve said results, but I wouldn't call that selling out as much as growing up. Or growing wise(er)? Da-jung could literally get away with murder at this point, because I'm literally running out of ways to say I love this show. I love this show so much I want to kiss it on the mouth. There.
SONG OF THE DAY
SHINee – "Evil" [ Download ]
Audio clip: Adobe Flash Player (version 9 or above) is required to play this audio clip. Download the latest version here. You also need to have JavaScript enabled in your browser.

EPISODE 6: "Layoff Game II"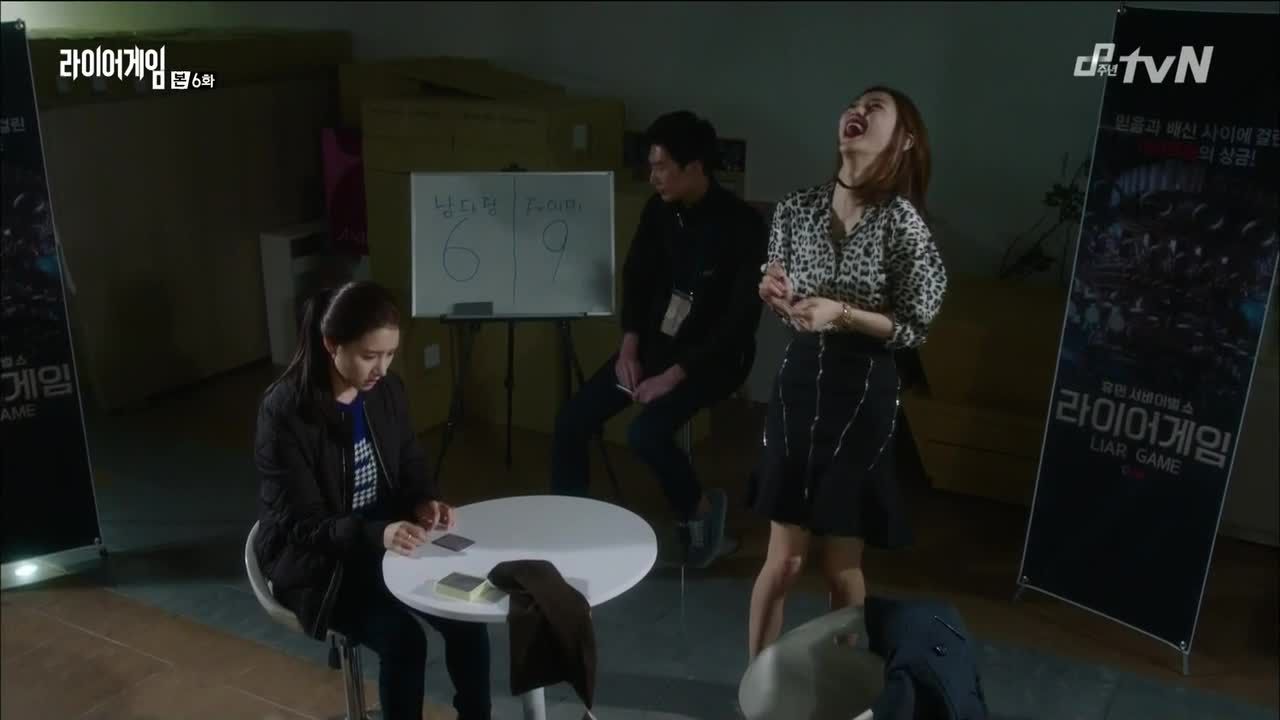 Da-jung pulls the last card toward her, the one that will decide her fate… and it's the misprint. Jaime wins the bet, and Da-jung loses one hundred fifty thousand dollars.
While Dal-goo distracts the mall guards with his intentionally bad driving, Woo-jin takes the opportunity to sneak inside and cut the power. PD Lee keeps calm in the midst of the blackout, completely unaware that Woo-jin has disguised himself as a Liar Game crew member. Ah ha.
Carrying a camera so the light will obscure his face from anyone looking directly at him, Woo-jin is able to convince Da-jung's cameraman that he needs to take his equipment to base camp to be checked.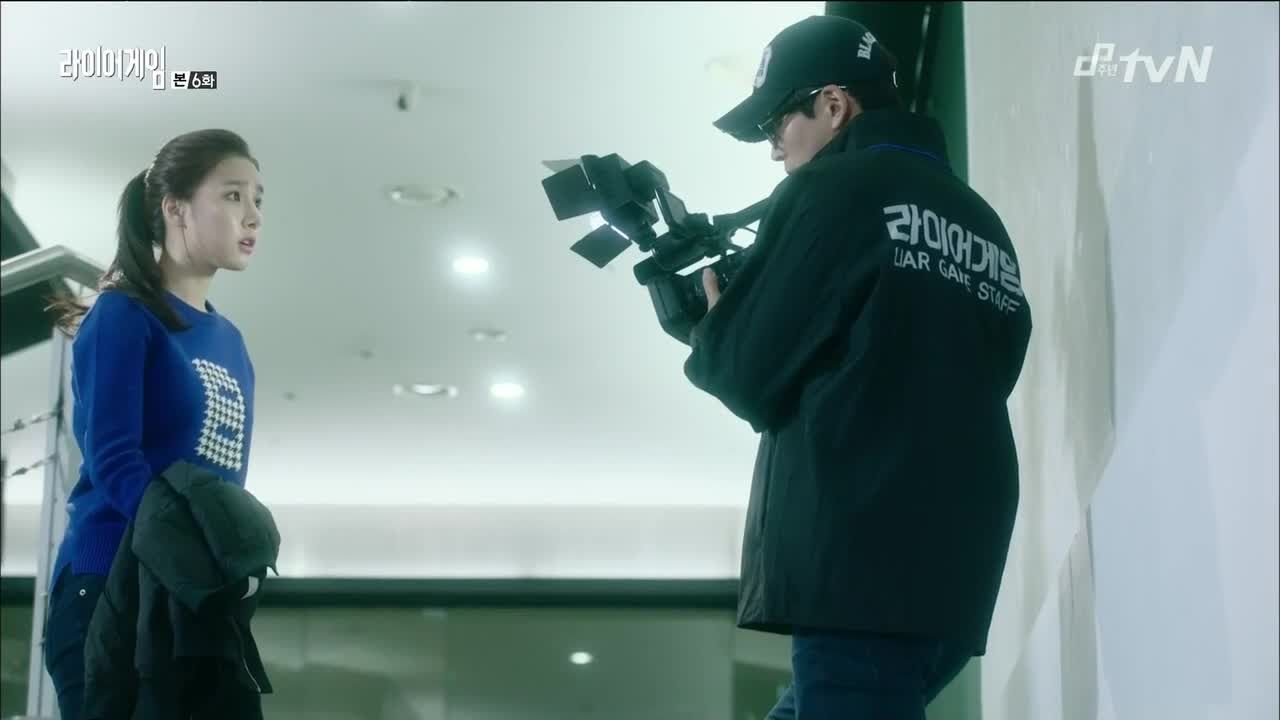 Da-jung is too despondent to notice the switch, and thinks she's just being interviewed when Woo-jin asks her if she's given up. "What more can I do at this point?" she sighs. Woo-jin: "Make them pay for what they put you through."
That's when Da-jung looks up, and her suspicions are confirmed when power is restored. Woo-jin tells her to keep her wits about her and walk calmly to a place with no cameras, while he pretends to follow her as a VJ.
Once they're alone, Da-jung tells Woo-jin that he was right—she got betrayed for hoping people would be trustworthy, just like he said she'd be. She can't figure out why the network picked her. "Is it fun for them to see me suffer?"
"Yes," Woo-jin answers matter-of-factly. Da-jung, now annoyed, tells him he can just go home since the game's already over. Woo-jin: "I'll decide when it's over." Yeah you will.
After Da-jung tells him how she lost the bet with Jaime, he tells her that she never had a chance in the first place—she only thought the chances were even, but because she'd have to reshuffle the cards every time she pulled hers out face-up while Jaime never had to, she would never have been able to win.
"I'm really an idiot, aren't I?" Da-jung says, once the realization that she was scammed—again—sets in. But for once, Woo-jin isn't so hard on her as he tells her that she can't just trust other people blindly: "You have to explicitly teach them what the cost of betrayal is."
So Da-jung approaches Jaime for another round, this time for only half Jaime's stars if she wins… but if she loses, all of her remaining money would go to Jaime.
Even Jaime seems a bit surprised that Da-jung would be so foolish, but believes in her stupidity when Da-jung continues to act hopeful that the chances are fifty-fifty. Jaime thinks Da-jung is falling for the same trick again.
The same goes for PD Lee, who tsks that Da-jung must not have learned her lesson. Do-young is sharper than that though, and suspects something might've happened while the lights were out. Either way, he's excited.
Using Woo-jin's advice, Da-jung gets Jaime's guard down by allowing her to win the first nine rounds. During that time, she makes a tiny fingernail indentation on the edge of Jaime's card so that she can feel it when picking cards from the bag.
And Woo-jin knew that by the time Jaime suspected anything, it would be too late—Da-jung starts winning and traps Jaime into continuing to play the game by acting like her usual innocent self…
…So that when she wins, there's nothing Jaime can do about it. Genius. (On Woo-jin's part, anyway.)
Dal-goo has finally had it with his abusive boss, and stands up for himself in a hilarious bout of banmal-ery. They literally exchange rounds of I'M an asshole? YOU'RE the asshole! until they're blue in the face, and in the end, Dal-goo quits.
When the seventh round results are revealed, everyone's surprised to see that half of Jaime's stars have been given to Da-jung, making them even in the final race.
One of the contestants had no idea stars could change hands, at least until Do-young reminds him that the rules stated anything could be bought or sold. Jaime acts like she doesn't care, and makes sure to tell Da-jung that she still has no chance of winning.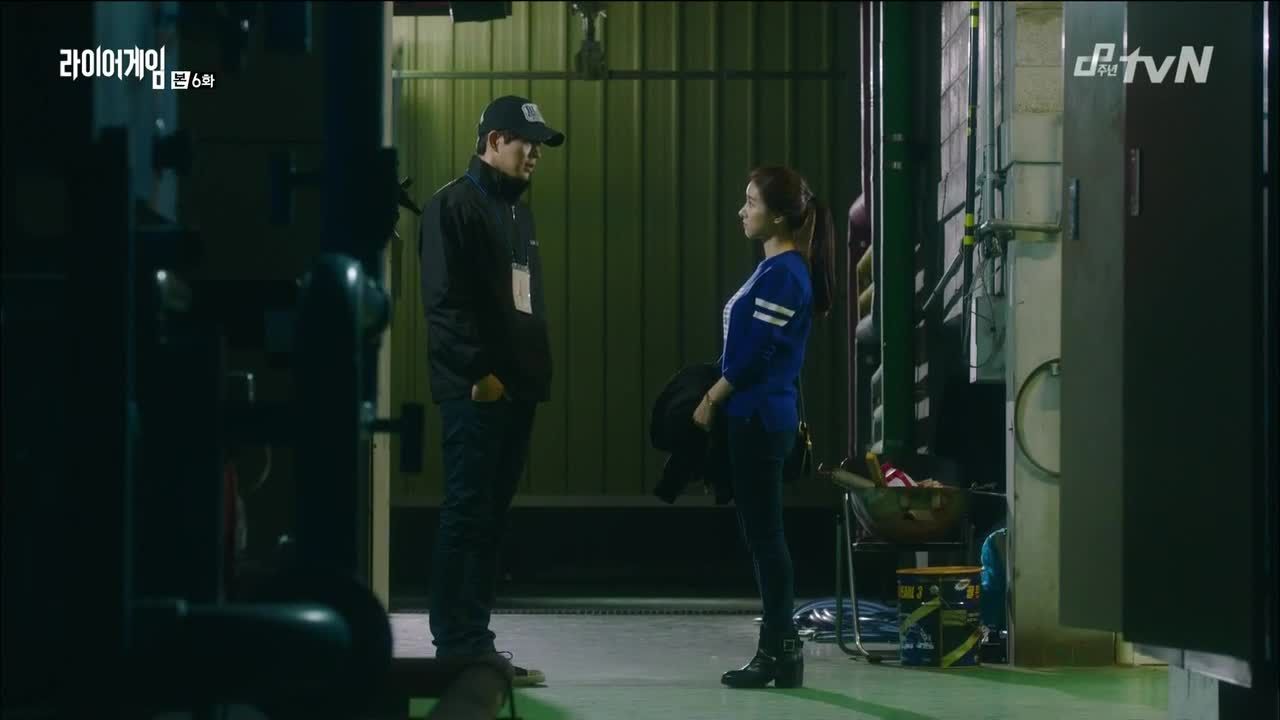 Woo-jin paces nervously in the basement while waiting for the results, since Da-jung has to lose her cameraman to sneak down there. Still, the relief that comes over him is obvious when he sees Da-jung's bright expression, because it means she won.
She still has a ways to go, since having twelve stars isn't enough to win—but now, according to Woo-jin, she can win if she follows his instructions carefully.
The next evaluation round comes along, and Da-jung is still in last place with only twelve stars. Do-young asks her if she's going to do anything to prevent her elimination at this rate, causing Da-jung to stand up and face him: "Why does one person have to be laid off? Why are you making people choose amongst themselves?"
Do-young seems a little taken aback by her sudden outburst, but maintains his cool facade as he tells her that this is a game, and she signed up for it as-is. "You created this game, Kang Do-young," she fires back. "Must we follow the rules as you made them?"
To Do-young, the answer is obvious. Jaime sees Da-jung's raging against the machine as an act of desperation, and all but coos that even if Woo-jin magically showed up to save the day, the most he could do is pat Da-jung on the back. Her loss is imminent.
At least the tide is turning when it comes to Da-jung's fellow contestants, since Sung-joon mutters a little "I'm sorry, Noona" while the kindly Director Jung just looks at her pityingly.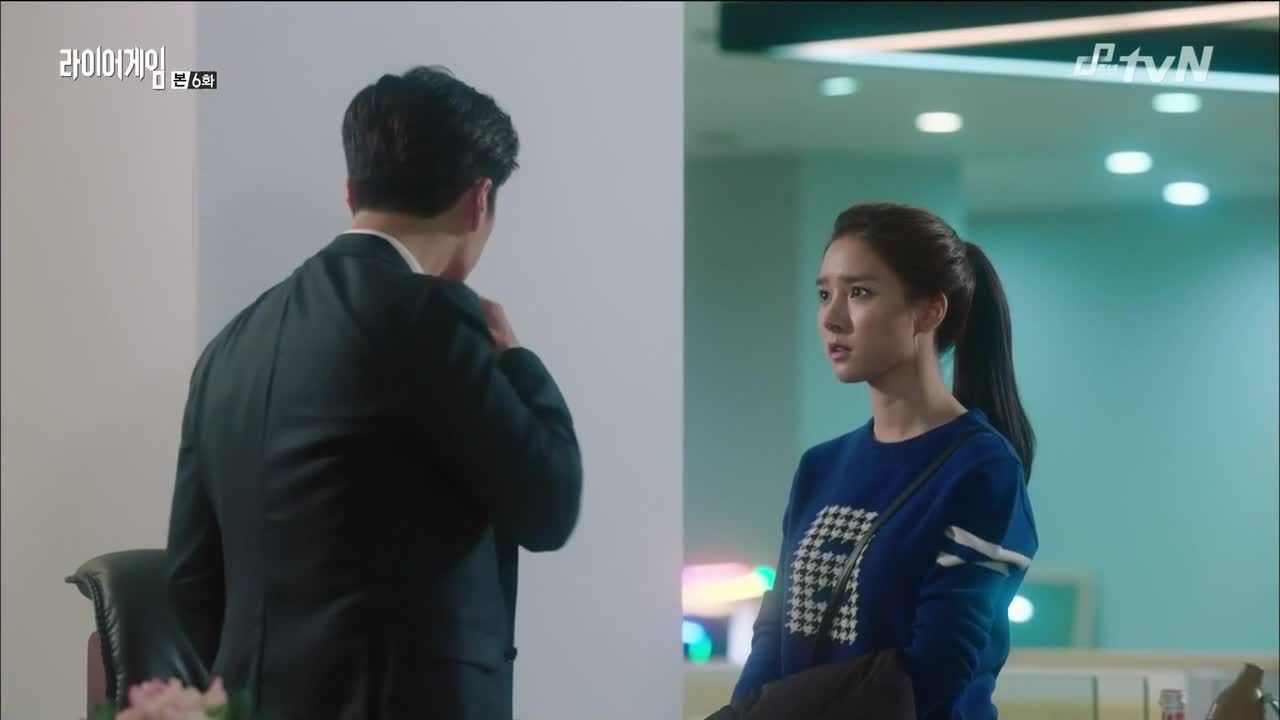 While Dal-goo gets updates by making friends with the guards outside, Da-jung approaches assemblyman aide KIM BONG-GEUN with a request. He's unwilling to give her the time of day until she offers to give him her remaining game money if he sells her nine stars.
Da-jung makes it seem like she just wants revenge on Jaime for tricking her, and if things go the way she plans, Jaime would become tied with her during the tenth round, which she hopes will lead to a tiebreaker round. Either way, Aide Kim agrees to the deal and trades nine stars for one hundred fifty million won/one hundred fifty thousand dollars.
During the ninth round evaluation, Do-young comments that the game might've become too simple—but he hopes Da-jung will shake things up a bit. Da-jung claims she doesn't know what he's talking about, but Do-young just smirks that he's looking forward to what happens next.
But when the results are revealed, the only name that shows up on the board is Da-jung's… with SEVENTY-FIVE STARS. What?! How?
All her fellow contestants share the same shocked sentiment, but Da-jung just says she got nine stars from each contestant. None of them knew the other had sold stars to her, and now they all feel fooled—even Sung-joon seems disappointed in Da-jung.
But the question remains, how did Da-jung promise each of them one hundred fifty thousand dollars she doesn't have? Everyone on the production team cheers for Da-jung except the surly Director Jang, who casts doubt on how Da-jung could've pulled this off without help.
The rest of the results are revealed, with everyone but Da-jung tied with twenty-one stars, and the only reason Jaime's tied with them is because Da-jung used this round to give her three stars.
Flying into a rage, Jaime demands to look at the contract Da-jung made with each contestant promising them one hundred and fifty thousand dollars before the end of the round. Jaime points out that Da-jung can't possibly pay them all, and reminds her that her money will be confiscated if she were to breach any contracts she makes.
"Hey, Kang Do-young! Am I wrong?" Jaime demands in banmal, and it's hilarious how Do-young's hands go up defensively as he replies that yes, Da-jung's prize money will be confiscated if she can't pay up. All the contestants take turns patting themselves on the back, safe with the knowledge that Da-jung dug her own grave.
"Why make a contract you can't uphold?" Jaime sneers. "She can uphold it," a voice says from behind them—it's Woo-jin. "Does Nam Da-jung look like a liar?" he asks after taking his place next to her. "I told her to do it."
Jaime turns all her rage on Do-young as she asks how a non-contestant can be here and I love Do-young's sorry-but-not-sorry shrug. He is just eating this up, isn't he?
But Woo-jin reminds the others that the rules stated they could bring anything they wanted to the game—so for this game, they can just consider him Da-jung's personal property.
"I'm just a dog right now," Woo-jin says as he steps protectively in front of Da-jung. "Nam Da-jung's faithful and vicious dog. I'll show you what happens when you mess with my master." Is it hot in here, or is it smoldering hot? *fans self*
Director Jang is pissed, but any attempts to get through to Do-young go unheeded because he's literally having too much fun. The contestants are also upset, but Woo-jin reminds them to look at their scores.
With all of them tied for last place, their survival lies with Da-jung. She has more stars than she could ever need, so if they use the next round to buy stars from her, they can save themselves from elimination.
PD Lee finally puts a temporary halt to filming in order to take Do-young aside: "You knew already, didn't you? Why didn't you tell me ahead of time?" Do-young: "It's fun. Didn't Director Jang say it just had to be entertaining?" Oh, you sly fox, you.
Do-young has been waiting for the moment when the contestants would realize their individual roles within the game, because now they're taking matters into their own hands. His advice to PD Lee is not to get involved, but to keep filming.
When PD Lee claims she doesn't know how to explain this to Director Jang, Do-young leaves the decision to her with the reminder, "The partner I chose for this show wasn't Director Jang, it was you." PD Lee chooses Do-young.
The tied contestants argue whether to even buy stars at all, but then worry that they won't be able to pay the prize money back if they lose. Bulldog claims he's not afraid of being indebted to the show, which is when Woo-jin tells them that out of the thirteen contestants eliminated in the last round, only five were able to pay their debts.
The other five used loans to pay it, while the remaining three just disappeared. When Woo-jin mentions that Lee Min-jin went missing, the lawyer in the group mentions that she'd gone to him for counsel after losing, since she'd spent more than half of her prize money and had no way to pay it back.
But that was the last he heard of her, which aligns with Woo-jin's story. The contestants are now taking the idea of losing just a tad more seriously when Do-young returns to tell them that the producers have agreed to let Woo-jin count as Da-jung's property in keeping with the rules.
After Woo-jin and Da-jung set up shop, Aide Kim and Director Jung come begging first. Woo-jin does all the bargaining so that they'll end up buying stars with the money Da-jung is contractually obligated to pay them.
Sensing Da-jung's uneasiness with this whole situation, Woo-jin explains it to her like this: she made the offer for everyone to share the prize money, but they were greedy, and this is what they get.
Da-jung doesn't see how anyone could trust her after this, but Woo-jin tells her that trust isn't easy. "If you put your trust in them but were betrayed, you have to make them pay. Compensate trust. Punish betrayal."
Woo-jin keeps raising the individual star price as each contestant comes to buy, getting as high as eighty thousand dollars a pop. Director Jung returns to buy more stars and starts whining when the price is more than he can pay, even going so far as to accusingly ask Da-jung why she's being so cruel.
"And what about all of you?" Woo-jin retorts. "Why did you do that to Nam Da-jung?" It's clear that Da-jung feels bad enough to cave like she always does, but she fights the urge.
After more stars switch hands, it's time for the final evaluation round. Woo-jin reminds Da-jung that whoever gets eliminated is up to her now. "Will you really do it?" She says yes.
In the studio, the contestants gather around Do-young, who explains that the only people who know the outcome of the game are Woo-jin and Da-jung. It'll all hinge on who Da-jung gives her last three stars to, and though many try to beg and plead, Da-jung apologizes and says the decision has already been made.
The results are in: Da-jung is in first place with thirty-one stars, seven people are tied in second place—and after calling out the six lucky contestants, the only two remaining are Jaime and Director Jung. Jaime resigns herself to being eliminated…
…Only moments before her name is called as the seventh lucky contestant. She's in, which means Director Jung is out. Tears fill his eyes as he asks Da-jung why it had to be him when he's been so down on his luck ever since he lost his job (while caring for his sick mother, no less).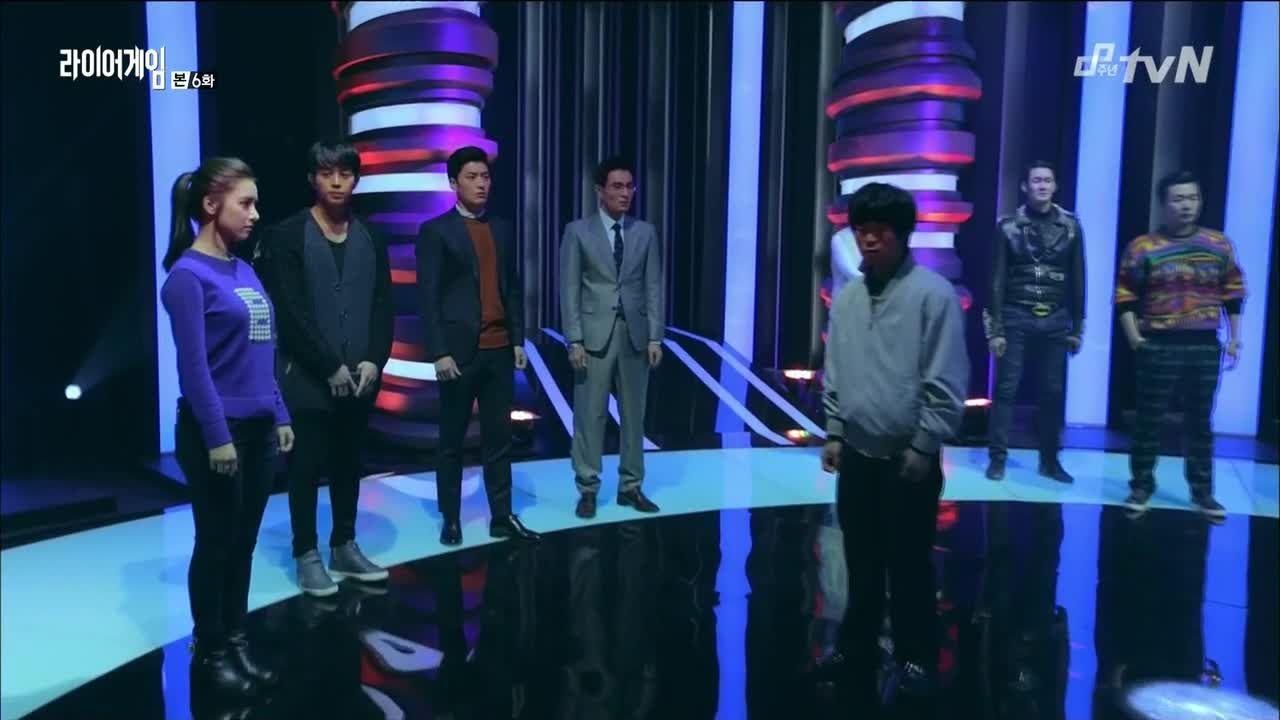 There's not a dry eye in the house by the end of his heart-rending tale, and Da-jung thanks him for being the only person to talk to her when everyone else avoided her. He demands to know why she eliminated him if she's so grateful, then.
"So I could help you," Da-jung answers. Everyone turns to her quizzically, until she explains that she knows Director Jung spent prize money he didn't have on medical expenses—so she's giving him the money she earned this round. Whoa.
This is a twist no one was expecting, as Da-jung tells Director Jung that what he needs now isn't to be in this game or the prize money. She'll repay his debt so he can return to his family.
The amount of money Da-jung won by selling stars equals over two million dollars, and even by giving seven hundred thousand to Director Jung to cover his debt, she's still left with two million. How will she spend it?
Since keeping it would mean that every contestant would be out three hundred thousand dollars (that they used to buy stars), Da-jung rationalizes that the money isn't really hers, so she'll give everyone two hundred fifty thousand dollars each. "Does that mean you'll participate in the next round?" Do-young asks.
Da-jung: "Yes. I thought about it while playing Liar Game; was this show made for us to trick and be tricked? It's possible, but if you think of it another way, I think it might be a test to see if we can really trust each other. I trust you all… no, I want to trust you. So I'm going to divide the money."
Director Jung gets to say a few words on being eliminated, and has a heartfelt monologue about how sorry he is to have deceived a kind person like Da-jung and how grateful he is to her.
Do-young sniffs back tears which I'm sure are fake before he asks Da-jung something he's been curious about: "What's your dream for the future?" When she doesn't have an answer, Do-young says he thinks she'd do well running a nonprofit organization…
…Before he looks straight at Woo-jin to ask what he thinks, causing Woo-jin to walk off the stage—after all, his mother ran a nonprofit before she committed suicide. Ohhhh, you terrible excuse for a human being. I love you and your terrible terribleness.
PD Lee asks Do-young now whether there's anything he wants to share with her, since she's starting to suspect his reasoning behind creating Liar Game due to his obsession with Woo-jin and Da-jung.
Do-young just laughs off the idea that he had a personal stake in any of this, but PD Lee turns fierce as she performs dramaland's first female-to-male arm grab to demand he look her in the eyes when speaking.
Do-young:: "Were my intentions for creating this show pure? No, 'pure' isn't enough to describe it. They were noble. Next to that, my personal ambitions are as small and pathetic as dust. Do you need any further explanation?"
No, no. I think we're good for now. Carry on, crazy person. Carry on.
There's brief mention in the news the next day of the one year anniversary of Woo-jin's mother's death, and since Da-jung heard the story from Do-young, she catches Woo-jin on his way out to her memorial so she can accompany him.
He's reticent to answer any of Da-jung's questions about his mother, at least until he takes her to a dilapidated orphanage his mother used to run. It became like a second home to him, since his mother would always make him tag along whenever she had to take care of business there.
Sometimes they'd stay for days, and Woo-jin had to endure sharing his mother with all the other children. "You must have been sad as a child," Da-jung notes. "Probably," Woo-jin admits. "Actually, I don't really remember the time I spent here. I guess I don't want to remember. I hated her then."
He remembers her as a person very much like Da-jung—she'd trust people too easily and get fooled just as easily, which would make his blood boil when he saw her getting taken advantage of.
Da-jung asks if he studied psychology because he wanted to protect his mother, only for Woo-jin to snip back that a psychology degree isn't a way to protect anyone. At most, you can just understand them, though he admits he failed in doing that with his mother.
"I don't understand you either," he tells Da-jung. She could've walked away with one and a half million dollars after paying her forfeiture penalty, so why didn't she?
"I could have survived alone," Da-jung nods. "But I didn't want to leave other people in debt. I'm a fool, aren't I?" Woo-jin asks her if she remembers what she said to him when they first met—the same words his mother said before she fell to her death. "Is it so wrong for people to trust one another?
Because he heard those words from her right after he got out of jail, his voice turns cold as he tells Da-jung that she's just a burden to him. A dispensable one, at that.
During his broadcasted interview with Do-young, Woo-jin is asked about the controversy surrounding the "personal belonging" clause in the recent round. Instead of answering, Woo-jin poses a question to the audience: Did they ever think that the network created that loophole so this would happen?
Do-young demurs such an outlandish accusation, and asks why he's helping Da-jung to the extent that he is. Woo-jin goes silent before asking for a break.
After making sure their microphones are off, Woo-jin asks Do-young if the name "L Company" rings a bell. Do-young says he remembers it from the stock manipulation case made famous a year ago, to which Woo-jin then asks if he, Da-jung, Lee Min-jin, and the other contestants are connected to L Company.
Meanwhile, PD Lee gets a strange call from a man threatening the network unless Liar Game is taken off the air. She's used to calls like this, but it's the man's use of "My Da-jung-ie" that actually gets her attention.
"By any chance, are you Nam Da-jung's father?" she asks.
Woo-jin changes his line of questioning to include whether Do-young has a connection to L Company or not—because he knows that the contestants weren't just chosen by chance.
Do-young rolls his eyes and chuckles like Woo-jin's lost his marbles, and accuses him of being too suspicious. "Trust me," Do-young says.
Then he leans in close and asks with a devilish smile, "Is it so wrong for people to trust one another?"
Do-young gets a good laugh from Woo-jin's shocked reaction, but a tight grip on his arm stops him from leaving as Woo-jin looks him straight in the eye and asks, "You… know me, don't you?"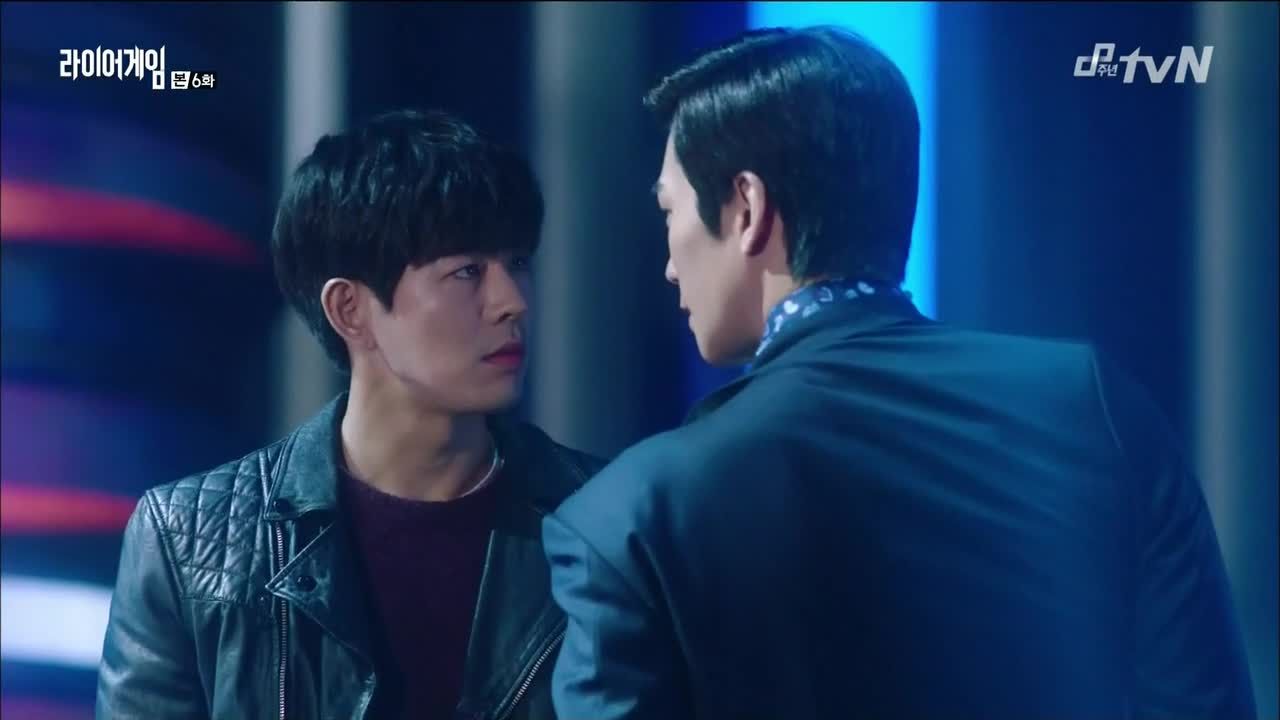 COMMENTS
I'm not ashamed to admit I literally jumped out of my chair when Do-young repeated the last words Woo-jin's mother ever said to him, because the moment was just that good. It was THAT GOOD. I've been making a concerted effort to avoid writing odes and sonnets to Do-young in the past few comments sections out of the sake of fairness, but to do so now would be unfair to one of the best drama villains to ever take to the screen. Ever.
There's a really fine line between teasing out a good mystery and withholding information just for the sake of it, and Liar Game manages to be the former—it gives us a fully realized character in Do-young, but reveals only what's necessary from moment to moment. The impact of how he explained his reasoning for creating the show in this hour would've been lost had he word vomited his entire M.O. from the beginning (like some mustache-twirling stock villains are wont to do), but he didn't. He kept quiet, he laid low, he manipulated from the sidelines while playing innocent.
But then PD Lee demanded answers, and the grinning devil facade suddenly gave way to something much darker. That scene where Do-young cited his personal credo was so perfectly executed as to be mind-blowing, not just from a directorial and writing standpoint, but from an acting one as well. You got the sense that there's something fundamentally wrong with Do-young, that he truly believes he's some sort of god among men and that what he's doing is not only right, but necessary. The fact that he believes so with such conviction is what's so completely fascinating—and so frightening—about him.
We still don't know exactly how Do-young may be connected to Woo-jin's mother or the other contestants except that it all has to do with L Company, but to hear him say Woo-jin's mother's last words opens a whole new can of worms. How would he know what she said? Was he there that night, or did he have something to do with her suicide? My initial conclusion is that he could've set this show up as an elaborate act of revenge for [insert conspiracy theory here], but unless he was lying to PD Lee about his personal ambitions meaning nothing—which is entirely possible—then this is about something else. Orrrrrrr is it?
If nothing else, what we do know about Do-young tells us that he's probably not going to abide by Da-jung turning Liar Game into a morality play unless it's touting his worldview that people are slaves to money. Da-jung managed to fight the system at last, and though it took a little deception on her part, the fact that she's learning how to play the game without selling her soul means she is now the direct antithesis to Do-young's reasoning for creating the show. But if Do-young chose her with a purpose and masterminded every move, he must've anticipated something like this happening, right? I wonder if Do-young even knows what it feels like to be surprised, but that'd mean someone—a heroic genius, perhaps—would have to outsmart him first.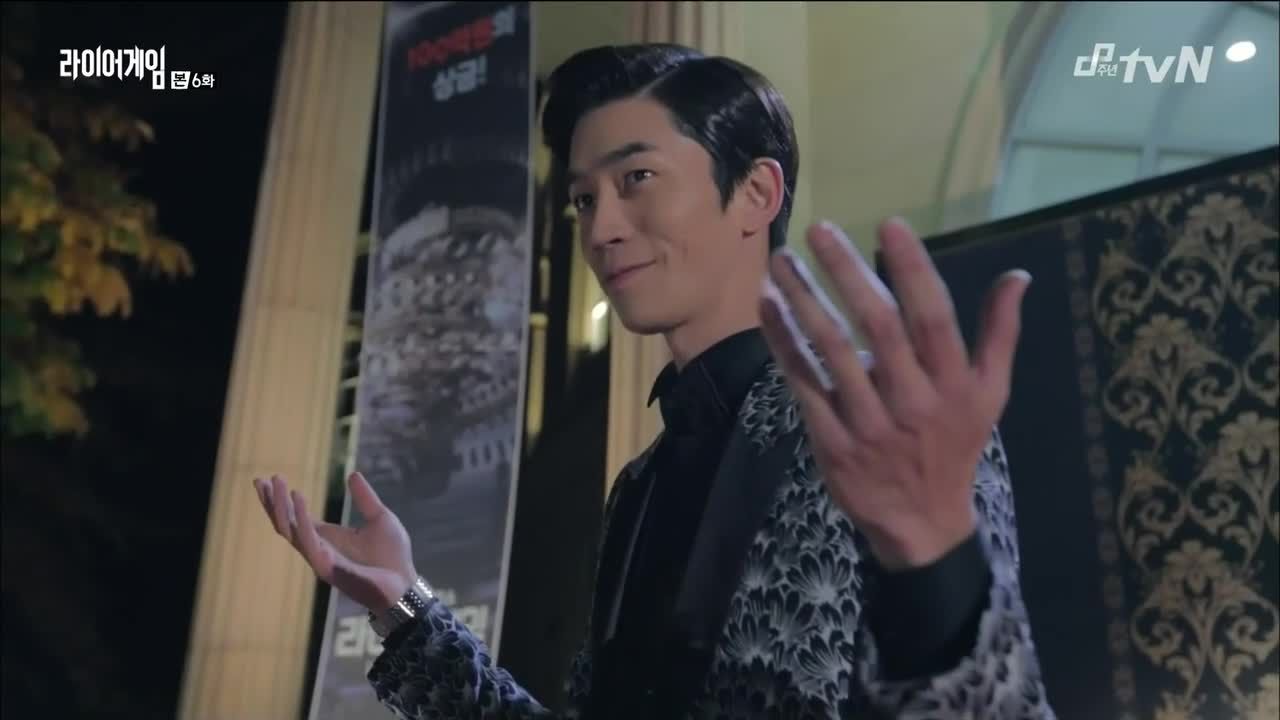 RELATED POSTS
Tags: featured, Kim So-eun, Lee Sang-yoon, Liar Game, Shin Sung-rok