Liar Game: Episode 7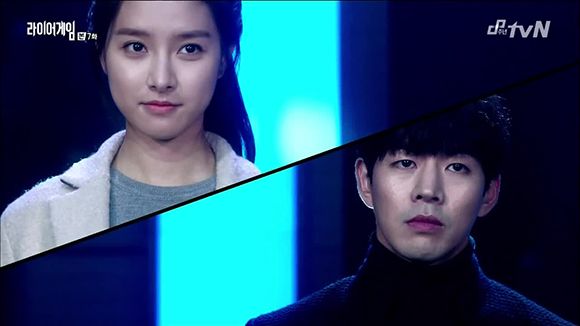 It's a new week, which means a new round to entice our characters to sell their souls for sweet, sweet dollar bills. We even get an extra dash of intrigue and amusement when everyone's favorite debt collector gets to participate in the actual game instead of being relegated to the sidelines, not to mention when our devilishly good-looking host becomes the hosted—orrr does he? Of course that means Da-jung takes a bit of a backseat this hour, though she does manage to impress the perpetually unimpressed Woo-jin, which I'm convinced is the rare white elk of achievements when it comes to our grumpypants hero.
SONG OF THE DAY
2PM – "Game Over" [ Download ]
Audio clip: Adobe Flash Player (version 9 or above) is required to play this audio clip. Download the latest version here. You also need to have JavaScript enabled in your browser.

EPISODE 7: "President Game I"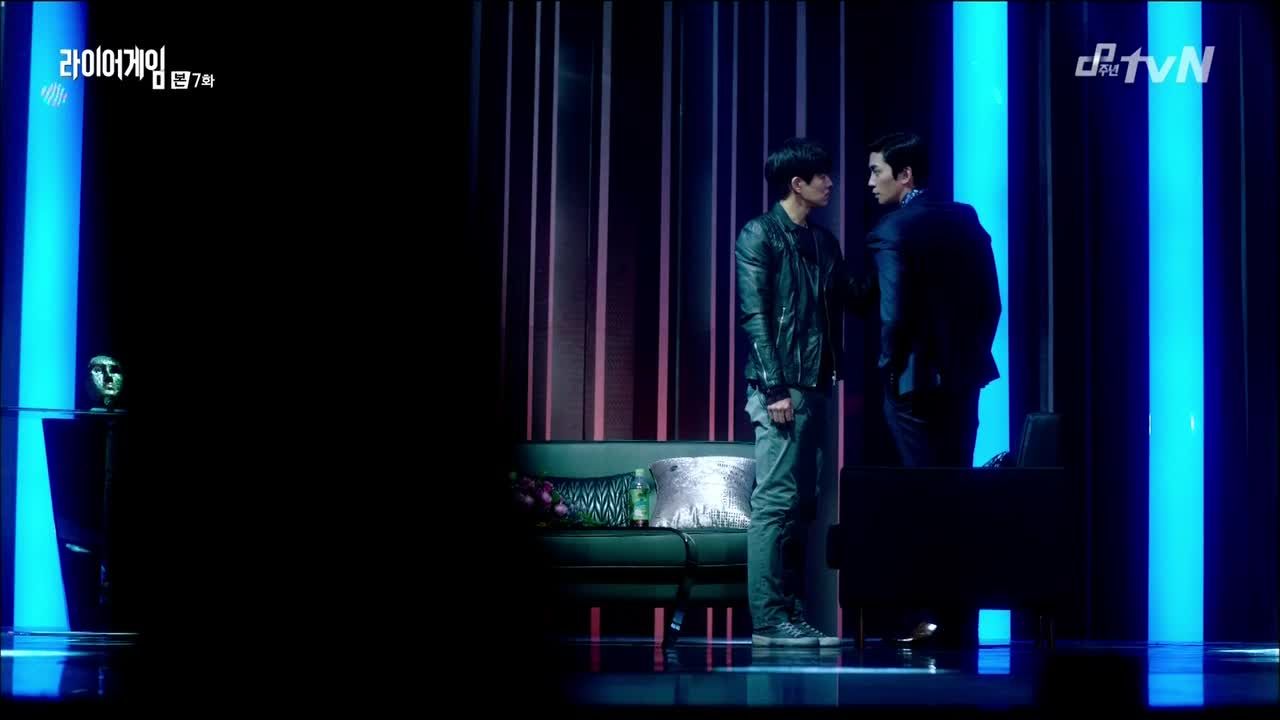 Before we return to last week's cliffhanger, we get a summation of how the prize money works within the game: If a contestant reaches the final round, the total amount of money that could be won equals ten million dollars.
In each round, the contestants are given cash that they must either return in full in the event of elimination, or in half in the event of forfeiture. As of now, Da-jung has won half a million dollars/five hundred million won in the 500 Million Game, two hundred fifty thousand dollars/two hundred fifty million won in the Minority Game, and three hundred thousand dollars/three hundred million won in the Layoff Game, which brings her grand total to one and a half million dollars, or one and a half billion won.
And an important note the show wants us to remember is that the funds assigned during any given round are made irrelevant once the round is over, meaning that any money used to play the game within a specific round is as good as Monopoly money even if it's actually real money that can be spent if someone is desperate enough. Hence the whole premise of Liar Game.
After Woo-jin asks if Do-young knows him, Do-young cheekily replies that of course he does—Woo-jin's famous now, after all.
But Woo-jin isn't buying it as he growls that Do-young knew all about Da-jung's father going into debt because he brought L Company down, and that Do-young used her as bait to draw him into the game.
Do-young just shakes his head and laughs that Woo-jin won't get answers using tactics like this. "I told you, if you want to know the truth, you have to win the game." And because he broke the rules, the game will become more challenging—as will the enemies Woo-jin will have to face.
That just means more fun for Do-young, which makes Woo-jin tighten his grip on him: "This is fun to you?" Do-young brushes him off smoothly before reminding him that the cameras are rolling. "Enjoy, my friend," Do-young croons.
They return to the interview, and this time when Woo-jin's asked why he's helping Da-jung so much, he responds, "Because I need her. Nam Da-jung has power… the power to move people's hearts."
Do-young wonders if that means Woo-jin is using her, which he neither confirms or denies. But Da-jung watches from behind the cameras as Woo-jin says he'll turn his back on her should they both reach the final round because he's going to win…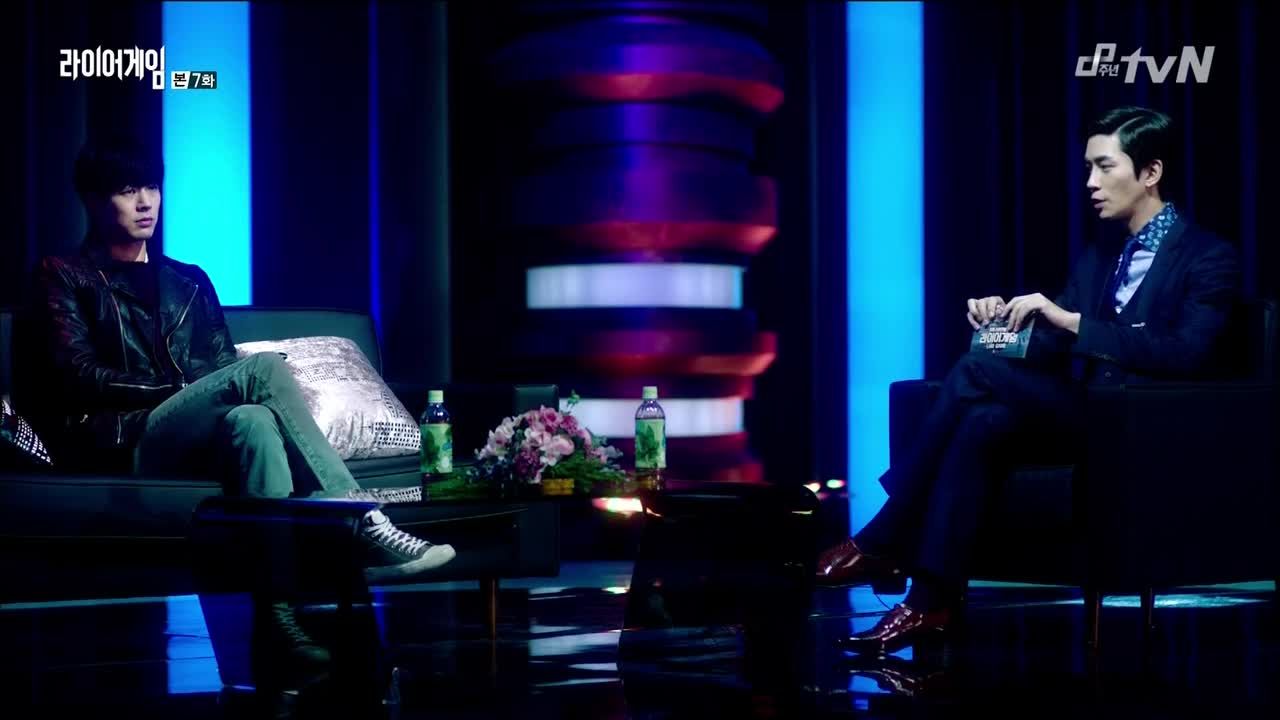 …But, in a surprising turn, he claims he'll give her all the prize money because he wants to see if the world she wants to believe in can truly come to pass. This is not the music Do-young wants to hear, since cooperation would be too boring for broadcast, and Woo-jin knows that he'll throw everything at them to try and make them betray each other.
Which makes Woo-jin's threateningly subtle declaration of war all the more meaningful when he says that Do-young might actually enjoy watching to see if the contestants can overcome the show's challenges by proving they can stick together and trust each other. Because NOTHING would rattle Do-young more than that, and Woo-jin knows it. Mwa ha ha.
Da-jung stops Woo-jin on his way out to tell him that she thinks he's a good person. Woo-jin grumbles some sort of negation to that, but Da-jung just smiles.
After luring the creditors collected outside Da-jung's home away, Dal-goo is called to Woo-jin's humble abode (and gets to make a funny little innuendo about Woo-jin coming onto him because he showered before his arrival) to discuss Woo-jin's theory on how the contestants were chosen.
Since Dal-goo was the one to ask Woo-jin to help Da-jung, Woo-jin had suspected him for a while—but now he knows Dal-goo was innocent. It was all Do-young's doing, which has Dal-goo freaking out that he was manipulated into enlisting Woo-jin without even knowing it. "Who the hell is Kang Do-young? What grudge does he have against you?"
Instead, Woo-jin is suspicious of how Dal-goo became employed in the "Money Money Company" in the first place, which would mean this plan of Do-young has been years in the making. Whatever the case, Dal-goo is tasked with finding a connection between Do-young, L Company, and the company he just quit.
During the Round 4 broadcast, Do-young tells the nine remaining contestants that they'll be playing the President Game. They'll have three elections during the round, and each president elected gets a share of the prize money and the ability to eliminate participants. Four total contestants will be eliminated during the round.
Whichever president remains elected through the end will be able to choose the teams for the next round, but the catch is that the president can't be any of the contestants. They have to find a prospective candidate and bring him or her to the studio within twenty-four hours.
When Da-jung asks what the qualifications are for a candidate, Do-young uses a quote mistakenly attributed to Alexis de Tocqueville (but actually written by philosopher Joseph de Maistre, which I wish I could say is splitting hairs except they were totally different dudes): "Every nation gets the government it deserves."
So while Da-jung thinks that everyone who's not Jaime can rally behind a single candidate, Woo-jin notices Bong-geun acting strange. Uh oh.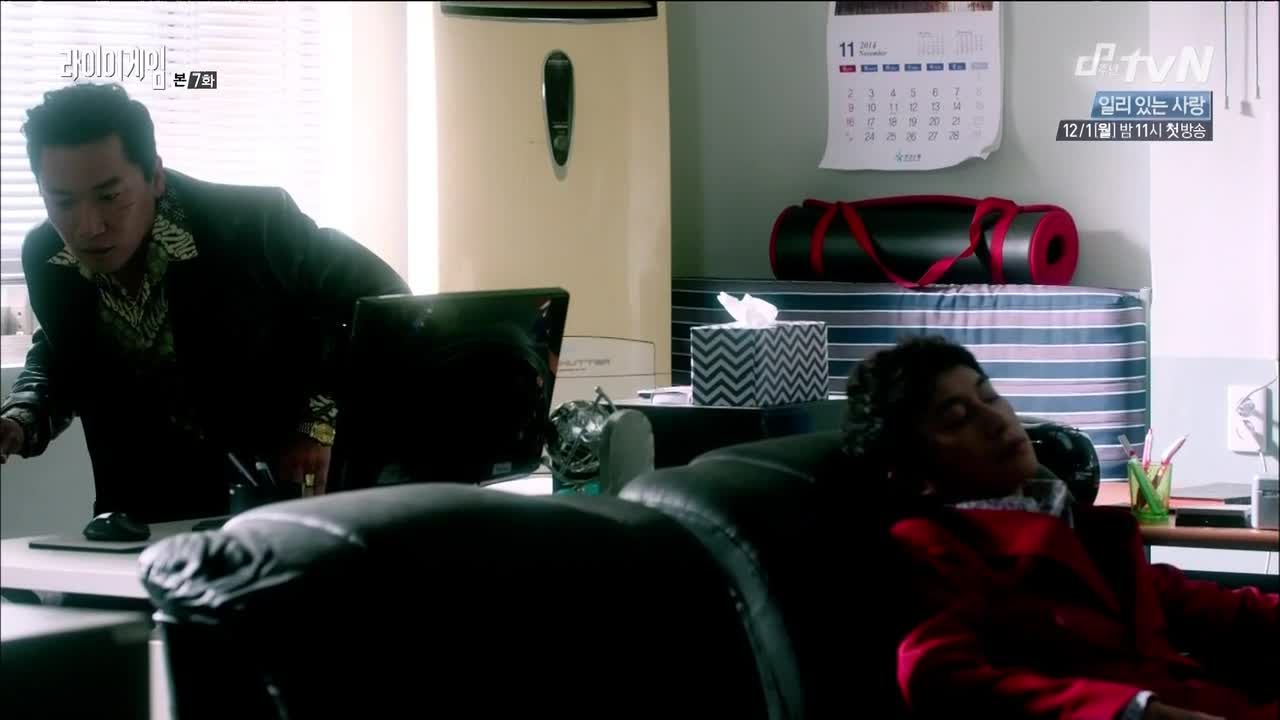 Dal-goo sneaks into President Bae's office to fish for the intel Woo-jin wanted, but finds himself caught when his former boss enters. Somehow, President Bae already knew Dal-goo was in there, and calls his men in to beat the living daylights out of our poor debt collector.
Meanwhile, Woo-jin is the one to tell the (now seven) contestants on their team that Bong-geun won't be joining them—he's gone off to find his own candidate, which should be relatively easier for him since he worked as an assemblyman's aide before the show.
He returns to that same assemblyman now to ask him to be a candidate in the show in exchange for media coverage and fundraising for his actual campaign. The assemblyman agrees.
While President Bae has a duct-taped Dal-goo loaded into a car trunk, a mysterious spy who's watched the entire exchange reports to Do-young over the phone.
But when asked if he should take action, Do-young grins and says no—they'll just see how things unfold for now. PD Lee watches him on the phone from a distance, and while she may not know who he's talking to or what it's about, she knows enough to be worried whenever Do-young seems happy.
Da-jung receives a phone call from President Bae threatening to sell Dal-goo's organs if she doesn't pay the debt she owes, causing her to desperately turn to Woo-jin for help.
Speaking of, Director Jang has a powwow with Jaime on ways for her to win, which he knows will be impossible if she doesn't do something about Woo-jin. His idea is to give her a Cambridge graduate as a candidate, but Jaime has a better idea. (We don't hear what it is.)
Dal-goo is already on the butcher's block waiting to be cut open, but due to an insufficient amount of anesthetic, he's able to talk like a drunkard. When he overhears President Bae complaining that he wouldn't have even hired Dal-goo if it wasn't for the top guy who delivers debtors to him in the first place, Dal-goo asks in a slur if he answers to Do-young.
President Bae seems to take offense to this idea, since he refers to Do-young as "that bastard" before leaning down to whisper the truth in Dal-goo's ear. Of course we don't hear it, but it's questionable whether Dal-goo has enough of his mental faculties to hear it either.
Then the time for talk is over, and the surgeon takes a scalpel to Dal-goo's stomach… but is thankfully stopped from making the first cut when Woo-jin and Da-jung enter.
She rushes to Dal-goo's side while PD Lee and the Liar Game crew come in with camera lights blaring. PD Lee declares that Dal-goo is now a participant in Liar Game and that they'll send this footage straight to the police if he gets injured.
President Bae doesn't back off until PD Lee shows that she's got a direct line to Detective Cha, their law enforcement liaison in Seoul. In order to save Dal-goo, Da-jung's chosen him as her presidential candidate for the upcoming game.
Dal-goo can't remember agreeing to be the candidate once he's drug free, nor can he remember what President Bae said to him that he knew would be important enough to pass onto Woo-jin.
During the broadcast, Da-jung and her six other teammates present Dal-goo as their candidate, while Bong-geun presents Assemblyman KANG SHIN-GYU as his.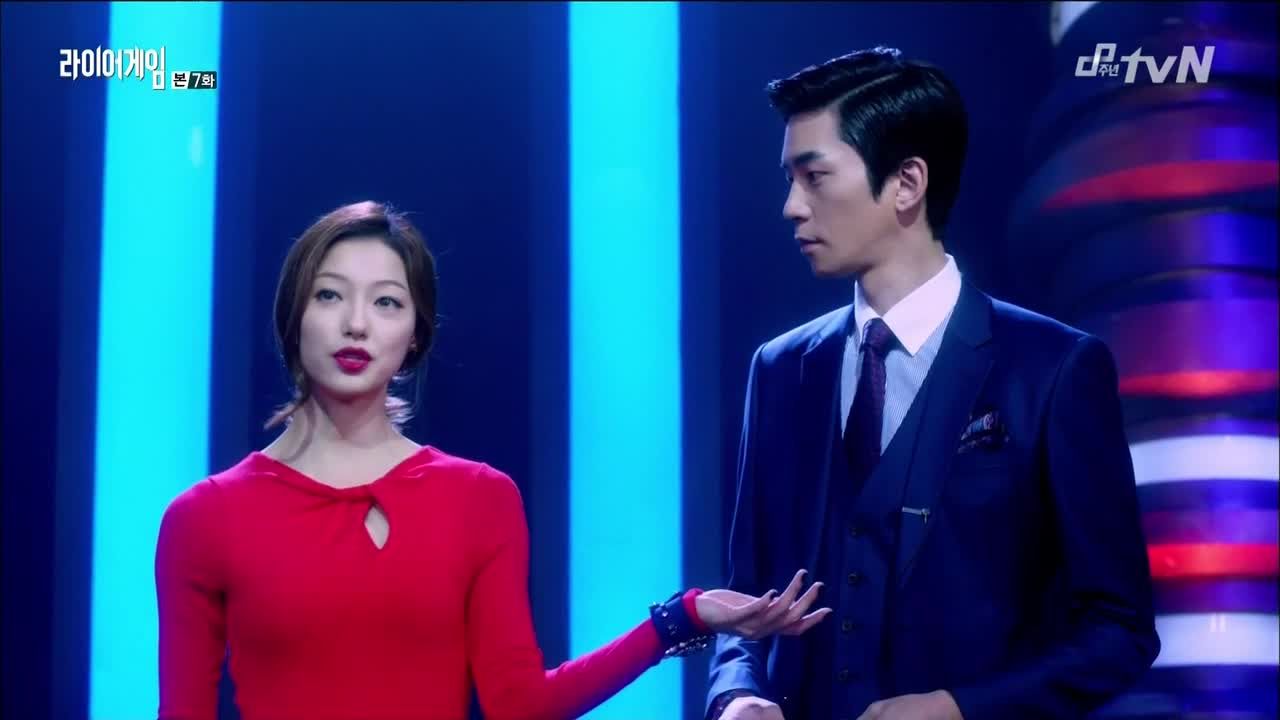 Jaime is the only one without a candidate in the last five minutes of the nomination round… at least until she sidles up next to Do-young and declares that he's her candidate. Everyone but Woo-jin—including the infallible Do-young himself—is shocked.
Outside, PD Lee, Do-young, and Director Jang hash out their issues with this recent twist, which of course Director Jang is all for since the plan was concocted by his star contestant to get rid of Do-young.
And as Director Jang and Jaime predicted, Do-young has to step down as MC for the round he'll be forced to participate in. Even though Do-young reticently claims he has someone who can step in for him, Director Jang has no intention of letting him get that far. He's counting on Do-young being publicly condemned into stepping down permanently, just like Jaime predicted.
As we flash back to Jaime telling Director Jang her plan, we get another reveal as Jaime reports the conversation she just had… to Do-young himself. Yes, her proposition to Director Jang was all part of HIS plan, and Director Jang doesn't suspect a thing. Ooooohhh.
In order to make it "fair," Do-young's possible candidacy is brought to a vote amongst the contestants. Lawyer Go, Sung-joon, Actor Gu, and Da-jung are against, while Bong-geun, Bulldog, Guru Pippi, and Jaime are for. Woo-jin is the only one who can break the tie, and while Da-jung is sure he'll vote against… he votes in favor of Do-young's inclusion.
But, Woo-jin has a condition, which he says after locking eyes with his nemesis: Do-young can't have private meetings with the staff, and must announce any and all information he has on the game to the rest of the contestants. Gauntlet thrown.
Da-jung knows Woo-jin well enough to trust in his reasoning for choosing Do-young, even if he reveals to Dal-goo that he didn't exactly tell her the truth.
He voted so that he could face Do-young directly instead of letting him manipulate the game from behind the scenes, and seems offended when Dal-goo asks, "What if we lose?" Losing isn't part of Woo-jin's vocabulary.
Like Woo-jin predicted might happen, a few of Da-jung's teammates show their true colors when they turn their back on her before the round begins. They're then led into an enormous auditorium outfitted with giant glass rooms, one for each contestant.
At the front are their candidates, presented by the temporary MC, who's none other than Director Jang. He gives the rules and parameters of the game: the three candidates will offer a true or false promise in their campaign speeches, and will choose which promise is false by pressing a button to tell the staff beforehand.
It's up to the contestants to guess, but whichever promise is declared false doesn't need to be upheld, while the promise that's true must be upheld or the candidate will be eliminated. The promises can hinge on the game money offered or on which players they'll eliminate, and whoever wins can eliminate one participant who didn't support them for the first two elections.
Whoever wins the final election will have the power to eliminate two participants regardless of who they supported, including other candidates. The participants can show their support for a candidate by pledging any of the one hundred thousand dollars/one hundred million won given to them to play with in the round.
Assemblyman Kang and Dal-goo's speeches are met with relative levels of success, but it's not until Do-young gives his speech that everyone gives their rapt attention.
Do-young uses his time to remind the participants who may have forgotten that Woo-jin is a master swindler who brought an entire company to ruin.
"This is Liar Game!" Do-young announces ferverently. "What is the extent of the truth and what is a lie? Does he really have no other motive in helping Nam Da-jung? I hesitated at first when Jaime nominated me. But I decided that a criminal must be stopped from winning Liar Game and ruining the show. I trust that everyone will make the right decision." Boom.
There's only Da-jung and Woo-jin on Dal-goo's team during the first pre-speech meeting, and it's actually Da-jung who proposes the strategy that Dal-goo use up his one chance to give a false promise in his first speech—that way, everyone will trust that he's telling the truth in his last two speeches because he'll have no other choice.
Woo-jin approves of this plan wholeheartedly, and even seems impressed that Da-jung proposed it first. Of course it means that Dal-goo will have to sacrifice the first election round to win in the others, but he doesn't have to worry about being eliminated. Woo-jin has a way to make sure of it.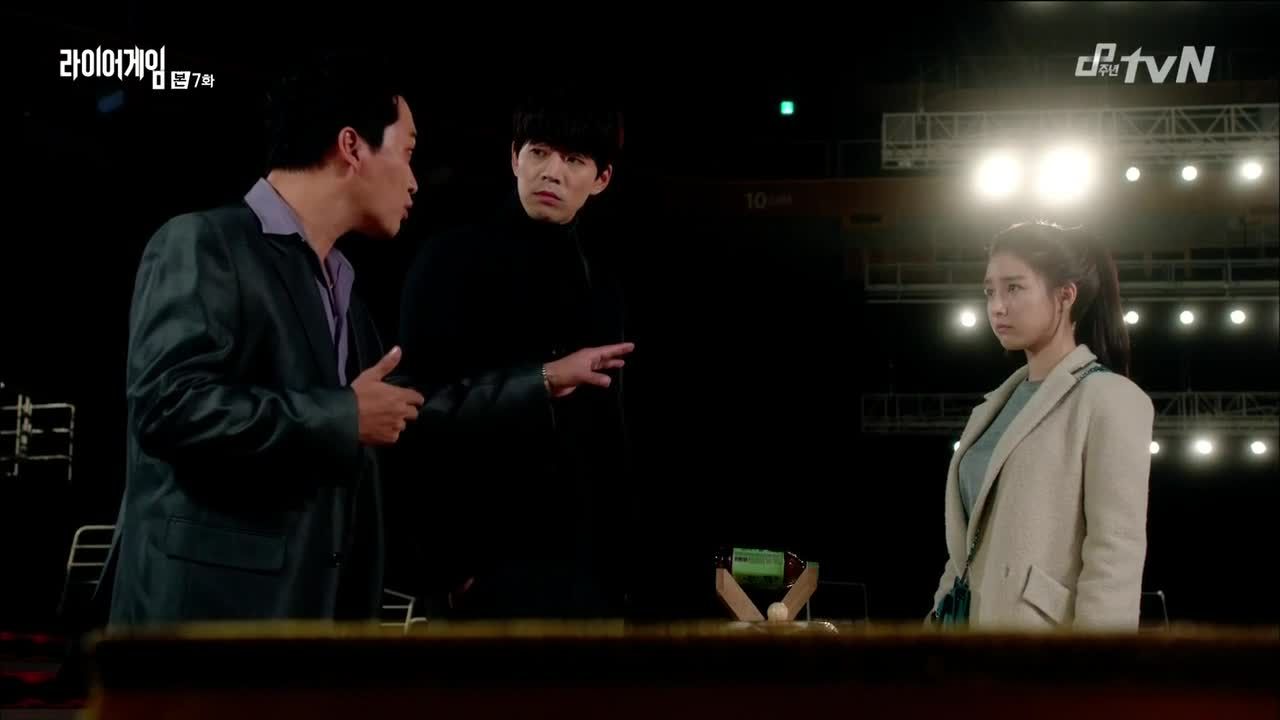 So, Dal-goo makes his first campaign promise that everyone knows is a blatant lie when he promises to give everyone the nine hundred thousand dollars from the "national treasury" established by the crew, which simply isn't possible.
We don't see which button Do-young presses before he promises to give the treasury money to his supporters after collecting one hundred thousand dollars in taxes from everyone. He does manage to woo some would-be supporters who want a piece of that money pie, though.
The contestants go to their individual booths to vote for a candidate or abstain for the first round, leaving the floor open for party members to meet. It's free to meet with members of your own political party, but it costs money to meet with opposing party members or candidates.
Do-young's campaign promise poses a particular challenge to Dal-goo's party, since the amount he wants to collect in taxes is the exact amount each player was given for the round. So if they use any of their money for campaigning, they'll be in debt if Do-young wins. Even if they spend none of it, they'll end up with zero dollars.
This doesn't make it any easier on Dal-goo when he watches everyone else campaigning while his team does nothing, even though Da-jung and Woo-jin know that it's the only way to prove Dal-goo's first promise was a lie.
Do-young knows what their strategy is too, and tells Jaime that the game is already over before the first voting round begins. As part of what must be Woo-jin's foolproof strategy, he and Da-jung cast their votes for Do-young rather than their own candidate.
And when the results come in, we see why: since the elected president for the first round could only eliminate a contestant who didn't vote for him, it means Da-jung and Woo-jin are safe from the chopping block when Do-young wins.
He gets a choice between eliminating Bong-geun or Guru Pippi, and chooses the latter. Do-young's supporters rush to check whether his promise to split the treasury money amongst them was true, only to find their safes empty. Do-young lied.
…Which means he's using the same strategy as Woo-jin by using up his one lie first. After Do-young makes sure to catch Woo-jin's gaze so he can smirk victoriously at him, it's time for the second round of campaign promises.
The participants know that Dal-goo is telling the truth when he says he'll distribute the treasury funds amongst his supporters, but so is Do-young when he ups the ante by promising to split the treasury money with the first three supporters who vote for him.
He gives that option to the four people who were previously unaffiliated, which doesn't include Jaime—even if it's a smart way to get them to pick his side. Sung-joon is the only one who takes all this in, looks Da-jung's way, and still votes to remain unaffiliated.
This leaves Jaime without a party and really upset about it, but Do-young spreads the word that she'll pay if she betrays him. But she does just that by pledging her vote to Dal-goo, since in her mind, Do-young betrayed her first.
She also uses the in-between time to form her own coalition, because as long as she's got three participants on her side, they can make or break any candidate.
Da-jung approaches Sung-joon to ask for his vote, even though he's made it clear that he doesn't trust Woo-jin. "But you trust me," Da-jung argues. "Believe in me and watch Ha Woo-jin, who I trust completely." He seems to agree, but Woo-jin reads something in his features that concerns him.
Now that Jaime, Bulldog, Lawyer Go and Actor Gu are a team, they offer Assemblyman Kang the presidency if he allows them to dictate the terms. Do-young knows exactly what's going on and just rolls his eyes.
Woo-jin has his own plan, and sends Dal-goo to face the coalition, where he goads Bulldog into a brawl. Their punishment is to be isolated until voting, and Assemblyman Kang is the one to point out that Jaime won't have her guaranteed votes if Bulldog switches sides.
But Assemblyman Kang has a plan for them to win with or without Bulldog, which is to send the four people he does have to surround and block the voting booth until their time is up—he knows that no one would break the rules and risk elimination by using force to get past them.
Bulldog is offended that they assumed he switched allegiances when he didn't, while Woo-jin tells the arrogant assemblyman that he better pray his pathetic plan will work. "Aren't you going to vote?" he asks Da-jung & Co., who ask him the obvious: How?
Jaime sneers that they can't get past their human shield, while Woo-jin looks as nonplussed as ever as he tells his teammates that he'll clear a path to the booth.

COMMENTS
I'd have to flip through the Liar Game rule book I've totally been compiling since this show began to be sure, but even if the Two Warning System for physical violence stretched across the whole game as opposed to reverting back to zero after each round, then the idea that Woo-jin could use force to help his teammates without eliminating himself shouldn't sound all that outlandish to Jaime's crew. They've played enough rounds with Woo-jin to know that he wouldn't just stand back and do nothing, right? Or is that expecting too much?
I finally thought Do-young had been caught off-guard when Jaime announced him as her candidate, enough to be surprised when Do-young proved to have masterminded the whole plan. In this instance I can't help but root for Do-young, at least when it comes to his struggle with Director Jang, who just seems petty and overbearing when it comes to ousting the man responsible for reviving his flailing network. It's especially fun that Director Jang is so pleased with himself that he's completely blinded to the fact that he's been double-crossed by his own plant, and by his own self-proclaimed enemy.
But that sort of subtle underhandedness is what makes Do-young's brand of scheming such a delight to watch, because he doesn't even need to break a sweat. What remains most mysterious about him is exactly how far his reach extends, because if he went so far as to plan Dal-goo's employment to coincide with Da-jung's debt in order to facilitate Woo-jin's involvement, that is downright terrifying.
And it's not even so much that whatever plan we're watching play out has been years in the making, but that Do-young can read people to such an extent that he can accurately predict their behavior to the letter. How else could he have made sure that the stars would align perfectly to get Woo-jin into the game if he hadn't gone and moved each star by hand long before anyone would even think to look up? But even so, how could he have been so sure that everything would work out exactly as he planned? I'm not even being rhetorical with that question, I legitimately have no idea how someone could flawlessly execute a plan that seemingly relies on people to act exactly how you think they will. Over such a long span of time, no less.
Which gives us all the more reason to hope Woo-jin figures the particulars out sooner rather than later, even if I wouldn't be surprised at this point if Do-young's plan—whatever it really is—makes allowances for Woo-jin to make an occasional discovery here or there. And while it's an interesting twist to have Do-young actually participating in the game, I won't lose sleep if Do-young resumes his role as MC after this game ends, because replacing Do-young with Director Jang is like replacing a flavorful soda with caffeine free Coke Zero—sure, they're both drinkable, but only one is good.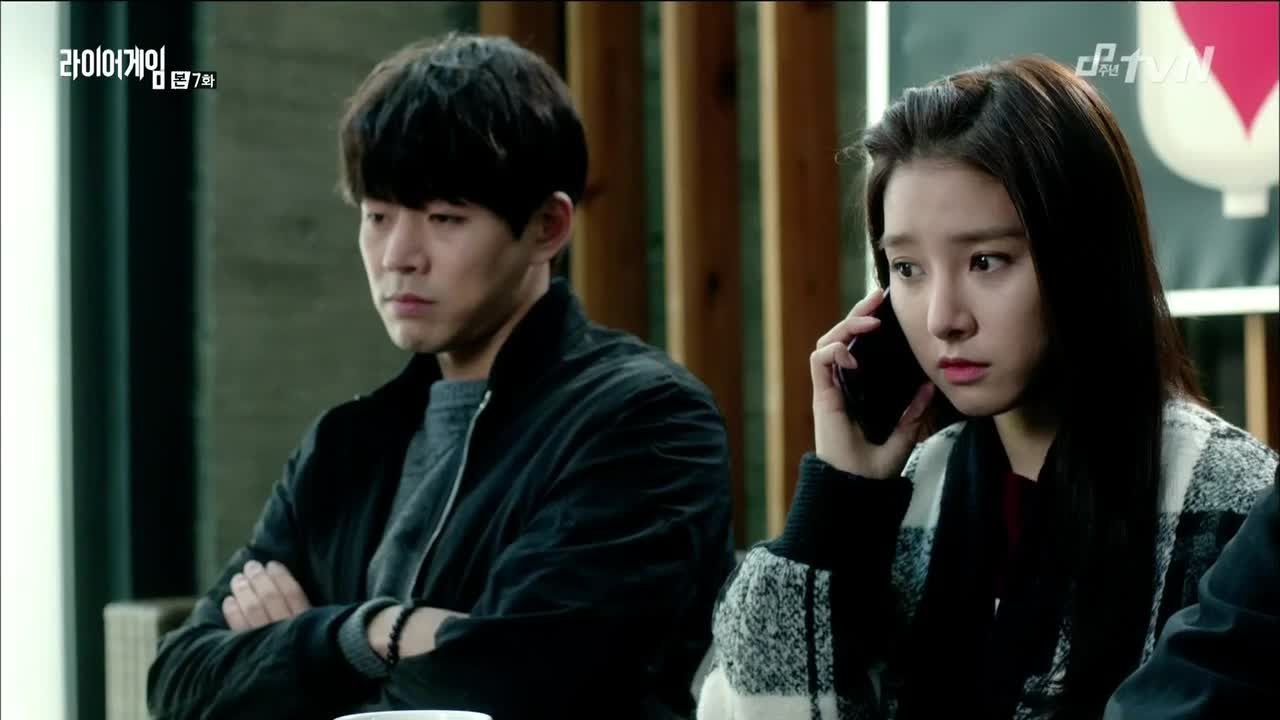 RELATED POSTS
Tags: featured, Kim So-eun, Lee Sang-yoon, Liar Game, Shin Sung-rok