Misaeng: Episode 11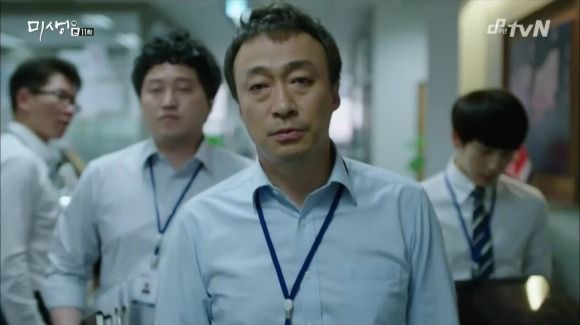 It's a bittersweet ride for Sales Team 3, as they set things straight but find themselves as the target of scorn. While they're awarded for their commendable work, they also become victims of workplace politics and suspicion. As for our newbies, they're slowly but surely finding their place. They find pleasure in the small accomplishments that ultimately become significant advancements. Learning to find your place is painstaking, but it's the first step to finding your sanity in the chaos of the workplace.

EPISODE 11 RECAP
Late on the latest gossip, Seok-yul runs around the office frantically looking for Geu-rae to ask about Chief Park. When he finds him, Geu-rae ignores his hysteria and approaches Baek-ki to thank him for his help. Behind them, the audit team heads to Sales Team 3 with boxes to collect Chief Park's items, and Seok-yul gapes at their sight.
Seok-yul follows Geu-rae to the scene, where Chief Oh and Dong-shik watch the auditors pile all of Chief Park's papers into boxes. Dong-shik notes that this is the biggest case of corruption since the company's founding. As the audit team leaves, Geu-rae narrates the series of events that followed: all the previous bosses Chief Park worked under were called into examination, meaning that Manager Kim also couldn't avoid blame.
Chief Park desperately asks the executive director for his mercy, and the executive director seems to respond favorably. He acknowledges that salarymen often have to be conmen and gamblers. He knows Chief Park's dedication, but it's too late now. Chief Park's face falls as he realizes that he has no other choice but to face the consequences.
The demotion notices are posted, and Manager Kim prepares his leave. He tells Chief Oh to buy a drink after he settles into his new position and shakes the hands of each person in his department with a farewell message. As he leaves the office, Chief Oh recollects all the times under his boss, starting from when he was a newbie up until now. He bows one last time and can't hide the devastation in his face as Manager Kim turns the corner, out of sight.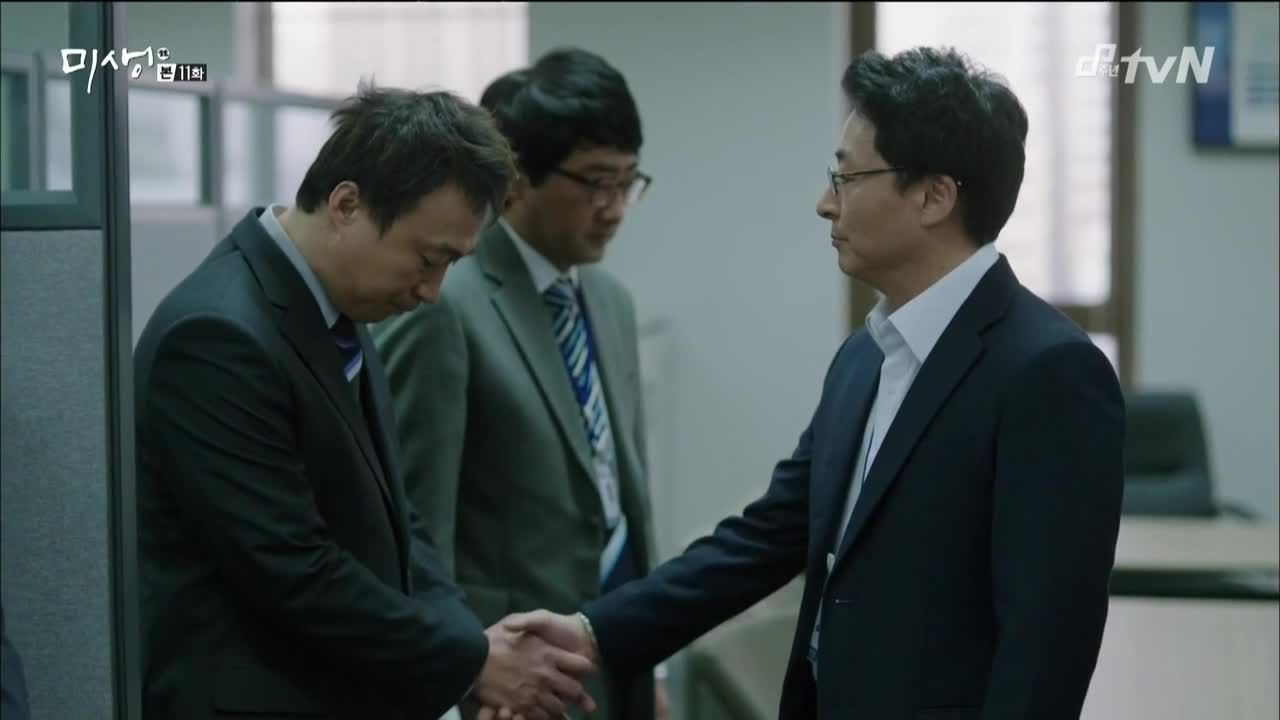 Geu-rae reflects on the outcome of this situation in baduk terms. When you are losing with the black stone (which has the advantage of making the first move), you start to wonder if the small wins are worth it if you'll ultimately lose anyway. But when you are winning, you start to look at the world differently. You're thankful for your opponent and every move you've made to make the win possible — the smaller moments were what made the win possible.
As Geu-rae passes by Chief Park being escorted out by the audit team, he continues, "If you forget the significance of the smaller moments, you lose sight of the whole game. When did you start losing those moments?"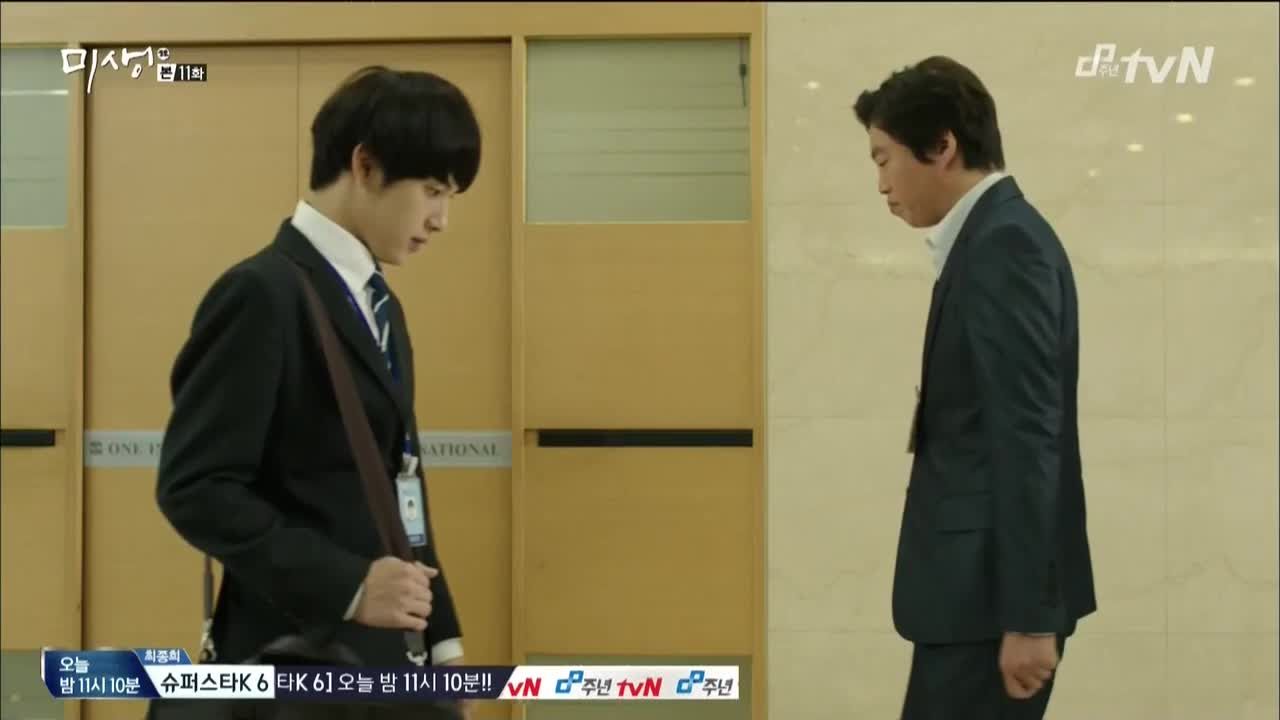 The executive director's secretary reports that the CEO has made an appearance, and we see that he's arrived at the office to thank Sales Team 3 for their important work. He presents each of them with a bonus, and the whole office applauds their achievement — except for the people who are lined up under the executive director, of course. Young-yi knows better than to clap but sneaks in mini claps with her fingers. Hehe.
The executive director arrives to greet his superior as the CEO notes that Chief Oh's promotion is long overdue. He also recognizes Geu-rae's important role in this case and leaves him with some newbie advice — to make a habit of thoroughly checking your work to avoid mistakes. After he leaves, Dong-shik whispers to Chief Oh that he'll probably be a Deputy Director soon. Chief Oh calls it nonsense and cautiously watches the executive director leave with the CEO.
As predicted, the CEO tells his assistant to set up a promotion for Chief Oh, as there's no better guarantee for a salaryman than a promotion. Manager Ma gets off the elevator, and the CEO notes that he's the temporary placeholder for Manager Kim's position. The executive director remains noticeably silent through the conversation, and the tension ends with the closing elevator doors.
At home, Chief Oh's sons celebrate their father's promotion, though they don't know what a promotion is. All they know is that their mom and dad are happy, which means they should be happy. He calms them down and presents the bonus to his wife, who divides the cash and sticks a stack into his wallet. He goes through the obligatory rejection of the money but then happily takes his full wallet. And the first thing he does is order pizza, which gets another round of cheers from his kids.
Sales Team 3 is back into their daily grind of work, with the now Deputy Director Oh (but we'll just keep calling him Chief Oh) who's still meticulous as ever. Geu-rae narrates that the team's silent dedication to work is due to the unfortunate case with Chief Park — it was not a success to be celebrated. "We didn't feel a difference within our team, but we could feel the difference in the gazes directed at us. We had taken out a sluggard from our team and a saved the company from a drawback. But we were given uncomfortable looks because others questioned if we had benefitted at the cost of a team member."
As Sales Team 3 walks through the office for their meeting, all the office workers stare at them. The office members had become sympathetic towards those who had resigned due to this incident, but no one disputed the fact that someone had to take responsibility.
Chief Oh calls Dong-shik and Geu-rae to the roof to address the issue. He tells them that they're in an uncomfortable position and warns them not to become hostile. They did the right thing and reminds them not to forget that. Geu-rae notes that he'd created a guide for them; they just need to follow through.
Chief Jung tells Assistant Manager Ha that he heard from loudmouth Seok-yul that he made Young-yi transport all the chemical products to the port on her own. The other team member comments on how scary Young-yi is but Chief Jung starts to praise her before catching himself.
Assistant Manager Ha calls Young-yi to the break room and gives her the Russian part of the contract to take care of. She's dumbstruck but happily realizes that she's been requested to help him with actual work. Before he leaves, he adds that he won't be cutting her any slack just because she's a girl.
Seeing that Assistant Manager Kang is looking through his approved contract, Baek-ki asks if there's anything wrong with it. His boss criticizes his unprofessional jargon and long-winded articulation of the business. If he'd thought of this contract as his own, he would have written it with better composition and active voice. Baek-ki politely acknowledges this, but Assistant Manager Kang knows that he has no idea what's wrong with it and hands him a sheet to edit as an exercise.
Sure enough, as soon as Assistant Manager Kang is out of earshot, Baek-ki wonders what is wrong with his written contract, claiming that he's knowledgeable enough in professional jargon and concise writing. He takes a look at the sheet of paper with convoluted sentences and goes outside to start editing them.
Chief Oh and Deputy Director Sun talk about their hopes for good manager replacements, but their conversation is cut short by a team member under Deputy Director Sun. He frantically tells her that Manager Ma requested some sort of approval but was so vague about it that he has no idea what he's talking about.
In a quick flashback, we see that Manager Ma scolds the team member for not knowing what he's talking about: "You know, that FDA thing or something that foods need to get approval from in the U.S. Something like that — don't you know what I'm talking about? That something. It's that something! Are you under Deputy Director Sun? That's why a woman can't take those positions — she can't even properly train her team member." As frustrating as ever.
Deputy Director Sun goes directly to Manager Ma to figure out what he's asking. She calmly asks if he's requesting FDA approval, but he diverts the conversation elsewhere, saying that she should know what he's talking about. She lists off the approvals she's already gotten for the product and tells him to get back to her if he remembers what he's requesting from her.
She starts to leave, but Manager Ma characteristically adds that she should be thankful to her husband for living with her. Not one to lose, she turns around and warns him that his second charge of sexual harassment probably won't end with just a pay cut. That's right, you tell him.
She returns to her desk and tells her team member that she'll take care of approvals from Manager Ma from now on, much to his relief. He then asks about her conversation with Chief Oh and admits that he doesn't want to be moved to Sales Team 3. Then a timely message arrives, notifying the office of Sales Team 3's new member, Chief CHUN KWAN-WOONG (Park Hae-joon).
Dong-shik expresses his relief to Geu-rae about their new team member during their coffee break. He assures Geu-rae that this guy is normal and has experience on their team before. He entered the company with work experience — not the process that Geu-rae and the newbies went through. Dong-shik says that he's had some bonding moments with this guy when he was on the team, and his excitement seems to relieve Geu-rae's worries.
Chief Chun is given a cordial welcome by the team, and quickly excuses himself to wrap up his things at his previous position. Geu-rae notices that this new team member set up his desk as soon as he arrived and found his place. Contrary to the comfort he expected to feel with whoever succeeded Chief Park, Geu-rae notes that Chief Chun gives off a strange aura of tension.
Seok-yul finishes his report and submits it to Assistant Manager Sung. When asked about the polyester report, Seok-yul defiantly states that the polyester report isn't his work to do. It only takes a few seconds for Assistant Manager Sung to find an error in the report and make his point. Seok-yul made a mistake, and Assistant Manager Sung tells him that he would have known the difference had he done what he was told to do as training.
He's reminded that people learn from their mistakes and continues to be scolded as Geu-rae and Dong-shik pass by. Geu-rae distinguishes the two terms from his internal dictionary, and Dong-shik smiles, impressed at his memorization skill.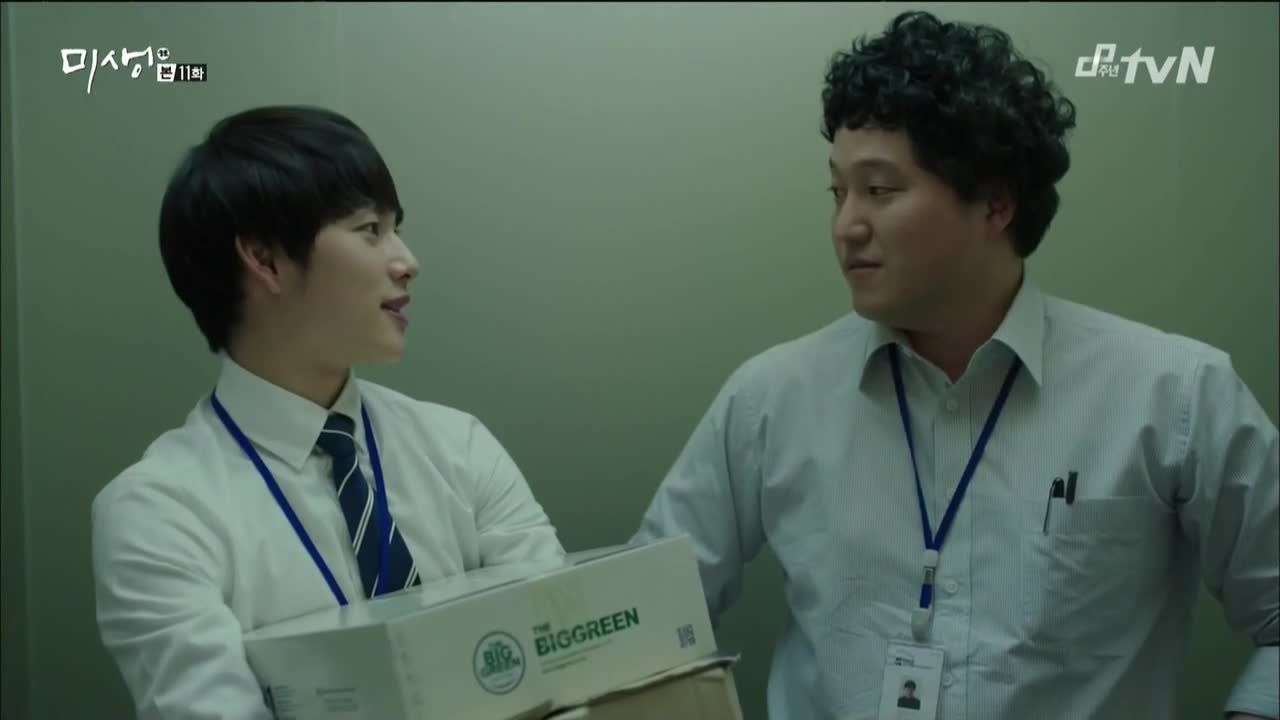 In the elevator, Dong-shik starts out with praise for Geu-rae's ability to memorize all these terms. Geu-rae explains that it's easy if you find the connections between the words. Dong-shik says that with that logic, he should also understand how the connections work with different companies, but he doesn't. He lightly accuses him of never understanding the connections, always asking questions, which causes Geu-rae to quickly drop his smile. Ha.
As they exit the elevator, Dong-shik bumps into Baek-ki, who drops his sheet of sentences to edit. Baek-ki quickly grabs the sheet and takes the elevator down, but Dong-shik recognizes the exercise as something Assistant Manager Kang always gives to his newbies to help improve their reports. Dong-shik acknowledges that it's very effective, which causes Geu-rae to pout. If it's effective, why didn't he give him that sort of assignment? Dong-shik leans in and whispers, "Don't worry, I'll make you throw up writing the reports." HA.
Young-yi speaks in fluent Russian doing her assigned work. Chief Jung and the other team member watch dumbfounded while Assistant Manager Ha sneaks in a small smile. After her call, she's asked to carry out more odd jobs (picking up shoes, buying cigarettes), but Assistant Manager Ha takes her side, saying that she has actual work to do. She excuses herself to make copies first before carrying out the errands.
Young-yi smiles as she makes copies and when Geu-rae arrives, she jokes that his fly is open. He immediately looks down, but she thanks him for the respectful bow. He's a little thrown off by her playful attitude, but they laugh nonetheless. Hearing their laughs from the next room, Seok-yul asks how his colleagues could be in such a good mood when he's in such a bad mood. He requests that they all go out for drinks later.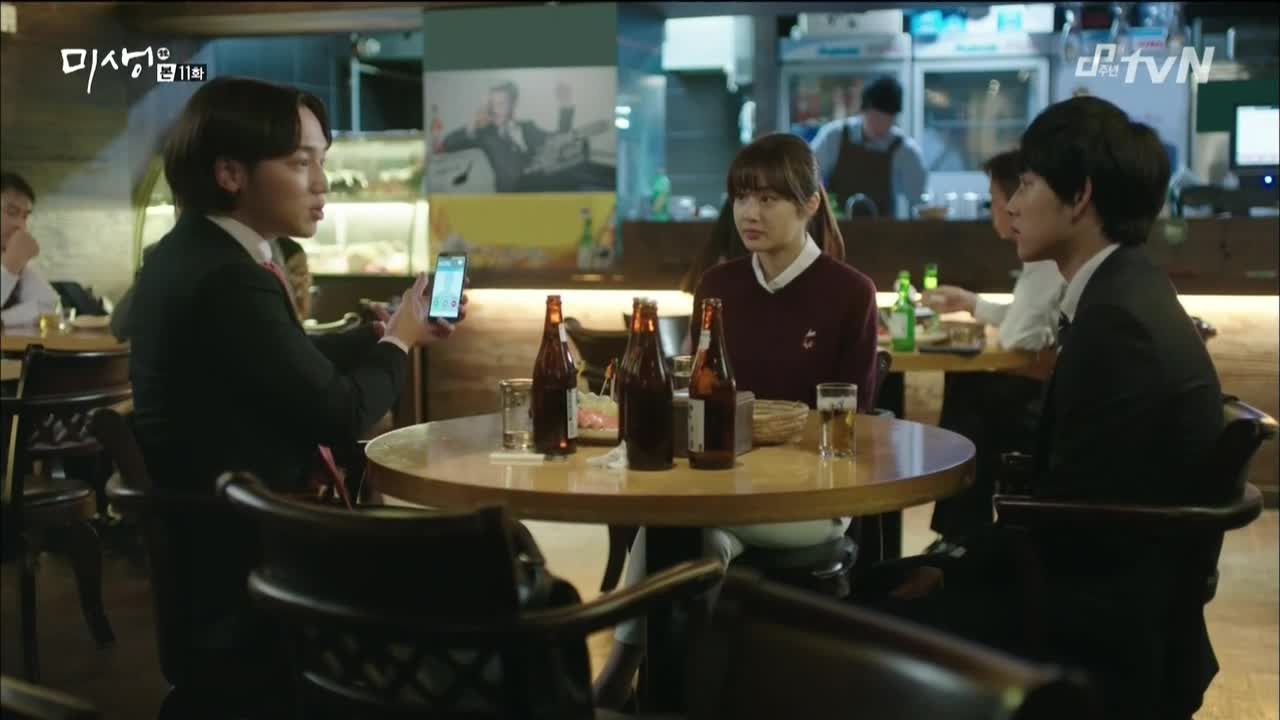 After chugging a glass of beer, Seok-yul claims that his boss is the worst. Expressing his resentment, Seok-yul says that he manipulates him and feigns innocence, so everyone thinks he's the good guy. He gets a call from his boss, and his colleagues tell him to pick up. He eventually does, and a drunk Assistant Manager Sung apologizes and requests that they have a drink together to work out their issues.
Seok-yul leaves Young-yi and Geu-rae awkwardly in each other's company, and they decide to leave. As soon as Geu-rae stands up, Young-yi averts her eyes and says that his fly is open. He catches himself before being fooled again, but Young-yi insists that it's real this time. Shocked, Geu-rae quickly looks down, and she once again thanks him for the bow. He freezes as she walks out laughing.
Now drinking with his boss, Seok-yul tries to clear the misunderstandings. He says that he's happy to do anything that's assigned to him, but Assistant Manager Sung says that it's not assigned to him — it's just all Seok-yul's work.
They repeat the same phrases to each other, and at one point, Assistant Manager Sung calls him a sociopath. That gets Seok-yul worked up and he exclaims that he'll do everything he's told. But he can't deal with Assistant Manager Sung getting credit for his work. Again, he's called a sociopath, and that's enough to provoke Seok-yul and cause him to drop the honorifics in anger. As soon as he does so, he realizes his mistake.
Assistant Manager Sung calls him a psychopath and leaves, as he's no longer in the mood for drinks. Seok-yul follows him but gets stopped by the waiter, who hands him the huge bar bill. Seok-yul's apologetic attitude immediately flips to anger, and he starts cursing.
Young-yi and Geu-rae walk together, and she notes how it's starting to get cold. He offers his suit jacket, and she comments that he'd be a good boyfriend. Geu-rae gets hot in embarrassment, and she's amused by his reaction. As they continue to walk, Young-yi says, "Fall will pass, then winter, then spring. And soon enough, it'll be one year for us."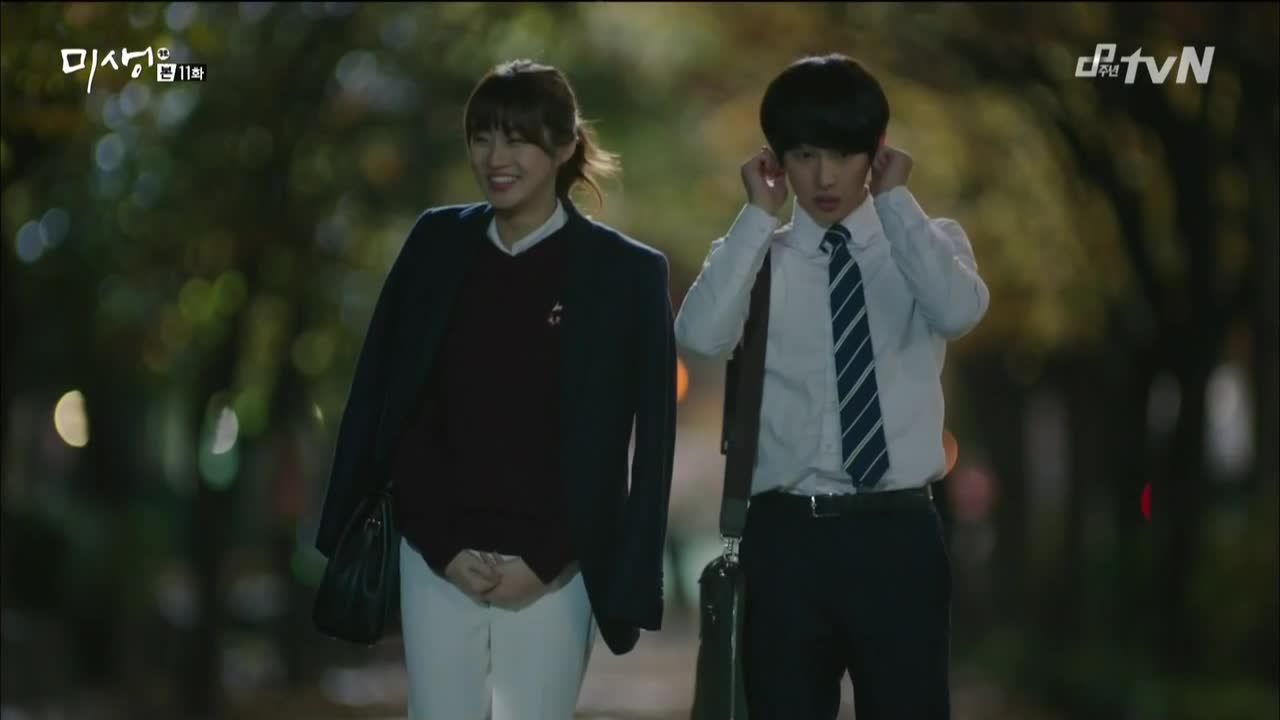 Geu-rae stops and notes the "us" in her statement. He thinks back to Chief Oh's declaration of "our kid" and tells her that last spring, he longed for that "us." He happily repeats her statement that it'll be a year for them and gives her a wide smile.
It's another end of a work day, and our newbies wrap up their days. Baek-ki spends his night at the office, finishing up his work and then doing more sentence editing while Seok-yul sits in the bar with the bill and drinks out of the whiskey bottle. Young-yi and Geu-rae walk their separate ways to go home.
The next morning, Geu-rae and Dong-shik greet their new Chief Chun. He seems friendly enough as he tells Geu-rae to cut his hair and calls Dong-shik into the meeting room, but his façade drops as he's privately addressing Dong-shik. He tells Dong-shik that the workplace is not a joke and that he shouldn't drag in the memories they've had in the past.
Dong-shik immediately drops his friendly attitude and asks Chief Chun if he has a different reason for joining the team. Chief Chun has no ulterior motives but hints that the person who sent him to the team may. Before he leaves the room, Chief Chun tells Dong-shik that they didn't do anything wrong but warns him that they're being watched. They sent him specifically because he's personally closer to the team, implying that his job is to get close to them and report their activities.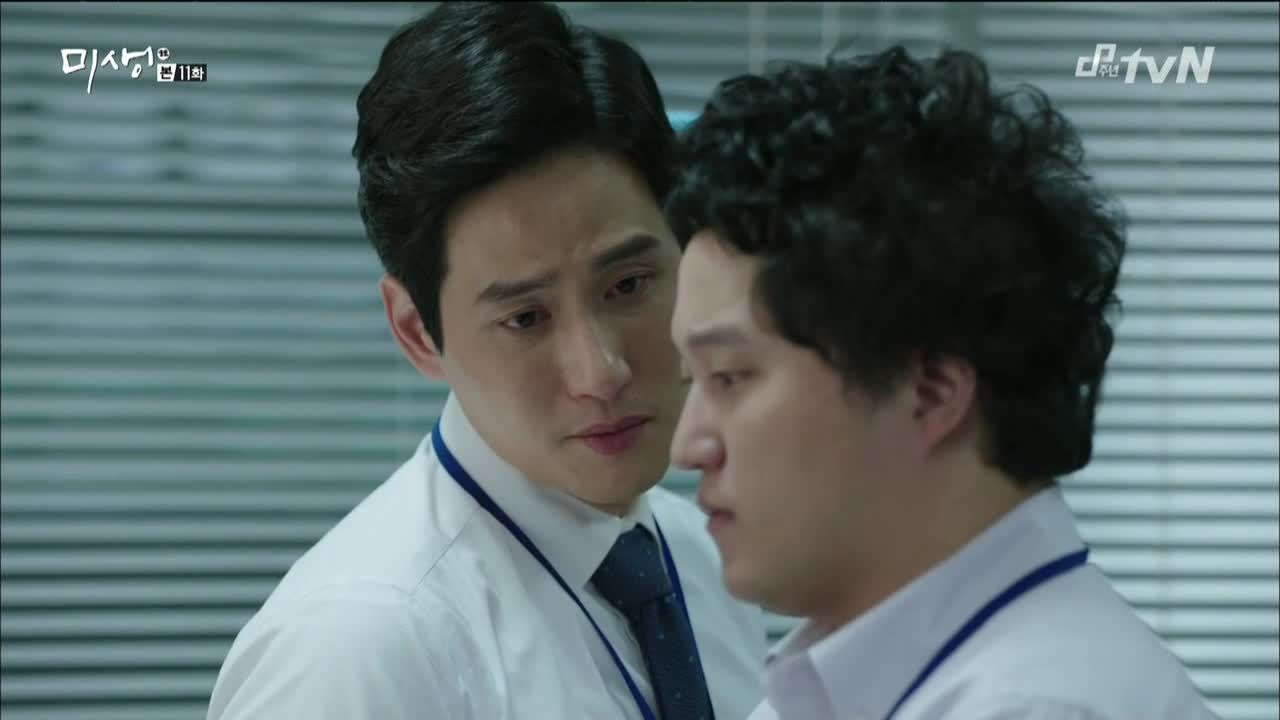 They return to their desks, and Chief Oh notices the strange tension when they arrive. Chief Chun asks Dong-shik to send him the current business files, and he comments aloud on the business plan that screwed Chief Park. He requests to look through the files on the business, which causes an outburst from Chief Oh.
Walking over to Chief Chun's desk, Chief Oh warns him to just do work and not get pulled into the game. "Do you know the reason why people get pulled into games? Because they play games instead of doing work." He asks that they grab drinks after work, and Dong-shik gives his boss an appreciative look.
Seok-yul approaches Assistant Manager Sung with the receipt for last night's drinks. His boss just scoffs and gives him a word of advice: "I didn't tell you this last night because I thought it would be too offensive, but you have to change your personality if you want to adjust to society. Honestly, you're a bit of a sociopath." With that, he leaves Seok-yul to his silent violent fit.
Baek-ki continues to work on his sentence editing and has a sudden thought about Assistant Manager Kang's comment on writing the phrases with active voice. That gets his wheels turning, and he begins to put together better, concise sentences. Assistant Manager Kang watches his newbie struggle with a tinge of pride.
Sales Team 3 goes out for after-work drinks, and Chief Oh asks Chief Chun if he still drinks by himself nowadays. He confirms that he does, and Chief Oh seems to understand. After accepting drinks in compliance with business partners and clients, sometimes you just want to have a drink for yourself. In your underwear and watching baseball, Dong-shik adds.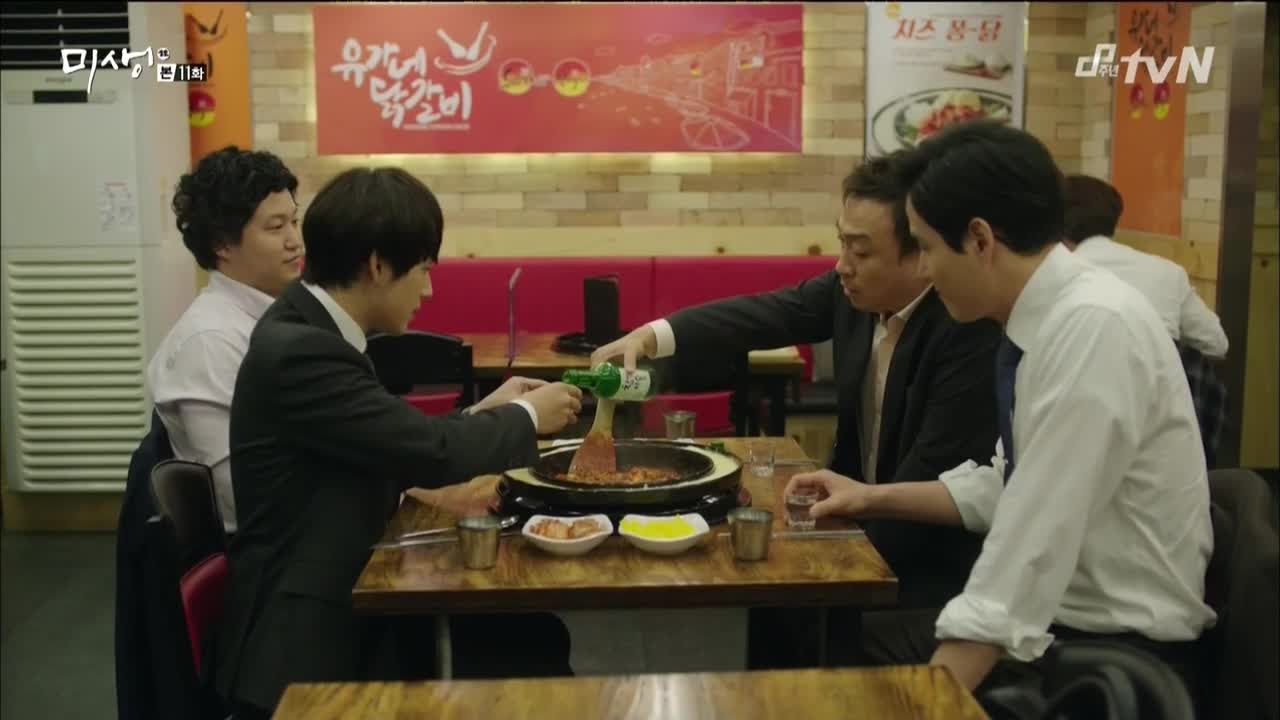 Chief Chun apologizes for having mixed feelings and ulterior motives before joining the team. He says that he'll do his best to adjust as a Sales Team 3 member. He then turns to Geu-rae to ask if he has any requests for him, and all Geu-rae can come up with is if he really needs to cut his hair. Chief Oh interprets Chief Chun's silence as a yes, and they joke about Dong-shik also straightening his hair for the sake of their team's visuals.
Chief Chun arrives home and takes a swig out of the water jug in his refrigerator. He looks at the bottom of his fridge where the alcohol is and hesitates with his decision to have a solo drink. When he gets into bed, his wife notes that he didn't have his regular solo drink and comments that he must like his new team. He nods.
The next morning, all the teams go into their meetings to plan next year's business proposals. 'Tis the season for budgets, action plans, and business performance management. All business items include the collaboration of different departments, so everyone is busy with meetings. Sales Team 3 works several days and nights until exhaustion, and Geu-rae notices his burnt-out team members.
He thinks back to some relevant words from his baduk mentor who told him that the reason why he doesn't improve in baduk is because he restricts himself by rules and methodology. While methods and strategies are essential, baduk would not have survived this long if it were purely based on repeating existing strategies. He's advised to break the norms and go the unconventional route.
After a moment of hesitation, Geu-rae suggests that they try the Jordan business plan — the one that got Chief Park fired. The whole team freezes. Chief Chun says that they're not allowed to steal business ideas, and Dong-shik tells him not to bring up Jordan for the time being. But Geu-rae presses on and gives his honest opinion that the Jordan business plan is appealing, without the corruption and politics attached to it.
Seok-yul walks through the office with his coffee looking for his daily scoop of gossip. He notices Sales Team 3 looking pretty serious during their meeting and slowly approaches the room. Seeing that they're all looking at Geu-rae, he assumes that he's being scolded.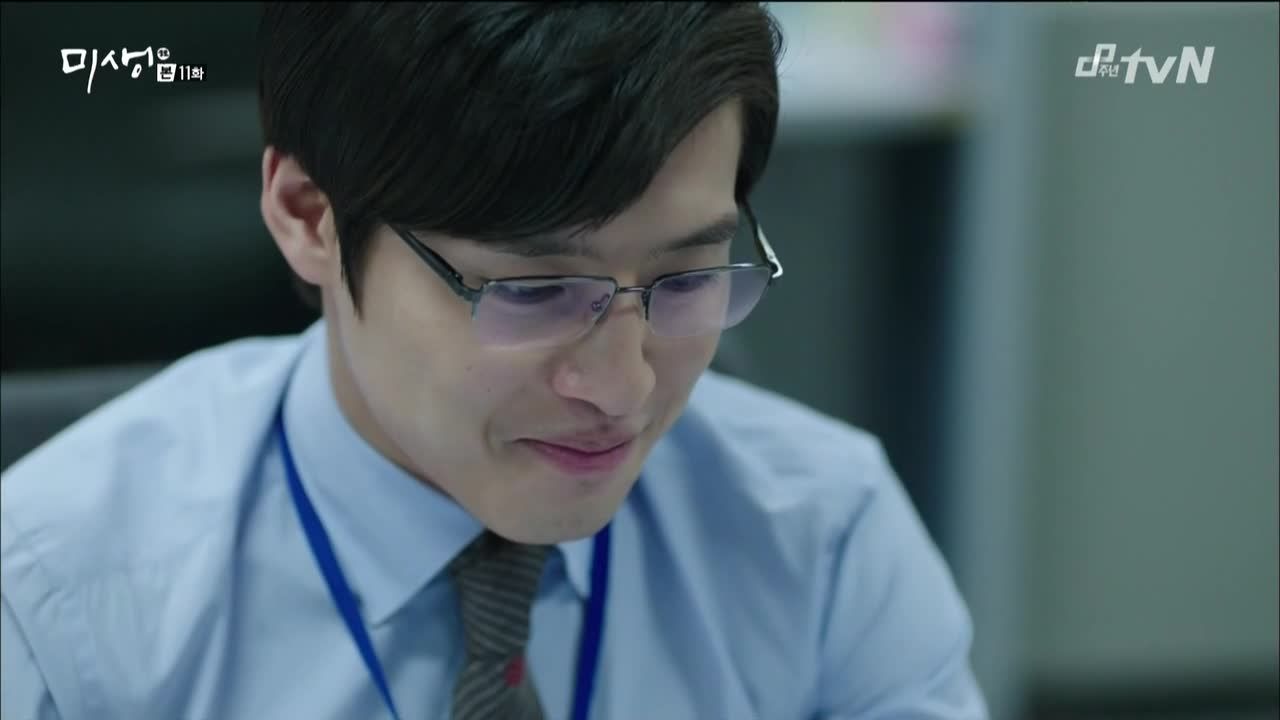 Baek-ki finishes his sentence editing and prints his final version to turn in. He hands it to Assistant Manager Kang, who after a quick browse, approves of the edits. He crosses out one unnecessary word, but Baek-ki seems proud of himself, smiling at his small accomplishment.
Seok-yul calls Baek-ki and Young-yi to discuss Geu-rae's scandalous suggestion about continuing the Jordan business plan. Baek-ki shakes his head in disapproval, saying that Geu-rae should have known better, given his team's situation. Young-yi disagrees, saying that she sees Geu-rae as decisive — someone who goes for the win. Seok-yul asks if she's fallen for him, which earns him an incredulous look from Young-yi. When Baek-ki jumps in and tells Young-yi that she thinks too highly of Geu-rae, Seok-yul asks if he's just jealous. That earns him another look of disbelief.
Seok-yul has no idea what Geu-rae is thinking, but Baek-ki concludes the discussion by saying that Chief Oh should and will reject the proposal. On his way back to his desk, Baek-ki looks at his sentence editing sheet with disdain.
Sales Team 3 has halted its marathon meetings, and the team members think in silence over the possible consequences of accepting this business proposal. Even with this unconventional idea that came from a newbie, the team members need a justified reason to reject the proposal. But they strangely cannot determine whether they just don't want to do it or if it just won't be worth it. Whether it's taboo, or worth a shot.
Chief Oh seeks the advice of Deputy Director Sun and Chief Go, but they both advise him not to. There's still a fresh stigma attached to the project, and the justifications for executing the project are weak. He needs some validity to back up the move, something more than just profitability.
He takes Geu-rae to the roof to ask if his sole reason for wanting to pursue this project is the profit. Geu-rae acknowledges the commendable business model, but he claims there's more. He feels that the team has left this project unfinished. The whole company has thrown contempt from Chief Park to the team, and he wonders if simply reporting the corruption is enough. He wants to reestablish the business to normal so that the company can gain back the maximum benefits.
Chief Oh nods at his points and says that Geu-rae probably thought of this because he's a newbie. But Geu-rae's given him enough reason to pursue the project, and he says, "Let's give it a shot."

COMMENTS
This felt like an especially meaty episode, with all the goodbyes, introductions, and reappearances. I could have done without the reappearance of Manager Ma (ugh, that frustrating man), but I'm glad that he reappeared with Deputy Director Sun, who's always up to wipe that smug smile off his face. For a moment, I was afraid that we wouldn't be able to wave goodbye to our lazy, venal Chief Park. I had a feeling that the executive director could let Chief Park off the hook because they're corrupt buddies, but I'm glad Misaeng reminded me that it's more realistic and smarter than that. Having proved his fraudulence, there was no reason for Chief Park to linger in the workplace any longer, as there are plenty more conflicts to face. In fact, his absence had a more powerful impact on the team. They were ironically forced to face the consequences of doing the right thing.
Speaking of consequences, I was sad to see Manager Kim go, especially with the montage of his relationship with Chief Oh. Despite the contention, there was an unspoken respect and understanding between these two. He made an honorable choice, a selfless one, knowing that he has higher stakes because he's higher up in the company hierarchy. But I guess there are worse ways to leave your position (e.g. Chief Park).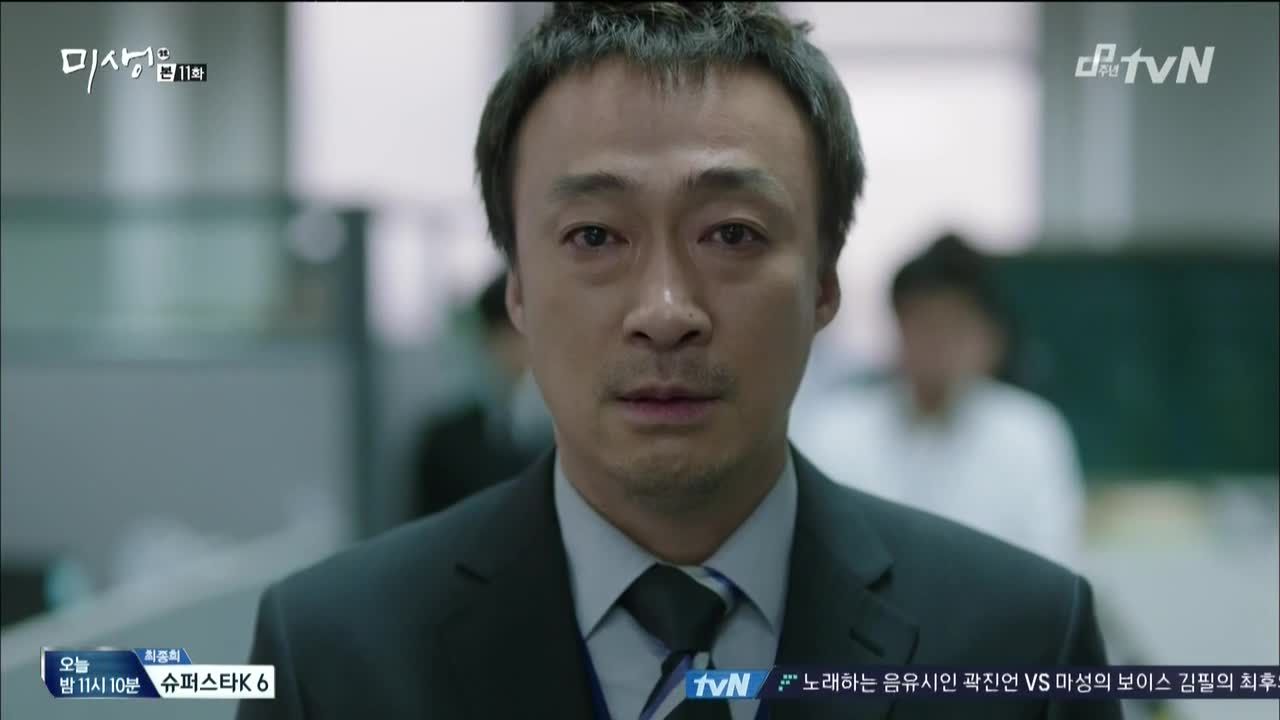 In regards to Chief Chun, I think he's a great (I loved how Dong-shik described him as "normal") addition to the team, but I would be wary of his future moves. Seeing how he initially approached Dong-shik, he doesn't seem completely detached from the manipulation of our executive director. He seems genuine in his contributions and seems to be on the same page as Sales Team 3 so far. But I find it difficult fully trusting anyone outside our original Sales Team 3 trio, who are pretty immune to the workplace politics.
As odilettante noted in the previous recap, there is a lot of subtlety in this drama that is difficult to capture into writing. Sometimes, it's almost as if the show wants you to interpret an expression in your own way. It's like trying to read people in real life, but there's no real way to get into their heads. To expand on this concept of subtlety, there are also nuances in baduk that are difficult to express and appropriately parallel into the workplace without explaining the whole game. The show does a great job with integrating concepts of baduk into Geu-rae's interpretation of the workplace, but to really pick up on the comparisons being made, it would be helpful to have some foundational knowledge in the game. I think we can still understand the point being made, but I can see how a fundamental understanding of baduk can make enrich this drama-watching experience.
Like in this episode, Geu-rae's comparison with banjip in a baduk game is hard to explain. His basic insight about the workplace still gets across (the small victories matter and contribute to the final win), but the extra depth of understanding is hard to achieve without a fuller background on baduk. I'll admit that I don't fully understand the nuances of the game, but looking up these smaller details allows me to have a greater appreciation for the comparison. Other aspects of the game, like breaking norms and going the unconventional route, are more easily understood because they're broader concepts that click with a general audience. Still, it must be said that all the references to baduk never fail to impress me. They're so simple yet quite compelling.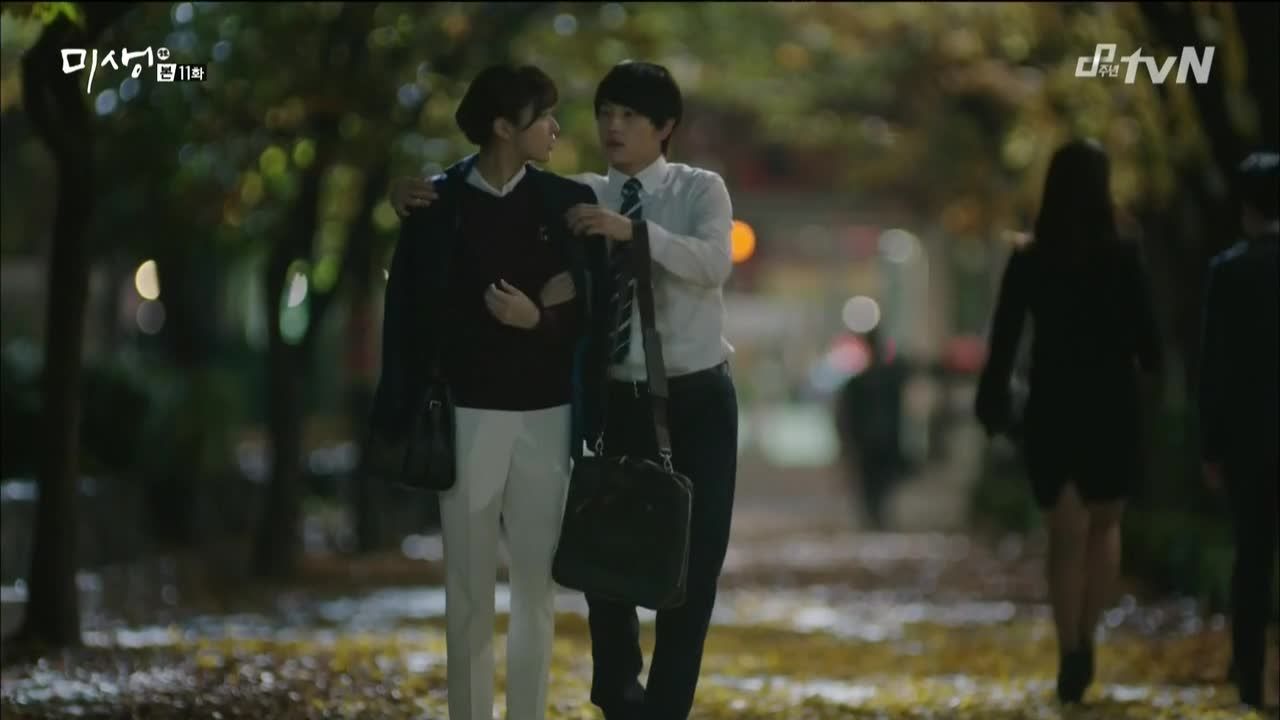 I loved the progress our newbies made in this episode. Well everyone other than Seok-yul. It's funny that he's the last one to adjust, since he's so smooth at the workplace in other respects. He's too stubborn, or maybe too short-sighted, to realize where he stands right now. I don't blame him for flipping his lid — Assistant Manager Sung is quite frustrating — but he's not going to last too long if he doesn't compromise or adjust. Either he'll lose his shit or he'll lose his job.
Young-yi getting acknowledged for her skills is one of the highlights of this episode because first and foremost, she deserves the recognition but also because of that delightful side effect of being in a good mood: playfulness. Although it was bordering the line of uncharacteristic, her silliness was great. Her earnest angst and patience with being her department's maid was worth it. She's even getting the support of her main anti-fan Assistant Manager Ha.
Baek-ki was kind of adorable and deserves praise for his perseverance. I found his small smile after getting approval from his superior so gratifying. He seemed like the last person to find the joys in the small achievements, so it's even better that he's diligently working on half sheets of sentence editing homework to turn into this teacher. But it's only a warm-up, so he'd better stretch his muscles for even more baby steps. Soon enough, he'll realize that the little progress he's made matters, even if it's doing something as basic as abridging sentences.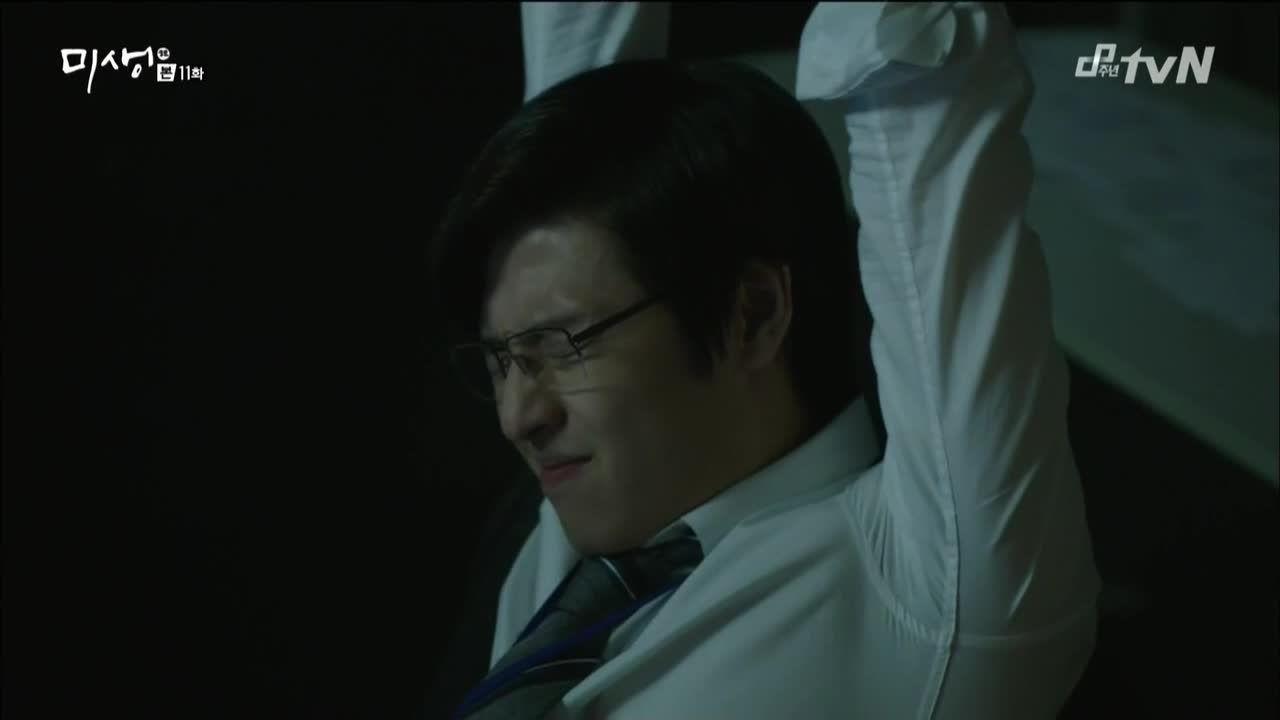 RELATED POSTS
Tags: featured, Im Shi-wan, Kang Haneul, Kang So-ra, Lee Sung-min, Misaeng