Misaeng: Episode 12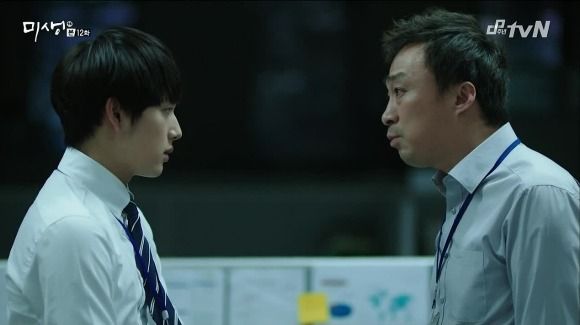 The hurdles to complete the used-car project are even higher than before now that the entire company is keeping a close eye on Sales Team 3, and Chief Oh's confidence goes through a beating as he tries to figure out a way to convince the executives — and his own team — that this project is worth picking up again. Meanwhile, Young-yi must face a ghost from her past as we learn more about her life before joining One International.

EPISODE 12 RECAP
Chief Oh gathers the rest of Sales Team 3 around him to quietly tell them to go forward with the abandoned used-car import plan. Dong-shik reminds him that they won't get much support for it from outside the team, and Manager Ma won't approve it. Also hesitant is Chief Chun, who's concerned about how it will look to the rest of the employees who already are wary of Sales Team 3.
But when Chief Oh asks him to disregard the office politics and instead just focus on the potential of the project, Chief Chun reluctantly agrees that it's a reasonable project to work on. Besides, since when has Sales Team 3 been more worried about office politics than getting the job done?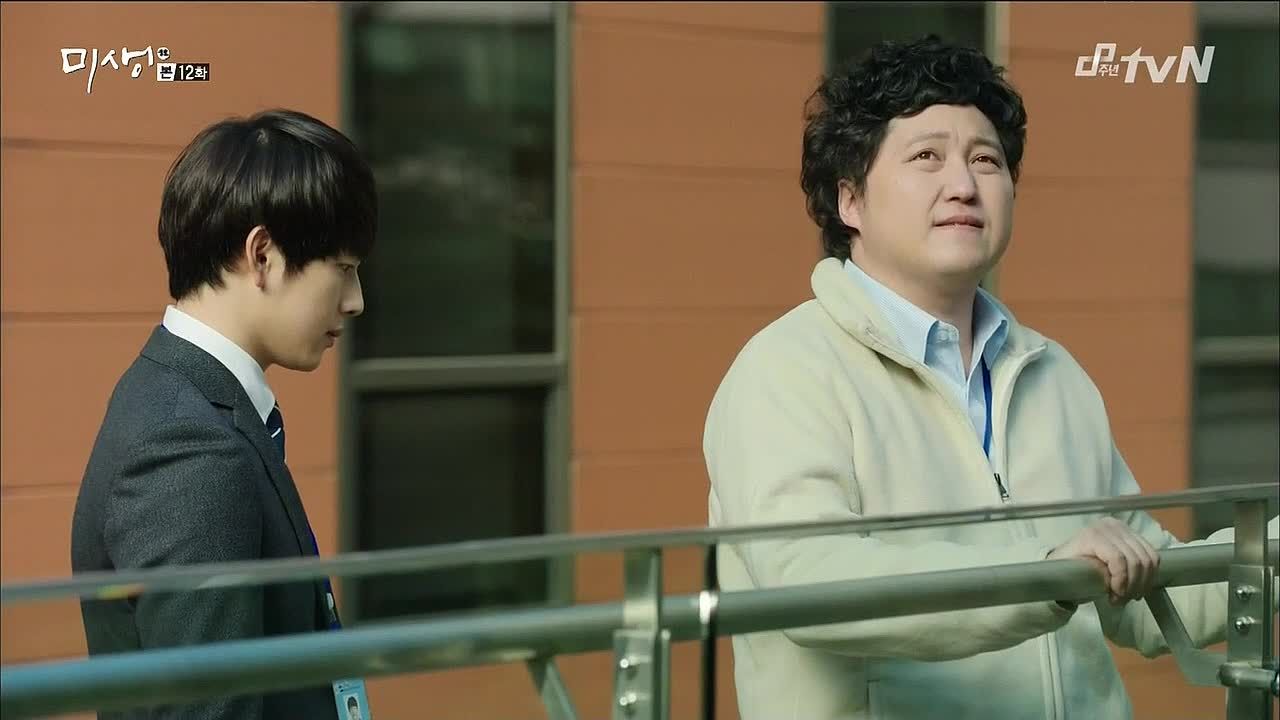 Dong-shik takes Geu-rae outside to gently but plainly tell him that suggesting they pick up this project again was a terrible idea — even if the rationale behind it is sound, it's difficult to accomplish without potentially ruining careers. But he'll keep his doubts to himself since Chief Oh is determined to go ahead with it. He only asks that Geu-rae come to him first if he has similar ideas in the future.
When they return to the office, Chief Oh assigns Dong-shik and Chief Chun to visit used car dealerships to find ones suitable to work with, but Chief Chun has stepped outside for a smoke break. He thinks back to why the executive director assigned him to Sales Team 3 in the first place (whether or not it's easier to extract a rotten tooth or leave it in), and throws down his cigarette in frustration.
Young-yi checks her bank balance, and smiles in relief when she sees a large sum taken from her account, telling herself it's all over now. Baek-ki happens to walk by and teases her for being so happy to see her paycheck — he never thought she cared so much about money. She deadpans that she loves money and intends to become rich, and as they walk upstairs together, her heel comes loose and she stumbles.
Banging her shoe against the floor a few times, she fixes her high heel. Baek-ki chuckles in amazement that Young-yi really does seem human after all (a statement that perplexes her). When he returns to the office, he notes that his coworker is hearing high heels too, and he wonders quietly to himself why women need to wear them. You and me both, bub.
In the break room, Seok-yul complains to Geu-rae about being called a sociopath by his boss, adding that Geu-rae lucked out with his superiors. Just then Chief Chun walks in and Seok-yul jumps to attention to cheerfully greet him, introducing himself and then running through the impressive litany of Chief Chun's impressive work experience. But he's quickly dismissed by Chief Chun who wants to speak to Geu-rae alone.
Seok-yul's curiosity is too strong, and after he leaves the break room, he leans back around the corner to listen in. Chief Oh reprimands Geu-rae for being such a short-sighted newbie and not thinking about the important effects of office politics. Besides, he doesn't even have the skills to complete the project he suggested, and no amount of hard work will see it through.
Of course Seok-yul needs to share this gossip with the rest of the newbies, and when Young-yi mentions that Sales Team 3 will surely see this project until the end (because Geu-rae is at least good at that), Seok-yul points out that she seems to always support Geu-rae.
A reluctant Baek-ki listens as Seok-yul runs through all the ways she's taken Geu-rae's advice over Baek-ki's, but finally Baek-ki jumps up, asking why Geu-rae is so important. Seok-yul aks who else would think about retrying the Jordan used-car project — which Assistant Manager Ha overhears, and soon the resource team is marching their way to Sales Team 3.
Chief Jung's anger catches the attention of the entire office, and everyone stops to watch as he demands to know what's going on. Dong-shik calmly answers his questions until Chief Jung accuses their team of being led by someone without any sense of business ethics. That riles Dong-shik up (because you don't insult Chief Oh!) and he reminds Chief Jung that the resource team lied about the B/L document, blaming the sales team for losing it, so he's one to talk about ethics.
Furious, Chief Jung charges Dong-shik and has to be restrained by his coworkers, and continues to try and attack Dong-shik when he stubbornly stands up for Chief Oh and their project. It's only the appearance of Chief Oh himself that finally gets the resource chief to calm down.
Chief Chun meets with the executive director, who pleasantly asks if it's nice to be working with Sales Team 3 again. Hesitating, Chief Chun brings up the fact the team is taking on the Jordan used-car project again, but the executive director laughs, asking him why he's acting so concerned when the team has decided on a profitable project. Besides, doesn't he remember why the executive director asked him to be on the team?
Geu-rae is still feeling the burden of suggesting they take up the used-car project again, and he hangs his head as he apologizes to Chief Oh since he can't take responsibility for it. But Chief Oh is having none of his pity-party, and hands him the report to read and know inside out.
If he just does what Chief Oh tells him to do, then he's doing his part. Even if he can't do it 100%, then do it at least 80%, since there's nothing worse than a newbie trying to do something 120%. He jokingly calls Geu-rae "Team Leader Jang" as he orders him to get some water (and Geu-rae literally runs to get it), but Chief Oh's smile disappears once Geu-rae is gone.
In the morning, Young-yi is surprised to discover that the resource team and the steel team will be meeting with Samjung to discuss mining rights in Mexico. All the guys are impressed that Samjung business superstar Team Leader Shin will be there, but when she hears this, she dazedly walks away (and Baek-ki watches her in concern as he walks by).
She sits outside, trying to compose herself as remembers her last day at Samjung. She had cleaned out her desk, and when Team Leader Shin stopped to tell her that it's not right for her leave "like this," she had simply told him good-bye, refusing to look him in the eye.
Chief Oh barks at "Team Leader Jang" to call One International's representative in Jordan. Aw, Geu-rae's plaintive whine at being called "team leader" is adorable. The Jordan representative thinks this project is a good one to pursue, but he warns Chief Oh to be careful about the rumors surrounding Chief Park's scandal.
Dong-shik and Chief Chun are busy meeting with various used-car dealerships to find one that will be able to fulfill their demand, and as Dong-shik insists on driving after seeing Chief Chun exhausted yawn, he reminds him that Geu-rae is reliable and trustworthy.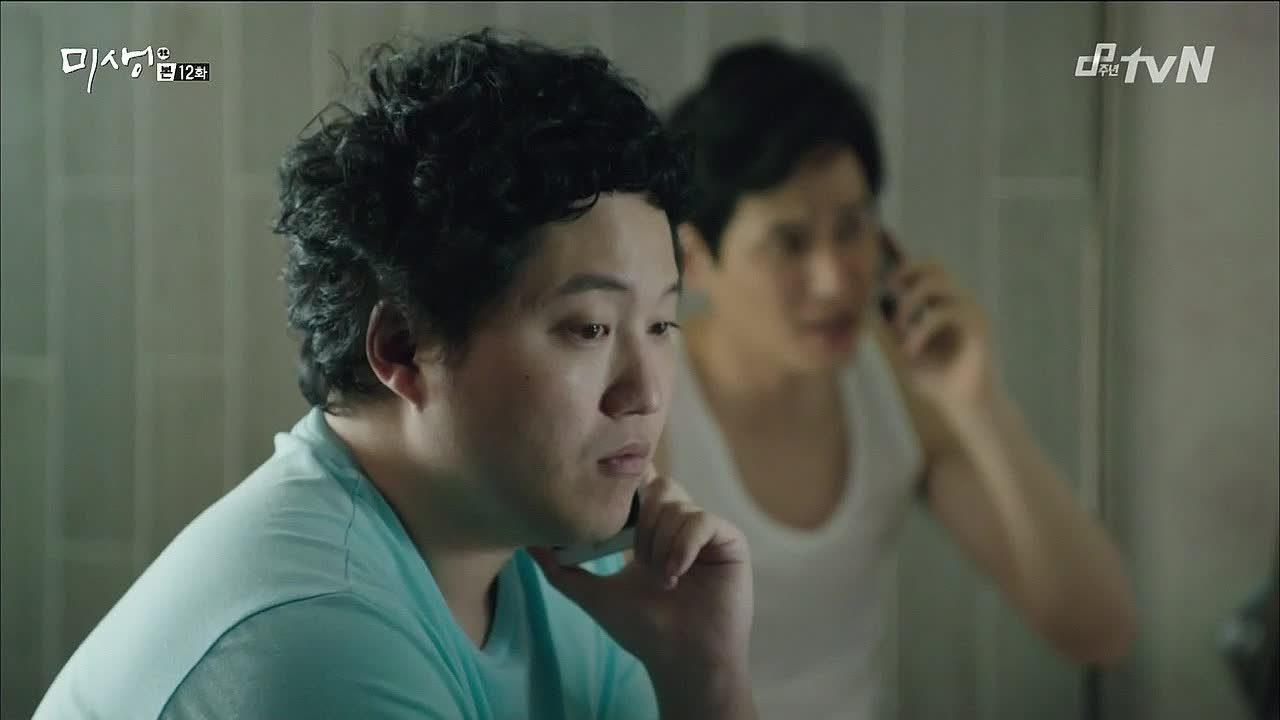 They work nonstop, even when when at their hotel. OMG it's super weird seeing Dong-shik in his underwear after only ever seeing in him his office attire. As they try to get in a nap before heading out on the road, Dong-shik hesitantly points out that Chief Chun still doesn't like this project. But Chief Chun knows Dong-shik isn't fond of it either, yet Dong-shik loyally supports Chief Oh and therefore believes it will succeed.
Per Chief Oh's request, Geu-rae dutifully familiarizes himself with all the financial reports from the used-car dealers. Just like in the game of baduk, he'll figure out a the basic framework to understand everything. But he wonders if it's possible to bring the rules of a failed game to a new game.
When Dong-shik and Chief Chun return to the office, the entire Sales Team 3 stay up late carefully reviewing the list of used-car dealerships for suitability. They get the over-exhausted giggles when Chief Oh introduces Dong-shik and Chief Chun to "Team Leader Jang," but Geu-rae knows that behind their awkward laughter, each is fully aware of the uncomfortable truth behind the uncomfortable atmosphere.
The executive director stops by and sees the men working late, then quietly leaves, unnoticed. Or almost unnoticed, since Geu-rae catches a glimpse of him as he's getting on the elevator.
In the morning, Manager Ma calls Chief Oh crazy for trying to revive the used-car project. He thinks Chief Oh is being too greedy and selfish to taking on the project again, and says there's no way the executive director will approve of it. Cut to the executive director questioning Manager Ma's judgment in trying to stop a profitable project. Ha!
But there are still a few hoops needed for approval, and Manager Ma tells Chief Oh that he'll have to present it to the entire executive team by the end of the week. When Chief Oh protests that it's a simple business item, not a presentation, Manager Ma needles him about his previous confidence.
No one on Sales Team 3 is thrilled to hear that they'll have to put together a presentation, but of course Dong-shik is the first to jump on board, followed by a sighing "of course we have to do it" Chief Chun, and Geu-rae, well, Chief Oh doesn't need Geu-rae's opinion.
The steel and resource team meet with the representatives from Samjung, which include Team Leader Shin. Young-yi practically has to force herself to walk through the door, and at first Baek-ki is delighted to see her filling in for Assistant Manager Ha, but soon clues in that something isn't right between her and Team Leader Shin.
She carefully avoids looking at anyone, but when she's tasked to discuss some contract issues, she smoothly debates and negotiates with Team Leader Shin, getting him to agree with her (much to the approval of her boss). Baek-ki quietly keeps an eye on her, noting the change in her demeanor, and as they see the Samjung representatives out, she's the only one not smiling.
Team Leader Shin sends her a text, requesting to meet with her for a few minutes in a nearby coffee shop. He asks if she finds her new job fun and challenging, and she says she does. He gets up to leave, adding that it will be like this from now on — strictly business. But she admits that she's not sure how she feels being around him again. As he's leaving, he turns back to smile at her. She did a good job today, and he doesn't know who trained her, but they did a good job, too.
Dazedly, Young-yi leaves the coffee shop and thinks back to when she was at Samjung — it seems like Team Leader Shin was the one who trained. She and Team Leader Shin were meeting with representatives from China to discuss mining rights, and she surprised the Chinese buyers by constantly being one step ahead of them. Afterwards, Team Leader Shin told her that since Chinese and Arab buyers never expect a woman to take the lead, she should always be the one in the middle. With a bashful smile, she thanked him.
Baek-ki runs into her as she's slowly returning to the office and she snaps out of her reverie. As he's walking away, she quietly calls after him, asking if he wants to get a drink. They sit silently as they drink their beers. Or, in Young-yi's case, gulp it down. Baek-ki looks like he wants to intervene, but wisely keeps silent. As he's walking home, he passes a shoe store and stops to look at the pair of high heels in the window. A tipsy Young-yi staggers home alone.
Also getting home late is Geu-rae, who blinks exhaustedly at the fact his mother tidied up his room. He wearily gets ready for bed, amused to see that she hung his world map upside down.
The next day at the office, Seok-yul is busy putting away textile samples as Assistant Manager Sung goes through his list of lady friends, trying to find someone free that night to go with him to a special movie premiere for which he won tickets, but the only one who agrees to go can't make it at the appointed time.
Which means Assistant Manager Sung then berates and belittles the poor PR employee into getting him a later showing, and he grabs the pen from Seok-yul's pocket to scribble down the confirmation code. Except he can't get the pen to work, so Assistant Manager Sung tosses it into the trash, much to Seok-yul's astonished horror.
Our trio of newbies look on as Seok-yul paces outside, venting his frustration with his boss as he yells out curses. Their deadpan faces as they tell him to be patient are hilarious in comparison to his furious desire to take his boss on in a fight, but even more hilarious are Baek-ki's and Young-yi's surprised reactions when Seok-yul offhandedly mentions that Geu-rae had struck him first during their rooftop fight.
After Seok-yul storms off, Baek-ki tries to make small talk with Young-yi about her cast-iron stomach and alcohol tolerance, but she's more concerned about Geu-rae's team and their progress. Aw, the goofy grin on his face after she gives him an encouraging pat on the arm is ridiculously adorable.
Sales Team 3 are deep into preparations as they meticulously go over the powerpoint slides and Chief Oh records himself so they can verify every pause and facial expression. But Geu-rae feels uneasy, as though there's something still missing, yet he can't figure out what the problem is.
He's not alone in the feeling, because as Chief Oh rehearses his speech during a lunch break, he knows something is "off," too. As does Dong-shik, who finds him and accuses him for working through lunch. Neither are pleased with the presentation, but ever-loyal Dong-shik is sure it will work, even if Chief Oh isn't sure it's persuasive enough.
But Geu-rae gets distracted by the big world map on the wall, and tilts his head to try and see it upside down. When that doesn't work, he does a handstand — which is how Chief Oh and Dong-shik find him. They're utterly baffled by their newbie standing upside down, and Dong-shik assumes he's cracked under the stress.
As they're getting coffee in the break room, Geu-rae admits to Dong-shik that he feels uneasy about the presentation. Something doesn't sit right with him about the content — it shows off too many negatives. But when Chief Oh enters and overhears, Geu-rae immediately clams up, telling him it's nothing.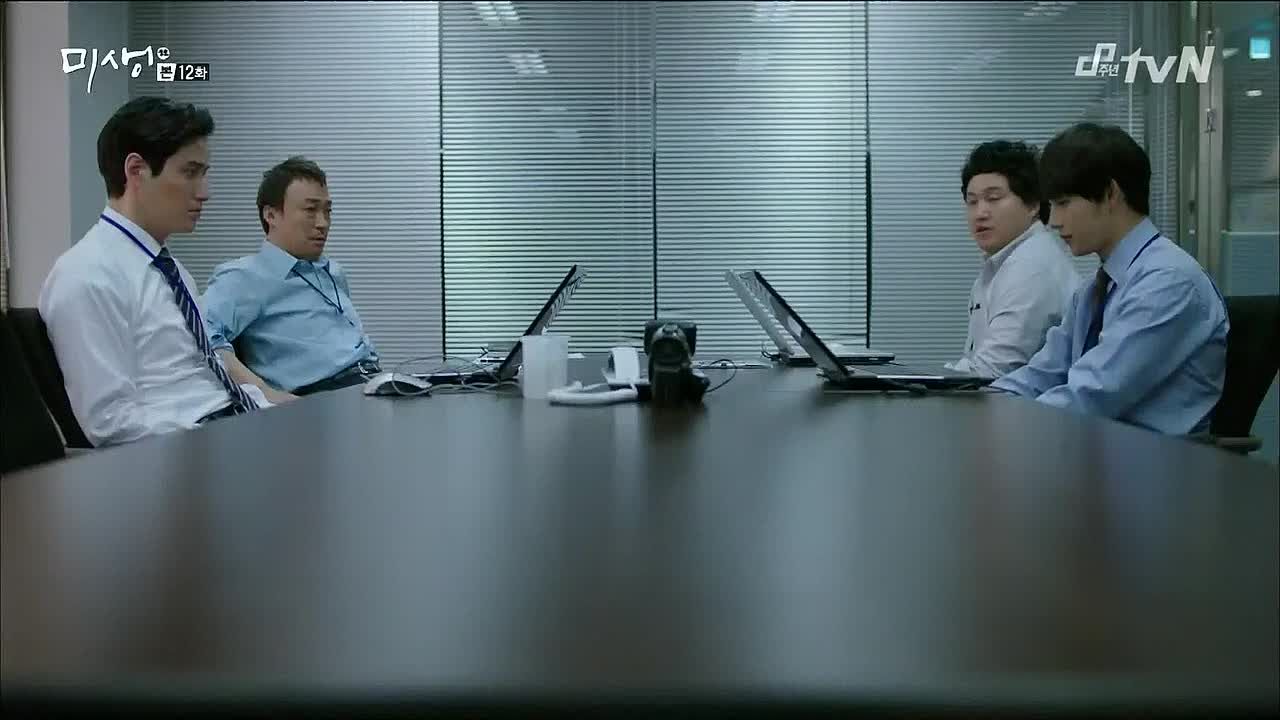 Except Chief Oh knows it's not "nothing," and pulls the rest of the team into one of the conference rooms for a meeting, demanding Geu-rae explain himself. Geu-rae says that the format for the presentation (which is a format that all One International business plans use) make it sound like they're just giving weak excuses. Instead of following normal protocol, perhaps they should be a bit more radical.
He pulls out a map of the world, explaining that using the north as the top is a habit — in reality, the Earth is spinning in orbit where there's no up or down. He points out that normally on maps Australia is down on the bottom and not as visible, but when you flip it around, it becomes the center of of the map and the focus of attention.
Chief Oh understands that Geu-rae is trying to explain that if they focus too much on precedent and procedure, then the important points of their presentation might not be as obvious. Dong-shik freaks out at the thought of having to revise their entire powerpoint and presentation in one day, and despite his faith in Chief Oh, is against changing anything. As is Chief Chun, who thinks they should stick to protocol and not try anything different.
Geu-rae is sent out so Chief Oh can discuss it with the other two, and Chief Oh passionately argues that the presentation, as it stands, doesn't even convince him, so how can it convince others? That's why he wants to use Geu-rae's approach — because Geu-rae is focused on successfully completing the task at hand, not on office politics.
Everyone looks unhappy when Geu-rae is called back into the conference room, which is why he's surprised when Chief Oh tells him to make a new powerpoint presentation by the morning. Chief Chun still thinks the whole thing is ridiculous, and steps outside to get some air.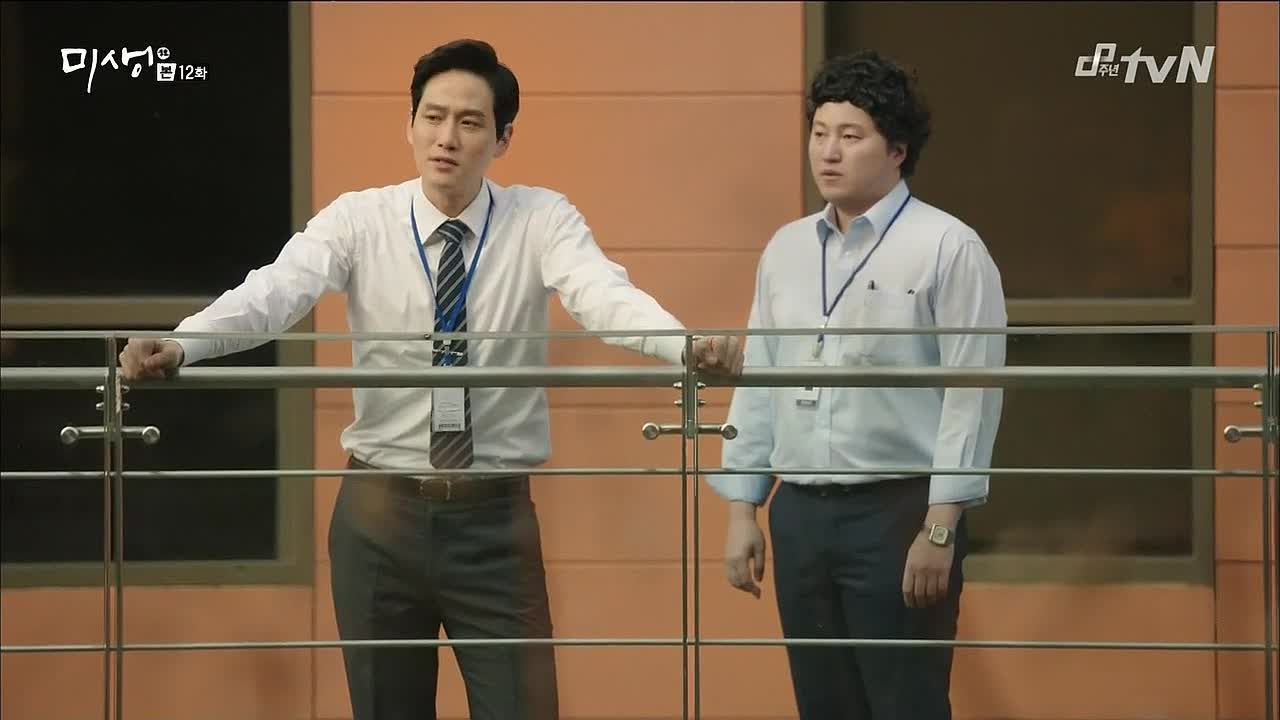 Dong-shik follows, and Chief Chun complains that Chief Oh has changed so much since he last worked with him — he can't remember Chief Oh being this rash before. But when Dong-shik tells him Chief Oh hasn't changed, Chief Chun tells him that in order for Dong-shik to ever be promoted, he'll need to leave Sales Team 3. The executive director finds them as he's taking a break outside, to ostensibly feel the breeze and feel the change of seasons. But it at least reminds Chief Chun that he was put with this team for a reason.
Geu-rae works through the night on the powerpoint, fighting sleep as he organizes everything, even hand drawing the slides that are too complicated for him to make so that Dong-shik can fix them in the morning. He sends off a revised copy to Chief Oh, who replies: "YES."
In the morning, Dong-shik stops at Geu-rae's desk and picks up the powerpoint rough draft he left out. Geu-rae's sound asleep at the desk, and is startled awake when Dong-shik pats him on the shoulder. As Dong-shik settles in to finish the powerpoint, he warns the bleary-eyed Geu-rae that if this presentation doesn't work out, he'll be really angry at Geu-rae, and probably will continue to be for a long time.
The guys get to work prepping for the presentation as they test the microphones and setting up the video conference with the representatives in Jordan. The One International executive in Jordan is pleased that Chief Oh decided to go ahead with the project, but when he sees the new presentation material, he looks at Chief Oh in astonishment.
Geu-rae's previous confidence is suddenly gone in the light of seeing Chief Oh practice the presentation, and the executive in Jordan voices his concern about such an unconventional presentation, implying that no one will agree to pursuing this project further.
When Geu-rae slips outside a moment to gather his thoughts, Chief Oh joins him (asking him if he's praying, ha). Just down the hall, the entire executive team walks towards the conference room and Chief Oh.

COMMENTS
I feel like I ought to be more nervous about this presentation, because if Geu-rae is questioning himself, then it must be something really radical. But Sales Team 3 has taught me these past few episodes to have utmost faith in them, especially when Chief Oh decides to follow his gut instead of protocol. That's not to say everything will end up being perfect for them, but history has shown that by fighting their way through based on integrity and the desire to do the job to their best of their ability, they often manage to succeed in the end. It's about winning the war, not the individual battle. Even if this Jordan used-car project does seem to be the hill Chief Oh is willing to die on.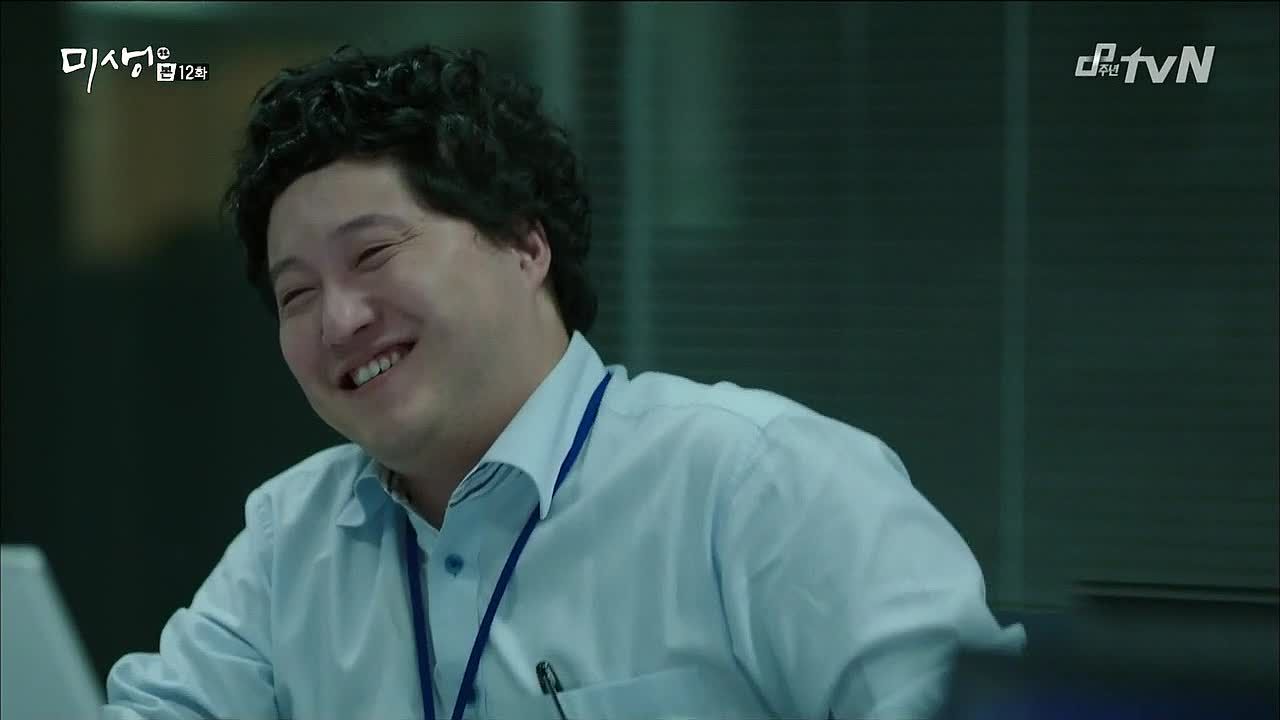 Dong-shik has been one of my favorite characters since that first day he willingly decided to help Geu-rae navigate office life, and throughout the show he's remained one of my favorites. But this episode cements the reason why I love him so him so much — he's a steady and loyal employee. He perfectly balances out the exuberantly dynamic Chief Oh by calmly getting his work done, even when he may not initially agree with it. That's not to say he's afraid of speaking his mind — he voices his concerns, even as he accepts that he's willing to follow Chief Oh's lead.
I wonder how many times he's been told he should try to transfer out of Team Sales 3, since I think it's been told to him at least a few times just since Geu-rae joined the team. Yet he believes in his team, and he believes in Chief Oh, and is willing to stand up and fight for those beliefs. Perhaps even literally, considering how it was only Chief Jung's accusation that Chief Oh had no business ethics that finally got a reaction out of Dong-shik. He's the center of our little misfit team, and I'm pretty sure they would be lost without him — especially Geu-rae, since I'm happy to see this little friendship/mentorship continue to bloom.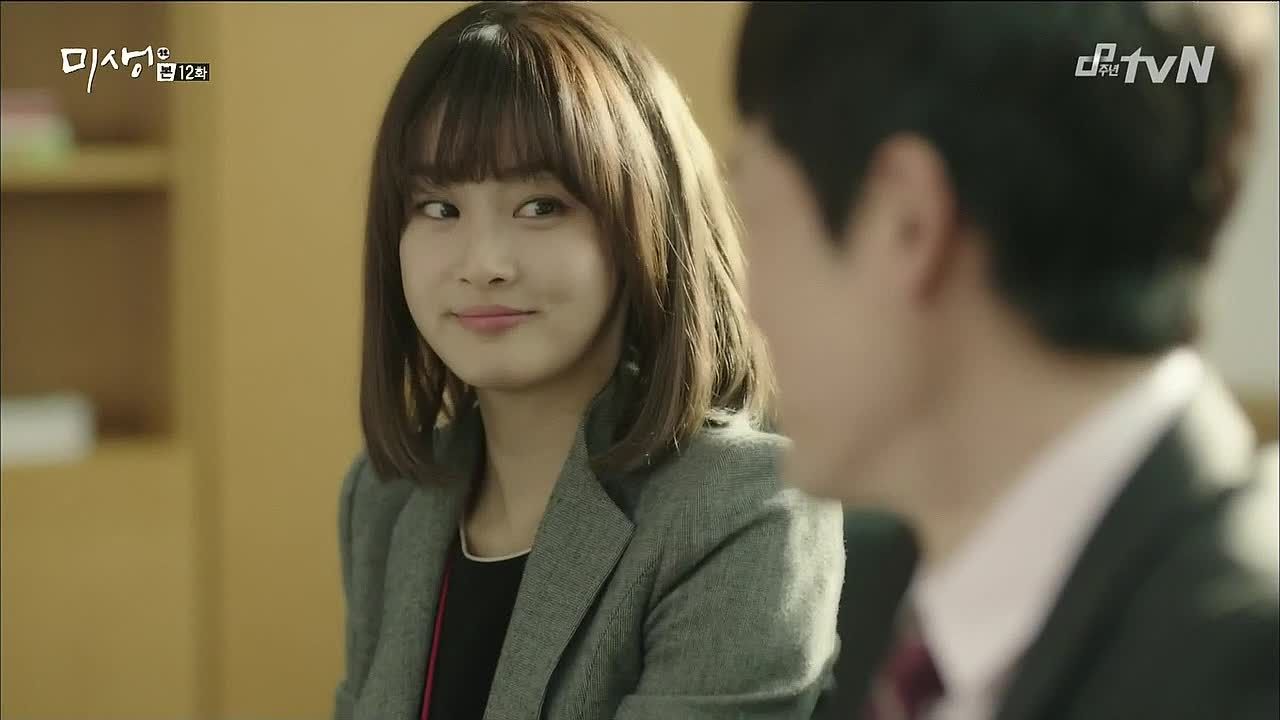 I also haven't spoken much about Young-yi, but she definitely deserves some extra attention now, especially since we're getting more clues to her past. I get the feeling that whatever happened between her and Team Leader Shin wasn't strictly business (if you know what I mean), and that was likely the reason she left her old job. Although, the fact that she was so happy to see that last repayment taken from her check makes me wonder what debt she was carrying, and why, and if it had something to do with her previous job.
Even so, huge respect to her for being able to stand her ground against Team Leader Shin — not just in the business meeting when she was able to persuade him via her knowledge and skills to agree to One International's contract, but also in letting him know that even if they will have to meet up for business purposes, she's still not comfortable being around him. I just hope that if he asks to meet her again, she refuses. She's too good to still be under his spell, no matter how awesome everyone else thinks he is.
That makes me wonder if one of the reasons she treats Baek-ki differently from Geu-rae is because Baek-ki perhaps reminds her of Team Leader Shin — ambitious, charming, and good at what he does. Or maybe that's just me. I've been purposefully ignoring any hints at a loveline because I want my quartet to be best friends forever and not get muddled up in messy relationships, but I do appreciate the gentle way she handles Geu-rae. Even so, I'm glad she's warming up to Baek-ki (and he continues to respect her by keeping his distance), because it definitely looks like she could use a friend or two. Or at least someone to have a drink with.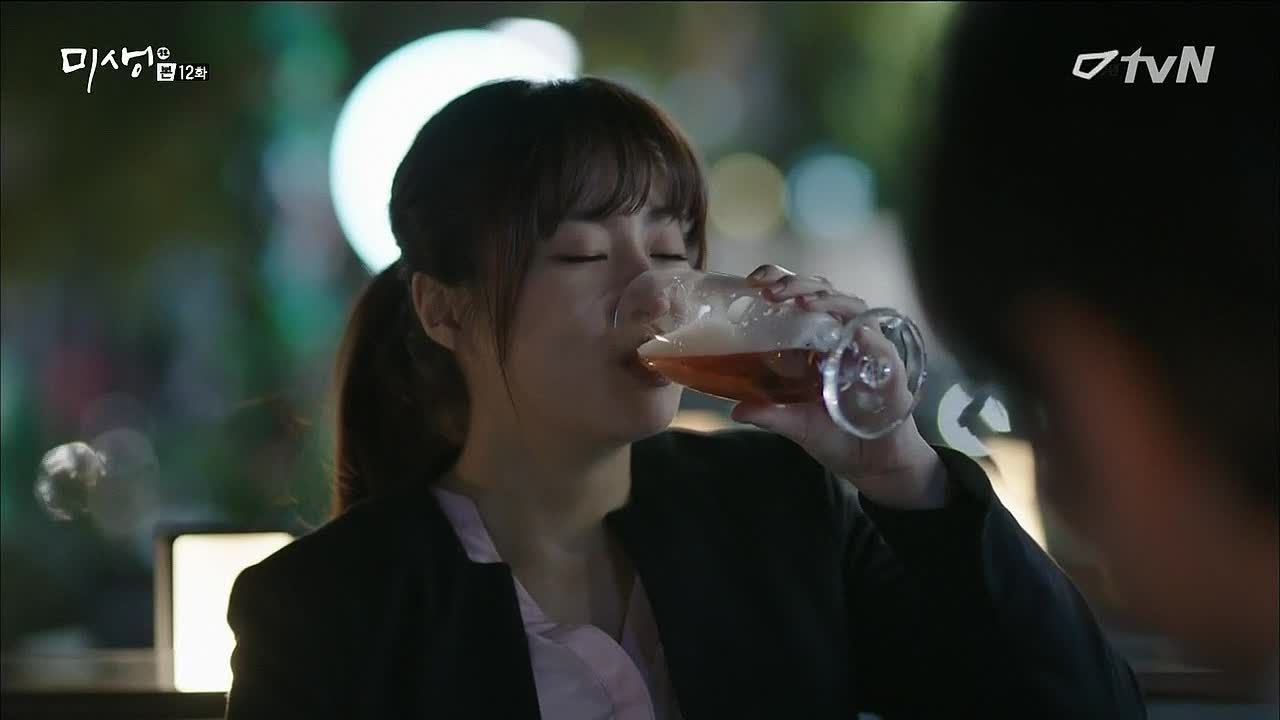 RELATED POSTS
Tags: featured, Im Shi-wan, Kang Haneul, Kang So-ra, Lee Sung-min, Misaeng