Modern Farmer: Episode 11
Get your tissues, because this episode is a tear-jerker several times over. Feelings are hurt and mended and hurt again, jealousies start to rear their ugly heads, and at least one character learns some sad truths about their past. But just when we start to think that these people are becoming a family that can weather the storms together, a newcomer arrives in town that could change everything.
EPISODE 11 RECAP
Hyuk intercepts Yoon-hee, who's still looking down after her discovery of Min-ho's worry over her, on her way to rent tents for the village marketplace. He offers to go with her to help, not taking no for an answer. The other three boys hunt grasshoppers and wonder where Hyuk went, since he's not answering his phone.
Sang-eun comes squealing up to tell them that their appearance on her video blog was a hit — the video of her father fish-slapping them is going viral on the internet. They're embarrassed, though she points out that it's still promotion for their band. It's interesting that Min-ki doesn't seem that interested in band promotion, and is more concerned with getting enough grasshoppers for their market booth.
Snake surprises Min-ki by grabbing a grasshopper before he gets to it, and HAHAHA, he's dressed in country farmer clothing. He tells Min-ki that he's not here to pressure him for money — he and his lackeys have decided to farm on the weekends, because they like the fresh healthy air.
In fact, they've already planted some lettuce, but they need Min-ki's advice because the elk are eating it. This is so fantastic. Suddenly Min-ki is the farming expert, and he deigns to tell Snake the trick about leaving containers of soap around the field. But he gets a little too full of himself, and Snake reminds him to speak respectfully. There's an interesting moment when In-ki passes by the field, and he and Snake exchange a Do I know you? Nah… look.
Man-gu's mom catches Ki-joon sneakily looking for Bul-ja, though he swears he's only here to get some more bottles to hold grasshoppers. She tells him to go get them from the shed, where he accidentally discovers Bul-ja's room. He hears her coming and panics, hides in her closet, and gets a not-so-reluctant eyeful of Bul-ja changing clothes. Judging by his face, those baggy clothes are hiding even more pretty underneath, RAWR.
Hyuk loads up the truck with tents, and aegyos a still-crabby Yoon-hee into letting him drive. That was both awkward and totally adorable. He drives with his usual panicked expression and refuses to change lanes, freaking out and missing their turn towards home. I gotta say in his defense, driving with high-strung Yoon-hee as a teacher would freak me out, too.
Poor Sang-deuk is just about overdosed on Americanos, having been buying them from Mi-young for days to help her shop. He gets the idea to add makgeolli to the iced coffee, which sounds pretty gross, but he's pleased with the result. Mi-young's daughter Eun-woo runs over to beg the use of his phone, and secretly calls her father to invite him to the school's father participation day. She swears Sang-deuk to secrecy, asking him not to tell her mother.
Yoon-hee and Hyuk end up at a beautiful beach, and Hyuk seems so pleased with himself that I'm suddenly suspicious of his motive for wanting to drive. Yoon-hee can't help but smile at the sight, and Hyuk drags her down to frolic in the water. Yoon-hee smiles when she thinks how long it's been since she saw the ocean, and Hyuk jubilantly takes credit for her revived mood.
Min-ki and Han-chul skulk around In-ki's house, determined to get their instruments back, and sneak in when they determine that he's not home. They find their stuff stashed in a corner, but before they can grab them and go, In-ki comes home brandishing an eel this time. He snaps it like a whip, and delivers another smackdown to the guys.
Yoon-hee is ready to head home after spending a while at the beach, but her rumbling stomach and another aegyo explosion from Hyuk convince her to go for sashimi first. Once they're eating he whines for soju, and Yoon-hee agrees to just one glass. He manages to wheedle her into one more, and one more, and soon they're throwing caution to the wind and ordering another bottle.
Min-ki and Han-chul come home with eel-marked faces, but at least they got out with their instruments. Everyone wonders where Yoon-hee and Hyuk went to, and nobody's seen Ki-joon lately either. The latter isn't far — he's on the roof slugging makgeolli and screaming that there's no way he could like Bul-ja. The poor boy is so in love.
Hyuk tipsily tells Yoon-hee that he's glad to see her more relaxed, because he'd been worried about her all day, watching her brood over Min-ho. He asks if she's proud of him for cheering her up, and begs for a head-pat like she gave Min-ki before.
Yoon-hee asks him if his parents are upset that he gave up medical school to come farming, and Hyuk slaps on his trademark Cheshire cat grin and informs her that his mother passed away and he doesn't get along with his father. His smile falters when he says that in his family, you're not respected unless you're a doctor, so his father is ashamed of him.
The smile disappears completely when Yoon-hee asks about his mother's death, and Hyuk tells her that she was depressed and that she overdosed eight years ago. He says that he didn't even know she was depressed, because she'd always pretended to be strong, like Yoon-hee. Sadly, he says that he was the only one who could protect his mother, and he failed. Oh, you poor puppy.
Hyuk vows that he'll never make that mistake again and tells Yoon-hee that she can depend on him, but she's pretty drunk by now and she's fallen asleep. Hyuk just smiles, and lays his head on the table to watch her sleep.
In the morning, Yoon-hee's family worry because she and Hyuk never came home last night and her phone is off. It's the day of the father participation class, and Min-ki wonders what Yoon-hee could be thinking to risk missing it.
Yoon-hee wakes in the truck to find Hyuk sleeping contentedly on her shoulder, panicking and smacking him awake when she realizes the time. She worries that she'll miss Min-ho's class because she's too hungover to drive, but Hyuk just belts her in and peels out. HAHA, I knew he could drive! Sneaky boy.
Little Man-gook warns his father not to embarrass him at school, and even forbids his mom to come to the class. She promises, and Man-gu gives her the sweetest worried look before he leaves with their son. She assures him that she's fine, but it's sad to see her left at home.
Man-gu is set to teach the first class, and of course the first thing the kids say is that he looks like a grandpa. It's hard to say who looks more nervous, Man-gu or Man-gook. Man-gu tells the kids he's here to teach them to farm strawberries and gets a chorus of groans in return, but he presses on.
Suddenly he catches a glimpse of his wife, who couldn't help herself and watches through the window, even through she was forbidden to come. He gets an idea and asks the teacher if he can change the subject, and surprises everyone by saying "hello" in Uzbek. Man-gook looks worried, but the kids think the new language is fun, so Man-gu asks them if they'd like to meet a native Uzbek speaker.
Man-gu brings his wife into the classroom, introduces her as Man-gook's mom and tells the class that she's from Uzbekistan. She looks nervous but Man-gu is adorably encouraging, and soon they have the whole class excitedly learning new words in Uzbek. Buoyed by his peers' approval, Man-gook looks proud of his parents again, and even shoots his mom a cute little hand-heart. ~sniffle~
Sang-deuk (having hilariously named his new drink invention "makgeo-latte") gets a call from a stranger who says he's Eun-woo's father, who tells him that he can't come to her school and asking Sang-deuk to apologize to his daughter.
He runs to her school to deliver the message to her teacher, and offers himself instead since he's like her uncle. Unfortunately the only thing he has to teach the kids is how to open a bottle of makgeolli without spilling it, and Eun-woo is unimpressed to say the least.
It's Min-ho's parent's turn, but the poor little guy can only mutter that his mom couldn't come because she's busy. But just before the teacher can conclude the parent day, Min-ki comes sliding into the classroom with his guitar. He throws Min-ho a wink and jumps up on the teacher's desk, yells "Rock and Roll!" and gives an impromptu rock concert.
Hyuk screeches to a stop in the school parking lot and shakes a stunned Yoon-hee out of her shock at his insane driving, and they run to the class in time to see Min-ki and the kids having a blast. Yoon-hee can only smile at how much fun her son is having with his "uncle."
Min-ki is a bit standoffish after school when he hears that Yoon-hee and Hyuk spent the night drunk at the beach, but Min-ho is thrilled at Min-ki's appearance and asks if he can come to the class picnic tomorrow. They leave and Hyuk, jealous that all his hard work at the beach was wiped away, calls Min-ki a sly jerk and stalks off.
Before he can wonder what that was all about, Min-ki gets a call from Yoo-na, who seems to envy him when he gets excited about his cabbage. She sadly asks if she should quit singing and come farm with him, saying she's getting tired of it. Min-ki reminds her that he's growing the cabbage to make an album and come back to music, and tells her to wait for him.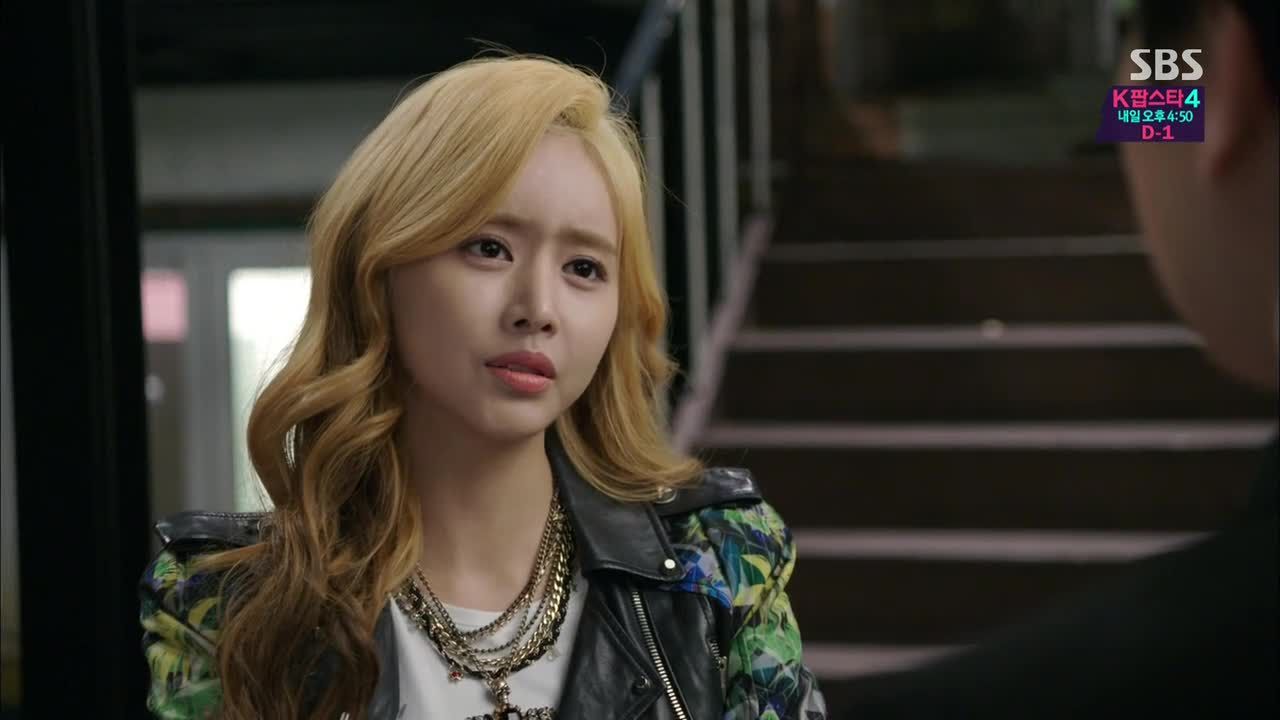 After her photo shoot Yoo-na is intercepted by her manager's lackey, but she reminds him that she refuses to go to "that kind" of party. She says she's tired of being shown around like a toy and being exposed to people who are on drugs, but the man begs her to come with him. To be fair, he seems like he hates this as much as she does.
Eun-woo cries her heart out to Sang-deuk over her father's no-show, and Mi-young overhears them talking and gets angry that Eun-woo called her father. Eun-woo hides behind Sang-deuk, who takes all the blame and says that he called her father after hearing about the class. That is too sweet.
Yoon-hee finds Min-ki alone to thank him for saving the day at Min-ho's school, and says she hasn't seen her son smile like that in a long time. Min-ki points out that he hasn't seen her smile like that in a long time, either. She says she's grateful for how Min-ki has taken care of her son, and asks him what his intentions are. The hopeful look in her eyes just kills me.
Min-ki says that when she frowns, he's sad, and when she smiles, he's happy. He jokes that he owes her something as his first love, and he leaves with her beaming after him.
Sang-deuk sits home drinking, and Mi-young finds him to apologize for yelling at him earlier. They make up and he offers her a drink, and soon they're both drunk and depressed. Mi-young tells Sang-deuk that her ex-husband had lots of other women during their entire marriage, and that all they did was fight.
She says her ex didn't even argue when she asked for the divorce, just signed the papers like it was nothing, and moans that she considers her horrible marriage to be her punishment for how she betrayed Sang-deuk. Sang-deuk is willing to put it all in the past, but Mi-young is inconsolable and works herself up into sobbing tears.
Sang-deuk wakes in the morning when an arm smacks him in the face, and he finds Mi-young naked in bed with him. HAHAHAwhoops. They both panic and scream, and hide behind a screen when Man-gu's mother enters the room to clean up another of Sang-deuk's drunken evenings.
The boys are helping Yoon-hee make kimbap for Min-ho's school picnic (if by "helping" you mean "eating") when a news story comes on the television. Apparently Yoo-na was forced to go to that party after all, and the police busted everyone there for smoking marijuana. She tested clean, but this is enough to ruin her singing career, and Min-ki rushes out after tossing a quick apology to Yoon-hee that he won't be able to go to the picnic.
Things are pretty bad at Yoo-na's agency — they're already fending off the press, canceling her events, and being threatened with lawsuits for breach of contract. Her manager actually has the gall to fuss at her for getting involved in a scandal… uh, did you forget that you threatened her into going to those parties? Yoo-na wordlessly excuses herself to the restroom, but Min-ki is in the hall and grabs her arm, urging her to follow him.
Back in the village, the boys wonder if Min-ki went to find Yoo-na, and Yoon-hee's aunt asks if they know that singer. Ki-joon tells her they were trainees together, but Han-chul just says their band failed. He asks Hong-gu about the package he's wrapping and teases him when he says it's for Sang-eun's birthday, earning himself a frosty glare. I knew the kid liked her.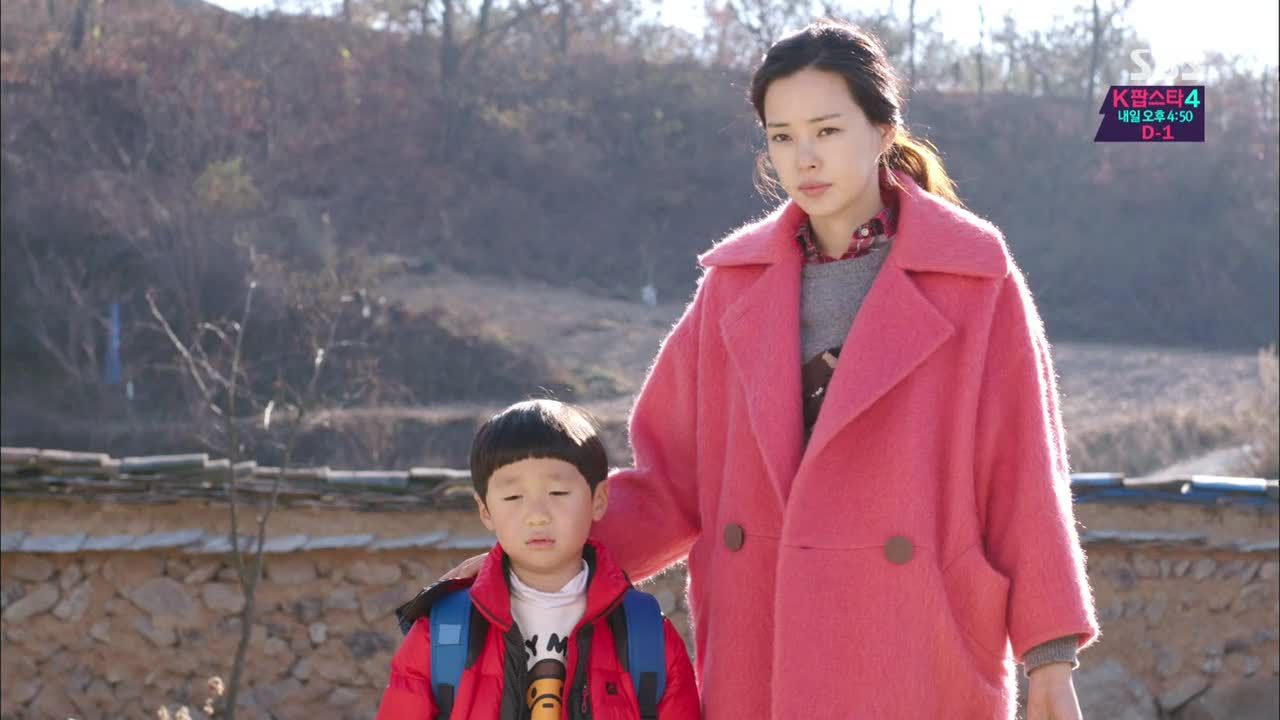 Yoon-hee and Min-ho come home from the picnic, Min-ho wearing a long face because Min-ki didn't come like he promised. He wilts when he hears that Min-ki still hasn't come home.
Snake and his sidekicks work on removing rocks from their field, and he sees In-ki walking past again. This time he follows him, seeming genuinely upset when In-ki seems to pretend not to know him. He grabs In-ki and says they have a lot to talk about, only just figuring out that something is wrong when In-ki only shakes his head and grunts.
They go back to In-ki's house, where In-ki writes a simple "I'm sorry" on a sheet of paper. Upset, Snake yells that sorry isn't good enough, and tells him how his and a couple of their friends' lives went downhill when In-ki left them. He demands to know why In-ki disappeared on them without a word, sending In-ki into a painful memory.
In-ki, Snake, and a couple of their friends had been in a band in their youth, and were preparing to perform for a record label CEO in the hopes of making a debut. Snake is confident they'll do well as long as they have In-ki, who swears he'll play his heart out and get them out of their crappy lives.
But just before their performance In-ki gets a disturbing call, and he drops his guitar to leave. In-ki says that his wife Sook-kyung has collapsed and he has to go, and Snake tries to stop him by saying this is their last chance, but In-ki only growls "I'm sorry," and leaves them.
At the hospital, Sook-kyung has just successfully delivered a baby girl, though she's weak and pale when In-ki comes in the room. Sook-kyung starts to bleed heavily and the doctor forces him out of the room, but not before he hears her flatline.
Back in the present, In-ki writes that his wife died because of him. Snake yells that she died in childbirth so how could that he his fault? Outside the room, Sang-eun drops her schoolbag in shock, having heard for the first time that her mother died giving birth to her. She flees, and her father follows her.
Soo-yeon checks her maps again, complaining about how tired she is, and takes a call from her bar owner friend. She complains that the thugs that are looking for Soo-yeon follow her everywhere, but Soo-yeon still won't tell her where she is. Her friend hangs up, but we see that she kept the line open long enough for a man to trace the call and secure Soo-yeon's location.
In-ki finds his daughter crying in the barn, but she says that she understands why he never told her about her mother or celebrated her birthday, because it's also her mom's memorial day. She blames herself for killing her mother and sobs that she's sorry, but her father grabs her and shakes his head vehemently.
She runs anyway, too upset to talk, and In-ki falls as he chases her. He calls after her and suddenly, his incoherent calls turn to words as he cries that it's not her fault. He takes her home and shows her pictures of him and her mother on their wedding day, and Sang-eun sees her mother's face for the first time.
In-ki remembers the morning of his big break, when he promises his very pregnant wife that if this doesn't work out, he'll quit music for good. She urges him to never give up, and sends him off. She'd gone back to work at her restaurant job, where she'd told the owner she would only be working a short time more until her husband got his big break. But she'd gotten dizzy and collapsed, and only lived long enough to give birth.
Deep in guilt, In-ki wails that he'd been so focused on music that he hadn't been there when his wife needed him, and he blames music for keeping him from her and causing her death. Sang-eun hugs him and cries with him, telling him that it's not his fault.
The boys prepare for the market, and Min-ho asks his mom to call Min-ki and ask when he'll be home. She tells him to wait, but Min-ki arrives home. Everyone looks on as he gets out of the truck, and he opens the passenger door to reveal that he's brought Yoo-na to Hadurok-ri.
COMMENTS
What a rough episode… but I'm glad that a lot of things are getting aired out, so that people can face their demons, heal, and move on. I was especially touched by In-ki's story — not that it was so unexpected, but because it's clearly been something that's kept him and his daughter from truly being close all these years. He seems to be simultaneously caring yet distant with Sang-eun, which is understandable given the circumstances of her birth. Even if you don't blame your child for her mother's death in childbirth, it must be difficult to get over the fact that every birthday, you're reminded that she's here and her mother is gone. I'll admit that I don't understand why In-ki blames himself, and by extension all music, for his wife's death. If she had been ill and he hadn't been able to afford a doctor or something, it would make more sense. But just to blame himself because she gave birth when he was at a gig? I must be missing something.
I love how the show is handling so many social issues surrounding children, and dealing with those issues so well. Of the three kids in the show, one faces discrimination because he has a foreign parent, one has divorced parents and an absent father, and one has no father at all to speak of. It warms my heart to see all three of these children being supported and loved by the adults in their lives, whether it be their parents, their parent's friend, or simply a caring neighbor. I'm not in a position to comment on the social climate in Korea, but these are issues that have caused a lot of heartache for a lot of people, and it's great to see a show giving humanity and dignity to problems that plague children all over the world.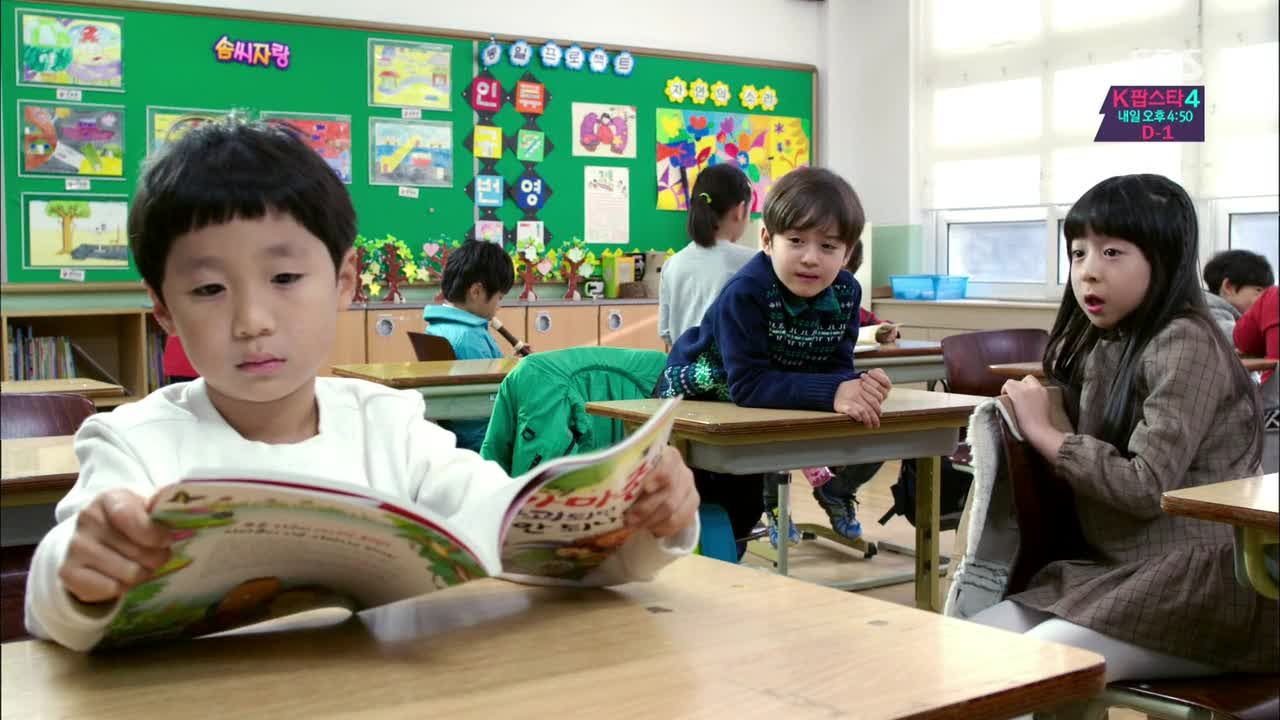 As for the adults, I'm ready to see a bit of advancement in nearly all of the romantic pairings. It seems like they've all been circling around each other for a while now, without really doing anything. Ki-joon has been whining about Bul-ja being pretty for three episodes now… okay, you're upset, we got it, now do something about it! Either ask her out or shake it off, buddy, but stop moping around. I don't really understand why he's so resistant to liking her, because there's nothing at all objectionable about her. She's pretty, but she's also smart, extremely capable, a hard worker, and seems to be a very sweet person. So get over yourself and just ask her out!
The primary love square also needs to start to head in a direction, any direction, or I'm about to get frustrated. While I admit I have my own personal 'ship (I love Yoon-hee and Hyuk together, if there was any doubt), I'm not against seeing another pairing happen if it means that something gets moving amongst the four lovebirds. I was happy to see Hyuk make an effort to spend some time with Yoon-hee, and though I side-eye his method of lying to her about his driving to get her to the beach, I appreciate that he was concerned about her and wanted to take her somewhere nice to forget her troubles for a day. And it's telling that he opened up to her about his mother, and his family, since his overwhelming tendency is to say everything is fine and smile. So it was nice that they got to get to know each other a little.
And yet, Min-ki is still the one doing things to actually fix Yoon-hee's worries about her son being unhappy. He's stepping in and spending time with the kid — and he's not even doing it to earn brownie points with Yoon-hee, but because he's a good guy who identifies with Min-ho's situation and genuinely likes the kid. But I still feel like that's the only reason he's doing it, and that Yoon-hee is reading something more romantic into it than he intends. The truth is that when it came time to choose between Yoon-hee/Min-ho and Yoo-na, he didn't even hesitate and went running to Yoo-na. Hopefully Yoo-na's arrival in Hadurok-ri will be the catalyst that's needed to get some of these underlying feelings out in the open, and we'll start to get some romance up in this farm.
RELATED POSTS
Tags: featured, Honey Lee, Lee Hong-ki, Lee Shi-un, Modern Farmer, Park Min-woo