Modern Farmer: Episode 13
This whole episode centers around the romances (or lack thereof) happening in Hadurok-ri, and it feels like everyone keeps taking one step forward and eighteen steps back. One couple may end before it even begins, while others look like love is in their path whether they like it or not. A new village challenge to find a way to promote their apples leads to lots of music and hilarity, and some accidentally overheard words lead to heartbreak.
EPISODE 13 RECAP
Yoon-hee manages to break Hyuk and Min-ki apart before they come to blows, dragging Hyuk away with her and leaving Min-ki and Yoo-na alone. Min-ki angrily asks why Hyuk keeps acting that way around Yoo-na, but she just says it's nothing and for some reason, Min-ki doesn't pursue a more concrete answer.
Around the corner Yoon-hee also asks why they were fighting, but Hyuk just smiles and says they grew up fighting and that it was no big deal, but that it makes him happy to see her worry about him. Honestly, the more he smiles the more suspicious she should be getting, but everyone lets it go for now.
Ki-joon is confused the next morning, not understanding why Han-chul is so depressed or why Hyuk and Min-ki fought. Hyuk only says he got jealous that Min-ki always takes Yoo-na's side, and Han-chul perks up and asks if Hyuk is "like that" too. Just then the boys see Soo-yeon and Mi-ja walking and looking pretty snuggly, and Han-chul bursts into tears.
Man-gu finds Sang-deuk drinking makgeolli in the rain and sighing over Mi-young, who pulls up in her car to say hello. Sang-deuk flings himself down the hill (HAHA) to avoid her, and just the mention that Sang-deuk was here a moment ago sends Mi-young peeling out and leaving Man-gu wondering what he said.
The boys stand in the middle of their cabbage field in triumph, proud of the gorgeous crop they're growing. Min-ki is even moved to tears, this probably being the hardest he's ever worked for something. Hyuk finds a cute little snail, and the boys all crow over the snails they "grew" along with the cabbage. Min-ki even takes a call from the agricultural manager and invites him over to see the "cute" little snails.
Of course Man-gu rushes over because those cute little snails, and their big appetites, spell doom to their cabbage crop. Unfortunately the only way to get rid of snails is to crush them by hand. So they do, hilariously apologizing to each one and getting rid of them with tears and shaking hands. Awww.
Sang-deuk decides he can't keep avoiding Mi-young like a coward, and goes right to her coffee shop to talk. He takes a few deep gulps of liquid courage, and Mi-young says she knows last night was a mistake. But that's not what Sang-deuk is here to say — he tells her he was serious and he wants to start again. HAHAHA, is that "Love is the Moment" playing in the background? OMG it is, this is brilliant.
Man-gu, In-ki, and Yoon-hee discuss how to promote their apples for better sales, and Man-gu's mom brings them some lunch. In-ki compliments her cooking, and Man-gu notices the change in his mother's voice when she talks to him, making her wonder what's wrong with her.
Sang-deuk stands outside his house and informs his mother in no uncertain terms that he will be dating Mi-young, and dares her to do her worst. Too bad she's not actually there, hee. He finds his mother but before he can speak, she tells him about a nightmare she'd had that he told her he would marry that awful Mi-young. She says she'd beaten him with a club until he was paralyzed, and Sang-deuk goes white as she resumes beating a dried fish with a club.
Yoon-hee calls a village meeting to discuss the solution she came up with to promote their apples — a national singing contest is coming to their town to audition singers. They'll hold auditions to send someone from their town, which should help get the word out about their apples. All of the villagers think they're the perfect singer to represent Hadurok-ri, but I'm thinking the town is in trouble.
Ki-joon finds Bul-ja looking sad because it's her mother's birthday, and Man-gu won't let her make international calls. Ki-joon figures it can't cost that much, and offers her the use of his phone. It's sweet of him, but he's regretting it two hours later when she's still talking and shows no sign of ending the call. She finally runs down the battery and he grumpily snatches his phone back, but softens when she apologizes and explains that she hasn't seen her mother in three years.
Yoo-na makes a huge meal for the family and they all exclaim over how long it's been since they saw a normal meal — even grouchy Hyuk's eyes widen over her delicious cooking. The mood changes when Yoon-hee's aunt arrives and says the mood sure is nice since Yoo-na cooked. Put on the spot, her husband is forced to say that he prefers her instant ramyun over this kind of cooking, and she giddily runs off to make him some. Poor guy was this close to having a nice meal.
Uncle says the boys should audition to represent the town in the singing contest, but they still haven't filed a move-in report, so instead they're put to work as the judges and back-up musicians. Man-gu auditions first, and it's hard to say which is worse, his dancing or his singing, and he's eliminated after only a few words. These judges are tough.
The auditions go downhill from there, and the villagers are eliminated one by one. Even Grandpa tries his luck, hilariously choosing to sing EXO's "Growl," but eventually there's only Sang-eun left. She begins to sing "Goose's Dream," and she's not bad, but everyone's eyebrows shoot up when she hits the emotional moment of the song and blows it away. Dang, the girl has some serious pipes.
They sit later to plan her audition for the actual contest, and Yoon-hee tells Sang-eun that it's crucial that she get an interview with the MC so she can promote their apples. She's figured out that he likes contestants with funny costumes, and presents Sang-eun with a big poofy apple hat to wear on the show. Somehow I don't think this is what Sang-eun had in mind.
The MC also likes lively dances, and this Sang-eun can do. Yoon-hee drops the bomb that the school will let them use their rehearsal space in return for teaching students to play guitar, which looks about as fun as it sounds. Han-chul draws the short straw with Min-ho's bullies, who would rather ask a million silly questions than learn.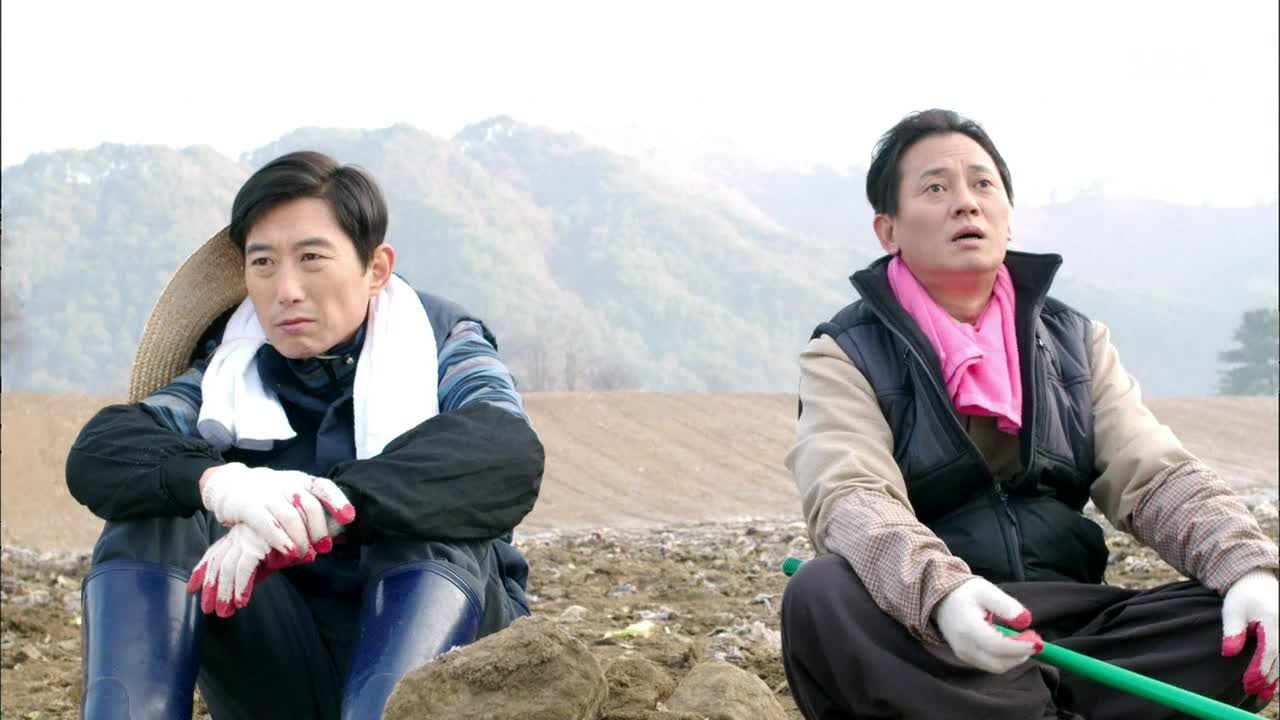 Snake and his lackeys are still trying to rid their field of rocks, but soon In-ki shows up to help. Snake is grumpy and ungrateful, so In-ki asks if he still hates him, and HA, Snake says he liked him better when he didn't talk. He tells In-ki he'll hate him forever, but there's no heat behind his words, and In-ki invites him for a drink.
As they drink, Snake notices Min-ki's guitar leaning against the house. It turns out that In-ki already knows Min-ki has been using it, but he doesn't know how he got it. He and Snake have an impromptu jam session, and they're playing a beautiful slow song when Man-gu's mom comes by. Suddenly her world turns to sparkly slow-motion when she hears In-ki's sexy bass voice.
Sang-eun and the boys happen past, and Sang-eun is startled to see her father singing and playing guitar. Min-ki is just as shocked to see that Snake can also play, and Snake informs them all that In-ki used to be very famous and that Min-ki's guitar used to be his. Ki-joon asks who Snake is, and he lets Min-ki panic for a moment before winking and simply saying he's a weekend farmer. Whew.
Ki-joon finds Bul-ja starting up a tractor in the rain (I love that he calls her Hwa-ran, though I'll keep calling her Bul-ja to avoid confusion), and stops to talk to her. He asks her to be a backup dancer for Sang-eun, and she initially declines. He convinces her by mentioning that if they get on TV, her mom will be able to see her. He goes with Bul-ja to her delivery since it's raining and he has an umbrella, which just makes my heart melt, and she teaches him to drive the tractor in a dual explosion of cute.
Sang-deuk is back to avoiding Mi-young, but she corners him to talk about his confession. He lies that he told his mother they were starting over, and goes in to hug her, but when he sees his mother approaching he pitches Mi-young into the muddy ditch. HAHA. After his mom leaves he joins Mi-young in the mud, and admits he didn't really speak to her, and promises to tell her today and take Mi-young on a date tomorrow.
But when Sang-deuk goes to actually confront his mother, he finds her in bed with an IV, having dozed off at church and had another nightmare about him and Mi-young marrying, causing her to collapse. Grandpa reminds Sang-deuk that his mother has a weak heart and asks what he wanted to talk to her about, but Sang-deuk backs down again.
Sang-eun practices her apple-hat dance in her room, but snatches off the hat and sits on it when her father enters. In-ki is pretty drunk, but not too drunk to notice the apple hat, and he hands her a bag. It's a sweater to wear for her audition, and he tells her that from now on she should do what she wants and not be a coward like her father. Awww, Dad ~sniffle~.
The snail-squishing doesn't get any easier for the guys, though apparently Han-chul has decided to just eat the cabbage rather than sell it. He whines that the girl he loves can never, ever, ever love him back, and Hyuk yells that he should wish her well and let her go. That's some good advice there, my friend. Maybe you should take it?
Sang-eun and Bul-ja practice their audition number, and Bul-ja wasn't lying when she said she can't dance, though she looks ridiculously adorable in an apple hat. Yoon-hee compliments Sang-eun on being such a great entertainer, and Sang-eun gets ambitious and shows her she can do a head-spin. Except she falls and hurts her neck, effectively removing herself from the audition process.
There's another town meeting to decide who should audition in Sang-eun's place, where Hyuk mentions that Yoon-hee is a good singer. She tries to decline but is convinced to sing (after shooting Hyuk a dirty look), and her voice is absolutely lovely, so the village elders vote her in immediately.
Min-ki actually criticizes Yoon-hee's singing, and refuses when In-ki volunteers him to be her vocal coach. In-ki whispers that he knows about Min-ki's debt, so Min-ki very enthusiastically offers to coach Yoon-hee. But Yoon-hee turns out to be an even worse dancer than Bul-ja, and Min-ki loses his temper at her.
So they bring in a professional dancer, Yoo-na, who's happy to be able to do this and repay Yoon-hee's kindness. Yoo-na's little booty-shake move has Yoon-hee protesting, but she's forced to agree to the dance in order to promote the apples.
It's Mi-ja's turn to whine about never getting to sleep, since Soo-yeon is making her help with mural-painting in addition to digging at night. When Soo-yeon goes for more paint, Han-chul approaches Mi-ja to talk about Soo-yeon. He tearfully tells Mi-ja that Soo-yeon loves sweet potatoes and asks her to make sure she always has some. He instructs her to buy Soo-yeon dried sweet potatoes when they're out of season, and not be shocked when she cusses.
Mi-ja is understandably confused, and asks why she should keep Soo-yeon supplied in sweet potatoes, and Han-chul yells that that's what you do for someone you love. He tells her that he knows everything, that Mi-ja and Soo-yeon are in love, and Mi-ja bursts into great gales of laughter.
Soo-yeon hears the end of this exchange and Han-chul tells her he saw them kissing, but Soo-yeon sets him straight about the loose thread and yells at him for having a dirty mind. Han-chul is so happy, he doesn't even register that Soo-yeon is furious, and he hugs her then falls and rips his pants.
Mi-young waits in town with a lunchbox for Sang-deuk, then goes to get him some water. Man-gu's mom knocks on his car window and lets herself in the car, but Sang-deuk can't tell his mom's best friend that he's waiting for Mi-young, so he drives off without her. Awww.
Yoo-na does her best to teach Yoon-hee and Bul-ja the choreography (while Min-ki and Ki-joon look on wearing the apple hats, hee) and Min-ki loses his temper at their badness again. He decides they should just quit, and Yoon-hee apologizes for being terrible and leaves. Ki-joon fusses at Min-ki and tells him to stop comparing Yoon-hee to Yoo-na, which is sweet as well as insightful.
Yoon-hee wanders the halls of her old school and stops to look at the piano she used to play. Min-ki goes looking for her, and finds her playing the piano the way she used to do when he first fell for her. They both comment that the school hasn't changed, and Min-ki takes Yoon-hee around and shows her all the places where he carved his innocent love for her into the school walls. That is so freaking adorable.
But when Yoo-na finds them, Min-ki calls his carvings "just scribbles," deflating Yoon-hee. He makes it worse by saying how pretty Yoon-hee was back then, making it sound like he doesn't think she's pretty now. Yoon-hee begs off rehearsal for the day, and watches sadly as Min-ki and Yoo-na leave together.
Hyuk finds Yoon-hee staring nostalgically at the carving, correctly guessing that rehearsal didn't go well. Yoon-hee admits that Yoo-na being so good makes her nervous, so Hyuk offers to help her in return for granting his wish later.
Once again Mi-young catches Sang-deuk in the act of public urination (you'd think he'd have learned to use a bathroom by now) and when he's done, he tells her about his mother's collapse. He promises to tell his mom about them soon, but Mi-young says that she also caught herself hiding from Man-gu's mother earlier, and thinks they aren't confident enough in their feelings.
Hyuk gives Yoon-hee dancing pointers, but he gets a little too close when he tries to help her with a certain move, and his proximity causes Yoon-hee to jump away. Looks like she does find him attractive, because when he jokingly asks if she's falling for him, she protests a bit too much.
That night Yoo-na goes outside alone, and calls her friend Min-ah to ask how things are at the agency. Min-ah tells her everything is crazy since she left, and that the CEO is looking for her. Yoo-na assures her friend that she's fine, and asks her not to tell the CEO that she called. Min-ki finds her and sits with her.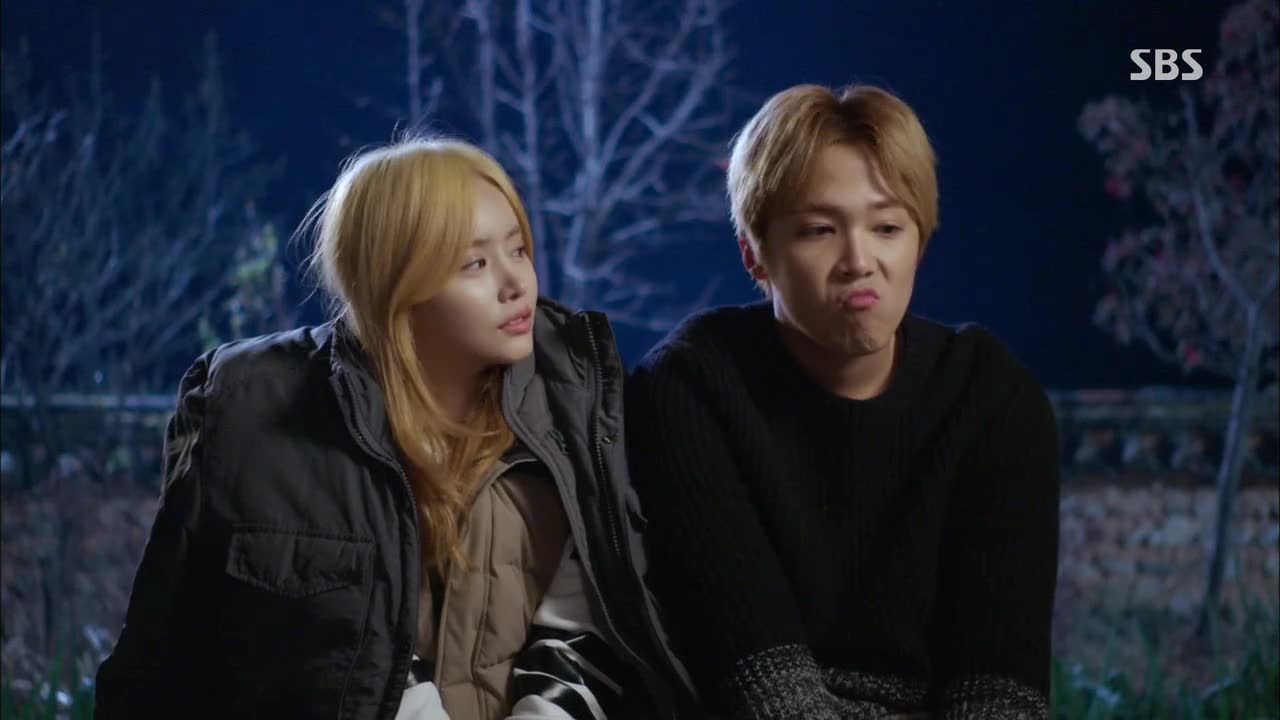 Hyuk and Yoon-hee walk home, Hyuk still teasing Yoon-hee about falling for him, and they stop when they hear Min-ki and Yoo-na talking on the other side of the wall. They overhear Yoo-na ask Min-ki about Yoon-hee, and he admits that he used to practically stalk her, he liked her so much. He tells Yoo-na he doesn't like her that way anymore, but that he does worry about her and feels sorry for her. He emphatically insists that he doesn't have any feelings for Yoon-hee anymore when Yoo-na teases him.
On the other side of the wall, Hyuk and Yoon-hee have heard every word. Yoon-hee watches Min-ki with a stricken look on her face, and Hyuk watches Yoon-hee's heart break.
COMMENTS
Things are coming to a head in our main love tangle, and while I'm glad to see some things moving forward, I'm also saddened whenever Yoon-hee is faced with the fact that Min-ki doesn't feel towards her the way she feels towards him. I still feel like it's up in the air whether they'll end up together, though I know it's been hotly debated and probably will continue to be, because I still haven't seen anything from Min-ki that indicates that he feels anything towards Yoon-hee than exactly what he told Yoo-na. I think he feels a lot of nostalgia for his first love, and I think he likes and respects Yoon-hee now, and he definitely identifies with her son's situation and wants to help the little guy. But I don't think he's feeling anything romantic towards her (at this point), because I don't really see him doing anything beyond what a friend would do in any situations involving Yoon-hee herself. He truly seems to see her as a friend and nothing more.
And yet Hyuk still isn't doing much to step up and make himself indispensable to her either, though he's getting better at being there when she's at her low points. I still think he's coming at this all wrong, because Yoon-hee isn't someone who will just take someone's words at face value. Hyuk can tell her he likes her all day long, but what Yoon-hee needs to see is action. She's already been left by one man who, if my hunch is correct, chose his musical career over her and her country lifestyle, and I can understand why she'd be a bit gun-shy to trust another musician who, so far as she knows, is only in town temporarily. Hyuk is going to have to step up for real, and make himself necessary and permanent to her in a very tangible way, if he wants her to take his feelings seriously. And I hope Hyuk's plan isn't just to be there when she's let down by Min-ki, because that won't work for a woman like Yoon-hee, either. She's so entrenched in her family and her village, any man who wants to be with her is going to have to be willing to give up his lifestyle for hers. I feel like Hyuk could do that, since his own life is so empty, but again he's going to have to be willing to prove it to her.
What's really strange is that, while I don't see Min-ki having any romantic feelings for Yoon-hee, I don't even feel that he has strong romantic feelings for Yoo-na, either. It's like he sees his lost past in her, and a chance to get back what he used to be — a rock star with a future and a beautiful girlfriend in the same business. But in the present, all I get from him is that he feels responsible for Yoo-na somehow, and likes being the white knight who comes to her rescue. He hasn't approached her in a romantic way at all, at least not since she came to Hadurok-ri. And I see more and more how Min-ki is feeling pride in his farming, and pride in the knowledge he's gaining, and the connections he's making with the land and the villagers. I could easily see Min-ki giving up music and staying in the country, if he can find it in himself to give up the shiny dream for the even-more-satisfying reality.
So if the key to Yoon-hee's heart turns out to be, who is willing to give up the big city dreams for the earthiness and happiness of the simple life, we've got a real contest on our hands. Will Hyuk be willing to do it for the woman he claims to love, or will Min-ki do it because he already loves the life and just doesn't know it yet, and also win the lady in the process?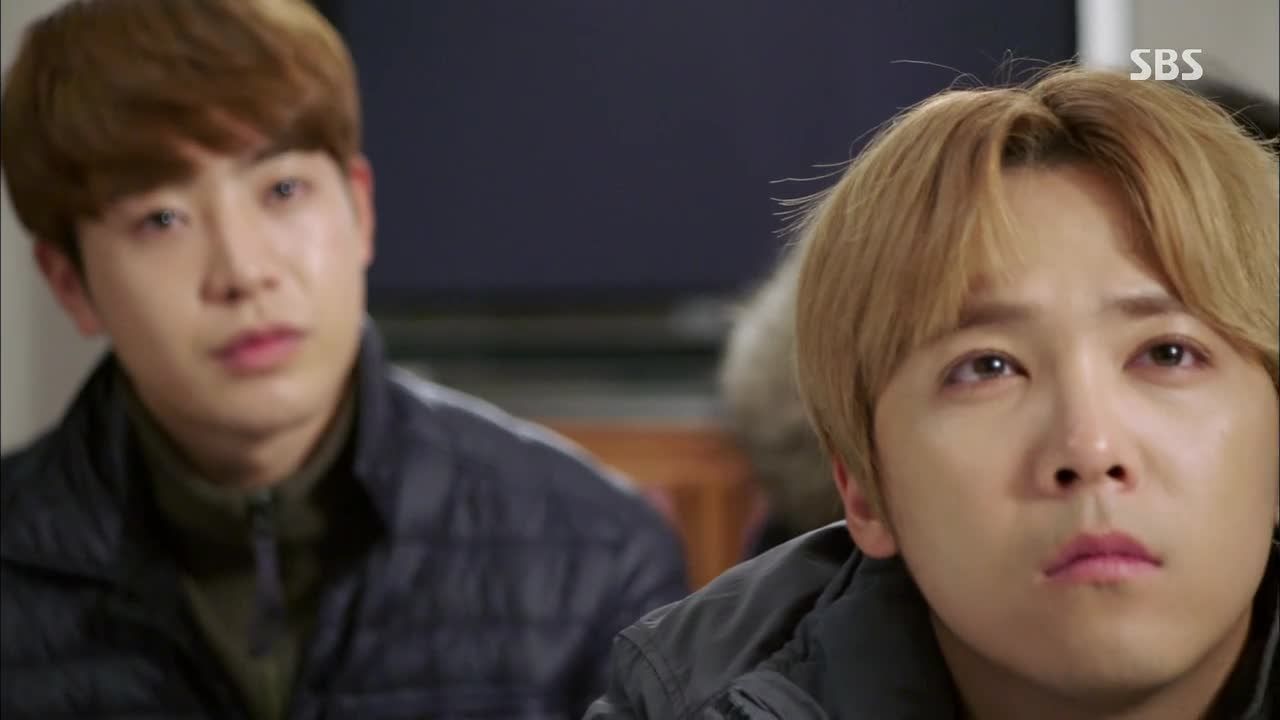 RELATED POSTS
Tags: featured, Honey Lee, Lee Hong-ki, Lee Shi-un, Modern Farmer, Park Min-woo