Modern Farmer: Episode 5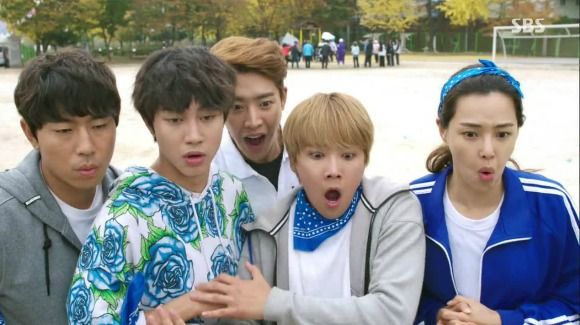 It's County Olympiad time! The Hadurok-ri team goes up against Sangdurok-ri for the trophy and permanent bragging rights, but even more important things hang on this victory. Will Yoon-hee get to keep her position as village head? Will the EXO boys be allowed to stay in town? Will any cabbage ever get planted?
EPISODE 5 RECAP
After the impromptu town celebration, the boys all fall asleep around the table leaving Yoon-hee and Sang-deuk to talk about what lightweight drinkers they are. Sang-deuk, a bit toasted himself, says how nice it was for Min-ki to help all the villagers today and convince them to come to practice, and Yoon-hee has to admit it was a pretty good thing for him to do.
She heads out, late feeding the cows, and on the way she hears beautiful piano music. She finds Hyuk in the barn, playing an old piano with a blissful expression on his face. Yoon-hee compliments his playing and he says he learned it from his girlfriend, but sobers up as he tells her that she died eight years ago.
Hyuk tells Yoon-hee that his girlfriend looked a lot like her, and that when he sees Yoon-hee he thinks of his old love. He's very serious as he tells Yoon-hee, "I'm starting to like you more. What should I do?" There's a long silent moment as Yoon-hee processes this, but then Hyuk breaks out in a huge grin and, "Gotcha!" A bit shaken but going along with it, Yoon-hee teases that she's disappointed because she thought she'd be able to have a young energetic man. I don't know, something tells me he wasn't joking.
Hyuk asks why she doesn't play the piano, but Yoon-hee says it makes her think of someone she had loved with her whole life. Min-ho's father, maybe? Her chin wobbles as she says that he went far away, to a place where she can never see him again. But it's her turn to fake Hyuk out, giving as good as she got, and she wipes her crocodile tears and tells him he'll never beat her.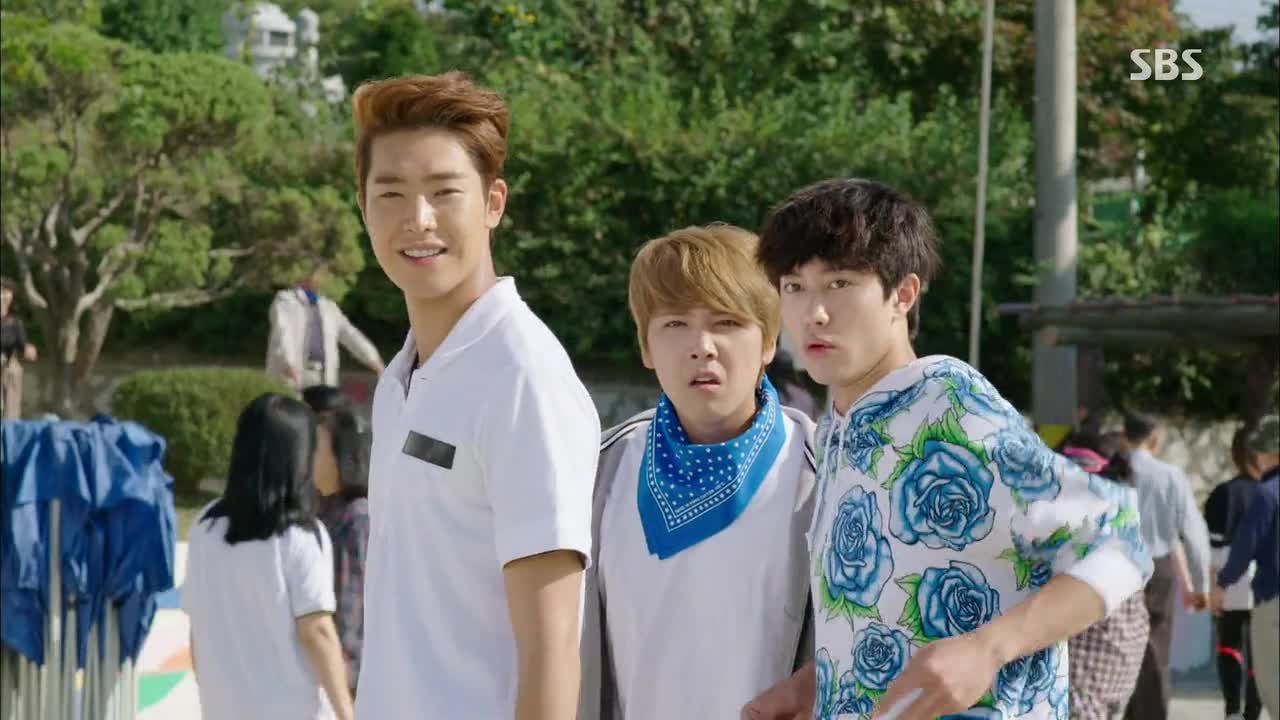 Soon it's the day of the Olympiad, and four counties show up to compete for the trophy. The boys take note of the Sangdurok-ri team looking fierce in their matching yellow shirts, but Min-ki says they're just country farmers, nothing to worry about.
Han-chul is in a bad mood because he's still thinking of his humiliation in front of Soo-yeon. He hides behind Min-ki when he sees her across the field, having been dragged here against her will by Sang-deuk's mother. Han-chul moans that she's seen him in embarrassing situations twice now, so Min-ki has to smack him to tell him to keep his head in the game — they're here to compete.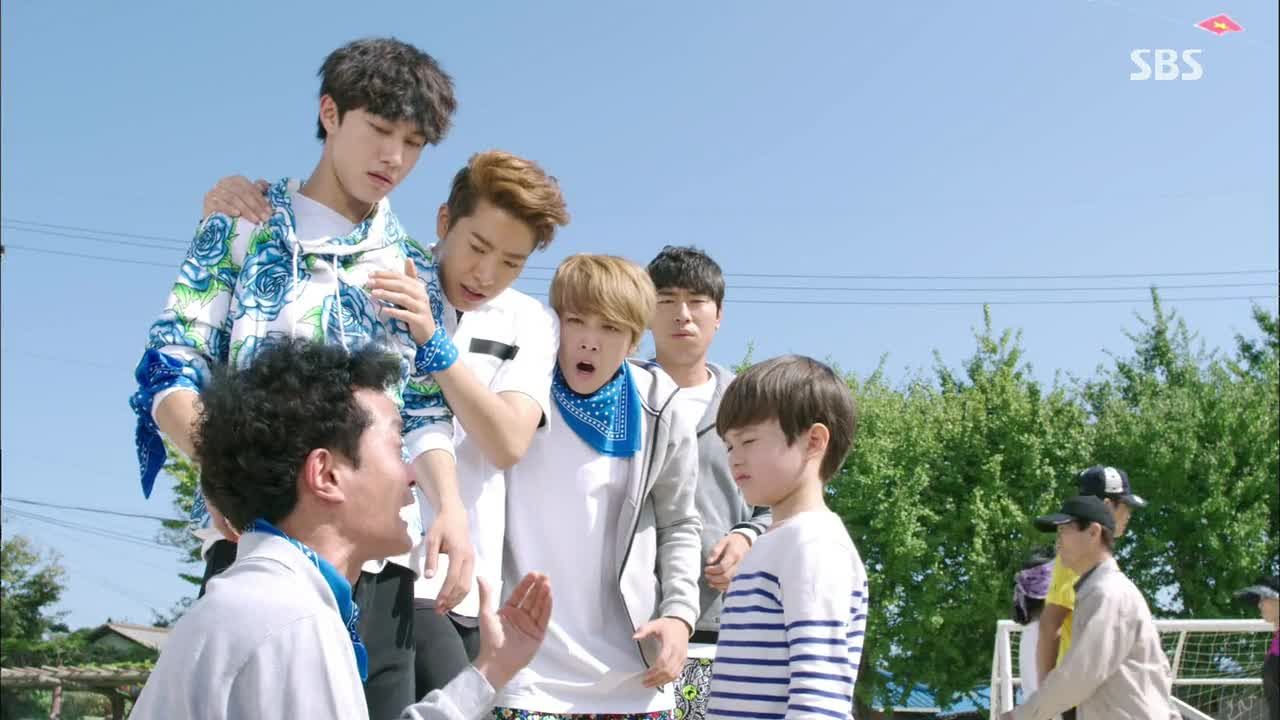 The guys see a couple of girls in cheerleader outfits doing a cheer routine — it's Man-gu's sister Yi-ji and a very pretty blonde foreign girl. Ki-joon is impressed by her, uh, chest, and when he looks to Man-gu for confirmation of the foreigner's hotness, Man-gu agrees that his wife's boobs are pretty big. Wait, WIFE?!
Before Man-gu can throttle all four of them for ogling his wife, he's approached by an adorable little boy who yells at his daddy not to fight. He assures his son that he's not fighting, and he takes his little family off. The guys are left shocked, trying to reconcile the idea of weaselly little Man-gu somehow landing a gorgeous wife and kid.
It's go time, and the Hadurok-ri team huddles for a pep talk from Yoon-hee. She tells them that for nine years she's dreamed of taking the trophy back from Sangdurok-ri, and they all do a team chant and head to battle. They face off against the Sangdurok-ri team, both teams making a little smack talk before the events start.
Min-ki notices that Han-chul is spacing out, and hits him in the chest to wake him up. Han-chul hollers in pain, his nipple still swollen from where the puppy bit him. Why do I have a feeling this is going to cause some issues?
The competitions begin with the rubber-shoe-kick, and Man-gu's mom wins it for Hadurok-ri by a landslide. Next up is Sang-deuk's mom in the hula-hoop competition, and although the ajumma from Sangdurok-ri gives her a good fight, she also wins.
It's Grandpa's turn, and he plays Yut (a board game played by throwing marked sticks) in the finals against the best player of the Sangdurok-ri team. Grandpa freaks out his own team by making some risky moves, but he throws a perfect game like the badass that he is. For his last move he throws the yut-sticks and walks away without even looking (the Yut version of a mic-drop, ha), winning the game handily. That was awesome.
The team breaks for lunch in great spirits, though realist Yoon-hee reminds them that the games with the big points are played in the second half of the day. Yoon-hee's aunt shows up with kimbap that she made, making everyone cringe in anticipation.
Ki-joon unwraps his kimbap and recoils, having made eye contact with something. Eye contact with kimbap? Hyuk opens his to find a whole eel inside, looking right at him. HAHA, and ewwww. Min-ki squeals that his kimbap moved, scared to open it, but he steels himself and finds… a live octopus. Oh gag. GAG. Gamely, he eats it anyway, as everyone around him tries not to lose their own lunch.
After lunch it's time for wrestling, which is Sang-deuk and Man-gu's event. Sang-deuk gets into position with the Sangdurok-ri contestant and makes threatening comments to shake him, but the guy doesn't say a word, and the EXO boys wonder where they've seen him before. Turns out, it's actual Olympic wrestling gold medalist Shim Kwon-ho. This is going to be ugly, isn't it?
He literally just tosses Sang-deuk over his head, then does the same to Man-gu. Han-chul is up against him next, and he gets slung around a bit before getting smashed to the ground, and he looks up to see Soo-yeon shaking her head at him. Poor guy.
Hadurok-ri's winning streak is broken and they continue to lose at the afternoon events, being especially humiliated when they play a game of tug-o-war against Sangdurok-ri, and a tiny tug sends the entire Hadurok-ri team to the ground. By the time the final event rolls around, Sangdurok-ri is ahead by 110 points.
Yoon-hee groans that the championship is lost, but Min-ki tells her not to give up. She reminds him that even if they win the eleven-legged race, as it's only worth 100 points and they still lose. But Min-ki is still confident in their chances at the talent show, because he's prepared a secret weapon. Please let it be Min-ho!
The talent show is hilarious, with people performing silly dances and showing off bodybuilding muscles. They're all pretty good, but Min-ki is still confident that his secret weapon will blow them all away. Finally it's Min-ho's turn, and he comes out with a guitar as big as he is, dressed head-to-toe in leather and gold.
Yoon-hee immediately knows Min-ki had something to do with this, but he tells her to calm down and just watch. Min-ho performs a hysterical punk-rock version of "Gangnam Style," and he's pretty much the cutest thing ever. Hyuk muses that the kid is pretty good but "Gangnam Style" is old, and Min-ki tells him to hang in there for the surprise ending.
Min-ho gets to the chorus and the music stops, and he freezes for a moment. He thinks in Min-ki's direction, "Ajusshi I'm scared, will I be okay?" Min-ki nods to him, so he takes off the guitar and strikes a pose we don't see, while Ki-joon comments that surely he's not going to do "that."
Apparently he is, because the music starts up again and Min-ho starts to do rapid hip-thrusts to the music. Min-ki cheers, and Yoon-hee has a total freakout at what her baby is doing onstage. But the audience loves it, and Min-ho becomes a clear favorite to win.
The final contestant comes onstage from one of the other counties, and it's a man so elderly that he needs a wheelchair and a fleet of medical assistants (this is Park Ki-joon, who actually is 102 years old, wow). The man recites the times tables as his talent, which is hysterical and awesome all at once. Min-ho comes in second place after the elder, and Sangdurok-ri didn't win any points, which means that Hadurok-ri can still win the Olympiad if they win the eleven-legged race.
Min-ki gives a little speech at the starting line, and they're off like a herd of turtles, chanting "One-two! One-two!" Slowly but steadily Hadurok-ri pulls ahead, until the leader of the Sangdurok-ri team cheats and trips In-ki, sending the whole Hadurok-ri team tumbling to the ground. They call for the referee, but he's from Sangdurok-ri and pretends not to see them, which doesn't seem fair.
Min-ki rallies his defeated team, leading them with a new chant to replace their one-two mantra. So everyone jumps up and starts off again, marching to the count of "Bull-shit! Bull-shit!" HA. They creep up until they're neck-and-neck with Sangdurok-ri, and both teams cross the finish line at the same time and celebrate, each assuming they won. The Sangdurok-ri leader and Man-gu argue, and even the referee can only say they crossed at the same time.
Fortunately there's a photo of the finish line and as it turns out, Han-chul's swollen nipple crossed first, giving Hadurok-ri the win and the Olympiad trophy. HAHAHAHA. Everyone declares Han-chul a hero, cheering that his nipple saved the village. This is so great. He even gets a smile from Soo-yeon, which makes him happier than anything else.
Hadurok-ri is named winner of the Olympiad, and Yoon-hee is presented with the trophy. But before they can really celebrate, the Sangdurok-ri leader has an objection, claiming that Hadurok-ri had illegal players and pointing right at the EXO boys. Yoon-hee swears they really do live in the village, and they really did file a move-in report. Right, Min-ki?
Min-ki did not, thinking himself and his friends only temporary to the village, and Yoon-hee flies at him in a rage. To be fair, Min-ki didn't know this would disqualify them — but disqualify them it does, and Sangdurok-ri wins the Olympiad. This also means Yoon-hee loses her village head position, and the boys lose their chance to stay in the village.
The next morning Yoon-hee loudly wakes the guys, hollering that the sun is up and they should have been up ages ago. Min-ki groans that they were just going to pack up, but Yoon-hee tells them to pack later, and come out since it's Monday. Ooo-kay?
They stumble out of the house sleepily, to find all the village elders waiting for them. Sang-deuk gripes at them for making the elders wait, and Yoon-hee tells them the village always exercises together on Monday mornings and not to be late anymore.
She says she tried really hard to get them kicked out, but the elders all decided to forgive them in light of everything they've done for the village. It's only until they harvest their cabbages, but they can stay! The boys all bow and promise to work hard, but Min-ki stops to ask Yoon-hee about her village head position. She tells him that she promised to step down if they lost, so she did — but she was then immediately re-elected. Hee.
Later the guys head to the cabbage field in good spirits, crowing that they get to stay in the village and the field is almost done being plowed, and their hard work is almost over. Aw, it's so cute that they think that. Bul-ja approaches shyly (ha, Hyuk calls her "sister-in-law") to present Ki-joon with some wild honey that she collected, but Ki-joon angrily shoves it back at her.
He says in a mean tone that she's making him uncomfortable, but she claims she's only thankful for his saving her. He says that he gets it, and she doesn't need to be thankful anymore. He's unnecessarily cruel when he gets in her face and tells her not to come see him, think of him, or talk to him ever again. Damn dude, that was not okay.
Bul-ja admirably stands her ground, and when he's done talking she bows and leaves. The guys tell Ki-joon that he was way too harsh, and that Bul-ja was only being nice. Ki-joon just bristles that he had to do it to make her stop. I guess just asking wasn't an option?
They get to their field to find their cabbage seeds have been delivered, and ask the delivery man what they should do with them. He tells them, somehow managing to be extremely vague using as many words as possible, giving instructions to use "not too much, not too little, just the right amount" of everything. He goes on and on as the guys grow dark circles under their eyes and when he leaves, Min-ki wonders if he was speaking Korean. HA.
They drag back to the house to ask Yoon-hee if she knows how to grow cabbages, admitting they couldn't understand a word that guy said. She tells them, basically, that it all depends, and that they need to figure it out before they plant the seeds or they could ruin everything. She tells them about a villager who can grow anything in any conditions, and advises them to talk to him.
And of course it's Man-gu, who pretty much says they can go suck eggs, because he's not teaching them anything. The guys swear to do anything he asks if he'll help them, and find themselves shoveling dung in his barn. Ki-joon is on the roof working on the electrical wiring, so when Yi-ji comes to get the guys to have some watermelon and they run out and knock over the ladder, he gets left behind.
Man-gu's pretty blonde wife serves the watermelon and the guys (minus Ki-joon) notice how nice his home is. Han-chul asks when he'll teach them to plant cabbage, but Man-gu says they have to do a lot more first. They all joke about how Man-gu has always looked old, including his mother, which makes his wife fawn over him.
Ki-joon is still alternately screaming and crying on the barn roof, but soon he has to use the bathroom and starts to look for a way down. He starts to climb down a pole but loses his footing, and falls a short distance until he's caught by the back of his pants on another pole.
He's lucky because someone comes by pretty quickly, but unlucky in that, of course, it's Bul-ja. She gives him a dirty look and he's forced to beg her to help him, only to be reminded that he told her not to see him or talk to him. I knew that was going to come back to bite him in the butt; I just didn't think it would be so literal.
She relents and climbs up to loosen his pants, only to have him crash down on top of her with his pants half-off. His luck isn't improving, because his friends and Man-gu's mom choose that moment to show up and assume the worst. Bul-ja runs away in embarrassment while Man-gu's mom and the guys giggle at Ki-joon, and Mom runs off cackling, presumably to tell the whole town that Ki-joon and Bul-ja are dating.
On their walk home Hyuk asks Han-chul if he plans to confess to Soo-yeon now, teasing that she's so pretty she probably already has a boyfriend. Han-chul runs off and Ki-joon gripes at Hyuk and Min-ki for teasing their friends, which makes them run off giggling. So silly.
Han-chul finds Soo-yeon working on a mural and yawning from her after-dark digging activities, and he comes up with a plan to see if she's wearing a couple ring. He can't tell from this distance, so when she takes a short nap, he sneaks up on her to get a closer look.
He still can't see her hands so he gets really close, so close that he's inches from her face when Soo-yeon opens her eyes. He pretends to just be admiring her painting and gets her to give him two high-fives, confirming that she's not wearing a ring. He's so happy that he runs off laughing and hooting like a loon, leaving Soo-yeon to whine that she's always getting hassled.
A happy Han-chul tells his friends that she wasn't wearing a ring, but Hyuk and Min-ki say that nobody wears couple rings anymore so that doesn't mean anything. They're so mean! Yoon-hee's aunt and uncle come back from the hospital (Uncle was hit in the eye by a cow tail) and it seems they've already heard the Ki-joon and Bul-ja dating rumor. Hong-gu comes home a few seconds later, having heard that Ki-joon got Bul-ja pregnant. HAHA. I love how nobody is shocked or upset, just all, "Hey, good for you, congrats."
Min-ho comes home and Min-ki notices his bookbag strap is broken, but Hyuk doesn't believe his story that he fell. Ki-joon sees that the strap was obviously cut, and Min-ki asks what bully did it, but Min-ho hotly denies it. Yoon-hee takes the bag and tells Min-ho to go wash up. Min-ki tells Yoon-hee that Min-ho is obviously being bullied, but she tells Min-ki to mind his own business.
Sang-eun rushes past, claiming to be late for her part-time job. In her room, she changes into a hot pink wig and logs onto the internet, where she has a live webcast. Judging by the comments flying by on the screen, it's a pretty popular one, too. She sings for her viewers and she's actually not bad, but her dad In-ki barges in, snatches the wig off her head, and cuts a huge section of it off.
She runs to her family's barn, not noticing Hyuk is there already, and he nearly scares the rest of the hair off her head. It's cute that the thing she worries about most is that when she's an idol, pictures of her hair like this might get out. Hyuk asks why she wants to be an idol, and she tells him it's her only way out of this country life.
Sang-eun says that the only thing she's good at is dancing and singing, but her father is opposed to it, though she understands why because of her looks. Hyuk says that when he said she'd need plastic surgery to be an idol, he was only joking, and that if she can sing that's all that matters. Aw, I love Hyuk so much when he's in Good Friend Mode. He goes, leaving a brand-new crush in his wake.
Yoon-hee sits on her porch repairing Min-ho's bookbag, and starts to cry as she thinks of her little boy being bullied. Eventually she nods off, which is how Hyuk finds her, and he correctly assesses that she must be upset. He gently takes the needle and bag, and finishes repairing it while she sleeps.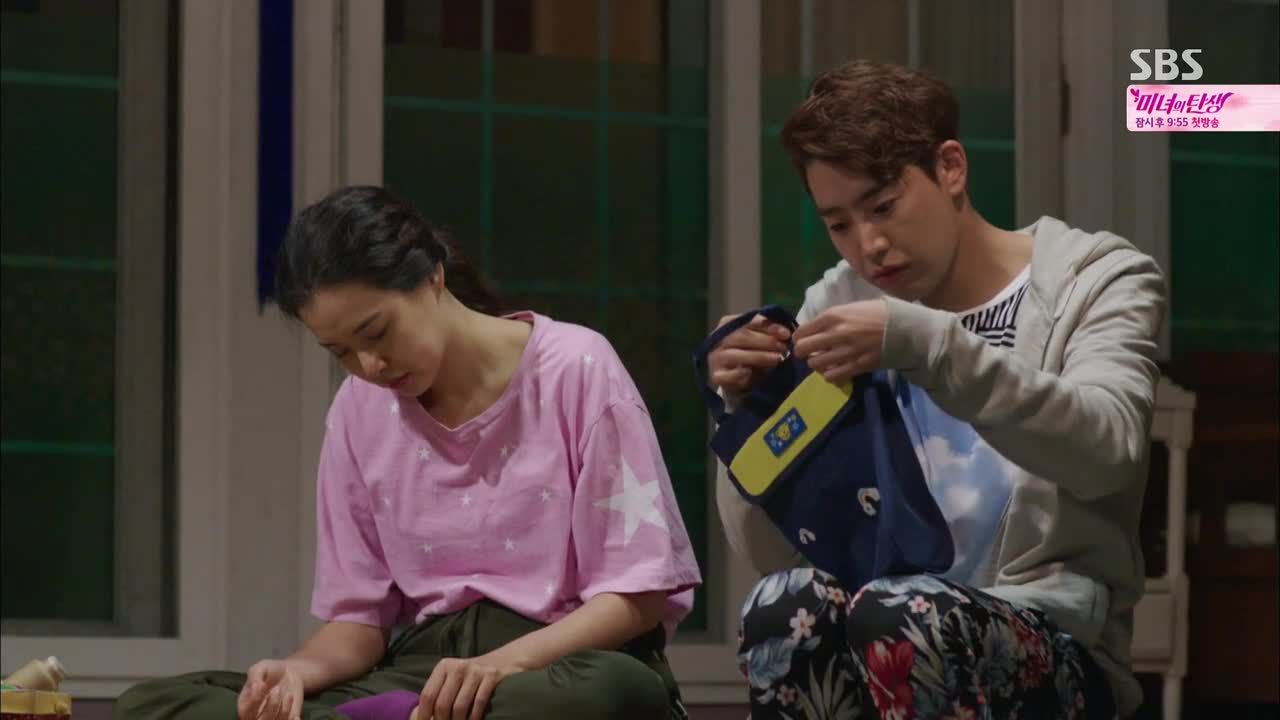 COMMENTS
Every time I think I can't love this show any more than I do, it goes and ups the ante. I'm starting to notice, now that we're a few weeks in, how it never bogs down in one storyline and keeps things moving at a brisk pace, while still giving all the emotional beats the time they deserve. I really expected the whole Olympiad subplot to last a few more episodes, given that it had such high stakes involved, but the show managed to handle it and move on while not making me feel rushed in any way. This makes me anticipate even more good things, considering that we have fifteen more episodes to go and lots more time to fill. I really hope that all the villagers get some screen time and a chance to have their own little mini-arcs in the plot, seeing as how we have enough time for that, and such rich and interesting characters to mine.
It's interesting how the show seems to move from character to character among the four main guys, focusing on one or two at a time while the others sort of fade back for a while. In the first week we focused mostly on Min-ki and Han-chul, then in the second week Ki-joon got some time in the spotlight, then Hyuk started to come forward. Min-ki is clearly the lead character, but in this episode he was practically sidelined (not in a bad way!) in favor of Han-chul and Ki-joon. The ebb and flow of the guys' stories is a nice touch, keeping me interested without making me feel like any one of them gets the lion's share of the attention. I really like that, because I find that I care about all four of them in different ways, and want to see each of them get to tell their story.
I have to mention how impressed I am by Honey Lee and her performance here. I'll admit my exposure to her is limited to a handful of episodes of Pasta and hearsay, and I'm aware that she's not generally considered to be a particularly gifted actress, but she is positively running away with this show. She gives Yoon-hee so much humor and depth, and I really believe that she cares about this town and her family more than anything. When she was sewing her son's bag and got that mouth-wibble like she was trying so hard not to cry, I was wibbling right along with her. I'm incredibly impressed with how downright funny she is as Yoon-hee, but also how she can make me feel her mother's sorrow for her child so keenly. I don't know if it's the character or the script or that she's just maturing as an actress, but I just love her.
And really, I gotta give credit to the entire cast of the show, because everyone is doing such a fantastic job. For a show that could so easily have gone off the rails as a forgettable slapstick weekend drama, Modern Farmer is just getting better week after week in giving us characters and situations we can truly care about. A large percentage of that is the writing and directing, but it wouldn't be anything without the actors. Honey Lee and Park Min-woo are the early standouts, but the entire cast is just so solid and wonderful and I fully expect to see more great acting as we get to know each of the characters better. I love being surprised, and the best thing in the world is when I go into a show thinking I'll like it, and end up absolutely loving it. Who would have thought a show about rockers going to the country to farm cabbage could make me feel so much?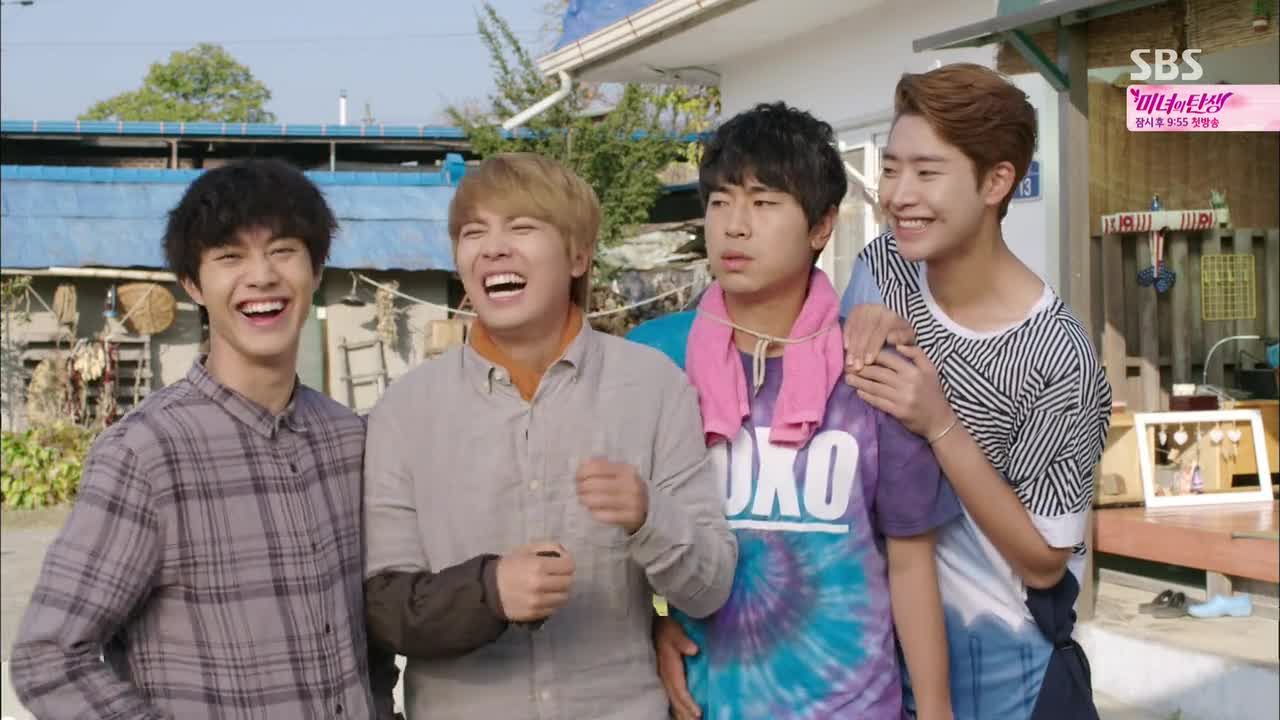 RELATED POSTS
Tags: featured, Honey Lee, Lee Hong-ki, Lee Shi-un, Modern Farmer, Park Min-woo