Modern Farmer: Episode 8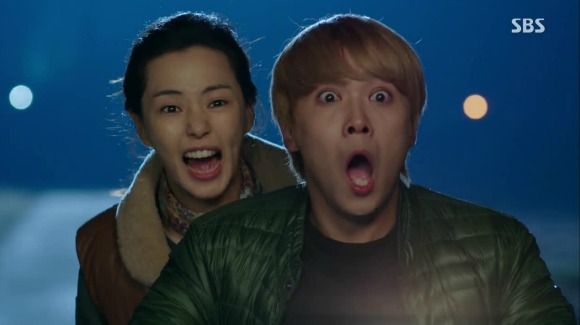 I'm pretty sure nobody in the entire town of Hadurok-ri makes it out of this episode uninjured, as they take on thieves, inanimate objects, and even Nature itself. But several citizens also manage to make forward strides in the relationship department — some of them risking life and limb to win the object of their desire, and some of them dragged kicking and screaming into love whether they like it or not.
EPISODE 8 RECAP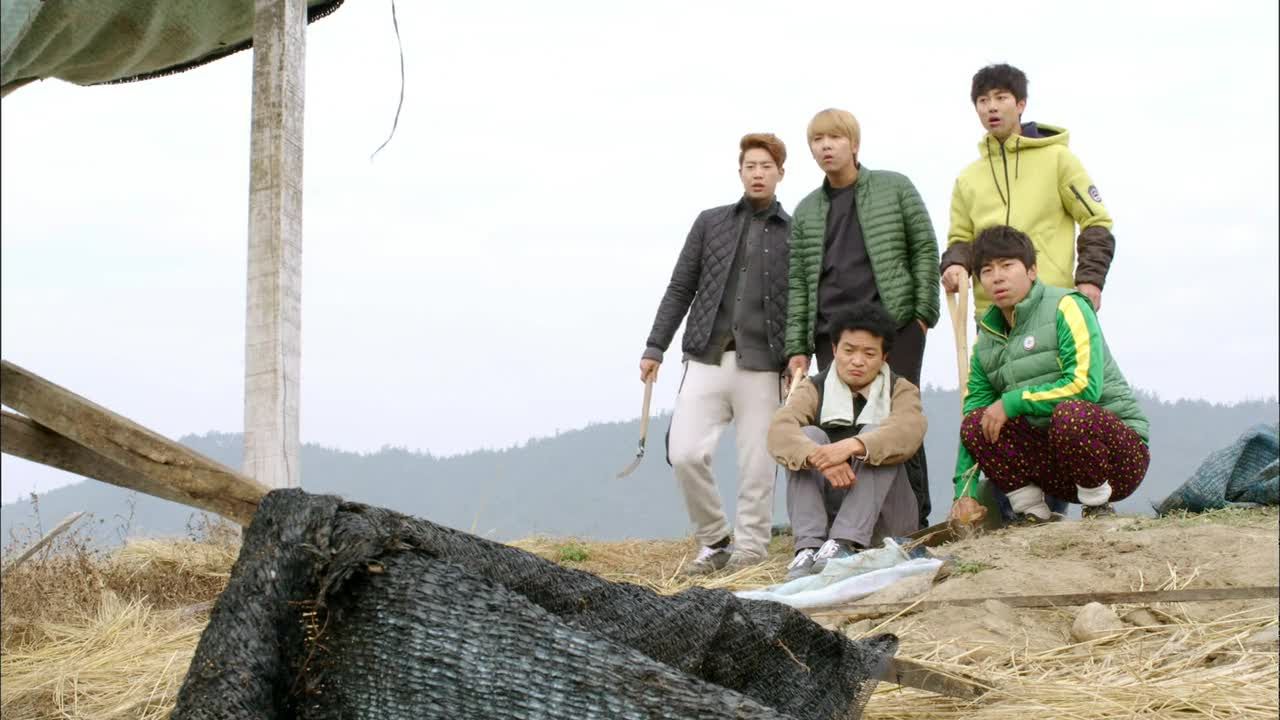 The day after Yoon-hee, Hyuk, and Min-ki drink together and stargaze, Yoon-hee is called to Man-gu's farm to find that someone stole everything in the night. In-ki motions that someone stole his apples a few nights previous, and Uncle runs over to tell them all that his sweet potato field has been cleaned out. Yoon-hee determines that this must be the work of professional thieves.
The boys pass Man-gu on their way home from planting their seedlings (with their mouths covered in pea puff soot again, ha) and stop to offer him comfort. He sadly tells them that three years' work was wiped out in one night. They arrive home to find Yoon-hee and Uncle planning night watch patrols, and Han-chul freezes when Uncle mentions his destroyed sweet potato fields.
From the footprints, Uncle knows it's a man and a woman, so Han-chul sneaks away to warn Soo-yeon not to go out tonight and avoid the patrols. He heads to Sang-deuk's family home and runs into Grandpa, who offers him peanuts. You'd think Han-chul had learned not to take any nuts this man offers, but apparently not.
Min-ki, Ki-joon, and Hyuk go on a patrol that night with Yi-ji and Sang-eun, wondering why Han-chul didn't show up for patrol duty. It's obvious the girls are mostly there to try to get in some skinship with Hyuk, who looks seriously nervous. I can't blame him, as both girls are mighty young.
Sang-deuk is in another patrol group with his mother and Uncle, who tells him to go find something heavy, to use as a weapon in case they run into the thieves. Sang-deuk finds a pipe but before he can grab it, he's scared half to death by Mi-young, who's out for a walk.
Sang-deuk orders Mi-young to go home but she wants to talk, and tells him that she didn't just go on as if nothing happened all those years ago. She says that she never forgave herself for what she did to him, and that she figures her divorce and her father's senility are her punishment.
She offers him the tearful apology she's wanted to give him for the last seventeen years, and Sang-deuk tells her that tears won't change anything, but the anger has gone out of him. He hugs Mi-young, but suddenly sees his mother and Uncle coming back, and tells her to run. They end up in the taro field again, and of course Uncle decides to take a leak again, right where they're hiding.
Han-chul goes looking for Soo-yeon and finds her digging in the sweet potato field again. He starts to warn her about the patrols but he's too late, and they're forced to duck between the rows to try to avoid being seen by Man-gu, his mother, and In-ki.
They nearly get away with it, but Han-chul's phone rings and alerts the patrollers. Han-chul gallantly sacrifices himself by popping up and confessing to stealing the sweet potatoes. They drag him back to town, leaving Soo-yeon undetected, and at least she has the grace to look guilty for getting Han-chul into trouble.
Yoon-hee, her aunt, and Min-ho are at home watching television, and a news show comes on featuring the same musician that Yoon-hee saw online, that shook her up so badly. She stares at him for a long moment, then suddenly shoots a worried look towards Min-ho and turns off the TV. She orders him to bed, yelling a bit too angrily when he protests.
Her aunt takes Min-ho to bed, and Hong-gu, who witnessed the whole thing, asks Yoon-hee if that man is "the one," saying that he still remembers him from before (and again I'm impressed by how observant this kid is). Yoon-hee sharply tells him to keep his mouth shut about it.
Min-ki wanders home after his patrol duty to find Yoon-hee struggling with a four-wheeler, intending to patrol on it, and he notices that she seems down. He offers to drive because of her bad ankles and she lets him, though she barely touches his coat with the tips of her fingers when he tells her to hang on.
They're both grumpy as they ride — Yoon-hee because of the man she saw on television and Min-ki because she won't talk to him. They stop in a park for a break, and Min-ki realizes that whatever is upsetting Yoon-hee seems serious. She still refuses to talk, but Min-ki tells her that she needs to learn to lean on others.
When Yoon-hee stays quiet, Min-ki says that he's there to listen if she ever wants to talk, and she at least relaxes and smiles. They muse over how much older they are than when they used to play in this park, and Min-ki asks if Yoon-hee ever plans to get married. Yoon-hee thinks nobody would want to marry a single mother, but Min-ki says that she deserves credit for raising her son alone, and that he thinks she's amazing.
He teases that she doesn't look as good as she used to though, and tells her that she looks better when she's happy, calling her an ahjumma. That finally snaps her out of her funk, and they horse around until he falls and hurts his butt.
Yoon-hee holds on a bit tighter to Min-ki when they board the four-wheeler to head out again, but he still grabs her hands and wraps them all the way around his waist. It's not a flirtatious move on his part, but Yoon-hee is visibly affected by the closeness.
Suddenly Min-ki slams on the breaks and points out something in front of them – two men with their faces hidden, loading stolen produce into a truck. Min-ki wants to call the villagers but Yoon-hee tells him to go stop the thieves, taking away his choice by screaming at them to stop.
Min-ki tackles one of the men to the ground and gets a good look at his eyes, but the other man sneaks up behind him and whacks him hard in the head with a shovel, knocking him out cold. The men get away as a terrified Yoon-hee tries in vain to wake Min-ki.
He wakes up the next day in the hospital with a massive headache, and Yoon-hee waiting by his bedside. He's fine, but Yoon-hee bursts into tears and clings to him, wailing that she thought he'd died. Min-ki can't help but tease her later for her outburst, earning a punch in the stomach, and he blackmails her into buying him food by threatening to tell the whole village how hard she cried over him.
Han-chul is kneeling in front of Uncle to beg forgiveness for taking his sweet potatoes when Min-ki and Yoon-hee get home. Man-gu asks if Min-ki saw anything they can use to identify the thieves, and Min-ki tells him that he saw the eyes of one of them, and that they were very beautiful. HA.
Uncle is reminded that in movies they have a sketch artist draw a picture of the suspect, and his wife wonders if Soo-yeon could do it since she's an artist. They call her in and she draws while Min-ki describes what he remembers, as the rest of the villagers look on in fascination. Hilariously, the finished sketch looks more like a manga character than a thief, though Min-ki swears he had big pretty eyes just like that.
Stymied, Man-gu stomps out to the orchard and finds a couple of women eating the apples. It's true they were stealing, but he overreacts to their taking a few apples, and the boys arrive just in time to stop him from actually attacking the women.
Ever the peacemaker, Sang-deuk explains to the women about the thieves in the area and says that even if people only take a few apples, it adds up over time and hurts the farmers. The women apologize to Man-gu, but he's still very upset and takes off without a word. The boys figure he's too upset to teach them for a while, so Sang-deuk offers to check out their field.
Sang-deuk compliments their planting, but Min-ki notices an area that's missing seedlings. Sang-deuk pegs elk as the culprits, going by the tracks. He suggests they put speakers out and play music, so the elk will be scared off, thinking there are people there.
The boys go one step further, and they take their instruments out to the field to play (their choice of "Sweet Child O' Mine" by Guns N' Roses cracks me up). Min-ki soon realizes they can't stay out here and play all the time, though the others admit it's fun to play as a band again.
They're short one member though, who's currently working off his stolen sweet potatoes by literally carting Uncle around town in a cart full of sweet potatoes. He leaves Han-chul to pack up the produce, and Soo-yeon comes along and apologizes to Han-chul for getting him into trouble. He sees his chance, and asks her on a date as repayment.
Min-ki startles Yoon-hee as she's mooning over the memory of riding the four-wheeler with him, and he asks her to make coffee so they can stay up and guard their field from the elk. She refuses, so he says she'll regret it, but she jumps to stop him when he starts to tattle on her outburst in the hospital.
On their way back to their field, the guys pass by Bul-ja, and Ki-joon literally dives into some tall grass to avoid being seen. He ends up with a face full of mud, but defends himself by saying that whenever he sees her, weird things happen and he's misunderstood. He declares with great feeling that he hates Bul-ja.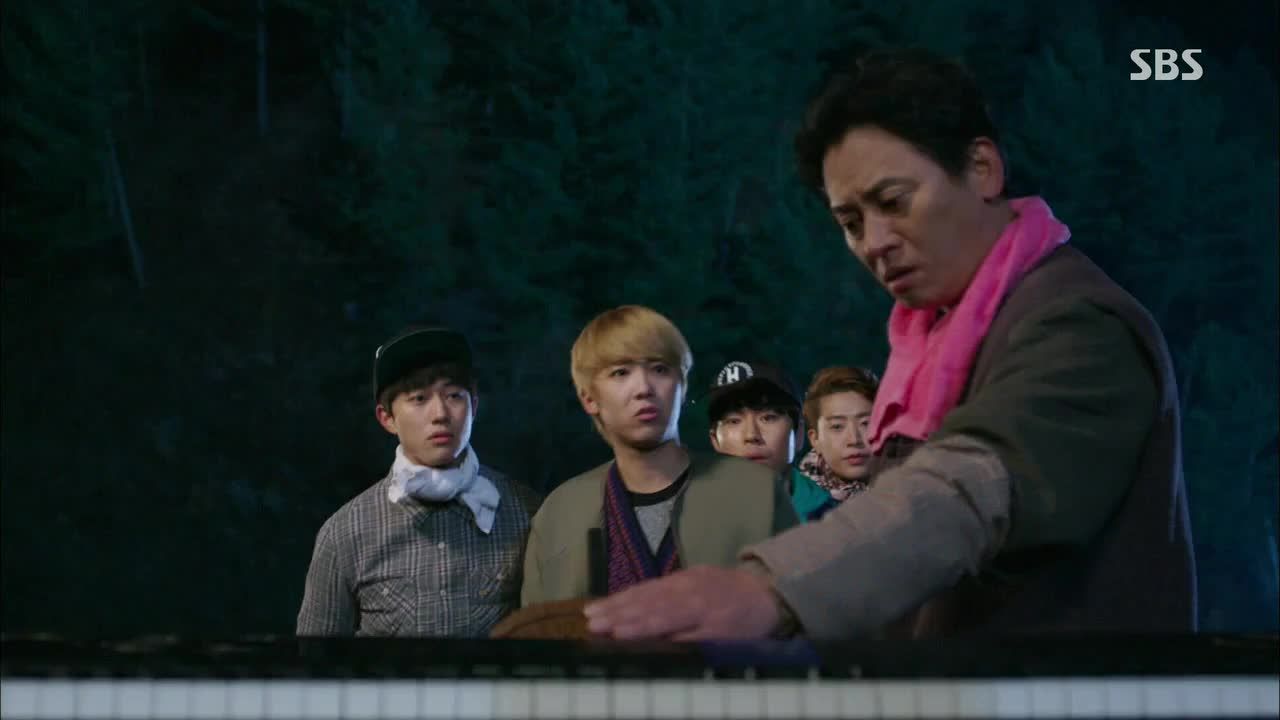 In-ki wanders past the boys' cabbage field and stops to look at the instruments they left there, a strange look crossing his face. He approaches to gently touch Min-ki's guitar, but the boys arrive and he takes off.
Han-chul leaves early the next morning for his date with Soo-yeon, apologizing over his shoulder for leaving his friends to work without him today. Soo-yeon waits for him, complaining to herself about how she got roped into this. She vows to use this chance to make Han-chul give up on her for good.
Man-gu, Sang-deuk, and Yi-ji ride in the truck while Yoon-hee and Min-ki get the truck bed, and Min-ki complains about how badly it hurts his still-sore butt. Yoon-hee contentedly tells him to hush and look at the sky, and he's surprised by how pretty it looks.
The five of them head to town and come upon Mi-young's coffee shop grand opening, and she invites them in for a drink. She complains that she can't find anyone young to work for her (seriously, ugh) and hires Yi-ji on the spot when she insists that being a barista is her dream job.
Han-chul buys train tickets for his date with Soo-yeon, and asks her if she'll wear the couple shirts he bought. She looks like she'd literally rather do anything else, but his disappointment is so obvious that she takes pity on him and agrees. On the train, he shows her the sweet potatoes and kimchi he brought, and Soo-yeon looks ill at the sight of the sweet potatoes. She refuses to eat any, but Han-chul is overly-enthusiastic and manages to drop the kimchi right in her lap. She thinks to herself that she needs to get rid of him as soon as possible.
She cleans up at a rest stop and starts to let Han-chul down, but he takes her "You're too good for me" as a compliment instead of the rejection it's meant to be. He notices a loose speaker just before it falls on Soo-yeon, and he shoves her away, getting brained by it himself. He's knocked out with a bleeding head wound, and gets fixed up in the train station.
Han-chul asks Soo-yeon what she was trying to say before, but she's distracted by the fact that his head injury is bleeding again, kind of a lot. Han-chul is all, "I'm fine, I'm fine," as he smears the blood across his face, and Soo-yeon can't bring herself to break up with a guy who looks like he needs serious and immediate medical attention.
Back at Mi-young's coffee shop, she leaves the villagers to serve a couple of customers, but they get inappropriate and Sang-deuk jumps up when one of them puts a hand on her. He orders the man to let go of Mi-young but the guy grabs Sang-deuk's hand and crushes it, causing Yoon-hee to enter the fray. She threatens to call the police if the men don't leave, and the jerk pushes her down. Oh no he di'int.
That's all it takes for Min-ki to lose his cool, and he attacks the man, and suddenly their fight turns into this weird slow-motion love scene. Their wrestling starts to look more like something a bit more, um, romantic — and when Min-ki locks eyes with the man, he suddenly realizes that he's seen those beautiful eyes before.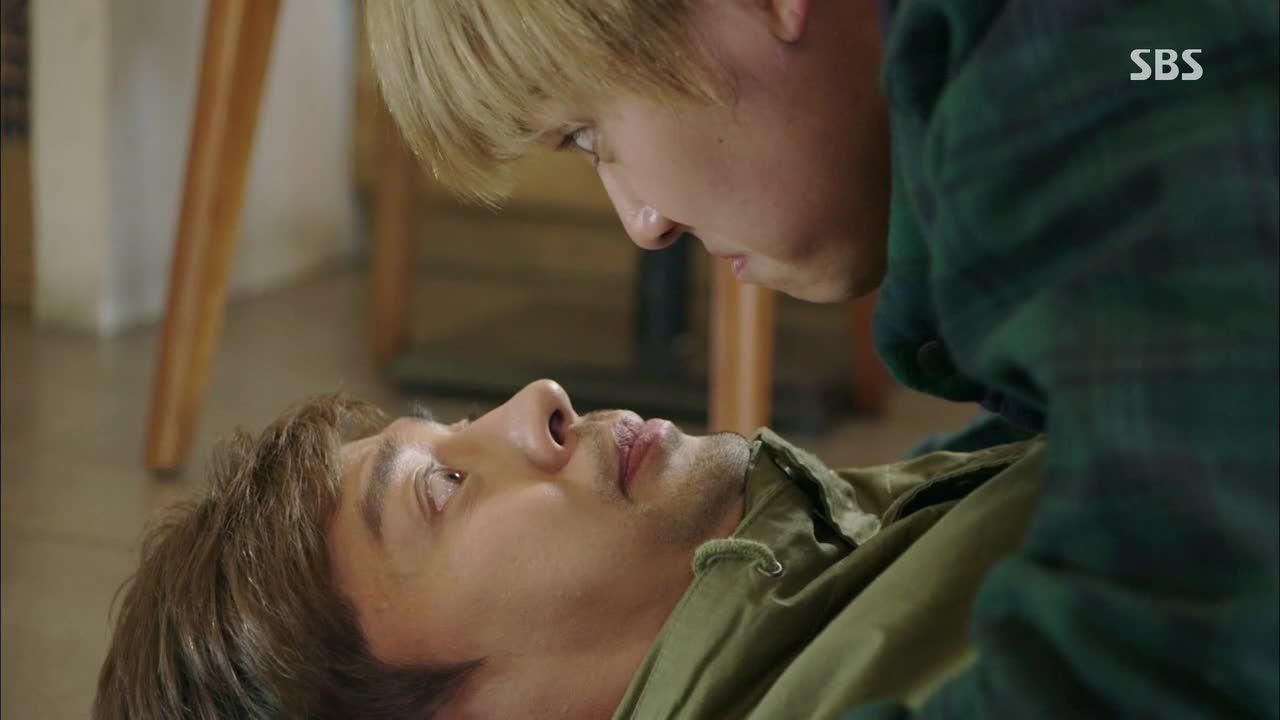 The two of them jump up, and Min-ki uses a tray to hide all but the man's eyes, and he recognizes them as the pretty eyes of the thief he grappled with a few nights before in Hadurok-ri. The two thieves run for it, with the villagers right behind them. They run into Grandpa and find themselves trapped, and one of the men makes the mistake of knocking Grandpa's beloved candy bars to the ground. Oh, now it's on.
Grandpa single-handedly kicks their asses, and the villagers get their stolen goods back once the police arrive. Mi-young thanks Sang-deuk for sticking up for her, and he grumbles that it was her fault, but she smiles happily anyway.
Han-chul and a miserable Soo-yeon take some pictures together, but he doesn't even notice how unhappy she looks in the photos. She wonders how much longer she'll be dragged around, and she gathers her resolve to let him down quickly. She grabs his arm to get his attention and knocks herself off-balance, but again he saves her by shoving her to safety and falling down the hill himself.
To make matters worse, he knocks a wasp nest down on himself and the wasps attack, stinging him repeatedly. Finally an ambulance is called for him, and the EMT tells Soo-yeon that wasp stings can kill. Han-chul refuses to go in the ambulance before he says something to Soo-yeon, and he confesses his love to her. The EMT yells at her to answer him before he dies already — under pressure, she agrees to date him.
Sang-deuk runs into Mi-young's daughter back in the village and asks her name, but she's a sassy little lady and refuses to tell him, schooling him on his manners. She asks who he is and he thinks to himself that he could have been her father, but tells her he's her mother's friend.
Mi-young comes along behind her daughter and Sang-deuk gives her a gift for her business, saying it's just because they're neighbors. Ha, it's pepper spray to protect herself from jerks like the thieves, and Sang-deuk instructs her to spray anyone who bothers her then kick them where it hurts. He insists he just feels brotherly concern for her, but she clearly doesn't believe him.
Han-chul is barely conscious but still insists on walking Soo-yeon home, and he thinks her for accepting his feelings. He cheesily says he'll see her in his dreams, and she cringes. Dang, Han-chul has no game whatsoever.
The next day Min-ki relays the whole story of catching the thieves to Yoon-hee's aunt, and she offers to make a special dinner to celebrate, to everyone's horror. Man-gu's mom comes to ask Yoon-hee to take a picture of Bul-ja, as a birthday gift for her mother back home. Yoon-hee's aunt offers to fix her up a bit, and Ki-joon scoffs that she won't be able to do much.
He couldn't possibly be more wrong, because Bul-ja is beyond pretty — she's absolutely gorgeous. Everyone is shocked at how beautiful she looks in a pretty dress with her hair up and makeup on, and Ki-joon is so surprised he can only stare dumbstruck at the pretty.
Yoon-hee takes pictures and Man-gu's mom tells Ki-joon to go sit with her, to show Bul-ja's mom that she's making friends. Aw, they look seriously adorable together. Ki-joon can't even smile for the camera because his heart is suddenly pounding out of his chest, aware for the first time of the lovely young woman next to him.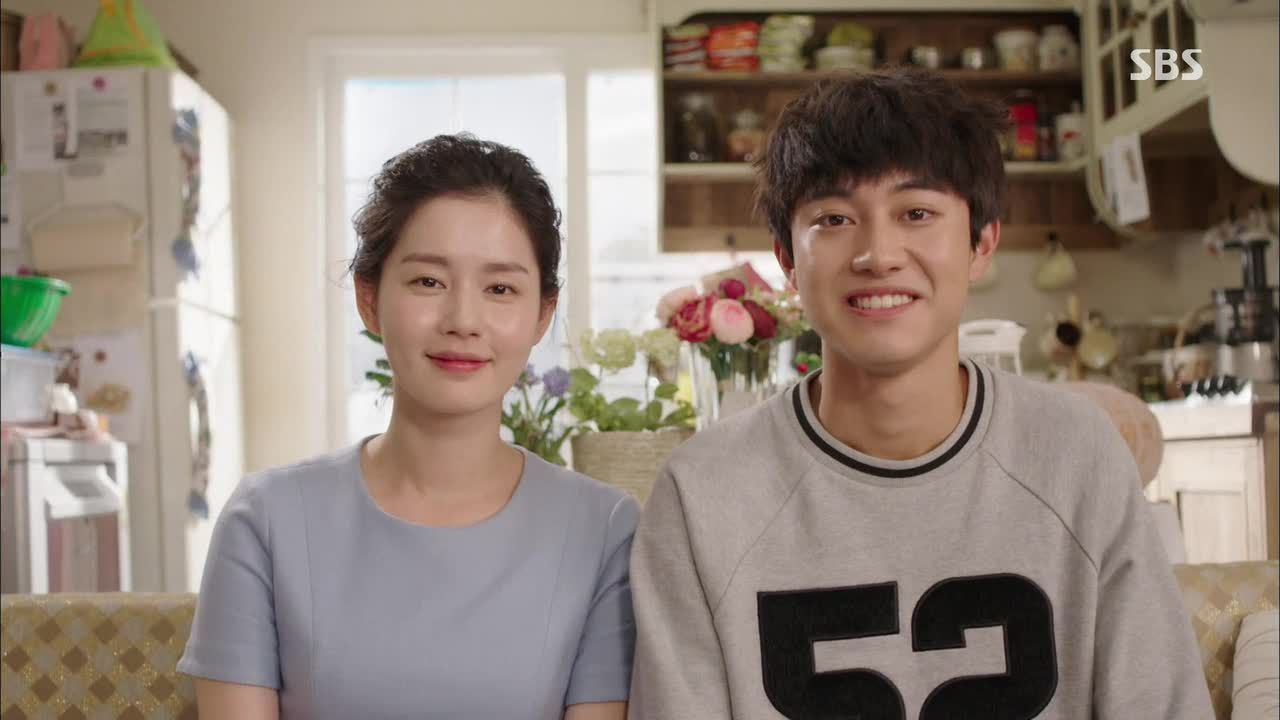 COMMENTS
My personal feelings about drama heroes only falling for a girl after she's had a makeover aside, I'm glad that something happened to get Ki-joon to realize what a gem he potentially has in Bul-ja. They've been my favorite pairing from the beginning, and I'm willing to put my opinions about a guy only falling for a girl once she looks pretty aside in this case, if only for the shallow satisfaction of seeing his stunned expression in that last scene. That face made the moment worth the wait! The boy is toast, a complete goner, and I hope Bul-ja makes him really regret the way he's treated her before she gives him the time of day again.
I know I keep coming back to the same thing in my comments, so I just hope I'm not boring you guys by harping on it. But I can't help but be impressed over and over by how this show manages to be so much more than the simple comedy I was expecting, and I keep finding more reasons to love it beyond just being a show that makes me laugh.
This week I'm in love with the tiny moments that tell us so much about the characters, like In-ki caressing Min-ki's guitar in this episode. Just that small beat, and the look on his face, transform what seems to be a simple situation — his daughter wants to be in music and he's strongly opposed — from a stock overprotective-father setup into something with deeper meaning. What appears to be an overused trope, the child who dreams and the parent who wants to keep their child's feet on the ground, changes in an instant from a cliché to something more personal. In that moment, we see that the father probably had unfulfilled musical dreams of his own once, and only wants to protect his child. It's small moments like that, when my understanding of a character or situation changes in a heartbeat and I find myself thinking, "Oh now I understand!" that turn Modern Farmer from a cute-but-easily-forgettable comedy to a personal favorite. The characters become more than caricatures, which would be so easy to do in a show like this and still be successful, but instead are rich and interesting people that I want to get to know better.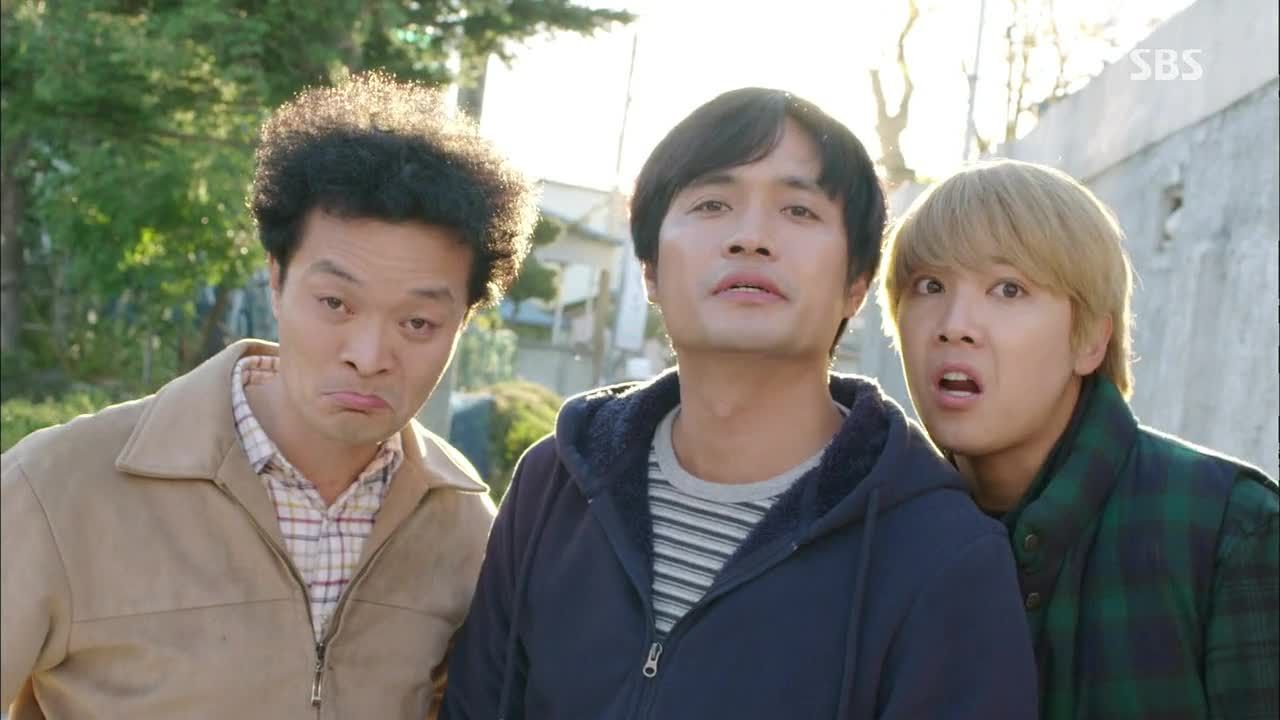 And the show continues to surprise me this way again and again, such as when Hyuk told Yoon-hee that his deceased "girlfriend" taught him to play piano, and I suddenly stopped seeing him as the laughing playboy and realized that he's been very deeply hurt. Another example was Min-ki's outburst over Yoon-hee's refusal to stick up for her son against his bullies, and how it revealed so much about Min-ki's own childhood and his relationship with his mother.
As we get further into the run of the show, I'm starting to suspect that this was the plan all along — to show us characters that seemed to be funny and entertaining but not much more, then to slowly and methodically peel away their layers to the rich and realistic people underneath. The way these small reveals are parceled out is so deft and subtle, you almost don't realize what's happening until it's too late and you love these people. There's a plan here that I'm only just beginning to see, and we aren't even halfway through the show yet. I'm fascinated to discover what's ahead, and to learn even more about the people of Hadurok-ri and to fall in love with them even more.
RELATED POSTS
Tags: featured, Honey Lee, Lee Hong-ki, Lee Shi-un, Modern Farmer, Park Min-woo