Modern Farmer: Episode 9
Love can be as painful as it can be wonderful, which all four of our boys discover in this episode. It's not easy to juggle romance with cabbage farming — and it doesn't help when the object of your affection pretty much thinks you're a jerk, and she's right. Turns out that farming isn't all the guys need to learn out on the farm, they're also going to need to learn how to be men if they want to come away with more than just cabbage from this venture they've undertaken.
EPISODE 9 RECAP
After taking photos, the villagers all sit exclaiming over how pretty Bul-ja turned out to be, while Ki-joon tries in vain to get hold of his emotions. He admits to himself that she's prettier than he thought, but he's absolutely positively not interested in her. At all.
He tries to convince himself that his pounding heart is something less serious — like the time when he was in school and used to visit a certain restaurant where a pretty girl worked. He never noticed her when she was in uniform, but one day he saw her walking home in a short skirt, and his heart had pounded. He insists to himself that that's why it's pounding for Bul-ja now — it's only because she looks so different. Aw, that's so innocent.
Han-chul literally staggers home and collapses on the floor, but he recovers enough to help the guys chase off the elk that night. Sang-eun hears them playing and asks why they never debuted if they're that good, and Min-ki snarks that it's because of that oppa she loves so much. She offers to be their manager since she's an internet DJ, and they agree, since what do they have to lose?
Sang-eun's dad shows up to "yell" at her, and drags her home. The boys wonder what they did to make him hate them so much, and Min-ki hilariously realizes he's starting to understand In-ki's vulgar sign language.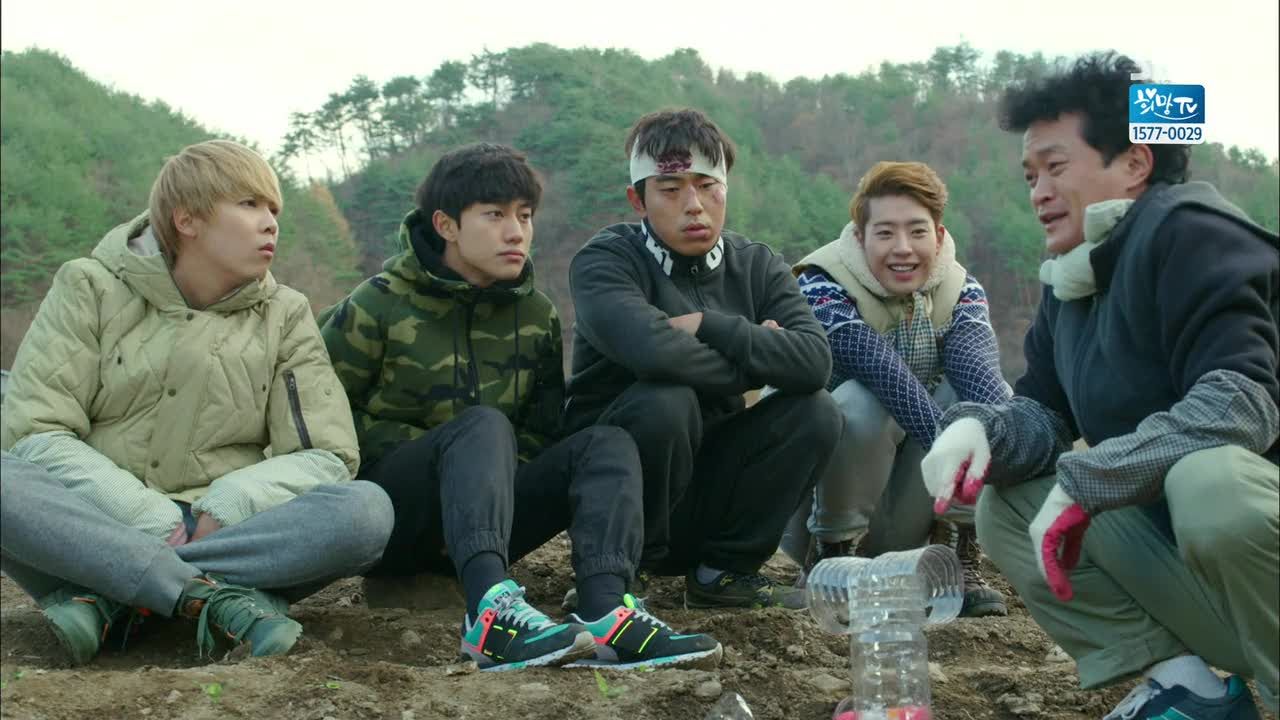 By morning the boys are exhausted and just poking at their instruments when Man-gu comes to check on them. Min-ki whines that they've been up all night for days trying to keep the elk away, but Man-gu calls them idiots and says to leave things to him. He rigs up some used water bottles filled with soapy water, saying animals hate the smell, and the boys are grateful for the tip so they can sleep.
As a reward for catching the thieves, Man-gu introduces them to the second most popular country treat — roasted grasshoppers! Yum! Man-gu assures the skeptical guys that grasshoppers are great for exhaustion, and other manly things ~wink wink~, which convinces them to give it a try. Of course they love them, and Man-gu takes them to catch more grasshoppers.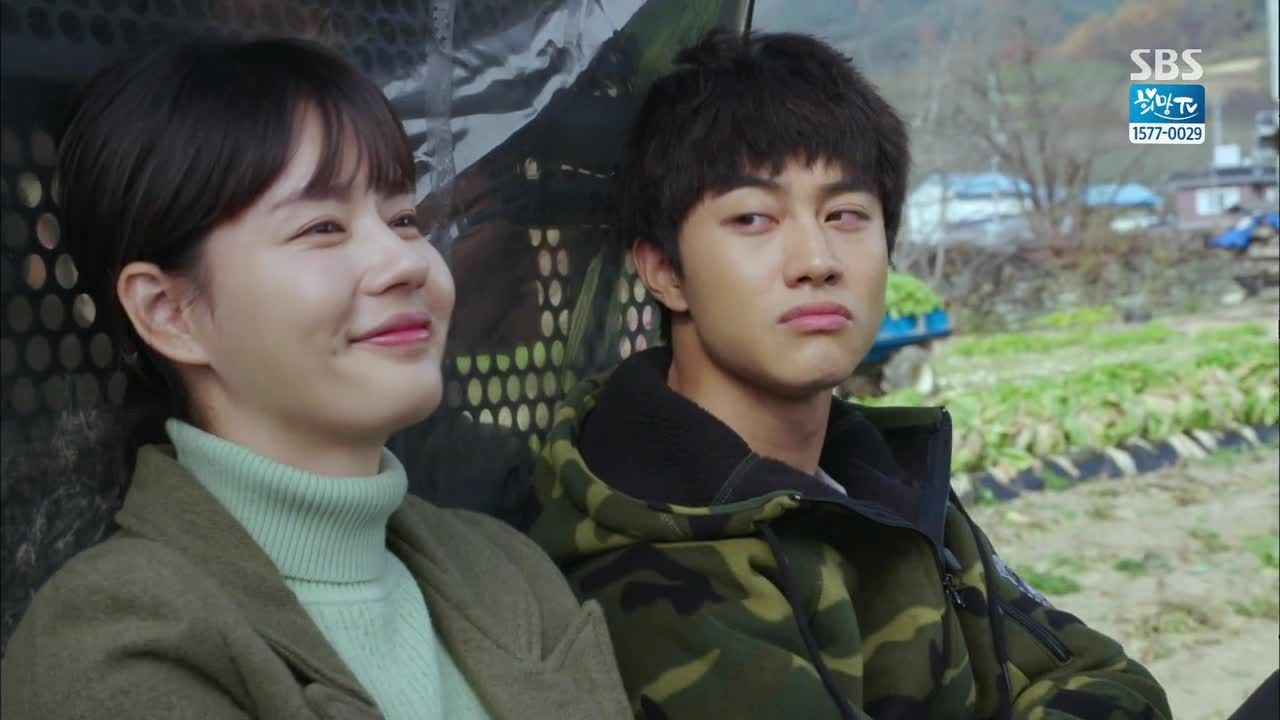 They run into Bul-ja on the way and invite her along, and she sits next to Ki-joon and accidentally touches his hand. He jerks like she burned him, and winces at his suddenly-pounding heart. He justifies it by remembering when that pretty waitress had spilled hot ramyun on his hand, and his heart had pounded then, too, and tells himself that his pounding heart is just embarrassment.
The guys have a great time catching grasshoppers, and Bul-ja offers to help Ki-joon since he hasn't managed to catch many. She's fantastic at it, and Ki-joon is even more impressed with her which causes his heart to pound yet again. He's worried he's really falling for her, then fishes for another excuse that it's only the surprise that's making his heart race, like when he watched the pretty waitress from high school cook a new dish.
Okay, now he's really stretching, and even Ki-joon knows it. He's horrified that just watching a girl catch grasshoppers could make him like her, so when Bul-ja approaches him again he can only yell at her to go away, and he runs screaming and yelling about women who catch grasshoppers. Poor guy.
Yoon-hee decides to make spaghetti for the boys as a reward for catching the thieves, remembering that Min-ki had asked for spaghetti several times. She spends the whole day shopping for fresh ingredients and slaving in the kitchen, where Hyuk finds her later.
He remembers that Min-ki asked for spaghetti and muses that Yoon-hee must like him a lot, and laughs at Yoon-hee's too-vigorous denial. He offers to help but knocks the onions onto the floor, causing Yoon-hee to overreact and holler at him to get out. He manages to sneak by her to taste the sauce, declaring it delicious, and she softens and lets him help.
Despite her denial that the spaghetti isn't for Min-ki, she refuses to let anyone eat until "everyone" is at the table. Soon Min-ki shows up, but before Yoon-hee can tell him she made a special dinner, he gets a call from Yoo-na and runs off to have dinner with her. Crestfallen, Yoon-hee watches him go, and Hyuk clocks her disappointment.
Later that night Soo-yeon tries to sneak out, but Han-chul is waiting for her again with some roasted grasshoppers. Far from delighted, she screams and refuses to eat them. Han-chul insists and they scuffle, and the grasshoppers get tossed high in the air to fall right down the front of Soo-yeon's shirt. Cue more screaming. She's finally had enough — Soo-yeon slaps Han-chul, and yells at him never to come near her again. I don't really like her, but I can't say I blame her.
Ki-joon drinks makgeolli and laughs at the absurdity of falling for a girl who catches grasshoppers, where he's joined by a heartbroken, crying Han-chul. He sobs that Soo-yeon broke up with him over grasshoppers, and Ki-joon laughs that the critters are getting a lot of people in trouble today.
Yoo-na waits for Min-ki by the river, but she gets a call from her company CEO (the same guy Hyuk punched out years ago), who orders her to attend a party or he can't guarantee her next album. Min-ki runs on the bridge behind her and stops, excited when he spots her below him. She calls him to cancel, claiming an emergency, not realizing that he can see her. Min-ki pretends it's okay and watches her leave, telling himself that just getting to see her was enough.
Hyuk offers to help Yoon-hee do the dishes, and he asks seriously if she's so upset because of Min-ki. She denies it and asks why Hyuk cares anyway, and he replies that he cares because he likes her. Yoon-hee waits for the usual laugh and joke, but this time he only looks at her, dead serious. She pops him in the forehead anyway and say he won't fool her again.
She goes back to the dishes but Hyuk takes her shoulders and turns her to look him in the eyes, assuring her that he's not joking. They stand that was for a long charged moment, then Yoon-hee pokes him right in those serious eyes and storms off, muttering about jerks who are always joking.
Breakfast is a depressing affair, all four boys plus Yoon-hee having been brutally beaten by love the night before. Hyuk has a stomachache from eating all the spaghetti, and Min-ki grouches to hear there was spaghetti and he missed it. He admits he was stood up the night before, and Yoon-hee can't help but poke his wound, still hurt that he didn't eat the special meal she made.
Sang-deuk sleeps in and has a nightmare, calling out that his arm hurts. He looks down at his arm to see Mi-young sleeping there, and she wakes and addresses him as her husband. Sang-deuk slaps himself and concludes he must be dreaming since it doesn't hurt.
He's hit in the forehead by an almond, and wakes for real to find Grandpa standing over him eating a candy bar. Ewww. Grandpa says Sang-deuk's mother went to pray and fast for 100 days for her son to get married, leaving Sang-deuk to wonder why he would dream about Mi-young.
Soo-yeon calls her bar owner friend to find out why she hasn't send her pay yet. The owner tells her a couple of men were looking for her, and Soo-yeon tells her not to tell them anything if they come back. She hangs up and wonders if "he" woke up already.
We see the thugs and their boss in the hospital standing over a man's bed, the same man who blabbed about the hidden money to Soo-yeon, and Hyuk's father tells the thugs that the patient is in a coma. The leader — the assemblyman that the man stole the money from — tells his lackeys to find his money no matter what. They tell him they suspect he may have told a girl from a bar he frequented about the money, and that they're looking for her.
Man-gu cooks up an amazing meal for his family, and they watch a news story about illegal cosmetic procedures, and Man-gu doesn't notice that one of the barely-pixilated faces on the news story is his own mother. Man-gu's mom slinks in, her eyes hidden by giant sunglasses, and he snatches the sunglasses off her face to find that she's done something horrible to her eyebrows, HA.
Yoon-hee calls a village leader meeting to discuss the opening of the rice market, which could harm local farmers. She proposes they join another town in a "three steps, one bow" protest to the governor, and asks Sang-deuk and Man-gu to represent their village. Man-gu doesn't want to and says the boys should do it, being young and fit, but Yoon-hee is understandably concerned they might cause trouble.
Man-gu and the boys head to the cabbage field, shocked to find it covered in weeds. Man-gu reminds them that he told them to cover the field in plastic to discourage weeds, and tells them to get to work pulling them out. Min-ki scoffs that there wasn't any money for plastic and that it's easy to pull the weeds, they just pop right out. But the next day the weeds have grown back, because they didn't pull the roots out.
They attack the weeds with wild battle cries, but the next day the weeds are back again. And the next day. Man-gu crows that weeds are like zombies and will always come back. Hyuk suddenly notices that Man-gu is wearing the latest exercise clothes and watch, and Man-gu brags that he's always on the cusp of the most current technology. He offers to find them some plastic for their fields, to keep the weeds from growing back daily.
Man-gu calls (on his watch!) his contact at the Agriculture General Information Center to ask for help with protecting their field, and the boys cringe to hear the cost of the plastic. They don't have the money, so Man-gu offers to buy Min-ki's beloved sports car. Min-ki reluctantly agrees, making a big show over how much this hurts him, but he grins after Man-gu drives away and admits he made money on the deal because he bought the car from a junkyard. HAHA.
They're still short of the money they need, but Min-ki spots Grandpa and In-ki playing Go-stop, and he gets an idea. He asks if he can play with them but In-ki storms off, leaving Min-ki to face Grandpa alone. Min-ki is a good player but Grandpa is better, and Min-ki ends up owing him more money than they would have spent on the plastic. Thank goodness Grandpa settles for a few bills and bragging rights.
Min-ki finds Yoon-hee making ramyun for lunch again and asks when she'll make him spaghetti, putting her in a bad mood again. It's the worst timing ever for him to ask to borrow money, and she gripes at him to go ask Yoo-na if he wants something. Frustrated at her attitude, Min-ki asks why she's so angry with him lately, but they just end up bickering childishly and vowing not to speak to each other anymore.
Clutching his stomach in pain, Han-chul finds that he's taken all of his medicine. He gets dressed and heads to Seoul, refusing to tell anyone why he's going when they say they need to figure out how to pay for the plastic. Yoon-hee calls the guys in for lunch, but Min-ki instead shoots her a glare and walks off without a word.
Another awkward meal has Aunt asking Yoon-hee if she and Min-ki fought again, and Hong-gu tells her to let him know if that jerk bothers her and he'll take care of him. Hyuk matter-of-factly says he'll be the one to protect her, since he likes her. Yoon-hee tells him in a fake-sweet voice that if he keeps this up she might stop liking him, and Ki-joon snaps at everyone to just eat.
Soo-yeon buys a bus ticket to Seoul, intent on getting her paycheck even if she has to go get it in person, and decides to go check on "him" while she's there. She boards the bus to find to her dismay that the only available seat is next to Han-chul. He looks slightly hopeful, but when she sits leaning as far from him as possible, he turns to the window and his face crumples at her rejection.
At the station in Seoul, Soo-yeon turns as if to say something mean to Han-chul, but he just looks at her sadly and leaves, and she looks as if she feels a bit bad. A woman approaches Soo-yeon and at first she's very respectful, calling the woman Team Leader and seeming sorry when the woman upbraids her for quitting her job unexpectedly.
Until the woman insults Soo-yeon for being uneducated trash, then a hard look enters Soo-yeon's eyes and she coos that it must have been so hard for her when she left, after stealing Soo-yeon's design and taking the credit for it.
The woman splutters and denies it, and Soo-yeon tells her that soon she'll study abroad too, and then she can also enjoy her life copying her underlings. But Soo-yeon didn't actually say any of those things — it's her fantasy — and in reality she only apologizes to the horrible woman and watches her sail off haughtily.
The boys are still wondering how they can make more money when Sang-eun comes to excitedly tell them she got them a gig at a birthday party. She promises they can make enough to afford the plastic for their field, and they agree.
Soon they're wearing sequined outfits and playing folk songs while a horde of older women dance, and they look downright miserable, hee. Taking notice of the cute young things, the women start to grope the guys, but they also shove money in their clothes and Min-ki shoots a look to Hyuk to just put up with it. Poor innocent Ki-joon looks like he's gone to his Happy Place in his mind just to get through it.
Soo-yeon visits the hospital and nervously looks around, before going into the room of her customer who's still in a coma. She figures he'll probably never wake up after such a terrible accident, and wonders who the men were who were looking for her at the bar.
She doesn't have to wonder long, because as soon as she gets to the hall she sees them coming towards her, and she recognizes them as the same men that she saw harassing the man before he ran into the street and was hit by the car. Soo-yeon tries to hide her face in her hair and walk past them, but they have a picture of her in her wig she wore at the bar, and they try to stop her.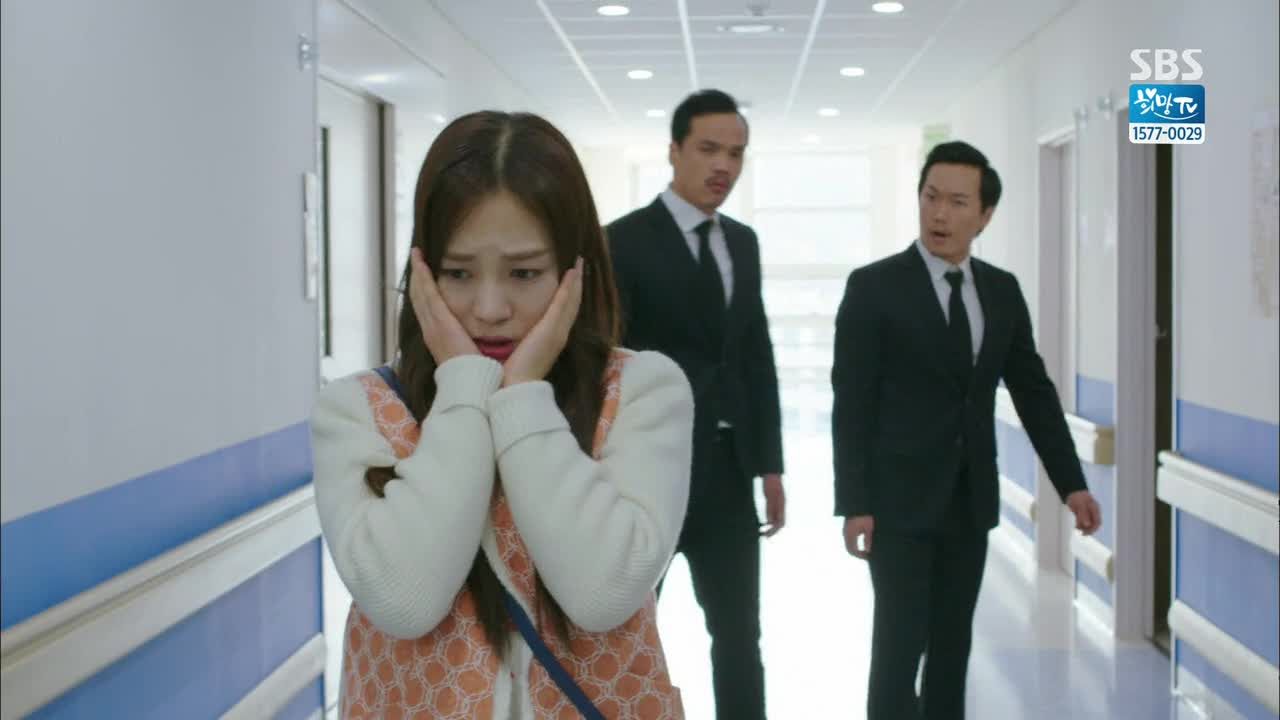 Han-chul is at the same hospital getting his prescription, and thinks of the doctor's warning that he should probably check into the hospital. He finds Soo-yeon hiding in the pharmacy, where she begs him to help her. He reminds her of her order to never speak to her again and she apologizes, which puts him right back into a giddy mood.
Soo-yeon borrows Han-chul's jacket and hat, and they nearly get by the thugs, but Han-chul drops something and the thug calls after him. While they're talking the other thug sees them, and recognizes Soo-yeon through her disguise. Han-chul grapples with both men, holding them back so Soo-yeon can run for freedom.
COMMENTS
Oh, these poor heartbroken boys. It's so hard to watch everyone bicker and fight and be miserable, though I have hope that at least some of them will end up happy. I'm still mostly worried about Hyuk since I still feel like he's the most broken inside and the least likely to be capable of bouncing back if he's truly rejected, but at least he's finally let Yoon-hee know how he feels without the jokes and the Cheshire cat grins. Now he's got to deal with the fact that she doesn't believe him, which is a situation he created when he confessed twice before but chickened out and made them into jokes, so I hope he's ready to start showing how much he cares for her instead of just saying it. Yoon-hee is the kind of gal who will be swayed by actions rather than words, and words are Hyuk's forte, so he's going to have to go way out of his comfort zone if he wants to win her heart.
I haven't talked about Han-chul and Soo-yeon much, which is mostly because their "romance" has been the most shallow and least interesting to me. But this episode highlighted them quite a bit, so it's a good time to get my thoughts out there on this potential couple. I'm not convinced that Han-chul actually has genuine feelings for Soo-yeon, considering he knows nothing whatsoever about her, nor has he even tried to find out who she is as a person. I think he's scared of dying, and she's the prettiest thing in town in his eyes, and he's built her up to be this angel that will make his last months on Earth full of happiness and love.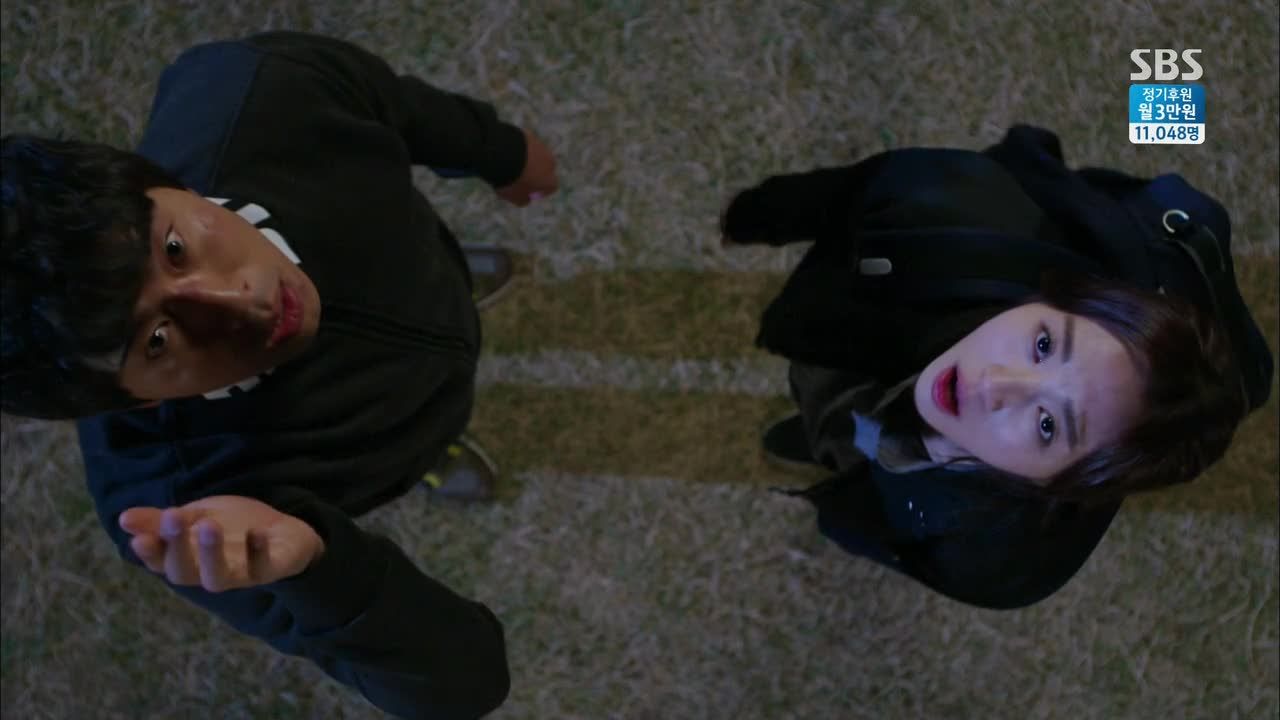 Which is a sweet fantasy, but it's just that — fantasy. Soo-yeon is not that innocent selfless girl that will tend to a sick man in his dying moments. I don't think she's a bad person either, but she's clearly on her own and has been forced to do whatever it takes to take care of herself, and she's in the habit of thinking of Number One first and foremost. I don't blame her for being out off by a guy who follows her around against her will, who constantly interrupts her attempts to find the hidden money and improve her life, and who won't take a nice No for an answer. He won't take a harsh No for an answer either, and he's walking a fine line between devotion and stalking. So I definitely have a hard time seeing these two actually ending up together, unless the writer decides to throw a curveball and one of them changes drastically.
I'm still enjoying how the show continues to move at a good clip, giving the town new challenges and giving the audience new story-lines to keep our interest sharp. Many times when I watch dramas with a large cast, I feel like the show bounces around from character to character too much and I never get enough of my favorites. But what Modern Farmer has going for it is that everyone's stories are interesting, and I never feel like it focuses on a subplot that's boring, because I don't find any of them boring. And I never feel like my emotions are being dragged around, because all of the subplots, while very different, are pretty much at the same stage of development. They all found love interests near the same time, and now they all are hitting the angst phase of their relationships at the same time.
But instead of this making events feel too much the same, all the lovelines are different enough that even though they're in the same phase, they aren't all doing the same thing, if that makes sense. Yoon-hee and Min-ki are fighting without even knowing why, Yoon-hee is angry with Hyuk for seemingly playing a big joke on her, Ki-joon is upset over his newfound feelings for Bul-ja, and Han-chul and Soo-yeon are flailing around on different levels. It's more proof of the deft and intelligent writing that I'm enjoying in the show, that my emotions as the audience are being taken to the same place with each not-yet-couple, while giving me different reasons to feel those emotions. I've said it before and I'll say it again: This show is so much better than I ever expected, and it only makes me eager to see what they come up with next.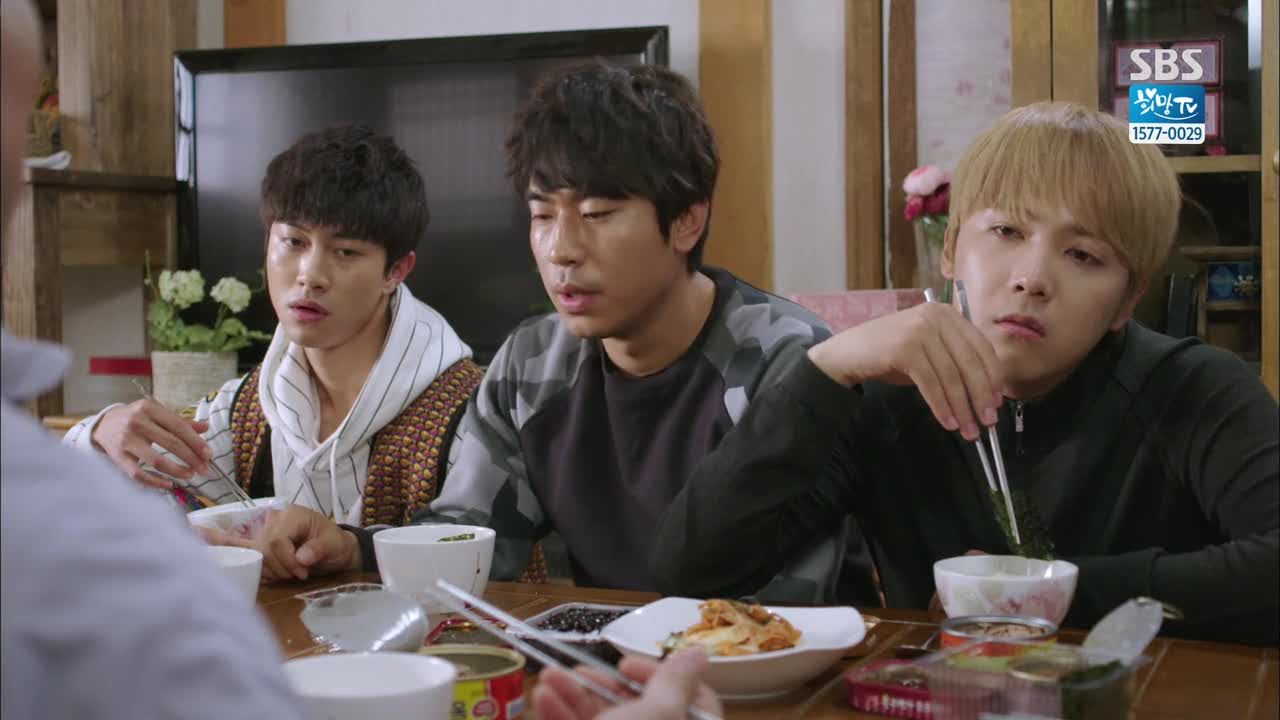 RELATED POSTS
Tags: featured, Honey Lee, Lee Hong-ki, Lee Shi-un, Modern Farmer, Park Min-woo