Park Hae-jin in the running to become a Joseon vampire
Ooh, exciting — casting rounds have begun for the rumored vampire manhwa drama adaptation Scholar Who Walks the Night, and in-demand actor Park Hae-jin (Bad Guys, Doctor Stranger) has been offered the leading role. The drama was first announced with a quickly squashed rumor that his You From Another Star costar Kim Soo-hyun would be headlining, but now the production is actually preparing for broadcast, and Park Hae-jin is officially considering the project.
Scholar Who Walks the Night is based on a hit manhwa by Jo Joo-hee and Han Seung-hee, and is being adapted for the small screen by Contents K, the drama production branch of Keyeast. It's currently being shopped at KBS, but doesn't have a broadcaster locked down yet. Some stories say it's aiming for a February premiere, but until they sign with a station, that's speculative. For now the only person signed on is writer Jang Hyun-joo, who worked on Coffee Prince (but also Paradise Ranch, so… yeah. Maybe they cancel each other out and this is a clean slate?).
The drama sounds like a fun vampire twist on Sungkyunkwan Scandal — it's about the daughter of a Joseon nobleman, whose family is ruined because her father gets framed for a crime he didn't commit. She cross-dresses as a man so that she can sell books, and that's how she meets a mysterious and handsome scholar, who also happens to be a vampire. There's also an evil murderous vampire who resides within the palace, setting us up for a vampire-against-vampire showdown.
Park seems like a great choice all around for the role, since it calls for someone beautiful and otherworldly, and capable of a darker bloodthirsty side (see: Exhibit A). He's certainly having his moment in the spotlight, and I'm happy to see his star rising with an offer for a big buzz project like this; fingers crossed that the drama adaptation manages to bring the manhwa's magic to life.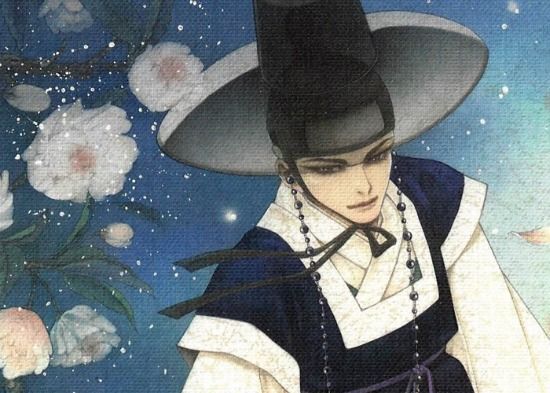 Via Sports World
RELATED POSTS
Tags: adaptations, Park Hae-jin