Running Man: Episode 221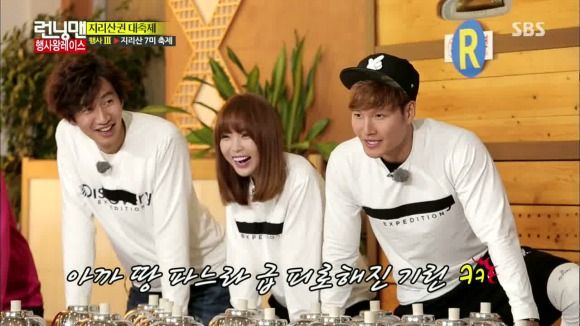 It's a song-filled episode with our barrage of musical guests who are here to help the Running Man cast entertain the townspeople with their favorite tunes. Figuring out what this quiet village is known for won't be easy with the clues they have on hand, but they'll sing and dance until the day's end anyway. But let's be honest—the reason why I'm excited about this episode is thanks to one person, and his name is Teukie.
SONG OF THE DAY
Super Junior- "This Is Love" [ Download ]
Audio clip: Adobe Flash Player (version 9 or above) is required to play this audio clip. Download the latest version here. You also need to have JavaScript enabled in your browser.
EPISODE 221. Broadcast on November 16, 2014.
On this brisk fall day, our cast is dropped off at various locations in the Jirisan area (located in the southern region of Korea). Some of these businesses have been around for decades, and I love the little old lady who wrote herself a reminder on her palm. Basically, our cast is here to help promote these longstanding businesses as representatives in today's Event Race.
The good news is that our cast members won't be going about it alone: Ji-hyo is joined by Super Junior's Leeteuk (eee!) and Kyuhyun, the latter of which asks noona to pay attention to him, too. Gary is greeted by singers Bobby Kim and Jung In at the barber shop, and Haha and Suk-jin are joined by Brown Eyed Girls' Narsha.
Haha jokes that their combined age is over 100, and they settle for the team name "이따구[ee-ddah-gu]," the Gyeongsangdo satoori of the phrase "이따위 [ee-ddah-whi]" aka "this kind of" in English. It doubles into a pseudo homonym for "있다고/구" or "there is," and they roll with several examples of its use: "We're here," "There are cornus fruit here."
All of our guest carry in portable karaoke machines with them, and some of the promo signs crack me up, like: "We're 'Sorry,Sorry' if we scared you at the gas station" and "A festival for cornus fruit seed that's redder than a bride's cheek."
Jae-suk teams up with rocker Kim Kyung-ho and vocalist Kim Yeon-woo, and our teams are told that they must sing 10 song requests from the townspeople here and achieve at least a score of 70 to succeed.
There's a good chance that neither the cast nor the singers know of the classics that the older population may enjoy, and Bobby Kim sighs that he won't be promoting his own album here today.
Jong-kook and Kwang-soo aren't as worried since they have trot singer Hong Jin-young with them, whose high-energy can be heard throughout the village. Kwang-soo pays his respects to a camera-shy lady, who accidentally steps on his hand. Ow.
It's funny-sad how the SuJu boys' PR attempts go ignored, but they finally flag down a willing party with a song request. Ji-hyo momentarily misinterprets the halmae's request of "What About My Age?" as a statement, and she and the boys try to sing and dance along, even though they don't know any of the lyrics. Hahaha.
Things are looking good for Jin-young at the start, judging from how she gets recognized right away and knows one of the persimmon-picking ajumma's favorite trot songs. Dancing and singing, she scores their first song right away.
Meanwhile, Jae-suk, Kyung-ho, and Yeon-woo have just settled on a unit name ("Island-Earth-Lake") and are flustered when the elderly group request a song they've never heard of. But it exists (Jin Sung's "Station in Andong"), and Kyung-ho hilariously looks up the song to study beforehand.
But Kyung-ho's a quick-study and the listening has paid off, since he sings along just fine… until about the halfway mark. Still, who knew the rocker could sing trot music? The supermarket halmae however, voices her disapproval.
Narsha, Suk-jin, and Haha are on their third song by the time they sing and dance to Jang Yoon-jung's "Omona" and pass with flying colors. And as a bonus, they wrangle the halmae to dance to Brown Eyed Girls' "Abracadabra." She does it, and it's adorable.
Gary, Jung In, and Bobby Kim are busy singing melodies while customers get a shave, and then finally someone requests one of Bobby Kim's singles. Hahaha, he's even on the background of his own karaoke muzak. When he gets grilled for getting an 88 on his own song, Bobby barks back that they only needed a 70 and he did his best anyway.
Ji-hyo and the SuJu boys are on their sixth song by the time we check back in with them, for which they get a 95. The supermarket halmae doesn't let up on Jae-suk and the two singers, wondering why their scores are so high for butchering their favorite songs. Tell it like you see it, ma'am!
It's enough for the crowd to start doubting that either Kyung-ho or Yeon-woo are actually singers, which has got to be a blow. So they put their all into the next song, Park Sang-chul's "Unconditionally," which finally put smiles on all their faces.
A young woman asks for one of Yeon-woo's songs "Still Beautiful," since she's a fan of his, which aw. She gets into the song, as if shooting a music video, then sings with Yeon-woo himself. Aw, that's every fangirl's dream come true.
It seems like Jin-young and her boys have traveled the entire village by now, as they struggle to push their cart uphill. I also love how she just plops onto the cart and sings, causing the guys to push her around all morning.
When it sounds like her singing voice is ready to give out, Jin-young turns to PR instead. Nearly all the teams have succeeded in singing about eight or nine songs now, as they sing to Kim Soo-hee's "Train Heading South." Gary, Jung In, and Bobby Kim are the first to hit ten songs, with Narsha and her boys not too far behind.
After a powerful performance from Yeon-woo, it's time to head to their next location. It turns out that Jung In started her married life at Jirisan, and Bobby Kim admits that he's already exhausted from the first mission.
I kinda love the interludes with Kwang-soo donned in sparkly jackets and gelled hair. At their next location, the teams finally greet one another. Aw, Kyung-ho's a soon-to-be groom (and a newlywed by the time of this recap) and it just so happens that Bobby Kim lent his voice to the rap portion of Turbo's "Twist King."
The first teams who arrive receive their first clues, and then the teams are told that one team representative will need to run, dig, kick, catch, and pick the fastest to win their first game. Once dressed in appropriate ajumma pants-wear, our first round of competitors line up.
The whistle blows and the guys quickly run and get digging to make a way to slide under the wooden barrier. Kwang-soo doesn't dig deep enough and gets caught whereas Teukie uses his speediness to try and slide through. Not if Kwang-soo can do anything about it, trying to pull Leeteuk backwards. "I'm your hyung! Your hyung!" Teukie cries desperately.
Although Teukie sneaks under first, it's Yeon-woo who catches the shoe into his basket. Kwang-soo kicks the shoe up into the air with great force, causing it to go flying several yards away.
At least that's still better than Bobby, who's fighting a losing battle against the dirt, and then with the shoe when he finally gets through. A little later, all the participants scramble to get hold of the radish, but it's Yeon-woo who picks it up at the end.
Narsha's quickly becoming a fan of Bobby's, entertained by anything and everything he says or does. Jin-young pours out the aegyo before the third round, and surprisingly, so does Kyung-ho, though the same can't be said for Jung In.
Whoa, Kyung-ho manages to slink below the barrier, catch the shoe, and grab the radish before anyone else. Jong-kook helps blow out some dust that's flown into Jin-young's eyes, but from this angle, the gesture looks pretty intimate, so of course everyone freaks out.
Leeteuk: "I'm just curious, but can you go and kiss anyone you like on broadcast these days?" Kwang-soo steps up to recreate the moment with Jong-kook. HA.
Leeteuk seems to have a permanent smile on his face, thoroughly amused by everything going on around him. Kyuhyun, however, doesn't seem as happy, and when he admits that he's wondering when they'll get out of these ajumma pants, the others wonder if he's adopted some of MC Kim Gu-ra's scowl (over at Radio Star).
Jong-kook, Jin-young, and Kwang-soo hardly gets anywhere trying to work through their vague clues in the car, but it's still hard for Jae-suk, Yeon-woo, and Kyung-ho, who hold two first-place clues.
Our teams head over to a restaurant next, and Haha immediately notes that the cameras' presence here means that not everyone will be able to eat. It's quite a mouth-watering spread too, and damn it—now I'm salivating.
Just as Haha realizes that they have to recall where everything is placed, the staff run in to cover all the dishes. Suk-jin gets caught sneaking a peek, but Kyung-ho returns from the bathroom completely confused.
The teams will play a memory-matching game, where uncovering the right lid will allow them to eat that dish. Other people's mistakes can only serve to help them, and Kyung-ho curses the three minutes he was gone.
As expected, Teukie is having a grand ol' time watching everyone, noting that from his perspective, it looks like everyone has lost their minds. Heh, we're happy to see you back from army, Oppa.
The first item is kalguksoo (literally "knife noodles") and ha, Jin-young tries to smell the dishes through the lids. Both Haha and Jung In guess correctly. When Suk-jin gets caught again taking a gander under the lids (which he claims was just to find the right lid), his teammates request for his disqualification.
Bobby Kim's No. 1 fan, aka Narsha, asks if they can't have him on their team instead. Jin-young is adorably excited despite the fact that she guesses wrong on their next turn, and her upbeat attitude and physical proximity with Jong-kook has Haha teasing this potential loveline between them further.
All the teams correctly guess where the crab stew is, and Ji-hyo sneaks in a bite while everyone's attention is focused on Jae-suk for doing the same. Hmm, Kyung-ho says he remembers at least six dishes, which is pretty impressive for a guy who was in the bathroom at the start.
He's been closely studying the other teams' mistakes, but he doesn't know where the red bean porridge is. Jae-suk's lucky guess turns out to be right.
By the time the game is coming to an end, the teams either have two or three dishes to their name, but only one team will get to eat the entire spread. And that team is Narsha, Suk-jin, and Haha.
Everyone else resorts to watching the winning trio dig in, including Bobby, who tries to appease Narsha in order to get a bite. Ha, then the others lift and move the table instead, but Haha and Suk-jin keep in step with the food in transit.
It's nightfall by the time we check back in for the final mission, where the teams must find the R-stickered microphones hidden throughout the building and stand on the one correct stage (out of five types of fruit) as a team to win.
Once they stand together on one platform, they won't be able to change places, and getting on the wrong platform means punishment.
Ji-hyo believes the correct fruit is "persimmon," then hurries off. Yeon-woo admits that trying to find R-stickered items in person is much harder than watching on TV, and Kyuhyun quietly plucks a microphone right under Jung In's nose.
Gary, Bobby, and Jung In are the first ones to find mics for themselves, but Ji-hyo and the SuJu boys are right on their tail. The latter team is one step too late, so they stand on the cornus fruit platform instead.
Suk-jin, meanwhile, wonders if "apple" is the correct answer, since his team's last hint referred to Super Junior's hit "Sorry, Sorry" ("apple" and "apology" are homonyms in Korean).
Everyone has to step to it if they even want a choice of a platform, and by the time Haha arrives, Jae-suk, Kyung-ho, and Yeon-woo are already standing on the apple platform. It turns out that their hint suggested a fruit that delicious whether it's green or red.
Once everyone is gathered together again, it's the moment of truth. Kwang-soo exclaims that he can see some flour seeping out of the canister above them, and only one team will be flour-less.
And that team is Jae-suk, Kyung-ho, and Yeon-woo, who jump in celebration together. The team wins an array of fruits and other goodies, and they end the night with Yeon-woo's serenade.
RELATED POSTS
Tags: featured, Haha, Ji Suk-jin, Kang Gary, Kim Jong-kook, Lee Kwang-soo, Running Man, Song Ji-hyo, Yoo Jae-suk