2014 Blue Dragon Awards
As one of the biggest awards ceremonies in the industry, the 35th Blue Dragon Awards turned out a number of stars and covered a pretty good spread of titles in its winners list—a few films took home multiple trophies, but there wasn't a single movie sweeping every category. It was nice to see a fair mix of indie films getting nods alongside bigger blockbusters, with new faces (like Chun Woo-hee, above, for Best Actress) joining the old familiars on the winners list (like Song Kang-ho, Best Actor).
As for the red carpet looks… well, people looked beautiful, but I'd say that's more because these are beautiful people who'd look good even when you handicap them with lackluster threads, and not because anybody was particularly well-dressed. You'd think there'd be more stunners for a big event like this, but maybe everybody's saving up their energy for all the red carpet events yet to come?
WINNERS LIST
Best Picture: Attorney
Best Director: Kim Han-min (Roaring Currents)
Best Actor: Song Kang-ho (Attorney)
Best Actress: Chun Woo-hee (Han Gong-joo)
Supporting Actor: Jo Jin-woong (A Hard Day)
Supporting Actress: Kim Young-ae (Attorney)
New Actor: Park Yoochun (Haemoo / Sea Fog)
New Actress: Kim Sae-ron (A Girl at My Door)
New Director: Lee Soo-jin (Han Gong-joo)
Cinematography: Kundo: Age of the Rampant, Choi Chan-min
Lighting: Kundo: Age of the Rampant, Yoo Young-jong
Editing: A Hard Day, Kim Chang-joo
Music: Kundo: Age of the Rampant, Jo Young-wook
Art Direction: Haemoo, Lee Ha-joon
Technical effects: The Pirates, Kang Jong-ik
Screenplay: A Hard Day, Kim Sung-hoon
Short Film Award: Mrs. Young
Box Office Audience Award: Roaring Currents
Popularity Award: Kim Woo-bin, Song Seung-heon, Shin Se-kyung, Im Shi-wan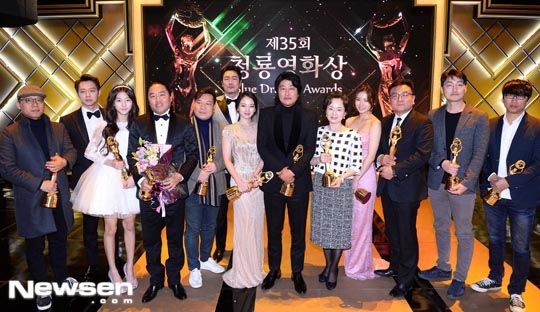 Aw, yay for Chun Woo-hee (Han Gong-joo), whose performance in the powerful sleeper indie movie have won her raves and newfound acclaim. She looked absolutely shocked and thrilled to get the top nod for acting over seasoned veterans like Sohn Ye-jin, Kim Hee-ae, and Jeon Do-yeon, and over audience favorite Shim Eun-kyung in Miss Granny; hers wasn't the name people would have guessed as the winner, but as one headline put it, her win was "a twist, but still totally understandable."
She was dressed like a winner, in this sparkling gold gown…
…which, OOPS, also got sent to Jo Yeo-jung, who was nominated in the supporting category for Obsessed. She even had to sit a few seats over from Chun Woo-hee during the awards. Awk-ward!
She looks great in it and she's smiling and radiant in all the pictures from the event, but sadly, Chun Woo-hee edges her out for walking away with the trophy. Is a designer about to get ripped a new one for losing track of gown loans? Is a stylist quaking in her boots, hoping to survive the snafu?
How big do you suppose the trophy room is at Song Kang-ho's house? Or at Hwang Jung-min's, who is last year's winner, presenting him with his award for Attorney? I feel like the Best Actor award just gets circulated between the same half-dozen veteran actors every year—not that they don't deserve them, since that inner circle is so awesome.
Kim Hye-soo (Coin Locker Girl) had a costume change for the latter part of the event. The black feels pretty typical of her so I like the gold, although I don't really love either one. Which do you prefer?
Okay, so I'm probably never going to think Sohn Ye-jin (nominated for Accomplices) looks bad, but I dunno, I'm not feeling this dress. I get what she's going for and it's interesting and modern…. I guess… but I think maybe I want it to be more daring or more safe. It's kind of in that in-between stage.
That said, omg her skin is amazing.
Jung Woo-sung was nominated for crime thriller God's Play, and I dig the bit of contrast with his patterned scarf.
Here's his BFF Lee Jung-jae (Face Reader), who does like the velvety patterned jackets, doesn't he?
And here he is with Kim Woo-bin (nominated for Friend 2), together giving us the picture of Oppas Past and Present. Don't they look dashing together…
And okay, also separately. Kim Woo-bin has just been making it work for every fancy red carpet event I've seen him at in the past year, proving that you may be a dude, but that doesn't mean your wardrobe choices have to be the same every ceremony. I'm totally looking forward to seeing all the different looks he trots out for the station awards in another couple weeks.
Shim Eun-kyung (Miss Granny) must be wearing extensions, which is a big ol' shame since I thought her short, casual cut in Cantabile Tomorrow was adorable.
Choi Jin-hyuk was nominated for God's Play, and was making faces in half his photos. It was kind of cute, but also kind of hard to find normal-looking shots. Good thing they exist, because I love his crinkly-eyed smile.
Aww. I just want Im Shi-wan to follow around Lee Sung-min for the rest of his career, casting adoring hero-worshippy eyes at him. They're here for different projects (Shi-wan was nominated in the new actor category for Attorney and Lee Sung-min in the supporting category for Kundo) but you really can't escape the Misaeng connection, it is too strong.
Im Ji-yeon has been having a great debut year with the charged ero-melodrama Obsessed, and changes up her look this time after going edgier at the recent Grand Bell Awards. Again, I feel like she is a beautiful woman in an okay dress. One with the most unforgiving cap sleeves ever. (Ow.)
Honey Lee is another nominee (Tazza 2), and I think she looks like an absolute stunner—but again, not because of the dress. It's okay. The bow looks a little awkward—it cutes up a dress that's otherwise sophisticated—but it's mostly fine.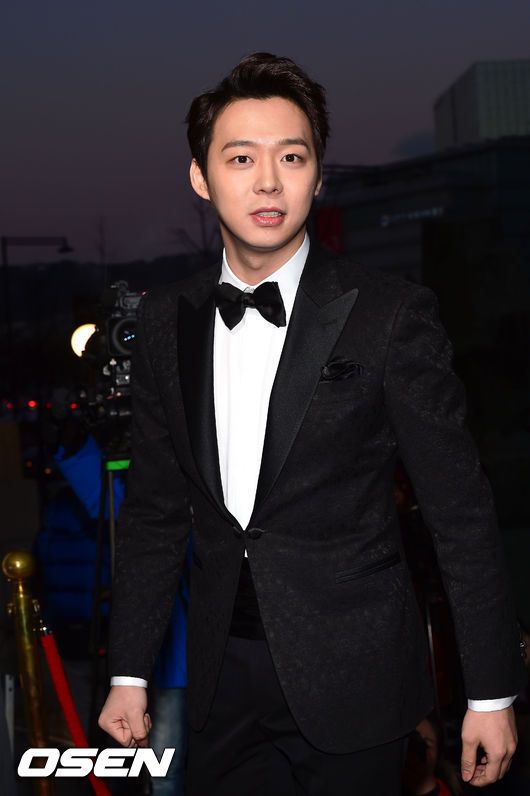 I find it super endearing that at awards ceremonies and formal events, Yoochun (Haemoo / Sea Fog) often looks like I feel when taking staged photos—which is to say, you can almost hear him thinking, Like this? Am I smiling? Does it look okay this way? Teeth showing or no teeth? He is adorable, but I swear I always have to comb through dozens and dozens of photos to find the best ones where he doesn't look completely awkward.
His Haemoo co-star Han Ye-ri seems to have no trouble channeling her fierce red carpet diva, though:
Go Soo (The Way Home) is so handsome. I have always found his nickname Govid (as in, Michelangelo's David) to be odd, but I'll admit it's growing on me. And it's true he he is chiseled and manly.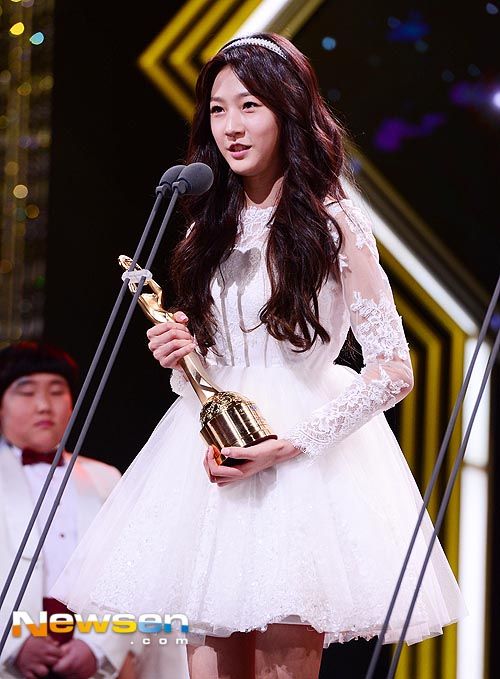 Kim Sae-ron (Girl at My Door) is growing up so fast, and I do think she's outgrown this dress. I don't even mean that figuratively—I mean, the dress is super short, and she has become very long. Maybe time for an upgrade?
I don't really love this dress worn by Kim Yoo-jung (Elegant Lie, for which she was nominated), but following the theme of the night, she looks beautiful anyway. I love how happy and smiley she is here.
Song Seung-heon (Obsessed) is handsome but looks exactly the same every day in every situation for every event. I just want to muss him up to prove that he's not some perfect robot with every hair always in place. Below, he presents with Ra Mi-ran, who was nominated for My Love, My Bride.
I don't think there's anything wrong with the look put together by Shin Se-kyung, winner of a popularity award (Tazza 2), though I wish the color were bolder. Her shoes could maybe kill a man. *stab*
Adorable Yeo Jin-gu (Hwayi) looks almost tall when you put him next to the teeny-tiny Park Bo-young (Wolf Boy). Love the monochromatic look with his black-on-black.
Esom is having a very good year with Madam Bbaeng-deok, her melo-romance thriller with Jung Woo-sung. I like this clean, polished look much better than the doily she wore to the Grand Bells. (Does she remind anyone of Ginnifer Goodwin here?)
Rawr. Looking sharp, Choi Siwon (Dragon Blade), who's rocking the red carpet here. Okay, I amend my statement about nobody wearing anything outstanding; the ladies are not, but perhaps this Blue Dragons is all about the men outshining the actresses.
Kim Hee-ae (Elegant Lie) favors these long, elegant sheath dresses, and probably for good reason, since she tends to looks regal on every red carpet.
Bromancey buddies Lee Seon-kyun and Jo Jin-woong totally had a surprise hit on their hands with their thriller A Hard Day, but it has been raking in the acclaim all year long, and I'm thrilled for both of them.
The red, white, and black work perfectly for Yeom Jung-ah (Cart), who looks strong and poised as she presents an award.
Yoo Hae-jin was up for a supporting acting award for the blockbuster action movie The Pirates, which may not have been the most brilliant movie ever but did know how to be cool and fun. And you know, fun counts for a lot!
I'm not particularly struck by Moon Jung-hee's (Cart) gown, but it's kind of a best-of-the-middle deal today. It's perfectly fitted, super flattering, and looks like it moves beautifully. I'm a fan of the slate-gray color, and also how happy she looks. She presents here with director Bong Joon-ho (last year's winner for Snowpiercer).
I count this one as another good-ish dress, worn by (Kim) Soo-hyun (The Avengers: Age of Ultron). It's pretty, and the silver detailing is nice, but it strikes me as a bit over-ruffly. She makes me think of the prettiest jellyfish in the sea.
Along with Hwang Jung-min and Song Kang-ho, you could pretty much leave a permanent slot open on the nominees list for Choi Min-shik, whose nod came this year for Roaring Currents. Perhaps it's noteworthy that Attorney edged out Roaring Currents in this awards ceremony, while the balance had tilted in the other direction earlier in the year. In any case, both are reportedly well worth the accolades, and on my interminable must-watch list.
Samcheonpo! Okay, Kim Sung-kyun (Kundo: Age of the Rampant) can go out and do as many acclaimed thriller/drama/crime movies he wants, but it's gonna be a long time before he's not primarily Samcheonpo, isn't it?
Kim Young-ae won in the supporting actress category for Attorney, and has a long list of credits with multiple films and dramas to her name… but right now, I kind of hate her for being such an effectively mean, vapid, and shrewish mom-in-law in Birth of a Beauty.
Kim Yun-jin (Gukje Market) nearly tripped on the red carpet, but thankfully managed to stay on her feet. I like the flow of her gown, but the sharply contrasting textures make it look like she's wearing a skirt and top.
Drama fans probably know Park Ji-soo best as the terrible second lead in Surplus Princess, but she actually earned a lot of acclaim for her role in the Yoo Ji-tae-directed Mai Ratima, for which she won the Blue Dragon last year.
Ryu Hye-young is a new face to me, but she was nominated for My Dictator in the new actress category. She'll also be in Jaejoong's upcoming drama Spy next year/month. I think I would've liked her dress more if the line of the shorter underdress weren't so stark, making it look like she wrapped a tablecloth around a miniskirt.
Voice actress and VJ Seo Yu-ri came in a bright poofy skirt that brings out my inner 5-year-old. I mean that in a good way; I would have loved the hell out of her dress as a child going to a fancy party. (If I went to fancy parties as a child, I suppose.)
OKAY, Noh Soo-ram (Miss Korea), WE GET IT. WE SEE YOU. ALMOST ALL OF YOU IN FACT.
And here we have the requisite B-(or-under)-lister coming to a red carpet wearing a sartorial cry for attention. You know you'll always have at least one, trying to get her name to the top of search engine lists by sporting a risque look, figuring that any attention is better than no attention. And yes, it generally does work, which I guess means we're all rewarding bad behavior. Le sigh.
Via Naver
RELATED POSTS
Tags: awards, Choi Jin-hyuk, Choi Min-shik, Choi Siwon, Chun Woo-hee, Esom, Go Soo, Han Ye-ri, Honey Lee, Im Ji-yeon, Im Shi-wan, Jo Jin-woong, Jo Yeo-jung, Jung Woo-sung, Kim Hee-ae, Kim Hye-soo, Kim Sae-ron, Kim Soo-hyun (2), Kim Sung-kyun, Kim Woo-bin, Kim Yoo-jung, Kim Yun-jin, Lee Jung-jae, Lee Seon-kyun, Lee Sung-min, Micky Yoochun, Moon Jung-hee, Park Ji-soo, Shim Eun-kyung, Shin Se-kyung, Sohn Ye-jin, Song Kang-ho, Song Seung-heon, Yeo Jin-gu, Yeom Jung-ah, Yoo Hae-jin