And the award goes to… [Year in Review, Part 4]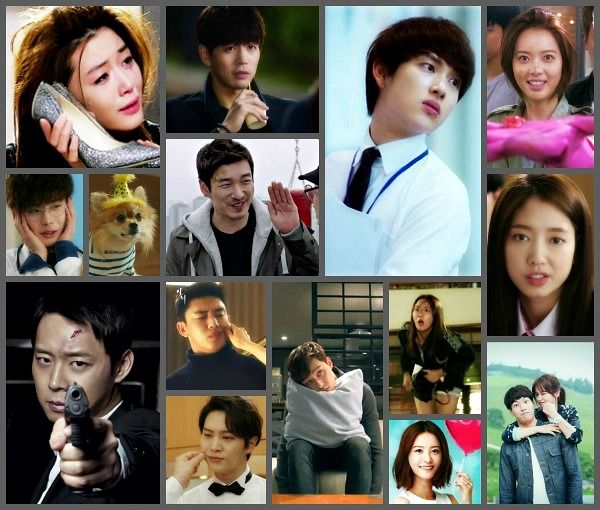 The end of the year marks the beginning of awards season, where everyone hands out shiny trophies for the best of the best. Yes, but what about the middling, and the not-so-stellar? What do they get? This year I'm spreading the love around so that every drama gets to go home with an award and feel good about the past year. Because praise is free, and I'm on a budget.
It was frankly hard to find something laudable for every single drama I watched (really, I need to watch fewer dramas next year), and I debated pulling an MBC and splitting Daesangs twenty-plus ways. But then I decided that would be meaningless, so I dug deep, looked back on the past year in dramaland, and found something nice to say. I may have pulled something.

SONG OF THE DAY
Papercut Project – "한번 더 생각해봐" (Think it Over One More Time) [ Download ]
Audio clip: Adobe Flash Player (version 9 or above) is required to play this audio clip. Download the latest version here. You also need to have JavaScript enabled in your browser.
Let's Eat
And the Best Commercial Award goes to… Let's Eat. Is it a drama with PPL, or a commercial with drama?
I actually forgot about this show, mostly because it aired from November to March, which is eons in drama time and also makes it perfectly timed to fall right through the cracks in year end reviews. But even with its own once-a-week airing schedule working against it, when I look back, Let's Eat leaves a pretty strong impression. For one, it's an experimental format, so it's unlike any other drama out there—part mouth-watering food commercial, part drama, it's a show designed to actively make you reach for the takeout menu (or cook, if you do that sort of thing). It's folly to try and watch the show without food nearby, and fans will pretty much tell you to just prepare a dish first so that you don't have to suffer.
It's arguably a show that tries to do too many things—food, rom-com, murder mystery—but the result is surprisingly addictive, even if those parts don't exactly gel together in the smoothest way. And that's mostly due to the mix of quirky characters that form the group of neighbors at the center of the story. They're all single people living in one-room apartments who eventually bond over the love of—what else—food, and little by little, sharing a meal together turns into neighborly concern, which turns into friendship, love, and eventually they become their own family.
At first it's strange that the hero is an atypical fast-talking salesman who lies as often as he breathes, and the heroine is so distrusting that you think she'll drive everyone away. But it makes their eventual growth really rewarding, and the same is true for the supporting cast of odd characters, all the way down to the dog that probably gets fourth billing (no seriously, that dog got more reaction shots and close-ups than half the cast—he's like the runaway star of the show).
I think what saves the drama is that food is used in a thematically relevant way—the food porn is totally in your face and they're not trying to hide the intent behind it at all, but it also becomes a storytelling tool and a way to gauge a character's emotions, convey loneliness, or show care between friends. And an adorable romance between Lee Soo-kyung and Yoon Doo-joon doesn't hurt matters either. It's a hammy drama with a rather simple message about sharing a table with the ones you love, but that message is warm and thoughtful, and it's seasoned with just enough comedy to keep me happy. I'm looking forward to seeing how they improve upon the formula for the second season in 2015, and maybe I'll run a marathon or two in preparation before it premieres.
You From Another Star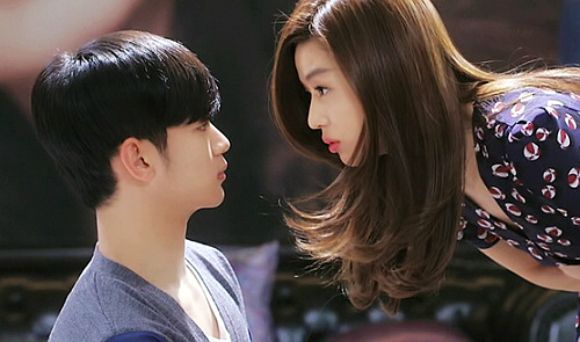 And the People's Choice Award goes to… You From Another Star. The people have spoken.
I honestly believe that dramas wouldn't be half as fun without fandom. Watched in a vacuum, shows might still be entertaining and engaging, but there's something irreplaceable about the experience of watching something alongside other fans, and feeling that buzz when something you know and love becomes a sensation in the moment. It's just plain fun. And because dramas are part of that immediate feedback loop in the live-shoot system, you can often feel the energy change on the set of a show that's become a hit (as you can for projects that lose steam too). That's the thing I think You From Another Star did so well—its popularity was part and parcel of what made it come alive at the time, and there's something to be said for a drama that really knows how to capitalize on its buzz.
This drama reminded me not to turn my nose up at hackneyed tropes, because as it turns out, you could watch a thousand actresses playing actresses in dramaland and then come across Jeon Ji-hyun as Chun Song-yi: It's all in the execution. It was just sort of eye-opening to be reminded after so many years of drama watching, that one actor's cliché can be another's rediscovery, and that one writer's cancer can be another's heartrending alien-evaporating fate. Sometimes I find myself looking at a season of upcoming dramas and think, There is nothing new under the sun. Bah humbug. But then a drama like this one comes along and revamps every old trick in the book with style and a sense of humor and sweeps me up in the emotion; and then I think, This is why I watch dramas.
Truth be told, there was probably little chance I wouldn't love this show. There's just a scale to a supernatural romance that's extra compelling, and when it's done right, the themes—life and death, what it means to be human—amplify the stakes in a way that genuinely moves me. You From Another Star isn't without its own collection of missteps, mythology holes, and needless plot loops, and it isn't even my favorite drama of the year. But it was fantastic and even magical. No other romance made my heart flutter as fast or stole as many of my tears as this one did, and it's unlikely that I'll soon forget the funny and poignant intergalactic love between an alien and the human who loved him.
I Need Romance 3
And the Good Housekeeping Award goes to… I Need Romance 3. So, how does one go about acquiring one of these live-in maids that look like Sung Joon?
The third installment of tvN's I Need Romance franchise veered a little off the path of its predecessors, which tended to favor reuniting exes and a group of girlfriends who support each other through their dating woes. I Need Romance 3 featured a first-time romance, which was a nice change of pace, and it also shifted the heroine's social circle to her workplace. The latter change was one I didn't like, mostly because it introduced a boss-employee hierarchy into the potential female friendships, and the heroine was a cold character that didn't want to let anyone get close to her.
It effectively shut her off from the group, and though she eventually learned how to be a good friend and joined in on the bonding, it took almost the entire series to get her there. The issue is probably more to do with the heroine's characterization. I spent the first two series being frustrated at the boyfriends, but in this drama, I was frustrated at Kim So-yeon's heroine for being so closed off and emotionally unavailable. I liked that she was flawed and ambitious and I could handle her being a little prickly, but did human emotions really have to feel quite so foreign to her?
What the heroine lacks for warmth is countered by her doting and thoughtful love interest Sung Joon. He plays a pretty effective noona-killer twice in dramaland this year, and this character beats out Discovery of Romance Sung Joon… though in all honesty, both get edged out by Park Seo-joon (See: Witch's Romance). He pursues her despite the fact that she stomps on his heart, and he's there for her even when she's crying over another man. Their relationship isn't exactly healthy, but it sparks, enough that you start to wave off the myriad issues they ought to work out in hopes that they'll kiss and make up. And make up. And make up.
To the drama's credit, they don't sweep the problems under the rug, and to Kim So-yeon's credit, she plays her character with enough vulnerability and depth that we keep trying to understand her and keep rooting for her to wake up before she drives away the only person who would love all of her crazy. I can't say it's the most romantic rom-com of the year or the funniest, or even the cutest, but it is the sexiest. That counts for something, right?
God's Gift—14 Days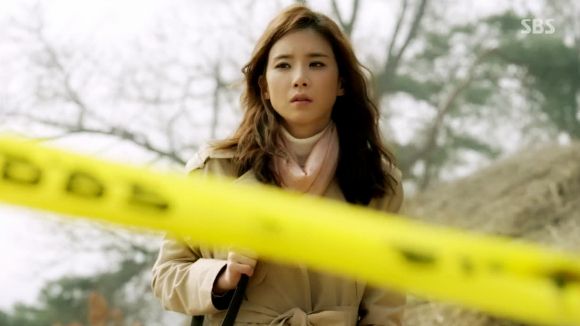 And Mom of the Year goes to… God's Gift—14 Days. Okay, so she may have done everything badly, but she did it with a mother's love!
I was floored when God's Gift premiered, because it was so compelling, this horrifying story about a mother who loses her daughter and gets a chance to go back in time to save her. Right out of the gate it was dark, legitimately thrilling, and so emotionally charged. Lee Bo-young played this mother's desperation all raw nerves and fiercely protective instinct, and I believed every moment of her panic and fear. And who could forget Jo Seung-woo's heartbreaking ajusshi white knight, who was as sweet as he was badass?
He began the series as someone who only seemed tangentially related to the murder plot, but he became increasingly central, to both the deepening mystery and Mom and Daughter's survival. The story was even clever about the time travel, unfolding key events the second time around with more context to illuminate new parts of the murder mystery with each passing day. And with every step closer to the answer, came equal dread that our characters were creating the very situation they traveled back in time to avoid. The timeline kept the pace at a perfectly taut breakneck speed the whole way through, and managed to keep the suspense level impressively high throughout its run.
But anyone who's seen this drama knows where all this is headed: on a downward spiral towards an ending that unraveled a series' worth of good deeds. Here we were, thinking that the universe had sent us back in time to right a wrong and actively correct the course of Fate; what folly to assume Fate wasn't a trickster with a sadistic streak.
It's hard to pinpoint this drama as a success or a failure because it's both and neither, which is why it's a disappointment with so many caveats, and a drama that incites such lament. It speaks to how invested we'd become in these characters and how much we wanted them to save the day (…also maybe fall in love and make a whole new family, but I get that we were on a clock here). It pains me that a drama that balanced action, suspense, mystery, and emotional payoff so well took such a sharp left turn just before the finish line. I'd ask for a chance to go back in time and fix it, but we saw how that went the first time.
Three Days
And the Best Time-Traveler Award goes to… Three Days. Wait, whadduya mean there was no time travel? How did twelve days become three days then?
Three Days is a drama with a really cool one-liner concept: Bodyguard saves president from assassination in three days! Dun dun dun! And then it fails to deliver on that concept quite literally—the story cannot be told in three days, so never mind about Yoochun becoming Jack Bauer Lite. Just kidding! Refunds at the door! While quibbling over the number of days it takes to tell the story seems like I'm picking on a minor issue, it's actually indicative of the drama's greatest failing: Time wasn't used to do anything to any effect in this drama. Which is absurd, because this is a condensed-time thriller. You have pretty much two things at your disposal to achieve maximum thrills: baddies with guns and time.
But the writer somehow chose instead to prolong story time and loosen the tension with an abundance of flashbacks, until it became inconsequential what day and time it was. No matter how fun the action or high-stakes the conspiracy, the show never figured out how to handle its own fundamental premise the right way, and there's no amount of danger you can introduce into your plot to fix a thriller designed not to thrill. I finally stopped counting down to things because every time I did, the show would restart the clock with a new event three days later, which was maddening.
It's too bad, because I really liked Sohn Hyun-joo as the good-bad president and Yoochun as his faithful bodyguard, and the moral quandary he faces when he discovers that his president might not deserve to be protected. I just wish the drama had focused entirely on the initial setup—racing against the clock to prevent assassination—and trust that a laser-focused conflict with a ticking clock would be enough to drive an entire drama. It's not like television hasn't paved the way for you to know that this is possible. In the post-Jack-Bauer era—hell, the post-Two Weeks-and-God's Gift—14 Days era—you should just know better.
Secret Love Affair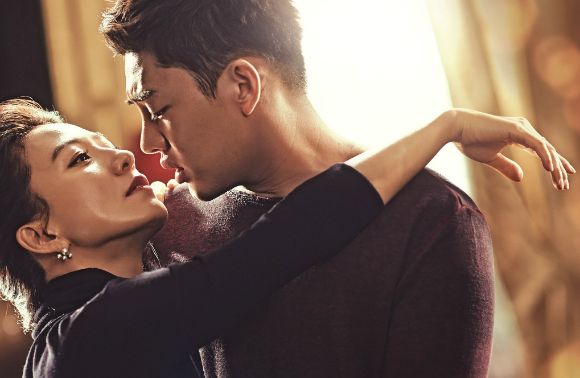 And the Teacher's Pet Award goes to… Secret Love Affair. Extra-special praise earned one private lesson at a time.
Secret Love Affair isn't my usual cup of tea, but I wanted to try something different, and was enticed enough by Yoo Ah-in and Kim Hee-ae's pairing in a romance to give it a shot. It's a beautifully crafted show, and I can see why the writer-director pair has developed a following. But while I appreciated it artistically, it wasn't a drama that moved me, mostly because I felt like the director was being purposely withholding. Shots with backs to the camera on emotional beats and close-ups of ears when I want to see eyes are conscious choices to withhold information, reminding us at every turn that there's something going on that we're not privy to. It's an interesting choice and one that marks the director's presence in a very strong way, and it achieves a shift in the storytelling through style alone.
But that stylistic choice also separates me from the characters, in a case where I'm already struggling to empathize with them. Kim Hee-ae turns in a really strong performance as a powerful woman caught between a suffocating job (as a fixer for a chaebol family) and an affair with brilliant pianist. The thing is, I totally see that she's suffocated, and yet I feel no sympathy for her—this is a prison of her own making, and she chooses to be married to a man she doesn't love or respect, and chooses to clean up after the disgustingly wealthy family that gives her the lifestyle and the power that she enjoys. I never felt like she was stuck in a place she didn't walk into voluntarily with open eyes, and spent a lot of the drama not understanding why she just stood there and took it all.
I actually expected the show to be more about music, but in the end it was far more about the vast difference in social classes and a wealthy woman discovering a newfound sense of freedom in a love affair with a poor starving artist. When they connected over music, the chemistry was credible and at times even moving. But overall I found the relationship to be rather patronizing, and I kept wondering why Yoo Ah-in was ordered around and treated like a second-class citizen just because he was poor. Coupled with the fact that she could've (and should've) left her husband eons before she ever cheated on him, I had a hard time being sympathetic to the central character and being swept up in her raw emotions. The show was beautiful, but it left me cold, and I would argue that that effect was done on purpose. I admire the performances, but call me crazy—I'd rather feel every beat alongside my characters, even if it's to cry and wail and gnash my teeth, than to be kept at arm's length from them.
Witch's Romance
And the Fanfiction Award goes to… Witch's Romance, for most closely resembling fanfiction in the first place so that nobody needed to write any.
There were a lot of noona romances in dramaland this year, but Witch's Romance was by far the cutest, and looking back on it makes me want to reach for old episodes to re-watch. It was entirely Park Seo-joon's doing—he's almost too adorable to be real, which I guess is the point. I mean come on, a lovesick puppy boy next door at your beck and call? What's the catch? If anything, that may be the one downside of this drama—he's a little too perfect, and there's not much conflict to speak of, save an ex-boyfriend who rolls back into town and overstays (and stays, and staaaaaays) his welcome.
There may have been a workplace drama in there and a really funny bromance on the side, but the entirety of the drama is the romance, and whether or not the heroine will take a chance on a man who's fourteen years her junior. One of the most memorable drama scenes all year is the moment when she discovers his age mid-makeout-session, and horrified, she imagines being sentenced to jail time had she had met him when he was a minor, and promptly kicks him out of bed. I like that their relationship is just about them denying their chemistry until it can't be denied, and then working through the things that might keep them apart in the real world. Admittedly the solutions were a little pat (Did he really need to be a future geeenius doctor, really?), but they were open and honest about the things that mattered, which counted for a lot.
The thing I like most about Witch's Romance is probably the fact that Uhm Jung-hwa plays an alpha girl who's smart and successful without needing to make her cold and unfeeling, and that the hero finds her success sexy instead of threatening. She can be both strong and vulnerable without those things needing to be contradictory, and best of all she's got a sense of humor about herself. Uhm Jung-hwa may not be subtle, but she oozes charm and she can be so funny with the tiniest of moments. They had good romantic chemistry, but I think it was their comedic chemistry that defined them. That's why even when the story is utterly forgettable, Witch's Romance stands on the charisma of its two leads actors. Meow.
Feel-Good Day
And the Best Personality Award goes to… Feel-Good Day. You're not so hot, not so funny, and not so interesting, but you have the best personality. Really. It's swell.
I don't often catch the longer 50-episode weekend family dramas, but I thoroughly enjoyed Feel-Good Day for being so light and angst-free. Of course, that was also the source of its downfall, because as it turns out, a drama without conflict is kinda boring. I could see what SBS was going for when it trotted out its new makjang-free policy with Feel-Good Day as its flagship show—it favored heartwarming family moments, had sitcom-style conflicts that were more endearing than problematic, and was populated with only good people. Okay, so one of the moms was shrill and one of the dads was a deadbeat, but only in the nicest way possible. And even the leads were as vanilla as they were sweet.
But I found that the hour always passed quickly because the little everyday situations were fun and down-to-earth. I mean, when your hero gets upset at being oppa-zoned and retaliates by calling himself oppa in the third person every other word like a dog with a bone, it's just cute. And I loved that Mom got a loveline of her own, which was one of the highlights. Had the conflicts been just a little more amplified (or heck, longer-lasting), the story could've gained more momentum. But strangely the more interesting conflicts—like two brothers loving one girl—fizzled out rather quickly. I was glad it didn't get the melo treatment, but I also didn't want to ignore the conflict, which is what the show seemed to do.
The drama was pretty much a commercial failure, which wouldn't be so sad if SBS weren't scaling back on their weekend drama programming a year later, as a result of the non-makjang dramas not doing so well in the ratings game. Feel-Good Day probably went too far in the other direction, but it did live up to its name—it was genuinely feel-good. Too bad nice dramas always finish last.
A New Leaf
And the Most Improved Award goes to… A New Leaf. I know nobody really wants to say it to your face, but the old you kinda sucked.
This show was riddled with issues, but it's strangely memorable, maybe partly because it feels a little unfinished. But there's a lot to be said for the power of Kim Myung-min, and the unconventional story that's part workplace drama, part transformation drama. Kim Myung-min is in top form as a one-man powerhouse who goes from ethically challenged shark lawyer to sudden amnesiac nice guy. One day major corporations are quaking in fear of his every move, and the next day he wakes up with a sense of humor and a moral center. The show is wryly funny too, and Kim Myung-min's deadpan amnesia face is now one of my favorite things ever.
So it's disappointing that what ended up happening is that we sort of wound up and up and up for a pitch that never went anywhere. Instead of making the rich human drama the focus of the story, case after case took center stage, pushing most of the character advancement and fun interactions to the periphery, making the show feel incredibly slow. And the relationship that I thought was going to be primary—between Kim Myung-min and his idealistic intern Park Min-young—was left sadly undercooked. It didn't even need to be romantic (even though I actually liked them together), because I would've settled for more development of the human kind.
It says something that at the end of the drama, the only emotionally satisfying resolutions were between a man and his dog. Okay, so there's also bestie Oh Jung-se (so adorable, this bromance) and his dad. But even those last two took forever to get to, and every week I found myself staring at the one or two measly breadcrumbs of emotional satisfaction I was given and wondering why I was still in the game. The answer is Kim Myung-min, obviously, but even knowing that, I was cross about it all the same.
A New Leaf is a fascinating drama world rich in conflict, populated with some amazing characters who could each spin off into a separate drama of their own. But they just existed, and I feel like all we did was peek in for a while and then walk away, without ever stopping to see their growth through to the end. And that's not entirely because the series got cut short, because that pace and feel was true throughout its run. I have a lot of lingering regret about this show, because with characters like these, you just want to rewrite the hell out of it and do it over the right way. Or I could go get myself a brain injury and forget I ever watched it. That'd be faster, and I might get a better personality out of it.
Doctor Stranger
And the Good Attendance Award goes to… Doctor Stranger, for showing up every Monday and Tuesday when you were scheduled to air. You were technically a drama. Good job.
INTERMISSION
Lee Seung-yeol – "날아" (Fly) from the Misaeng OST [ Download ]
Audio clip: Adobe Flash Player (version 9 or above) is required to play this audio clip. Download the latest version here. You also need to have JavaScript enabled in your browser.
(Could this review BE any longer?)
You're All Surrounded
And the Most Teamwork Award goes to… You're All Surrounded. It wasn't very good teamwork, but you sure did a lot of it.
You're All Surrounded is a drama that was always two percent shy in everything that it did. When you add that up, it turns out to be a pretty big percentage of flaws, but my overall impression remains a happy one, mostly because of the way the ensemble cast came together and delivered some genuine laughs. As characters the rookie cops were all quite hapless and it took nearly the entire series for them to click, but the actors were a different story, from Cha Seung-won and Lee Seung-gi's odd-couple antagonistic fireworks, to the rookies who were forced to be a team and miraculously managed not to get each other killed in the process.
Tonally, this is a show that vacillated between some really dark subject matter and some really broad humor. On the one hand, switching from one extreme to the other didn't feel odd within the context of the show, because you have cops dealing with life-and-death cases, while stumbling around on the job because they're just finding their legs. But the comedy was the show's strength, and the heavier plot turns often felt unnecessarily weighty when what I really wanted was more team bonding and begrudging life lessons from their gruff boss.
Part of that duality was due to the fact that Lee Seung-gi was playing the hero of a revenge tale while the rest of the cast was in Police Academy. And that's funny in its own meta way, but it also gave the drama a bit of a split personality. At first I didn't like grumpy Seung-gi because he never smiled, but then he began to thaw around Go Ara's character, and they became a really cute pair of partners. And because it had a strong cast, every pairing was endearing, from the romances to all the many bromantic configurations.
I do remember how stupid the villains were and how unsubtle the conflict was, but You're All Surrounded also made me laugh a lot, and it made me care about a group of rookies becoming good detectives. I even preferred their mundane cases where they had to do the painstaking police work the hard way, and some of my favorite stuff was their epic failures, because their growing pains and subsequent development felt earned and satisfying. Sure, almost everyone in the cast has done better work in better dramas, but they also made for a winning combination here, enough to make me wish we'd spent more time relishing in the little moments. A little less murder and a little more hijinks—isn't that just a win-win for everybody?
Flower Grandpa Investigation Unit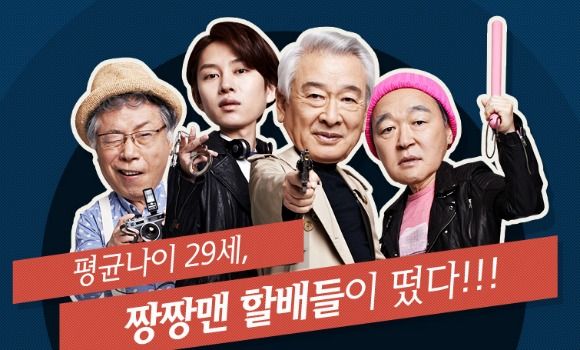 And the Lifetime Achievement Award goes to… Flower Grandpa Investigation Unit, 'cause age before beauty and all that.
This was a silly little comedy on tvN that rode the wave of success from the hit variety show Grandpas Over Flowers by creating a short drama about detectives that rapidly age into 70-somethings, and have to figure a way back into their hot young bodies. To wit: Choi Jin-hyuk becomes Lee Soon-jae, Park Min-woo becomes Byun Hee-bong, Park Doo-shik becomes Jang Kwang, and Heechul… well Heechul stays Heechul, which is part of the mystery and a source for much of the comedy.
And when I say this show is silly, I really do mean silly—the supernatural science consists of a vat of goo, and life can be prolonged or shortened by bottling other people's youth. It's amazing that anyone ever certified these boys to become cops in the first place, and even more ridiculous that after becoming halbaes, they just get to continue on the job. But those are minor things, because what I find most disappointing about this show is that it wasn't very funny.
Granted, they do get a lot of mileage out of the ONE joke—that Heechul is the same age as Lee Soon-jae and gets to talk to the grandpas in banmal. It's the kind of dynamic that never gets old, and it's totally why I tuned in. But it's also just one joke in a show that should be a laugh-a-minute, balls-out comedy; instead it's surprisingly subdued, poorly executed, and kind of stingy with the gags.
But here's where the drama is surprisingly good, almost unnecessarily: Its internal mythology and weird science totally makes sense, is thematically relevant and even poignant, and comes full circle in a narratively satisfying way. It's actually clever and carefully planned, and totally wasted on a drama this silly. I mean, if half the other supernatural dramas out there had as much follow-through on their own rules of magic, I'd be thrilled. And on the flipside, Flower Grandpa Investigation Unit doesn't even merit this much sense, because its execution is so slapdash. It's the like the anti-God's Gift—14 Days, where the entire drama is half-witted and absurd… until suddenly at the end, when it pulls in a shockingly satisfying and meaningful ending. If only drama logic could be sucked out of one show and injected into another one. Surely there's a vat of goo and a formula in the works for that.
High School King of Savvy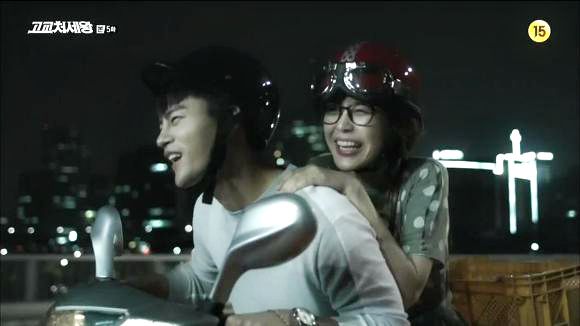 And the Best Boss Award goes to… High School King of Savvy. You were a sham of a boss, but everyone got to slack off and make time for office romance, so yay?
Here are my opposite-yet-coexisting feelings about High School King of Savvy: I love it, but it's all wrong. The thing about this drama is that I enjoyed it so much in the day-to-day—the mistaken identity premise was golden, the office comedy was hilarious, and every little side character made damn sure their minute of screen time would be used—but it totally failed to get me onboard for the happily ever after. And that's kind of important in a romantic comedy. I'm still confused as to why family members signed off on a wedding between an adult and a high school student, because I'm still sitting here screaming, MISTAAAAAAAKE! Would it have killed them to go with convention for once and let him go abroad and come back and propose when he's old enough to drink? Is that asking for too much, really?
But I also completely love the free-wheeling ad-libbed style of this drama—the performances had this fantastic energy to them because the director would just let the camera roll and encourage the actors to riff on their lines to their hearts' content. Sometimes the result was messy and scenes were bloated, but overall it put the drama off-kilter in a really good way. It felt purposely unpolished—crude, but fresh. And it made me appreciate Seo In-gook in a new light, because while I had always liked him, in High School King of Savvy you could actually see his chops in action, and he was so great. I can't call it his breakout role since he was already a rising star, but it was certainly his breakthrough, and I can't wait to see him take on more rom-coms because his comedic timing is aces.
That isn't to say that Lee Hana was chopped liver acting opposite him; I was actually far more surprised at her transformation for the role. She completely committed to playing the socially awkward secretary, perhaps a little too well, because I found her genuinely odd. It was fun to encounter a different kind of drama heroine altogether, though I have more mixed feelings about the character overall because I disagreed with a lot of her choices.
I'm a huge fan of noona romances, but they have to pull their weight in making the relationship believably earned in the real world—that's kind of the central point to the conflict when you date someone much younger. You have to convince me that I could find myself making the same choices if given the circumstances, but High School King of Savvy threw that logic out the window, and as a result left a good chunk of its audience behind. I feel like this show decided at some point, All we need is True Love and nothing else matters! And then the audience watched the couple barrel on towards the finish line without going back to fix any of their giant elephant-in-the-room problems and went, No, no, that other stuff? It totally matters! It's just a shame that it's a case where I wanted to be won over, but they didn't even try.
Marriage Not Dating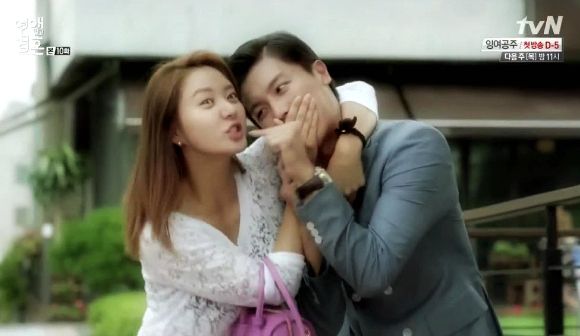 And the award for Best Acting goes to… Marriage Not Dating, for that Oscar-worthy performance as a couple in love when you secretly hated each other's guts. It must have been excruciating.
It takes a lot to stand out as a rom-com in a year filled with rom-coms, but even without fancy bells or whistles, Marriage Not Dating was one of the best-written shows of the year. It was a straightforward romantic comedy filled with sharp dialogue, clever storytelling structure executed through adept directing, and an effective update on the timeworn contract dating trope. I mean, in what dramaverse is the mother-in-law (from your impending fake marriage to your fake boyfriend) someone we're all rooting for the heroine to become best friends with? And how many drama characters actually get indicted for stalking? It felt like a drama written by somebody who had spent a lifetime watching romantic comedies, who found witty ways to twist our expectations at every step of the way.
I'd like to think that solid genre writing like that would have gotten recognition no matter what, but truthfully the drama could've fallen apart if Han Groo and Yeon Woo-jin weren't so lovely together. It's as if they each swore to themselves not to waste a second of this huge opportunity to headline a drama, and it showed. They were uproariously funny and completely committed to looking ridiculous for laughs, but they also brought heart to situations that could easily have been played for jokes alone, making me feel deeply for the people behind the actions. Han Groo was especially good at this—no matter what insane act of regret she was committing onscreen, I was always on her side and aware of what she was feeling beneath the surface. She made me want to bail her out of a jam and be her friend, not least of which because she was surrounded by so many lousy ones.
I don't think I laughed so hard per minute, per episode all year long as I did while watching Marriage Not Dating, and for that alone I can forgive a lot of its flaws. But I loved that the drama managed to also be a thoughtful take on marriage, dating, divorce, and family, and gave us wholehearted reasons to root for one character's divorce as much as another character's marriage. In giving us a picture of romance where there's no one set prescribed way to be happy, Marriage Not Dating managed to be progressive while still embracing tradition, and that, frankly, is damn impressive.
Reset
And the Most Oppa Award goes to… Reset. You're really not the best oppa, but you are the most oppa.
I probably wouldn't have watched this drama if it weren't for Kim So-hyun, who is really coming into her own as a young (and soon-to-be-leading) actress. I looked forward to watching her play a teenage ruffian in this dark thriller, about a rogue prosecutor (Chun Jung-myung) and a teenage girl whose fates are intertwined in a mysterious string of murders. And I loved her in the role… for the few episodes where they bothered to make her character really interesting and central to the story. But then the focus shifted away from her, and got bogged down by a really convoluted mystery that might've done better in a longer format. But at ten episodes, I felt like my favorite character got shafted for detours in unraveling a plot that was needlessly complicated.
That said, I really liked the odd-couple relationship between the ajusshi prosecutor and the streetwise girl who needed a family. It wasn't romantic—they were just cute together and she was just precocious enough for her age to make you worry, while he was a noble tortured hero with a savior complex (who sort of gets a cosmic second chance to make up for not being able to save his first love, who looks just like Kim So-hyun). When he began to look out for her and then she found a family with his assistant prosecutor team, the show was so adorable. She's the kind of kid who instinctively lies and steals and carries a switchblade, but then these people are so genuine and nice to her that she finds it a little alien. But because of them, she eventually learns to trust people again.
The show is memorable because of her character, but ultimately the ratio of sweet character moments to murder mystery unpacking was far too high in the wrong direction, and I eventually finished the series because it was short, but felt that it mostly abandoned the things I liked about it at the start. I get what they were going for when they sent the hero on an undercover mission, but the move separated our two main characters for a considerable stretch of time, which was frustrating. It's probably a case where I loved the secondary character more than the main character, which is maybe not the average or intended viewer response, but what can I say, I'd rather watch the drama where the badass teenage girl is the hero.
Discovery of Romance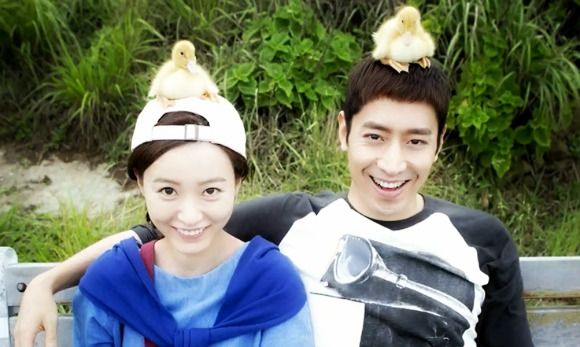 And the award for Best Sandwich goes to… Discovery of Romance. Eat your heart out.
This was one of the pleasant rom-com surprises this year. It was a year that tended to favor the main pairings—not many second leads got a chance to shine, that is, tear our hearts out and stomp on them (in a good way!). Even Discovery of Romance doesn't totally fit that bill, but it comes the closest in giving us a love triangle that was believably conflicted, and messy without veering into melodrama.
Jung Yumi's character did incite some negative reactions, but I loved her from start to finish. Maybe I just prefer heroines who are open about doing what they want and admit to being selfish (within reason), over ones that quietly suffer in self-sacrifice. Of course it'd be a different story if she had dated both Eric and Sung Joon at the same time with blatant disregard for their feelings, but I thought the drama did a good job of balancing the romances past and present, and making her struggle to move on very real. Because who could move from Eric, really?
But what made the drama feel fresh was its interview, mockumentary-esque style, with characters suddenly breaking the fourth wall without warning and explaining their actions to us. The fact that they were clearly unreliable narrators arguing their side of the story just added another layer. Some of my favorite moments were the leads lying to the camera and struggling to hide the emotions that were brimming under the surface, or a dramatic moment suddenly being undercut by acknowledging the presence of the camera. I wish the device had been used more than it was, in fact, because the end result was a little safer and more conventional than I wanted, and far more screen time was used up in traditional rom-com storytelling fashion.
Still, I found the romance compelling, the narration engaging and clever, and the friendships truly endearing. It's probably not a surprise that Yoon Hyun-min and Kim Seul-gi got more attention for their side romance than the leads did, because they got the funniest lines and really ran with the friendship chemistry. The friend moments were probably my favorite parts of the drama, like Eric's outburst at the friends for having left him in the breakup, or Kim Seul-gi's stalwart loyalty to Jung Yumi through everything. We saw a lot of share houses in dramaland this year, but theirs is the only one I actually wanted to live in.
Plus Nine Boys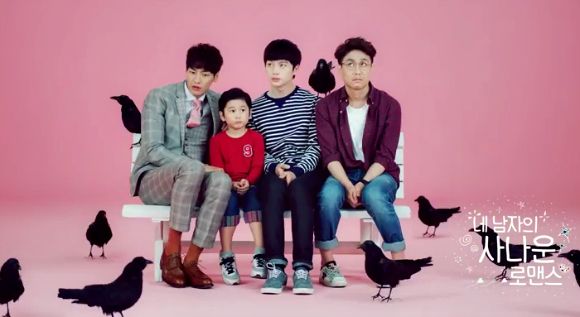 And the Music Video of the Year Award goes to… Plus Nine Boys. So this is what a sixteen-hour music video feels like.
I wish the concept of this show had actually been used, because had we gotten a story about four haplessly unlucky boys, it would've been more fun. Instead the drama pretty much forgot its premise after the initial setup, and just gave us a regular drama about four regular boys who happened to be ten years apart in age. There were no curses, imaginary or otherwise, which was a pretty big letdown given how central it seemed at the start. The one thing that Plus Nine Boys had going for it was its focus on four boys in one family, which had a touch of weekend family drama familiarity (though usually there it's daughters), while maintaining a youthful tvN vibe.
The drama's best achievement is its music, which isn't so surprising given that the PD comes from a music program background. It felt like a drama built around a soundtrack, where more care was put into musical selections than into the script. The indie music playlist was a storytelling device that told us every emotion of every scene, and entire episodes were created around specific songs, like a painstakingly crafted mix tape. I loved the music in the drama, and this is a case where the writing was actually elevated by the soundtrack (and a little outshined by it, truthfully).
But we got a winning combination in Kim Young-kwang and Kyung Su-jin, and I was especially delighted to see Kyung Su-jin break out in this role. They had such a sweet friends-to-lovers arc, and their romance always put a smile on my face. Kim Young-kwang totally wins for most smitten puppy, with some of the best longing looks I've seen all year. I'm also just partial to the rom-com setup where a boy is in love with his best friend, so I found their story to be especially endearing. It certainly made up for Oh Jung-se's storyline, which was pretty depressing for most of its run. The saddest part is that I love Oh Jung-se and love him most when he's funny, and he had to spend most of the drama being kicked in the heart and being too sad to put on pants. He did perk up eventually, but I never forgave his love interest for making him sad in the first place.
This was a drama that sort of fell apart on a conceptual level but managed to hang on by its romances. It didn't deliver on its fresh concept even a little, and was often more like a meandering music video than a drama. And yet, I would totally re-watch Kim Young-kwang and Kyung Su-jin fall in love over and over again. Better yet, maybe someone can make me the music video version of their Plus Nine romance, and I can have the best of both worlds.
Secret Door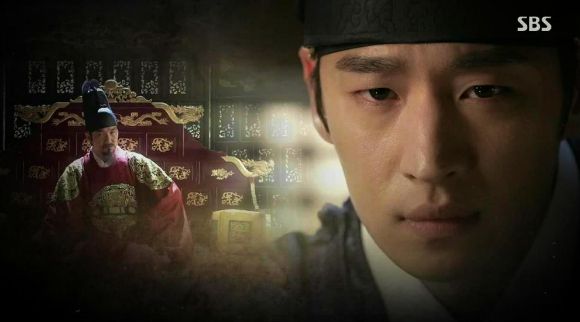 And the History Achievement Award goes to… Secret Door, for making history more exciting than fiction. Apparently this is possible.
I never would've thought that a fusion dramatization of an event in history could somehow be more boring than reading the dry historical texts… until this drama. Secret Door is probably my biggest disappointment of the year, because I couldn't help but have sky-high hopes for such a well-cast retelling of one of the most tragic and twisted events in all of Joseon's history. What I'm truly baffled by is how someone could take up the story of Crown Prince Sado and fail to make it emotionally harrowing, especially in the final hour—the hour where his own father orders him to die a slow and painful death trapped in a rice chest. But really, it's because Secret Door went wrong long before we got to the finale, and by the time we arrived at the moment we'd all been waiting for, there wasn't much left to do but watch it limp towards the finish line.
Its first mistake was in trying to twist our expectations so much that it sapped all the interesting parts of Sado's story away. Instead of painting him as a complex and volatile person with shades of gray, the drama went through hoops to make him pure as the driven snow and singularly focused on equality as his political agenda, at the expense of everything else. The king began in a more interesting place as a conflicted man on his way to becoming a despot, but even he eventually became a political puppet and receded into the background. The father-son conflict was flattened as ministers took away their agency, and by the latter half, even the more interesting ministers who had carried all of the conflict were all dead. Is it any wonder that the audience stopped caring?
At the end of the day, all I really wanted was to sympathize with Sado and then have my heart wrung dry when he was put to death. That's it—that's the nugget of the entire drama, and had that one thing been managed in all its horrifying and emotionally gripping grandeur, I would've forgiven so many of the drama's other flaws. To add insult to injury, it's a conflict that history hands you on a silver platter, and that everyone in the audience knows going into the drama. And the worst part is that despite the drama losing steam, it was acted with such conviction that I was made to care about the characters, only to get to the end and not get the catharsis I was waiting 24 episodes to get.
I couldn't understand why Secret Door didn't want to dig deeper underneath the factional politics and conspiracy, into the source of the tragedy. Because what could be sadder than the story of a son who can never figure out how to please his father and literally dies trying? I wanted to be chilled to the bone by a king who could choose to kill his son, and I wanted to weep for Sado's loss. But the drama didn't even venture to answer the questions it raised. What am I supposed to do with this bucket of tears with your name on it, Secret Door? It's not often that I go looking for tragedy in dramaland, but apparently thwarted sad endings can be even more dissatisfying than thwarted happy ones. I guess I'll just go back to the history books for my closure, because at least those were enthralling enough to keep me up at night.
Cantabile Tomorrow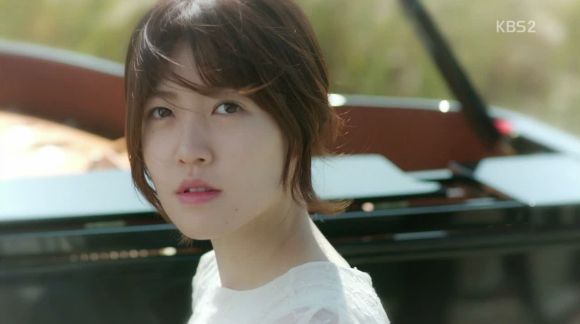 And the Boy Scout Merit Badge goes to… Cantabile Tomorrow, for your courageous leadership in times of great distress. And learning how to play with others.
I wouldn't say that not seeing the original Nodame Cantabile in either form was an advantage, but judging from the divisive fan reactions to Cantabile Tomorrow, I was actually happy to be able to approach it with a clean slate and just watch it as a drama without getting tripped up on how it adapted the source material. It was a light, enjoyable watch from start to finish, but it's also a show that suffers from some stark tonal dissonances, and ultimately it has little staying power once it's over.
I found that my biggest complaint was that the series felt too juvenile—not in the age of the characters, since I've seen plenty of high school dramas that were heavier, but in the overall tone and plot. I say this as someone who actually enjoyed the heroine and her struggle to let go of her inner child and become an adult—I just wanted everything else to fall in line with that growth and self-discovery, but so much of the show was about inconsequential orchestra machinations and broad comedy, and when we built to the final conflict only to find out it was about studying abroad, I just thought, That's it? Perhaps I had taken leaps in imagining that we'd get to see them take to the world stage together and perform in some breathtaking piano concerto, but that's the payoff I was waiting for, and I was sad when I didn't get it.
Despite her character being more inconsistent, I felt much more when we finally got to the heroine's trauma and explored its roots. There was an immediacy to her piano playing that just worked for me on an emotional level—something that I didn't always feel when the hero was conducting, perhaps because he had less to work through and overcome as a character. There were so (so) many things about Nae-il that I didn't understand, but when she played the piano, she became a different person, and I felt that the show was at its best when it captured her emotional turmoil musically. In those moments, the tone hit upon her fear and her passion so well that every time we then reverted to silly campus hijinks, I was disappointed all over again. I think it's a case where the show missed its own strengths, or perhaps failed to balance the two very different tones that were coexisting rather awkwardly.
I can't fault the drama for not being serious, since it was clearly going for broad humor and a light touch. But I do lament their choice to do so. It's a shame because once it ventured into deeper conflicts, I really started to fall for the musical execution that was elevated by the narrative. I saw far more potential in the dramatic arcs and felt that the wonderful leads were wasted on too many silly plot turns; I wanted more for them, as characters and as actors, than Cantabile Tomorrow was going to deliver. It's hard to let go of because the drama gave us tastes of what could've been, in scenes where Joo-won draws a moving performance out of Shim Eun-kyung and they share a transcendent moment. If only that had been the rule and not the exception. Coulda, woulda, shoulda.
Liar Game
And the Mathlete Award goes to… Liar Game. You're super geeky, but someday you'll probably rule the world, and then everyone will be sorry they were mean to you in high school.
Since I have a hard time recalling anything about this show other than Lee Sang-yoon making my heart race, I gave up trying to write a coherent review. Here's my Ode to Ha Woo-jin instead:
Ha Woo-jin the Conman
(To be sung to the tune of Frosty the Snowman)
Ha Woo-jin the conman
Was a cranky surly guy
With a rap sheet and a Ph.D.
Who could tell when you would lie
Ha Woo-jin the conman
Is a fairytale, they say
He was made of ice but the people know
How he came to thaw one day
There must have been some magic
In that Nam Da-jung he met
For when she picked him up from jail
He became her loyal pet
O, Ha Woo-jin the conman
Was as smart as he could be
But the people say he would bark and bite
If you messed with Da-jungie
Thumpity, thump, thump
Thumpity, thump, thump
Look at my heart go
Thumpity, thump, thump
Thumpity, thump, thump
Woo-jin I love you so
Ha Woo-jin the conman
Knew the Liar Game was rigged
So he hatched a plan that involved some math
Saved his team from being tricked
Ha Woo-jin the conman
Was often in a scrape
But he had some guts and a loan shark bud
And luck for goodness' sake
He led them down the maze of games
Against the mastermind
While chasing the conspiracy
Leaving no cash left behind
For Ha Woo-jin the conman
Had to hurry on his way
But he waved goodbye saying, "I'll be back
And I know how to win this game"
Thumpity, thump, thump
Thumpity, thump, thump
Look at my heart go
Thumpity, thump, thump
Thumpity, thump, thump
Woo-jin I love you so
Misaeng
And Employee of the Year goes to… Misaeng. YES? YES!
Before Misaeng came along, I wondered if I would even have a favorite drama of 2014. I had tentative hopes that the popular webtoon would spawn an adaptation that was entertaining and worthwhile; what we got was even better. Misaeng was that perfect balance of artistically accomplished but totally accessible, and in no time it became a smash hit that everyone was talking about. The drama about the everyday lives of office workers managed to capture modern urban life in stunning, uncomfortably microscopic detail, and made a great many people feel for the first time as if a snapshot of their lives had become the focus of a drama. The phrase I see most often when anyone writes about Misaeng is "identify with," and it's no wonder that the manhwa's cult following had long since dubbed it "The Salaryman's Textbook."
The drama is about a rookie salaryman navigating the corporate microcosm, while having to learn an entirely new language and the set of laws that govern office politics. But the reason it manages to speak to everyone who isn't a paper-pusher at a large corporation is because at its core, it's about an outsider on the fringes trying to figure out how to become a member of society. Jang Geu-rae so desperately wants to belong, and because he has no other aspirations, it's his defining characteristic—we're all Jang Geu-rae, not because we're rookie underdog salarymen, but because we're all searching for our place in the world.
It's in the execution that Misaeng separates itself from the pack—in telling its story, it captures the ambiance of urban isolation, and the result is as bleak as it is beautiful. I both love and hate the director for making me feel it so acutely—sometimes I feel like I need a drink just to get through Jang Geu-rae's day. The choices are spare and deliberate, and every extra beat before we cut away from someone adds this underlying disquiet that just builds and builds over time, and I find myself wondering why I have a gnawing pit in my stomach over how a PowerPoint presentation will be received, as if the fate of the universe were riding on it. Which of course it's not.
But that's the intangible magic of Misaeng, because even in its banality, it's a heightened world. It's utterly unrealistic how high the stakes are at every turn, and we're made to feel as if Geu-rae being cast out from under Chief Oh's protective wing would be a fate worse than death. But because that's how it's directed and how Lee Sung-min and Im Shi-wan play every moment—as if standing on the edge of a precipice—it's how we feel. And the fact that their tense, funny, and heartbreaking (and fated!) boss-employee bromance is the central relationship of the story just seals my love for the show. Admittedly, Misaeng can be hard to watch sometimes—it makes me feel adrift, alone, and emphasizes just how much our struggles are our own. But it also gives me hope too, that despite that fact, human connection is still worthwhile and gratifying, and sometimes, life-changing.
Pinocchio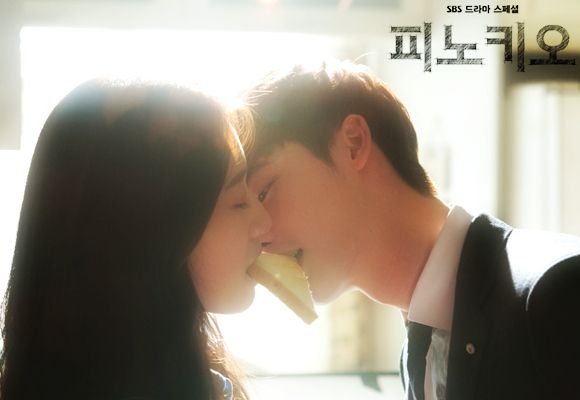 And the Toastmaster Award goes to… Pinocchio. You pwned that toast.
This is the only drama on my list that isn't over yet, but it's far enough along and I don't expect it to suddenly take a nosedive in the final hour or anything. (Unjinx! Unjinx!) More than anything, I'm grateful that Pinocchio ended up being a pleasant way to close out 2014. Because of a handful of good bookend shows on either end, it leaves my overall feelings about the year warm and fuzzy. Is this holiday good cheer I'm having? I must be delirious from all the review writing.
What I'm most pleased about is that writer Park Hye-ryun (I Hear Your Voice, Dream High) didn't break her streak with Pinocchio. Her shows just speak to me—she writes consistently strong and interesting female characters (in this case enough to undo the Heirs Effect and remind me that Park Shin-hye can be so lovable in comedic roles), the pace of her plot is fast and furious, and while the idealistic morals of her stories can be simplistic, they're so sweetly earnest and uplifting. After some of the disappointments of the year, I'm even more appreciative of solid emotional payoff, and a deliberate march toward character growth.
Admittedly, Pinocchio doesn't quite capture my heart the way that I Hear Your Voice did, and I do find it thematically repetitive in comparison. But I really enjoy the characters and the romance, which owes a lot to the chemistry between Lee Jong-seok and Park Shin-hye; there were many winning couples to contend with this year, but they hold their own. I expected the unconventional adopted-uncle-and-niece relationship to be more complicated, but instead it turned out be a source of heartwarming and comedic family bonding, due to the sweetest Dad and Grandpa ever. That's where the drama shines—in its family relationships, including the tragic one between the hero and his brother, which drives the central conflict with tension and pathos.
The greatest weakness is that the story relies far too heavily on coincidence to drive its plot, and it's extreme enough that hanging a lantern on the concept of six degrees of separation doesn't make it feel any less happenstance. And we're also in the thick of a nobly sacrificial arc that puts a damper on my good mood. But overall the show is beautifully shot, populated with colorful characters, and is a great balance of comedy and drama. The broadcast news setting works well for the themes that the show wants to explore, and I actually find that the fictional Pinocchio syndrome is unnecessary, given that a reporter's duty to the truth is weighty enough without having to force the heroine's hand.
Where I find the Pinocchio device better used is in the romance, since it leads to early and embarrassing confessions, and one side is completely incapable of denying feelings. The reason it feels slightly less fresh is because it's same ultimate effect we get from a mind-reading hero in I Hear Your Voice—neither heroine gets to hide her feelings from a smitten (and adorable) Lee Jong-seok, which steers the romance in similar ways. Of course, the return of a familiar dynamic is preferable to plain ol' denial any day of the week. If only Pinocchio were a contagion we could let loose on all of dramaland.
~
Thanks to gummimochi and HeadsNo2 for rounding out another eventful year with us (and surviving!), and thanks to the new minions who joined us in 2014 and helped us cover so many shows and updates throughout the year: awcoconuts, dramallama, Fanderay, LollyPip, odilettante, purplecow, and Saya, we're terrible overlords. We don't thank you enough for being so awesome.
And of course, thanks to javabeans and all our readers here at Dramabeans, for making work feel like play every day of the year.
Coming up next in our Year In Review series: a visit from Santa, and Editors' Picks! Stay tuned.

RELATED POSTS
Tags: 1 show to rule them all, A New Leaf, Cantabile Tomorrow, Discovery of Romance, Doctor Stranger, featured, Feel-Good Day, Flower Grandpa Investigation Unit, God's Gift – 14 Days, High School King of Savvy, I Need Romance 3, Let's Eat, Liar Game, Marriage Not Dating, Misaeng, Pinocchio, Plus Nine Boys, Reset, Secret Door, Secret Love Affair, Three Days, Witch's Romance, year in review, year in review 2014, You From Another Star, You're All Surrounded