Healer: Episode 3
Today gives us a pleasantly funny, lighthearted episode with just a tinge of a melancholy undercurrent—an undercurrent I'm sure we'll be seeing more of as we delve deeper into the mystery that binds together our cast, and the key dates in the past that mark their connection. I'm really enjoying the spirit of tongue-in-cheek fun that marks the present day, because it's a nice counterbalance to the moody flashbacks that hint at an ominous past.
SONG OF THE DAY
Linus' Blanket – "Bye Baby" [ Download ]
Audio clip: Adobe Flash Player (version 9 or above) is required to play this audio clip. Download the latest version here. You also need to have JavaScript enabled in your browser.

EPISODE 3 RECAP
Moon-ho dreams. His childhood self runs through the hospital and comes upon Myung-hee noona cradling a newborn baby, looking happy. He smiles tentatively at the baby and offers a teddy bear—just as the baby blanket flies into the air, and suddenly the baby's gone. Then, so is Myung-hee.
Adult Moon-ho struggles in his sleep while Child Moon-ho races through the streets… turning into Teenage Moon-ho, whose legs sink into the ground that's turned to mud. He forces his feet onward until he arrives at home, finding it ransacked, and that teddy bear torn open.
With a jerk, Moon-ho wakes up in a cold sweat. He steps into the shower fully clothed, shaken. "My dream is to stop dreaming," he tells us. "After that day, I keep dreaming that dream. It will be gone for months, but every time I think it might be forgotten, without fail it comes back to me. Because I have committed a sin."
In the morning, Young-shin regales Dad with a recounting of her heroic rescue of the suicidal unni, whose name is Yeon-hee. She's so busy with the re-enactment that she doesn't notice the suspicious guy dressed in black who slips into her house—Jung-hoo's arrived for more investigation.
She pauses momentarily when Dad asks what she said to make Yeon-hee listen to her, then glosses it over as some random nonsense she made up on the spot. Guess she doesn't want him feeling bad about her sad history.
Jung-hoo darts for cover when Yeon-hee emerges from her room, but Young-shin doesn't notice and keeps talking. She tells Dad to keep watch over their guest while she's at work because they never know when a suicidal person might try again. Dad shushes her before she puts her foot in it (even more), and they ask Yeon-hee whether she has any family or friends she can go to.
She doesn't, and is scared to return home because "they" will be waiting for her. She pleads to be allowed to stay here, asking Dad to take on her case. Despite their misgivings, dad and daughter can't turn down someone in need.
Jung-hoo hides a recording device in Dad's office, pausing to note the family photo, then takes a look in Young-shin's room, taking note of her cell phone serial number. He has to duck under her bed when Young-shin enters, in a grumpy mood because Dad offered her room to share with unni.
She gripes that Dad knows how she can't share a room, and casts a dramatic longing look around her precious space… and then starts singing an ode to her bed. The look of bafflement on Jung-hoo's face is priceless as she dances around, flopping on the bed intermittently, and then drops trou right in front of him to change.
Given how cool and commanding he was in their last encounter with the nail clippers, it's rather satisfying to see that the almighty Healer isn't completely unflappable. And then Young-shin kicks her pajama pants under the bed, and they land on Healer's head. LOL.
Moon-ho arrives at the station and is warned that the boss's mood is ominous. He heads in to see Min-jae with his trademark charm dialed up to full, but she puts a damper on that by letting him know that his brother is in the building, meeting with the president. Interesting how little of her warnings faze him, but that one tidbit does.
Min-jae tells him to not push too far, then shows him a clip of a recent broadcast. It's Moon-ho's latest rogue-anchor antic, wherein he goes off-script to point out the hypocrisy of his station for investigating a story about a company, declining to air the report, and then airing plenty of commercials for said company.
So now, he's being pulled from the live broadcast, and all of his stories will go through her. He protests (in his usual charmypants way), but Min-jae cuts through the glib talk and tells him to stop playing around now—he may be protected because of his brother's stature as a media mogul, but the station that is his playground is her life's work.
Moon-ho apologizes, and catches his brother on his way out of the building. During the ride home, Moon-shik informs Moon-ho of a meeting tomorrow that he's set up with all the big media movers and shakers, telling Moon-ho that it's time he "crossed the water" and joined him. Moon-ho's expression sours when his brother says that he's like a son to him; Moon-ho retorts that he's not, and not-entirely-jokingly warns that he'll rebel if hyung pushes too hard.
Young-shin arrives at the star's apartment building for her daily stakeout/stalking attempt, only to find that today there's a phalanx of reporters stationed outside. Oh, she's been scooped. Her editor boss calls her in fits, reminding her that she'd refused other work in order to sniff out this story, only to be outmaneuvered. When she gets to the apartment, the entire hallway is full of reporters, and she gets taunted for being behind the curve.
She takes out her frustrations in her room that night with some air judo (and then silly dancing), and Jung-hoo, watching from across the way, shakes his head at her pitiful moves. He calls in to ajumma Min-ja, who scolds him for not going into hiding, now that he's wanted for murder. Jung-hoo argues, though, trying to figure out the pieces that don't fit. Isn't it strange that after getting a job that requires the Healer to stick close to Young-shin's side, he becomes a wanted suspect? Could she be bait to lure him in?
Min-ja counters with a different scenario, saying that he's being framed for Go Sung-chul's murder. Not only was their email address planted at the scene of death, the culprit also managed to get the receipt to the motel they hid in, which was found in Go's pocket. As Jung-hoo paid with cash, that means the culprit knows more than they'd given him credit for.
They must have been tracked using CCTV footage around the motel, and Min-ja has a hunch as to one investigator who could be that fast.
Ah, that leads us to Investigator Yoon, the leader of the cyber crimes team whom we met when inspecting the dead body. He briefs his team at the police station, showing images of the Healer with now-dead Go Sung-chul. Autopsy findings inform him that Go Sung-chul died of poisoning, and that any wounds from the train fall came after he'd died.
The Healer is still the number one suspect, and Investigator Yoon is all the more determined to nab him for good.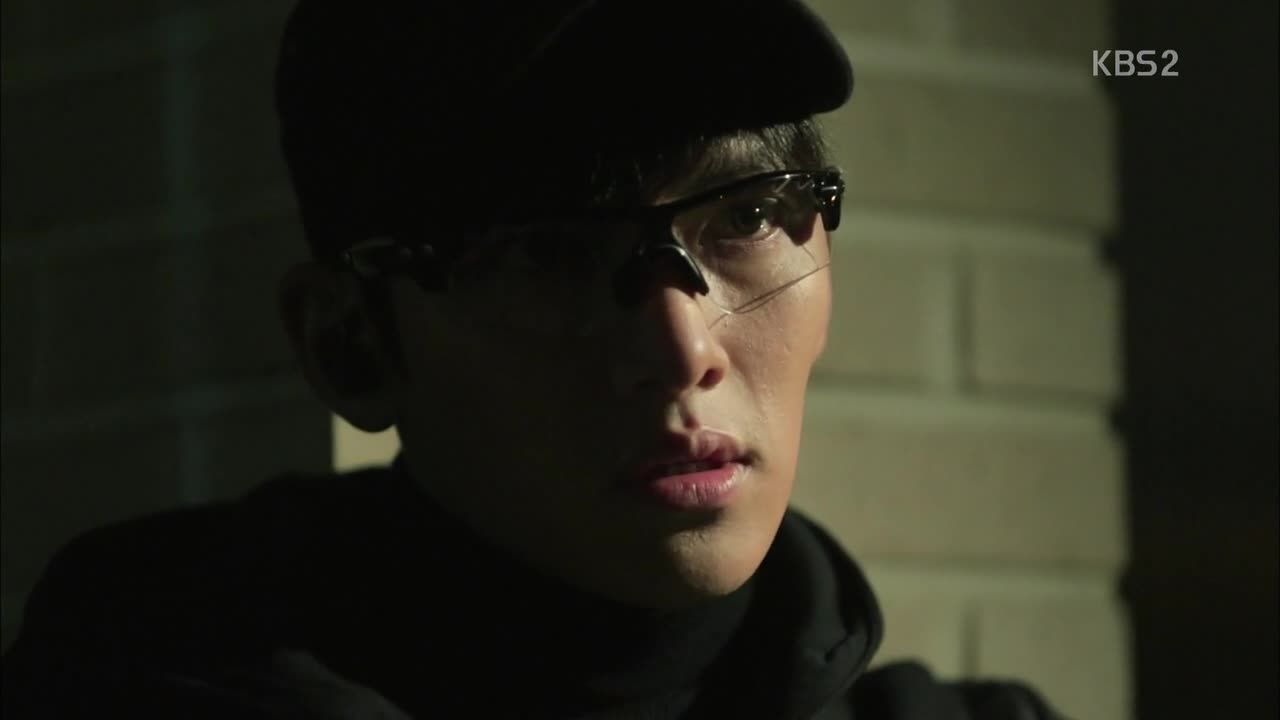 Min-ja hacks in to see the autopsy report, and wonders who could have done it. Jung-hoo deduces that it has to be the person who contracted out the job in the first place, and recalls Go Sung-chul mentioning Jeil Newspaper. The question is, who at Jeil Newspaper?
Flashback to the motel. In response to Go Sung-chul's plea for help fleeing the country, Jung-hoo puts in the call. They get the go-ahead to send him abroad by ship, and messenger/sidekick Dae-young does her part by picking up the new passport from a station locker and dropping it off to Go Sung-chul.
Jung-hoo recalls having felt a pinch of doubt, like he should have gotten on the train with the man to ensure his safety. Min-ja disagrees, saying that their job is to fulfill the client's order and drop off the item, no more.
In any case, Jung-hoo's in a bind and has to find the real killer in order to clear himself. He can't trust the police to succeed, so he'll find the killer and toss him over to the police.
Just then, a car drives up and Jung-hoo takes notice—it's Moon-ho in the driver's seat, and he parks just outside Young-shin's place. Could this be the client? Jung-hoo takes note of the license plate and puts Min-ja on tracking him, grabbing a shot of his face to scan as well. But Min-ja doesn't need that, since she recognizes his face from the news—and one look at his profile turns up the interesting tidbit that his brother runs Jeil Newspaper.
Moon-ho watches intently as Young-shin steps outside to clear the cafe tables for the night, thinking back to when she was a baby named Ji-an who'd grasped his finger with her tiny hand. He smiles tearfully and thinks that she's grown up well, just as she notices him sitting in the car and looks up curiously at him.
She starts to approach, so Moon-ho quickly starts the ignition and drives off, and she heads inside thinking once again that she's being watched these days.
Jung-hoo positions himself at a vantage point up above to watch Moon-ho as he drives off, and he keeps apace with the car while running from rooftop to rooftop. He scales walls, interrupts an al fresco dinner, and breaks through the glass windows of an abandoned building, his route guided by Min-ja's tracking updates.
Jung-hoo arrives outside the subway station just as minion Dae-yong arrives on her bike. He claims the bike and speeds off, continuing the pursuit on the road.
Dad lays out his legal strategy for handling Yeon-hee's case. Young-shin blusters that she'll write all about it and blow up the story, but when Dad asks seriously, she backtracks and says weakly that she's not on the news beat and actually only covers entertainment. But Dad has an angle, because Yeon-hee is showbiz-related—she's a minor actress who's had bit parts in several projects.
The case is against a certain President Hwang who collects young, struggling actresses and connects them with powerful men. At first he'd drug the women to force them into performing sexual favors, then keep them in line with threats of violence or exposure. Yeon-hee has already gone to the police, but was told there was no proof she was forced. Her pimp/boss threatened to "make her disappear," saying that the only reason he kept her alive was because her sponsor liked her.
And who should that sponsor be but a powerful politician, Assemblyman Kim. Hearing that name has Young-shin gulping that she's but a lowly internet reporter—a story like this is out of her league. But Dad has a plan, and he'll be refiling the case on Yeon-hee's behalf, going after President Hwang and Assemblyman Kim for forced prostitution. With the police uninterested in investigating, Dad argues that they need the media to pick up the story to pressure them—these days the netizens have a lot of influence.
I love that Dad is telling Young-shin to put her money where her mouth is—she was all big talk before about the kind of reporter she wanted to be—and also that she's not just a crusading reporter with no fear. She complains and whimpers, ruing the day she made those bold claims; we know she's gonna do it, but the girl has a right to whine a little.
Jung-hoo follows Moon-ho's car all the way to his brother's estate, noting the big gate, guardhouse, and security cameras mounted at the perimeter. He parks the bike and resumes on foot, leaping the fence easily (in a camera blind spot, I hope).
Myung-hee wheels herself out to greet Moon-ho, wondering at his appearance at such a late hour. He checks his watch and notes that it's only an hour and forty minutes "between here and there." Such cryptic words have her puzzled, and for a second I think he's going to blurt it out right there—gah, I so want him to blurt it out right there—but he ushers her inside instead.
Young-shin tosses in bed a while before giving up, and seeing that Yeon-hee's also awake, she joins her on the floor and cautions that she's in for a rough time of it. She's witnessed a lot through watching her father over the years, and says that the trial will be dirty, and she could be dragged through the mud and labeled all sorts of things. Yeon-hee is stoically determined, however, saying that it was wrong of her to think of dying alone on the roof the other day.
Young-shin starts to agree that dying was the wrong idea, but Yeon-hee adds, "If I died alone, it would be a shame. Not when there are other bastards who deserve to die." She explains that the world is better off without certain people in it, and vows to take a few of them down with her: "I won't go alone." So she gives Young-shin the out, saying that if she's scared to help, she should quit right now.
Young-shin thumps her chest, then grins up at Yeon-hee, telling her she was super cool just now. "I believe in things like fate and connection," Young-shin says. "If they didn't exist, why would those words have been made in the first place? So even if I wanted to run away, it's too late now. We've already met, our connection has been formed, and our fate has begun."
Jung-hoon notes the security guards roaming the estate and evades them as he climbs up a drainpipe to the roof of the house, dropping onto a balcony that lets him into a bedroom. He takes a cursory look through Myung-hee's dresser, then pauses at something much more interesting: the family photos at her bedside.
They make him actually laugh in disbelief, and he remarks to Min-ja that all this time, he'd just been living for the sake of living, not finding anything interesting. "But now… things are starting to feel interesting," he says, and takes a closer look at the picture.
He laughs as he regards the five friends from 1980, saying, "My heart… it tickles. It's a first for me."
A clandestine meeting takes place in an underground garage, where the agents/thugs of Double S Guards meet with Moon-shik's secretary. They're led Mr. Double S himself (the name derives from his own, Bae Sang-soo), who presents himself for the job.
But the secretary has a curious way of presenting the job: He calls his boss his "owner" and explains that he wants to acquire the company. Sang-soo blusters that he's got a lot of people interested, but the secretary has done his research and doubles the amount of his previous (and only) offer. Sang-soo can run Double S exactly as he has—the only difference is that he'll have an "owner." When asked what that means, the secretary states, "You'd be selling your soul." Oh, that's all then?
Sang-soo hesitates for maybe ten seconds before agreeing to the deal with the devil. Into the car he goes, where he meets Moon-shik face to face.
In the morning, Young-shin takes a few moments to muster the nerve to head into work, then barrels into the office with apologies at the ready. I love the chipper way she announces to her boss, "I'm sorry, I made a mistake! I have no excuses to tell you! Please kill me!" A perfunctory bow, and then she launches into her pitch, saying that they can't chase around celebrities forever. Hence her specially prepared exclusive.
She's deep into her speech and the editor boss has to try several times to tell her to shut up so she can say hello… to her new co-worker. Omo, now it's Reporter Healer?
Awww, Jung-hoo's got his full Clark Kent on, all fumbly and hunchy shoulders, and introduces himself as Park Bong-soo. This is adorable.
Jung-hoo does his part by cowering nervously before her, and Young-shin tells him to call her sunbae and regard her with respect. Ha. She starts him off with a tour and rundown of the rules, like respecting the name labels on food in the fridge, which she points out while taking a big bite out of her co-worker's lunch. HAHA.
She introduces him to everyone in the office, which is run by a team of eccentrics. Jung-hoo's in-ear communication device gets noticed by one reporter, which he nervously explains as a hearing aid. Thankfully, all it does is incite sympathy, which he'll take over suspicion.
Via the bug planted by the Healer, Moon-ho watches footage from Dad's office, where he's prodding Young-shin to help with the case by invoking her dreams to be more than a paparazzo and be like (Italian journalist) Oriana Fallaci. Well, that answers his question about what her hopes and dreams are.
Moon-ho drifts into another flashback, where his hyung sits in a funk on his way to see the happy new parents. He's clearly not up to seeing them, but eventually makes his way to his friends' room with Moon-ho, who meets the baby Ji-an for the first time.
Young-shin completes the introductory tour with Jung-hoo, who quakes nervously while she gives him the up-and-down and wonders if they've met before. I know the trembling is part of the act but it amuses me to see the Healer acting so scared—although you can guess that he's scoffing inside as she puffs herself up, saying that there's no way she'd have met him and not remember him, since reporters pride themselves on their memories.
It's also hilarious how he has to bite back his incredulity when Young-shin looks at him with pity, assuming that he was an outcast in school for being so sad. She leads him out by the wrist (ha!) like a mother taking charge of a hopeless little boy—and that's the curious sight witnessed by Moon-ho, who's arrived outside the office.
He trails them from a distance, thinking once again of his own dream to stop being haunted by his dreams. "I've committed a sin," he reminds us. "The name of my sin is silence."
He watches from across the street as Young-shin chatters on to Jung-hoo, laughing good-naturedly as they wait for the light to change. He once again recalls first seeing her as a baby, when she grabbed his finger and was encouraged to give her a kiss. So Moon-ho had leaned forward and kissed her wee fist, and Ji-an had smiled.
It's a powerful memory, and Moon-ho shakes it off as he comes back to the present, looking across the way at Young-shin.

COMMENTS
Okay, yes now I'm fully onboard. I felt optimistic after last week, but now the main storyline is in full swing and the tone established, and it's exactly the mix of action, humor, and melancholy that speaks to me—it's reminiscent of the writer's previous drama Story of a Man, which I loved and would consider a wonderful comparison point (if Healer can match it, I mean).
I could have guessed that the Healer would have to come up with a scheme to get closer to Young-shin that didn't entail just following her around like a stalker, since we saw how effective that was. And I suppose the ol' Clark Kent chestnut was just begging to be used, which perhaps some perceptive viewers already anticipated. I wasn't thinking too hard about anticipating Jung-hoo's moves, however, so I was totally surprised when he showed up as the rookie tabloid reporter, and I love the rapport between the two—mostly because Young-shin is so hilarious when she's bluffing and talking the big talk, and you just know Jung-hoo's rolling his eyes mentally every time she puffs herself up. But I love that he has to act timid and doe-eyed around her, and this whole dynamic just floats my boat like you wouldn't believe. I hadn't even given much thought to how I'd feel about the lovelines in this drama—I know, how weird, right? But it just didn't strike me all that much—so I'm pleasantly surprised to suddenly care. I totally care, you guys!
And wouldn't you know, it's a two-for-one-deal because Moon-ho's tortured gazes at the end (or always, really) just kill me, first of all because Yoo Ji-tae is fantastic and imbuing his characters with added solemnity and making their silences speak. In fact I find him the most perfect casting in this drama (and can see why the writer went for him first), because he plays the most pivotal role in tying past and present together, and completely inhabits his character's sense of longing and oppressive guilt.
On top of all that, though, I love this idea of him feeling responsible for Young-shin in a way that he can't explain to anybody. I don't know if the show's going to go for a real love triangle here (it's a drama, so I pretty much expect it, but I do recall that Story of a Man didn't really linger on romantic rivalries) but I think I'd be fine either way—I can absolutely see how his guilt soup of emotions could include transferred love for Myung-hee and protective oppa feelings (particularly because he failed her in that role twenty years ago). But if he never goes there, that's perfectly fine as well, because I see him more as the emotional center of the show, and he has a greater mission than finding love.
In any case, I'm happy that I'm loving all three main characters, particularly our plucky heroine Young-shin. Given how many plucky heroines we've had dotting dramaland, I find Young-shin's bravado and cheekiness really refreshing; we've seen Park Min-young being plucky before, but in a more generic way. This character feels more specific and eccentric, and I like the direction she's taking with her—kind of smart but with huge blind spots, kind of full of herself, and kind of vulnerable and nervous, too. It's a nice, human mix.
RELATED POSTS
Tags: featured, Healer, Ji Chang-wook, Park Min-young, Yoo Ji-tae