K-drama remakes announced for In Time With You, Chinese Style Divorce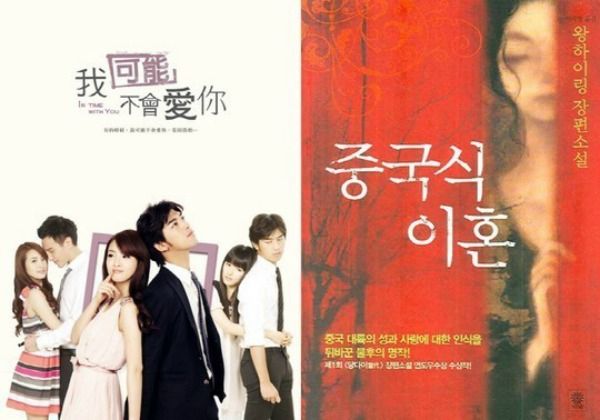 Well, the remake trend surely isn't going away, and two more overseas properties have been snapped up for Korean drama remakes: Taiwanese drama In Time With You and Chinese series Chinese Style Divorce. Both will be produced by I Will Media, as announced by the production house on December 22, and are looking at recent Taiwanese-drama-remake success stories Fated To Love You and Witch's Romance to hopefully set them up for another hit remake.
In Time With You told the story of a hero and heroine who were longtime friends on the cusp of turning 30 who eventually came to realize their feelings for each other. The timing had always worked against them as they'd dated other people, and their romantic developments were told in a realistic, poignant way that made the drama a popular hit when it aired in 2011. Writing the Korean remake will be Min Hyo-jung, whose credits include Hallyu hit Full House (itself an adaptation from a manhwa) and Attic Cat (both of which, incidentally, helped spark the trend of cohabitation rom-coms in dramaland).
Chinese Style Divorce is an older title, dating back to 2004, and was itself an adaptation of a Chinese novel; the writer of the book, Wang Hai Ling, also scripted the television series. The well-received show was a human drama that dealt with the inner lives, conflicts, and emotional struggles of its main characters, examining contemporary Chinese society and issues through stories of marriage and divorce.
The two projects are still in early production stages so no casting news is afoot, and both are big enough titles that we can expect a certain amount of interest and scrutiny in how the remakes will turn out. This kind of buzz so often doesn't end well, but I suppose there are enough times when the new version does a creditable job that hope remains everlasting. For instance, Cantabile Tomorrow suffered from constant comparisons to its original series, but Fated To Love You pulled out a pretty solid remake earlier this year. Personally I prefer when the remake is allowed to slide under the radar—as with Liar Game and Witch's Romance managed—which gives it a chance to pleasantly surprise us.
The production company behind the two remakes was responsible for JTBC's medical drama Syndrome (which underperformed its expectations), MBC's weekend drama Would You Give Love Away (which was modestly successful), the melodrama When a Man Loves (which I could have done without), and KBS's currently running daily Sweet Lie (which seems to be doing okay). That's a pretty wide spread so I'm not quite sure to expect; we'll have to see how the end product turns out, I suppose. Both dramas are aiming for broadcast runs in the latter half of 2015.
Via E Daily
RELATED POSTS
Tags: remakes