Kim Yoon-seok and Kang Dong-won reunite in new film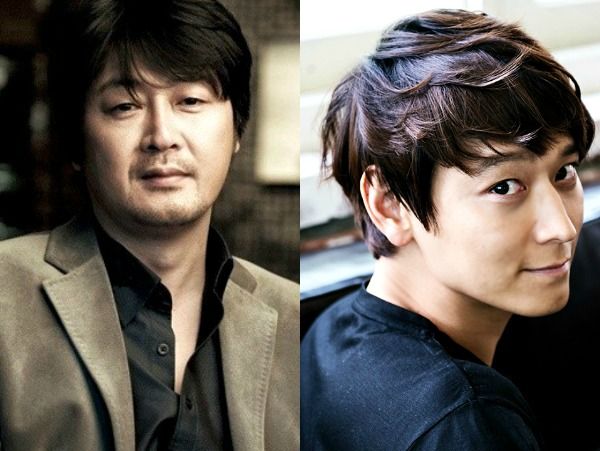 Sigh, seeing this pairing back together again just makes me want to go watch Jeon Woochi for the millionth time. Nothing beats Kang Dong-won in that quirky wizard role, and Kim Yoon-seok is just always great, but especially great when he's a badass. The two actors will be reuniting for a new movie called Black Priests, and though the genre isn't specified, from the description I'm getting a scary horror vibe. Gack, I'm such a wuss about scary movies, but I love these two actors. Dilemmas!
Both actors are in final negotiation stages to star in the feature debut from new director Jang Jae-hyun, who worked on Gwanghae, The Man Who Became King. He won an award at the Mise en Scene Short Film Festival with a short called The Twelfth Assistant Priest; considering it won in the "Absolute Nightmare" category, I'm pretty sure it's not a comedy, and the similar theme makes it likely that this is the vibe he's carrying into the feature version.
All we're told about the feature is that both leads will play Catholic priests, and they'll get involved in some unnamed incident. It's vague, but the director's short film is about an older priest taking a younger assistant priest to a woman's home in order to perform an exorcism. Double gack. The Exorcist gave me nightmares. Please tell me this one's got a different plot.
The movie is being produced by the studio behind All About My Wife and Cold Eyes, and plans to complete casting and enter shoots early in the new year. Kim Yoon-seok closed out 2014 with Tazza 2 and Sea Fog, and has the folk music biopic C'est Si Bon in the works opposite Jung Woo. Kang Dong-won came back from army duty with Kundo: Age of the Rampant and Dugeun Dugeun My Life, and is looking at Untold Story of a Prosecutor with Hwang Jung-min next. Who knows, if they sign on and it IS scary, maybe I can watch through my fingers?
Via Star News
RELATED POSTS
Tags: Kang Dong-won, Kim Yoon-seok