Misaeng: Episode 13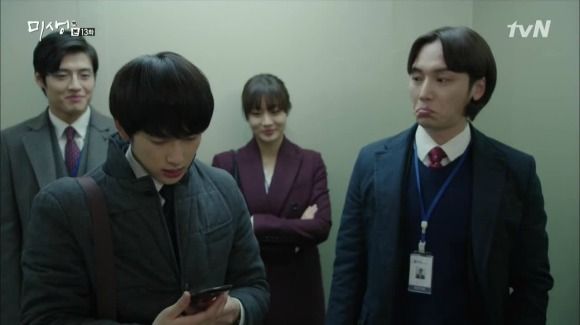 While this episode is about the big sales pitch by Sales Team 3, the real stars of this episode are the newbies, who are slowly becoming a cohesive unit. Newbie huddles are becoming more regular, as more workplace shit hits the fan and as more achievements come and go. They find their way, still get lost, and get criticized, but at least now they know that they're not the only ones.

EPISODE 13 RECAP
As One International executives approach the meeting room, Seok-yul sees them pass by and gapes at this new gossip fodder. Chief Oh greets the executive director, and the meeting commences.
Geu-rae watches the executive team look through the presentation notes expecting the same old, tried-and-true format and observes how many of them are already marking up the notes with criticisms — some may have even prepared counterarguments beforehand. Some even voice their criticisms, bringing up Chief Park and questioning whether Sales Team 3 is ignorant or brave.
The door suddenly opens, and the CEO walks in to watch the presentation, as he had extra time in his schedule. With the extra top dog, the mood in the room further tenses. Geu-rae turns off the lights, and Chief Oh takes a deep breath before starting his presentation.
Meanwhile, at the resources team, Assistant Manager Ha gets approval from Chief Jung on the final Russia business exchange. Chief Jung comments that Young-yi does pretty good work, and Assistant Manager Ha agrees in silent acquiescence. Chief Jung assigns her as the lead on the trading contract, and she looks back in shock but seems grateful for gradual acceptance in the team. Then Seok-yul rushes over to Young-yi and starts blabbering about what he just saw: the group of cold executives chillingly walking through the corridors.
Getting back to Chief Oh's presentation, the room remains at a painful silence before the start of the presentation, and Geu-rae keeps questioning what mess he's caused. Chief Oh finally begins the presentation with a detailed history of corruption in the company, eliciting an expected outrage from the executives. But he follows up with accurate estimates of the company's loss in profits that they could've gained if they hadn't swept those deals tainted by corruption under the rug.
Chief Oh continues with reports on the companies that did those deals in One International's place, and the results are all the same — other companies profited because they didn't want to face their mistakes. Geu-rae makes an analogy: "In baduk, when your opponent bites off more than they can chew or tries to spare themselves from the important effort, they try to keep it that way until the very end."
The vice president in Jordan (who's dressed in a suit on top with his hidden bottom half in boxers, ha) and his assistant watch the intense meeting from a live stream waiting for their cue and note that if they don't stay on top of their game, they might lose it for the whole team.
Now that Chief Oh has grabbed the executives' attention by addressing their main counter, he proceeds to the regular familiar presentation that One International is used to. The presentation goes smoothly, and the vice president in Jordan manages to persuade the room with his data of positive responses by locals to this business proposal. After the presentation ends, another painful silence ensues. But thankfully, the first voiced response is positive, and the executives discuss the feasibility of this business plan. The CEO even nods in approval.
The executive director speaks up about the difficulty in restarting this business proposal after the unfortunate leave of their former team member, and the CEO follows up with the question on who proposed revamping this project. Chief Oh names their newbie, and Geu-rae cautiously stands up to introduce himself. After a few obligatory puns on his name, he's asked why he decided to bring up this project again, and Geu-rae replies, "Because it's our company."
It's a simple response, but that's enough for the CEO and much of the executives in the room. They nod in solidarity, and the CEO has the last word: He hopes that the Jordan used-car business will succeed. With that, the executives applaud in approval and congratulations, and the meeting is adjourned.
On the way out, the CEO makes a call to reschedule his golf game so that he can spend more time in "our company." The other executives walk out in a good mood as well, praising the presentation for manifesting the spirit of the salaryman. Sales Team 3 bows as the executive director leaves, and Chief Oh turns around to thank his minions for the hard work. He pats Geu-rae's arm, and Geu-rae immediately falls down as his legs give out from the relief. Haha.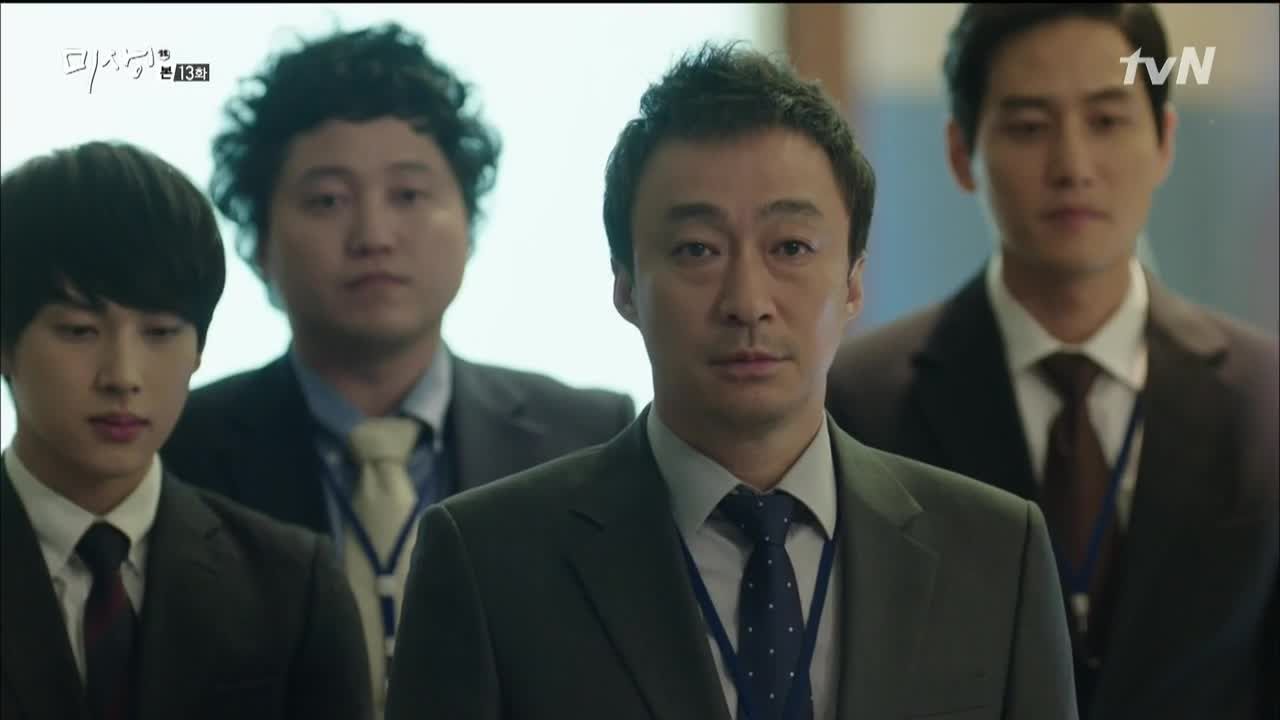 Chief Oh thanks Chief Chun for sticking with the project even with his political struggles within the company, and Chief Chun replies that it felt good to be a part of it. Dong-shik returns without Geu-rae, and he explains that he sent their newbie out for fresh air since he still seemed out of it. Geu-rae checks to see if his paper stuck in the pillar is still there and looks at the company building in reflection.
Geu-rae gets dragged by Seok-yul to their newbie circle and gets congratulated on his achievement. Baek-ki extends his hand as a sign of acknowledgement, and Geu-rae shakes it with gratitude. Young-yi also gives him a quick congratulatory word, leaving Geu-rae to fend off Seok-yul's attempts to give him a big hug. Heh.
Young-yi glances at Baek-ki in the elevator and says that he should lower his ambitions. She tells him not to compare himself to Geu-rae who's proving himself after starting with nothing, and tries to give him perspective on how Sales Team 3 also has a history of mistakes. She says that their job is to be steady and not make mistakes in the first place.
Though the elevator talk alleviates some of Baek-ki's anxieties, they come right back when he starts back with his work. He looks around for Assistant Manager Kang, and Baek-ki desperately wants to ask him for a drink after work but hesitates and ultimately can't get himself to ask.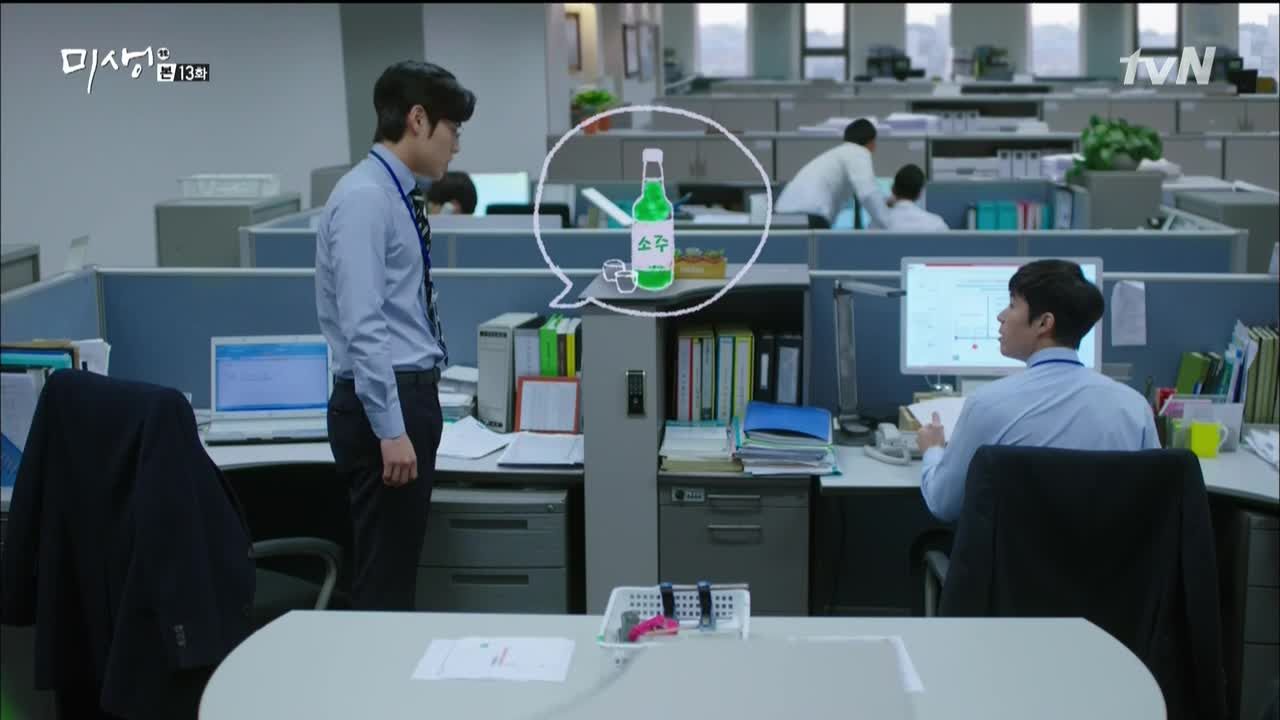 After work, Sales Team 3 heads out for a team dinner, and Chief Oh gives Baek-ki some words of wisdom when he runs into him heading out from work. Baek-ki looks at the team longingly as they leave and flips through his contacts for anyone he could de-stress with. Just then, Assistant Manager Kang passes through the lobby and curtly tells Baek-ki that he'll see him tomorrow. Baek-ki lets the chance pass by him again.
Chief Oh pours his team members a drink and advises them not to drink excessively on a day like this. In response, Dong-shik orders another bottle of soju (heh), and the rest of the team enjoy their celebratory dinner. Meanwhile, Baek-ki drinks alone, drowning in his misery as he thinks back to all the times he dismissed Geu-rae for his lack of work experience or knowledge.
The next morning, Baek-ki jerks awake and immediately drops his head when he realizes that he's late. He quickly puts on his glasses and hops around to get his clothes on. Running out to the street with his clothes and sanity barely intact, he thinks back to Assistant Manager Kang's warning that their boss despises tardiness.
Seok-yul beatboxes as he makes himself coffee, and Geu-rae walks in noting that he must be in a good mood. He's in more of a carefree mood, and Seok-yul grabs his hand and puts it on his chest, saying that he has a resignation letter in his heart. Geu-rae pulls his hands away with a distasteful look, and Seok-yul gets a call from Baek-ki asking for a favor. Seok-yul agrees to the request and keeps his secret.
Slyly walking through the office, Seok-yul takes off his suit jacket, hangs it on Baek-ki's chair, and turns on his laptop. Baek-ki rushes into the building with his hair at less than its usual perfection, and Seok-yul greets him in the elevator.
On the way up, Seok-yul asks why he didn't just ask Assistant Manager Kang for the favor, but Baek-ki says that he still feels awkward around his senior. Seok-yul shakes his head and laments his own situation along with Baek-ki's. He starts advising Baek-ki about getting closer with your senior, and he tells him not to ever go to the sauna together until they're super close — it's the most awkward situation to get into.
Then the elevator doors open, and the perfect crime is disrupted by Assistant Manager Kang catching the two red-handed. Baek-ki isn't given any pardon and gets a lecture from their boss for being late. Baek-ki glares at Assistant Manager Kang while their boss makes a call (requesting that he push back the time of a meeting because he'll be late, ironically).
Chief Oh introduces the team to Department Manager Lee, who will be leading their sales department. Manager Ma passes by looking bitter, and especially when Geu-rae gives him a quick greeting as he runs off to get coffee. He runs into Young-yi, who's also making coffee, and they discuss how well Sales Team 3 is doing. She even suggests that Chief Oh could get promoted again soon, but unfortunately this gets overheard by Manager Ma.
Manager Ma looks at the two accusingly, and the tension accumulates when the rest of the resource team enters the room looking for Young-yi to go into the meeting. Manager Ma asks Chief Jung why Young-yi would be participating in the meeting requests that Chief Jung make the trading contract report himself. Young-yi looks deflated, and Chief Jung gives her an apologetic pat on the back.
Geu-rae tries to talk about it, but Young-yi claims that she's grown immune to the insults and disapproval. She stays optimistic and reminds Geu-rae to tell Sales Team 3 that she made the coffee for them as a congratulatory gesture.
Seok-yul returns to Assistant Manager Sung being scolded for incompetent work by their boss. Assistant Manager Sung implies that it's Seok-yul's fault, causing Seok-yul to think back to his outburst on their power dynamic. He defends himself to their boss that he was given the wrong directions by Assistant Manager Sung, which results in their boss walking away, dissatisfied with the lack of responsibility.
Assistant Manager Sung insists that it's a team effort and a team responsibility, but Seok-yul argues that he should start taking more responsibility for his own faults. Assistant Manager Sung approaches him in a threatening manner and asks if he would like to know what real responsibility looks like. Ahh, the tension.
Dong-shik leaves some papers for Geu-rae to send to Jordan, but as soon as Chief Oh and Chief Chun are back from their meeting, they're called into another one, requesting Geu-rae to join them. Chief Oh lightly teases Geu-rae for becoming so popular and a celebrity at work, which causes Geu-rae to make a face.
When they run into Young-yi by the elevators, Chief Oh thanks her for the coffee and asks her to just make his coffee next time. He jokes around that Geu-rae is in high demand even though he doesn't know how to do anything, but Chief Chun comes to his defense, saying that he's meticulous with the meeting minutes (aw). Young-yi smiles at the team camaraderie and returns to her desk.
Manager Ma comes in raging and yelling for Young-yi, and when the team gathers, he starts off by getting mad at Young-yi for not wearing stocking socks with her heels. Then he gets into her report and criticizes her for having Chief Jung contact people for her, even though she wasn't familiar with any of them.
Chief Jung tries to step in to defend her, but Manager Ma doesn't give him a chance to. Manager Ma blames Young-yi for not understanding their line of work and condescendingly pushes her forehead with his finger. He yells at the whole team for their incompetence, and by this point, the whole office has their eyes on the resource team.
The newbies go to their usual meeting bench outside and ask if Young-yi is okay. She gives them an unconvincing nod, and their conversation is interrupted by their workplace seniors passing by. They stop to talk to Geu-rae and asks him for his sense of what the business in Iran is like, and want to know his gut feeling about about a deal they're working on. He doesn't know what to say, but his fellow newbies are surprised and jealous that he's even asked for advice on such important matters.
Baek-ki excuses himself to do more work, but as he organizes the steel samples, he's still clearly irritated with Geu-rae's advancement. His boss drops by the storage area to check on Baek-ki and gives him some money to go to the sauna after work, since he's working hard and sweating.
As Baek-ki undresses and gets ready for the sauna, he thinks back to Young-yi's advice but still worries that he's the only one not making any advancements, just walking in place. He closes his locker, only to see none other than Assistant Manager Kang, naked and ready for the sauna. Aaawkward.
Now it's time for Seok-yul's advice to come floating back, and everything is true. Neither one of them can get out of the sauna tub first, and Baek-ki is especially antsy, not knowing when to leave or how to respond. As they wash up, he doesn't know what stall to use, as in what distance is appropriate for their relationship. And when Assistant Manager Kang is about to leave, Baek-ki notices a strip of soap left on his back but can't say anything because then it would seem like he was staring at his boss's naked body the whole time. So Baek-ki goes to the closest stall and "accidentally" sprays water on his back to wash off the soap. HA.
They finish off their awkward sauna adventure as they dry their hair, and Assistant Manager Kang tells him that he always finishes his week off with a sauna. Baek-ki explains that he got dust all over himself while cleaning the steel storage, and with that, his boss starts to leave. But Baek-ki calls out to him and asks to get a drink. Yes, finally!
With beers in hand, Baek-ki tells Assistant Manager Kang his worries: him walking in place while his colleagues make advances. Assistant Manager Kang asks if he's jealous of Geu-rae, and Baek-ki replies that it's not really jealousy but self-anger.
His boss reminds him that he's part of the steel team. By nature, steel is a long-term business that requires constant management and care. "What you show to others is not important. Even if it's not flashy work, it's necessary work. They might not see it, but you cannot think that our work is nonexistent. There are people who risk their lives based on the numbers we crunch. If you can't find self-fulfillment in your work, it'll be hard to endure."
Assistant Manager Kang leaves it at that, but that's enough advice for Baek-ki to find some resolve. He walks away from the conversation with a relieved smile.
The holiday season is here, and the streets and buildings are decorated with lights and ornaments. Seok-yul gathers all the newbies as they arrive for work that morning and asks about their holiday plans. When Baek-ki says that he'll be hitting the slopes, Seok-yul assumes that he doesn't have a girlfriend. He then asks Geu-rae, and he says that he doesn't have a girlfriend either.
Geu-rae gets a tweet notification and ignores it, but Seok-yul doesn't let that slide. He sees that it's a girl and asks who she is, since he claimed that he didn't have a girlfriend. Young-yi recognizes her as the kindergarten teacher who likes him, and Geu-rae wonders how she found him. Not one to lose this sort of opportunity, Seok-yul grabs Geu-rae's phone and tweets her, much to Young-yi and Baek-ki's amusement. She eventually tells him to buy her a drink sometime, so Seok-yul rubs it in by wishing him good luck with a heart as the elevator doors close. Ha, I love him.
Geu-rae greets his team loudly and does errands as usual. He runs off to get coffee for his team but doesn't hear Chief Oh's request for water, so he goes himself. As Geu-rae starts making coffee, he overhears the conversation that two female employees are having. They note that Geu-rae is only a contract employee, so he'll start applying elsewhere soon. Chief Oh also overhears this, so he yells loudly in the area to break up the conversation. As he finishes up, Geu-rae realizes how foolish he was to take all of this for granted. He decides that it's too soon to be content here.
Chief Oh seems a little bothered when he returns to the team and starts writing Christmas cards with Chief Chun and Dong-shik to send out to their business workers and providers. Geu-rae returns with coffee and is assigned to address all the envelopes with the mindset of gratitude, as these people are the ones who allow for salarymen to make a living. Chief Oh calls Geu-rae over and hands him a card — the first Christmas card from him is for Geu-rae. Awww.
Geu-rae takes the stairs up to the roof of brooding with the Christmas card in hand. He opens the card, which reads: "Jang Geu-rae, you couldn't have done any better. YES!" He imagines the card flying out of his hands and floating through a montage of what he's been through up until now, from his young baduk days to his current struggles in the office.
Geu-rae: Be drunk. You must always be drunk. Everything lies in that; it is the only problem. To avoid the detestable weight of time that makes your shoulders give and makes you fall to the ground, you must be incessantly drunk. Whether it be on alcohol, poetry, or virtue, be drunk. Wherever you are, wake up from the hindering loneliness. If you get lost, just ask — the wind, water, stars, birds, time, everything that passes, everything that feels sadness, everything that runs, everything that sings, everything that talks — what time it is. They will reply. Now, it's time to be drunk.
Baek-ki hands in a report with a Christmas card and gift for Assistant Manager Kang, Young-yi enjoys a glass of wine in her furnished apartment, and Seok-yul wraps stacks of gifts for his nieces and nephews. It's another wrap on a long day at work.

COMMENTS
What a heartwarming episode. These newbies are slowly getting a handle on their work, again except for Seok-yul. But what he can't seem to accomplish with his actual work, he seems to make up through workplace savviness and gossip. I do hope he finds some common ground with his boss soon, as we can see how important and uplifting it is for our other newbies. In the face of adversity, there's nothing like a supportive team or boss to pull you through.
Sales Team 3 coming through with the Jordan used-car proposal is a testament to the power of a team. I thought Geu-rae's strategy to remind the executives of previous corruption scandals was a risky yet necessary move, especially since most of them were ready to rip apart their proposal in that excruciating silence of uncertainty. It got rid of the elephant in the room, and with that settled, the team was able to change the executives' biased perspectives into more professional objective business ones. The team's dedication and trust in Chief Oh despite this enormous risk just comes to show how cohesive they are. It helps (or doesn't) that Chief Oh always gravitates towards difficult projects; they're forced to bond and work together in order to endure the difficulties.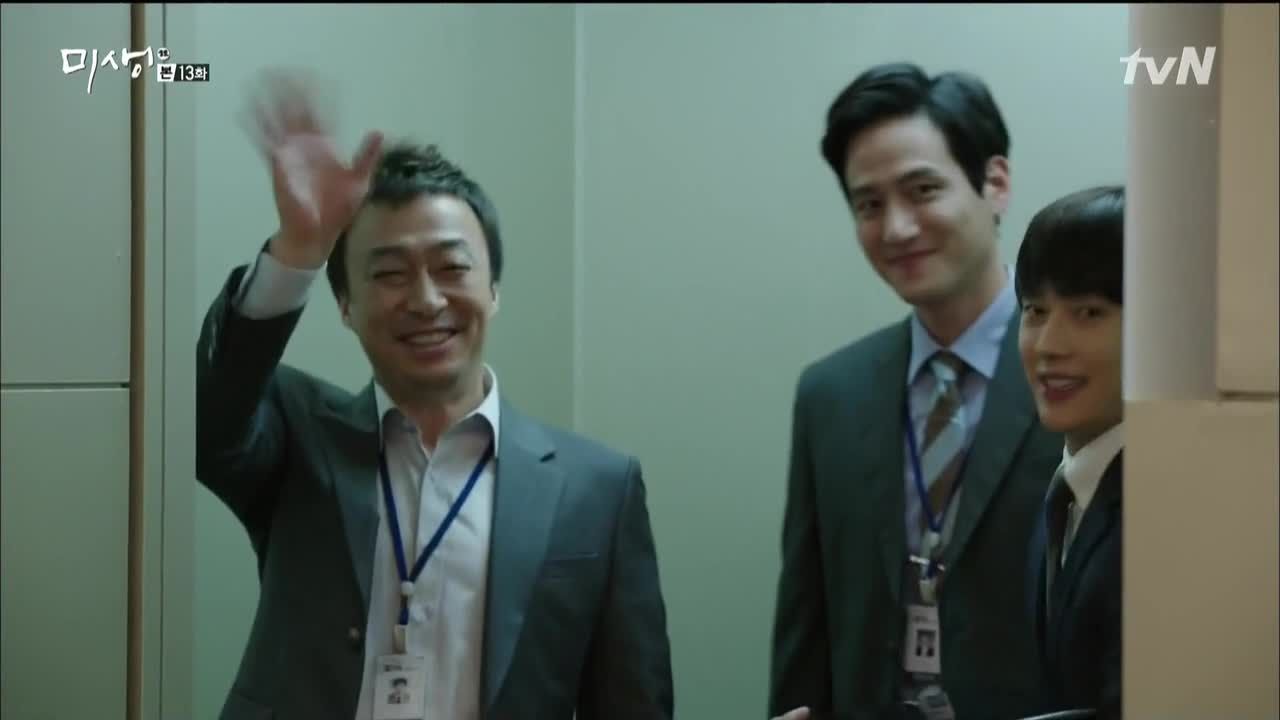 I'm sad that we're constantly reminded of the inequality towards women in the workplace, but it's a realistic struggle that I appreciate seeing evolve through Young-yi's perseverance. Young-yi's difficulties are slowly being relieved through her team's recognition. She no longer receives unfair mistreatment from her team members, and in fact, when Manager Ma tries to criticize the life out of her, they come to her defense. You can see that they're no longer on Manager Ma's side because they've seen how capable she is. Someone's going to need to convert Manager Man soon, or else he'll have no friends or end up being dismissed. Not that I wouldn't like both to happen.
This was Baek-ki's episode, as we saw him climb slowly back up from his low point. My heart broke a little when he couldn't get himself to ask to get drinks with his boss or call anyone else out. He needed a wake-up call (literally, in this episode), but I wish he could open up to his newbie colleagues to share his inner struggles. He's so by the book and prides himself in his competence, but he's his biggest critic. Being his perfectionist self, he's always so full of anxiety and ambition to make sure he'll succeed. And he doesn't want to show any sign of weakness to his colleagues, who he assumes are way ahead of him. I love how he finally got to let out his worries through a hilarious turn of events that led him to grab a beer with his senior. It was like the universe giving him this one last opportunity to make it happen, just through the most awkward way possible.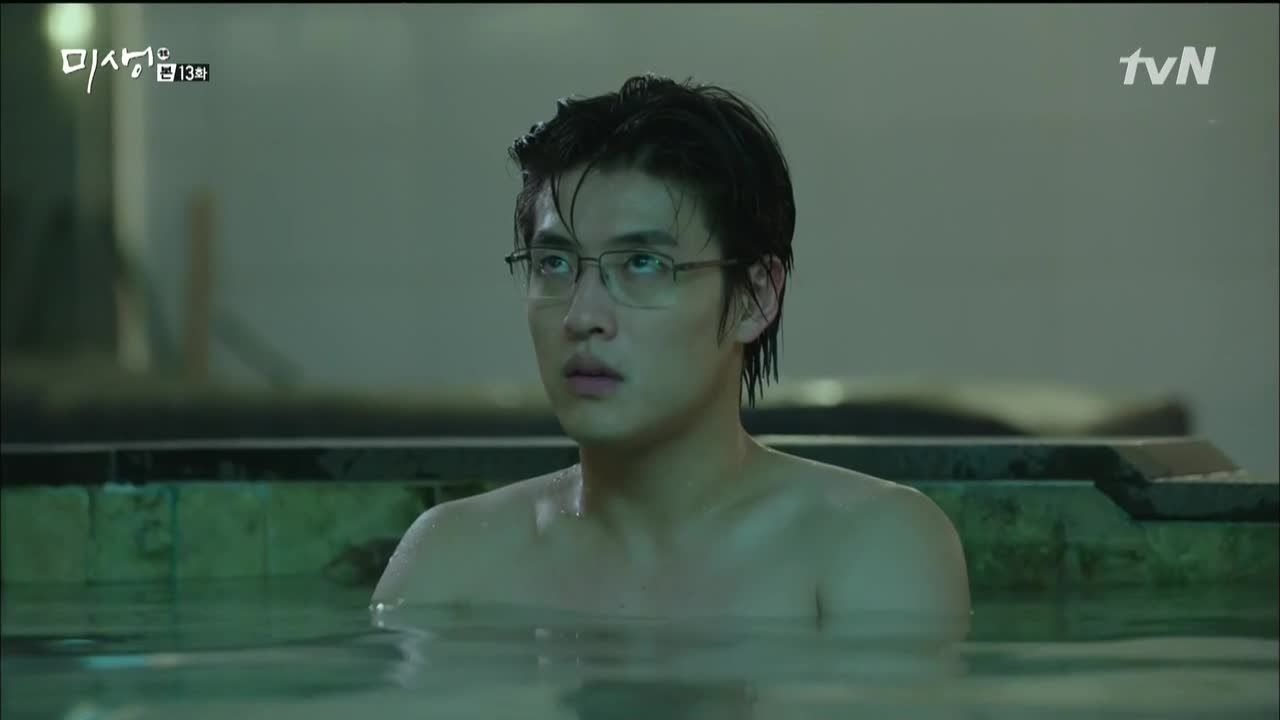 Geu-rae articulates his epiphany quite well, with the metaphor of being drunk. He was lost in a state of indifference for so long because he had lost that passion, that ability to become drunk. He convinced himself that he was no longer committed to baduk, and that state of soberness had quickly turned into cynicism and loneliness. We don't want to promote perpetual drunkenness or alcoholism here, but I can see how soberness can be detrimental in this context. Without this drunken state, you lose drive, motivation, and any will to do anything. He may be drunk on work now, but you could make the case that he's still drunk on baduk — the game that allows him to be so passionate about work and life in general.
I love how the newbies are starting to find solace in each other through turbulent times. They've started to hear each other out, give each other advice, and give unwanted congratulatory hugs. I'm loving the camaraderie from this group, and I'm hoping these reluctant friends will soon become definite homies.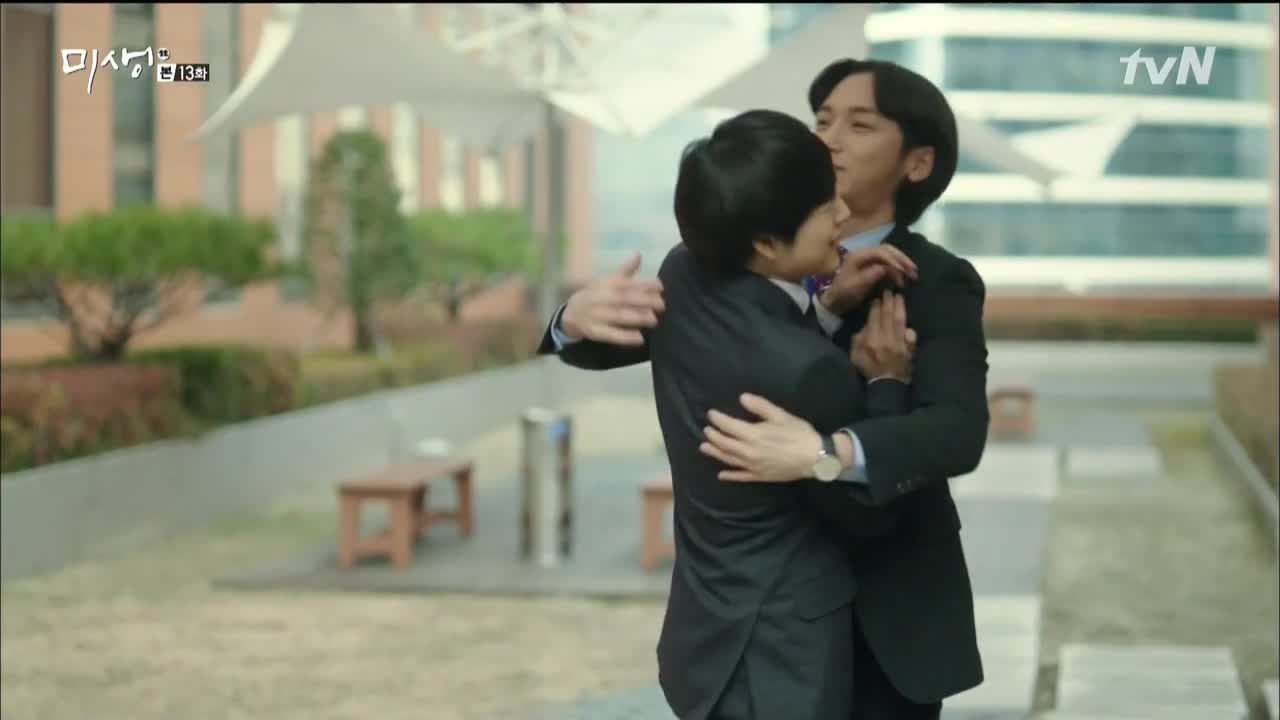 RELATED POSTS
Tags: featured, Im Shi-wan, Kang Haneul, Kang So-ra, Lee Sung-min, Misaeng