Misaeng: Episode 14
It's a new year — 2013, to be precise (remember, this show is set in the past) — and the One International team gears up for bonuses and promotions. All the newbies have their struggles, be it the fear of not being hired on permanently, or the cruel actions of a petty and hateful boss, or thwarted battle-plans against particularly frustrating assistant managers. As they look to the new year, Chief Oh looks to the past as he tries to make sure history doesn't repeat itself.

EPISODE 14 RECAP
The entire staff of One International sit through a New Year's ceremony with awards and recognitions for various team members. As other teams are awarded for their high performances from the past year, Geu-rae realizes that despite his high hopes for the Jordan used-car project, most teams out-performed Sales Team 3.
Baek-ki shows off his German skills as he speaks to a buyer on the phone. He seems pretty proud of himself until Assistant Manager Kang corrects his pronunciation.
In the resource team, Young-yi gets the go-ahead to continue with a Norwegian minerals project, and even gets assigned to help the rest of the team on their projects due to the research she's already done. Aw, finally Assistant Manager Ha looks genuinely pleased with her work instead of bitter and jealous.
Dong-shik's on the phone with a potential buyer in Japan to sell them rice wine, and Geu-rae listens in, even though he doesn't understand Japanese. A fact that Dong-shik teasingly points out after Geu-rae offers his opinion on Japanese drinking trends, and continues until his mother calls about a blind date she's set up for him. He protests that he's too busy to think about getting married, but tells her to send him pictures of this marriage prospect, anyway.
After Dong-shik leaves for a meeting, the IT sales manager arrives to get copies of some documents. Geu-rae is happy to help out, and as he hands over copies of the requested documents, Manager Nam carefully watches him, asking him if taking up the Jordan used-car sales project again was really his idea.
Dong-shik returns just as Manager Nam is leaving, and he warns Geu-rae that the Manager Nam was probably scouting him out since his team is understaffed. Everyone now knows that Geu-rae was recognized and complimented by the CEO, and because of his status, it's not too worrisome if he becomes useless.
He catches himself at that last statement, but it's too late. Despite Geu-rae's smile as he offers to take over the coffee-making duty, he knows that Dong-shik was referring to the fact he's only a temporary contract worker. When Geu-rae returns to the office, Chief Oh is back and ready to reprimand him for giving out documents so freely without permission. But he's mostly irritated that Manager Nam scouted out Geu-rae.
Chief Oh leaves to confront Manager Nam in person, telling him that he should leave Geu-rae alone. He's protective of his property as he warns Manager Nam that if messes with Geu-rae, then it's like he's messing with Chief Oh. As he leaves, he notes an empty desk in the corner, asking what happened to the guy who was working there. Turns out he was a temp whose contract didn't get extended.
Manager Ma eats his lunch while Young-yi delivers his coffee (and he notes that she's wearing flats today). When he sees the rest of the resource team walking by, he shouts at Chief Jung, asking him about the Tunisia project that was stolen by Samjung. When Chief Jung tries to explain, Manager Ma just shouts him down, telling him to make it happen, no matter what.
Our newbie quartet heads to HR for a benefits debriefing, and when they meet outside the conference room, Young-yi and Seok-yul's trolling skills are strong as they "innocently" ask Geu-rae about our favorite kindergarten teacher and if Baek-ki seduced any women while he was at the ski resort. Geu-rae and Baek-ki's fervent protests only cause the teasing duo to burst out laughing.
The executive director runs into Chief Oh in the lobby, and he compliments Chief Oh for having such a discerning eye. But Chief Oh politely reminds him that the discerning eye belongs to the executive director, since he was the one who hired and assigned Geu-rae to his team in the first place.
As Chief Oh walks away, the executive director tells him not to worry about Chief Park, since he did what he had to do in that situation. But couldn't have Chief Oh told him about it in advance? He adds that it would have been better that way.
In their HR meeting, the newbies get a run-down of their benefits for the new year, including mandatory skill classes for such things like data processing and English. Geu-rae blanches at the thought of having to learn English, and Seok-yul reassures them they have beginner classes, too.
But when the HR representative passes out the salary agreements for the new year, there isn't one for Geu-rae (since he's not a permanent employee), and he awkwardly excuses himself. He slowly wanders back to his desk, watching everyone sign their new salary agreements which are based on the employee's evaluation by the department heads.
He can't bear to go back to his desk quite yet, so he heads outside to continue brooding, overhearing everyone brag about their raises and bonuses. When the assistant managers step outside for a coffee and smoke break, they compare bonuses and joke about Dong-shik's upcoming blind date. Chief Chun seems to be the only one aware of Geu-rae watching them in envy.
Geu-rae mopes his way back to his desk, and Chief Oh calls him out on his behavior, telling him to snap out of it and get back to his usual work. Geu-rae asks him if he continues to work like he always has, then he should become a permanent employee, right?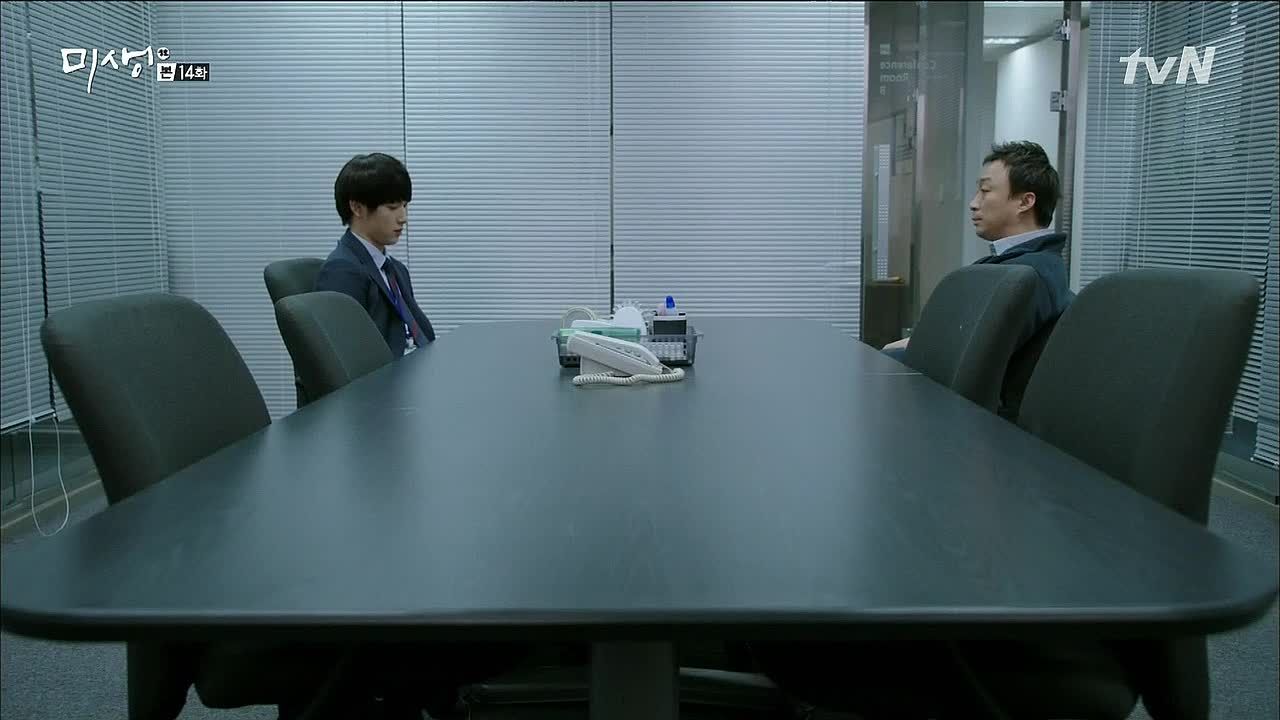 But Chief Oh tells him plainly that Geu-rae won't become a permanent employee. Data is king when it comes to determining employment, and there are too many people with better resumes, experience, and background than him, who also don't require as much time and money spent on training. There's no way that Geu-rae will be able to force himself past the impenetrable fortress that is the company's manual.
As a crushed Geu-rae leaves the office at the end of the day, he stops at the pillar where he had put his "yes" slip of paper. He'd thought this pillar symbolized his infrastructure, but it turns out he was only borrowing for a short while. Chief Chun finds him there, and he invites Geu-rae to have a drink with him.
Over shots of soju, Chief Chun admits that what he enjoyed most about working in the office was learning to drink — it helped him forget the hard times and loneliness, and made it easier to kiss up to to the people he hated. But what he regrets the most is also learning how to drink. He never was able to enjoy daily life or the leisure of taking a break.
He tells Geu-rae that drinking helps with living out the adage of "keep the head cool but the heart hot." This is an adage Geu-rae is familiar with, having heard it many times during his baduk days. But Chief Chun surprises him when he adds that starting today, he's going to quit drinking.
Thanks to Geu-rae, Chief Chun has finally been able to have a "hot heart" and be happy about working. Geu-rae apologizes about the difficulties he's caused in the office, and as Chief Chun remembers what the executive director told him about being assigned to Sales Team 3, he reassures Geu-rae that having a lot of work isn't a hardship.
Back at the office, the chief of the textile team orders Assistant Manager Sung to stay late working on a report for a morning meeting. Of course he immediately hands it off to Seok-yul, rattling off all the details and specs, finally adding through gritted teeth that he's expecting Seok-yul to take responsibility for it. He also reassures the chief that he'll personally go through the material to make sure it's accurate once Seok-yul writes it up.
But instead of sticking around until Seok-yul's finished, he heads out to meet a friend for a drink. Seok-yul's barely been able to contain his silent frustration through all this, and later Assistant Manager Sung checks in with him. But instead of returning to the office to look through the report, he texts Seok-yul that he can just go home.
Seok-yul sees this as an opportunity to declare war, and in the morning he smirks as he rides the elevator, purposefully ignoring Assistant Manager Sung's frantic phone calls. He drops his confident swagger to rush into the office, acting surprised when the chief tells him that the report isn't prepared. It's only a ploy to reveal that Assistant Manager Sung hadn't read through the report before approving it, and Seok-yul's pleased with himself as he prints out the report, assuming that Assistant Manager Sung will get in trouble.
But a perplexed Seok-yul soon realizes that his plan backfired as the chief accepts Assistant Manager Sung's explanation, and the only one getting in trouble is Seok-yul for arriving to work a few minutes late.
Young-yi reports to Manager Ma about the preparations she's made at a country club for his upcoming meeting, but all Manager Ma can focus on are all the small details, like if the caddy will be a pretty girl. He then suddenly asks her about her past relationship with Team Leader Shin, having heard about them through the grapevine. But Young-yi stands her ground, refusing to discuss it since it doesn't relate to work matters.
Noting her sudden change in attitude, a concerned Baek-ki follows her outside, but she smiles and reassures him she's fine. Manager Ma also happens to take his coffee break then, and when he sees her, he immediately yells at her for talking back to him when he's only acting like a concerned parent, trying to protect his daughter's reputation.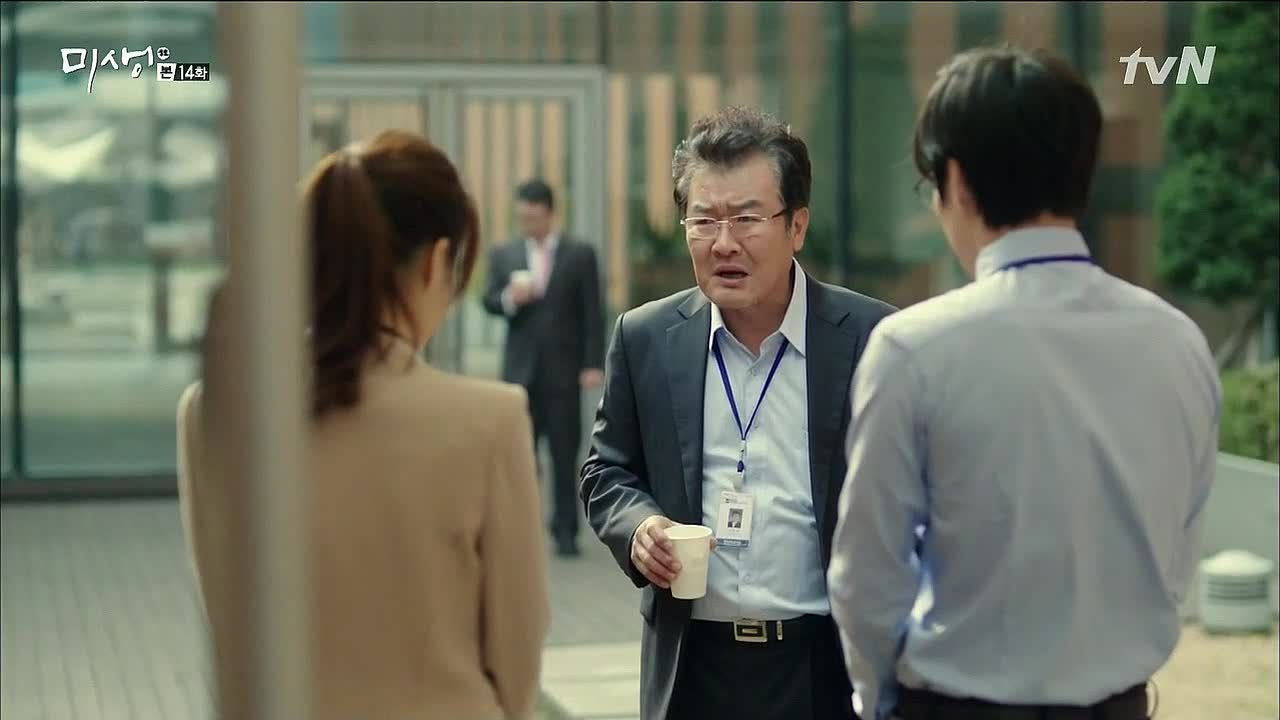 When she asks why she'd be his daughter, he turns around, furious at her for daring to once again talk back to him. He asks if she's going to report him for sexual harassment, too, as he throws his cup of coffee at her. But Baek-ki rushes to intercept and is the one who gets the scalding liquid all over his chest. That only ticks Manager Ma off even more, and he storms off after Baek-ki calmly withstands his insults.
During her lunch break, Young-yi buys a new shirt for Baek-ki, thanking him for his actions earlier. He immediately offers to pay for it, and she teasingly answers that it's 50,000,000 won. Her point is that it's a gift, and he should put his wallet away.
Also during the lunch break, Geu-rae finds Seok-yul passionately writing up an angry screed against Assistant Manager Sung on the anonymous employee web forum. Geu-rae's expression seems to indicate that he thinks this will not end well.
During the weekend, as Geu-rae cleans his house, he thinks about what Chief Oh said about how there's no way for him to be hired on as a permanent employee. He gets a call from Dong-shik asking him to be on stand-by because today is his blind date, and past experience has taught him that he'll be kicked to the curb within the hour.
Despite his best efforts, his prediction comes true as Dong-shik's blind date dumps him, telling him that he doesn't seem selfish enough. He tries to console himself that at least she didn't dump him because of his looks. This does mean, though, that Geu-rae's called upon to fulfill his duty as a consolation date.
When Geu-rae immediately answers the phone asking what bar Dong-shik is at, he's surprised to discover that it's actually the adorable kindergarten teacher calling him instead. She's delighted that he's apparently asked her to go out for a drink after playing hard-to-get for so long, while he's just dazed that he apparently now has a date.
She and Dong-shik are happily blitzed as they complain about the modern state of dating and difficulties in finding someone to marry. When she pointedly asks Geu-rae's opinion on marriage, he's still so focused on his work woes that he can only blurt out that he's a contract worker.
Seok-yul makes plans with his family to return home for the New Year holiday, but as he goes to book his bus tickets online, he decides to first check out the response from his angry rant about his boss on the employee internet forum. But he soon realizes that one of the posted responses is a polite apology from Assistant Manager Sung for not training their newbie well, and the rest are derisive comments from other employees about Seok-yul's audacity in making the post in the first place.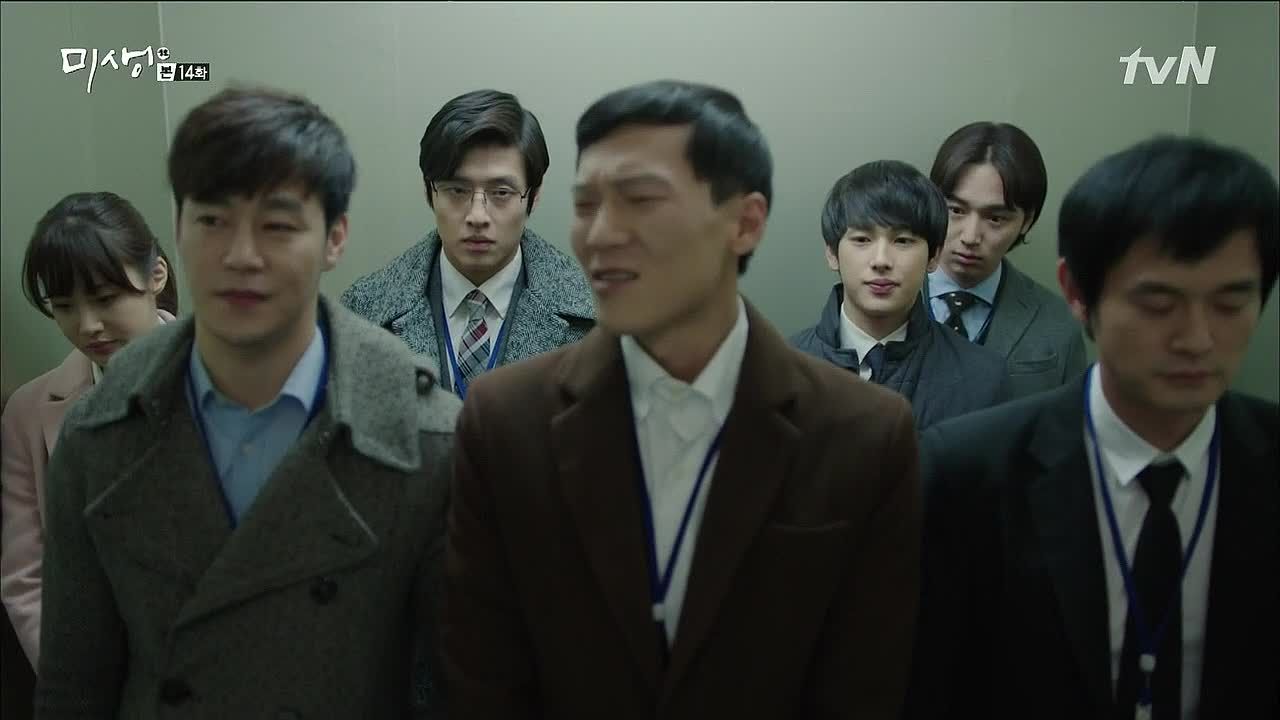 He looks sick to his stomach as he arrives at work Monday morning, and when all four newbies get on the elevator, the overhear a couple of other employees discussing the ridiculous idiocy of Seok-yul's post. He tries to keep his composed dignity as he hides in the back, but for once the chatterbox Seok-yul has no words as he silently bids the other newbies adieu.
Today is the day the company gives everyone their New Year presents, and all the permanent employees get gift bags of Spam, while contract workers get cooking oil. Geu-rae eyes the cooking oil on his desk as Chief Oh arrives, reminding him not to be greedy.
But Geu-rae asks if he has to ask permission to be greedy. It's not about getting the permanent job, really — he just wants to continue working and stay with Sales Team 3. Chief Oh doesn't respond, and the tense silence is broken when Chief Oh spots Dong-shik, and over-eagerly asks how the blind date went.
He excuses himself for a smoke break, and as he broods over Geu-rae's words, he remembers when previous contract worker had asked him if she kept working this hard, she would be able to stay at the company.
Chief Oh gives his staff permission to leave early for the holidays, and he hands over an envelope of cash as New Year's bonus. Chief Oh keeps his back turned as he puts on his jacket, avoiding Geu-rae's polite protest. Chief Chun teasingly reminds Geu-rae that he should just say "thank you" when an elder hands him money.
When he gets home, Geu-rae quietly leaves the envelope next to his sleeping mother, but she wakes up enough to note his bonus. He sits outside to stare at the night sky, and as he thinks about his earlier conversation with Chief Oh, he sheds a few tears.
On the morning of the New Year, Geu-rae takes his mother's advice and goes for a long walk to avoid dealing with his relatives, who were unhappy with his decision to quit playing baduk. He worries at how she'll be able to handle them, but reassures himself it'll be easier for her if he's not around.
Without a place to go (and no one to enjoy it with, anyway), he finds himself back in the office. When he sees some employees unloading a shipment, he offers to help. But they tell him that he doesn't need to exert himself unnecessarily, since it won't exactly help him become a permanent employee. He sadly walks away, sighing once again at being reminded of his temporary status.
Suddenly realizing that it was probably wrong that he left his mother alone, he hurries back home, gasping for breath as he sprints up the road. But he shouldn't have worried because Mom is holding court with the rest of the family, bragging about Geu-rae's achievements at work.
Geu-rae stays hidden as he listens to her effusive praise, but she starts crying when she mentions how much Geu-rae continues to smile when his heart is suffering. His eyes fill with tears as he quietly walks away from the house and continues his aimless wandering. He reminds himself that he's not a failure in his mother's eyes.
Everyone returns to work after the holiday, and as Geu-rae gets settled in the office, Chief Oh meets with the executive director for a "friendly" cup of tea. He's an unwilling guest, however, and when the executive director tells him to take a seat, he chooses the one furthest away. The executive director sips his tea as he says just how much Geu-rae reminds him of Chief Oh, when he and Chief Oh were younger and working in the same department.
During that time, he and Chief Oh had done all the could to complete their projects, even if it meant being reckless and causing other employees to be fired. When Chief Oh mentions the woman who died after being wrongfully dismissed due to their actions, the executive director nonchalantly has trouble recalling her, adding that Chief Oh always did his best to protect the contract workers. So, then, is he planning to do the same with Geu-rae?
Deputy Director Sun runs into a wild-eyed Chief Oh as he returns to the office, and she follows him outside as he tries to control his overflowing emotions. He tells her that the executive director didn't remember the contract worker who died, adding that he's a scary man because he can conveniently forget the things that would hurt his career.
Geu-rae stands on the rooftop just above them, having taken a coffee break outside just moments before. He quietly eavesdrops as Chief Oh passionately blames himself for her death, for not telling her the truth when the executive director just gave her empty platitudes. Ohhhh, she was the contract worker who had asked the same thing as Geu-rae, that if she just kept working like this, she would be hired on permanently.
That's why he told Geu-rae that he wouldn't make it — it's pointless to give him false hope. Deputy Director Sun believes that it's scarier to know they live in a world where even empty encouragement wouldn't be appreciated — there are too many who are hungry for any sort of hope.
Even so, Chief Oh repeats that he can't give Geu-rae that hope.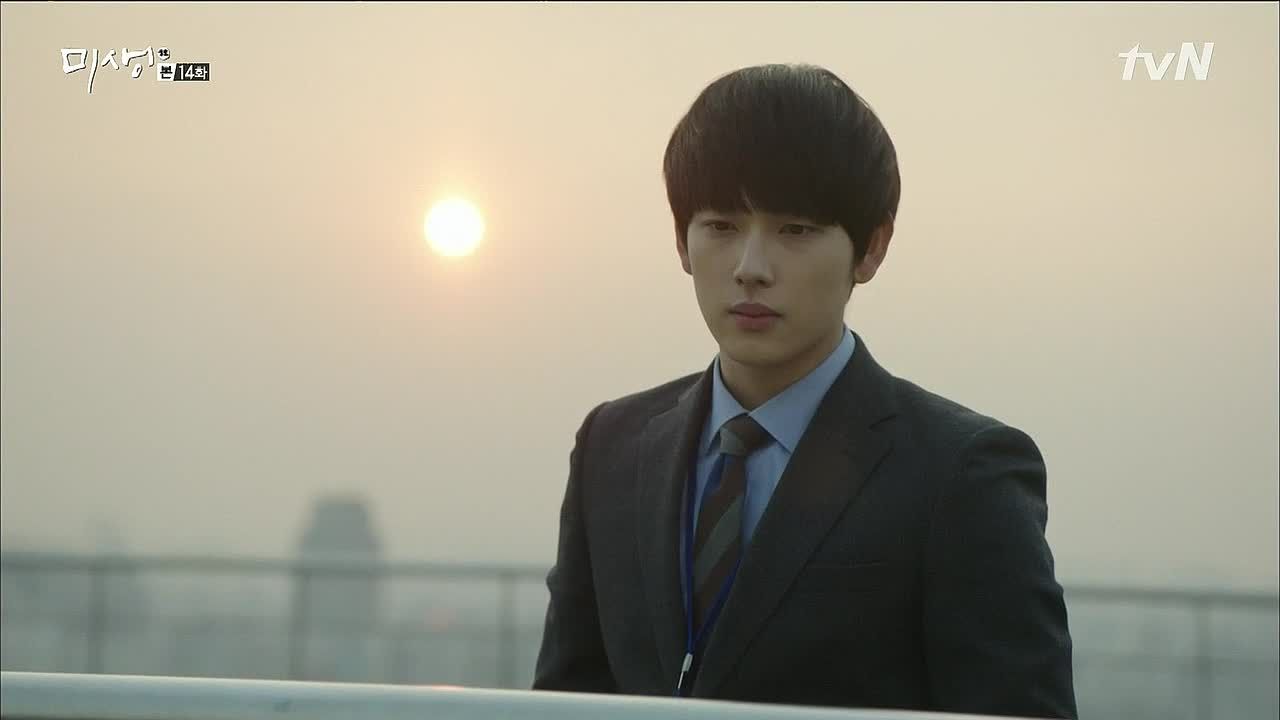 COMMENTS
Ooof. I knew I should be suspicious when the show started out with everyone happy, but I didn't know I'd be sucker-punched at least once or twice or a dozen times throughout the rest of the episode.
I can understand where Chief Oh is coming from: He doesn't want Geu-rae to end up like the former employee. But it's still hard to see him not give Geu-rae the reassurance that he so desperately desires. It was also hard to watch Geu-rae pretty much mope through the entire episode, feeling depressed that he's not really one of the team despite his passion and determination. I do respect that everyone around him did their best to encourage him (that scene with Chief Chun was especially heartwarming, since — yet again — we get to find out how Geu-rae has positively impacted someone's life, even if it's in unexpected ways).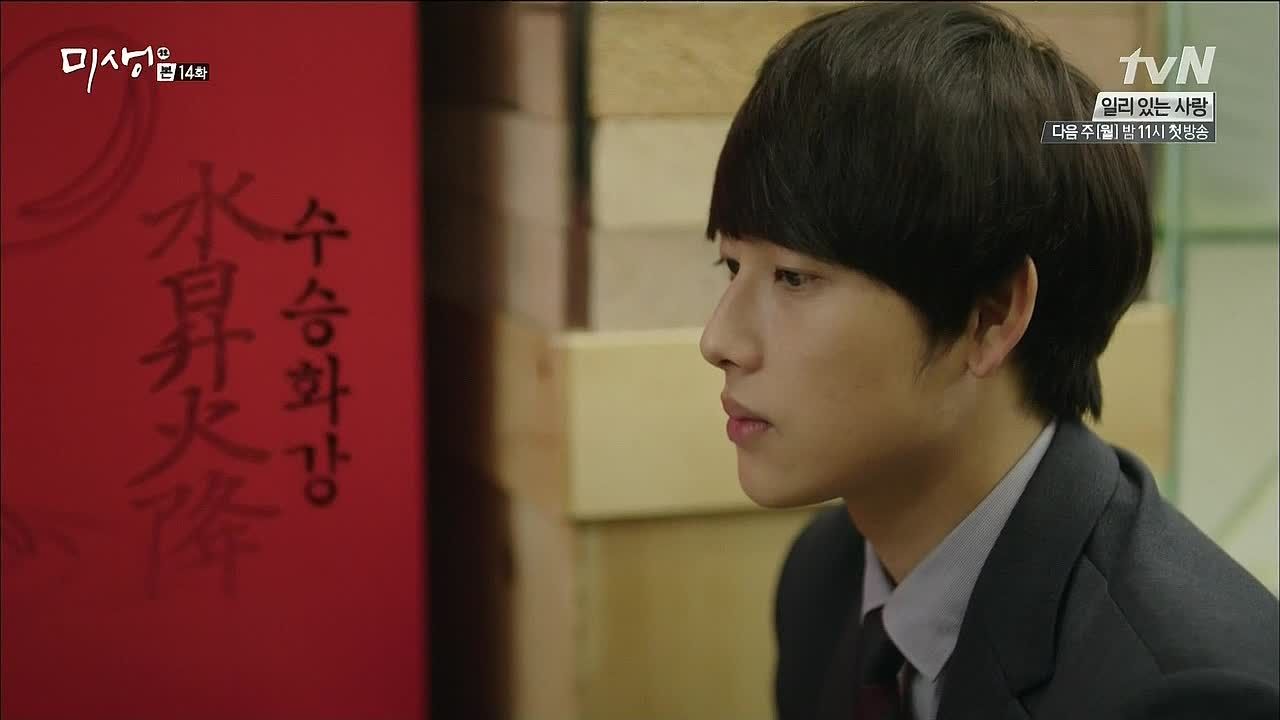 I know that Geu-rae has to get hired on — he has to, since it wouldn't make sense for the show to continue on for another six episodes without him, and because there needs to be an explanation of how he ends up chasing some guy in Jordan (and speaking English!).
Even so, there's a knot of anxiety in my stomach because there's no guarantee that he'll stay on Sales Team 3, not with the way all these other managers keep scouting him out. I don't know if I could bear watching him work for someone else, someone who is more blatant that they're using him for his connections with the executive department, and who doesn't necessarily appreciate his unique viewpoints. Mostly I just don't want Sales Team 3 to be broken up, not when they've finally found their balance and groove. Not when Dong-shik is referring to himself as "hyung-nim" and Chief Chun is giving sage advice over drinks.
But let's not dwell on that, and instead let's think focus on the characters we'd most like get rid of. Such as Manager Ma. Ugh. While a vile little misogynist. He's been pretty unbearable throughout the entire show, and his insinuation that Young-yi keeps using her "feminine wiles" to get her away is infuriating because it couldn't be further from the truth, but when he threw that hot coffee at her (which looked like it was aimed at her face), I was like, "Whoa, that's going too far."
I've accepted that this show manages to change our perceptions of characters (bit by bit the resource team seems to be coming around), but there's no way to redeem that kind of action. Sure; it gave us a reason for Baek-ki and Young-yi to get closer together, but at what cost? I know eventually Young-yi's past with Team Leader Shin will be revealed, but I'm hoping it's on her terms and not some petty payback by Manager Ha. But he seems so devoid of integrity that I wouldn't put it past him to spread vicious rumors about her.
Of all the newbies, though, this was really Seok-yul's episode. His game-plan to attack Assistant Manager Sung makes me cringe in second-hand embarrassment. He should have listened to their recommendations that he wait before fighting back, but that's not the kind of guy he is. He wears his heart on his sleeve, more prone to react than to carefully think things through. Perhaps if he'd followed the lead of Geu-rae or Young-yi, and quietly sucked it up while dealing with the frustrating Assistant Manager Sung, he would have found a way to prove through his work that he's worthy of being noticed.
The one thing Seok-yul's always had is his pride — something we've seen ever since that flashback to his childhood when he was picked on by other kids because of his father's job. So it makes sense that the one thing that is most difficult for him to surrender in this job is that pride. In that way, it seems like Baek-ki and Seok-yul are more alike than they seem despite their completely opposite personalities, and perhaps that's the bromance I'm more interested in seeing develop. Baek-ki had to humble himself to learn the basics, and Seok-yul will have to humble himself to make up for his rash actions.
Neither are very pleasant options, but that's the way to get through life — doing the things you don't necessarily want to do to survive another day. And in a by-the-book corporation like One International, even the worst people can succeed provided they follow the rules and stay within the safety of the "company manual."
But that just reminds me of the fact that Geu-rae prefers to work outside that manual, and despite his achievements within Sales Team 3, his qualifications on paper means he doesn't stand a chance to be hired on permanently. And I don't want to think about that now.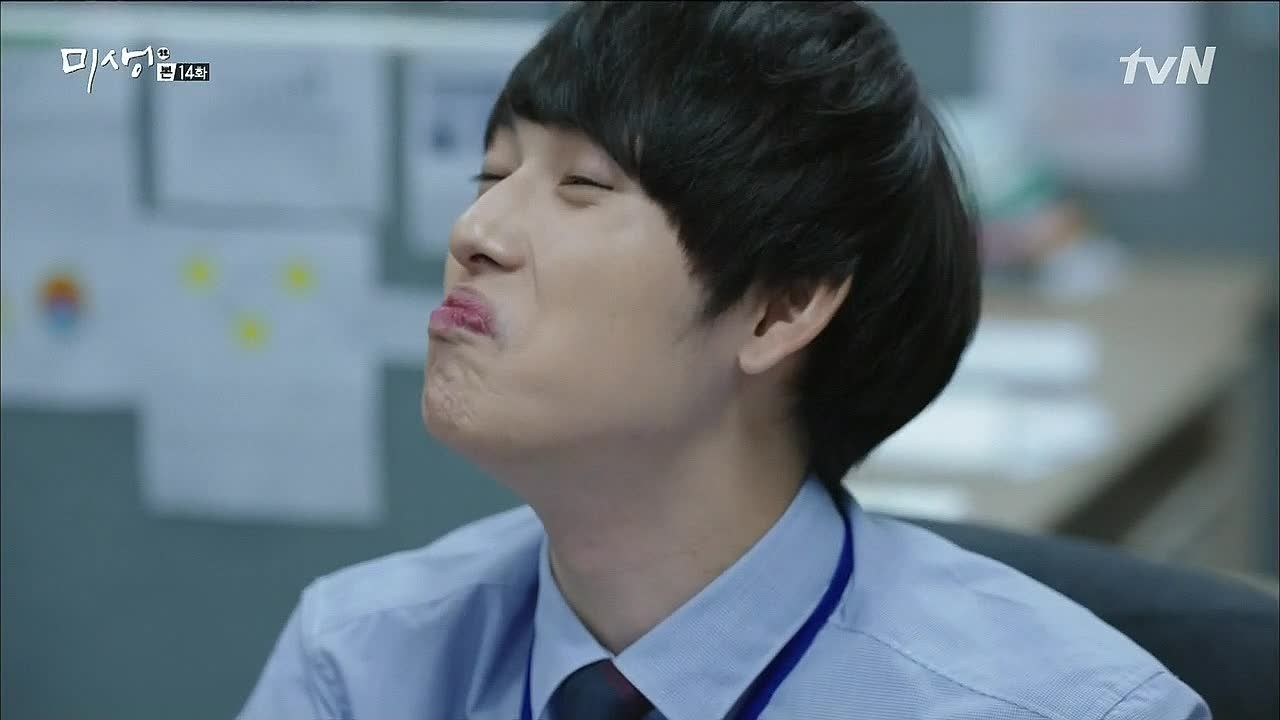 RELATED POSTS
Tags: featured, Im Shi-wan, Kang Haneul, Kang So-ra, Lee Sung-min, Misaeng