Misaeng: Episode 20 (Final)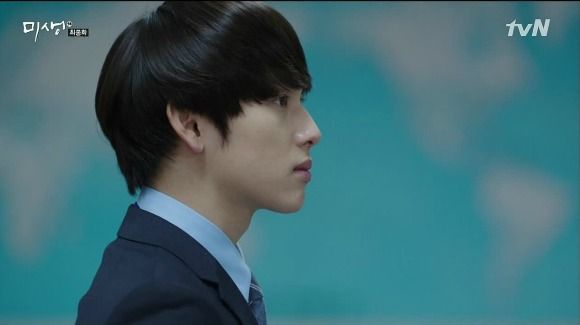 Get the hankies ready — not just because this is the final episode of what has become one of the best dramas of the year, but also because we (and everyone else) must figure out what life is like at One International without our beloved Chief Oh. Because life still goes on, and everyone rallies around Geu-rae to fight against the corporate machine so he can be hired on as a full-time employee. More importantly, we finally discover what fateful road lead him to take that soaring leap in Jordan.

FINAL EPISODE RECAP
After Chief Oh's departure from One International, Sales Team 3 goes back to business as usual. But despite everyone treating him the same as ever, Geu-rae still feels uneasy, finding more reasons to leave than stay at the company. But the reason he stays is due to Chief Oh's admonishment to hang in there and fight until the end.
As Geu-rae makes coffee for his department, the other newbies cautiously peer around the corner before nervously enterting. Seok-yul does his best to break the ice and raise Geu-rae's spirits, but immediately puts his foot in it when he mentions the project takeover transition meeting reminds him of Manager Ma's and Chief Oh's old conflicts. After Geu-rae leaves, Seok-yul sighs that Geu-rae's contract end-date is getting closer, and despite everyone's best efforts, there isn't anything they can do.
The new Sales Team 3 department chief is a total micromanager, belittling Dong-shik when he explains to the new chief that they're normally left to their own devices to complete their tasks. That kind of work style isn't going to fly anymore, and with a scornful look at Geu-rae, the micromanaging chief adds that when they get their new employee, it will be a college grad with good qualifications.
Assistant Manager Sung finds out that Seok-yul hasn't paid Chungsol, the company that has been consistently late on their deliveries. Seok-yul sticks to his guns, insisting that because some important quality control documents were missing, if the products were insufficient, he would end up responsible. Of course, Assistant Manger Sung jumps on that word, "responsible," wondering what kind of environment Seok-yul was raised in to make him so distrustful and selfish.
Oooo, you don't mess with Seok-yul's family, and as he sits back down at his desk, he pulls out the envelope of photos he took of Assistant Manager Sung — only to shove them back in his desk, calling them "too dirty" to look at. Innnnnteresting.
At the transition meeting, the representatives from the textile, resource, steel and sales teams amicably discuss what projects to hand over to each other. Manager Ma is in the seat of authority, and he takes issue with the fact everyone wants to work together instead of just focusing on their own projects. His unwillingness to let the resource team give away projects, and his particular focus on Chief Jung turns the chief into a stuttering mess of nerves.
Young-yi's on the phone with a client, and as she's about to discuss a delivery schedule, she notes that next month is her two-year anniversary of working at One International — which is also when Geu-rae's contract is up.
The resource team return from their meeting, Chief Jung still rattled from his encounter with Manager Ma. The other assistant manager wishes Manager Ma was a contract employee, and as they watch Dong-shik and Chief Chun return to their cubicles, the resource team wonders what will happen to Geu-rae.
Young-yi takes a coffee break, and while she's remembering when she and Geu-rae were interns, Assistant Manager Ha sits down across from her. He can tell it bothers her that they'll soon be losing Geu-rae, and she admits that she can't stop wondering if there's a solution to help get him hired on permanently.
He suggests that she start a "movement" — if she can get enough people talking about how Geu-rae needs to stay at the company, then perhaps the executives might rethink things. She passes on this suggestion to Baek-ki and Seok-yul, admitting it's not exactly a perfect solution. Baek-ki doesn't know how it's possible to start a "save Geu-rae" campaign. After all, it's not like they can do a project presentation on Geu-rae or go crying to the CEO like people do in dramas.
But heart-on-his-sleeve Seok-yul refuses to give up without even trying, and he decides to use the format that once made him look like a fool. On the employee forums, he apologizes for his previous use of the message board, and begs everyone to please read his request. As he writes about how important Geu-rae has been to him personally, as well as the rest of the company, we see a montage of Geu-rae's past experiences as both an intern and a contract employee.
Meanwhile, Young-yi and Deputy Director Sun go to the personnel department to find a way that a contract worker might be hired on as a permanent employee, begging that he get a fair review, untainted by his association with the executive director's removal. For his own part, Baek-ki creates a spreadsheet, listing all the ways Geu-rae has been helpful to the steel team.
Assistant Manager Kang realizes what he's doing, and even offers to check it over when he's done, since this kind of documentation will be useful for Sales Team 3 to try and convince the executives that Geu-rae is worth saving. Aw, it seems everyone is on "Team Geu-rae."
Seok-yul wraps up his passionate plea that Geu-rae must become a permanent employee with the hope that he may fulfill Geu-rae's promise from the intern presentation review, where Geu-rae said he would sell the textiles with Seok-yul. Late at night in a darkened, empty office, Geu-rae reads Seok-yul's post, tears streaming down his face.
A new crop of interns is ready to be selected, and Chief Chun encourages Geu-rae to go down and represent their team, acting like a proper sunbae. But Deputy Director Sun arrives, breathless, asking to meet with them.
They're stunned to realize that headquarters is changing the policy regarding contract workers, and that in the future contract workers will be hired on after a performance review. Deputy Director Sun promises to help out all she can, and Dong-shik's overjoyed that they have a chance to save Geu-rae.
As Geu-rae dazedly walks back to his desk, he looks over at the empty desk that used to be Chief Oh's, wondering if it's okay for him to be ambitious again. Speaking of Chief Oh (because he'll always be Chief Oh, no matter what), he's now…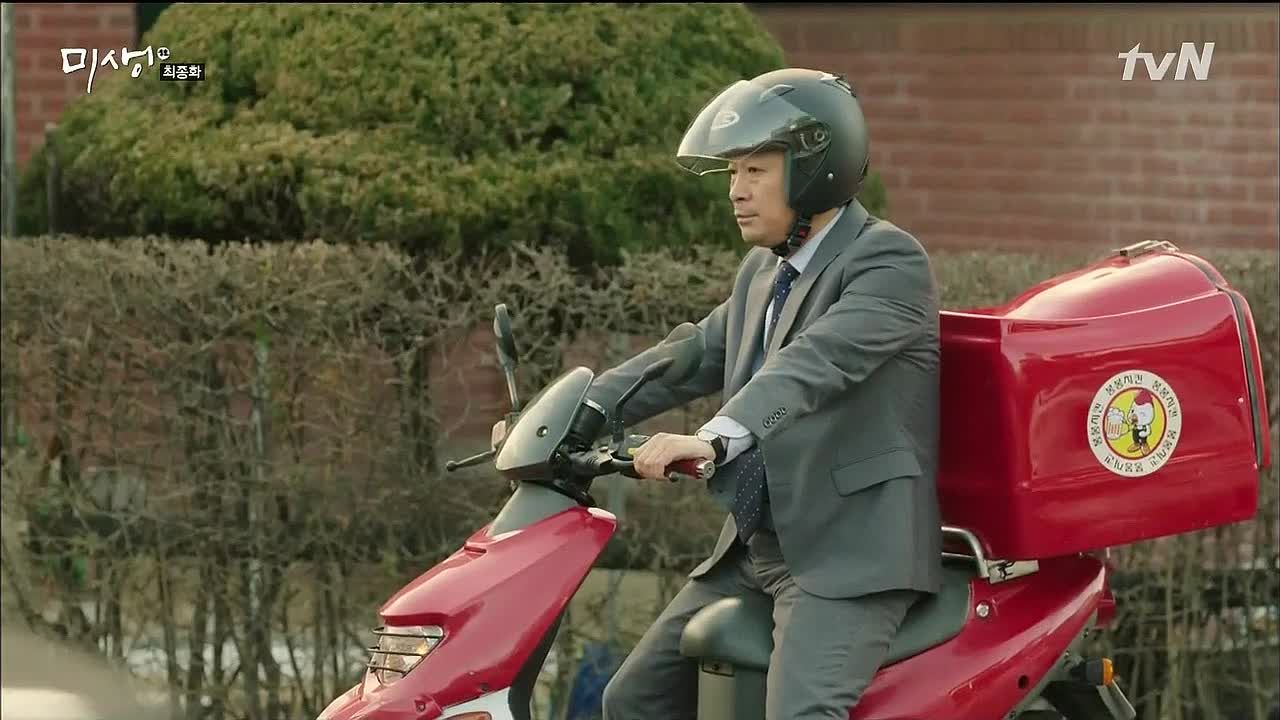 …delivering chicken while dressed in his business suit? I can't decide if that's hilarious or just sad. The chicken restaurant ahjumma chides him for being late on his deliveries, and he cheerfully apologies.
During his lunch break, Chief Oh overhears a couple of office workers complaining about their new intern who had to call his mom to figure out how to make photocopies. Haha! But that reminds him of when Intern Geu-rae had begged him for a chance, if Chief Oh would just teach him what to do.
He pulls out his phone and stops at Dong-shik's number, but while he's debating whether or not to call, Deputy Director Sun calls him instead. He cheerfully greets her, telling her if she's had enough of Manager Ma, to throw her resignation in Manager Ma's face and just come work with him instead.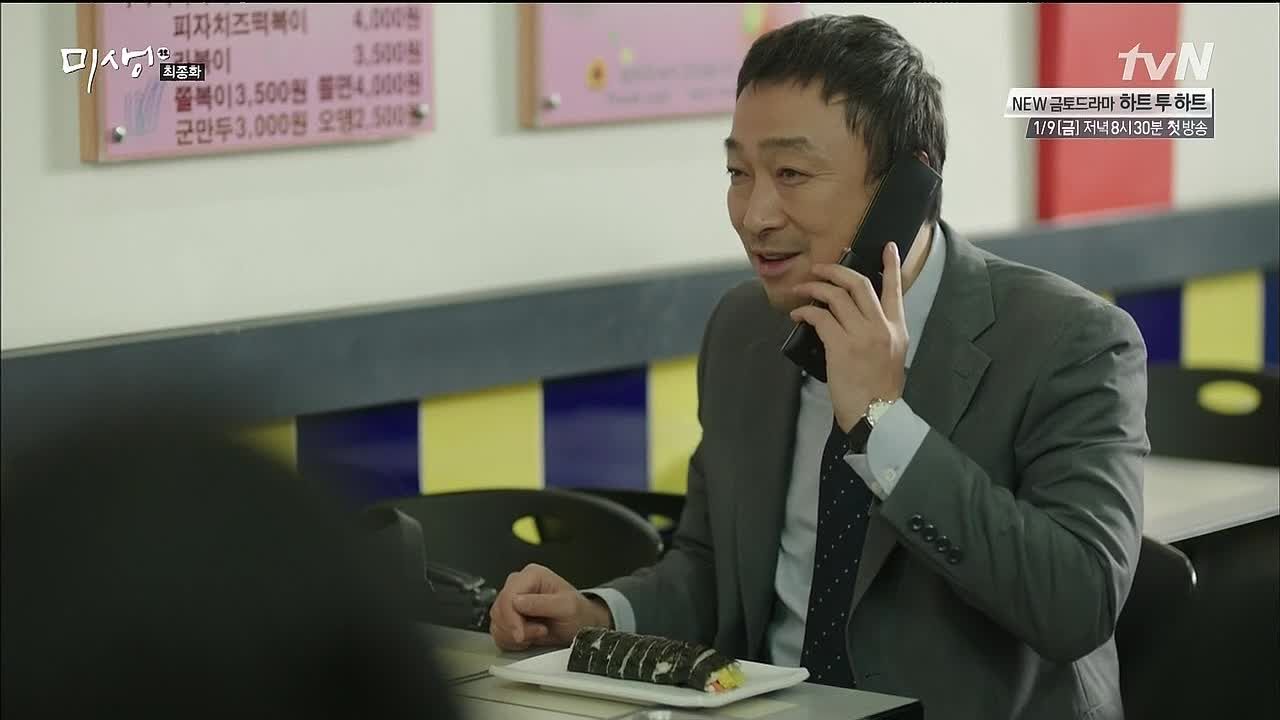 But she's actually calling to inform him that Geu-rae has passed the initial performance review, and all that's left between him and becoming a permanent One International employee is tomorrow's vote by the board of directors.
There seems to be good buzz among the higher-ups that there will be a majority vote to keep Geu-rae on permanently. Everyone around Geu-rae seems more nervous than he is about his future, as he calmly sets about his daily tasks. But when Deputy Director Sun walks over to his desk, no words are needed — the look on her face is enough to tell him that he didn't make it. Oooof.
Everyone fights back tears while Geu-rae forces a smile. Day turns to night as he stands, unmoving, staring out at the courtyard. Alone in the office, he slowly walks back to his desk, remembering his first day when he was so bewildered by the hum of the office. In the dark, he stands in Sales Team 3's department, remembering those early days when he first worked with Chief Oh and Dong-shik.
The tears flow freely now, and he makes his way to the rooftop where he fought with Seok-yul, where he had run laps as a punishment, and where Dong-shik had asked to get to know him better. He reaches the railing of the rooftop, remembering this was the spot where Chief Oh told him that "enduring is winning," and just hanging in there means he's moving towards a complete life.
Chief Oh is at a new office, and, oh, hey — it's Manager Kim! Apparently the chicken delivery was just Chief Oh field-testing a new style of helmet they're planning on exporting to Vietnam. He's actually started a new company with his old work sunbae, the one who had been so desperate for work, and hired on Manager Kim to be the CEO of their company.
As Chief Oh leaves his new office, his son calls to ask that he buy fried chicken. But his wife takes over the phone, grumbling that he'd promised that this new career would mean he'd have more time to spend with his family, but he's just as busy as ever.
Seok-yul's irritation with Assistant Manager Sung's petty tyranny reaches its breaking point when Assistant Manager Sung casually orders Seok-yul to reschedule his day off. Seok-yul reminds Assistant Manager Sung that he requested that day months in advance so he could go on vacation with his family in celebration of his father's 60th birthday, but Assistant Manager Sung insists that he'll have to cancel his plans.
Snatching the envelope of photos from his desk, Seok-yul sits down in the stairwell and flips through them. It turns out that Assistant Manager Sung has been getting cozy with the CEO of Chungsol, who also happens to be a married woman. Seok-yul is about to drop the incriminating photos in the suggestion box, asking that Assistant Manager Sung be investigated, but he stops himself.
After much thought, he decides to leave them on Chief Moon's desk instead. But when Seok-yul escapes to the roof to call his mother, apologizing that he won't be able to make it on the family vacation, he pulls out the envelope of photos and burns them in the trashcan. Whew; it looks like someone has finally learned to take the high road.
But karma is working for Seok-yul when the husband of Chungsol's CEO (a cameo by Oh Jung-se) arrives with his own set of incriminating photos. The once cocky Assistant Manager Sung becomes frantically apologetic as he takes a literal beating, offering to hand over all the gifts Chungsol's CEO gave him — such as his watch, his shoes, and the keys to his car.
The chief of the steel department compliments Baek-ki on how well he's done, adding that he'll catch up to Assistsant Manager Kang's records soon. Baek-ki's appropriately humble, but when Assistant Manager Kang points out an error in an email Baek-ki sent to one of their German clients, Baek-ki points out that actually he was correct — just like he was correct when Assistant Manager Kang had tried to correct his German pronunciation. Hee!
Baek-ki eats lunch with Young-yi — or tries to, but ox-blood stew still makes his stomach churn. Seok-yul arrives to take it off his hands, and fills them in on how Assistant Manager Sung has taken a sick leave for now, but he's sure the "psychopath" will be back soon once his pride and broken nose heals. He casually asks when they saw a movie together (and, pffft, is like "why would you watch a horror movie when there are so many others to choose from?"), adding that they shouldn't leave him out. But that only makes him miss Geu-rae, and he points out how unbalanced they are now, with only three people sitting at a table for four.
On his hands and knees, Geu-rae is busy cleaning house while he practices English via audio lessons. Mom mentions that one of her acquaintances is looking for someone to help run a restaurant, but Geu-rae says he'd prefer to work on his skills first.
Young-yi calls him to get together for drinks with the rest of the newbies, and everyone is happy to see him again, particularly Seok-yul, who wraps him tightly in a hug — which Geu-rae tries to avoid, as per usual. But in the midst of the cheerful chatter (largely fueled by Seok-yul's unrequited love for Geu-rae), Baek-ki wonders if Chief Oh has asked Geu-rae to join his new company. Young-yi tries to cover the awkwardness when Geu-rae admits he hasn't, by suggesting that Chief Oh wouldn't want to bring on anyone new until the company is properly situated.
As a tipsy Geu-rae makes his way home, singing to himself, Chief Oh is waiting by his house and calls out to him, asking if he's done settling everything around him. He points out that Geu-rae's got the suit and tie required for the job, so he just can come around to the new office whenever. Awwww.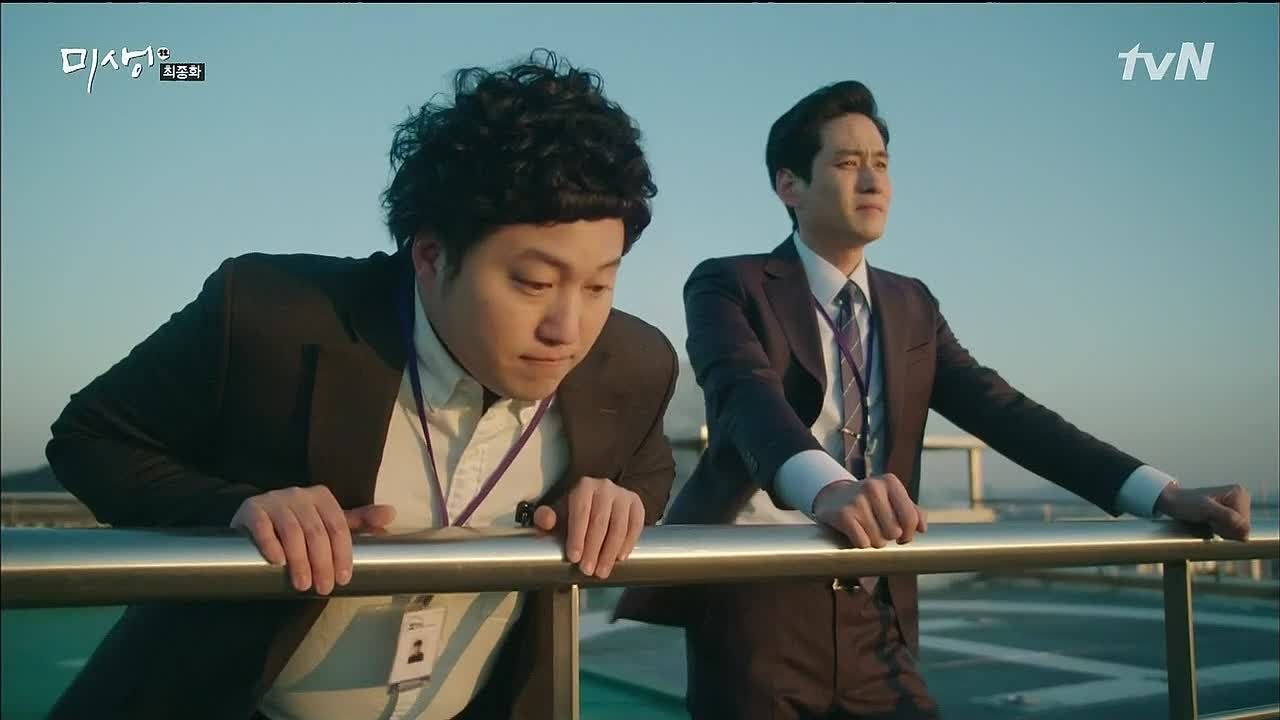 Back at One International, Sales Team 3 is busier than ever, and their new inept intern seems to only make matters worse. Dong-shik and Chief Chun take a break on the rooftop, and Dong-shik bemoans the fact that time seems to now crawl — work no longer seems fun. As he looks down at the spot where he, Chief Oh, and Geu-rae had gulped down the spoiled milk, he wonders why he feels so lonely.
Yay! Geu-rae is officially at Chief Oh's new company! As he sets down a report on Chief Oh's desk, he flips up the photo of Chief Oh's family. But as soon as he returns, Chief Oh puts the photo back facing down. When Geu-rae wonders why he always keeps it face down, he explains that it's because he doesn't want to hear his wife's nagging.
They haven't heard any response on the job posting they put out, and are contemplating seeing if they can get an intern, when, to everyone's surprise, in breezes Dong-shik. He makes himself at home, telling them that Geu-rae can take down the job posting. Huzzah, the team is back together!
All that's left is Chief Chun, but it looks like he's got his sight set on becoming a department chief at One International, as he tests out sitting in Chief Oh's old chair.
Geu-rae's new hairstyle lets us know that some time has passed, and Chief Oh gets a call that fake deer-honey Manager Seo has stolen the cell phone case prototype they were planning on manufacturing and selling. Chief Chun tips them off that he's been tracked to Jordan, and it's adorable how, as he prepares to fly there, Geu-rae has to stop Chief Oh's constant barrage of helpful tips by reminding him he's not a kid anymore.
When he meets with the One International representative in Jordan, Geu-rae learns that they haven't been able to find Manager Seo, either. But Geu-rae remembers Manager Seo had mentioned during his con-artist patter about the fake deer-honey that he prefers to stay in the cheapest place he can find.
As for Chief Oh, he's out in the desert of Jordan, and as he looks around, Geu-rae calls him. Geu-rae seems a little annoyed that Chief Oh is "going this far" for their fallback plan, but he tells Geu-rae that the Russian mafia get tattoos on their knees as a sign that they'll kneel for no one. So they'll keep fighting, too. After he hangs up, he boisterously belts out his favorite Russian song (the same one he sang for Young-yi in Episode 7), then immediately calls Geu-rae back to tell him to meet him in Petra.
Geu-rae walks along the lighted path to Al Khazneh while Chief Oh recites Robert Frost's famous poem, "The Road Not Taken." He meets up with Chief Oh, and is suitably awed by the ancient structure before him as Chief Oh explains that Petra was once the center of the trading world.
But it wasn't until he was here that he remembered that, as a kid watching the third Indiana Jones movie, Chief Oh remembered that he'd wanted to be a world traveler when he grew up. Just because you forget a dream, doesn't mean that it stopped existing. In the same way, just because you don't see the road, doesn't mean the road doesn't exist.
Chief Oh quotes the Chinese novelist, Lu Xun:
Hope cannot be said to exist, nor can it be said not to exist. It is just like roads across the earth. For actually the earth had no roads to begin with, but when many men pass one way, a road is made.
But Geu-rae's still confused as to why he called him there, despite Chief Oh insisting he just told him (and grumbles that he should have brought Young-yi instead, since she would have understood from the start). Geu-rae: "So, you want me to catch Manager Seo?"
Which leads us to the opening scene of Episode 1, where Geu-rae chases Manager Seo through the streets of Amman and across rooftops, before gearing up for his big leap between buildings…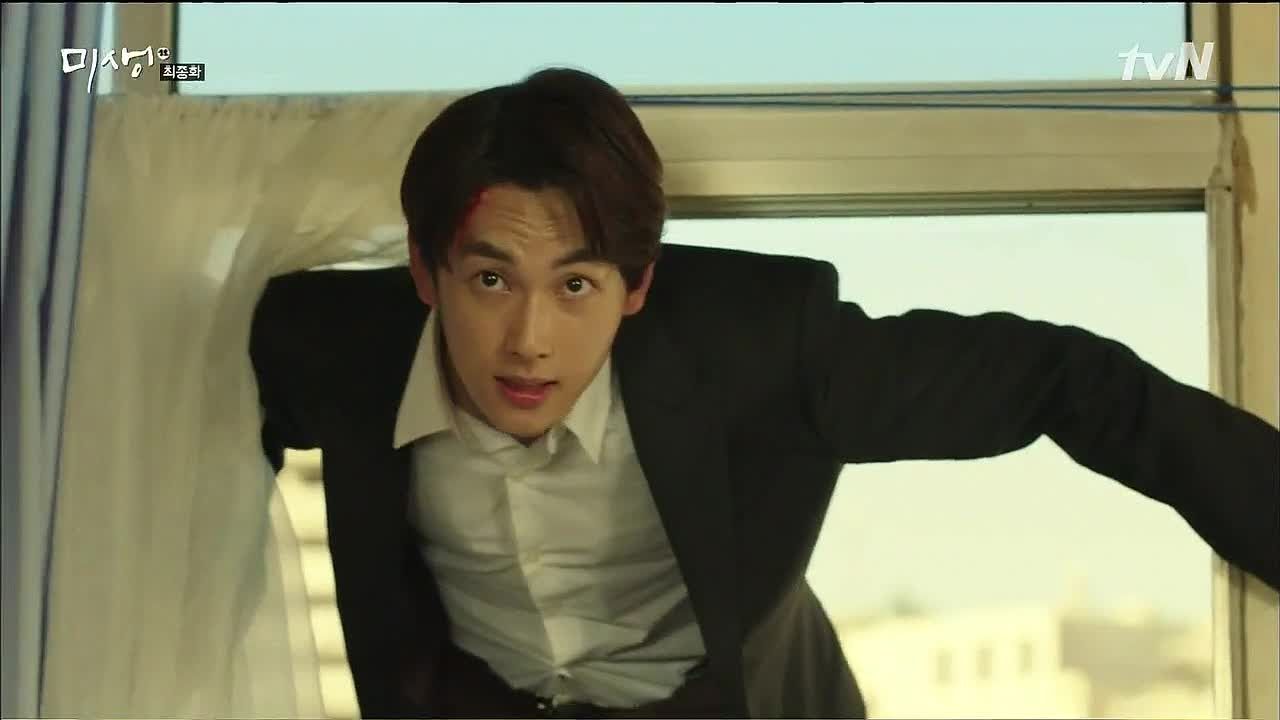 …and he makes it!
He finally catches up with Manager Seo by saving his life when he tries to jump off a rooftop that would have had him landing on the ground below. But instead of being grateful, Manager Seo can only complain about the injuries he's incurred. When it becomes clear that Manager Seo isn't going to tell him where the phone case prototype is hidden, Geu-rae uses a piece a cloth to cover Manager Seo's head.
When Geu-rae removes the cloth later, Manager Seo finds he's been tied to a chair. He tries to escape, only to realize that they're in a tent in the middle of the desert, and there's nowhere to run. Geu-rae asks one more time for Manager Seo to tell him where the phone case is, but when Manager Seo refuses, he calls Chief Oh to see what he should do next.
The One International employee who helped Geu-rae track Manager Seo down is surprised when Geu-rae mentions the Russian mafia, but he plays along as Geu-rae threatens that the mafia is also interested in finding Manager Seo, and they believe in the "fist before the law." At the sound of cars approaching and someone shouting in Russian, Manager Seo finally cracks, breaking down in tears and telling him where he hid the prototype. In awe, the other employee tells Geu-rae that he's a true One International employee.
Chief Oh pops his head into the tent at that moment, demanding to know what he meant. After all, Geu-rae no longer works for One International — Geu-rae is his employee now. Hasn't he heard of their company motto: "We may lose work, but we don't lose people."
When Chief Oh sees the sweaty and nervous Manager Seo, he shouts the Russian lyrics of his favorite song. Hahaha! The made-up Russian mafia was just a part of their elaborate fallback plan to get Manager Seo to confess.
Later, when Chief Oh and Geu-rae drive away, Chief Oh asks if Geu-rae regrets leaving One International and wants to go back. Geu-rae says he's not sure, then suddenly asks Chief Oh to sell himself so that he'll want to buy. Chief Oh, now in the passenger seat, is reminded of when he first met Geu-rae, the hapless intern who could only offer to sell him his unused effort.
As the men drive off into the sunset, Geu-rae's final voiceover is the same as his first:
A path is not simply for walking: its purpose lies in moving forward and improving oneself. A path that fails to do this is not a path.
After the credits, we see in a little epilogue that when teenage Geu-rae stepped outside of his father's memorial room, a distraught Chief Oh collided with him in his haste to Eun-ji's memorial. Who knew then that when these two were saying goodbye to a father figure and a beloved contract worker, they would one day be filling those respective roles for each other in the future.

COMMENTS
It's all over. Sniffle, sniffle. How do you say goodbye to your favorite drama of the year? Is it even possible to gracefully let go of something you've grown to love so dearly and passionately? I need my own version of Chief Oh to come and distract me with poetry and adventure while I grieve the loss of this beautiful and perfect drama.
Even now, I'm struggling to come up with words to express how all these characters have wormed their way into my soul and found a home there, and how glad I am that they'll continue to live on in their own little worlds, be it at the global corporation of One International where even simple office tasks take on great meaning, or at the swashbuckling "people come first" company where Chief Oh can finally be everything that he couldn't be — and where Geu-rae can blossom in confidence and excellence.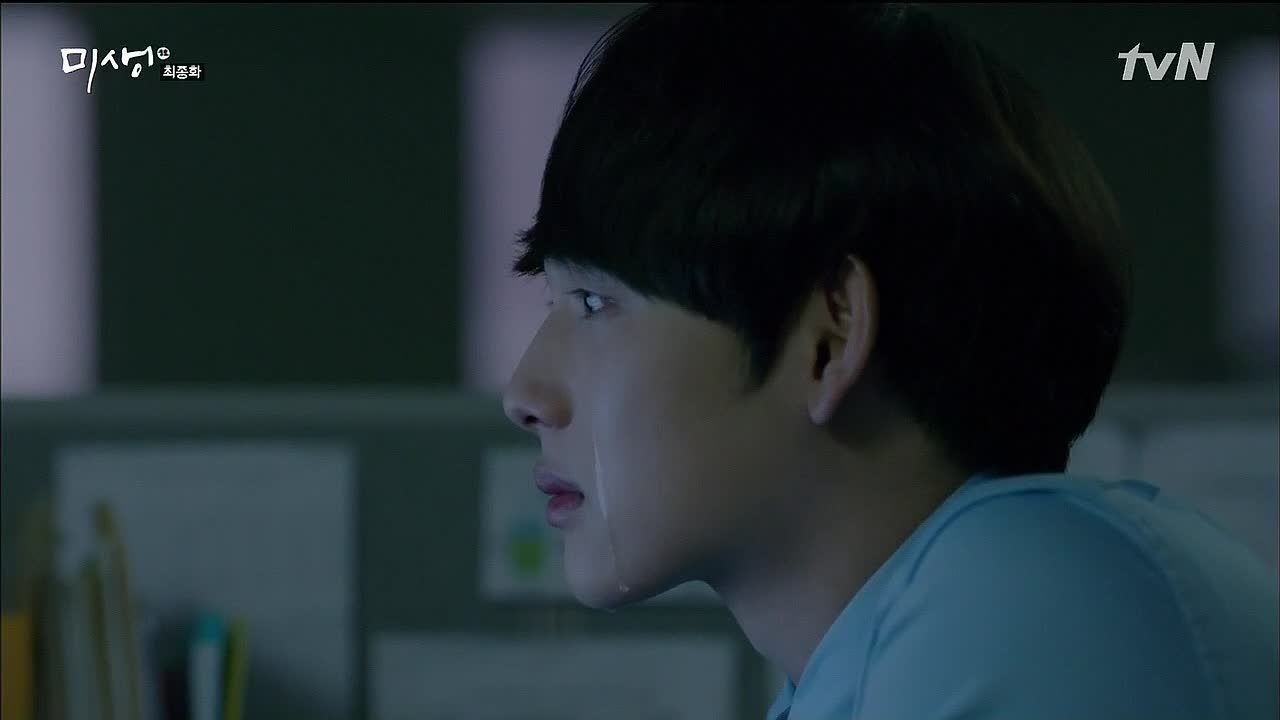 The last half hour seemed almost too cinematic at first, especially after spending weeks in the muted palette of cubicle country. Going from the mundane world of instant coffee, copy machines, and endless stacks of files, to suddenly landing in the beauty of the desert and Petra's Al Khazneh, well, it was jarring, to say the least. And I admit I totally cracked a few Indiana Jones and the Last Crusade jokes before Chief Oh even mentioned the film.
But it only highlights how out-of-place Chief Oh and Geu-rae truly were at One International. These are men who can follow the rules — all those finicky procedures that are so important in a global corporation (as we know full well from when Geu-rae tried to sell Seok-yul Chief Oh's worn slippers). But when it's a choice between following procedure or following the heart, the heart wins.
While I don't anticipate that Chief Oh's company will always have them out on the unknown road, seeking adventure as they try to reclaim what's rightfully theirs, I am happy to know that he and Geu-rae (and Dong-shik!) now have the freedom to work to their strengths, instead of always trying to work around them.
Even though this show is and forever will be about Chief Oh and Geu-rae, I can't do a final wrap-up without giving some major love to Seok-yul, especially since he finally managed to actually think strategically and be as patient as everyone has been counseling him to be. Honestly, every character has gone through some major growth throughout this show, but Seok-yul's is the most memorable to me. Remember when we first met him, and instinctively we recoiled from his smarmy greasiness and his "Wall-dog" ways? But somehow he's become my favorite of the newbies, the glue that binds them together, even when Geu-rae is gone. (I'm also not going to admit how many buckets of tears I cried when he wrote his petition to save Geu-rae.)
Because as much as this show is about Geu-rae and Chief Oh, it's also about the people around them, people who had their own stories and lives, and weren't always what they appeared to be at first. So often in Dramaland, what you see is what you get — but here, we had to learn that each character was a person, too, with their own secrets, hopes, dreams, and foibles. Each had their own road to travel down, and sometimes the roads coincided with others, and sometimes they swerved away. The road of the office worker is an endless horizon of projects, presentations, and promotions. Some may end up taking that less traveled road, but still, the road continues on.
In the end (oh, how it kills me to say "end" — what were those rumors about season two?), I don't think I'll ever be able to stop praising this show. It was one of those rare-but-perfect combinations of directing, script, acting, and general zeitgeist that seem to pop up in Dramaland once in a blue moon, and I'm forever thankful that my "road" led me to the chance to recap such a wonderful drama.

RELATED POSTS
Tags: featured, Im Shi-wan, Kang Haneul, Kang So-ra, Lee Sung-min, Misaeng