Modern Farmer: Episode 16
Winter is the time to bundle up for warmth, and it seems the entire town of Hadurok-ri has donned their grumpypants. The tension is reaching it's breaking point, and it's time for people to get honest with each other and stop hiding their feelings and secrets. One small person makes a decision to take action that will change everything, and all I can say is, thank goodness for the wisdom of children.
EPISODE 16 RECAP
A slick car pulls into Hadurok-ri, carrying the town's very first family here to experience the "Country Life Village Experience." Yoon-hee sets them up in the town meeting room, now fixed up to look more homey. Their first experience will be to help Man-gu pick strawberries (really, we're going to expose them to Man-gu right out of the gate?). Yoon-hee warns the villagers to be very careful and not make any mistakes around the visitors.
Man-gu and his mom Soon-boon wonder where little sis Yi-ji is, since nobody's seen her since her strawberry-eating coffee-shop hissy fit. Man-gu still refuses to buy her the shop, but Soon-boon tells him to just do it since he can afford it (and because it's good to reward childish behavior?). She catches In-ki throwing her a little smile, and she flashes back to their intimate moment in the freezer.
Yoon-hee checks in with Sang-deuk to see if he's prepared for his part of the experience, teaching the family to make kimchi, and he barely gets a chance to answer before Bok-nyun comes out of nowhere and latches on. She's here to help, which upsets Sang-deuk so much that he stomps off to drink.
Yoo-na is bothered by the conversation she heard between Min-ki and Yoon-hee in the barn, where they'd fought over why Min-ki worries about Yoon-hee so much. She's distracted by a music video on TV and turns it off, not wanting any reminders of her life back in Seoul.
The boys are watching a drama (ha, it's Birth of a Beauty) and Hyuk wonders if Yoon-hee might be tired with the visitors to show around, but Min-ki snaps that this was her idea and she can do it herself. Han-chul's whatever-it-is he ordered arrives and he takes off, and the other boys head out to the field. Yoo-na wants to go with them but Min-ki points out that the city people might recognize her, offering instead to take her for a walk later.
Yoon-hee reminds the guys that they're in charge of Jwibulnori later, a winter game where you light a fire in a can and twirl it on a string, and puts Min-ki in charge since he's played the country game before. He takes a nasty tone and refuses, reminding her that she told him not to worry about her anymore. Wow, if looks could kill. Yoon-hee denies to Hyuk that she and Min-ki fought, and he promises to take over the games later. No fool, Yoon-hee instead puts Ki-joon in charge, and orders him not to even listen to Hyuk. Hee.
The family starts their Country Experience at Man-gu's strawberry greenhouse, where he brags about his use of the latest organic technology and high sales every year. But when they enter the greenhouse, they're greeted by row after row of empty strawberry plants, and Yi-ji looking more than a little ill and wild-eyed as she chomps on the fruit.
Man-gu keeps his composure and directs the family to his other greenhouse, but Yi-ji is already there polishing off the last of the strawberries. Whoa, she wasn't kidding, she's eaten every last one. Man-gu loses it and drags her out by her hair, where the father of the family begs him not to hurt his "daughter." Man-gu freaks even harder at this, and when his mom arrives and the wife begs him to listen to his "wife," he goes completely 'round the bend.
Yoon-hee manages to smooth the family's ruffled feathers later, and takes them to start learning kimchi-making at Sang-deuk's house. Bok-nyun is there with Grandpa and the family notes her snort-laughter, as Grandpa introduces Bok-nyun as his future granddaughter-in-law. Sang-deuk wobbles out of his room drunk as a lord, and literally lays down inside the refrigerator, making a fabulous impression.
Han-chul finds Soo-yeon and Mi-ja discussing their lack of treasure, and he invites Soo-yeon to meet with him the next day. He's as excited as a kid, but she's depressed and says she's not in the mood. It's Han-chul's turn to lay on the aegyo — it actually works, and Soo-yeon agrees to meet him at the bus stop in the morning. Mi-ja teases that Soo-yeon likes Han-chul, but she vehemently insists she just feels sorry for him.
Yoon-hee checks on the Jwibulnori preparations, griping at the size of the cans and in general being a grouchy pill. You can tell Min-ki really wants to step in and help, but he's stymied when Yoo-na comes to claim the walk he promised. Min-ki doesn't look happy about it, and neither does Yoon-hee as she watches them go.
Yoon-hee catches Min-ho looking through her room, though he tells her he was just looking for an eraser. She invites him to come play but he says he's got too much homework, which for some reason doesn't ping her radar and she leaves. Min-ho finds the concert tickets and looks the artist up on the internet, and we see his name is Lee Hyun-suk.
Yoon-hee, the guys, and the family all meet in the fields after dark to twirl the lit cans, and Yoon-hee explains that the game started when the farmers would burn the fields in January to kill pests and prepare the land. They all throw their lit cans high in the air and Yoon-hee tells them to make a wish, which isn't part of the celebration, but she tells Hyuk she's hoping to have her wish come true anyway. Everyone silently makes their wishes except Han-chul, who wishes aloud for a long life.
As the visiting family eat roasted sweet potatoes, Hyuk notices Yoon-hee watching them with a wistful expression. She admits she envies them, and Hyuk asks what she wished for. She tells him that she wished for Min-ho to grow up well, and Hyuk says that his wish was for Yoon-hee's happiness. Aww, sweet.
Yoon-hee puts on her brave face and says she's happy enough, but Hyuk is serious, and tells her that it's okay to depend on him sometimes. In the face of her jokes, he reminds her that she can't do everything alone. Hyuk cryptically says he understands her since he's in a similar situation, and tells her it's obvious when she lies. He teases that her lies show right under her nose, touching her face to make a point, and leaving a mustache-smear of soot on her lip.
Hyuk says her eyebrows wrinkle too, and he leaves another smear on her forehead. He can't keep his serious expression and laughs at Yoon-hee's soot-smudged face, and she realizes what he's done and chases him all over the field, back to their usual comfortable bickering.
Yoo-na tries to make small talk as she and Min-ki walk, but he's not paying attention again, and she has to say his name several times. He truthfully tells her that he's worried about Yoon-hee — he doesn't understand why she's so mad at him lately, and why his being nice to Min-ho would make her angry. Bothered, Yoo-na asks Min-ki not to talk about Yoon-hee to her anymore, confusing the poor guy even further.
Yi-ji has had enough and leaves home, with her mother chasing right behind her. She says she understands why Man-gu doesn't trust her and won't buy her the coffee shop, since she's always lived irresponsibly. She plans to go be on her own, and sleep at Mi-young's shop.
Soon-boon screeches after her, but quickly calms down when she runs into In-ki on the road. He asks why she's been avoiding him, and she tells him to forget what happened in the freezer because it didn't mean anything. His face falls as he tells her he had hoped she felt the same way he does, because he can't stop thinking about her.
He turns to go but she stops him, and blurts out that she does feel the same way but she was embarrassed to admit it. He sweetly takes her hands and they gaze into each others' eyes, but Sang-eun breaks up their romantic interlude. He scoots her out of there before she can get too suspicious, but turns back to give Soon-boon a tiny wink. Too cute.
The guys are horrified the next day when they check the internet, to find that the price of cabbage keeps dropping. Min-ki finds a bit of his old optimism and reminds them that prices usually drop, then go back up. Han-chul goes out with a huge package, telling them he's busy today and to go to the field without him.
Yoon-hee walks with Sang-deuk and comments on his increased drinking lately, but he says there's nothing wrong. They run into Mi-young, frantically looking for her father who's been missing since morning. Sang-deuk helps her look, while Yoon-hee goes to continue to teach the visiting family to make kimchi.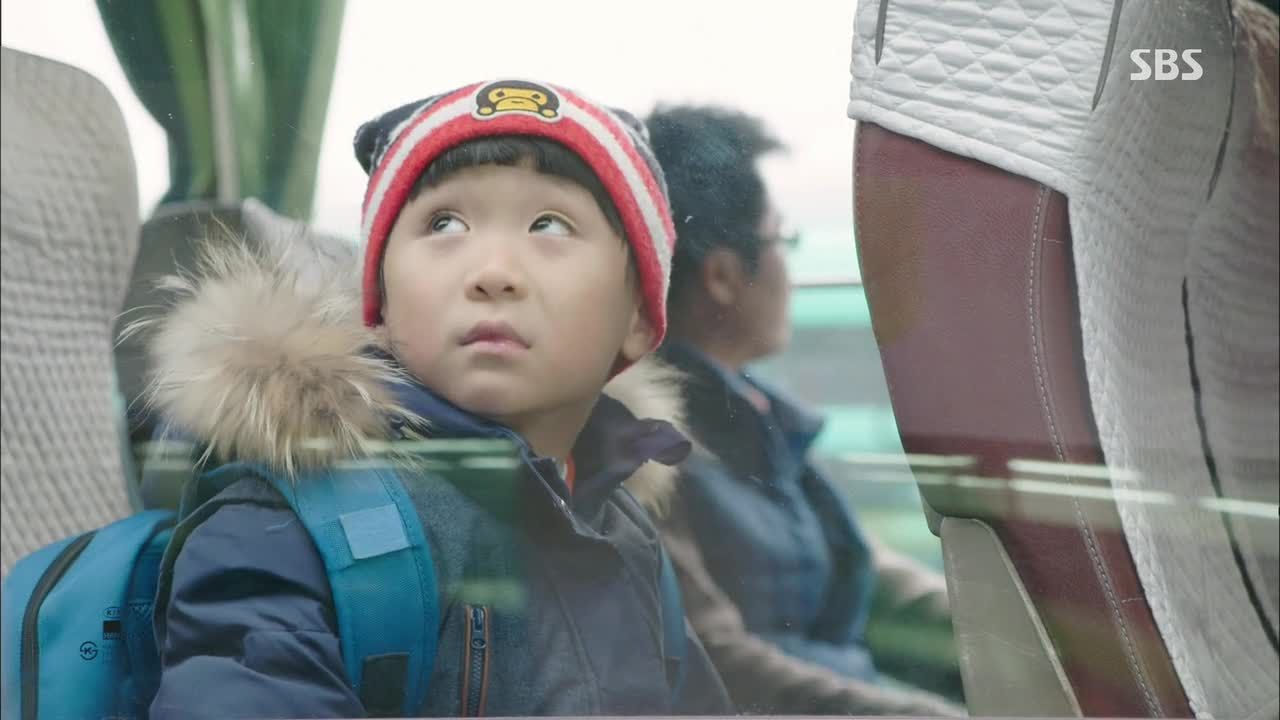 Min-ho, having insisted that he can walk himself to school, and doesn't need his mom to take him, instead gets on a bus to Seoul. Awww, he looks so tiny on that bus to the big city all by himself.
Soo-yeon waits for Han-chul, pep-talking herself that this is the last time she lets him sway her. He meets her, carrying the huge box and some weird contraptions, but just tells her it's all a secret.
Sang-deuk and Mi-young search all over town for her father, finally finding him up a tree where he's chased a kite. They're not close enough to save him, and he reaches for the kite and falls out of the tree.
On their way to the field, the guys run into Bul-ja who tells them she's going herb-picking to raise money for her mother's hospital bill. Min-ki goads Ki-joon to help her, and Hyuk smacks him and tells him to stop being so rude to Yoon-hee. Min-ki complains that Yoon-hee only sees his worry as pity, and Hyuk wonders why he hasn't figured out why it bothers her but guesses it's better if he hasn't. Still cryptic, he says he hopes Min-ki never figures it out so he'll have a chance with her.
Even though he griped that Han-chul played hooky, Ki-joon goes to help Bul-ja pick herbs, saying he's just curious about Korean herbs and it's not because he likes her. He's still going to be saying "It's not because I like you" at their fiftieth wedding anniversary, isn't he?
In Seoul, Han-chul sets up his contraption in front of a fountain and says they're here on business, instructing Soo-yeon to open the mysterious package. Inside she finds her portfolio, and all of her designs made into actual clothing. Okay, that is the sweetest thing ever. The contraption is a clothing stand, and Soo-yeon beams at Han-chul as together they set up all of her clothing for sale.
Mi-young and a banged-up Sang-deuk watch over her father in the hospital, where Sang-deuk admits that he's thankful to her father because at least he got to see and talk to her. He bluntly tells Mi-young that he likes her, asking for an honest answer to whether she likes him or not. She says she does, and he cuts off her "but…" and tells her to come with him.
At Sang-deuk's house, the visiting family is making kimchi with Sang-deuk's mom and Bok-nyun, who's busier kissing up to Mom than anything else. Sang-deuk slams into the room with Mi-young in tow, and announces that he loves Mi-young, and wants to marry her. Mom passes out, and this final bit of drama is enough to send the visiting family scurrying home.
Han-chul and Soo-yeon sell all but one coat, and when a customer comes to buy that too, Han-chul tells her it's already sold. He buys it himself then gives it to Soo-yeon as a gift, adding sadly that now, she'll never forget him as her first customer. He asks her to wear it one time for him, and compliments her on it all the way home.
Soo-yeon sincerely thanks Han-chul for doing all this for her, and he asks her to grant him one wish. He whispers his wish to her then immediately takes it back and runs off, but she stops him. She gives him a kiss on the cheek, warns him that it's only to grant his wish, and leaves him to collapse in the road with happiness.
Depressed over the failure of the "Country Life Village Experience," Yoon-hee decides they shouldn't bother trying it again, but she's distracted by a call from Min-ho's school saying he never showed up that morning. His phone is turned off, which triggers panic and everyone jumps up to go search for him. Meanwhile Min-ho makes it to Seoul, and a kind ajusshi tells him how to get to the theater.
Failing at finding Min-ho in the village, Yoon-hee runs to her room to contact their friends in the neighboring towns and notices that the concert tickets are missing. She connects the dots and figures out where Min-ho is, but she's in no condition to drive so Hyuk offers. Min-ki tries to go with them, but Yoo-na stops him with a quiet deathgrip on his arm.
As the family waits for Yoon-hee and Hyuk to find Min-ho, Min-ki asks Yoo-na why she stopped him from going to Seoul with them. She plays it off like she was worried he was too upset to drive, but he presses her for an explanation to her behavior, and she tells him she thinks he feels more than sympathy towards Yoon-hee. Min-ki denies that he likes Yoon-hee that way, but Yoo-na points out that he's awfully upset for someone who doesn't really like her.
Min-ho finds his way to the piano recital and sees his father's face for the first time, on a poster outside the theater. He's missed the show but his tickets get him in the theater anyway, just missing his mother and Hyuk as they frantically run into the theater calling for him.
Hyun-suk retires to his waiting room after the show, which is where little Min-ho finds him. Min-ho blurts out, "Are you my dad?" but Hyun-suk doesn't have time to process this before Yoon-hee bursts into the room. Hyun-suk asks if this is her son, confused since she said she was unmarried, and Yoon-hee realizes her secret is out.
Yoon-hee and Hyun-suk talk privately, and she finally tells him that he has a son. He's justifiably angry that she never told him, but she can only repeat that she's sorry. They're interrupted by a pretty woman who seems very familiar with Hyun-suk, and Yoon-hee explains herself away as simply a fan. Hyun-suk lets the pretty woman lead him away, still in shock over the news that he's a father.
When they get home, Yoon-hee takes Min-ho straight to their rooms and to bed. Min-ho apologizes, saying that he only wanted to see his father's face and know what kind of man he is, but that he's sorry to have upset his mother. He says he's okay now, and only needs his mom. Awww, sweet peanut.
Yoon-hee holds her tears in only long enough for Min-ho to fall asleep, and takes herself to the barn to have a good cry. This time it's Hyuk who finds her there, and he gently chides her for crying alone when he told her she could lean on him. He reaches up to touch her face, but backs off and adjusts her coat collar, then pats his shoulder. Yoon-hee gives in and cries as Hyuk holds her, and he cries to see her in such pain. Too late this time, it's Min-ki's turn to watch as another man comforts Yoon-hee.
COMMENTS
I'm really loving this turn of events, because I've been saying for weeks and weeks (and weeks!) that Hyuk needs to step up and do something for Yoon-hee, actually be there for her, if he wants to truly have a chance with her. This show keeps me on my toes regarding the main love square, and even as we enter the final stretch I really have no idea who Yoon-hee will end up with, if anyone at all. So I'm happy that Hyuk is making himself a contender for her, in a real and tangible way, by being there when she really needs someone to support her. It gives the question of "Who will end up with whom?" some real weight, because unlike with many dramas we don't know the endgame before the show even starts, or even now when there's only a few episodes left. I'm so used to knowing which guy will get the girl and which won't, practically from the very beginning, and once again Modern Farmer is a breath of fresh air in that there's still no obvious One True Pairing. (Though I know many of you will disagree, I truly do feel that there's been no blatant pointing out of "this is who belongs together.")
Speaking of being there for the person you care about, I'm gratified to see that Han-chul has also made strides in this arena with Soo-yeon. She's not just a pretty face to him anymore, but he actually took the time to learn what was important to her, and do something meaningful for her. Having her designs made into actual clothing was no small thing to do, and it's what finally got through to her that this person is more than just a guy who follows her around because she's attractive. Honestly, their love line is the one that's interested me least until now, because Han-chul never seems to really be interested in Soo-yeon as a person and only as someone to "fall in love with" before he dies. But suddenly now that he's making the effort to get to know her, and do things for her that mean something, I'm finding myself getting a little invested in their story, too. Just goes to show what a little genuine interest can do.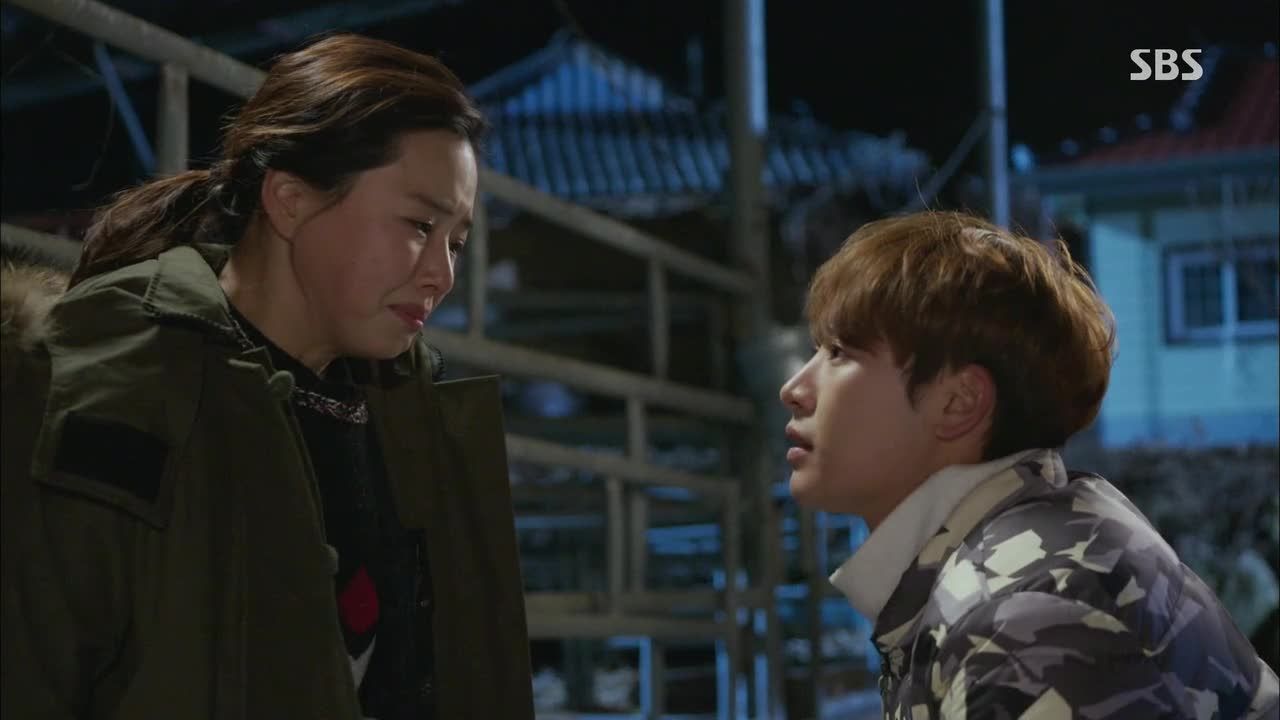 Min-ki on the other hand, is driving me nuts with his oblivious response to… well, everything. He's so wound up in worrying about Yoon-hee that he quite literally can't think of anything else without someone snapping him out of it, yet he hasn't figured it out yet? It's not like he's never had feelings for a woman and he's never had trouble admitting it — in fact he usually makes a pest out of himself when he's liked a girl (carving her name all over the school?). I guess I can see how he'd be reluctant this time, given that his tendency is to put the woman he loves on a goddess-pedestal and worship her, so possibly it's just that this is his first time loving a woman for who she is, rather than who he's decided she is. It's also his first time caring for a woman who wasn't someone he could hold up to others like, "look at this amazing woman, and she's mine," because for once he likes a woman who is just a real person with real faults, instead of an object of beauty. Still, I pose the same question to Min-ki that I posed to Ki-joon a few episodes ago — is it so terrible that the woman you like is an earthy, country woman rather than a polished city girl? There are worse things than a beautiful, smart, capable woman who can work her own farm and take care of herself and doesn't need a man to take care of her. In fact, I'd think those things would make her even more attractive.
We're rounding the curve and coming into the backstretch, and we have a lot of things still left unaddressed, and I have a feeling that these will be a jam-packed last few episodes. We still have to find out what secret Yoo-na has been carrying that Hyuk has been keeping for her, and what part that had to play in Excellent Souls' failed debut. Why does Min-ki still blame Hyuk for the breakup, and why has Hyuk been willing to take that blame for all these years? Will Soo-yeon ever find the hidden money, or will the Minions get to her first? Will Han-chul actually die of cancer or will it be a false diagnosis after all? Will Ki-joon ever tell Bul-ja that he likes her, even though she totally knows it already? And will Hyuk be able to win the lady's heart, will Min-ki realize he likes her too and she'll fall into his arms, or will Yoon-hee tell them both to stuff it and carry on with her fantastic single-mother self?
RELATED POSTS
Tags: featured, Honey Lee, Lee Hong-ki, Lee Shi-un, Modern Farmer, Park Min-woo