Modern Farmer: Episode 17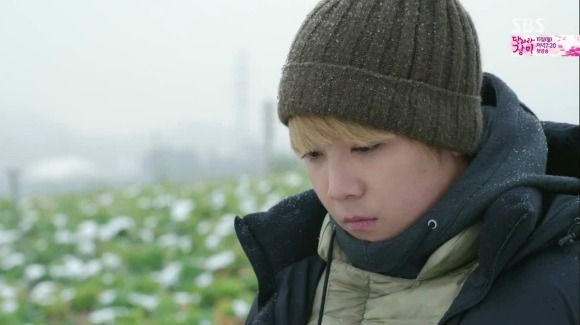 The cabbage is ready and it's finally harvest time! But all is not well, and Min-ki's grand plan to solve all of his money problems may be in serious jeopardy. But that's not even the worst of what's about to befall the boys and their friends — they're all in danger of losing everything they've worked so hard to gain, and I'm not even talking about cabbage… they could very well lose each other.
EPISODE 17 RECAP
The morning after crying her sadness out on Hyuk's shoulder, Yoon-hee leaves her room to find the whole family trying not to make her feel weird, which makes her feel weird. She tells them that Min-ho handled the whole father thing much more maturely than she did, and to stop worrying. She heads out to help a neighbor and Hyuk invites himself along, having nothing to do since the cabbages are all grown.
Yoon-hee calls Hyuk out on his mindless babble, knowing he's trying to make her feel better, and he asks if she's really okay. She says she's not, exactly, but she knows that Min-ho's father has the right to his own life and family. She never expected him to show up and take care of them.
The other boys talk in their attic room, where Ki-joon has a blinding glimpse of the obvious and tells Min-ki and Han-chul that he thinks Hyuk likes Yoon-hee. Han-chul disagrees, but Min-ki is grouchy and evasive. He can't help but remembering how he saw Hyuk comforting Yoon-hee the night before, and it clearly bothers him a lot.
Ki-joon and Han-chul ask Min-ki why Yoo-na is in such a terrible mood lately, but he evades their question and leaves. Ki-joon isn't finished being nosy, and just asks Han-chul next about Soo-yeon. Han-chul tries to be cool about his kiss, but Ki-joon stomps on his happiness and says a peck on the cheek isn't a real kiss.
He asks if Han-chul has ever had a real kiss, and Han-chul's overreaction proves he's hit a nerve. He's never been kissed! Ki-joon tells Han-chul that since Soo-yeon already kissed him once, all he has to do is follow that momentum and kiss her for real.
Sang-seuk wakes from a nightmare of his mother attacking him (having slept in the village center to avoid her), looking worse than he ever has after a makgulli bender. Mi-young brings him some food and tells him to go home and give up, but he insists that he can deal with his mother. He tastes her sandwiches, declaring them delicious, only to spit out the disgusting mouthful as soon as she leaves the room. HA.
Mi-ja ribs Soo-yeon for being so happy since Han-chul had her designs made into real clothes, and Soo-yeon hotly denies that this means she likes him or anything. But when Mi-ja starts insulting his looks and calls him a pervert, Soo-yeon changes her tune and yells that he's a kind and innocent person and there's nothing wrong with his looks, and even calls him cute before making an indignant exit.
Soo-yeon works on her mural, still muttering to herself about Mi-ja insulting such a pure person, unaware that that "pure person" is leering at her from behind a tree and licking his lips in anticipation of his first kiss. He gathers his courage and approaches her to ask a favor, but chickens out before asking for the kiss and instead asks if he can help her paint.
Left alone, Ki-joon wanders around town, and when his shoelace breaks while he tries to tie it he gets a bad feeling of foreboding. He runs into Han-chul who whines that his big plan to get his first kiss failed, and Ki-joon tells him you can't just ask a girl to kiss you. His great advice is to get her to drink to relax her, but Han-chul runs off before he can explain further.
Ki-joon gets distracted when Bul-ja walks past, on her way to sell herbs for her mother's hospital bill. He offers to go with her — not because he likes her of course, he's just interested in herb distribution, or something ~mumble mumble~
Han-chul procures some alcohol and asks Soo-yeon to drink with him, claiming he has a problem and needs to drink and talk about it. Wanting to hide her history as a bar girl, Soo-yeon tries to beg off by claiming she can't handle alcohol well, but Han-chul's aegyo eyes work on her yet again.
They find a nice spot by the river where Han-chul gets right to pouring, asking a confused Soo-yeon to just follow his lead. Soo-yeon wants to talk about whatever's bothering him (How I'm going to kiss you, he thinks to himself) but Han-chul just keeps pouring her makgulli.
Ki-joon takes Bul-ja to a street vendor after they sell her herbs, and he buys her a pretty pink pair of knit gloves, having seen her picking herbs without anything to protect her hands. It's so cute how pleased he looks with himself, though he insists he didn't buy them because he likes her, he's only trying to support small local business.
As they walk to the bus stop, Bul-ja slides her gloved hand into Ki-joon's hand and tells him not to misunderstand — she doesn't like him or anything, she's just testing out her new gloves. They grin at each other, knowing this isn't true, it's just their inside joke now.
Han-chul is no match for Soo-yeon's drinking experience, and he actually falls asleep as they sit there by the river. Soo-yeon wakes him up to ask again what he's upset about, and he fixates so hard on her lips that when she taps him to get his attention, he screams, "I want to kiss!!" PWAHAHA. Soo-yeon wheedles it out of him that that's why he asked her here, and she tells him she's disappointed in him and leaves him there.
Min-ki makes ramyun for Yoo-na, but both of their good moods dissipate when Yoon-hee and Hyuk come home. Min-ki pretends not to be bothered when Hyuk goes to Yoon-hee's room to borrow her computer with Yoon-hee following right behind, but Yoo-na is nothing if not observant and she sees right through him.
Sang-deuk apologizes to his mother's blanket as she huddles in bed, asking her to give in and accept Mi-young for his sake. But he gets the scare of his life when he pulls back the blanket to find his mother isn't crying her eyes out — she's lurking with her wooden club, ready to beat him into submission.
Han-chul follows Soo-yeon through town desperately trying to apologize, but she's not hearing any of it. He chases her all the way home, where Grandpa sits on the stoop eating his favorite almond candy bars again. Grandpa offers Han-chul some almonds and gets screamed at, and that's when Sang-deuk comes flying out of the house fleeing his mother.
In beautiful slow-motion, Sang-deuk slams into Grandpa, who careens into Han-chul and they go crashing to the ground. Just like in all good romances, Grandpa and Han-chul's lips connect and they freeze for a moment at the intimate contact. Han-chul sits up and spits out a few almonds, as tears course down his cheeks in disappointment at his first kiss.
Soon-boon asks her son again why he won't just buy Yi-ji a coffee shop, since she thinks she's growing up and will work hard this time. Man-gu knows his little sister and says she'll just give up after a few months, and refuses again before a strange voice calls him outside.
Ki-joon and Bul-ja are still hand-in-hand when he drops her off at Man-gu's farm. The guy is completely in love and not even fighting it now, and Bul-ja has to ask for her hand back twice. She sends him off whooping and waving like the lovestruck fool that he is.
But it's too good to last, as we see that the people at Man-gu's door were the authorities, here to check their foreign workers' credentials. Man-gu and Soon-boon swear that all of their workers are legal, which is when Bul-ja enters the greenhouse.
There's a long tense moment, and when the inspector makes a joke about Bul-ja's nickname that hits a little close to home, Soon-boon takes advantage of the distraction to hustle Bul-ja out of there. But they don't get far, and another, scarier inspector stops them and demands to see Bul-ja's identification.
Ki-joon skips down the road with a giant grin on his face, but he hears whistles and shouting and turns to see Bul-ja in full flight with the inspectors right behind her. He runs to her and she stops only long enough to say that if they catch her she'll be deported, and he urges her to run while he distracts the men.
Ki-joon grabs one man and the other keeps after Bul-ja, but just when he's about to catch her, a truck comes screeching around the corner and cuts him off. It's Man-gu! He pretends his truck has stalled, giving Bul-ja enough lead to get away. Ki-joon finds one of her pink gloves under the wheel of the truck, and rescues it from the dirt.
Yoon-hee's family watches TV as she and Hyuk help Min-ho with his homework. Hyuk offers to tutor Min-ho, not noticing the eye-daggers this earns him from Min-ki, especially when Min-ho calls Hyuk "hyung" (he calls Min-ki "ajusshi"). Yoon-hee sends Min-ho to bed and Aunt asks if she's heard from Min-ho's father, and Yoon-hee's excuses that she doesn't expect anything from him don't make the answer any better.
Man-gu, Soon-boon, and Ki-joon sit at Man-gu's house, each with very different reactions to Bul-ja's running away. Soon-boon is wailing and crying, Man-gu is just glad she got away, but Ki-joon can only stroke her single pink glove in silence. Man-gu tries to send him home, but Ki-joon won't go, saying he has to stay until she comes back.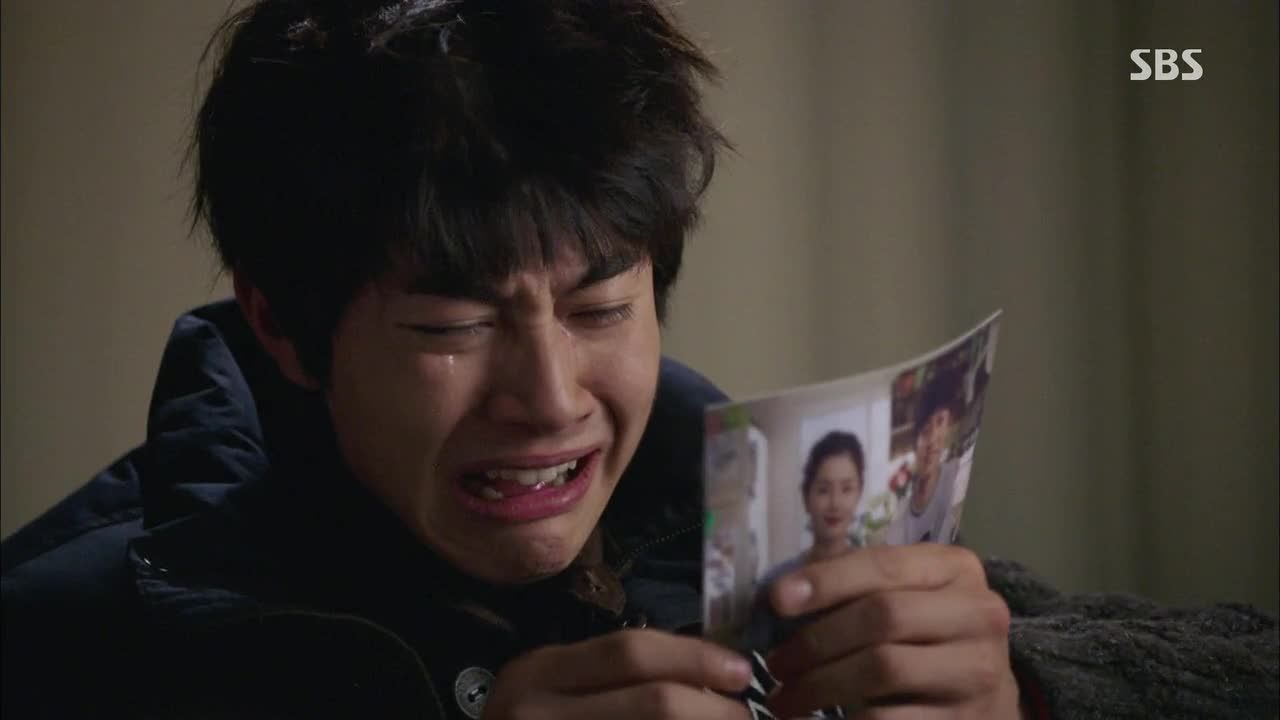 Man-gu says she can't come back because the patrols are looking for her, and Ki-joon can't hold himself together anymore. His voice cracks as he holds her gloves and worries out loud that her hands might be cold. That is the saddest, sweetest thing.
Ki-joon finally leaves but only goes as far as Bul-ja's storehouse room, where he finds the photo that was taken of the two of them the day Bul-ja got her makeover. His tears finally fall as he touches her face in the photo, but he really loses his composure when he turns the picture over to find that she's written "I love you" on the back. It's most likely a message to her mother, who the picture was taken for. But it rocks him to his core and he gives in to helpless sobs, having realized his feelings too late.
A few days later, nobody's seen Bul-ja and Ki-joon is worrying everyone with his lack of appetite. The boys catch a news bite that the price of cabbage has dropped so low, from the projected $15 per head to about ten cents per head, that some farmers are just plowing their fields over rather than go to the expense of harvesting and selling them. Oh no.
Min-ki's reaction is stark disbelief, even when they confirm it by checking the farming report online. Han-chul takes it hard, screaming in Min-ki's face, but Min-ki is so stunned he can't think and just runs out.
Later the guys stand in the cabbage and try to figure out what to do. Han-chul wants to give up, but optimistic Hyuk says that even at less than a dollar per head they can make some money, and he proposes they harvest them anyway and sell them in Seoul themselves to avoid extra cost. Min-ki is still deep in a funk and unresponsive, and when Han-chul storms off Min-ki can only find enough voice to whisper over and over that he's sorry.
Man-gu tells them that this happened to him last year with onions, and that farming is just like that — you break your back for a crop, and something always goes wrong. His advice is to give up, but this snaps Min-ki out of his own head, and he yells that Man-gu knows how hard they worked for these cabbages.
Soo-yeon gripes to Mi-ja that she's totally done with that jerk Han-chul, but when she sees the other guys walk past without him she immediately worries. They stop Man-gu to ask what's wrong with everyone and he tells them about the cabbage prices, and that Han-chul was so upset that he ran off. Soo-yeon tells Mi-ja that she's got to go "somewhere," and she searches until she finds Han-chul sitting alone.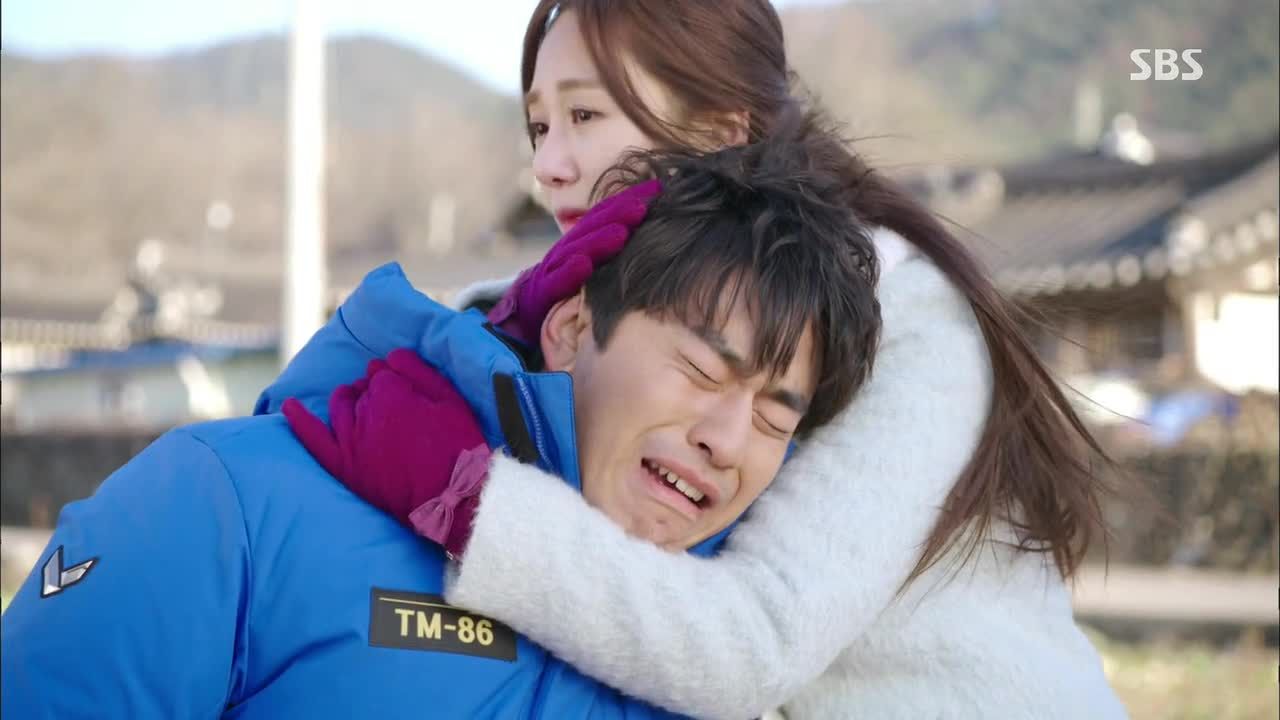 She tells Han-chul that she heard what happened, and this time his tears are earnest as he tells her he's not okay. He sobs, "What am I going to do?" and Soo-yeon simply holds him as he cries.
Yoon-hee waits for the boys to come home but when they do, Yoo-na deliberately steps between her and Min-ki to ask if he's okay. Ouch. He says he's fine and they'll talk later, but that night all four of the boys lay awake in their attic room, their troubles too heavy to let them sleep.
In the morning Min-ki has made a decision, and he's out bright and early harvesting cabbages all alone. But someone soon joins him, and he looks up to see… Han-chul! Awwww. In fact, they've all shown up to help, and Han-chul yells at Min-ki not to look at him with that face while Hyuk hollers that they'll see what rock bottom looks like. Next thing you know they're joined by Man-gu, Sang-deuk, and Yoon-hee, who tells them to stop staring and get to work.
They get all the cabbages harvested, and Man-gu warns them not to get their hopes up too much about selling them before leaving. Min-ki sends his friends back and stays for a bit, sitting with his harvest to think. Finally alone, Min-ki lets his disappointment roll over him, and gives in to his tears.
He looks up to see that Yoon-hee has come back, and she scolds him for crying and letting this get to him when he used to talk such big talk. It doesn't work, and she softens and promises to help, telling Min-ki not to worry. It's sweet that her telling him not to cry just makes him cry harder, and they share a vulnerable moment.
Neither of them realizes that Hyuk and Yoo-na have been looking for them, and are watching their private moment. Hyuk comments that things are getting complicated, and Yoo-na pretends not to know what he means, though she obviously does.
Yoo-na intercepts Min-ki and Yoon-hee when they get home and asks to talk to Min-ki privately. She tells Min-ki that she saw him with Yoon-hee and asks if he can still say she's misunderstanding, angry that he tells her he's okay but cries with Yoon-hee. Min-ki is still genuinely confused why Yoo-na seems to be jealous, and she angrily tells him to think about it.
A few days later the guys load up the truck to sell the cabbages in Seoul, and Yoon-hee sends them off, worried that they're going to do it alone. In her room, Yoo-na gets a text from her friend at the agency, but when she calls her as asked, her manager grabs the phone to talk to her. He orders her back, saying he'll just bump up their plans to market her abroad.
The guys work their tails off trying to sell the cabbages from the back of the truck, but it's not going well. It's obvious that Ki-joon's heart isn't in it, and when they stop for a break, he snaps. He snarls that there's no point in all this and he can't do it anymore, and he leaves with only a curt apology. Han-chul tries to follow but Min-ki stops him, saying he's too ashamed to go after Ki-joon since he was right.
In the hospital, the man who told Soo-yeon about the hidden money is checked out by a nurse, who misses his twitching finger. When she leaves the room, his eyes open and he looks around to make sure he's alone. Out in the hall, Dumb Minion whines that they're watching an unconscious man and suggests some fun, but Scary Minion scarily declines. They enter the man's hospital room to find that he's gone, and the minions panic.
Hyuk calls Yoon-hee from Seoul to report that they're going to stay and try again tomorrow to sell more cabbages. In the morning as they set up their wares, they're shocked to see that the police are here to break up the impromptu market, and they get into a shoving match with the officers.
Hyuk calls Yoon-hee again, telling her that the patrol confiscated all their cabbage and they're on their way home. She gets up to greet them outside, but Yoo-na steps into her path and orders her to stay inside, and she'll go out to greet them alone. Yoon-hee is too surprised to do anything but obey.
She meets the guys and Min-ki tells her he's fine, but that Ki-joon got sick of him and went back home. Yoo-na apologizes for being too harsh with him the other day, and the two of them go for a walk. Yoon-hee meets Han-chul and Hyuk when they get home, battered and bruised, and Hyuk tells her about Ki-joon deciding to stay in Seoul.
They're interrupted by a surprise visitor — it's Hyun-suk, who apologizes for his reaction the night of the concert, and explains that the pretty woman he left with is his fiancee. Yoon-hee sincerely congratulates him, but he's not finished, and he asks Yoon-hee to keep it a secret that he's a father, though he promises to send child support. Oh, you epic ASS.
Offended, Yoon-hee declines his offer. She has no intention of telling anyone anything, and she needs nothing from him. She leaves him standing there, only turning back to fire one parting shot: "And it's Min-ho. Min-ho. My son's name!" She orders him to leave and turns her back on him.
Neither of them realize that Min-ki and Yoo-na witnessed the whole thing while on their walk, and Min-ki's face takes on a hard cast. He sends Yoo-na inside, telling her he has to go somewhere.
Hyun-suk sits soberly in his dressing room later, getting ready for his concert, when the door flies open and Min-ki strides in like he owns the place. He ignores the manager telling him to leave and walks right up to Hyun-suk, and with a look of utter contempt on his face, he just nails him with a hard left hook.
Hyun-suk recovers and demands to know who Min-ki is. "Me? I'm Yoon-hee's brother and Min-ho's uncle, you bastard!"
COMMENTS
Three cheers to Min-ki for doing what I'm all sure we were hoping he would do! If even a person needed a good punch to the face, it's a man who would hide his own child to make his life easier. I'm sure he thinks he's being a good person by offering child support, but the guy is such a meek little milquetoast that I'm not surprised that he took this route and called it the high road. Much easier to hide your illegitimate child than to actually stand up and be a father, when it means you might actually face some hardship by doing the right thing. Never mind that Yoon-hee and Min-ho have spent all this time fighting societal standards that say that there's something inherently tainted about being a single mother or a fatherless child. Why not let them continue to deal with that alone when hey, he did offer to send money so that makes it all okay, right? I mean, he never even asked to know the boy's name. Jerkface.
It's crushing that after all that hard work, and after learning so much and going through everything they've gone through, the boys' dream of a great harvest and big earnings was destroyed so thoroughly. Min-ki's reaction was so hard to see, and I don't even think it was about the money. I think he had accomplished something he was proud of, and to be left with nothing to show for it was a giant blow to him. But what I realized as I watched him cry with Yoon-hee, was that his true accomplishment isn't really about cabbage. What he did by bringing his old friends together, overcoming their old failure and doing something so difficult together — that's his real accomplishment. Being a leader isn't an easy thing or we'd all do it, and Min-ki has really changed from being a spoiled city boy to a person that his friends look up to and follow. That's huge, and I hope he realizes it soon.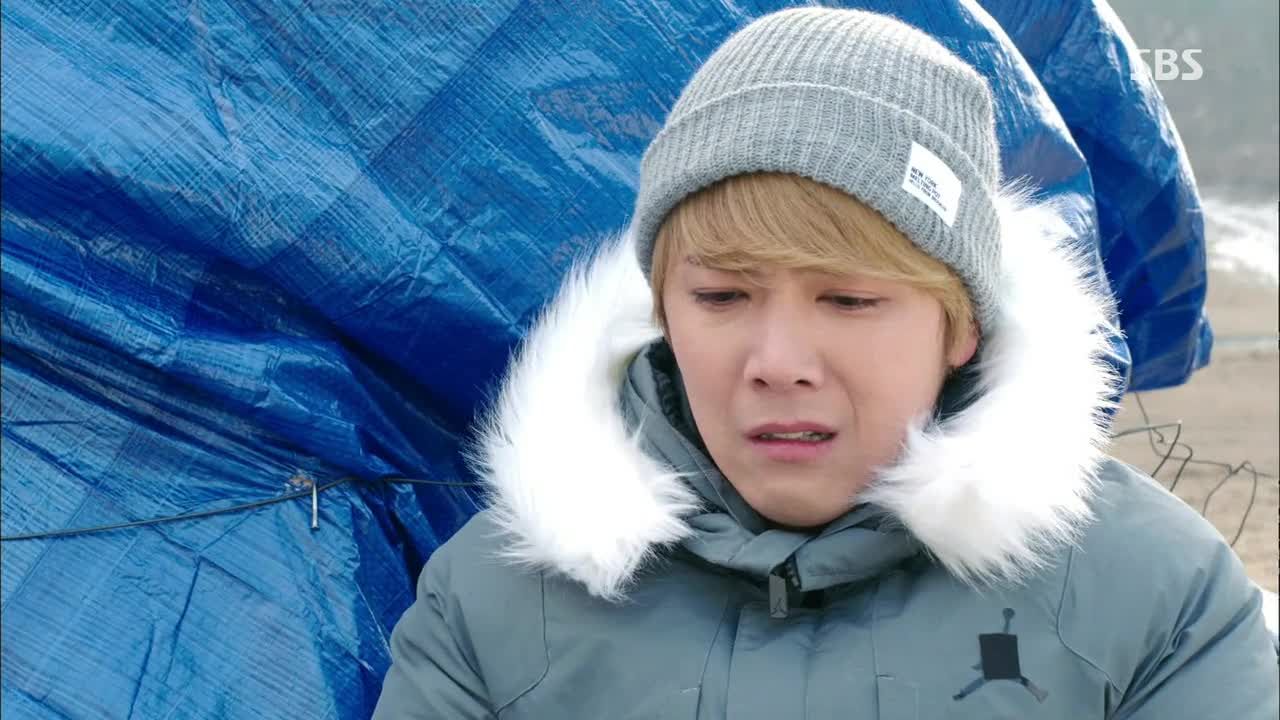 Han-chul's reaction was also hard to watch, and even more poignant for him because it's his final chance to make a mark on the world. To him, this cabbage harvest was about making one album to leave behind when he dies, his chance at immortality. Whether or not it turns out he's actually sick (which I know most of us think is a misdiagnosis but time will tell), he's been working all this time on the assumption that his days are numbered. He just wants to be remembered when he's gone, which is why he's pursued Soo-yeon so doggedly and why this harvest was so important to him. His tears were for more than a failed harvest — they were for a failed life.
But even they were able to bounce back and find some hope, which is why I'm the most worried for Ki-joon. He took the hardest blows in this episode, and he's the only one who bailed because hoping was too much for him to do anymore. It was hard to see the one who is always happy and cheerful, be the one who broke the hardest. When he found that photo of himself and Bul-ja, and the writing on the back, it hurt to see him cry so helplessly as he realized simultaneously that he loved her, and that he'd lost her (and kudos to Kwak Dong-yoon for his performance in that scene, he was ripping my heart out). I don't think Ki-joon ever had a lot of emotional investment in the harvest or the album, apart from just being the guy who wants everyone to get along and be friends and because it was something else to do besides following the herd, but that disappointment on top of his heartbreak was just all he could bear. I don't blame him for giving up, and it's obvious that nobody else does either. I just hope that something happens soon that gets him back to Hadurok-ri, because his friends need their happy virus back if they are going to be able to recover and move forward from here.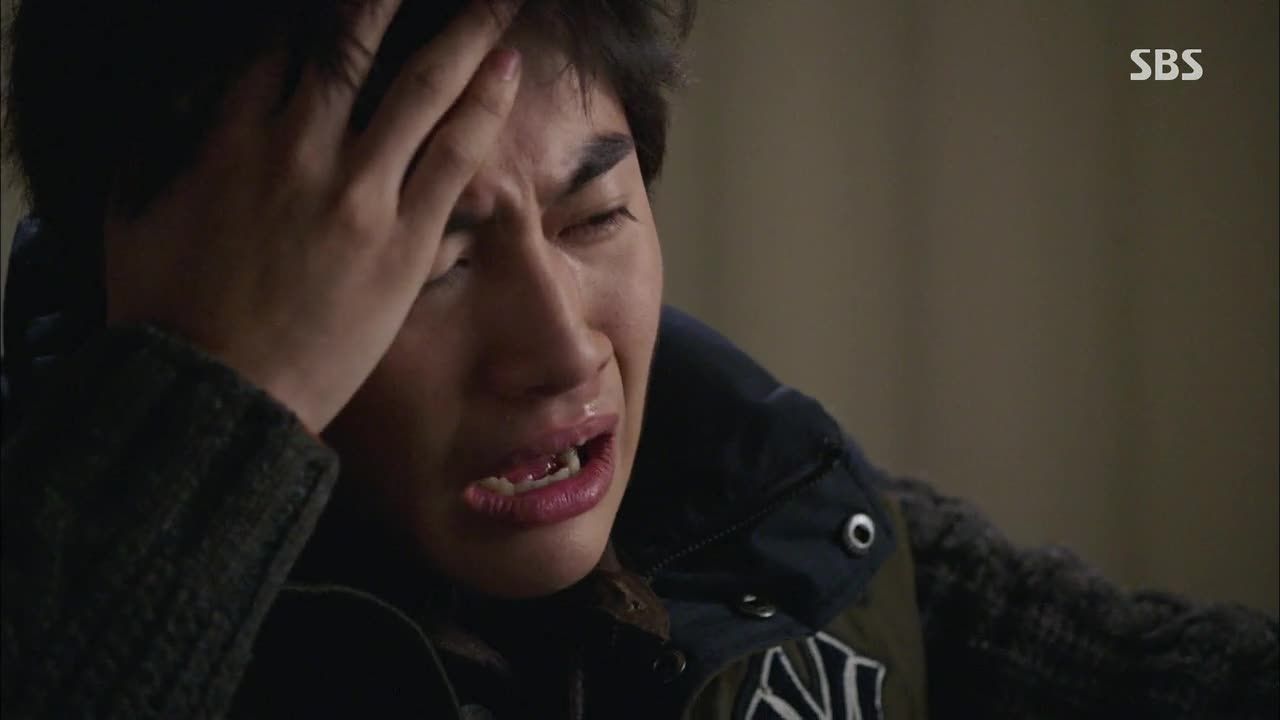 RELATED POSTS
Tags: featured, Honey Lee, Lee Hong-ki, Lee Shi-un, Modern Farmer, Park Min-woo