Modern Farmer: Episode 19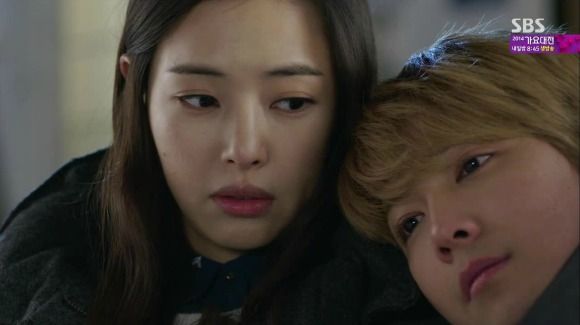 It's time for our boys to face some hard truths, about both the past and the present, and the truth is every bit as bad as I feared (actually, it's worse). But when you're down, there's only one way to go and that's up, and sometimes the best things in life happen when you don't get what you thought you wanted. Whether it's in music, love, or cabbage, I know our boys will find a way to bounce back better than ever.
Just FYI, the finale that was originally scheduled to be aired today was pre-empted (boo hiss) by SBS's end-of-year-music festival. Instead, the finale will air next Saturday (hooray!).
EPISODE 19 RECAP
Ki-joon rescues Bul-ja from the clutches of the drunk noraebang customer, but the man and his friend follow them outside and continue the fight. When he knocks Bul-ja to the ground, Ki-joon snaps and starts throwing punches, drawing the police. When a policeman asks to see Bul-ja's ID, Ki-joon distracts them and yells for Bul-ja to run.
She does, but doesn't get far in her high-heeled boots, and she trips and falls. A pair of shoes stop in front of her, and she looks up with an expression of abject terror on her face.
Ki-joon is taken to the station, but he's more concerned with Bul-ja than himself. The cop tells him that she was caught and taken to the Immigration Office, and that she'll be held a few days then deported.
Soo-yeon and Mi-ja have taken the thief back to their room, where they demand he tells them where the money is hidden. Finally Soo-yeon's threat to call the assemblyman works, and he says he'll tell them but immediately takes an impromptu nap, blaming his head injury. In the morning he's gone, and Soo-yeon furiously swears to track him down.
Yi-ji's new coffee shop is part of a chain, and she takes their class in how to be a barista, seeming to really take it seriously. Her mother, brother, and Mi-young all come to see her on opening day, declaring the place very nice and impressive. Man-gu is a great brother; he really bought Yi-ji a good shop.
Soon-boon sneaks out before even having any coffee, though she's suspiciously vague about her "other plans." Man-gu figures out where she's going, and runs outside to see her and In-ki walking hand-in-hand, and he gives chase while they flee.
Back in the village, the boys (well, Min-ki and Han-chul) are too nervous to eat while waiting for the CEO to call them with a decision about their album. When he does call, Min-ki listens and looks increasingly distraught, but he's only shocked by the good news. They're being summoned to sign papers right now — they're going to make an album!
Min-ki and Han-chul are thrilled, but Hyuk only looks thoughtful and a bit worried. Yoon-hee congratulates them, but only Hyuk notices that her face falls once Min-ki leaves the room.
In their attic, Min-ki finally notices that Hyuk isn't celebrating with them, and Hyuk admits that he feels a bit uneasy. Min-ki worries what will happen to the cabbages, not wanting to just forget about them after all the hard work they put in. He convinces the others to go with him to cover them before they leave so the cabbages won't freeze.
When they get to the field, they interrupt the thief as he's tossing cabbage all over, trying to get to his hidden stash underneath. They chase him off, hilariously assuming he was stealing their cabbage. Min-ki asks Sang-deuk to guard the spot while they go to Seoul, promising him a bottle of whiskey in exchange for cabbage-sitting.
In escaping the guys, the thief runs smack into Soo-yeon and Mi-ja, who grab him and threaten again to call the assemblyman if he doesn't tell them where the money is. He admits defeat, and says he'll tell them.
Yoo-na is going back to Seoul with the guys, for good, and Yoon-hee's family gathers to say goodbye. Yoo-na thanks them for all their help, and after they're gone it occurs to Uncle that the boys will probably be leaving soon, too. Yoon-hee looks saddened at the thought.
Soo-yeon and Mi-ja frog-march the thief to his hidden stash, dismayed to discover that it's been in Han-chul's field the whole time. The thief tells them it's under the cabbage, but before they can start moving produce, they see Sang-deuk guarding the pile. He's bored and starts acting out elaborate fight scenes with imaginary thieves, while the actual thieves hide in a nearby abandoned greenhouse.
The guys sign the contract, and neither Min-ki nor Han-chul notice the CEO's expressions of annoyance and boredom at their enthusiasm. Yoo-na asks them to go so she can talk to the CEO privately, and they loudly celebrate in the hallway. Min-ki again notices that Hyuk is awfully quiet, but he swears he's happy. (HAHA, Min-ki and Han-chul see a poster of FT Island, Lee Hong-ki's real-life band, on the wall and declare themselves better than those guys.)
Hyuk goes back to the CEO's office for his cell phone, and hears him and Yoo-na talking about the deal they made for him to make the boys an album in return for her coming back to Seoul. He quickly figures out that Yoo-na basically sold herself to get them a contract and that the CEO doesn't really think they're any good. Hyuk bursts into the office saying he knew something was up, and rips up their contract.
Yoo-na chases Hyuk into the hall and begs him to listen, but he's too furious. He knows she did this to get Min-ki away from Yoon-hee, and coldly accuses Yoo-na of being every bit as greedy today as she was seven years ago.
We see a flashback to the events of that day, when Hyuk had snuck onto the CEO's office looking for hidden liquor. He'd accidentally witnessed the CEO pawing Yoo-na and ordering her to have drinks with him later, telling her she has no choice if she wants to make her album. ~SHUDDER~ Hyuk had punched the CEO, beating him repeatedly out into the hallway, where Min-ki and his bandmates had seen the final knockout.
Back in the present, Hyuk says that even after they were kicked out of the agency, Yoo-na never said a word in their defense. She starts to beg Hyuk to keep this a secret from Min-ki also, but it's too late — Min-ki heard their entire conversation.
Min-ki demands an explanation from Yoo-na, but she doesn't say a word. He sees on Hyuk's face that it's all true, and asks Hyuk why he never said anything even after Min-ki blamed him. Yoo-na finds her voice and admits that she asked Hyuk not to tell him, because she was afraid of getting kicked out, too.
Furious, Min-ki bursts into the CEO's office and starts throwing punches, and Han-chul has to drag him off the CEO. The CEO yells that it was Yoo-na who approached him first, offering herself in return for her debut. Not only that, but she'd blackmailed him by saying she'd only make sure the story about the guys never got out, if he made her famous.
Wow, that is so much sleazier than I ever expected. Yoo-na doesn't even try to deny it, and even Hyuk looks horrified at the depths she'd go to for her ambition. The worst part is the look of shock, hurt, and betrayal on Min-ki's face when he realizes that everything from the confrontation, to their losing their chance at fame, was all her fault. And to make matters worse, if that's even possible, she willingly sold herself for all of it.
Back home Min-ho is sad too, and tells his mom to ask his hyungs not to go back to Seoul. She says they have to let them go nicely, but promises they'll visit as often as they can. Min-ki comes home and goes straight to his attic, smashing a few crates before screaming his anger at Yoo-na, and at losing his dream all over again.
Ki-joon visits Bul-ja at the immigration office, and she bravely tells him she's fine and not to worry, and that it isn't his fault she got caught. She thanks him for everything, telling him that she'll always remember him. Noooo, that sounds too much like goodbye!
She asks why he's in Seoul in the first place, and he confesses that he gave up, that cabbage farming to make an album was just a silly dream. Bul-ja gets angry and tells him that a man should see things through no matter what, not accepting his pathetic excuses. She gets mad at him for coming here and leaving her with a memory of him as a coward.
Crying now, Bul-ja tells Ki-joon that he was always immature and reckless, but he always had spirit. She says she's disappointed in him and asks him to leave. She gets up to go back to her holding cell but Ki-joon stops her, saying he has something to tell her. He apologizes for showing his weak side, and grumpily says he won't give up. She asks what he wanted to say, and he hems and haws until she gets annoyed again, so he blurts out, "I love you! I love you, Hwa-ran." Awww, he finally said it.
He promises to be successful and come for her, and asks her to wait for him. She only nods with tear-filled eyes, and their time is up. As she goes back to her cell Ki-joon calls after her to wait for him, swearing he'll come for her, repeating himself over and over. She nods at him one last time, smiling sadly, then she's gone. ~sniffle~
The mood is bleak in the attic room as Min-ki apologizes to his friends, feeling bad for blaming Hyuk for everything that happened. Hyuk gently lets him off the hook, and Min-ki says it's time for them to stop all this and give up. Suddenly Ki-joon bursts into the room with his suitcase in tow, announces that he's here to sell cabbages and make an album, and says there will be no quitting. Our Happy Virus is back!
Yoon-hee gets the boys to come talk, and shows them her Salted Cabbage Business Plan. Given how badly her plans have gone in the past it's not surprising the guys are skeptical, but it's not a bad plan. She points out that the price of raw cabbage went down, but the price of salted cabbage (the first step in making kimchi) is fine, so they should make all their crop into salted cabbage and sell it that way.
The villagers have even offered to help so they don't have to hire anyone, and they can use the government's free website to sell them. Slowly, the guys start to look hopeful, and Ki-joon steps up and rallies them. Min-ki takes a bit to convince, but he figures they may as well try. He thanks Yoon-hee for helping them, and she puts them right to work and tells them to thank her later.
Sang-deuk is still guarding the cabbage, and his one-man fight scenes have gotten more and more elaborate as the three thieves watch on in disbelief. He gets a call just as the guys show up to start hauling the cabbage, and they leave Ki-joon behind to guard the rest.
They get a pretty good cabbage-salting system set up, with many villagers pitching in, and Min-ki starts to perk up and thanks everyone sincerely. Soon-boon tries to sneak out but Man-gu catches her and says he knows where she's going. HA, she just makes a run for it. Yoon-hee catches Min-ki staring at her with a half-goofy expression on his face, and she just grins and tells him to get back to work.
Guarding cabbage must be boring work, because it's not long before Ki-joon is staging shadow-fights with imaginary opponents just like Sang-deuk. His hidden audience wonder why they're going to such lengths to protect cabbage, of all things, scoffing at the irony that there's actually hundreds of thousand of dollars buried under that cabbage.
I don't know how Yoon-hee's tummy isn't going all melty from all the adorable, grateful looks Min-ki is shooting her way. But his good mood is shattered by a call from Yoo-na, and he heads outside where Yoo-na is waiting to talk to him.
Again, all she has to say is she's sorry, which Min-ki doesn't want to hear. Not only did she lie, but she hid it and even ruined his friendship with Hyuk, and she used their failure to further her own career. His voice is chilly when he says that what upsets him the most is that all this time, his feelings meant nothing to her.
Yoo-na finally cries out that she was scared that he'd go to Yoon-hee after only seeing her for so many years. Again he tries to deny it but Yoo-na says if it was only sympathy or pity that he felt for Yoon-hee, she wouldn't have done this. She tells him she only came to apologize and say goodbye, as she's going to the States to start over on her own.
Min-ki sits looking at the stars that night, where he's joined by Yoon-hee. He tells her he hadn't wanted to see Yoo-na again but once he heard she was leaving, he felt bad. He looks at Yoon-hee to say something else but when they make eye contact, he seems to forget what he was going to say, and they share an emotionally charged moment. Instead of talking, he just lays his head on her shoulder, sending Yoon-hee's feelings spinning. Neither of them notices Hyuk poke his head out the door and see them sitting there.
Han-chul takes the night shift watching the cabbage and continues the trend of imagining elaborate fight scenes. HA, his even ends with a passionate kiss with a dying head-of-cabbage ladylove. Exhausted and freezing, the thief wonders if there's anyone normal in this town (Mi-ja: "Nope.") and Soo-yeon notes blearily that Han-chul is kind of cute.
At breakfast the next morning, Hyuk passive-aggressively grabs every bite of food Min-ki reaches for and shoves it in his mouth. He petulantly declares that everything belongs to him, so Min-ki should just give it to him. Yoon-hee hands over a choice bite from her own bowl to Min-ki, and Min-ki looks touched while Hyuk seethes.
In Seoul, the assemblyman's putting practice is interrupted by his minions, who have found Soo-yeon. They were in the background of a news clip about the fallen meteor, and the minions figure if she's there then that must be where the money is hidden.
Just when the three lurking thieves decide to give up and go home, the rest of the guys join Han-chul at the cabbage pile. Sang-eun comes to beg them to make another video with a new camera, claiming they only got three views on the last one because of bad video quality. As they set up in the field, the thief finally cracks and goes to his car for his gun.
The guys begin a loud pounding rock song (the same one they played in the first episode) but they're interrupted by the thief pointing his gun at them. Han-chul recognizes him and they wonder why he's so anxious to steal the cabbages, but he screams at them to move the cabbage and dig.
They start to unearth bag after bag full of cash and dang, no wonder everyone was so eager to find this money, there's tons of it. Mi-ja and Soo-yeon start to rejoice at their riches, but the thief turns the gun on them and orders them to go stand with the guys. Did they really think he was going to let them have some of it?
The thief has about ten seconds to thrill that he's got his money back, before the assemblyman shows up with a whole posse of minions. The thief whines that he always did all the dirty work while the assemblyman raked in the cash, but the assemblyman just laughs that that's all he's good for.
The thief pulls the gun which prompts Scary Minion to step forward, grab the gun and hold it to his eye, and taunt the man to shoot him. Of course he's too cowardly to do it, and Scary Minion takes his gun and punches the thief out. The assemblyman directs his men to pack up his money and "take care of" the witnesses.
Everyone is trussed up and loaded in vans, but the cars are stopped before they can leave town by a stubborn Man-gu and his tractor. He wants to argue about right-of-way and puts up a brave show in the face of Scary Minion's scary tactics, but ends up in the van with the rest of the group.
Again they're stopped leaving town, this time by Sang-deuk once again drunk in the road. This time Dumb Minion gets out to handle it, knocking Sang-deuk unconscious. Grandpa shows up to ask what's going on, and Dumb Minion makes the mistake of knocking his candy bar out of his hand. Oh, now it's ON.
Grandpa singlehandedly (single-footedly?) takes out all of the minions in a series of incredibly cool martial arts moves, and all of the baddies are carted off by the police, including the assemblyman. That was so awesome.
Han-chul is subdued, and approached Soo-yeon to ask her about her involvement in all this. They talk privately and she tells him everything, and Han-chul is dismayed to realize that everything he knew about her was a lie. She's genuinely sorry, but swears that what she felt for him wasn't a lie. He doesn't believe her and walks away.
Soo-yeon yells to his back that she only wanted to find the money and study abroad, and stop pouring drinks for a living. Han-chul doesn't stop walking, but then without warning, he collapses in the road. Soo-yeon runs to him but she can't wake him, and she kneels in the dirt crying his name.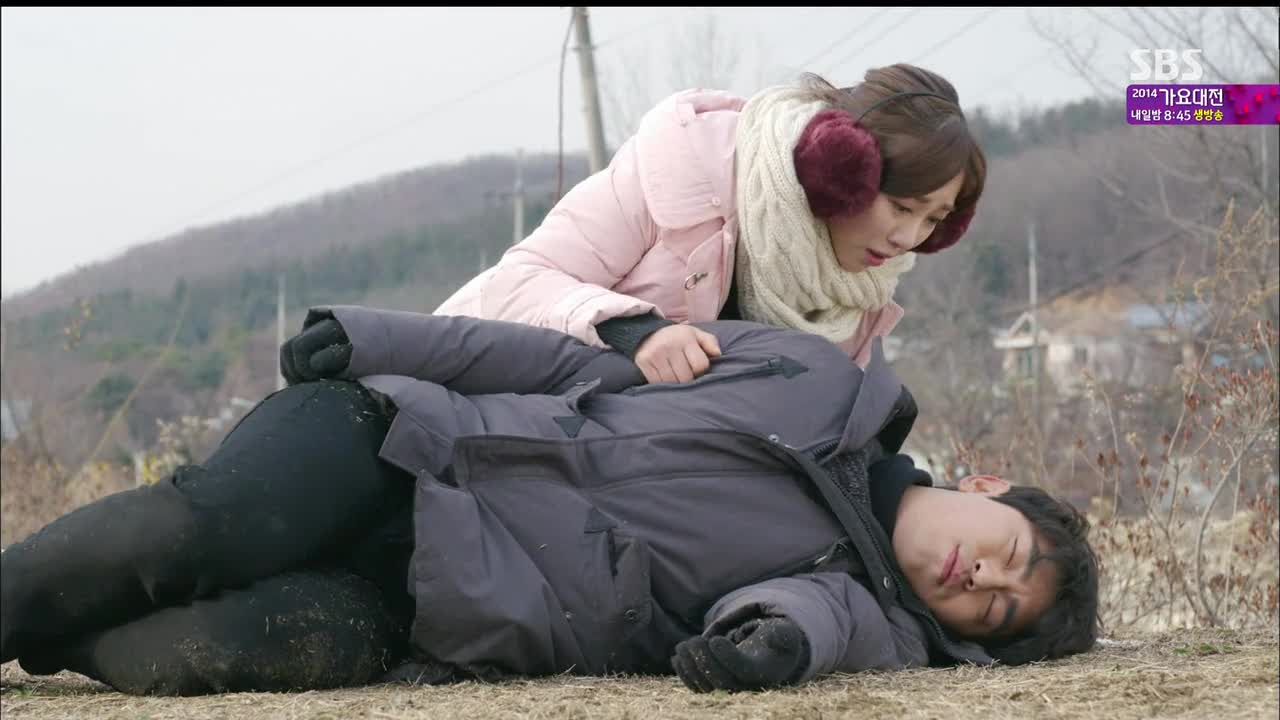 COMMENTS
So you're just going to leave us like that, Show? For a whole week? That's just mean, right there. I still don't know if there's something actually wrong with Han-chul's health or if they'll say it was just exhaustion, but either way, that's a cruel cliffhanger. At least one good thing came out of his finding out the truth — that he also discovered that Soo-yeon does care for him. The problem is that now he'll doubt his own feelings, since the girl he fell for doesn't exist. There's not a whole lot of time left for them to resolve their issues, but I find myself caring more than I did about them for most of the show, so I hope they get a happy ending one way or another.
So, now we know Yoo-na's little secret. I'll admit I was surprised, because even though the nature of her indiscretion was pretty much exactly what I expected, I was not prepared for the revelation that the whole thing was instigated by Yoo-na herself. Dramaland has me so conditioned that even when an aspiring actress or idol is forced to take a sponsor, it's usually a sweet innocent girl given no choice but to bow to the beastly desires of some disgusting man. To have the show (once again) turn a trope on it's ear and give us a twist like that, and have it be Yoo-na who approached the CEO and offer herself in exchange for fame, was quite a shocker.
It was an effective move for the show, because I was starting to worry that if there was going to be an OTP at all — we had two episodes to go and Min-ki was still all about Yoo-na. To have him realize that not only was she not the sweet innocent girl he thought, but that she actually sold herself for an album — and that to make matters worse, she then turned around and sold him for an album, was an effective and believable way to sever his emotional tie to her. I think he was drifting from her already… but he's such a loyal person, he would have stood by her well past the point where his feelings had changed before he even realized he didn't love her anymore. This way he gets to make amends with Hyuk, be completely free of Yoo-na's hold on him, and have a chance to discover what feelings he may have for Yoon-hee, without any lingering loyalty to Yoo-na holding him back.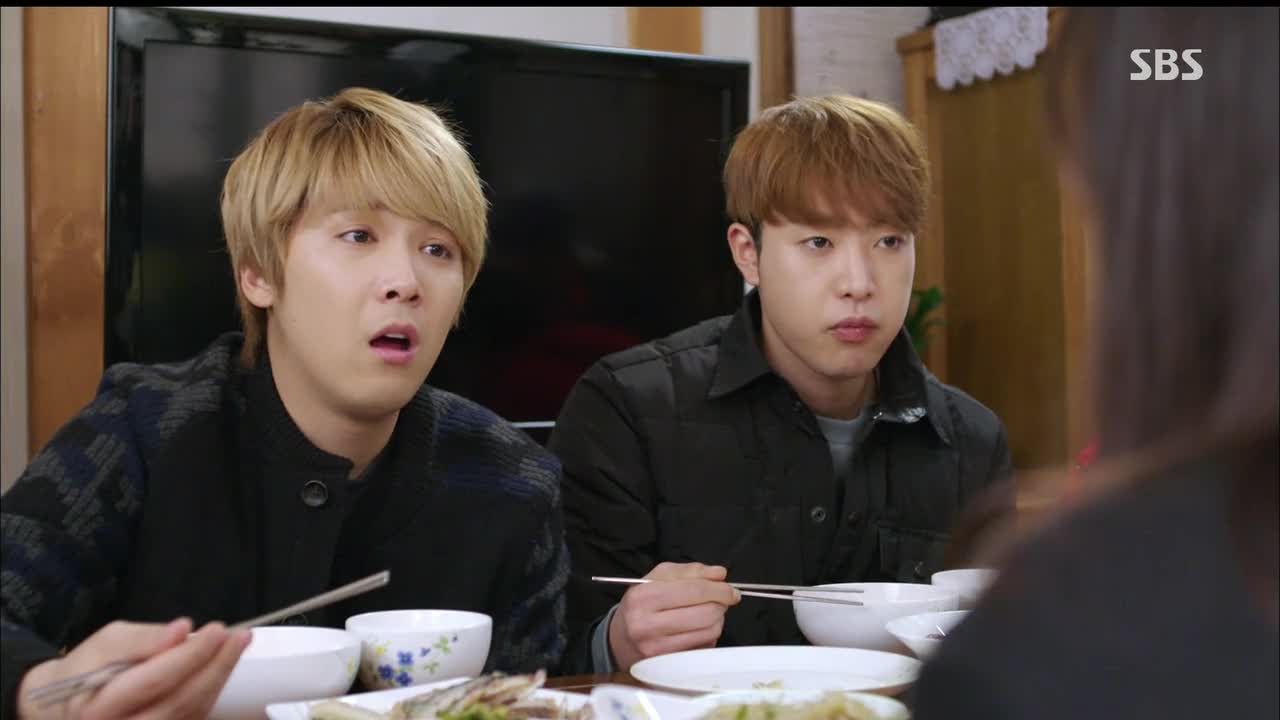 I'm still unsure where the love story is going, though I'm assuming at this point that my 'ship has sailed. There was a brief point in the show where I had real hope that the trope-twisting tendency of the show might get Hyuk the girl, but that's pretty much over now. Yoon-hee has drawn that line pretty firmly with Hyuk and I just hope he's able to accept it with maturity, because I don't want to see all the hard work he's done re-establishing his friendship with Min-ki to be blown away by simple jealousy. I have hope for the bromance at least, because it was never Hyuk who pushed Min-ki away over their failed music careers, and he was always willing to be friends again. I hope that doesn't change just because of a woman.
The little glances Min-ki was tossing at Yoon-hee during the cabbage-salting were so cute, and their moment under the stars made my tummy flutter, much less Yoon-hee's. I just can't tell if Min-ki is feeling love, or just gratitude and affection for Yoon-hee. I do like them together as friends and could see them together romantically, though the show is going to have some work to do to make me believe it with just one episode left to establish an entire love line out of what, for now, is mostly a crush and a good friendship. I think it can do it, but I can just as easily see them part as good friends. And as much as I've loved everything about Modern Farmer, I know that no matter how it ends, it will be sweet and satisfying, just like everything else about the show.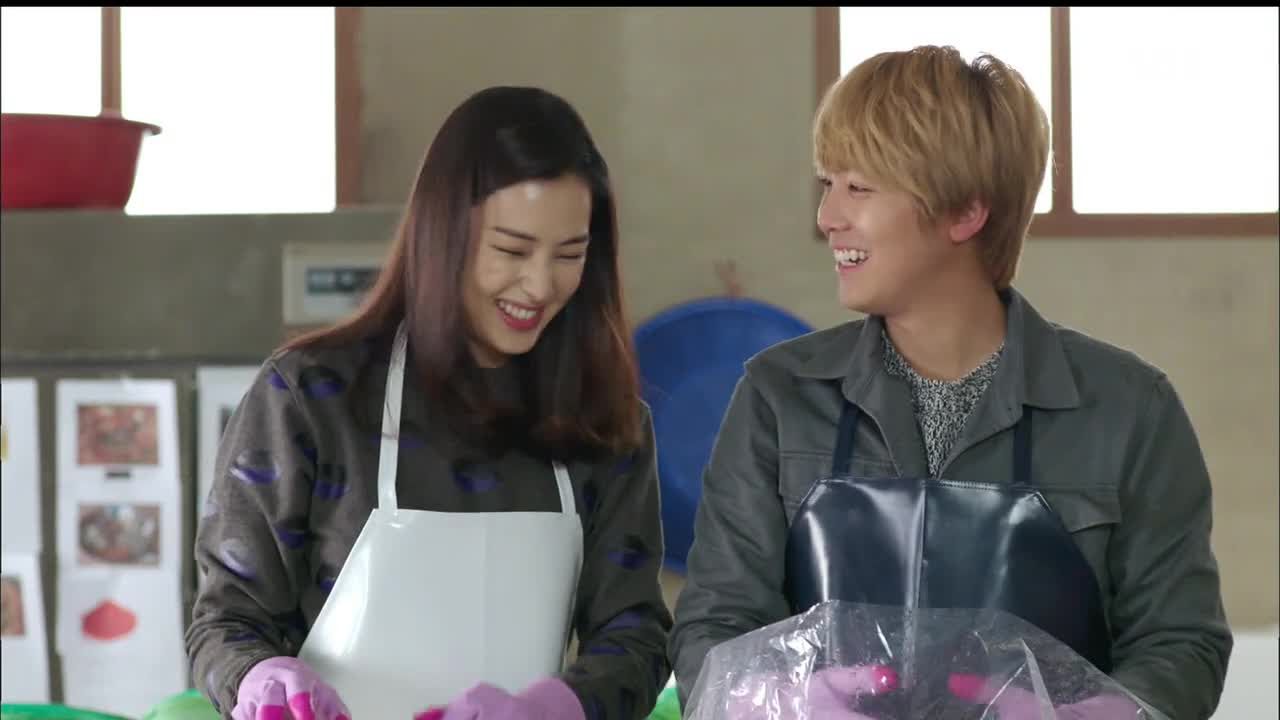 RELATED POSTS
Tags: featured, Honey Lee, Lee Hong-ki, Lee Shi-un, Modern Farmer, Park Min-woo