Modern Farmer: Episode 20 (Final)
It's a cute, sweet finale to a cute, sweet show, which is exactly what I expected from a drama that's been heavily character-driven from the start. Though not all of our questions are answered, we learn enough to know that the boys and their newfound friends and family will be just fine as time goes by, bickering, arguments and all. And that they'll never stop dreaming big, whether that's in music, cabbage, or beyond.
EPISODE 20 RECAP
Soo-yeon takes Han-chul to the hospital after his collapse, where his doctor (having been exiled to the country after a pharmaceutical scandal) takes her to task for not hospitalizing him sooner. She's horrified to hear he's in end-stage liver cancer, and that his time is up.
Han-chul wakes up and the doctor goes for his test results, but Han-chul doesn't want to hear it and ushers Soo-yeon out of there. He doesn't know that Soo-yeon talked to the doctor and he swears he's fine, just hungry. Soo-yeon starts to cry and tells him she knows everything, sobbing that he was just going to disappear and she'd never have known what happened.
Back in Hadurok-ri, the boys grumble that they grew cabbages all year when there was all that money right under their field, and Sang-eun gets an idea. She reviews the video she took of the guys being held up for the money, and calls a television station.
Soo-yeon cries all the way home, eliciting weak jokes from Han-chul that he's happy seeing her cry for him, but he soberly tells her that seeing her made him happy and kept him going. He thanks her for the happy memories and promises not to forget her even after he dies.
Mi-ja finds Soo-yeon crying after he leaves, and she can only eke out that she thinks she actually likes Han-chul before bursting into real sobs. Around the corner, Han-chul hears her crying and barely stifles his own howls of grief.
Later that day Sang-eun comes screaming in to tell everyone to turn on the news, where the whole sordid story about the money is being told, complete with their video. Min-ki is amazed that their entire song was shown since it had nothing to do with the money, but apparently that was Sang-eun's condition for turning in the video. Now their song will be played on all the stations — free publicity!
Haha, the guys are more excited that this will help sell their salted cabbage than their band. How their priorities have changed. They even get an interview with a news anchor, and spend the whole time talking about their cabbage.
Later Min-ki notices that Han-chul seems kind of down, though he denies it. Soo-yeon borrows Han-chul for the day to take him on a date, making the guys tease him, and she takes him to town for coffee.
Even though he's finally getting what he wanted, Han-chul is nervous and worried, but Soo-yeon cheerfully offers to do everything with him that he wants to do before he dies. He hands over his phone with his bucket list, and she notices that nearly all of them have to do with a girlfriend. First thing on the list — couple rings.
The other three bandmates get a visit from a music agency representative, who plainly explains that the CEO saw them on TV and wants to sign them. The boys are so shocked they can hardly respond, but it finally sinks in and they celebrate exuberantly.
Soo-yeon apologizes to Han-chul for only being able to afford candy rings, which is frankly kind of adorable. They check the list for Han-chul's next wish, and both freeze up a little to see that it's to kiss his girlfriend. Soo-yeon scoots past it by offering to kiss him when they go on a trip, but Han-chul sobers and tells her she can stop now.
He says quietly that she should start over with a better man than him, and that if she keeps this up it just makes him want to live. That is so sad. He explains that he wanted her to like him but now that she does, he regrets it.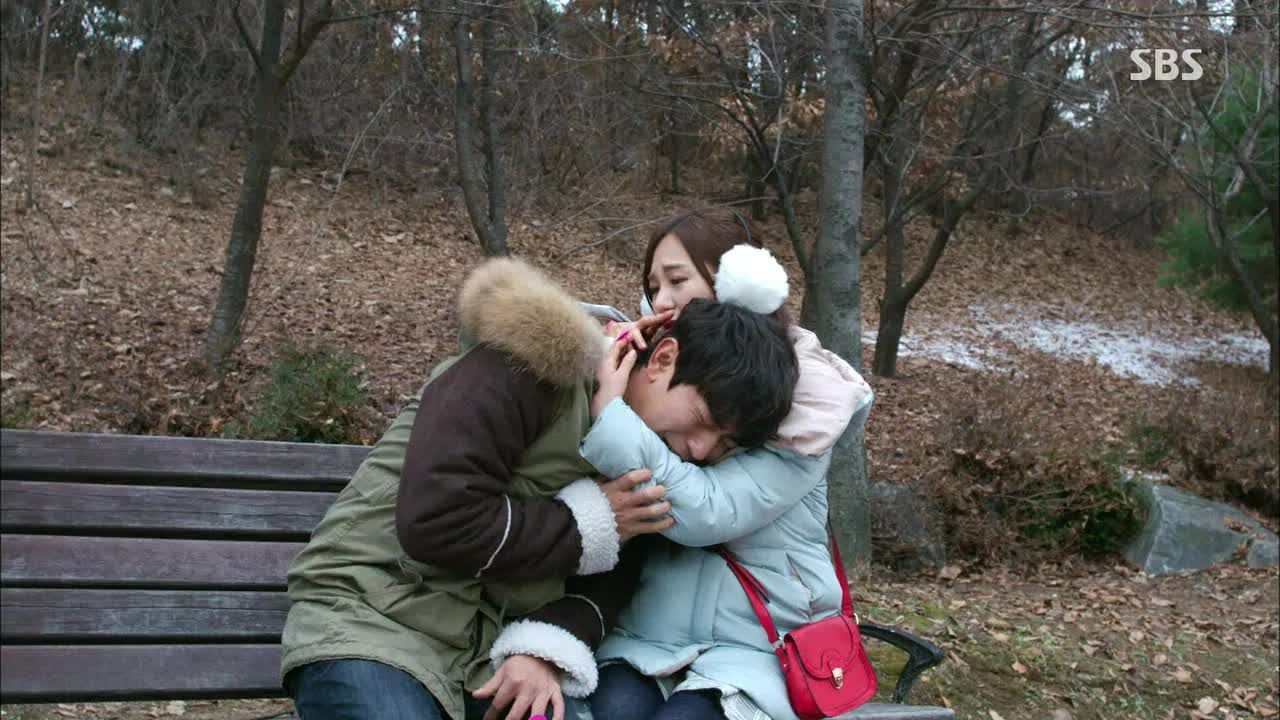 He gives in to his tears as he says that when he dies, she'll be left crying alone, but Soo-yeon assures him that she's happy that he liked her. Without the right words to console him, Soo-yeon just hugs Han-chul while he cries.
In his office, Han-chul's doctor has no luck finding him to give him his test results, and wonders how someone in end-stage cancer could just miraculously get so much better (raise your hand if you called it). He wonders why Han-chul ran off like that, and whether he's off somewhere dramatically crying. Cut to — Han-chul and Soo-yeon in a church, dramatically crying. Soo-yeon begs Han-chul to at least try treatment, and he agrees.
The boys all celebrate their upcoming album with Yoon-hee's family, though everyone gets serious when Sang-eun points out that they'll be leaving Hadurok-ri soon. Little Min-ho sadly asks them not to go, and Min-ki promises to visit often, sealing it with a pinky-swear.
Soo-yeon wants Han-chul to go to the hospital for treatment right away, but he asks to stop at the barber first. If he's going to lose his hair from chemo, he may as well shave it all off now. It's too much for Soo-yeon when the barber starts with the clippers, and she goes outside to cry some more.
Han-chul's doctor just happens to walk past and recognizes Soo-yeon, and he tells her about Han-chul's miraculous test results. Sadly, it's too late to save Han-chul's hair, but he's thrilled anyway. The doctor attributes Han-chul's improvement to clean living (and eating all that raw cabbage) in the countryside, but reminds him that he's not completely well yet and still needs treatment.
Han-chul walks Soo-yeon home that night, both of them in high spirits. Soo-yeon points out that she doesn't have to meet another man now, and they can continue Han-chul's bucket list. RAWR. She plants such a good kiss on him that his eyes cross and his toes curl.
Yoon-hee's uncle gets pretty drunk on makgeolli and wails about how much he'll miss the boys, and Aunt has to take him to bed. Han-chul comes home laughing like a loon, cryptically chirping that life is beautiful and he's happy to be alive. Min-ki yells at him for cutting his hair when they're about to make an album, which is news to Han-chul, and his Best Day Ever gets even better.
Yoon-hee goes to feed the cows, but Min-ki notices something isn't quite right and follows her out to the barn. He sincerely thanks her for all her help and support, and she tells him to go make it big and she'll be cheering him on from here. They dance around the awkwardness between them, as Hyuk watches from a distance and declares them both fools.
In the morning the guys look over the village and remember all of their special moments in Hadurok-ri, good and bad. They decide to donate the rest of the cabbage to the needy, and to help out the villagers in their last few days in town.
Hyuk and Min-ki hang back to talk, and Hyuk says that he wants to see Yoon-hee happy, but there's only one person who can do that. He gripes at Min-ki when he still doesn't get that Hyuk is talking about him, but Min-ki only gets thoughtful and says he still doesn't know what he's feeling.
Hyuk sighs about idiots who don't know love from sympathy, and lays it out for Min-ki — love is when you're happy when she's happy, who makes your heart hurt when she's sad, and who you want to lean on when you struggle. He leaves Min-ki to think about it, and Min-ki remembers all the times with Yoon-hee when he felt those things.
Seeming to realize something, Min-ki grins to himself and heads to Yoon-hee's house. She's outside with Min-ho, assuring him that Min-ki will visit just like he promised. They're both surprised when Hyun-suk shows up, of all people, and he hunkers down to talk to Min-ho.
He haltingly asks Min-ho if he was disappointed, and apologizes to him. He asks if he can hug him and Min-ho nods, and father and son both cry as they hug for the first time. Hyun-suk apologizes over and over, and asks Yoon-hee for a chance to make up for his mistakes. From the other side of the wall, we see that Min-ki has overheard this whole exchange, and he's disappointed but leaves them to their privacy.
Yoon-hee talks to her family later, not sure what to do about Hyun-suk's request, and Hong-gu tells her that he wishes she'd get back together with him. Her uncle agrees, saying that Min-ho needs a dad, but Aunt urges her to make her own choice.
At bedtime, Han-chul and Ki-joon assume that Yoon-hee will get back with Hyun-suk, since he's rich and famous, not to mention that he's Min-ho's dad. Hyuk shushes them, knowing their talk is bothering Min-ki, who doesn't say a word.
The day before they're to leave town, the mood at breakfast is somber and Yoon-hee leaves the table early. She finds Hyun-suk playing with Min-ho in the school gym, and he says he'll come every day until she accepts him. He says he's leaving to go abroad in a month and asks her to go with him, in an eerie re-enactment of their former parting, but Yoon-hee seems reluctant to give him an answer.
Min-ki finds Yoon-hee in the barn where she does all her best thinking, and offers to be a listening ear. She asks if she should go with Hyun-suk, and Min-ki drops the smiling happy act and tells her flat-out that no, he doesn't want her to go.
But he draws back and jokes that he'd have nobody to taunt if she left, and anyway Min-ho needs his father. He says that whatever she wants to do is what's important, and leaves before he can get emotional.
Min-ki lies awake that night, and Hyuk hears him sighing and asks if he's just going to leave like this. Min-ki only says that if Yoon-hee goes, it will be better for her and Min-ho, too. Hyuk says he's watched too many movies, and he doesn't seem cool like this.
Nearly the whole town turns out in the morning to bid the guys farewell, and they promise to visit often (Grumpy Uncle: "Why would you? Stay over there." Awww). Man-gu drives up in the car he bought from Min-ki and, saying it's too cold to drive a convertible, gives the car back and burst into adorable tears.
Min-ki takes a moment to say goodbye to Min-ho, and teases Yoon-hee that she looks ugly with that serious face on. He gets in the car and Hyuk asks him one last time if he can really leave without confessing his feelings, but Min-ki smiles that he already did in his heart, and he'll just pray for the rest.
Some time later, Aunt comes to talk to Yoon-hee while she packs a suitcase. Yoon-hee says she doesn't know if she's doing the right thing, and Aunt reminds her that in order for Min-ho to be happy, his mother must be happy too. Yoon-hee goes to her room and finds the face cream that Min-ki gave her, and runs her fingers over an old carving in her shelf that says "Min-ki loves Yoon-hee."
Modern Farmer's album sells well, and soon they're giving a concert. Min-ki stops them before going onstage to give them a peptalk, saying that this is nothing after raising over a hundred thousand cabbages, hee. They holler a simultaneous FIGHTING! and walk out into the spotlight.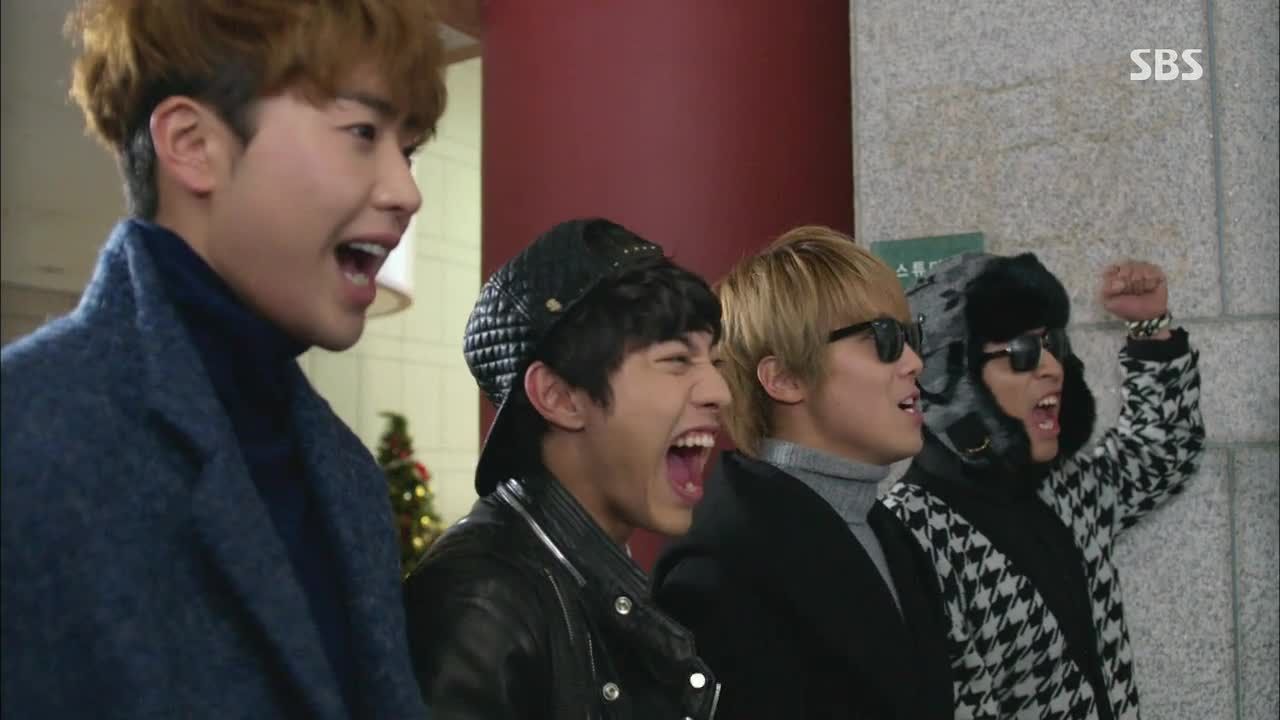 The concert goes well and they're on Cloud Nine afterwards ("We're better than FT Island!" HA) but Min-ki stops when he looks down into the lobby and sees Yoon-hee and Min-ho leaving the venue. He sends the guys on to met their fans, saying he has to go somewhere.
Yoon-hee and Min-ho board a bus back home, and Yoon-hee ponders how comfortable Min-ki looked onstage. Min-ho wonders when he'll visit them, but Yoon-hee says he's busy and not to be too disappointed.
Min-ho is sad for a moment but then he notices something, and Yoon-hee looks over to the window to see a hand writing in the frost on the glass: "Yoon-hee loves Min-ki." Min-ki looks up at her with hopeful eyes, and they just stay there for a long moment, smiling at each other.
One Year Later
Min-ki lays on the couch at Yoon-hee's house, strumming his guitar and growing a really weird goatee. His now-wife Yoon-hee comes home and immediately lights into him for playing around and not working. Apparently the band flopped after their first album and she chides him for not facing reality, and she orders him to go get back the money that Han-chul borrowed from them since cash is tight. Good to see the bickering hasn't changed!
Business is slow at the Yeon and Chul Boutique, and Han-chul grumpily chomps raw cabbage as he watches a few of the villagers shop. Man-gu keeps up his familiar griping as In-ki and Soon-boon look at baby clothes, embarrassed to be expecting a brother that's younger than his own son. Hee, this family is so weird. An upset Soo-yeon delivers the bad news that the landlord wants another ten grand in rent, just as Han-chul gets a call from Ki-joon in Yanbian asking to borrow more money.
Eeeee, Ki-joon and Bul-ja are married and expecting a baby! Only this time it's Ki-joon who's the illegal worker, and HAHA, his nickname among the locals is "Bul-ja" and now he wears his hair long to cover his face. Han-chul is a no-go and they try Hyuk next, but he doesn't have any money either.
Hyuk goes back to his patient who turns out to be Grandpa, in the hospital after a blood sugar spike from too many candy bars. He tells Sang-deuk (who's wearing matching sweatshirts with Mi-young and little Eun-woo) to limit Grandpa's candy bar intake, but Eun-woo objects because then she won't get to eat the almonds she always gets when Grandpa has candy bars. Ewwww.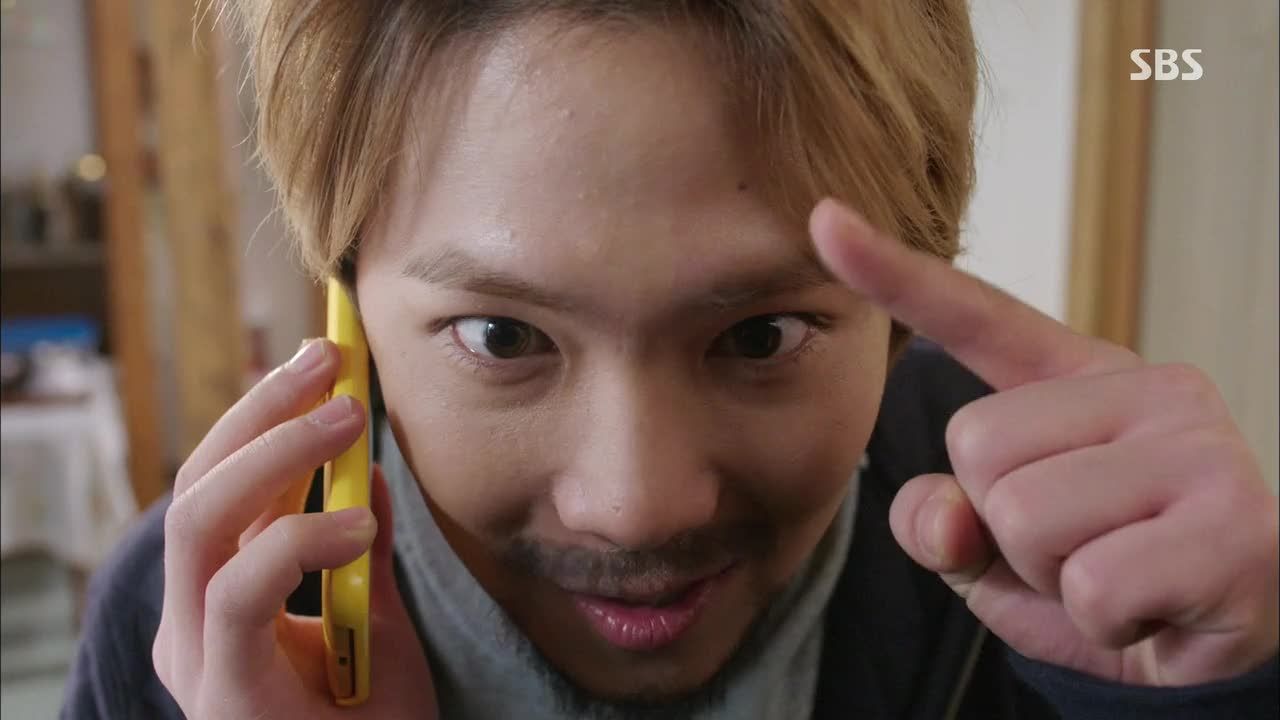 Aww, Min-ki's album is reduced to a pot stand for ramyun, and Uncle quips that at least it's still useful for something. Min-ki swears his second album will be a hit and they'll all be sorry they treated him this way, and the whole family sneers at him.
A news story catches Min-ki's attention, about a school of rare tuna in the area that are worth tens of thousands of dollars each. He gets a familiar glint in his eye as he does some quick math, and starts making furtive phone calls to his buddies.
Next thing you know, they're all on a boat together, planning to catch a bunch of tuna and make another album. HAHA. Min-ki says it will be easy, just cast a line and pull in the tuna, no problem. But they may have yet again bitten off more than they can chew, as a tuna bigger than their boat jumps out of the water and sails overhead.
COMMENTS
What a cute ending to an overall cute and fun show. I won't pretend the show didn't have its weaknesses and plot holes (whatever happened to Snake, and Min-ki's debt to him? You know, the whole reason they went to the country to farm cabbage in the first place), but for the most part it was a sweet, adorable show with characters that will stick with me for a very long time. In fact I believe it's the wonderful characters that kept the show going when plot-wise there wasn't a whole lot going on, because even when we were watching the same scenes play out over and over again (how many times can we watch a girl dig for buried treasure, anyway?) I never got bored, because the characters themselves were so endearing.
A lot of that was in the casting, which I think, for the most part, was spot-on. In particular Honey Lee, who I've said before never struck me as more than a passable actress, really blew my socks off as Yoon-hee. She had just the right presence and vulnerability to pull off the capable town matriarch who is also an insecure single mother, who unfailingly bolsters her friends and neighbors but whose confidence falters when it comes to making her own decisions. You know an actress has done her job when you can't imagine anyone else in that role, and I honestly can't see anyone else doing Yoon-hee the justice that Honey Lee did. I don't know what changed for Honey Lee, but I sincerely hope this is just the start for her, and that her acting continues to improve and gain depth. If what we've seen in Modern Farmer isn't a fluke (and I can't imagine a fluke lasting 20 episodes!), I look forward to seeing a lot more from her.
Lee Hong-ki also put in an expectedly solid performance as the immature rocker who learns about life, friendship, and love as he learns to farm cabbage, and I really loved his portrayal of Min-ki. I've always felt he was a strong actor, and this show gave me no reason to change that opinion. My only complaint is his lack of chemistry with Honey Lee, because while I thoroughly enjoyed their bickering noona/dongsaeng relationship, I didn't ever feel any romantic connection between them. I mean, I saw them go through the motions of discovering feelings for each other, but I never really felt it. Maybe that's why, for a while there, I hoped that the show would tip the first-love trope on its ear and let the second lead get the girl. I felt that Yoon-hee and Hyuk had a lot more chemistry when on camera together, which had a lot to do with Park Min-woo's ability to give everything Hyuk did or said multiple layers of depth and meaning. You could see from the beginning that Hyuk was a complicated character despite his tendency to smile and pretend everything with fine, and I badly wanted his eventual opening-up to Yoon-hee to be rewarded.
But regardless, my overall ending impression of Modern Farmer is overwhelmingly positive. Like I said from the first episode, we didn't re-invent any wheels, but we got a show that gave us exactly what we were here for — laughs, heart, some life lessons, and a few good cries. I loved the whole town of Hadurok-ri and all of the weird and silly goings-on, and never got tired of when the whole village would have to band together to solve some "major" problem. While the stakes were never very high, they always felt very rich, because the villagers were always so committed to their town and their neighbors.
But the best thing of all, was that we got some of the best characters I've ever seen in a drama, from the leads right down to the smallest of players. Every single character in this show managed to grab me and make me care for them, and that's no small feat for a drama with such a large cast. Each and every villager felt like a real (though exaggerated) person that you could drive out to the country and meet, and I loved how they enfolded and included our main four boys in the town and into their lives. I'm sad to see them go, but I have a feeling I'll be revisiting Hadurok-ri and its strange and wonderful inhabitants again very soon.
RELATED POSTS
Tags: featured, Honey Lee, Lee Hong-ki, Lee Shi-un, Modern Farmer, Park Min-woo