Punch: Episode 2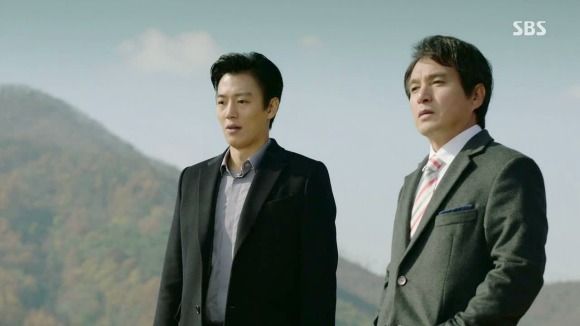 Man, this show is intense. Never has the quote "better to reign in Hell than to serve in Heaven" been so apt than for Punch, a legal thriller about a prosecutor whose ambition dictates practically everything he does. His fiery resolve is both fascinating and rage-inducing to watch in the most intriguing of ways—Jung-hwan thinks two steps ahead of everyone else in this world, and you wonder why he would choose to serve an allegedly corrupt man who looks like a saint in comparison.
SONG OF THE DAY
BEAST – "Black Paradise" [ Download ]
Audio clip: Adobe Flash Player (version 9 or above) is required to play this audio clip. Download the latest version here. You also need to have JavaScript enabled in your browser.
EPISODE 2 RECAP
We pick back up on the morning of Tae-joon's inauguration as the next prosecutor general, thanks to Ha-kyung's non-statement at the confirmation hearing in the previous episode. Jung-hwan's mother tsks upon hearing that the test results will take a few more days, but we know that her daughter is lying by omission so as not to worry her with the truth about Jung-hwan's condition.
It's hard for little sis Hyun-sun to see her brother smile and laugh at the breakfast table, knowing that there's a chance the malignant tumor in his brain could suppress the ability to do both one day.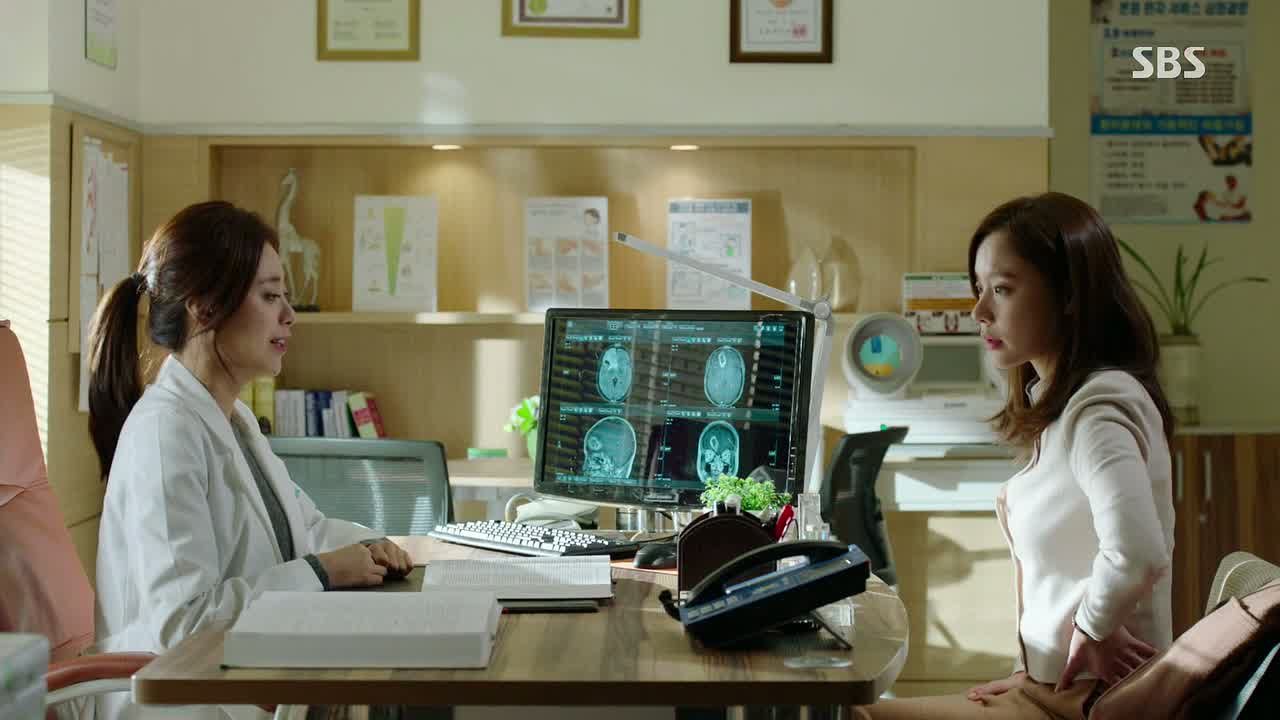 Located in the pre-frontal area, the tumor is difficult to treat and she's having a hard time finding any surgeon who's willing to perform the risky operation. She couldn't bring herself to tell Jung-hwan this morning, not when he had asked her and their mother to take little Ye-rin to her first day at an elite private elementary school on his behalf.
Jung-hwan would be long gone by that day anyway, Hyun-sun continues, tears welling up in her eyes. All of this is hard for Ha-kyung to swallow as well, as she chokes back her own overwhelming emotions in front of Hyun-sun's sobs.
During the inaugural preparations, Jung-hwan knocks down the patricians and plebeians divide between supreme versus public prosecutors by telling his fellow prosecutor Yeon-jin that the only man they all need to respect is the appointed incumbent prosecutor general Tae-joon.
It seems Kang-jae isn't sticking around to see Tae-joon sworn into his new position, and Jung-hwan won't give him the time of day, either. That's because Ha-kyung is here to see him; she wishes to send Ye-rin to a local school rather than the private international school Jung-hwan wants their daughter to attend.
He sees this as an opportunity for little Ye-rin to mingle with the children of the rich and powerful, but Ha-kyung is well-aware of how fierce the competition is to even be accepted into one of these elite schools.
She suspects that Jung-hwan's influence had a hand in this, and she doesn't want their daughter's first step into society to be smeared with corruption.
Jung-hwan fires back that her idol Minister Yoon hails from the same school Ha-kyung doesn't want their daughter to attend, to which Ha-kyung counters that Minister Yoon once stood up for integrity and resigned from her post.
But resigning as chief prosecutor opened up doors to rise up to become the Minister of Justice, Jung-hwan points out. He had to work to the bone to get to where he is today whereas Minister Yoon didn't have to.
Adding that he hasn't called off the custody suit, Jung-hwan says he plans to provide Ye-rin with the best education there is, making sure that each step is already set for her. They're interrupted with the news that the senior prosecutors are in an uproar about sitting with their subordinates, but Jung-hwan tells Yeon-jin to relay that this was his order and to record all the names of those prosecutors.
When Jung-hwan tells Ha-kyung to relay to his sister that he'll be back late tonight, she recalls the time when his mother had mentioned that Jung-hwan's stubborn nature was so much like his late father. Yet they were different when it comes to someone who lives without the law.
Mention of his late father is a sore spot for Jung-hwan, who says he wouldn't have gone to "that college" if it weren't for his father's debt and medical bills. But then Ha-kyung cuts right to the chase and tells him that Jung-hwan is suffering from the same terminal illness that took his father's life within six months after hearing the diagnosis.
It's shocking news to Jung-hwan, and Ha-kyung extends her sincere well-wishes that he'll overcome this illness. "I'll take good care of raising Ye-rin," she swears.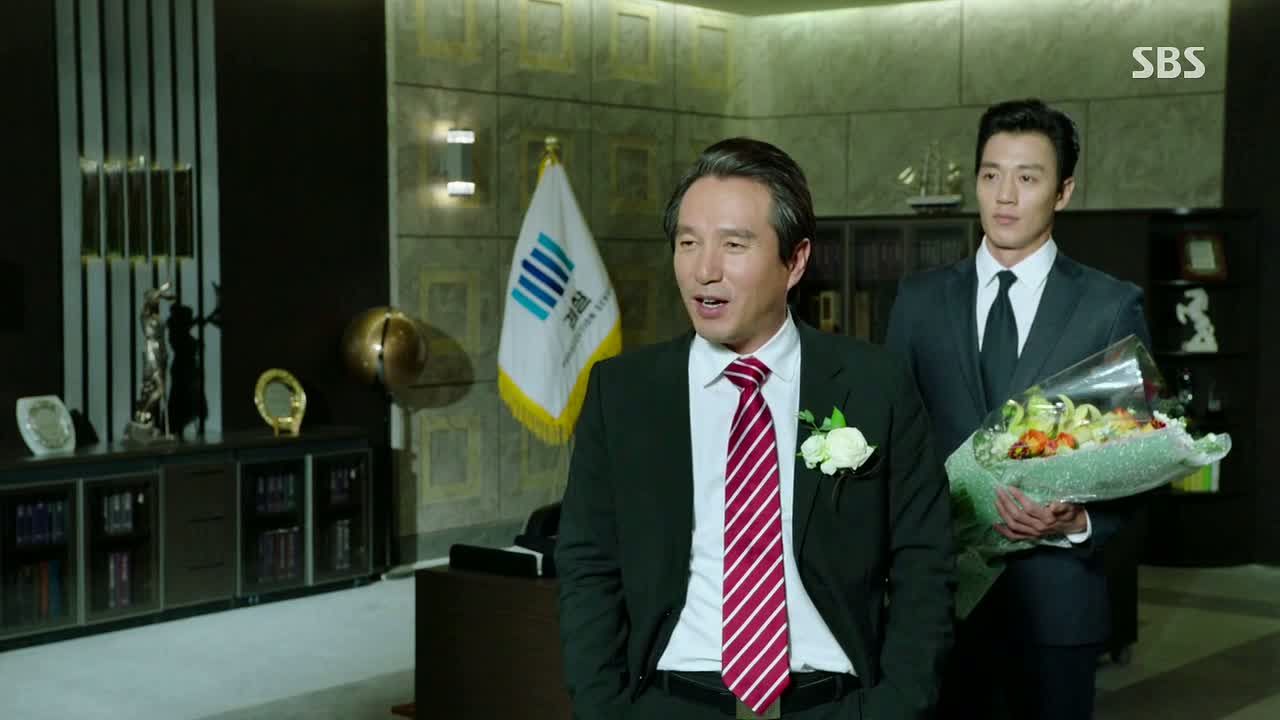 Jung-hwan's mind is elsewhere during the inauguration ceremony, rocked by the news of his health. He remains stone-faced as Tae-joon drinks in the respect that comes with his new position. Tossing over his bouquet like the same sentimental gesture of a wedding bouquet toss, Tae-joon says Jung-hwan will sit in this very seat one day.
He trusts Jung-hwan to do a good job as his right-hand man, then reflects upon the thirty years it took for him to finally become prosecutor general. He'll make sure that the road to Jung-hwan's success stays clear, and Jung-hwan lightly returns that he should be hearing those words of gratitude seeing as he cleared the way for Tae-joon first.
Just then, they both receive news of a fellow prosecutor's death. After tsking over how unfortunate it is for the family, Tae-joon wonders how much money he should give to express his condolences. (In Korea, giving money to the deceased family is considered an appropriate gesture.)
Ha-kyung flips through past photos that depict happier times with Jung-hwan and another man, and it looks like the three of them used to be a tight-knit group.
At home, Jung-hwan is determined to find a surgeon that's willing to treat him. He's considered a patient now and encourages his sister to be strong with a tight squeeze of her hand and a reminder that she's a doctor. But the tears keep coming, and Jung-hwan draws her in for a comforting hug.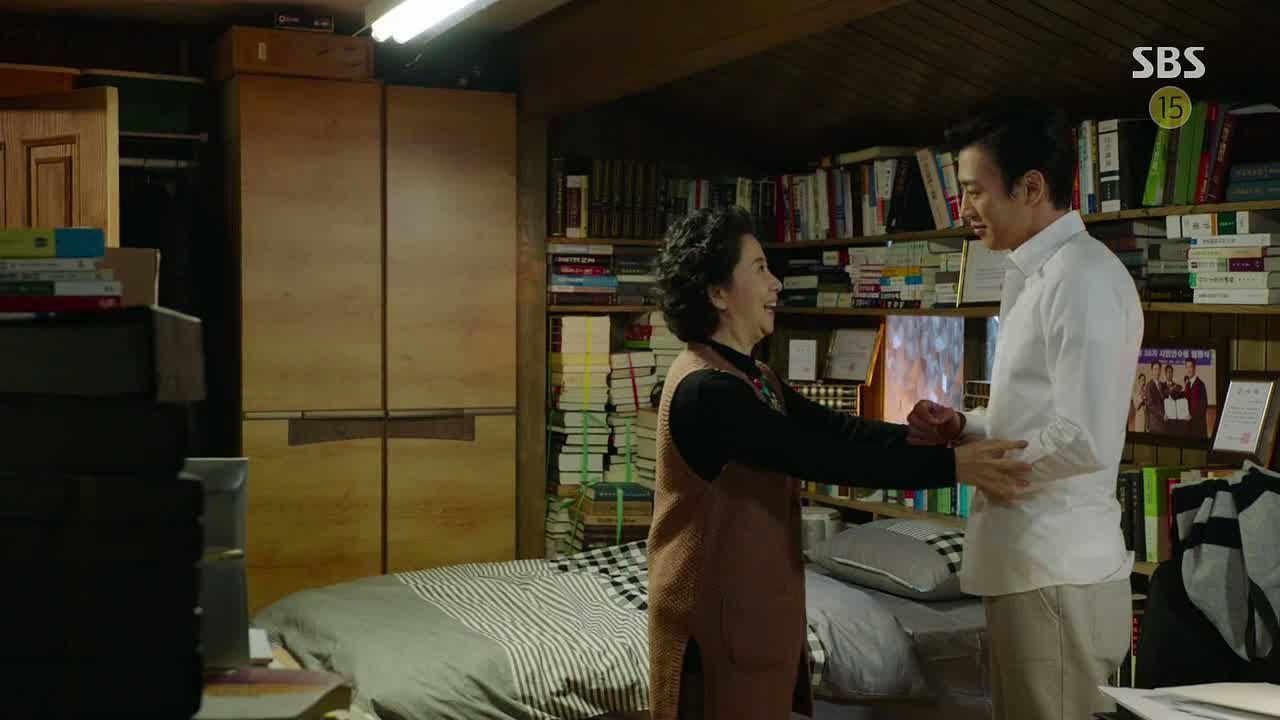 Jung-hwan stays up all night researching his condition to find any ray of hope. In the morning, his mother comes in complaining about how his aunt keeps bugging her about going on a family trip together. She initially turns down the idea when Jung-hwan says they should go, and he insists that she take a proper passport photo this time around.
His mother lights up at that, saying excitedly that they should go next summer for her birthday. Aw man, all this talk about a future that Jung-hwan might not get to see is seriously depressing.
But Jung-hwan won't let a little brain tumor stand in his way, agreeing to that trip. It's great how we see that determination as Jung-hwan power-walks to work, missing the passing train by mere seconds.
His doctor friend confirms from the medical scans that someone with this condition is terminal. No doctor in Korea has succeeded in treating this kind of tumor, which will lead to some pain followed by visual hallucinations in a few months' time before ultimately resulting in the patient's death.
Later that afternoon, Tae-joon is none too happy at how Minister Yoon has gone ahead to appoint her own people in his staff roster. It seems the law is in her favor on this one (since the Minister of Justice reserves that right), but Tae-joon is enraged all the same.
Jung-hwan attempts to mollify him by mentioning that a prosecutor general's term usually outlasts a Minister of Justice's term (i.e., endure this turn of events until Minister Yoon's time is up in maybe a year), but Tae-joon says he'll take the reins on this one.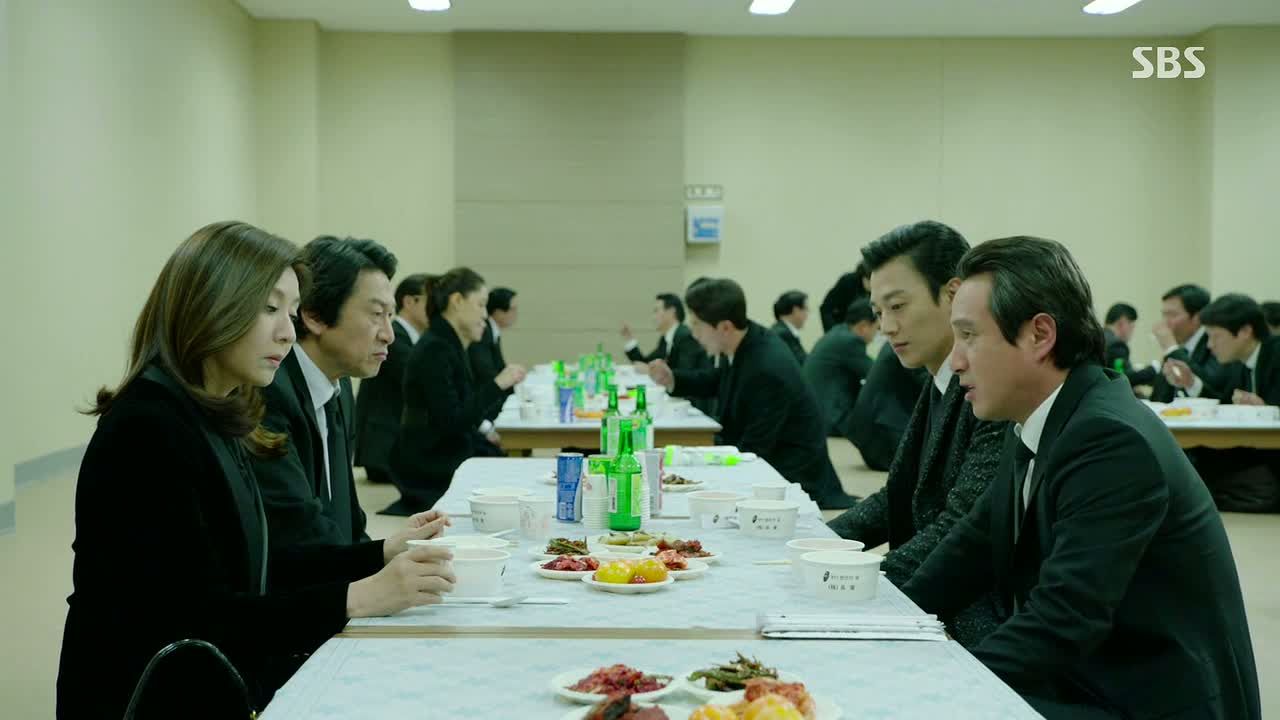 He voices his complaints about this checks and balances system to Minister Yoon, keeping his tone light about how there needs to be dishes one likes and dislikes to set a full table. But Minister Yoon isn't deterred nor flattered by the remark that everyone Tae-joon has in mind would pledge their allegiances to her, adding that she'll be reviewing each and every appointment herself.
Hearing the deceased wife's sobs of grief reminds Jung-hwan of his sister's cries, but Tae-joon and Minister Yoon carry on their conversation. Minister Yoon expresses that she'd like Director Jung, Tae-joon's former rival, as Deputy Prosecutor General. Director Jung says the rank is nominal at best, only able to carry out duties when the prosecutor general is unable to.
But it's perhaps the best way to keep her people close to Tae-joon, and the latter doesn't argue the point any further.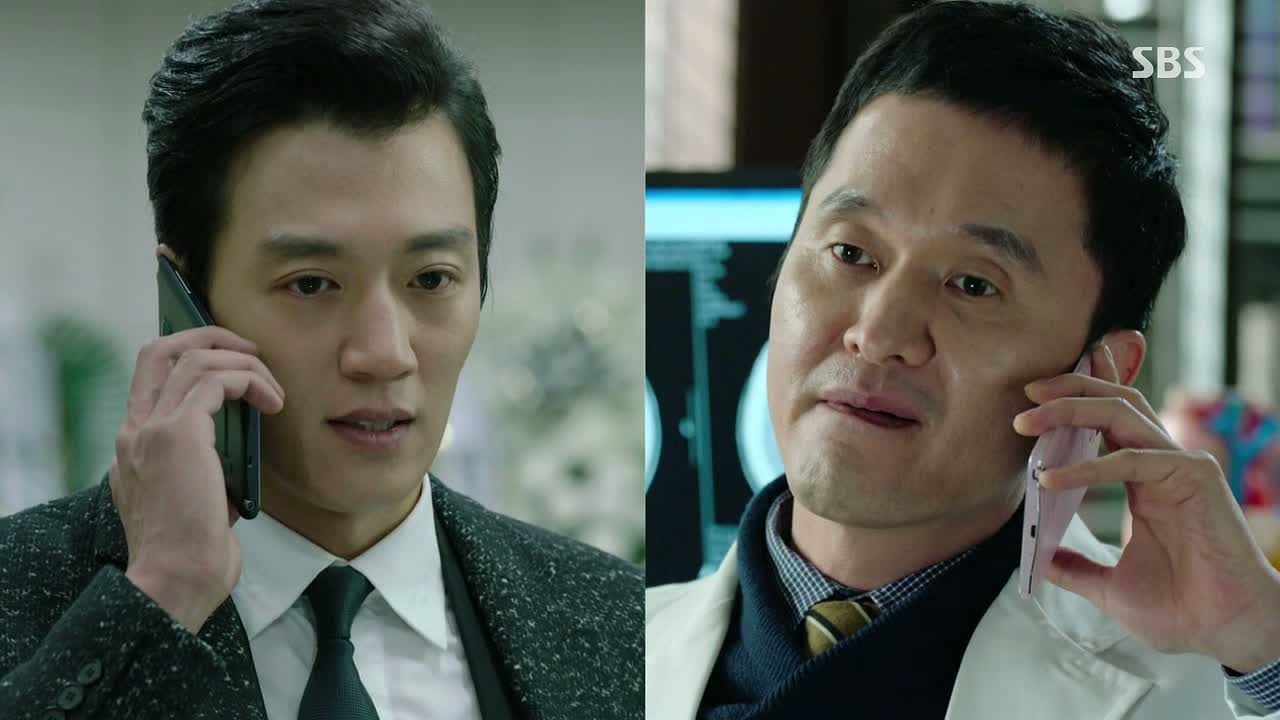 Jung-hwan is distracted again, and when he excuses himself, he's approached by a fellow prosecutor looking to take the job the deceased prosecutor left behind. But that's when Hyun-sun calls to inform him that she's found a surgeon willing to operate on him—a neurosurgeon who just finished studying abroad by the name of doctor JANG MIN-SEOK (Jang Hyun-seong).
But there's a catch: there's an arrest warrant out for Dr. Jang, who received money in exchange for fabricating clinical test results to a pharmaceutical company. This is reported by prosecutor LEE HO-SUNG (Ohn Joo-wan), who works in the criminal division. He also gets flack for not properly welcoming Kang-jae to the Seoul Western District Court. Yeah, you can say that Ho-sung has gotten off on the wrong foot with his new boss.
Jung-hwan wants Dr. Jang to be brought to him regardless of an upcoming indictment, though he bites his lip in frustration to hear that the prosecutor in charge is none other than Kang-jae. So he pulls rank in order to coerce Kang-jae into giving up some time to chat.
After checking in on the bus driver, Ha-kyung walks past Ho-sung, who's also on his way to the funeral. He suggests they eat before paying their respects, but Ha-kyung marches on, figuring that Tae-joon's presence will mean that Jung-hwan will be there, too.
He isn't, since he's busy talking to Kang-jae, whom he admonishes for not coming to at least hear Tae-joon's inaugural speech. Kang-jae considers the task of raising the number of arrest warrants issued and guilty verdicts in the Western District to be a difficult one, but completing it well keeps him in Tae-joon's circle.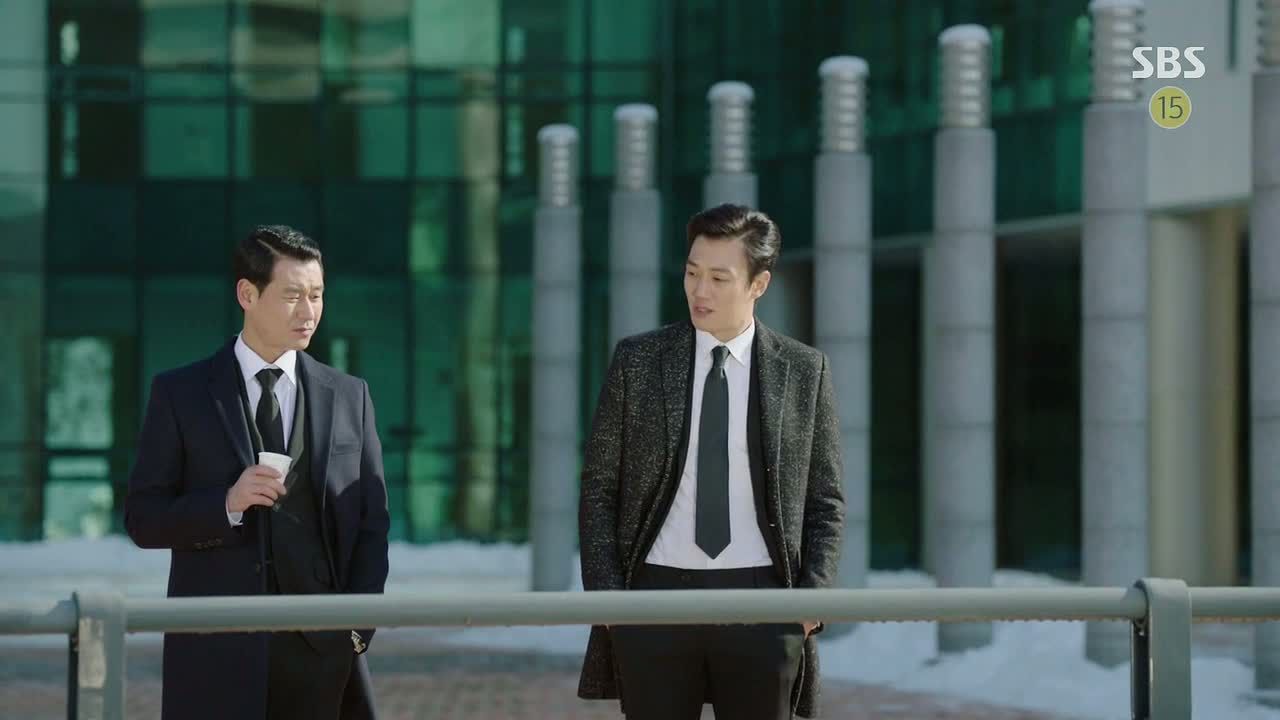 Kang-jae isn't sure about doing a job for a man who didn't give him a proper send-off, but Jung-hwan says his return will be celebrated. Then Jung-hwan mentions that Dr. Jang has an dinner appointment with Tae-joon earlier, so Kang-jae should make sure that he makes it.
Jung-hwan involuntarily rubs his temple, only to belatedly remember the subsequent symptoms that will soon follow. He silently grits through the first wave of pain, as Kang-jae is quick to point out that delivering Dr. Jang is Jung-hwan's personal request.
Balling his fist, Jung-hwan turns to look at Kang-jae, though his vision starts to blur and he sees double. Whoa, well that was fast. Kang-jae says he'll go and verify this assignment with Tae-joon himself, but Jung-hwan gathers enough strength to criticize him like a man in exile who would dare to speak directly to the king.
He'll relay to Tae-joon that Kang-jae has refused the order. It's a bluff of course (including the prosecutor general's order and about Dr. Jang), but it works to get Kang-jae's compliance. Jung-hwan's legs are shaking by now, and yet he manages to take a few steps away and shrugs off Kang-jae's hand to stop him.
But as the pain increases, the voices around him become muffled. And then there's a surge of pain as Jung-hwan cries out and collapses to the ground. Ha-kyung comes running, having just arrived, and Jung-hwan faints in her arms.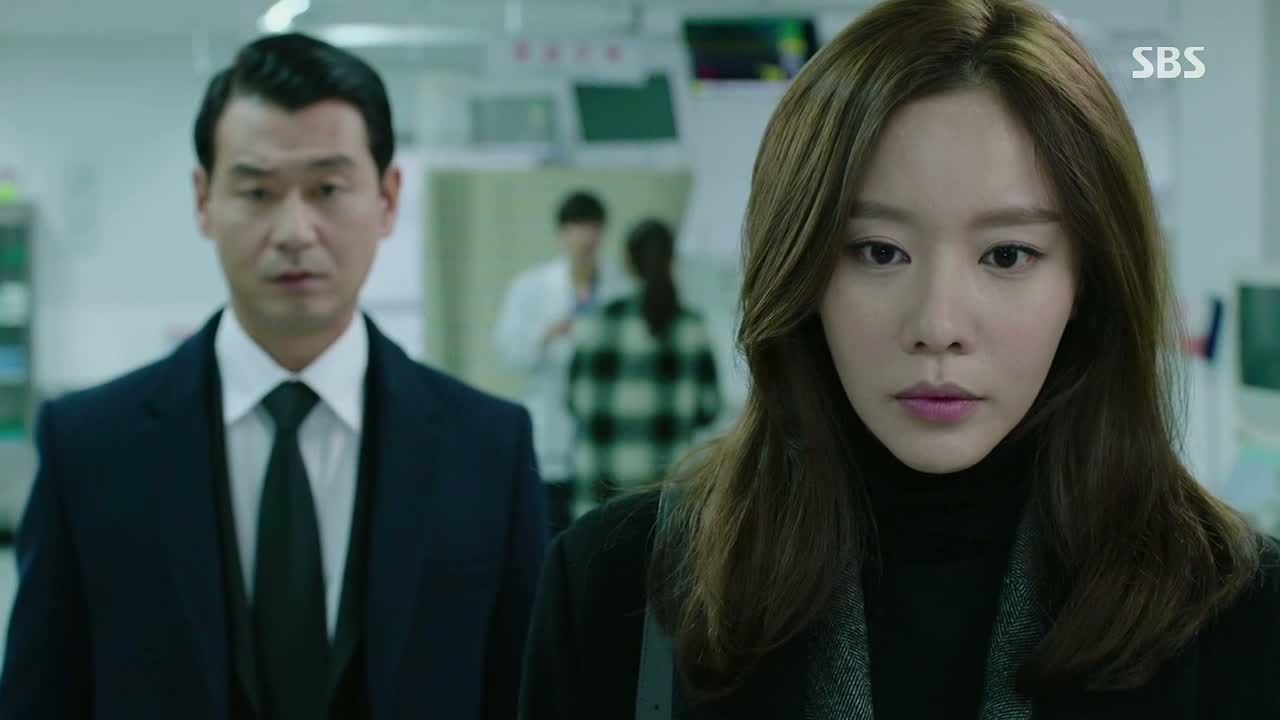 Ha-kyung buys some time at the hospital until Hyun-sun finally arrives. She and Kang-jae step away without revealing Jung-hwan's condition, but they're still in earshot when Hyun-sun blurts it out for them—this patient has a brain tumor and Dr. Jang will be operating on him in a few days. Accckkk, not what you want Kang-jae to overhear.
There's a sinister look of comprehension on Kang-jae's face that Ha-kyung doesn't miss, and then Kang-jae beelines it for Tae-joon to confirm Jung-hwan's fabricated lies. He orders Ho-sung to issue a warrant for Dr. Jang's arrest.
Jung-hwan finally comes to at the hospital and sits with Ha-kyung to discuss his situation. Now that his terminal condition is out in the open, both Jung-hwan and Ha-kyung know that Kang-jae won't be lenient. She points out that Jung-hwan was the same way with the bus driver, exploiting the driver's bad leg and accusing him of drunk driving.
"Would he be different? That Jo Kang-jae?" Ha-kyung asks. Jung-hwan knows the answer is no, and now Ha-kyung presents her offer: "Help the bus driver. And I'll help get Dr. Jang out."
Jung-hwan appears surprised by her offer, and she says he can refuse if he's got a better way of dealing with this situation. He doesn't, so he gets on the phone with Yeon-jin to tell Lee Tae-sub to compensate the bus driver.
Then Ha-kyung heads back inside to rejoin Ho-sung. The two go out for a bite to eat, where she gets right to the point to let Dr. Jang go. Ho-sung chuckles at his conflicting requests, more so that Ha-kyung would skip the legal textbooks for a personal request.
He sees right past her excuse that Dr. Jang must be a stellar neurosurgeon, and she admits that there's someone who needs surgery. Ho-sung understands where she's coming from, but he provides the counterargument that there are also countless people who are in the hospital now because of Dr. Jang's fabricated clinical results.
What's more is that Dr. Jang isn't the least bit remorseful about his actions and there's talk that evidence against him might be destroyed. "What if he admits to his crimes?" Ha-kyung asks. If the doctor is remorseful and there's no threat of destroyed evidence, can he be removed from detention?
Detective Oh makes a fuss about having to work on his wedding anniversary until he hears how Ha-kyung has already sent her well-wishes. He gets to work on finding more about the famed neurosurgeon Dr. Jang's case: the doctor had been bribed three times by Hyesung Pharmaceuticals to a total amount of 300 million won.
Release of this drug led to dozen of complaints from patients, and while Dr. Jang denies the bribery charges, claiming the money to be a delivery fee, the paper trail leads to a pharmaceutical sales associate. Ha-kyung tells her partner to investigate the doctor's financial activity in his bank accounts and stocks.
She traces the funds but calls Jung-hwan for his help. Along with Detective Oh, the three head over to an illegal gambling ring. Ha-kyung has her hands tied since she's on suspension (thanks to Jung-hwan), so Detective Oh is sent in to speak with the owner.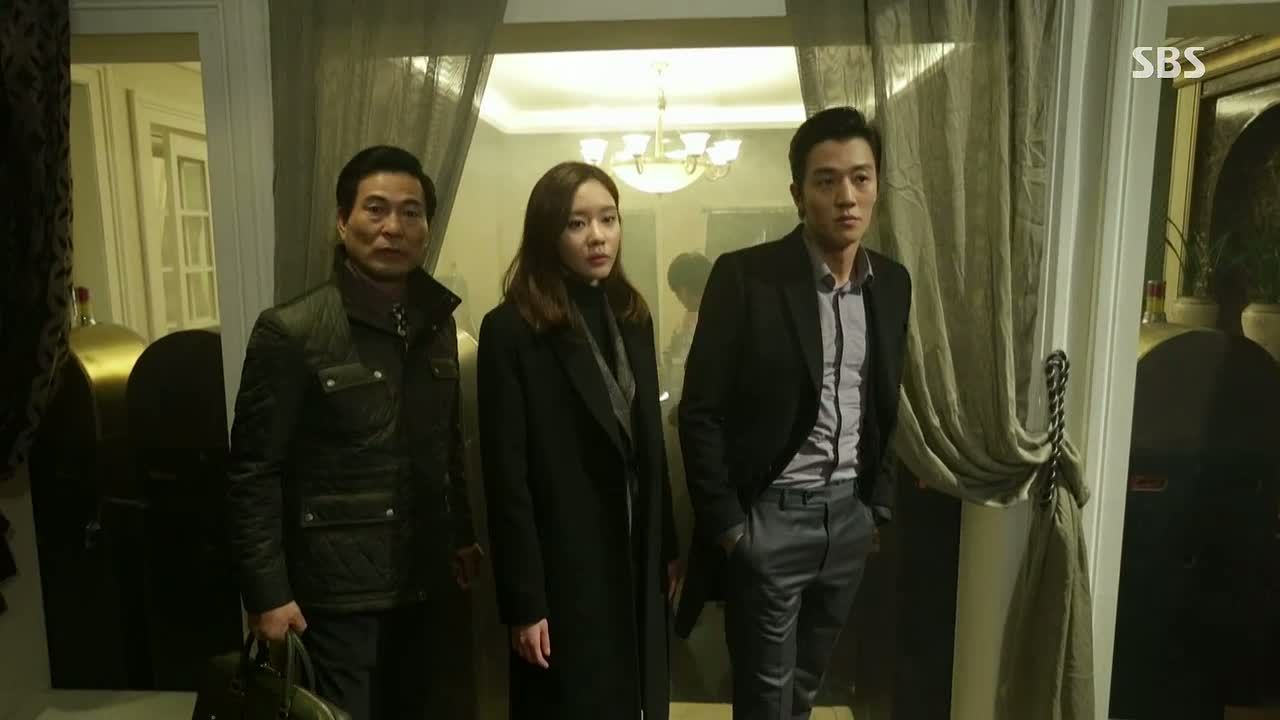 What's important right now is to uncover evidence of Dr. Jang's gambling activities—a police raid would only incite the den to burn as much evidence as possible. Ha-kyung insists that they do it her way (the police raid) because she doesn't negotiate with criminals, but Jung-hwan argues that they have to at least keep a line of communication open.
The gambling den owner is reluctant to hand over the CCTV evidence of Dr. Jang's activities here, since he'd lose customers. So Kang-jae instructs the detective to tell the police to raid every other gambling ring except this one—this is how he gets things done.
That's how Jung-hwan obtains the video clips of Dr. Jang and shows them to him. Dr. Jang asks if he's got another surgeon willing to operate, but Jung-hwan isn't at all fazed. Instead, Jung-hwan threatens to hand over this evidence to the prosecutor's office unless the doc admits to his wrongs before he stands trial.
When Dr. Jang reminds him of the stipulation of saving his own ass first, Jung-hwan fires back in banmal that the end goal is still the same—they're just changing the order of how to get there.
A confession would certainly bring with it a prison sentence, Dr. Jang points out. "I'll save you at that time," Jung-hwan replies. When Dr. Jang questions why he should trust Jung-hwan, the latter says he's entrusting his life into the doctor's hands on the operating table.
And so Dr. Jang admits to the bribery charges and issues a formal apology in court, much to Ho-sung's surprise. Which means that Dr. Jang's case will proceed without detention, buying him some time.
Over at the same scenic spot overlooking the man-made lake, Jung-hwan apologizes for asking for a month-long leave. But Tae-joon is well-aware of Jung-hwan's tumor (since he heard from Kang-jae) and remarks that Jung-hwan's father is even crueler than his for passing along a fatal condition.
Tae-joon is sincerely sorry, believing that overworking Jung-hwan to seeing him become prosecutor general and covering for his older brother had played a part in his diagnosis. Jung-hwan chokes back his overwhelming emotions, swallowing the oncoming tears.
Jung-hwan vows to get it all back, a resolution Tae-joon agrees with. Telling Jung-hwan that he must survive to be his pallbearer, Tae-joon won't attend Jung-hwan's funeral or extend his condolences if he doesn't make it.
It's then the tears finally fall, which Jung-hwan wipes away. "You must come back alive," Tae-joon tells him, fighting tears of his own.
Tae-joon sits down with his older brother and former Sejin Auto CEO Lee Tae-sub, who gripes at how admitting to the defective auto parts will cost him millions. Tae-joon says it was Jung-hwan who covered his ass time and time again.
It doesn't look like Tae-joon can break big bro's stubbornness about persuading a certain Chairman Kim, and their conversation is cut short with Yeon-jin's arrival. She's here with the news that researcher will be released by Christmas-time, thanks to Minister Yoon's influence.
The finger of blame will be pointed at the prosecutor general if either the researcher talks or the investigation into the defective chip. He realizes that this is Minister Yoon's way of pushing Tae-joon out of the prosecutor general position and have Deputy Prosecutor General Jung take his place.
So while Jung-hwan is away, Tae-joon plans to keep Kang-jae by his side. It's not ideal, but he doesn't have much of a choice either. Jung-hwan refuses to see that happen and promises to take care of the sudden acceleration case and the researcher before his surgery this weekend.
The Sejin researcher YANG SANG-HO (Ryu Seung-soo) is picked up from prison by the deputy prosecutor general, who assures him that he's made the right decision by cooperating with the investigation.
Jung-hwan and Yeon-jin follow the car, and Jung-hwan approaches Researcher Yang in a rest station bathroom. Speaking the truth requires great courage, Jung-hwan says, "but… what does that courage bring?" A few years in prison and a wife still working at the same restaurant, Jung-hwan notes.
Researcher Yang recognizes Jung-hwan, who says that Lee Tae-sub wants to offer him a cushy job with a great salary and benefits. And so Researcher Yang is literally caught in a dilemma—either follow the deputy prosecutor general and make sure there aren't any more casualties by investigating the case or follow Jung-hwan and the career opportunity.
It's Jung-hwan's car, just moments after Yeon-jin says they need to eliminate all the evidence on the sudden acceleration case or Minister Yoon will keep it open. Jung-hwan orders to close the case and drives past the senior prosecutor, who's none the wiser.
So you can imagine Ha-kyung's surprise when she sits with the bus driver's family at the hospital and hears that there was no vehicle malfunction and that the fault lies with the bus driver and his medicated habit.
The truth barely sinks in before Ha-kyung is informed that Jung-hwan has gone into surgery. The operation has started by the time Ha-kyung arrives, and she's given the book that contains her message to Jung-hwan.
Now there's a reply from Jung-hwan: "My time isn't over yet. Ha-kyung-ah, I need to live. Like now, no—I want to grow more than now."
Back in the operating room, Dr. Jang accidentally cuts a blood vessel which leads to sudden bleeding. While the team scrambles to rectify the situation, Jung-hwan thinks back to past memories: a happy Ha-kyung waving to him, Tae-joon smiling at Minister Yoon, a laughing Kang-jae, and him wrapping Ha-kyung, who's holding a photo, into his arms.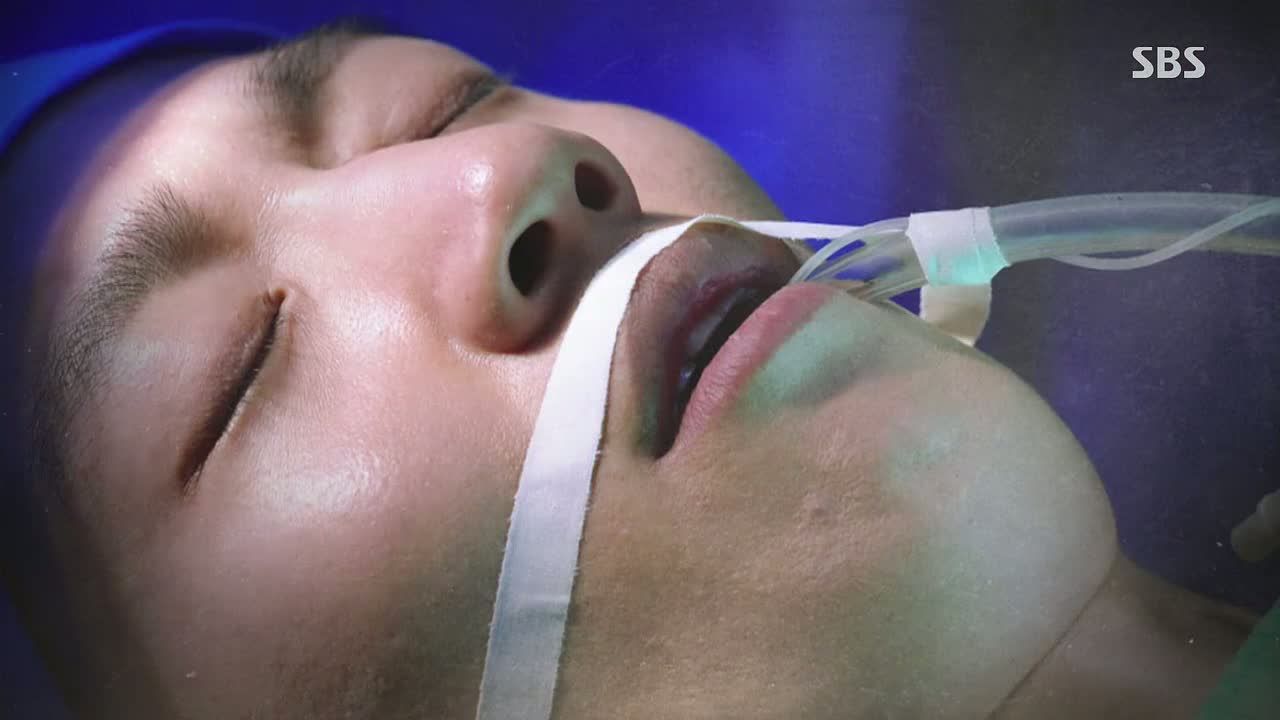 COMMENTS
Those final few seconds really has me wondering what happened in the past that turned Jung-hwan into the despicable human being he is today. Because those memories and the photos in the album speak to happier times, not only with Ha-kyung but with the others in this dramaverse as well. And as awful as Jung-hwan is now, he falls into a category of characters I love to hate—it takes something else to drown a hero (er, sort-of hero right now) in corruption and prioritizes his own ambition over everything else. If we're going to take Jung-hwan down to the point where even the ninth circle of hell would reject him, then so be it.
What's fascinating about watching Jung-hwan onscreen is not just seeing his cunning ruthlessness, but seeing that quality juxtaposed with his very human emotions. I honestly believe that in the hands of an inexperienced actor, Jung-hwan could simply be hated or considered frustrating. Yet Kim Rae-won brings a certain gravitas that we see why Jung-hwan chooses the decisions he makes, what the execution looks like, and the toll that those choices take on him. By no means does it absolve him of his corrupt actions as a man who is supposed to uphold justice, but knowing what his motivations are is much better than watching a cipher that simply does things without any known rhyme or reason.
Furthermore, Jung-hwan's actions are a consequence of his own voluntary decisions. He could have chosen to stop when Tae-joon wanted to give up his candidacy, but Jung-hwan chose to proceed. And then he chose to handle everything personally before his surgery. You'd think a health scare might have knocked a little bit of sense into our dying hero, but no—he funnels that resolve and propels that determination into hyperdrive. He doesn't let things like throbbing pain or blurry vision stand in his way either, until they break him, that is.
But what I also love about this show is the woman who used to be by his side. Ha-kyung is a smart woman whose moral compass supersede cutting corners in the legal system and in society. Although divorced and distanced now, Ha-kyung still cares for Jung-hwan's well-being. She knows full well how his career would be affected if the truth of his brain tumor fell into the wrong hands, and knows the extent of his influence. I shouldn't have been surprised that Jung-hwan wouldn't keep his end of the bargain, but damn if that betrayal still didn't cut deep. Only a special brand of man would use anything and everything in his arsenal to manipulate things in his favor—even a malignant tumor. He isn't going to let the sun set on his ambition until he's pulled out all the stops first. Go big or go home indeed, Punch.

RELATED POSTS
Tags: featured, Jo Jae-hyun, Kim Ah-joong, Kim Rae-won, Punch