Punch: Episode 4
This show makes me so happy. Well-constructed on every conceivable level, Punch is a show that asks its audience to engage and make of it what we will, ending up on the right side of the divide between being deliberately obfuscatory or just that complex. What at first seemed like a simple, cut-and-dry case blows up in a big way this hour, threatening to envelop whoever doesn't escape the blast radius fast enough. Jung-hwan reaches the point where he has to choose who to give his loyalty to, but you'd be surprised at how close the race is between Ha-kyung and Tae-joon when it comes to his affections. I wish we could blame some of his behavior on that brain tumor to make Jung-hwan an easier pill to swallow, but that'd too easy, wouldn't it?
SONG OF THE DAY
Jun In-kwon and Dok2- "그것만이 내 세상 (It's My World)" from the OST [ Download ]
Audio clip: Adobe Flash Player (version 9 or above) is required to play this audio clip. Download the latest version here. You also need to have JavaScript enabled in your browser.

EPISODE 4 RECAP
Ha-kyung tries to stay strong for her daughter over the phone, unable to tell her that she's been arrested. Ye-rin's tearful cries bring tears to Ha-kyung's own eyes, but she swallows her pain as she assures her that everything is going to be okay.
For now, little Ye-rin is staying with Hyun-sun, who also can't tell her the truth about her dad. Ye-rin can only cry that someone needs to tell her father to come save her mother, because her dad can do anything. Aw.
Her cries seem to reach Jung-hwan's ears in the hospital, since his eyes finally open. Mom is as overjoyed as Doctor Jang is bewildered to see her son wake from his coma, even though Jung-hwan's first choked words are simply: "Ye-rin… Ye-rin…" Did he really hear/feel his daughter's distress call?
In the interrogation room, Kang-jae presents Ha-kyung with all the evidence they've compiled proving she murdered Researcher Yang. All of it would hinge upon her having entered the building—and since she didn't, she says that the security camera footage will prove her innocence.
But the reality of the situation sinks in when Kang-jae leeringly informs her that the security cameras just so happened to be offline that day. He twists the story to fit a warped narrative, one where Ha-kyung gave Researcher Yang no choice but to jump when he wouldn't give a false testimony against Sejin Auto, since it was really the bus driver's fault.
Kang-jae's solution is simple: Ha-kyung needs only to sign a confession, and she'll get out with just a manslaughter charge. She threatens to go to trial to have the truth exposed, but Kang-jae croons that it'd be the end of her career—besides, does she think they haven't prepared?
Still, Ha-kyung refuses, saying she'll leave his fabricated indictment up to a jury of her peers endowed with common sense. And Kang-jae, the slimy bastard, places a call to a reporter right in front of her so that those people with "common sense" she trusts so much can hear about Ha-kyung's crime. Wink.
Her story makes the news, placing her in a negative light—and Hyun-sun catches Ye-rin watching. At least Ye-rin has enough sense not to believe what she sees on TV, but since everyone else does, she'll stay out of school for a little while.
Though Ye-rin insists on finding her dad so he can save her mom, she runs into resistance from her grandmother, who doesn't want her son's recovery to be jeopardized by worrying about Ha-kyung. If something were to happen to Jung-hwan, Mom insists desperately, she wouldn't be able to go on.
And Ye-rin, for her part, knows how to drive a hard bargain, since she successfully gets her grandma to take her to her father when she promises not to mention her mom.
Jung-hwan, now able to sit up in bed, looks completely content as his daughter spoon-feeds him porridge. (Did I miss the part where Ye-rin was told her father has an incurable disease?) When he mentions that she should've visited after school, Ye-rin dodges the question awkwardly, since answering it would mean telling him the truth.
He's way too quick to let that detail go, and confronts Hyun-sun about it after. She relents, and shows Jung-hwan the news about Ha-kyung as well as the conflicting stories—none of the articles mention that Ha-kyung saw Lee Tae-sub at the crime scene.
Jung-hwan seems to know what's happened instantly, and he is not happy about it.
Kang-jae doesn't know Jung-hwan's awakened and still acts like he never will, since he gives Yeon-jin a cheeky grin when she confronts him about his reassigning her to a tiny district office.
She promises retribution when Jung-hwan returns from his business trip (she still doesn't know), and Kang-jae just taunts her, confident that Jung-hwan won't come to her rescue—not now, not ever.
Tae-joon arranges a chart of prosecutor appointments by placing a picture of who he wants in each position, like a taxpayer-funded board game. He's reluctant to touch Jung-hwan's picture, but still leaves a place for him in the anti-corruption department by placing Kang-jae elsewhere.
But Kang-jae won't have it, and moves his photo to the anti-corruption spot, tsking Jung-hwan for not taking the seat Tae-joon prepared for him.
Tae-joon's defense of Jung-hwan comes swiftly: "He never once asked me for a position." Kang-jae is too hyped up on his own arrogance, and says that the firstborn son never has to ask for things he already receives.
"Forget the first son who's left you," Kang-jae says. "I will do my best to serve you." To add insult to injury, Kang-jae rips Jung-hwan's photo in half, which is the last straw for Tae-joon. He slaps Kang-jae hard across the cheek.
"I decide where your picture is placed. Do you understand?" Tae-joon growls. Kang-jae isn't the least bit chastened, and tells Tae-joon that the only thing he regrets is recommending Jung-hwan to him seven years ago—but he'll do better than Jung-hwan, who's no longer with them, in the position.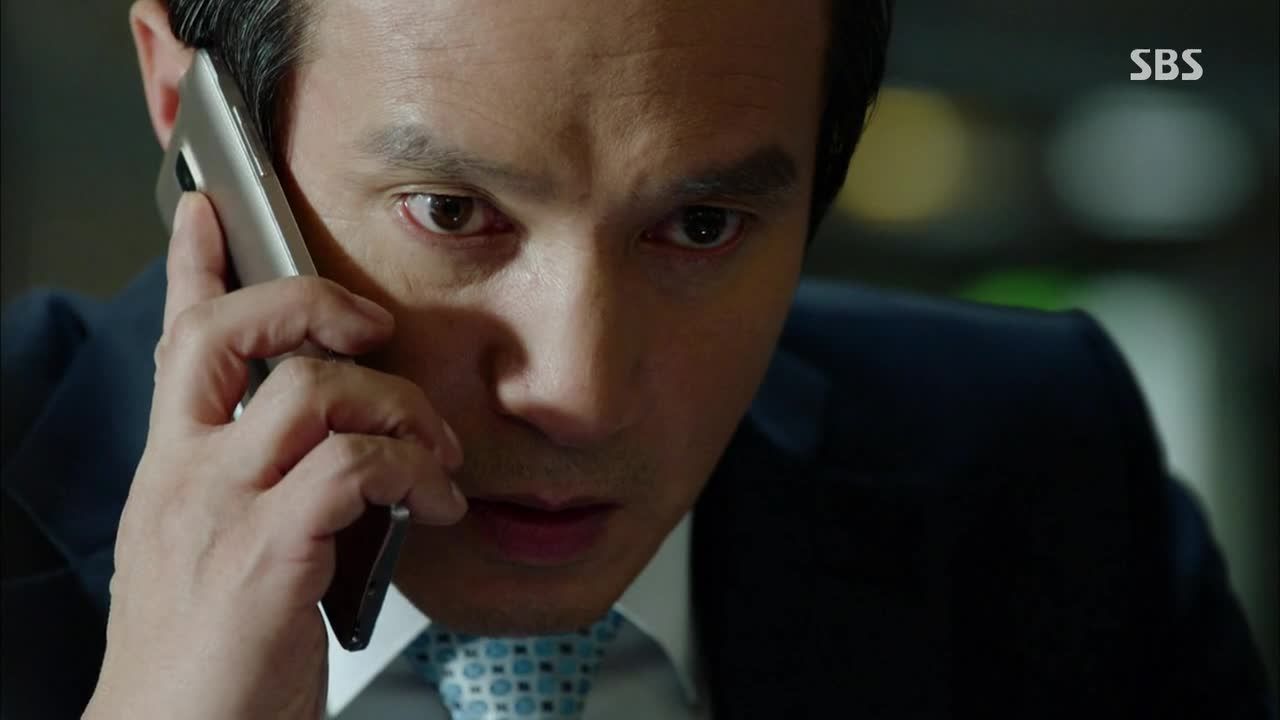 Just then, Tae-joon's phone rings, and it's with dawning horror that Kang-jae sees it's Jung-hwan. "I'm back," he tells Tae-joon when he answers.
Doctor Jang must have cojones mas grandes to simultaneously tell Jung-hwan that he was unable to remove the tumor and that Jung-hwan still better make good on his promise to him in the three months he has left to live.
But Jung-hwan can only walk numbly out of the hospital, acutely aware that his days are numbered. He's flooded with memories of his promises to succeed in his job and the sacrifices he made to do so as he sinks to his knees, his eyes gleaming with unshed tears.
Next to him are a mother and child, representing all that he gave up. Through their metaphysical tie, Ye-rin's cries reach him from far away, asking him to hurry and bring her mom back.
En route to the hospital, Kang-jae tries to ease Tae-joon's mind by saying that Jung-hwan might still die in a few months—and if so, they can continue their plan to frame Ha-kyung unimpeded. Tae-joon: "What if Jung-hwan has fully recovered?"
Jung-hwan is already on that, and pressures Doctor Jang to alter his medical records to show that the tumor was successfully removed. When he hesitates, Jung-hwan reminds/threatens him that this is the only way for him to get out of his bribery charge since he failed to cure Jung-hwan as promised.
While Tae-joon meets with Jung-hwan, Kang-jae meets with Doctor Jang to get the results. At first, the two old friends act like nothing's really changed, with Jung-hwan even thanking Tae-joon for indicting his ex-wife on manslaughter instead of murder.
Tae-joon's face falls when Kang-jae delivers the news that Jung-hwan will live a long and healthy life, and he looks nervous when Jung-hwan asks him if he could make it so that Ha-kyung could be released. It's the first and only favor he's asked in their seven years of knowing each other.
Since Kang-jae had advised that Tae-joon send Jung-hwan to the U.S., he tries to stutter that out and fails miserably, too burdened by his own guilt. "Jung-hwan, curse at me!" he begs. "Scream at me! Don't you hate me?"
But Jung-hwan won't, since he claims it was his own fault for being absent. Tae-joon continues desperately, "I thought you were going to die, so I sent your wife to prison. I'm sorry, Jung-hwan."
Surprisingly, Jung-hwan doesn't even show the slightest hint of anger. It's his understanding that makes Tae-joon feel even worse, since he claims his absence was what forced Tae-joon into making a difficult decision.
Tears leak out of Tae-joon's eyes as he asks Jung-hwan if he'll stay by his side, even after all he's done. Jung-hwan says, half-jokingly, that he wouldn't think of showing his back to Tae-joon when he used the few days of his absence to imprison his wife. Does he really mean it, or is he playing Tae-joon like a weepy old violin?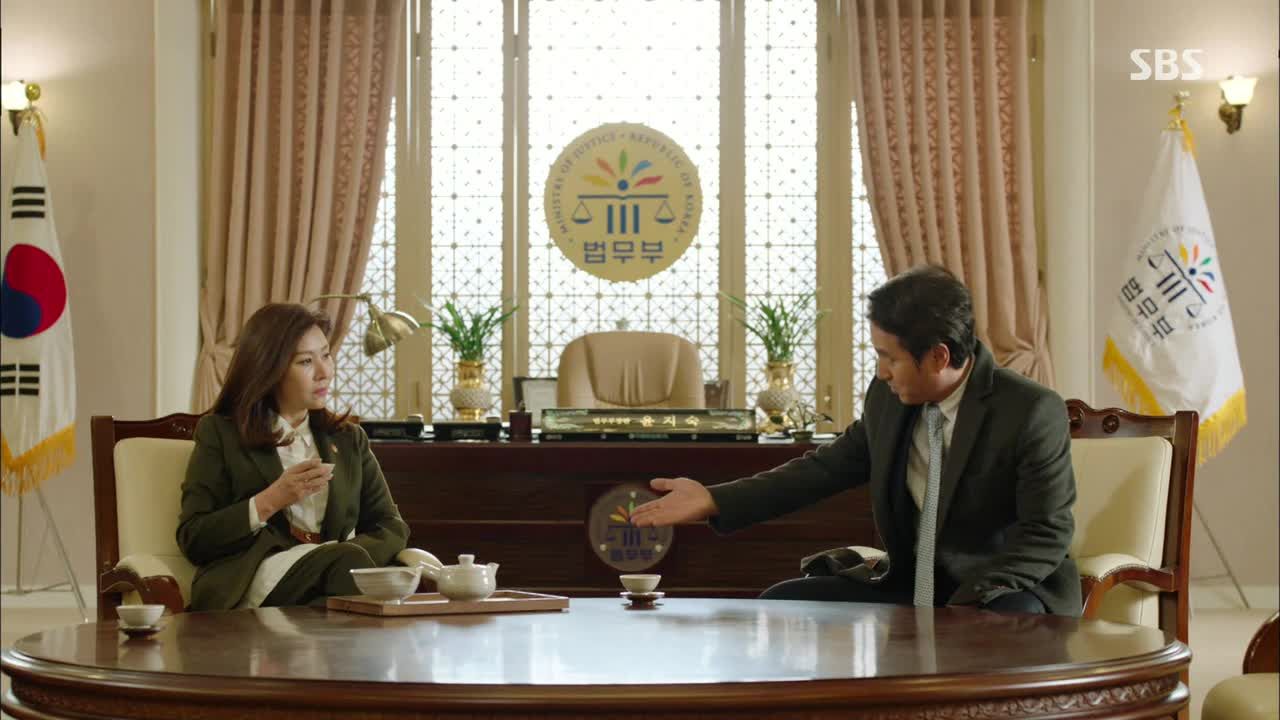 Tae-joon immediately orders Kang-jae to send his brother abroad and have Ha-kyung released, but there's one big hiccup: Minister Yoon kept her promise to invoke the rare jihuigwon, the right of command afforded to the Minister of Justice that allows them to take control of an investigation.
While Jung-hwan watches the news with dismay, Tae-joon meets with Minister Yoon in an attempt to get her to drop the whole matter. They trade verbal blows, but she's not swayed when Tae-joon promises to let Ha-kyung go if she'll bury the case.
Minister Yoon just looks at his outstretched hand as she asks him how he'd so easily release someone charged with manslaughter, in effect calling him out on framing Ha-kyung.
Tae-joon resorts to threatening her when she orders Prosecutor Jung to look into everyone involved in the case again without prejudice for their positions, claiming that she'll be the first Minister of Justice to be ousted by a prosecutor rebellion.
For her answer, Minister Yoon casually asks Prosecutor Jung if a prosecutor general has ever been imprisoned during his term in office. When he says no, she turns to Tae-joon with a casual smirk: "I suppose you'll be the first. Have some tea." Buuuuurn. Go Minister Yoon!
It's enough to drive Tae-joon to give the go-ahead for Kang-jae to turn public opinion against Minister Yoon while also smearing Ha-kyung's name. He's turning his back on Jung-hwan, as evidenced by him declining Jung-hwan's call.
Meanwhile, Doctor Jang gives Jung-hwan a week's worth of a strong narcotic pain killer, highly illegal. When Jung-hwan mentions that he has three months left, Doctor Jang tells him that he'll give him more if he makes one of the witnesses in his bribery case retract their statement. Deal. (I know he has to stay handsome for TV, but even Dr. Jin wore a decorative ribbon post-brain surgery.)
Now that Jung-hwan has drafted Detective Oh onto his team, Prosecutor Ho-sung updates him on Ha-kyung's cross-examination: The bus driver's wife will testify for her.
While Ho-sung is optimistic, since Ha-kyung was the only one who supported the woman during her time of need, Jung-hwan knows enough to be suspicious—why would Kang-jae allow her to testify if it would work against him?
Turns out, he wouldn't. Even though the bus driver's wife remembers Ha-kyung's kindness, she lies on record that Ha-kyung did everything for her own glory, and promised her money for her cooperation.
Kang-jae just smiles wickedly. He bribed her, didn't he?
Team Jung-hwan (which includes Ho-sung and Detective Oh) find out that the bus driver's wife suddenly changed her mind about her husband's surgery, right on the heels of news breaking about Ha-kyung's dark dealings with her family.
They find out that the driver's hospital bill has been paid in full and know instantly that his wife was bribed for her testimony, and find the evidence not in a deposit, but by the driver's daughter innocently telling Jung-hwan about her mom's new kimbap restaurant.
Jung-hwan secures all the details of the transaction as well as a statement from the real estate agent, which he takes to Ha-kyung as proof of the bribe—all they need to do is sue the driver's wife for her false testimony and Ha-kyung will be free.
But Ha-kyung wants to be released for the right reasons, and not because she traded places with the driver's wife. She wants the truth to come out about Tae-joon and his brother, and tells Jung-hwan that she'll leave freely once he makes them both pay for what they did.
She notices the scarf he's wearing with a distant smile, and straightens it for him. "I'm glad you're back, Jung-hwan," she smiles. She hopes that he continues to live like he did when he was a rookie prosecutor—when he was happy.
Yeon-jin arranges a private meeting with Minister Yoon, where she presumes to antagonistically taunt her sunbae with the information that she took Researcher Yang to the condo he fell from and arranged for Lee Tae-sub to meet him there.
But instead of giving that statement over to the authorities, Yeon-jin wants to hold a press conference. It won't do good for the prosecutor's office, but it'll do good for her in the next general election.
And much to Prosecutor Jung's surprise, Minister Yoon agreed to let Yeon-jin have her press conference in exchange for burying her involvement with Researcher Yang, since they'd be able to nab Tae-joon easier if he got called out publicly.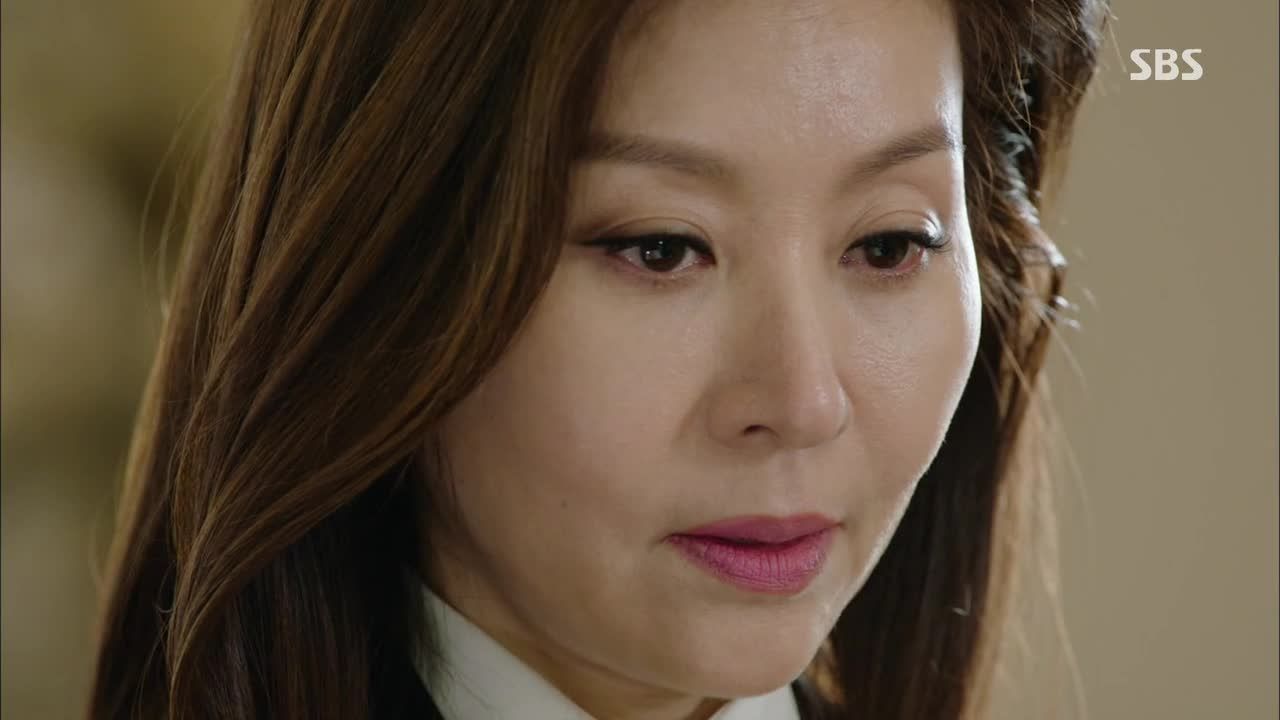 Prosecutor Jung says that such a deal would tarnish Minister Yoon's otherwise sterling reputation, but she's past that now. She wants to do what's right for the prosecutors of the nation, even if it means she has to get a little dirty while cleaning things up.
Needless to say, Tae-joon is pissed when he hears about the impending conference, though they're unable to get to Yeon-jin (who's basically declared sanctuary at the cathedral she'll be holding the conference at). He blames Kang-jae's hatred of Jung-hwan for everything—if he hadn't framed Ha-kyung and demoted Yeon-jin, none of this would be happening.
Ho-sung updates Jung-hwan on the events sure to follow the press conference, including Tae-joon's suspension from office. He's trying to convince Jung-hwan to help the investigation, which has Jung-hwan torn between Tae-joon and his ex-wife, who asked him to bring Tae-joon to justice.
"When you were in a coma, she said she wanted to give you a chance. Ha-kyung said you'd wake up. She wanted to give you the opportunity to live like you did in the past," Ho-sung says, before Jung-hwan stalks off without an answer.
While Tae-joon tries and fails to get Minister Yoon to stop Yeon-jin, Jung-hwan meets with the would-be whistleblower himself. Yeon-jin is adamant that they've been betrayed by Tae-joon and need to respond in kind, but he's… still… defending Tae-joon? Huh?
Knowing that Yeon-jin will listen to him, Jung-hwan dissuades her from holding the press conference with the promise that he'll help her get elected another way.
He calls Tae-joon to inform him that he's off the hook, just as Minister Yoon receives the same news. It's a crushing blow to her, coupled with the fact that the president himself wants her to withdraw her investigation.
Afterward, Tae-joon is over the moon about his win over Minister Yoon, and thanks Jung-hwan for silencing Yeon-jin. But he can't even promise Ha-kyung's quick release, and asks Jung-hwan to bear with it for a few years so it can all blow over.
Jung-hwan isn't quite as game, and says, "Stopping Choi Yeon-jin was my farewell gift to you. You can give me a gift in return: Ha-kyung." Tae-joon says that simply isn't possible, and entreats him to wait a few years—but Jung-hwan doesn't have that kind of time.
He mentions that he covered Yeon-jin's mouth, but there'd be no one to cover his if he chose to speak out as a subtle threat. "I gave you Choi Yeon-jin, didn't I? Give me Ha-kyung," he repeats.
But Tae-joon makes arrangements for him to go to the U.S. with his daughter for two years, promising that the prosecutor general seat will be his when he returns. He takes Jung-hwan's silence as a sign of compliance, which methinks is a baaad idea.
Even Hyun-sun is convinced that Jung-hwan's surgery produced a miraculous result, which means that he's told no one—not even his family—the truth.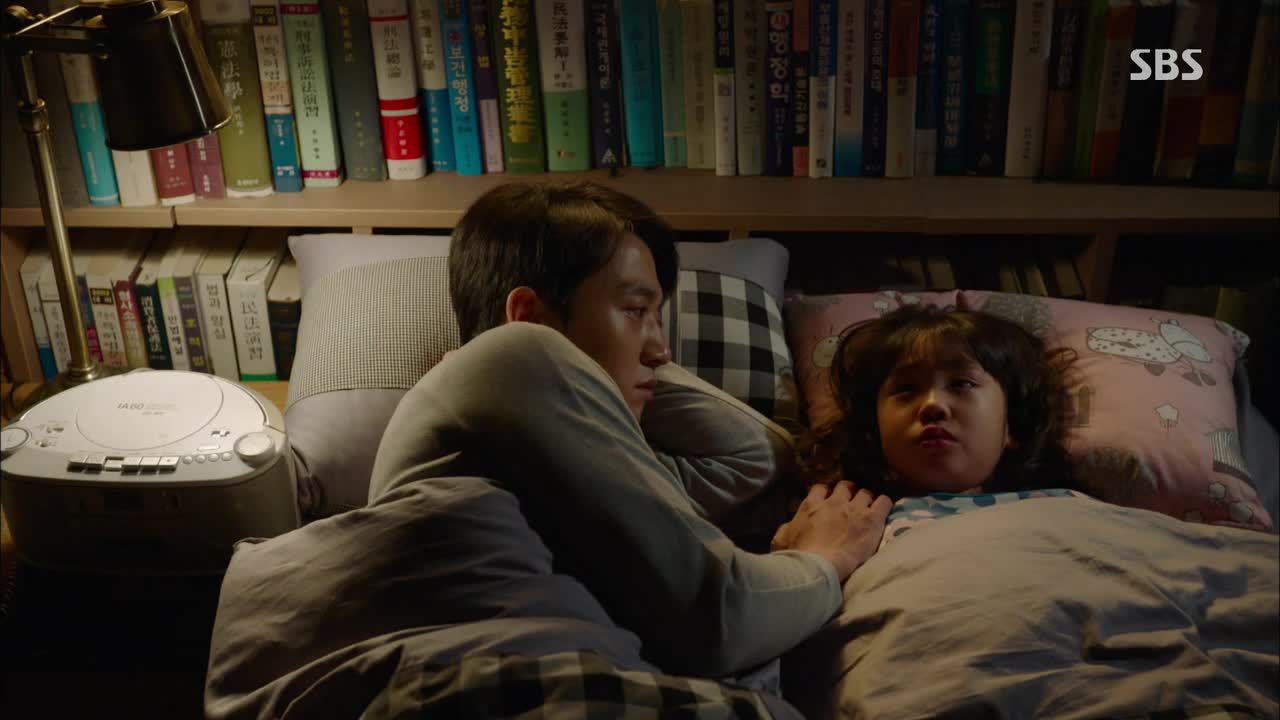 Later that night, little Ye-rin climbs into her father's bed and tells him that God must be extra busy, since he hasn't answered her prayers when it comes to her mom. She blames herself for not being a good enough person to receive grace, and Jung-hwan comforts her by pulling her into his arms.
"Keep praying, Ye-rin," Jung-hwan thinks to himself. "From now on, your daddy will listen and answer them for you."
Kang-jae confirms that Jung-hwan will be leaving for the U.S. that night to Tae-joon, but receives a stern warning against messing with Jung-hwan any further—Tae-joon feels like half his heart has been cut out as is.
The person he blames for all of it is Minister Yoon, who finds herself walking into a surprise meeting that Tae-joon convened with powerful men representing the prosecutor's office. Uh oh.
She's immediately called out on orchestrating Yeon-jin's press conference, and for using her to invoke her right of jihuigwon. Tae-joon oversees the hearing with devilish glee, knowing that he's got Minister Yoon right where he wants her.
But Minister Yoon thinks back to her statement about the necessity of getting dirty and claims she never met with Yeon-jin. Kang-jae, who was just waiting for her to say that, plays the security camera footage of her and Yeon-jin at the restaurant where they met. Uhhh ohhhh.
Declaring that the prosecutor's office can't serve a minister who would use her right to investigate to demean the office as well as a staff prosecutor (Yeon-jin), Kang-jae formally asks her to step down. All the others bow their head to ask, nay, demand, the same.
Minister Yoon, shaking with indignation, meets Tae-joon's gaze from across the table. He grins maniacally back at her.
From outside the meeting room, Jung-hwan calls Minister Yoon with a timely reassurance: He's going to get Ha-kyung out, and in the process, he'll take Tae-joon down.

COMMENTS
I really hope Jung-hwan is being sincere this time, and that this isn't just another attempt to cover Tae-joon's bottom. Before this episode, I would've given Jung-hwan a bit more credit as far as knowing when he's been had, but this hour threw my perception of him all out of whack. He doesn't behave quite as rationally as he should when it comes to Tae-joon, though Tae-joon seems much more adept at compartmentalizing whatever twisted relationship they have when it suits him better. Jung-hwan better catch up, and quick.
Tae-joon's conscience is an interesting beast, since I'm inclined to give him credit for at least having a moral radar that occasionally blips from time to time as opposed to Jung-hwan's unexpressed internal struggle, making the latter much harder to read and predict. His first scene back in action with Tae-joon was surprising on many levels, because I still can't be sure if Jung-hwan was actually thanking Tae-joon for only giving Ha-kyung a manslaughter charge, or if he was purposefully manipulating Tae-joon's feelings.
While it's clear that both men have strong feelings for each other and operate off some long established bond that they're both currently in the process of breaking (maybe), I really like that the show takes turns showcasing who's more codependent on the other. Tae-joon's actions would have us believe that he really does care for Jung-hwan and that it pains him to harm him, but clearly Jung-hwan is the same, since he couldn't even bring himself to be angry that Tae-joon threw his ex-wife in prison because he was counting on Jung-hwan being, y'know, dead.
Or if he was upset about that, he's a champion at hiding his feelings. If he's acting out of true concern for Ha-kyung, then it would prove that there's been some change, even though he's not about to change his dirty tactics for getting what he wants. Then again, playing by the rules didn't spare Ha-kyung from eating prison rice, so you do what you need to do, Jung-hwan. How do you want to be remembered in three months' time?

RELATED POSTS
Tags: featured, Jo Jae-hyun, Kim Ah-joong, Kim Rae-won, Punch