Punch: Episode 5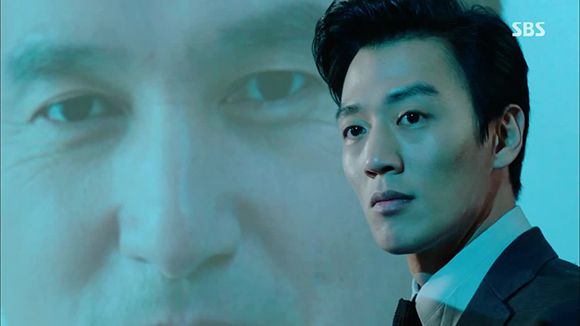 Leave it to a show as tense and unrelenting as Punch to make even the act of eating jjajangmyun an edge-of-your-seat affair—though I guess when you have such fully realized characters with such conflicting desires, even sustenance can become stand-in for something more: a challenge, a memory, a friendship, a bitter rivalry. Some shows allow for throwaway moments and actions. This is not one of them.
Note: There's only one episode of Punch this week, but never fear—this preemption was well planned for. Happy new year, and see you guys in 2015!
SONG OF THE DAY
Ailee – "문득병 (Sudden Illness)" [ Download ]
Audio clip: Adobe Flash Player (version 9 or above) is required to play this audio clip. Download the latest version here. You also need to have JavaScript enabled in your browser.

EPISODE 5 RECAP
While taking the elevator up to Minister Yoon's roast, Yeon-jin finds Jung-hwan downing silver coated herbs called eun dan (believed to help one quit smoking) and asks for some—she's been meaning to quit, since her goals of political ascendancy require her to live a long life.
Those words cause Jung-hwan to remember just how little time he has left, and he hands the bottle over to her: "Take it. I won't need it anymore."
After calling Minister Yoon to tell her that he'll be the one taking Tae-joon down, Jung-hwan enters the meeting room just as Tae-joon starts into a poetical allegory about how Minister Yoon should step down and answers with one of his own: "Can you blame the wind when a flower falls?"
Jung-hwan notes that the meaning behind the five bamboo trees which symbolize the prosecutor's office (fairness, truth, justice, human rights, and integrity) aren't present here—all he sees among the chief prosecutors are delicate flowers easily blown down by a light breeze.
Kang-jae immediately bursts out that Minister Yoon is being held accountable for instigating Yeon-jin to hold a press conference, so Jung-hwan asks Yeon-jin to explain herself.
With tears in her eyes, she claims she was fighting back against her rural reassignment, but that Minister Yoon was the one who persuaded her to cancel in order to protect the integrity of the office. Ah ha. Smart thinking, Jung-hwan.
When Kang-jae fires back that Minister Yoon still lied about meeting Yeon-jin, Jung-hwan tells him pointedly that tattling and bragging are for children—Minister Yoon protected Yeon-jin's honor and was modest in not taking credit for canceling the press conference.
Minister Yoon knows she's been saved and, in her benevolence, claims she'll overlook Kang-jae's mistake in bringing her here as long as they overlook Yeon-jin's mistake. Oh, and she wants Jung-hwan's assignment to the U.S. canceled, since he's much better suited to be Chief of the Anti-corruption Division
That's the job Kang-jae put himself in, and the look on his face is priceless as Minister Yoon nabs it right out of his grasp. Tae-joon has also been put into quite the corner, but he smiles through it all like he wasn't just soundly defeated.
Jung-hwan bows to the room after Minister Yoon reminds them of all the duties his new job will call for and says, "In order to make sure he does not make any more mistakes with regard to you, Minister, I'll do my best to serve the Prosecutor General."
It doesn't take but a second for Jung-hwan to settle into his new job at the Supreme Prosecutors' Office, and he immediately starts making job appointments Kang-jae shoots him down on—he needs approval from his boss first, "And your current boss is me."
"For now," Jung-hwan replies. He mouths the same words again when he catches Kang-jae looking in on him through the glass office partitions. Mwa ha ha.
After he uses the excuse of moving his father's cremains to the new family plot he just bought to reassure Mom, Jung-hwan finds Hyun-sun and little Ye-rin whispering. His sister reveals that Ye-rin wanted to see her mom without her father knowing, but, so much for that.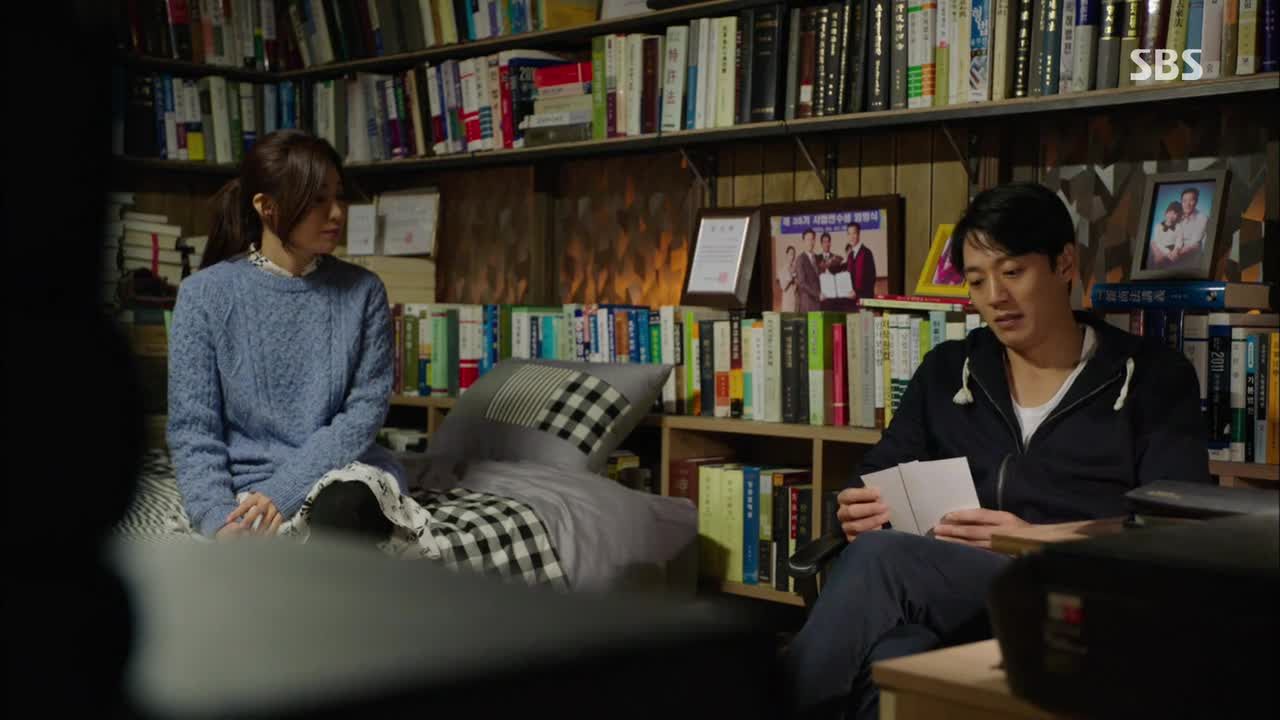 They briefly discuss how their father, who suffered from the same disease Jung-hwan has (or had, as he wants others to believe), selfishly used all the family's money to pay for his unsuccessful surgery.
"I don't want to live like Father," Jung-hwan tells his sister. "I'd hate to die like him." But he's shaken out of his dark thoughts when Hyun-sun chirps that he won't die, before handing over pictures of two junior prosecutors he's already set her up on dates with.
When Hyun-sun protests that she doesn't want to get married, Jung-hwan tells her he's not looking for a husband for her, but a son-in-law for Mom—someone she can lean on. What he leaves unsaid is: "…When I'm gone."
Later, while looking through the pamphlet for the family plot he bought, Jung-hwan fights to choke back his tears. I guess looking at your final resting place will do that to you.
Minister Yoon and Prosecutor Jung hand over all the evidence on Researcher Yang they've compiled, in the hopes that Jung-hwan will use it against Tae-joon. To their surprise, he says he won't need those—he'll use other methods to bring his opponent down.
Prosecutor Jung is scandalized at the thought of Jung-hwan using less-than-principled methods to catch their prey, but Jung-hwan replies that using "principled" methods almost caused Minister Yoon's resignation.
But when he asks Minister Yoon if he can decide on his own methods for the investigation, she flashes back to a memory from seven years ago, when she'd denied him the same request.
She makes a different decision now than she did then by telling Prosecutor Jung to support Jung-hwan in whatever he chooses to do. To say Jung isn't happy would be an understatement, but he's forced to relent when Jung-hwan warns him to keep the good prosecutors by his side—and also out of his way.
Minister Yoon knows that giving Jung-hwan the freedom to conduct an illegal investigation might ruin her legacy, but she's sacrificing herself for a greater cause: "As long as Lee Tae-joon disappears, our junior prosecutors will be able to work with the people's support."
Detective Oh is star-struck upon entering the Supreme Prosecutors' Office, but Ho-sung isn't—he asks Jung-hwan to let him return to the Western District Office to tend to unfinished work there.
Jung-hwan says he'll consider his request next year, noting that he doesn't want to work with Ho-sung as much as Ho-sung doesn't want to work with him. But he's asking for his help as Ha-kyung's friend, and sends Ho-sung to the desk he's prepared for him.
While singing Oh Bird, Oh Bird, Oh Roller, a folk song commemorating Jeon Bongjun, the leader of the Donghak Peasant Revolution (an armed rebellion against corruption in Korean politics that eventually included Japanese occupiers in 1894), Tae-joon looks at a photo of the revolutionary taken at the moment of his capture.
He's obviously drawing parallels between himself and Jeon Bongjun, who was betrayed by his lieutenant—aka Jung-hwan—though the similarities seem to end there. Though Jeon Bongjun looks at peace in the photo, Tae-joon is much more enraged at what he perceives to be Jung-hwan's betrayal, and orders Kang-jae to spy on his every movement.
As to that, Kang-jae's already got it covered: he planted hidden cameras in Jung-hwan's office and meeting room during the office renovation. All they need to do is watch.
And watch they do, as Jung-hwan holds a meeting with his team to discuss their real target in this investigation, which has more to do with Sejin Auto than it does about Researcher Yang's death.
In order to catch Lee Tae-sub and eventually Tae-joon, they have to start with the former CEO of Sejin Auto and the real owner of Ocean Capital, with Tae-sub as just a puppet executive. "If a dog bites, we can't fight against the dog," Jung-hwan says. "Let's catch the owner."
The dark face Tae-joon wears after watching the meeting transforms into a placating one upon meeting his brother and the aforementioned Chairman KIM SANG-MIN, who immediately spits that the position Tae-joon now occupies cost him billions. Ah, so he's been behind the scenes a while.
Tae-joon can only be so kind to his corporate backer for so long, since seeing evidence that Chairman Kim harmed his hyung has him oh-so-subtly threatening to expose some dead bodies in Kim's closet. But, he regains his trust by promising to send Kim abroad while he silences Jung-hwan.
In an act of humanizing brotherly love, Tae-joon takes hyung Tae-sub to get a new pair of glasses, since Chairman Kim crushed his last pair. He asks why Tae-sub won't retire from his position to be with his family, but Tae-sub sighs that doing so would allow someone else to take his place and potentially find out all about Tae-joon's dirty dealings, as well as his relationship with Chairman Kim.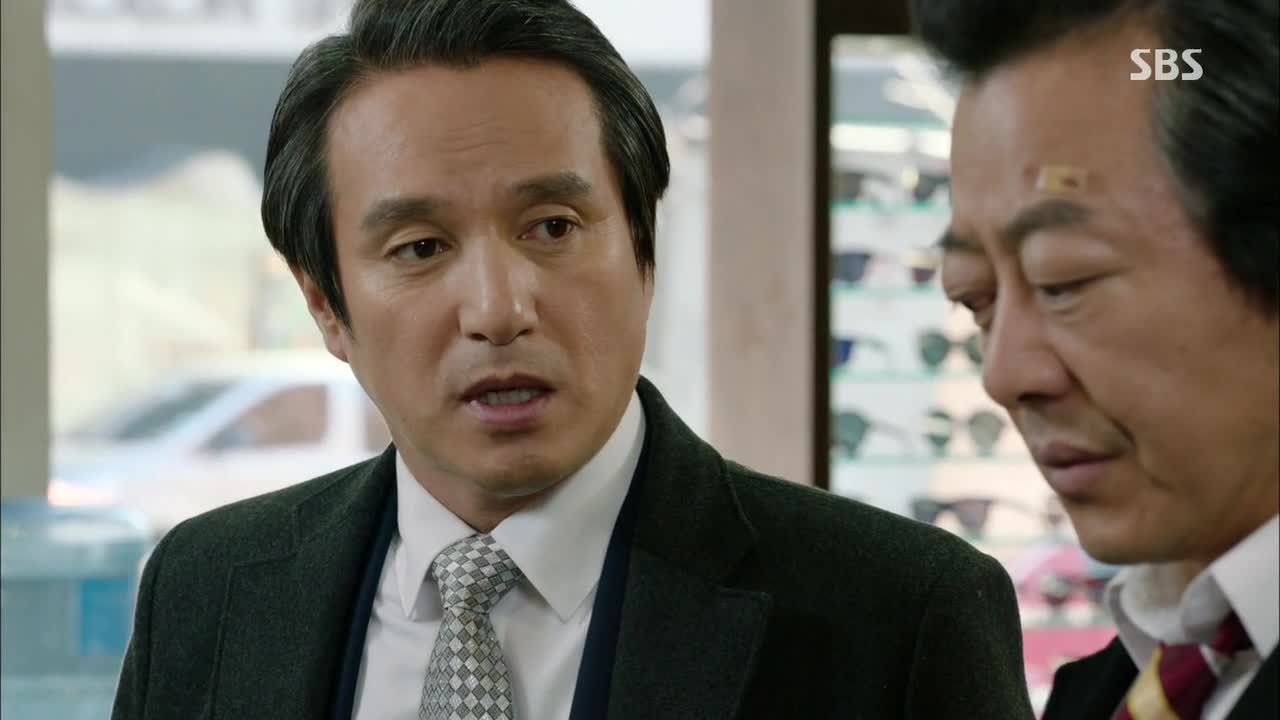 So Tae-sub is staying to protect his brother for as long as Tae-joon remains prosecutor general. After he's erased any evidence tying Tae-joon to Chairman Kim, he'll retire and live peacefully. Nice to see that his conscience regarding the murder of Researcher Yang is clear.
Kang-jae interrupts to tell the brothers that Jung-hwan enlisted a PD to air a special on Chairman Kim, who's been out of the public eye since he released himself on bail after Sejin Auto went bankrupt. Tae-joon doesn't put a stop to it, but wants to make some changes to the program.
Because Mom doesn't resent Ha-kyung one bit for the divorce and still cares for her, she sends Hyun-sun to give her a set of clean towels. Ye-rin makes it impossible for Hyun-sun not to take her along, but immediately breaks her promise not to cry in front of her mother the second she enters the visitation room. Aww.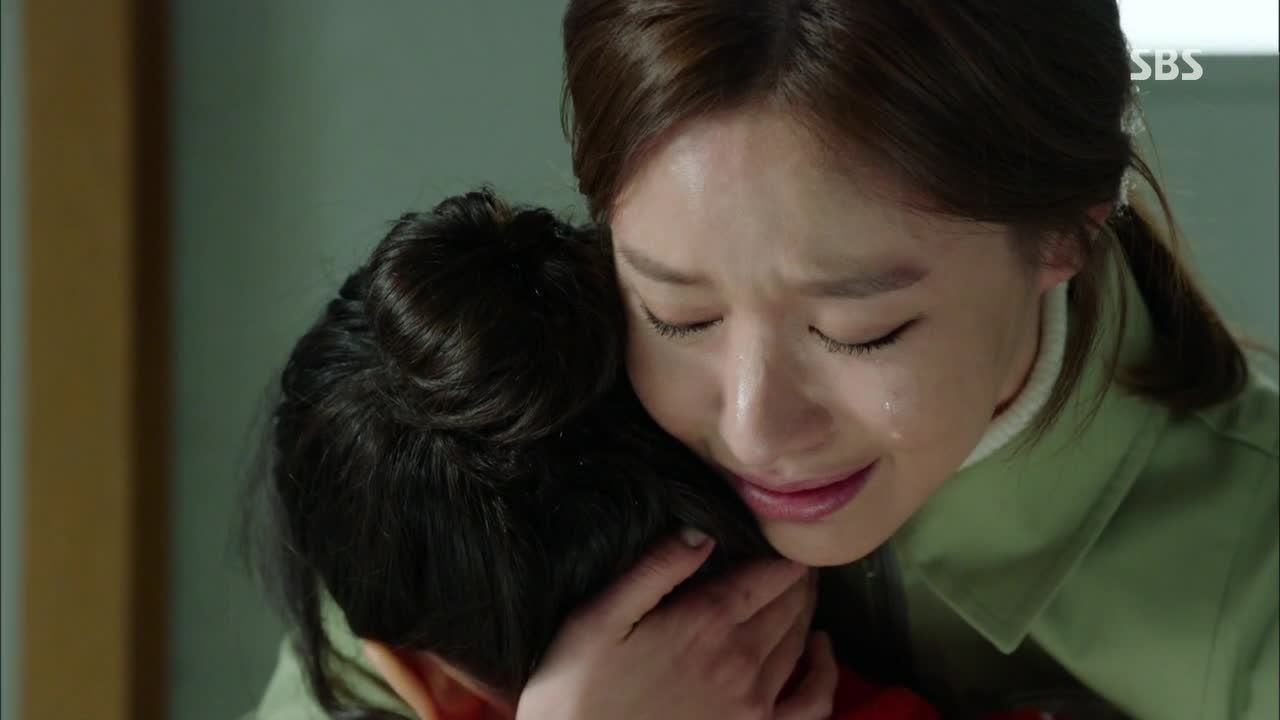 Both mother and daughter cry to see each other, with little Ye-rin running into Ha-kyung's waiting arms. They share a heartfelt moment as Ye-rin gives her a hand warmer she bought, and Ha-kyung checks her homework, expressing her hope that she'll be home before Ye-rin finishes her twenty-four day assignment.
The program that airs on Chairman Kim is not the one Jung-hwan's team wanted, since it extols him and his company's virtues rather than focusing on his shady prison bail. Jung-hwan doesn't let this latest move from Kang-jae get to him like Yeon-jin does, having expected as much.
But Kang-jae is all to happy to report that Team Jung-hwan looks a little rattled thanks to him, along with the bogus lecture schedule he's made so Chairman Kim will have an excuse to go abroad for a while.
Minister Yoon knows about Chairman Kim's travel plans and reminds Jung-hwan that in giving him full authority for the investigation, it also means he has to take full responsibility.
Jung-hwan sees it differently: "Full authority means you'll only see the results, not the process." He was prepared for this outcome since the beginning, and claims that finding Chairman Kim at the hospital (if the broadcast put him in a bad light) or at the airport (if the broadcast didn't), is all the same to him.
He knows Chairman Kim's flight is planned for three o'clock that afternoon, causing Minister Yoon to wonder if he's going to arrest him there—and if so, on what grounds? Jung-hwan answers cryptically, "Thank you for the authority you gave me. Just wait for the result, Minister."
After breaking through a car window to arrest Chairman Kim at the airport, Detective Oh brings him to a prison interrogation room with where Ha-kyung and Jung-hwan are waiting.
Jung-hwan mentions how they first met when he helped Chairman Kim launder money after Sejin Auto's bankruptcy, which has Kim hollering in banmal until Jung-hwan reminds him who's boss. And it ain't the guy with "Chairman" before his name.
He makes it simple: Chairman Kim has to confess, in writing, how much he pocketed illegally from Sejin Auto's collapse as well as any dirt on Tae-joon and Tae-sub.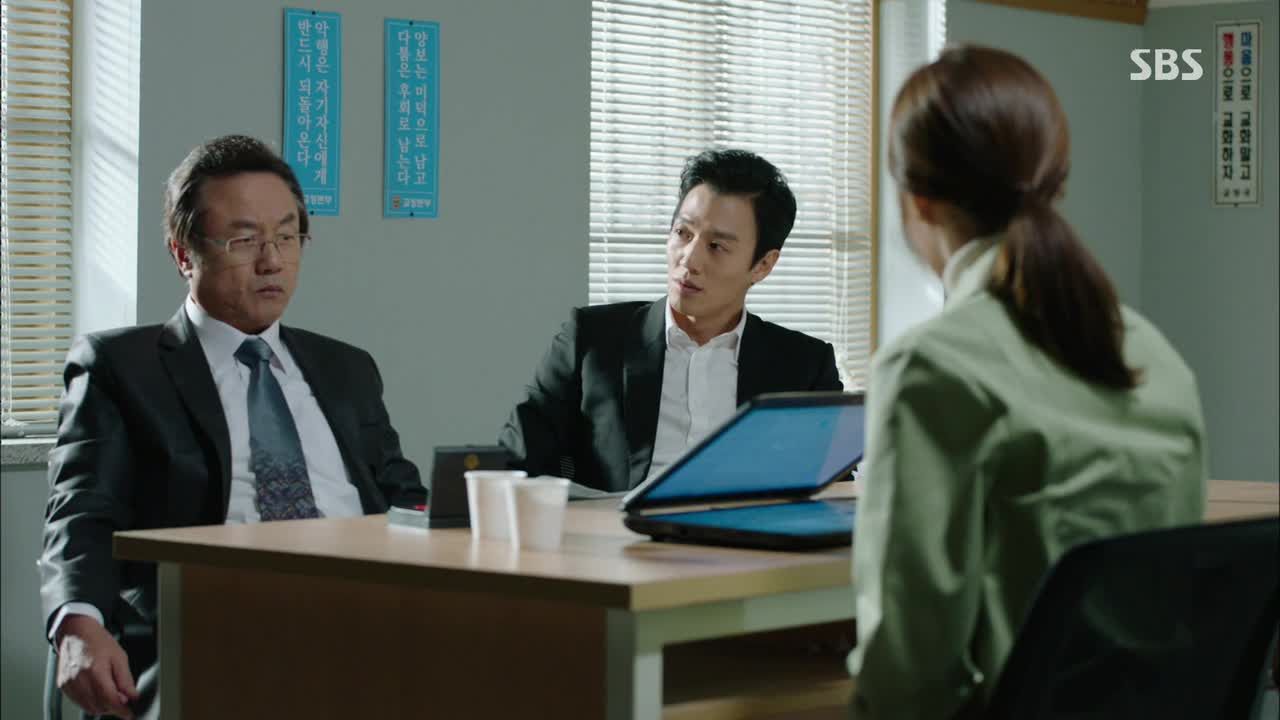 When Kim comments that it'll expose Jung-hwan too, Jung-hwan all but shrugs as he introduces Ha-kyung as the mother of his child and the one who began the investigation that might lead him to wear a prison uniform. She'll be doing the questioning.
I love how Ha-kyung just gets right to it, and with Jung-hwan adding a little pressure, they get Chairman Kim to admit to all sorts of things—including bribing politicians to make sure Tae-joon passed his hearing.
As Chairman Kim begins writing his lengthy confession down, Jung-hwan gives Ha-kyung the only hand warmer Ye-rin gave him from the pack she bought for her mom. Ha-kyung seems surprised yet happy at the gesture.
While Tae-joon and Kang-jae scramble to find out where Jung-hwan has taken the chairman, he stamps the confession.
But Jung-hwan surprises Ha-kyung when he tells Chairman Kim that he'll keep the only copy of his statement and decide whether to trash it or send it to Minister Yoon based on whether Kim can get Tae-joon to release Ha-kyung.
She is NOT touched by this gesture, and drops the symbolic hand warmer to prove it. Why won't Jung-hwan use that confession to punish Kim and the Lee Brothers for their crimes? "I'm going to get you out with this," Jung-hwan says.
Unlike her, he has no faith that the world will change and would rather not even try. Even if they take down all three of the villains, Jung-hwan argues, someone as bad or worse will always take their place.
Ha-kyung argues that they should go forward to make a better world for Ye-rin to live in, but that's not enough to convince Jung-hwan to move forward: "It's a jungle out there. Do a good job of raising Ye-rin. Don't teach farming to a kid who will live in the jungle."
Her last resort is to threaten Jung-hwan that if he gets her out by trashing that confession, she'll never stop investigating him—be it ten or twenty years from now. But Jung-hwan doesn't even have one year, as he solemnly tells Ha-kyung that things won't go her way on this one.
However, he breaks his promise to Chairman Kim by making copies of his confession anyway. Phew. I was worried he'd lost his senses for a second.
Tae-joon doesn't give Chairman Kim a yes or no answer when he calls demanding he get his confession back, but only tells him that things between them will really be over if he breaks his hyung's glasses again.
Kang-jae (this has to be the fifth freaking time he's been introduced via chyron this episode—we're not goldfish, Punch!) mentions why releasing Ha-kyung would be bad for them, which I'm sure doesn't need to be restated to Tae-joon.
They're interrupted by a surprise jjajangmyun delivery—Jung-hwan's favorite food—with a note on top. It's a copy of the first page of Chairman Kim's confession. That's a pretty clear message.
Tae-joon takes the meaning pretty hard and sends Kang-jae out so he can eat with Jung-hwan by watching him eat via CCTV. It's weirdly unsettling to watch the two of them eat with only the other in mind, both of them flashing back to their memories together.
But Jung-hwan's purposeful jjajangmyun-eating makes it seem like he knows he's being watched…
…Which he then he proves by setting a place at the other end of the table before gesturing in welcome toward the camera "hidden" in the wall. Ooohhhhhhh.
Since they're in the same building, Tae-joon pays him a visit and sits at the place Jung-hwan set for him. "When did you find out?" he asks glibly, before teasing: "You look better in person."
Jung-hwan's request is simple: "Release Ha-kyung today." But Tae-joon claims he knows Jung-hwan too well to think that it's that simple—he's one of the most ambitious people Tae-joon's ever met, after all.
"If it's money you want, I'll double whatever you ask for. If it's a job, name any one except mine," Tae-joon says with a smile that quickly fades when Jung-hwan dials Minister Yoon in front of him. No dice.
He switches tactics to implore Jung-hwan to see things from his side, comparing himself to a marathon runner who's thiiiis close to the finish line. But one man's marathon is another man's sprint, Jung-hwan counters.
Tae-joon asks why Jung-hwan cares about Ha-kyung now, especially since they divorced so long ago. "It's not about Ha-kyung," Jung-hwan replies. "It's about answering my daughter's prayers."
Jung-hwan tells Tae-joon to hurry and make a decision, since Minister Yoon is on the way—he'd rather see Tae-joon resign than end up in a prison uniform. (And he actually means it.)
So Tae-joon is left with no alternative but to call Kang-jae and order Ha-kyung's release. He also orders him to get his brother out of the country and prepare his retirement ceremony, since he can't keep his position if it gets out that his brother killed someone. Gee, you think?
Minister Yoon gets there just as Tae-joon is leaving, but she's too late to get that confession now. She only h as to look at Jung-hwan to know: "Is this to save Ha-kyung? Did you make a deal again?"
Yes, again, because he did the same to her seven years ago by making an under the table deal. At that time, he did what he thought was right to put the bad guys behind bars, but Minister Yoon had to remind him that their job was to protect the law by abiding by it.
She'd had him apprehended then, but in the present, Jung-hwan warns her that she can try… she just won't be able to keep him long.
Minister Yoon visibly deflates after, worried that they've lost their opportunity to arrest Chairman Kim, Tae-joon, and Tae-sub. But Prosecutor Jung surprises her when he says there's still one chance left.
He's the one to pick Ha-kyung up when she's released from prison, and talks to her about his concern that Minister Yoon might be turning into a monster in her quest to apprehend monsters—she went from being strict to making deals with suspects and lying in front of a room full of chief prosecutors.
In order to stop it, Ha-kyung has to get Chairman Kim's written statement, which only Jung-hwan has. As to how, Ha-kyung says something about a speeding ticket before asking the driver to put the pedal to the metal. Ruh roh.
The written confession they need is currently being folded into paper airplanes and flown off the roof by Jung-hwan and Ye-rin, which, ack.
They send their wishes with the planes, and while most of them revolve around her school crush, her last plane is sent with the wish: "Please let Mom, Dad, and me live together for a very long time."
That plane lands at Ha-kyung's feet as she approaches Jung-hwan's house. She unfolds it to find the last page of Chairman Kim's confession, and hides her disappointment and anger behind a smile for Ye-rin.
But when it's just the two of them, Ha-kyung meets Jung-hwan's gaze with a death glare. She plans to make good on her promise to chase him to the ends of the earth even if it takes decades, and he knows she'll never get the chance.

COMMENTS
Dear Jung-hwan,
You are a dick.
Sincerely, Heads.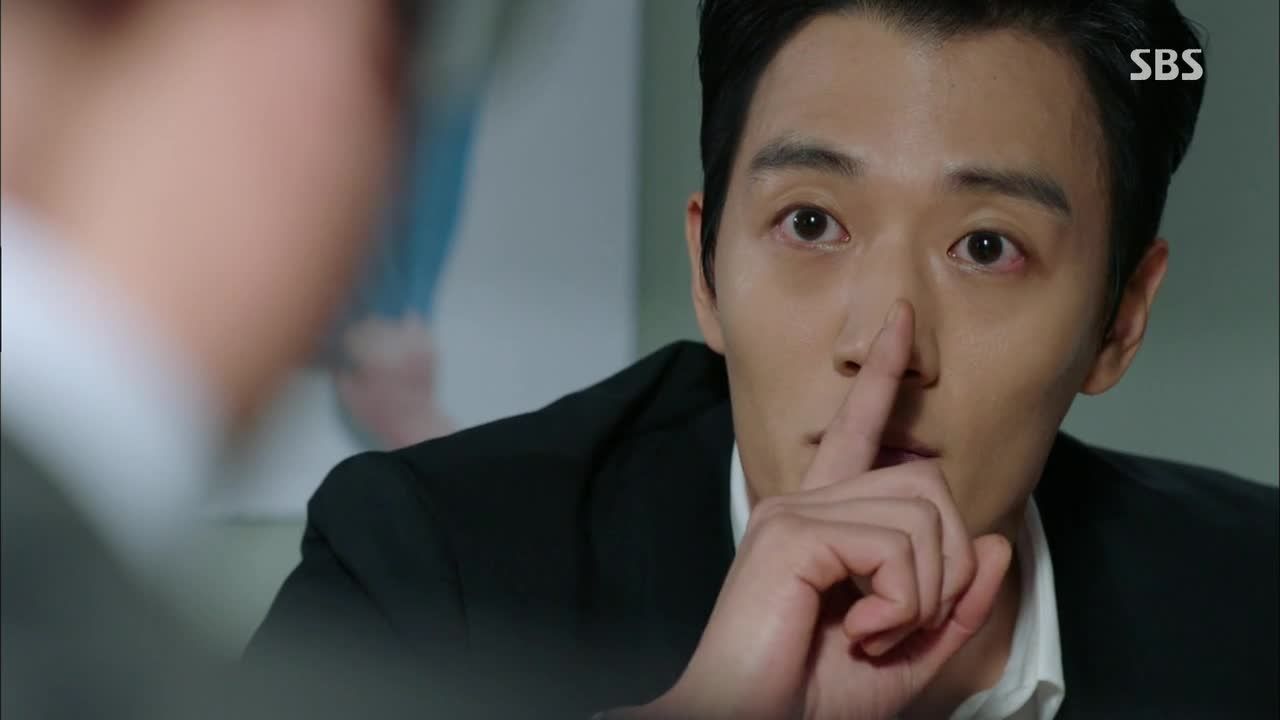 Okay, okay, there are multiple reasons and motivations behind everything Jung-hwan does that make him undeserving of such a blanket statement, and I'd almost be inclined to call some of his actions noble. If he's spent the last seven years serving only his own ambition, then at least his ticking clock has forced him to take Ye-rin's happiness into account, even if his fixation causes harm to others. That's the consequentialist in him—the ends always justify the means, right?
Through Minister Yoon's flashback, we were able to see shades of that aspect of him even in the days where he still had a hope in his head and a song in his heart, which is really fascinating about him. He was still as ruthless about achieving his desired results then as he is now, the key difference being in the perceived nobility of his goals. Although, you could say that ensuring his daughter's future is as noble now as putting the right people behind bars was seven years ago, but what hasn't changed in all these years is Jung-hwan's willingness to do anything and everything he feels must be done to get what he wants.
The interesting question the show poses with all these characters is whether it's right or wrong to achieve results at the expense of moral integrity, which it's been handling with frankly amazing levels of nuance and depth. If Jung-hwan represents the end of the spectrum where one has no moral integrity left to sacrifice and Ha-kyung represents the end of the spectrum where one has made no sacrifices, then Minister Yoon lands somewhere in the middle, since she's undergoing her own kind of metamorphosis. The beautiful thing about Punch is that it's ALL gray area when it comes to her journey and everyone else's, because while we can understand and even agree with the path Minister Yoon has started on in her quest to bring Tae-joon to justice, Prosecutor Jung has a very valid point: If Minister Yoon has to become a monster to catch monsters, what separates her from them?
Right now, I'd want to argue that it's good intent that acts as a distinguishing factor, but you know what they say about the road to hell and good intentions. It's not even just a moral dilemma either, since the characters engaged in this struggle of wills are all in positions of power meant to serve and enforce the law, which no one aside from Ha-kyung seems capable of doing. In that way, the spotlight seems to be on the hypocrisy of power and those whose job it is to serve their fellow man—but whether the show will side with Jung-hwan's jaded belief when it comes to the uselessness of doing good in such a terrible world or Ha-kyung's belief that even the smallest good deed can make a difference is really anyone's guess at this point.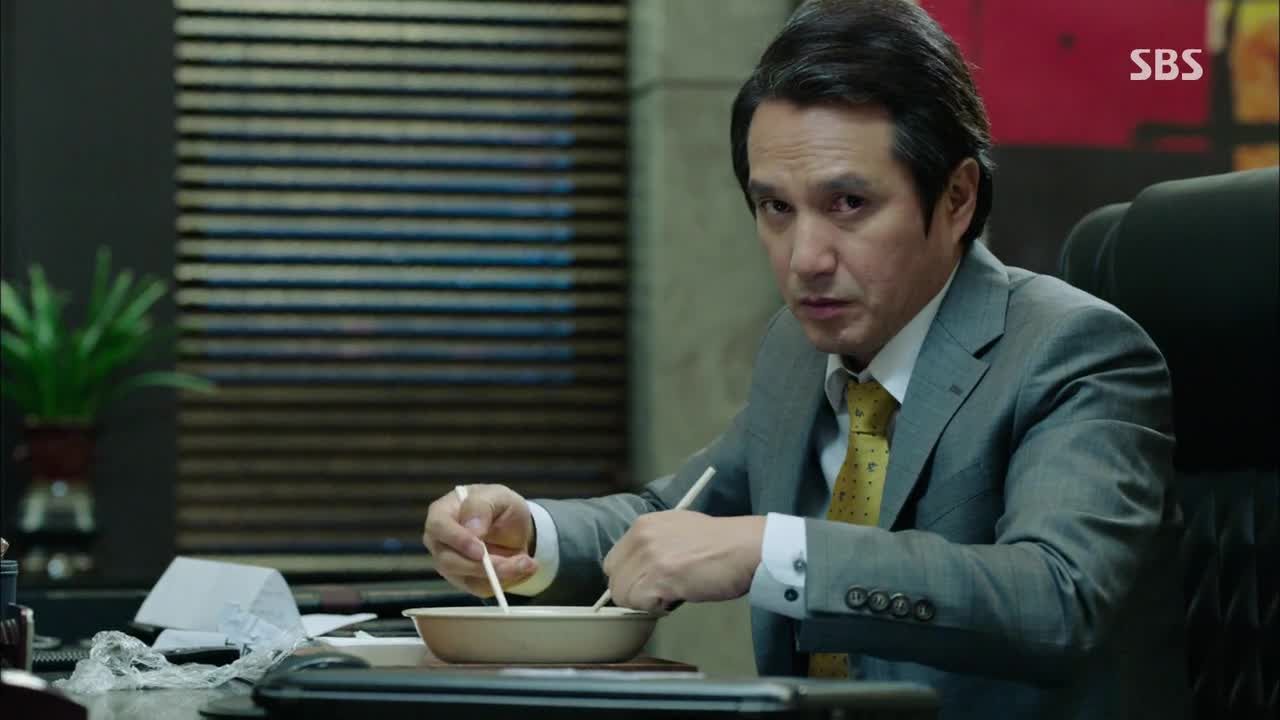 RELATED POSTS
Tags: featured, Jo Jae-hyun, Kim Ah-joong, Kim Rae-won, Punch