Running Man: Episode 224
Opposites will attract in this week's episode as our cast and guests battle water, snow, and staircases to get to their final mission. If that doesn't exhausting enough as it is, their final mission is even more physically exerting. It was more tiring for me to watch them burn so many calories in one day, but their pain is my gain? One of today's guests show us that she's more than a pretty face, although she does remarkably look like this other actress we know.
EPISODE 224. Broadcast on December 7, 2014.
We waste no time to introduce our team line-ups today, as our guests emerge from life-sized boxes. Actress Han Groo (Marriage Not Dating) remarks to her partner Jae-suk that tearing her way out was harder that she thought, and Jeon So-min (Maids, Princess Aurora) punches her way out to greet Kwang-soo.
The sudden punch legitimately startles Haha before meeting Lee Sung-kyung (It's Okay, It's Love), whose appearance has the others wondering if she's the dongsaeng co-star Wang Ji-hye had mentioned a few weeks ago. (The captions tell us that they share a friendly oppa-dongsaeng relationship.)
One powerful punch belongs to none other than mixed martial-arts fighter Sohn Ga-yeon, and Han Groo yells that she and Spartakooks make a scary team already. Is it just me or does Jong-kook actually look a little scared of her?
The boys can't help but admit how pretty Ji-hyo looks all dolled up today. Then finally, actress Kyung Soo-jin (Plus Nine Boys, Shark) joins them, and both Haha and Jae-suk are quick to imitate her ladylike hand gestures.
Today's race will deal with the polar opposites in love, and the couple who arrives at the final mission location first will be at the greatest advantage to win. And then Taek PD quickly puts them to work by telling the couples to disassemble their cardboard boxes.
What a clever way to reduce work for the production crew yet incorporate it into the game, and I love how Han Groo just starts smashing the box with her heel. It looks like Kwang-soo and So-min have finished first, but the others insist that there were a few pieces left.
Jong-kook warns that they come clean before he sends out Ga-yeon, and so So-min removes a piece of cardboard she hid in her skirt. Hahaha.
Choosing between summer and winter means the difference of riding in a convertible with the hood down or covered. Jong-kook gets annoyed when he catches a VJ filming them in their freezing state, and in the other toasty car, Soo-jin says she enjoys swimming but worries about getting her makeup wet.
Our "summer" couples gather together at a swimming pool and two diving boards. Here, they'll complete three forward rolls, reach the end of the diving board, and finish by raising their arms over their heads into a heart.
The other couples are quick to note that Jong-kook and Ga-yeon are at an advantage, and So-min admits that she can only roll on her side. These are no ordinary diving boards, either, since they seem to be narrower at the tip.
Kwang-soo encourages his frightened teammate, and while he successfully completes his first roll, So-min falls in on her first try. To be more exact, they both fall into the water around similar times. At least So-min looks less afraid now that she's fallen in once, but the other ladies don't seem so sure anymore.
Jae-suk tries to talk his way out of his fear without actually doing anything. Han Groo says they should try anyway, and while she rolls just fine, Jae-suk lands face-first into the water. Ouch, that oughta hurt.
Ga-yeon looks pretty nervous herself before rolling, only to belatedly realize that Jong-kook had been kicked into the water by Jae-suk and Kwang-soo.
When Jong-kook remarks on how big So-min's forehead looks, So-min dishes it right back, saying that she was surprised at how short Jong-kook is in real life. "What makes you any different than Haha?"
Our "winter" couples arrive at a wintery park, where snow softly falls upon them. While Mr. PD says that winter would remind one of sledding, their mission is to Escape the Igloo. Cue astounded looks of, …but you just said sledding…
They all start in the igloo for dance time, and then rush towards the narrow opening when the whistle blows. Ji-hyo makes it out first, and now she must choose the correct half-heart piece if she and Suk-jin are to succeed first.
Unfortunately the piece she chooses is literally a few millimeters too large, so it's back to some more dancing. Soo-jin's sexy dance move surprise everyone, most of all Gary, who joins her in the "My Ear's Candy" couple dance.
To be honest, everyone looks like they're having fun dancing together… until the whistle blows, that is. Haha makes it out and he can already tell that the piece he chose is too big. Frustrated, everyone piles out and makes their point to the crew that this mission is damn near impossible. How is one to visually tell the difference between a few millimeters?
Curious, Haha asks what the summer mission is. His jaw drops to hear about the diving, and then Sung-kyung chimes in that they'll work hard in this mission instead.
Speaking of, Jae-suk and Han Groo complete two forward rolls, but they look awfully close to the end of the diving board now. So-min says Han Groo will definitely fall in at that distance, but Han Groo remains optimistic.
And just like So-min says, Han Groo falls into the water. Kwang-soo looks dangerously close to the edge too after just two rolls, and everyone knows what's coming. So-min offers to fall into the water on his behalf, and insists that he can't do it because his torso is too long.
And sure enough, acting as Kwang-soo's black knightess(?), she rolls and falls for him. Jae-suk points out that she stole Kwang-soo's variety moment from him.
So-min's a forward-roll diving board expert now as she tells Ga-yeon that she's bound to fall in, too. Kookie steps in to coach her through it, but the other guys point out that he's in no position to be doing that right now. So Ga-yeon rolls… right into the water.
Over at the igloo, Gary chooses the right piece, and he and Soo-jin get to move on. Sung-kyung's a pretty good dancer herself as the teams wait for their next signal.
After Jong-kook successfully completes his rolls and starts coaching Ga-yeon again, Jae-suk asks exasperatedly if he created this game. Jong-kook and Ga-yeon succeed first, and it looks like Jae-suk and Han Groo aren't very far behind.
While Jae-suk and Han Groo pick up "100," So-min falls in yet again. So our couples are once again divided depending on whether they picked "100" or "1."
The "1" couples head to the SBS building where they're told that this is a verrryy eassyy mission. All they have to do is answer one quiz question correctly—catch is, Jong-kook will need to climb 22 stories to deliver the question to her. I think it's the PD's light-hearted tone that sells the humor here: "It's so easy! Just one!"
After hearing the question just once, Jong-kook tries to memorize it as he climbs the stairs. His memory starts to blur already by the fourth floor, and he's practically forgotten the entire thing by the tenth.
Haha and Sung-kyung cheer when they hear that they only have to answer one question, but Suk-jin's face reads, There's more, kiddos. Suk-jin seems fairly optimistic when he reads a sign that each flight should take about four seconds to climb…
He keeps reading all the posters he passes, absorbing all the health info on them. Er, shouldn't you be memorizing your trivia question instead?
Our "100" couples don't have it much easier: they must score 100 points shooting hoops while jumping on a trampoline (each basket is worth 10 points) within 100 seconds. The basket is pretty high, too, but So-min is feeling confident and tells the young'uns to back off.
But the younger ladies are none to be trifled with, either, preparing themselves for battle. So-min makes the first basket, but the other ladies quickly make their shots, too. It's kind of funny how Kwang-soo scolds So-min whenever she stops to celebrate, telling her that they don't have the time.
Soo-jin eventually takes the lead with 60 points, and then it's time to check up on Jong-kook. He eventually makes it, then scolds his VJ for arriving late. He passes along bits and pieces of the question, but Ga-yeon eventually runs out of time to answer.
Haha's question seems pretty easy ("Among the Running Man members, who has blood type A?") but he struggles his way to the top. At the question of where Suk-jin is, Haha replies that he's sleeping on the fifteenth floor. Cut to: Suk-jin, climbing the stairs on all fours.
But still, Suk-jin arrives looking like he's in a lot of pain, followed by Jong-kook, who informs everyone that a whole new world opens up when you climb all those stairs a second time.
Haha remembers the question clearly, and even offers Sung-kyung tips, telling her that someone like him would never be a blood type A. Sung-kyung says one name (Jong-kook) at the very last second, but it isn't enough (Gary and Ji-hyo must be included too), so Haha is forced downstairs again.
When Suk-jin tells Ji-hyo that this was the first time that he's climbed 22 stories ever, she returns that he needed to exercise, anyway. Things start to look bleak when Suk-jin starts off the question ("The Antarctic base is called what?" Ji-hyo: "The Antarctic base!" Suk-jin: "No, it's Kim Sejong Station,") and tells her that the base at the North Pole probably isn't the North Arctic base.
With a smile, Ji-hyo answers, "Lee Soon-shin Station!" It's wrong, and when she turns to Suk-jin for the answer, he sighs exasperatedly that he doesn't know, either.
Back at the trampoline, Kwang-soo informs So-min that he doesn't live in Namyangju anymore. But he mixes up the words "to live alone" and "live with someone," narrowly avoiding creating a scandal for himself.
When Haha and Suk-jin stumble back to the twenty-second floor again, they grow exasperated of Jong-kook trying to deliver his trivia question. But this time, Ga-yeon gets it right, to Jong-kook's delight.
While Gary tries to get a few last baskets in, Kwang-soo and Jae-suk are busy trying to pull each other's pants down. Despite Gary's protests that he's only wearing underwear underneath, his pants come off, too. Awww. Still, Gary and Soo-jin succeed first with 10 baskets.
Haha is drenched in sweat by the time he makes it back to the twenty-second floor for the third time, and he asks if it's okay to lie down while he gives his question. It's the same question Ji-hyo had ("What's the name of the base at the North Pole?"), but thankfully it's multiple-choice this time around.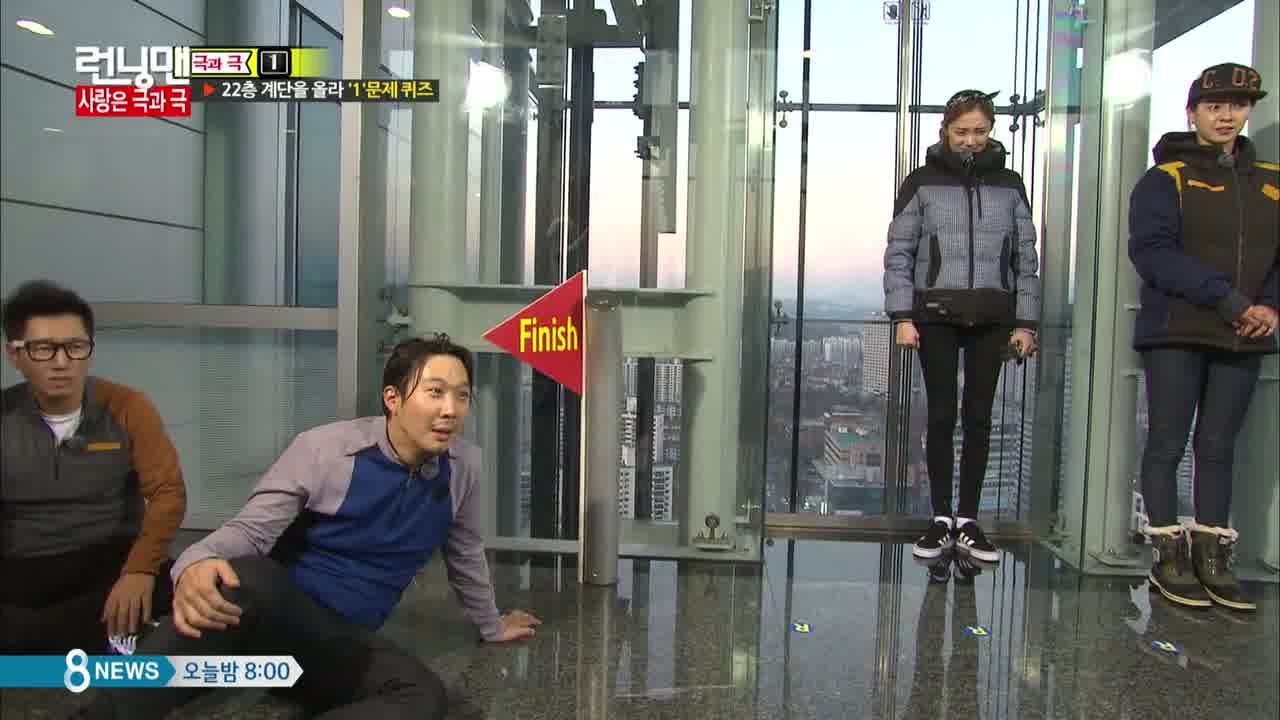 Sung-kyung gets it wrong, to his horror. Oh man, I feel so bad for him right now. Suk-jin arrives with the same exact question, giving her an obvious hint about his guess. But Ji-hyo answers, "Dasan Station!" which is correct.
Gary and Soo-jin arrive at their next location, only to receive yet another address. They must proceed on foot, and while some teams check the road signs, Haha asks random passersby if they haven't seen any Running Man members. Ha, that's smart.
Gary and Soo-jin are the first to arrive at the final mission location. We then fast forward to a little while later, and we're thrown right into the action. It looks like our couples have joint nametags and are running from two people: Gary and Soo-jin.
It's a 1 vs. 5 Hide-and-Seek nametag ripping race for their final mission. So while Gary and Soo-jin will wear bells, our remaining couples will don joint nametags and search for the real South Pole Magnet. Doing so will unveil the location of the secret platform, and the first couple to stand there, wins. As for Gary and Soo-jin, they simply need to eliminate everyone.
Aha, so the South Pole magnet indicate a location, and two of our couples immediately head over to check whether their magnets are correct. It's cute how Ga-yeon keeps her eyes closed while Jong-kook checks the downstairs men's bathroom, and then Jong-kook realizes the ends don't stick. Likely a fake, then.
Gary gets the feeling that someone is hiding in the bakery (where Suk-jin and Ji-hyo are), so he goes to check… and sees an employee there instead. Phew.
Jae-suk and Han Groo are about to crash Kwang-soo and So-min's discovery when suddenly they all hear the sound of bells. It's Soo-jin, who flies down the hallway in pursuit. They manage to close the door just in time, but Soo-jin pulls as hard as she can and grabs hold of the door.
Soo-jin cries for help and Gary arrives to see the struggle just outside the elevator. Despite telling them that Kwang-soo is nearby, Jae-suk and Han Groo are eliminated. It's not long before Kwang-soo and So-min are eliminated, too, and Soo-jin has that competitive glint in her eye.
Elsewhere, Haha and Sung-kyung have found their third fake magnet, then hurry to hide. Too bad for them that Gary discovers them there, and they too are ousted.
As the only two couples remaining, Jong-kook puts in an urgent call to Suk-jin, telling him that they'll give themselves up as bait to buy Suk-jin and Ji-hyo more time. That's exactly what happens as he and Ga-yeon catch Soo-jin's eye and make a run for it.
We see that Suk-jin and Ji-hyo continue to find one fake magnet after another, but then they find one that literally sticks. As Jong-kook and Ga-yeon are eliminated, Suk-jin and Ji-hyo hurry down to the basement but catch Gary's attention on their way there.
Gary catches up to them in no time and rips their nametag off. That secures the win for Gary and Soo-jin, who are awarded gold rings. Ji-hyo suggests that Ga-yeon get a little revenge against Gary with a lowkick, and Kwang-soo warns Gary that trying to block it will only be worse.
And one solid lowkick sends Gary to the ground. Owwww, that looked like it hurt.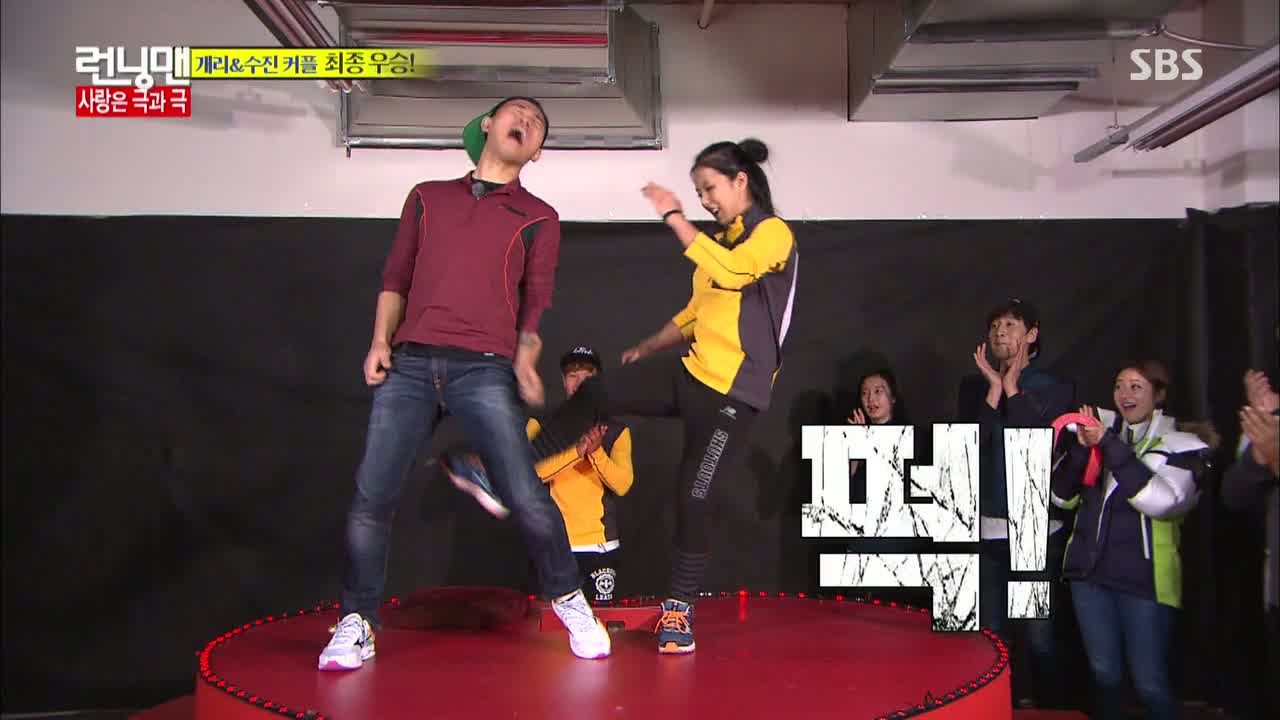 RELATED POSTS
Tags: featured, Haha, Ji Suk-jin, Kang Gary, Kim Jong-kook, Lee Kwang-soo, Running Man, Song Ji-hyo, Yoo Jae-suk